These homemade coconut popsicles are EASY! They're drizzled with fast-setting dark chocolate and almonds and taste just like a frozen Almond Joy bar. 
There's no going back once you melt chocolate and coconut oil together and pour it on a frozen dessert. It hardens in ten seconds time, and adds a crunchy, chocolate-y shell to a dessert that's already delicious. Plus you can use your favorite type of chocolate (usually I go for the dark) because a little bit of coconut oil brings all the hardening magic.
This chocolate shell is a key element of these sundaes, and it was only a matter of time before it made its way into another dessert recipe on the blog. So how about on popsicles? Easy three-ingredient, dairy-free ones at that.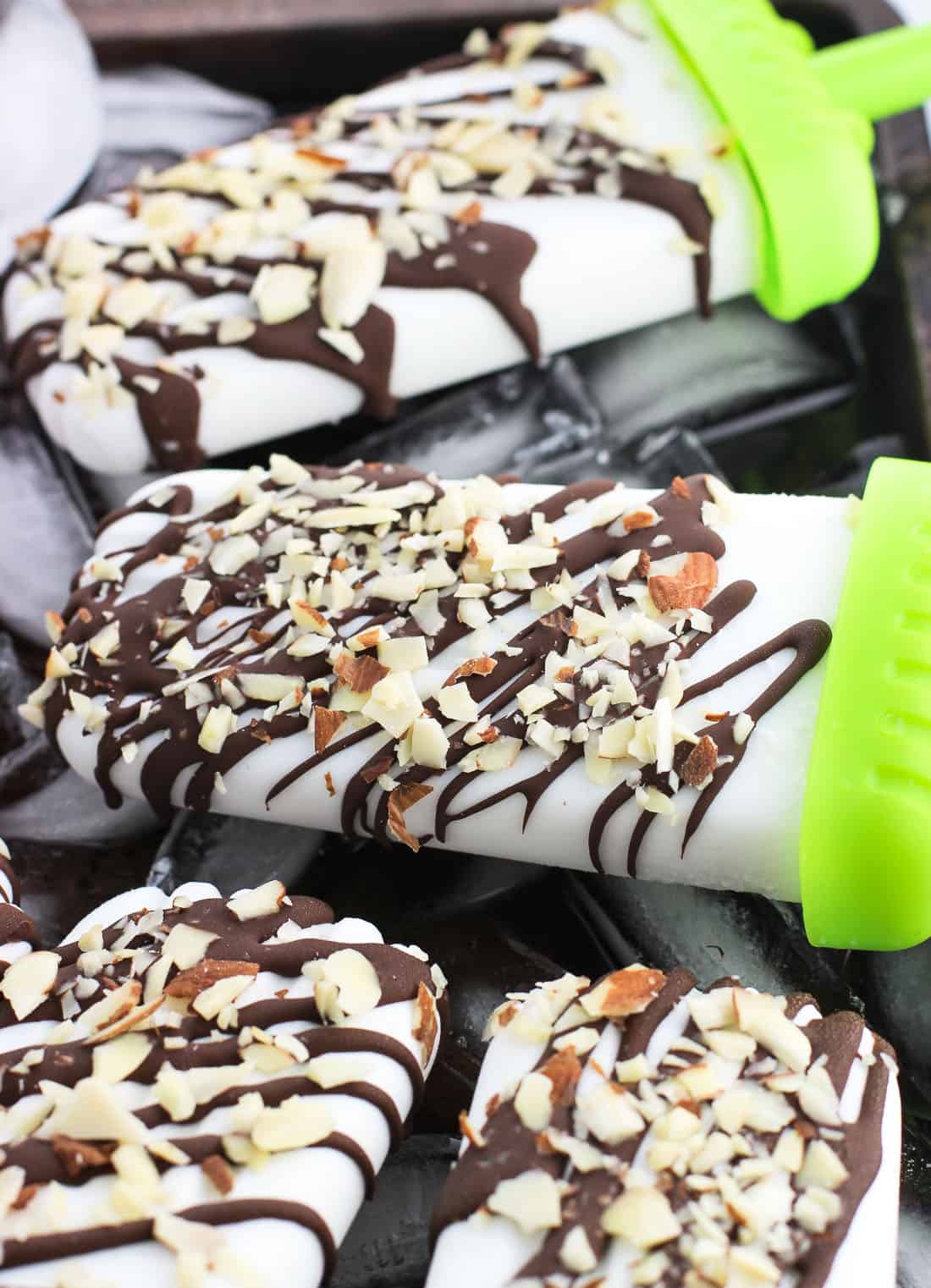 Coconut milk, sweetened flaked coconut, and a little bit of sugar are all that's needed to make these creamy, perfectly coconut-flavored popsicles. I recommend using full-fat coconut milk to help ensure these coconut popsicles will be creamy. Subbing in a portion of the coconut milk with the 'lite' coconut milk may work (I haven't tried it), but my concern would be that it would make the popsicles a little more icy once frozen.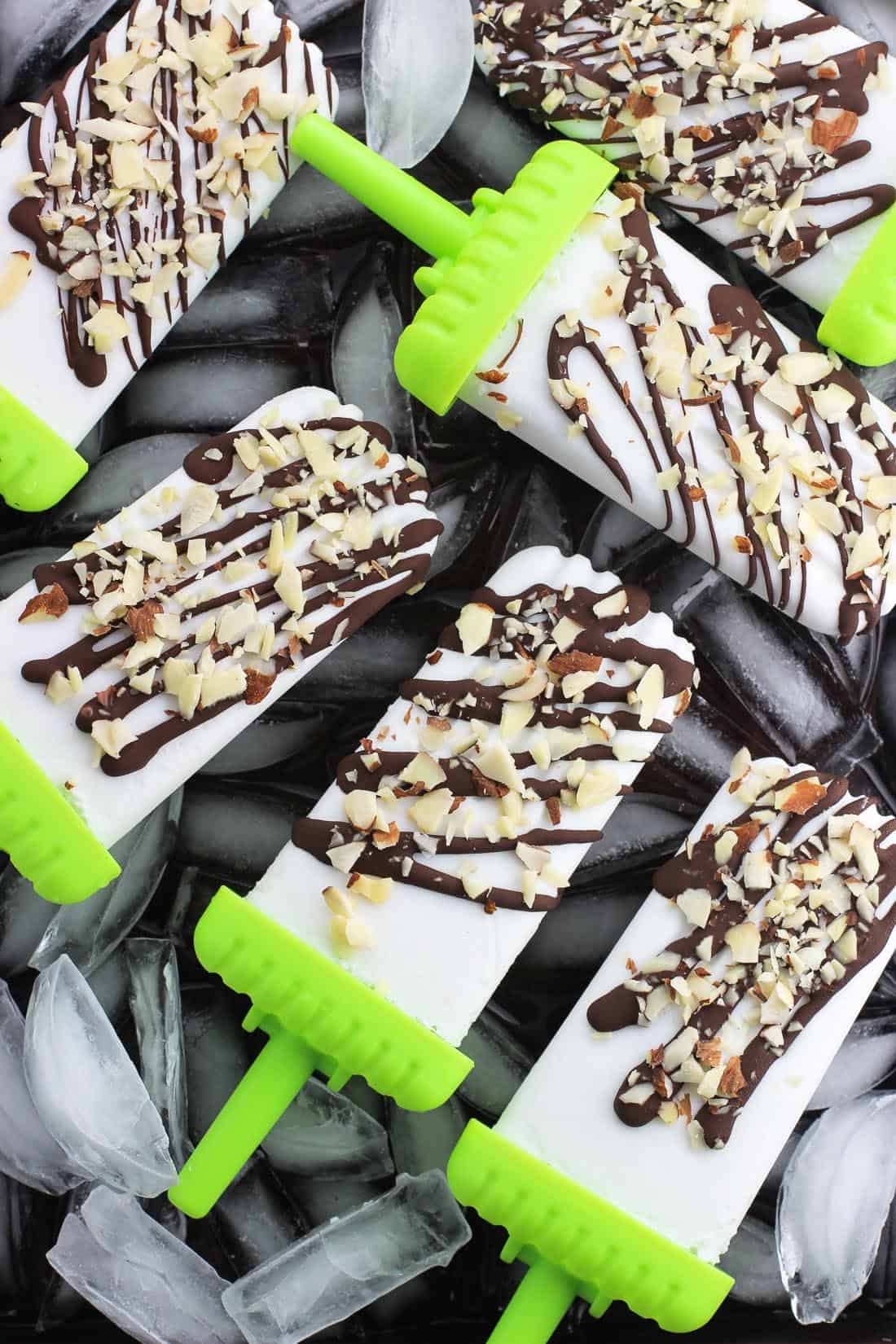 Now onto that drizzle. Almond Joy candies – especially cold Almond Joy – are hot commodities in my house, but if I could tweak one little thing about them, is that they would have dark chocolate à la Mounds. Thankfully that's an easy thing to fix when you make them at home. 😉 For sure you can use milk or semi-sweet chocolate on the drizzle portion of these coconut popsicles if you prefer those varieties instead. And of course omit the almonds if you're not a fan, which would make these coconut popsicles an awful lot like Mounds popsicles instead of Almond Joy. Really, that's a no-lose situation.
Tools used:
Six 4-oz ice pop molds

– These molds are great because the handles can be snapped into place right away. This means you can just stick them in the freezer and not have to wait until the popsicles are just slushy enough to hold a popsicle stick straight in the center. Plus the handles catch any drips while you're eating them!

Ninja food processor/blender set

– I mention this set often, but it's truly one of my kitchen VIPs. It works so well crushing ice, making smoothies, pesto sauces, etc. and is really inexpensive – $34 for the food processor and blender together. After three+ years of regular use it's still going strong!
*This post contains affiliate links.

Chocolate Drizzled Coconut Popsicles with Almonds
Ingredients
1 cup sweetened coconut flakes
21 oz coconut milk
3 tbsp granulated sugar
1/2 cup dark chocolate chunks
1 tbsp coconut oil
1/4 cup almond slivers, chopped
Instructions
Add coconut flakes to the bowl of a food processor and pour in one can's worth of coconut milk (usually around 13.5 oz). Pulse until the coconut flakes are broken up into smaller pieces.
Add coconut flake/coconut milk mixture to a bowl and add remaining coconut milk and sugar. Whisk to combine evenly.
Pour popsicle mixture even into popsicle molds and place in handles. Freeze for 3 hours or so, or until completely frozen through.
Once the popsicles are frozen and ready to serve, add chocolate chunks and coconut oil to a microwave-safe bowl and microwave in 20-second increments until mixture is smooth, stirring after each increment. Transfer melted chocolate/coconut oil mixture to a small plastic bag and snip one of the corners off. Pipe melted chocolate over popsicles and quickly sprinkle chopped almonds over the drizzle. Wait 10-15 seconds for the chocolate to harden, and enjoy.
Notes
Prep time includes 3 hours for the popsicles to freeze, but how long it takes may vary.

To loosen the popsicles from their molds, run them under warm water until they loosen enough to slide the popsicles out. Turn the popsicles often under the water so all sides can loosen evenly.

If your popsicle molds don't have the snap on handles like mine, place the popsicles in the freezer without the sticks. Wait an hour or so for the coconut milk mixture to begin to freeze and become slushy, when a popsicle stick inserted in the center of each pop will stand up on its own. Then freeze entirely.

My popsicle molds hold 4 oz each, so the quantity of the coconut milk mixture was 24 oz in total (I weighed it). Feel free to increase/decrease the quantity of ingredients if your popsicle molds hold more/less than 24 oz.
P.S. For more homemade popsicle recipes, follow along with my
Popsicle Love
Pinterest board!