Fresh ginger and club soda make this sparkling ginger lemonade a warm weather treat! An easy ginger simple syrup both sweetens this homemade lemonade recipe and provides just enough of a ginger flavor without a bite.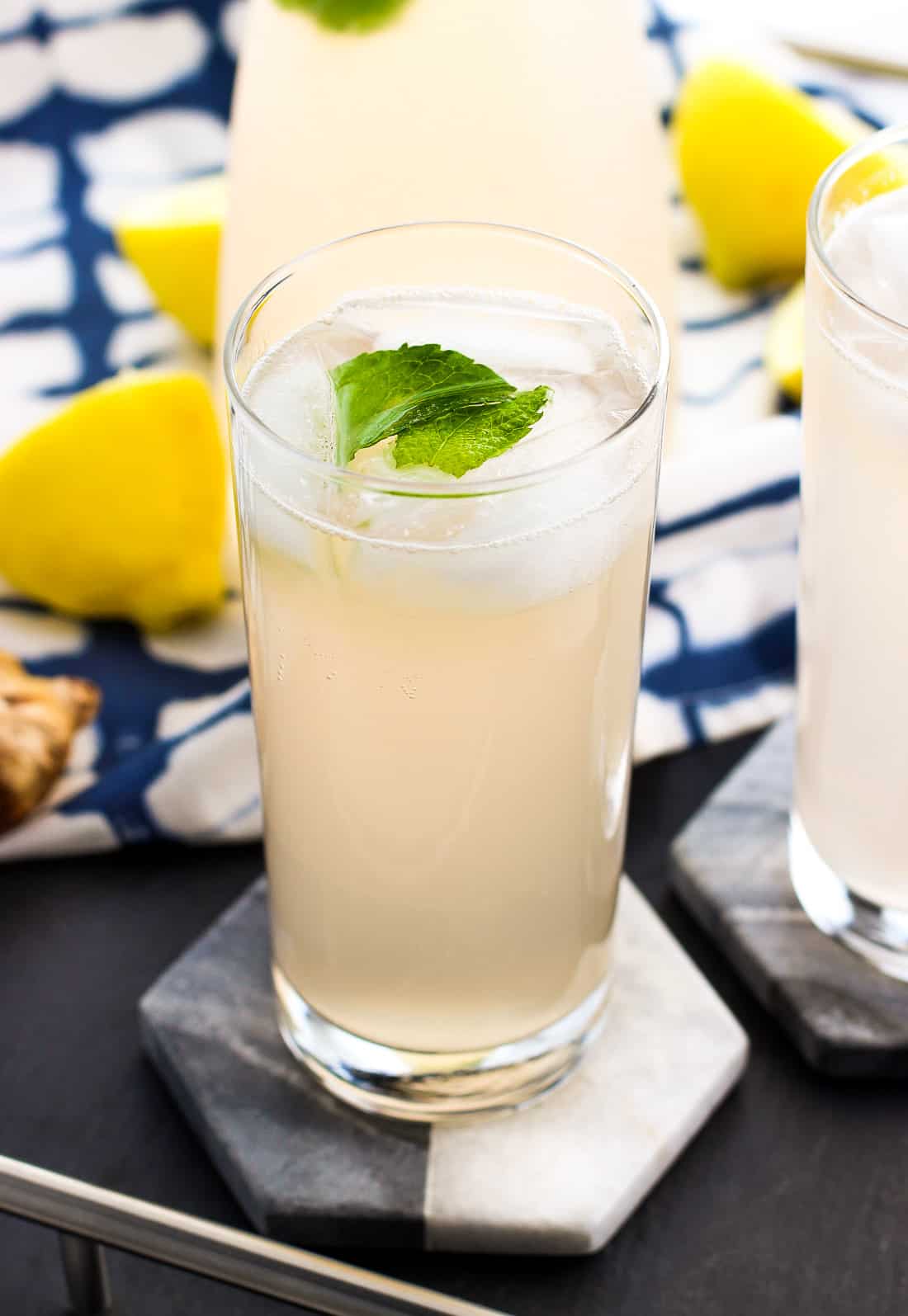 It's lemonade season! And iced tea, cold brew coffee, and frozen drinks season. And 90-degrees-and-humid-bad-hair-days season, but we won't get into that one. Lemonade in all forms is always welcome in these warm weather months, but I wanted to make a more grown-up version for sipping on when it's hot and sunny out, but your to-do list is a mile long and lounging around living the rosé all day life isn't going to fly.
Enter this Sparkling Ginger Lemonade. For one, all of the sweetness comes from a ginger simple syrup that is, well, pretty simple to make. Equal parts water and sugar come to a boil with fresh ginger slices and is then left to steep for 20-30 minutes. Strain out the ginger and you have your lemonade sweetener and extra flavor addition all in one. Plus making the simple syrup ensures the sugar is fully dissolved, so you won't have to stir stir stir or risk drinking gritty lemonade.
This ginger lemonade recipe would be perfect for those of you with a mandolin, because you'll want the ginger slices to be as thin as possible so the syrup has a bold flavor. I'm not a mandolin owner, so I very carefully sliced the ginger and it worked fine, but it would definitely be easier and quicker with a mandolin.
Once the ginger syrup chills, you'll squeeze some lemons as you would for all lemonade recipes, but an easy switch takes this ginger lemonade to the next level – club soda! Subbing in a liter of club soda for water added to the lemonade when it's being stirred up gives it an effervescence sort of like kombucha, except for all that fermentation going on there. I also added a cup of cold water along with the club soda to mellow out the flavor a bit, but that step is up to you. If you find the flavor of this ginger lemonade too strong even after preparing the recipe as written below, just add additional water (or club soda) until it reaches your liking.

Sparkling Ginger Lemonade
Ingredients
Ginger Syrup:
1 cup water
1 cup granulated sugar
4 oz ginger root, peeled and sliced thinly
Lemonade:
1 cup freshly-squeezed lemon juice (from about 5 large lemons)
1 liter club soda
1 cup cold water
Mint leaves, for garnish (optional)
Instructions
For the ginger syrup:
Add 1 cup of water, sugar, and thinly-sliced ginger to a small saucepan set over medium-high heat and stir. Bring to a low boil for 2-3 minutes, and then remove from heat. Cover the saucepan and let steep for 25 minutes.
After 25 minutes, pour the ginger syrup through a fine mesh strainer and refrigerate until chilled.
For the lemonade:
Combine chilled ginger syrup, lemon juice, club soda, and 1 cup cold water in a large pitcher. Add ice and fresh mint leaves, if you like.
Notes
The total time here is mostly inactive. Of the one hour of prep time, 25 minutes is for the ginger syrup to steep, and 20 minutes is for the syrup to chill in the fridge.

This recipe yields 12 oz of ginger syrup, all of which I used in this recipe.

If you add mint leaves to this sparkling ginger lemonade for serving and then store extra servings in the fridge, the lemonade will take on more of a mint-ginger flavor as time goes by.
P.S. If you're feeling ginger in iced beverages, check out this
lemon ginger green iced tea with honey
, too!