Lemon ginger iced green tea is a refreshing twist on a favorite summer drink. An easy lemon ginger simple syrup uses honey to flavor and sweeten multiple batches to your liking.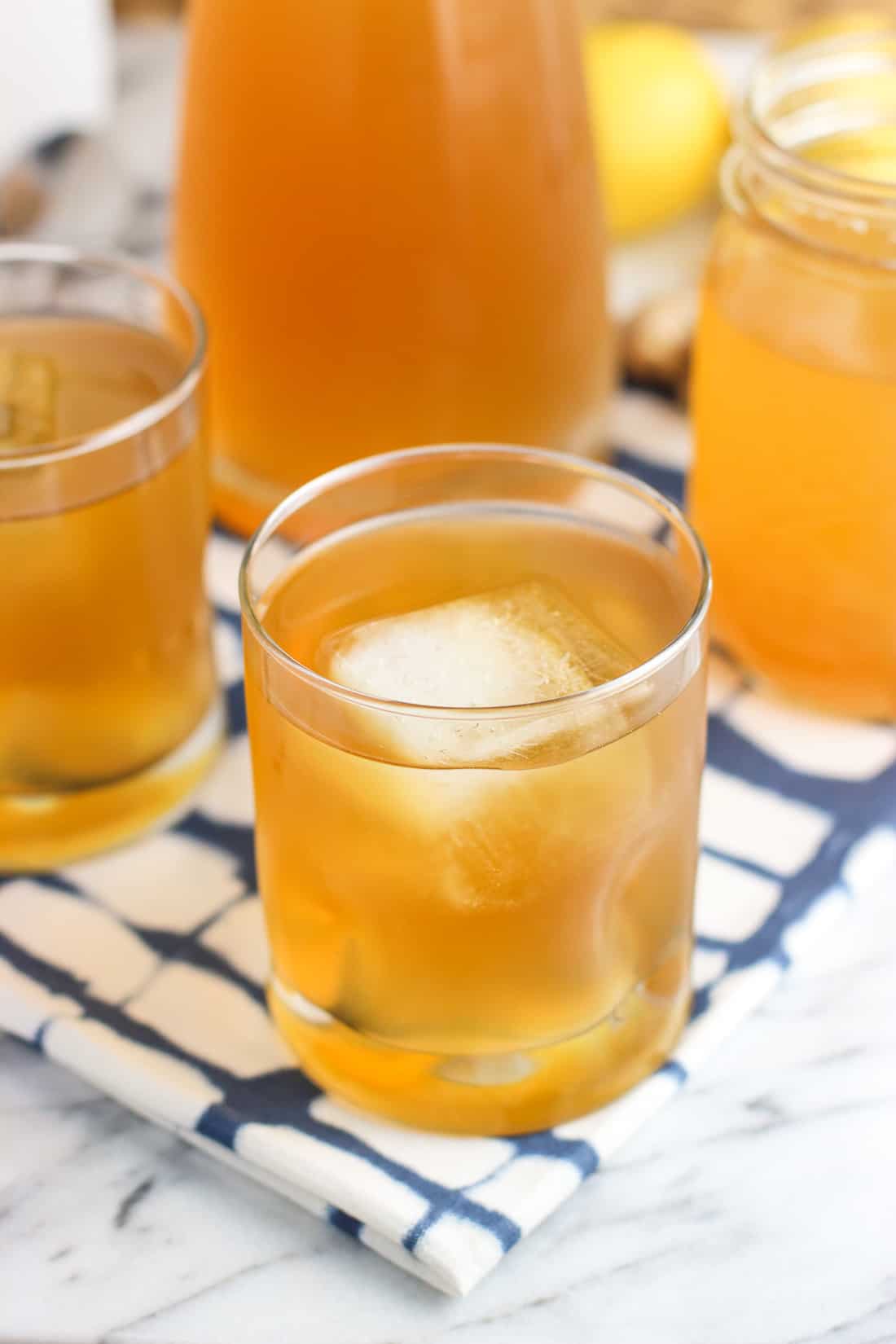 How's that for a title? I suppose it makes this iced green tea sound more complicated than it is, which isn't exactly what we want. This iced tea happens in two parts - first you make a slightly-fancier-than-most simple syrup, and then you brew up some green tea. Combine the two in your preferred ratios and that's it! Serve over ice. Easier, zhushed up iced tea.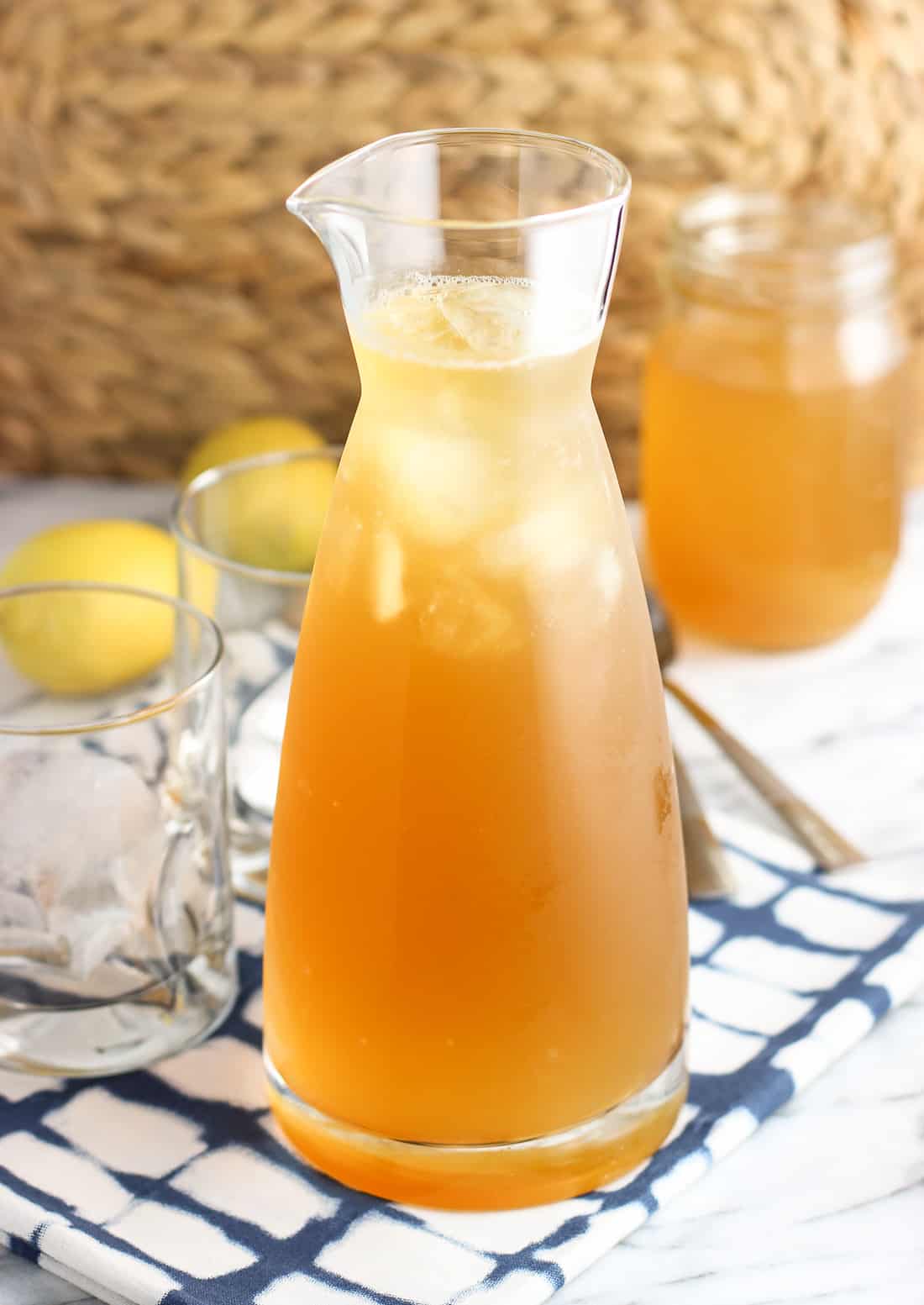 And MAN oh man can I say that anything easier is much appreciated these days. Setting up a house is no joke. All the painting is one thing, but choosing furniture? Impossible. We have a couch picked out (and that's it), but how in the world are you supposed to pick out a rug? After hours of online shopping, I've determined I'm a rug Goldilocks over here, except for the fact that I haven't yet found the one that's just right.
Needless to say my brain has been filled to capacity with things like trying to remember to sign up for garbage service and ripping a chair rail off the wall without causing a ton of damage in addition to the usual work/blog/life culprits, so the blog has been a little quiet lately. But that changes now.
I can speak from experience when I say that this lemon ginger iced tea with honey totally hits the spot when you need a little warm weather pick-me-up. To be more specific, it especially hits the spot when it's 90°F outside and your paint drop cloths are covering the vents so you can't turn on the A/C. Oooof.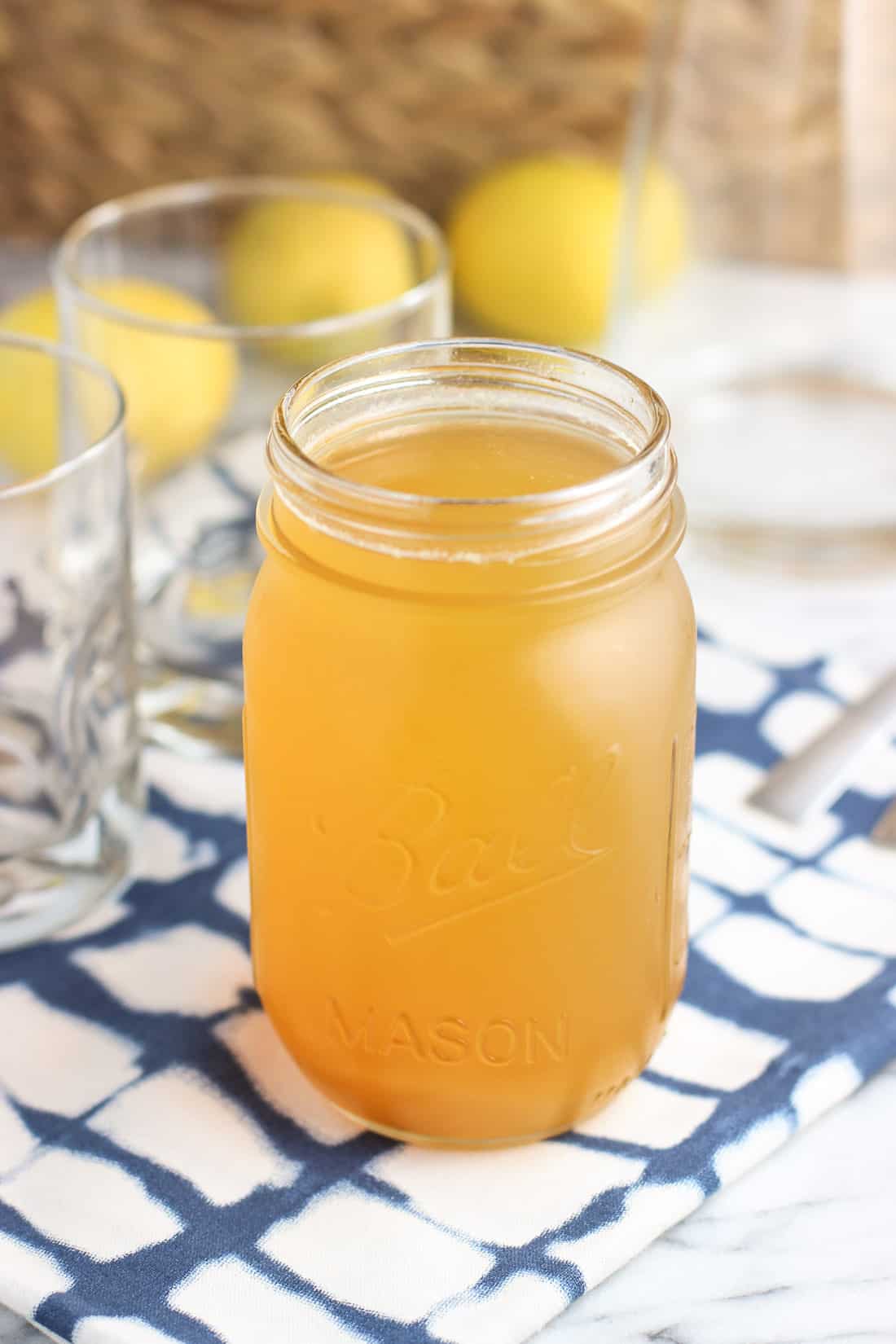 Easy ingredients
For starts, let's get into this lemon ginger simple syrup. At its base it's made with a mix of granulated sugar and honey for sweetness with a little flavor. Honey works just as well in a simple syrup!
I used equal parts sugar/honey because with the lemon and ginger being added to the mix, I didn't want a strong honey flavor competing as well. But feel free to increase the honey ratio to the sugar (or try out using honey entirely) if you're big into honey flavor in your teas.
Then we're flavoring it with fresh lemon, both the juice and peel, and thinly-sliced ginger root. This citrus-with-a-bite flavor infuses as the simple syrup cools for the perfect (IMO) complement to green tea.
Simple recipe steps
First start with preparing the simple syrup. The good news is that it can be made days ahead of time and yields enough to flavor multiple batches of iced tea.
Bring the water/sugar/honey mixture to a gentle boil, or until the sugar granules have dissolved. Then remove the pan from the heat and add the lemon juice, lemon peel, and thin slices of fresh ginger. Let everything sit at room temperature until once cooled completely, then pour it through a strainer and refrigerate until ready to use.
You can make quite a few pitchers of this tea with one batch of syrup. Love recipes where you can do the work once and enjoy the benefits multiple times.
Go with whatever ratio of syrup to tea you like, but I've landed on about ½ cup of syrup to 6 cups of tea. That ends up around 1 ½ tablespoons of syrup per one cup of green tea, which is lightly flavored and just sweet enough. No one will mistake this for real deal sweet tea.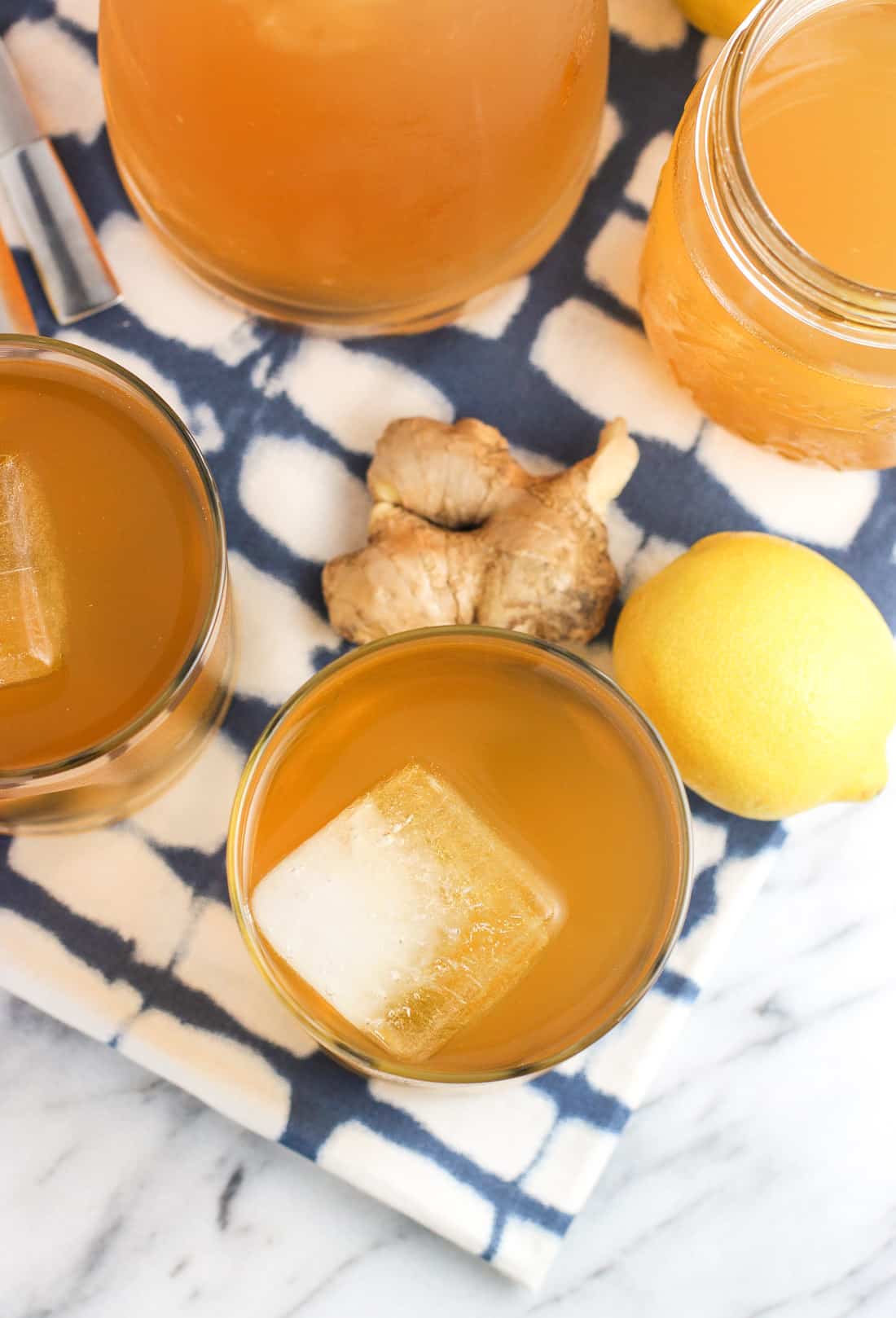 Related recipes
Lemon and honey also make a great trio when added to whiskey! This warm-weather ready take on a gold rush cocktail is blended with ice for an extra refreshing beverage.
Combining different flavors of tea bags just might be the EASIEST way to come up with fun, new iced tea flavors. Iced raspberry mint green tea is a favorite.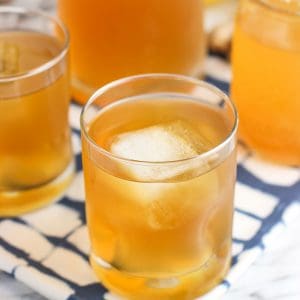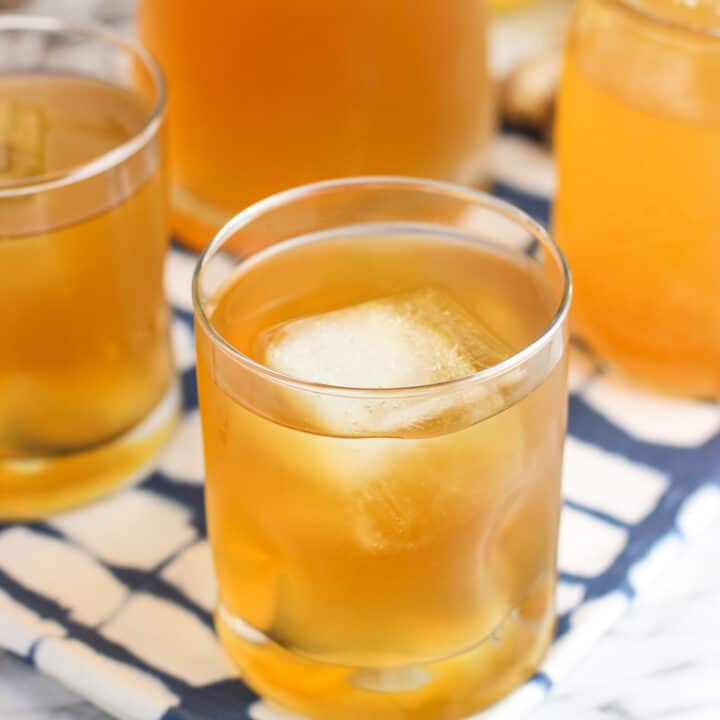 Lemon Ginger Iced Green Tea with Honey
Lemon ginger iced green tea is a refreshing twist on a favorite summer drink. An easy lemon ginger simple syrup uses honey to flavor and sweeten multiple batches to your liking.
Print
Pin
Rate
Ingredients
For the Lemon Ginger Syrup:
1

cup

water

½

cup

granulated sugar

½

cup

honey

⅓

cup

peeled and sliced fresh ginger,

approximately (or more)

¾

cup

freshly squeezed lemon juice

(from about 4 lemons)

Lemon peel from about 2 lemons
For the Iced Green Tea:
6

cups

water

6

green tea bags
Instructions
For the syrup:
Stir together water, granulated sugar, and honey in a medium saucepan set over medium heat. Let it come to a simmer. Once sugar has dissolved completely, remove from heat and add ginger, lemon juice and lemon peel. Stir, and let syrup cool to room temperature. Once cooled, pour syrup through a strainer to remove the ginger/lemon peel and store in an airtight container in the refrigerator.
For the tea:
Bring water to a boil and let tea bags steep for five or so minutes (your preference). Refrigerate.
To serve:
Add your desired amount of lemon ginger syrup to iced green tea. I suggest ½ cup of syrup to 6 cups of tea for a flavored and sweet but not too sweet twist. Of course adjust the syrup to your liking!
Notes
The lemon ginger syrup recipe yields approximately 2 cups, of which you won't use all of it for one batch of iced tea. Refrigerate the leftover syrup to use in future batches (or cocktails!)
This recipe yields approximately 1 ½ quarts of iced green tea, which I'm calling 6 servings. Nutritional info is an estimate based on using one-quarter of the lemon ginger simple syrup in 6 servings. You should be able to get 24 servings of this iced tea out of one batch of simple syrup, but will vary depending on how sweet you like your tea.
Nutrition
Serving:
1
cup
|
Calories:
39
kcal
|
Carbohydrates:
10.2
g
|
Protein:
0.1
g
|
Fat:
0.1
g
|
Saturated Fat:
0.1
g
|
Sodium:
2
mg
|
Potassium:
13
mg
|
Sugar:
10.1
g
Nutritional information is provided as an estimate. As it can vary due to many factors (brands used, quantities, etc.), we cannot guarantee its accuracy.
Food Safety and Nutrition Disclaimer