This roasted garlic hummus recipe is so easy to make at home! Kitchen staples along with plenty of easily roasted garlic make this homemade hummus a delicious appetizer or healthy snack.
As much as I daydream about it, I will never be the type of person who makes everything from scratch. Armed with ambition and plenty of time, my sourdough starter lasted all of 10 days before I threw in the towel.
That said, two things I opt for homemade most of the time are pestos (spinach pesto and arugula are real treats) and hummus. (Sometimes I even combine them, like in kale pesto hummus). Both are simple kinds of recipes where you can easily switch up flavors without the need for precision. Works for me!
Note: If you're returning from a saved link, this recipe has been updated slightly from its initial publish date in 2019. A range is now given for the tahini, the quantities of salt, pepper, and lemon juice are slightly bumped up, and I've included the addition of one raw garlic clove for extra flavor.
Reasons to Love This Recipe
This homemade roasted garlic hummus recipe is simple for two reasons: it uses pantry/kitchen staples and just needs to be thrown in the food processor for it to work its magic (after roasting the garlic).
Hummus is comprised of good-for-you ingredients, such as chickpeas, tahini, and olive oil, that may help support a nutritious eating pattern (NIH source).
Roasted garlic hummus is so versatile! Besides a dip, it makes a wonderful sandwich spread and can be thinned out for hummus salad dressing.
Recipe Ingredients
Chickpeas: For convenience I use canned chickpeas in homemade hummus, though you can certainly cook your own to use here. One 15.5-ounce can is the equivalent of about 1 ½ cups of cooked chickpeas. And don't toss away the liquid! Six tablespoons help make this hummus creamy without diluting the flavor.
Tahini: Tahini is a paste made from ground sesame seeds that imparts a nutty-like flavor to hummus. It can be found in the "international" aisle of the grocery store. I've tested this recipe with anywhere between ¼-cup and ½-cup of tahini and any amount in that range works. It's just up to your taste preference. If you love tahini flavor go with the higher amount, if you're not sure stick with the lower.
Roasted garlic: It's not a mistake, this hummus recipe uses two heads of garlic. Not cloves, whole heads! Roasting the garlic significantly mellows the flavor and takes away the bite that you get with fresh garlic. Instead you're left with a rich and almost caramelized flavor.
Raw garlic: While definitely not required, in the years since first posting this recipe I've started adding one raw garlic clove in addition to the roasted. This amplifies the garlic flavor just enough without being too much, like some store-bought varieties.
Step-by-Step Instructions
While hummus is a classic throw-everything-in-the-food-processor-and-enjoy kind of dish, this one requires a step to prep ahead of time: roasting the garlic. This

how to roast garlic

tutorial features the steps I follow to roast heads of garlic to reliably golden and soft cloves. Roasting the garlic can be done up to a few days ahead of time. Just keep the heads refrigerated.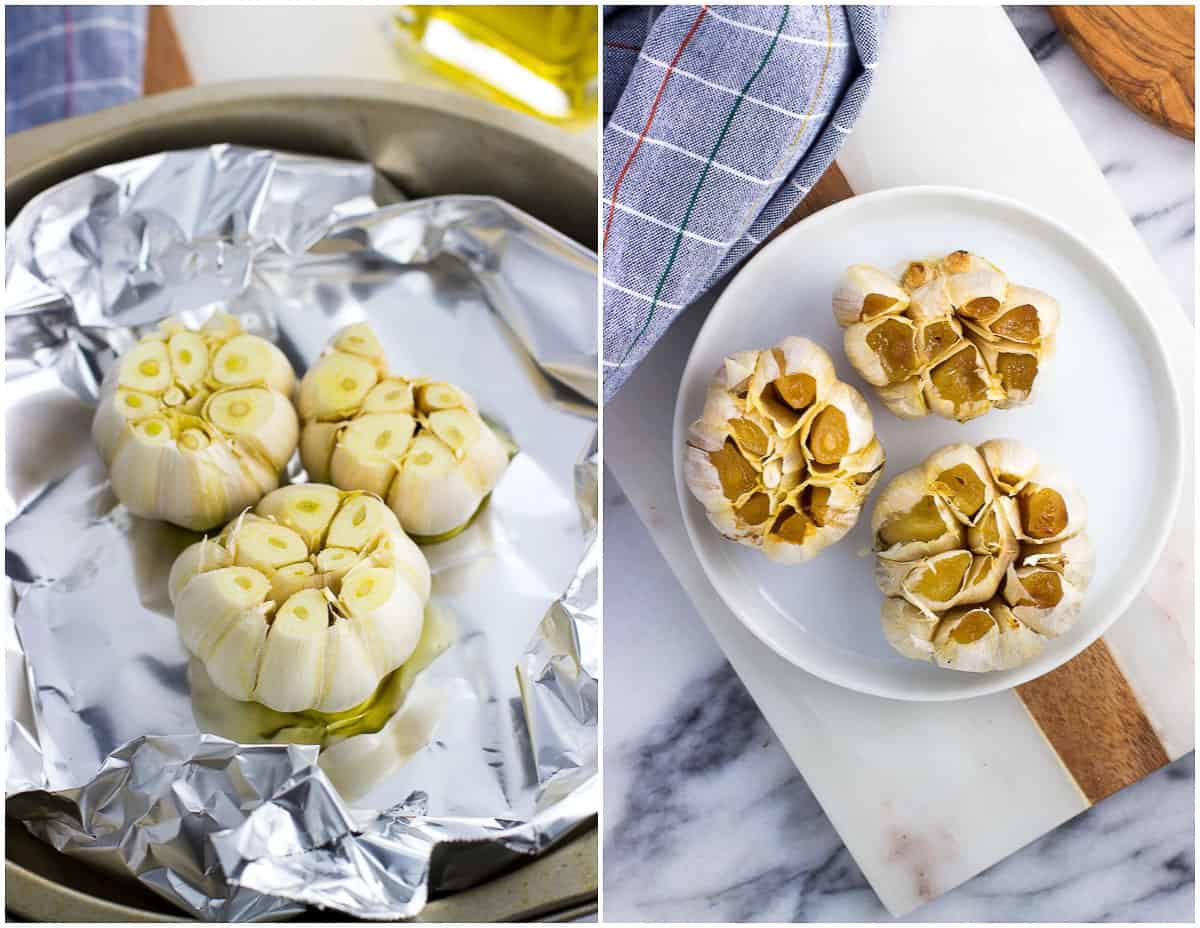 Next is to stir up the tahini. The oil always separates in the container, so you'll want to stir it up really well before measuring it out for this recipe. It might take a little elbow grease to get the bottom layer up as it can be surprisingly stuck in there, but the goal is to get it looking from the left picture below (unstirred) to the right (stirred).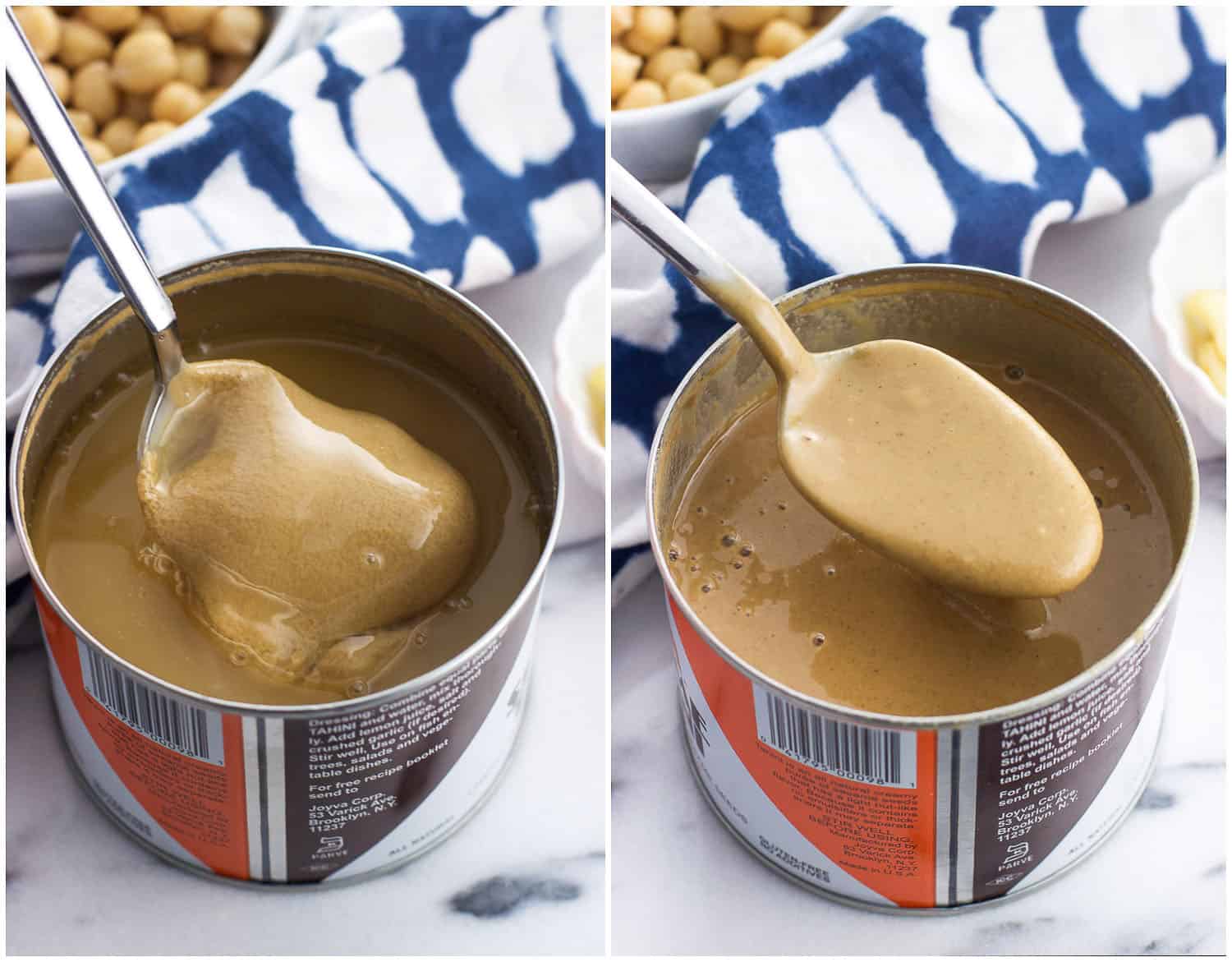 Add all of the roasted garlic hummus ingredients to the bowl of a food processor and pulse until smooth and creamy, scraping down the sides as needed to incorporate all of the ingredients. The food processor pictured here has a seven-cup capacity and fits everything comfortably with room to spare.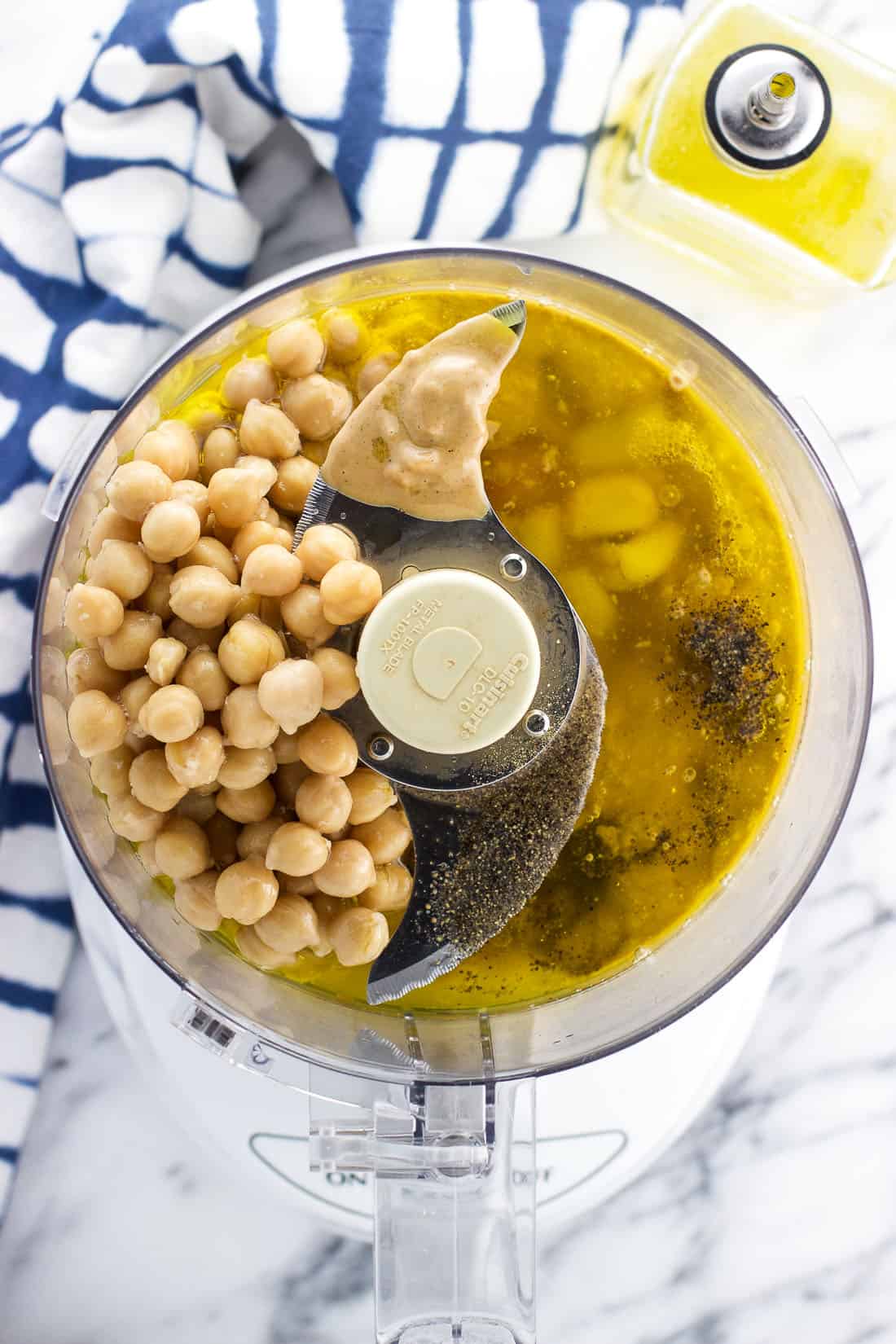 At this point take a taste and add whatever seasonings you like. Salt and pepper are included, but crushed red pepper will bring spice, fresh herbs, more lemon juice, etc. Lots of things mesh well with the flavor of roasted garlic.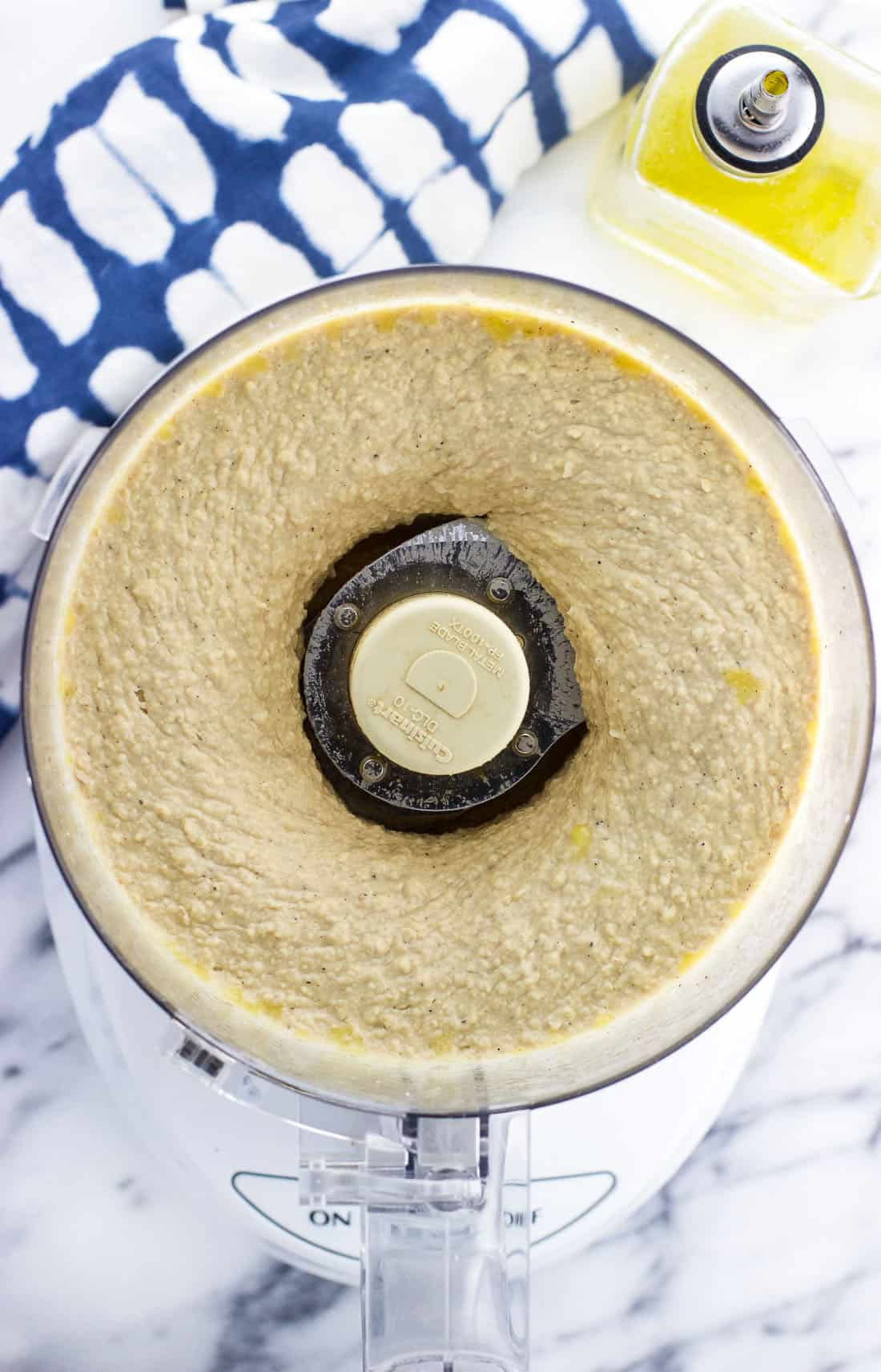 Expert Tips
If you're having trouble mixing up the tahini in its container, you can transfer everything into a mixing bowl and mix until cohesive and creamy using a hand mixer. For extra tricky cases you can use a food processor.
The slight chunkiness of this quick hummus doesn't bother me in the slightest (I am all about rustic) but if you would prefer super smooth hummus you can peel the chickpeas before using in the recipe. There are tips out there such as boiling chickpeas with baking soda that aren't as tedious as hand-removing each skin, but I haven't attempted it to know how it would work.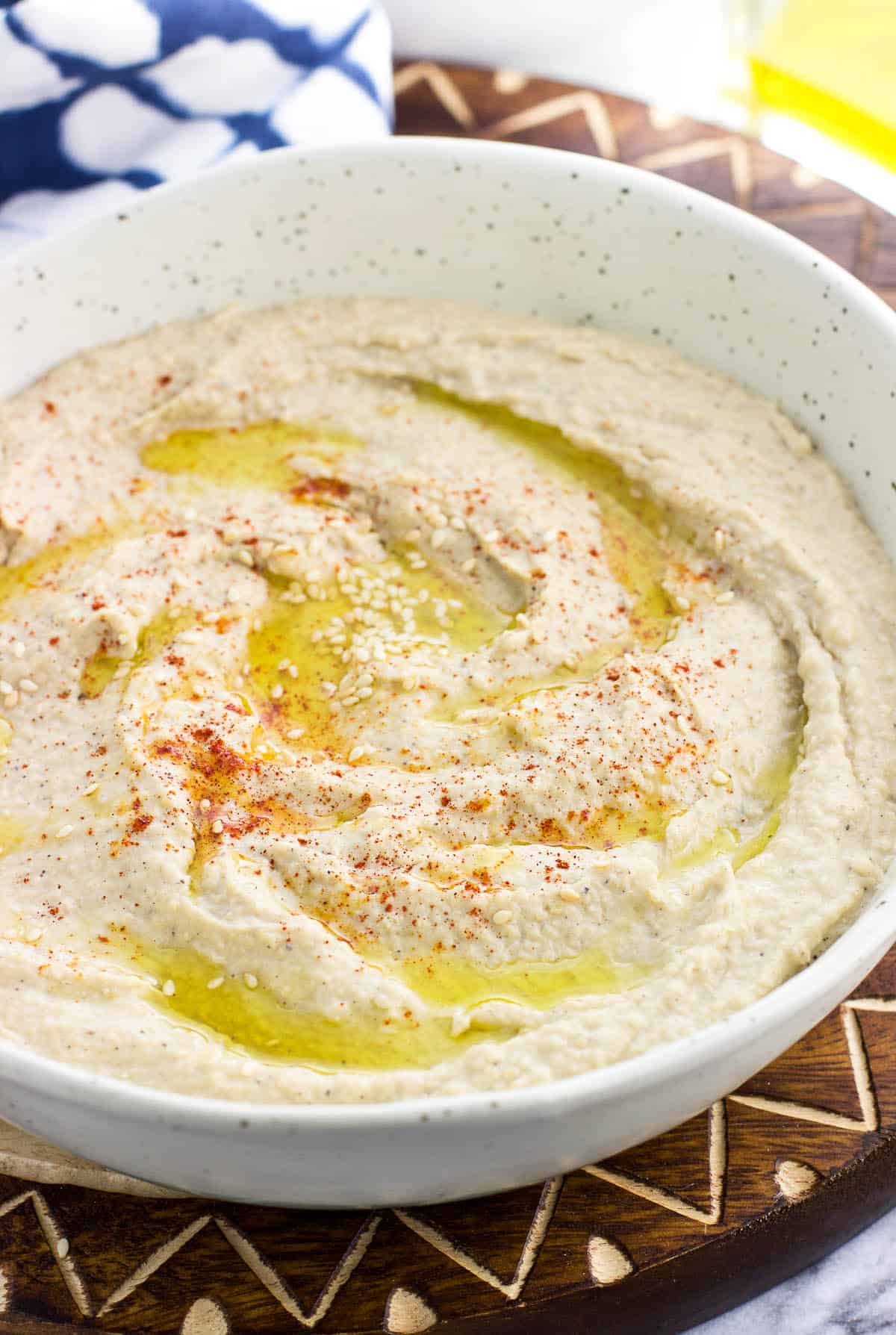 Recipe FAQs
What does roasted garlic hummus taste like?
Roasting the garlic mellows out the flavor considerably! I find this homemade hummus to be milder in garlic flavor than some of the roasted garlic flavor of leading grocery store brands (which even to me, a garlic lover, thinks is a good thing).
Is roasted garlic hummus healthy?
I think so! At its base hummus is comprised cooked chickpeas, tahini, and olive oil, which all have their own nutrients, from fiber to protein to healthy fats. Roasted garlic is a low-calorie addition that packs in the flavor.
What do you eat roasted garlic hummus with?
Store-bought or homemade pita chips (minus the cinnamon sugar in this case), an assortment of vegetables like celery and carrots, or pretzels or pretzel chips make great pairings with hummus. It also makes a great sandwich spread.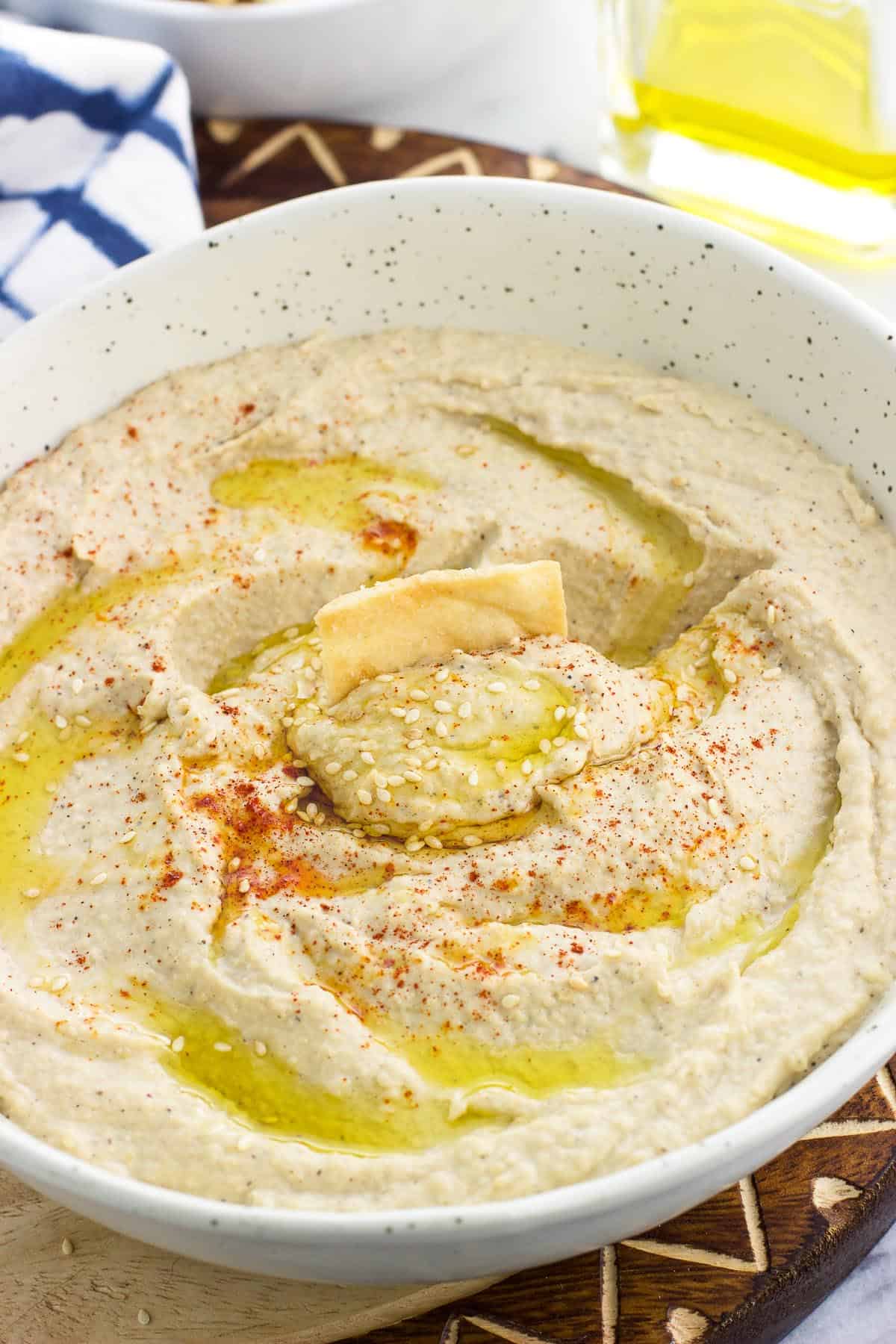 Related Recipes
If you've enjoyed this recipe, I'd love for you to leave a star rating in the recipe card and/or a comment review below!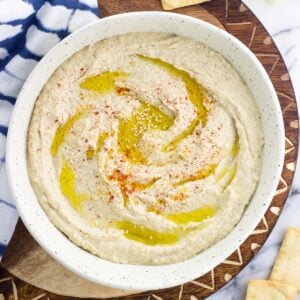 Homemade Roasted Garlic Hummus
This roasted garlic hummus recipe is so easy to make at home! Kitchen staples along with plenty of easily roasted garlic make this homemade hummus a delicious appetizer or healthy snack.
Print
Pin
Rate
Ingredients
2

whole heads

roasted garlic

1

15.5-oz can

chickpeas,

liquid reserved

¼

cup

tahini

up to ½ cup (see note)

6

Tablespoons

reserved chickpea liquid

6

Tablespoons

extra-virgin olive oil

2

Tablespoons

freshly-squeezed lemon juice

1

small

raw garlic clove

½

teaspoon

salt

or to taste

¼

teaspoon

ground black pepper

or to taste
Instructions
Roast two heads of garlic following the instructions linked in the recipe ingredients list. Once roasted and cooled, remove each clove for use in this hummus.

Stir up the tahini in its container very well before measuring it out. Making sure the oil is well mixed in before scooping it prevents too much oil from making its way into the hummus.

Add all of the ingredients to the bowl of a food processor, starting with half of the raw clove of garlic. Process until creamy and combined, scraping down the sides as needed. Take a taste and adjust the seasonings as you like them (salt, pepper, adding the other half of the raw clove of garlic, etc.) before processing again, if needed, and serving.
Notes
Ingredient Notes
Chickpeas: One can of chickpeas is the equivalent of 1 ½ cups of cooked chickpeas if you would rather cook your own.
Tahini: One-quarter cup of tahini provides a nicely-balanced hummus, though if you're a big fan of tahini's nuttiness, you can use up to one-half cup of tahini for a bolder flavor.
Garlic: If your heads of roasted garlic are very large (have a lot of cloves), you may only need half of a raw clove to flavor. Consider starting with half of a raw clove and then blending and tasting before deciding if you'd like more added as well. It's easier to add more than to come back from too-garlicky.
Recipe Tips
For a make-ahead tip, you can roast the garlic up to several days ahead of time before preparing the hummus. Just keep the roasted garlic refrigerated.
While this is a step I skip, if you like really smooth hummus, peel the chickpeas before blending.
If you're finding the tahini difficult to stir up, you can add it to a bowl and blend with a hand mixer to help incorporate the oil evenly.
To serve, drizzle extra-virgin olive oil over top. A variety of spices, fresh herbs, and/or toasted sesame seeds make great garnish options.
Serving Suggestions: Besides pita chips, hummus can also be served with crunchy vegetables (carrots, celery, cucumbers, peppers, broccoli florets) and pretzels/pretzel chips. Use it in place of mayonnaise in sandwiches and creamy salads.
Storage: Keep hummus refrigerated for up to one week.
Yield: This recipe yields approximately 20 ounces of hummus.
Nutrition
Calories:
147
kcal
|
Carbohydrates:
8
g
|
Protein:
3.4
g
|
Fat:
12.3
g
|
Saturated Fat:
1.7
g
|
Sodium:
127
mg
|
Potassium:
124
mg
|
Fiber:
2.3
g
|
Sugar:
0.3
g
|
Calcium:
50
mg
|
Iron:
0.7
mg
Nutritional information is provided as an estimate. As it can vary due to many factors (brands used, quantities, etc.), we cannot guarantee its accuracy.
Food Safety and Nutrition Disclaimer