This Hummus Avocado Turkey Club Sandwich is a satisfying and flavorful meal, featuring the traditional club sandwich components along with creamy mashed avocado and hummus in place of the mayonnaise. This stacked sandwich is sure to brighten up your lunchtime!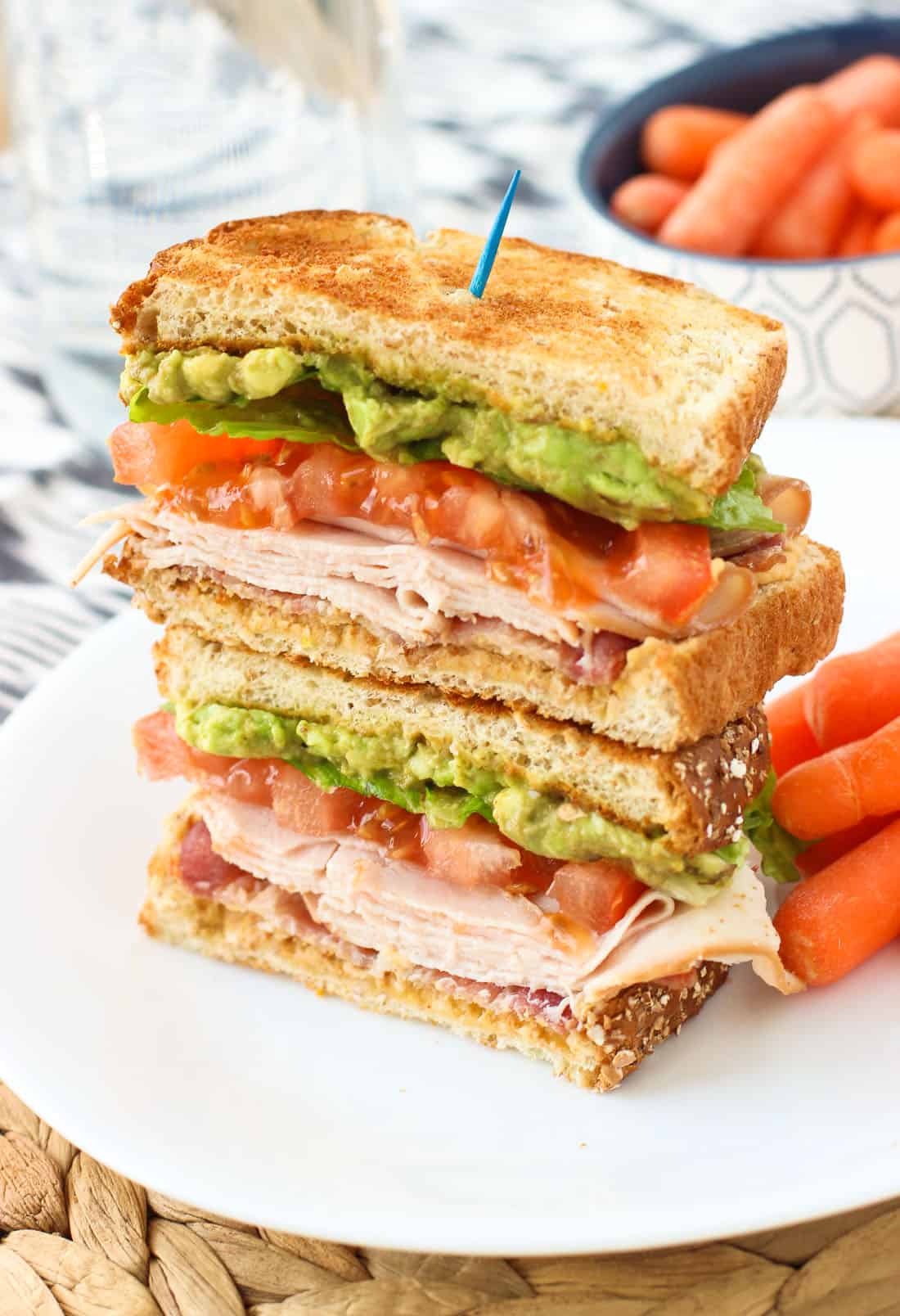 We're talking one of my favorite things today and that's lunch. It can be a day game-changer, right? Your morning work seems to go by a little quicker when you're looking forward to your midday meal. And let's be real – if you're anything like me, your excitement begins to creep up the night before at the prospect of a delicious lunch in your future.
The latest lunch to get me excited about the busy day ahead? This hummus avocado turkey club sandwich, made with Oscar Mayer Selects Natural Slow Roasted Turkey. Oscar Mayer Selects Natural meats are made without artificial preservatives, artificial flavors, gluten, or by-products. Cold cuts like Oscar Mayer Selects Natural deliver all the taste you want in your sandwiches, in a minimally-processed and delicious product your family deserves!
This hummus avocado turkey club sandwich is made in a health-focused way, starting off with Oscar Mayer Selects Natural Slow Roasted Turkey delivering that great roasted turkey flavor without artificial ingredients. Juicy tomato slices, one slice of bacon (you can use turkey bacon if you prefer), and lettuce join the party as traditional club sandwich ingredients, with the addition of mashed avocado for an extra creamy twist.
Instead of using mayonnaise, I added about 1 1/2 tablespoons of hummus to provide even more of a creamy element and a wonderful flavor that adds to this turkey club sandwich. You can use our favorite store-bought hummus, or make your own if you'd like to have extra to snack on later. For this hummus avocado turkey club sandwich, I whipped up a batch of easy basil hummus and omitted the basil, instead amping up the spices for flavor.
And we can't talk about a sandwich without mentioning the bread! You can use whatever bread you like, of course, but I really enjoy using multigrain bread on my sandwiches as a better-for-you swap. Toasted bread totally takes this already amazing sandwich to the next level.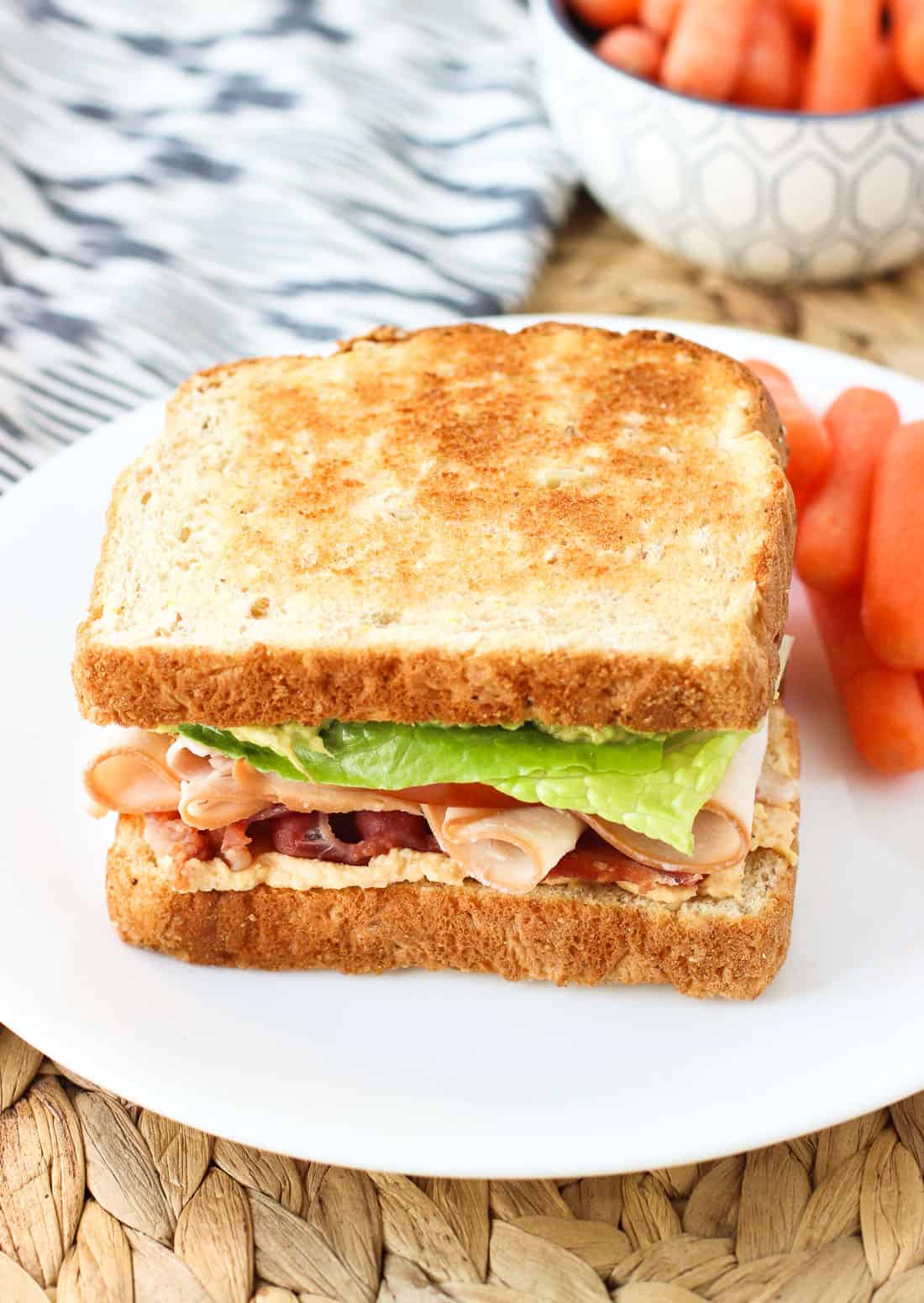 Oscar Mayer Selects Natural is available in five flavorful varieties, including this Slow Roasted Turkey, Applewood Smoked Turkey, Rotisserie Seasoned Chicken, Applewood Smoked Ham, and Slow Roasted Roast Beef. Yum! To learn more about Selects Natural and Oscar Mayer products, check them out on the Oscar Mayer Website, Facebook, Twitter, and Tumblr.

Hummus Avocado Turkey Club Sandwich
Ingredients
2 slices multigrain bread (or preferred type), lightly toasted
1 1/2 tbsp hummus
1 slice cooked bacon
2 oz (about 5 slices) Oscar Mayer Selects Natural Slow Roasted Turkey
2 thin tomato slices
1 large leaf of lettuce
Approx. 2 tbsp mashed avocado (about half of a small avocado)
Sea salt and pepper
Instructions
Before assembling sandwich, prepare bacon as you wish (on stovetop, in oven, in microwave). For baking, I like to preheat oven to 375 degrees F and line a baking sheet with aluminum foil. Place bacon on sheet and bake for 12-15 minutes, or until bacon has reached your preferred doneness. Blot bacon with paper towels to remove excess grease.
Lightly toast two slices of bread. On one slice of bread, spread hummus. Place bacon on hummus, then 2 oz of Oscar Mayer Selects Natural Slow Roasted Turkey, tomato slices, and lettuce.
Mash about half of an avocado in a small bowl with the back of a fork, working in sea salt and pepper to your taste. Spread mashed avocado on the other slice of bread. Add that slice of bread on top of the lettuce. Cut sandwich in half and secure each half with a toothpick.
Notes
Cook time includes preparing bacon in the oven.

If you're bring this sandwich with you for lunch, you may wish to prep the sandwich beforehand, and bring the avocado with you to mash shortly before eating.
I was selected for this opportunity as a member of Clever Girls and the content and opinions expressed here are all my own.