Golden brown challah french toast is a big treat in the mornings. This rich, dense bread makes the BEST french toast and perfectly soaks up a spiced and slightly sweetened custard.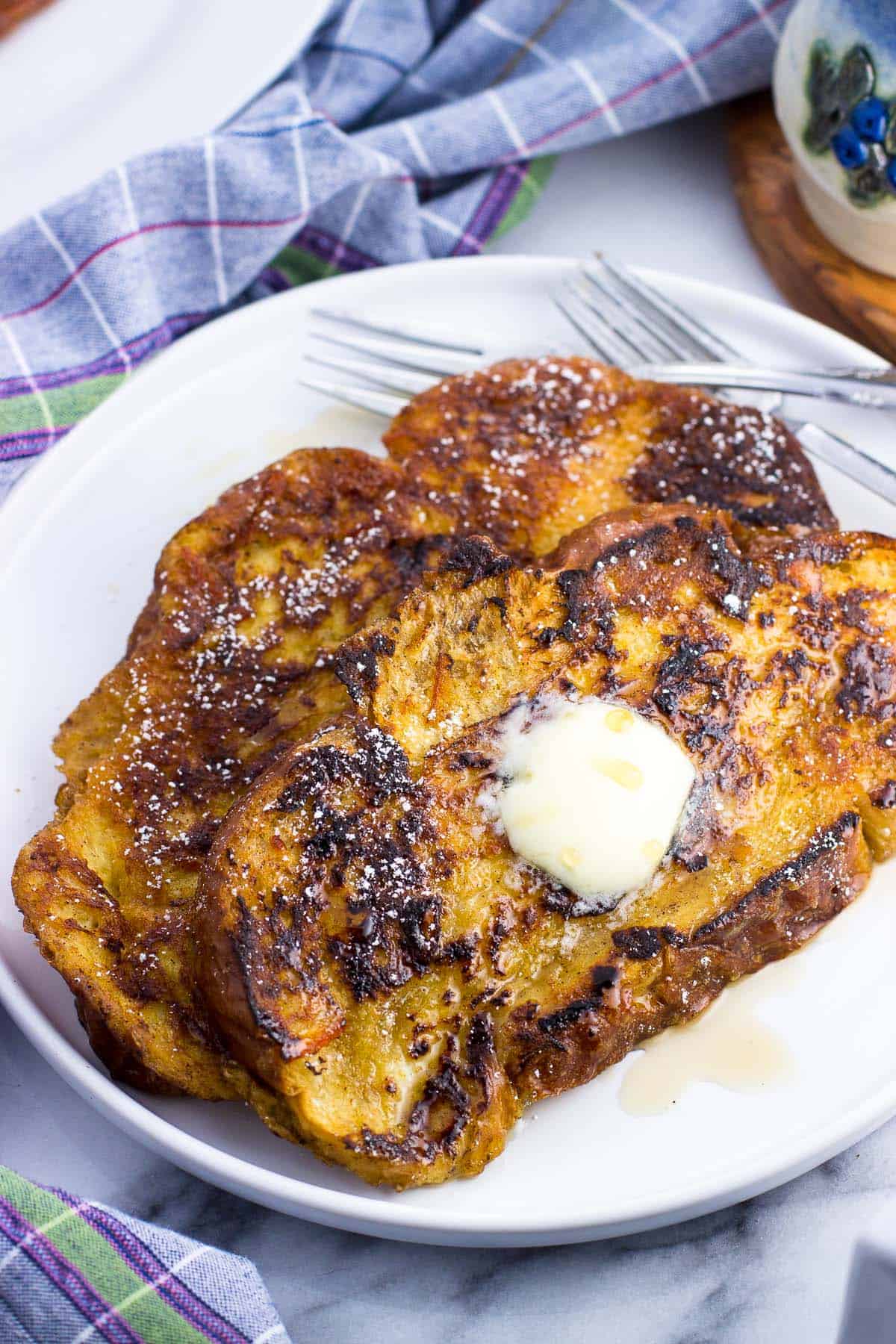 If I had to guess, four out of five times french toast is made in my house it's in the form of a bake. Tear the bread up, pour the ingredients in a pan, and bake. So easy.
While I can say that I prefer that way because it's more hands-off, the truth is that I think real deal french toast is kind of tricky to make!
You want to ensure that your bread is sliced to the ideal thickness, that the slices soak enough to saturate but not become soggy, and that they cook at just the right temperature and for the right amount of time that they turn golden-brown (and not burnt-brown) with a fully-cooked center.
And unless you're up for manning multiple large skillets at once, you'll likely have to cook it in batches, which runs at odds against french toast's preferred serving temperature of right-from-the-stovetop.
So, despite all that, why am I sharing a straight-up challah french toast recipe here, you might ask? Fair question. Because when the right ingredients are chosen and certain tips and tricks are followed, the end result is WELL-worth the care involved.
Recipe ingredients
Unless I'm going festive (like in this panettone french toast bake — YUM), challah bread is my top pick for making french toast.
Challah is a fairly rich, egg-based bread that is braided and baked into a fluffy, tender loaf. If you've never eaten challah before, it has a fairly similar texture to brioche, although with a big difference. Challah is made dairy-free, as is important in the Jewish religion, while brioche is made with butter and milk.
Because it's denser than regular sandwich bread, challah makes a fabulous choice for french toast. It absorbs the egg and milk well, all the while holding its shape nicely even while soaked. You can likely find a sixteen-ounce loaf of challah in the bakery section of a chain grocery store, as well as stand-alone bakeries.
While the bread is arguably the most important element to challah french toast, we need (mostly) basic kitchen staples to form the custard, including:
large eggs
milk (or a milk/cream or milk/half-and-half combo)
maple syrup
vanilla extract
ground cinnamon
salt
and my favorite (optional) twist: orange marmalade or zest
Many of the ingredients in the list above are straight-forward in making french toast, but let's talk about the twist. A hint of citrus flavor pairs wonderfully with everything else going on in the custard.
Orange zest and a splash of orange juice will work, but I've taken to whisking two tablespoons or so of orange marmalade into the mixture. I love how the little bits of preserved rind stick to the challah slices and add a very subtle flavor to tie it together (it isn't strong).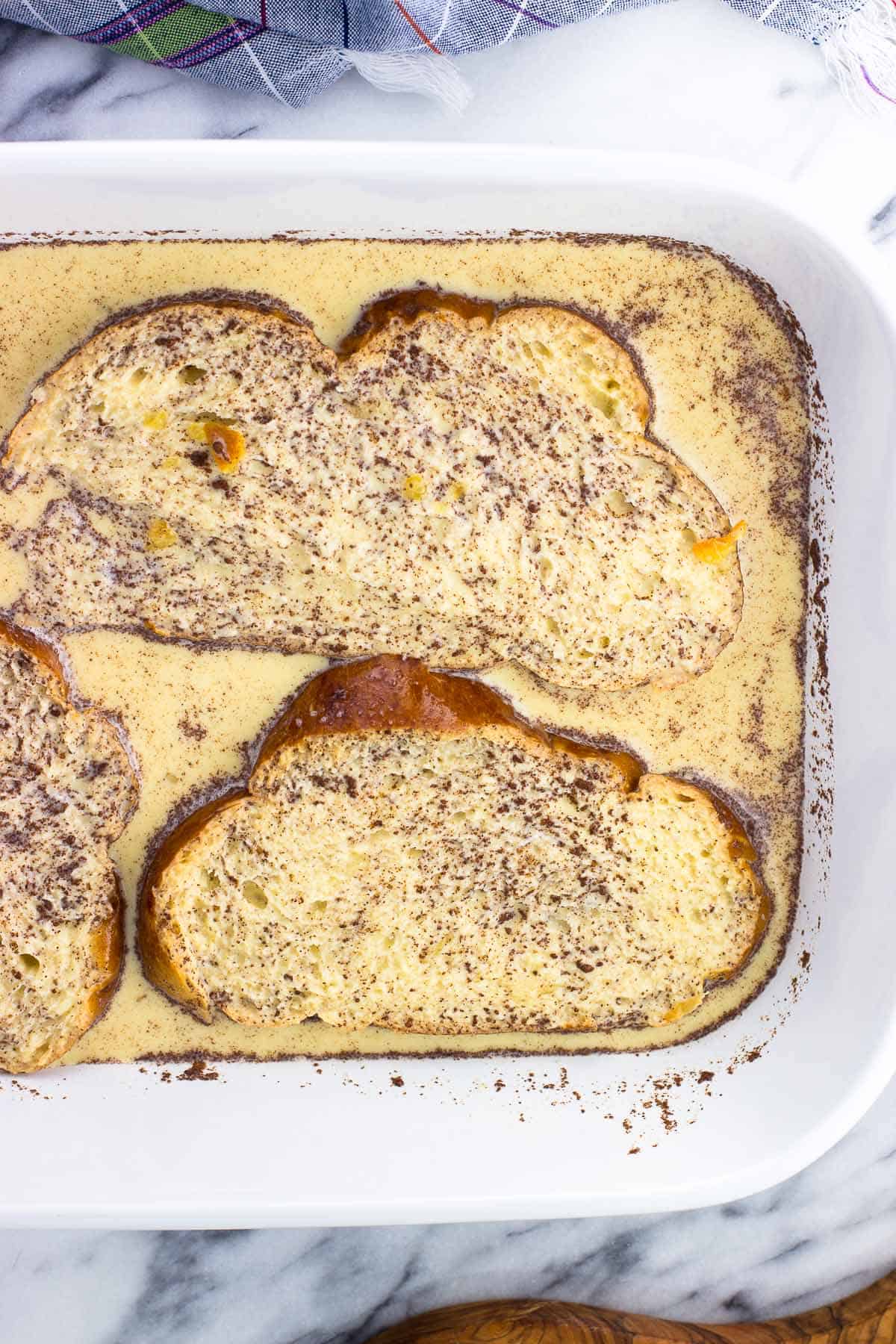 Tips and tricks to make challah french toast
Paying mind to a few areas in prepping and cooking challah french toast ensures you achieve a golden and perfectly cooked end result.
#1 – Use stale bread. One- or two- (or three-…) day-old bread works best for french toast as the slightly stale nature helps it better absorb the custard.
#2 – Cut slices 3/4-inch thick. One of the hallmarks of good french toast is a crisped exterior with a soft-but-not-squishy interior. Too thin challah slices can dry out while cooking and become tougher, while slices that are too thick may burn on the outside before the center gets a chance to cook sufficiently.
#3 – Don't soak too long. Aim to soak your slices for one to two minutes max per side, then get them out of there! You want the bread to be wet throughout, of course, but the challah will continue absorbing the custard as long as it's left in the mixture, which can lead to a super soggy slice.
#4 – Let the custard drip back in the dish. Lift out the soaked bread slices with a spatula (I actually use my fish spatula as it's slotted) and hold them over the dish with the custard for a few seconds before transferring them to the hot skillet to cook. This allows the excess egg mixture to fall back into the dish for future batches, and minimizes the amount that pools around the slices in the skillet.
#5 – Don't crowd the pan. You'll want to use your largest skillet/pan to make french toast, and even still it's likely that you'll need to cook in batches. Aim to cook as many slices as your pan will allow in a single layer on the bottom surface of the pan, with a bit of room between them so they're not touching. I always regret trying to sneak an extra slice in a batch, as the slices cook unevenly if they're squished in, raised up against the curve on the side of the pan, etc.
#6 – Keep an eye on the temperature. I've had many stovetops in my life, both gas and electric, and know that one stove's "medium" may not be the same as another's. It's a good starting point here, but be ready to adjust the heat lower if need be. Too-high of a temperature will result in an extra well-done exterior with an undercooked middle. The sweet spot for my current electric stovetop is more of a medium-low heat.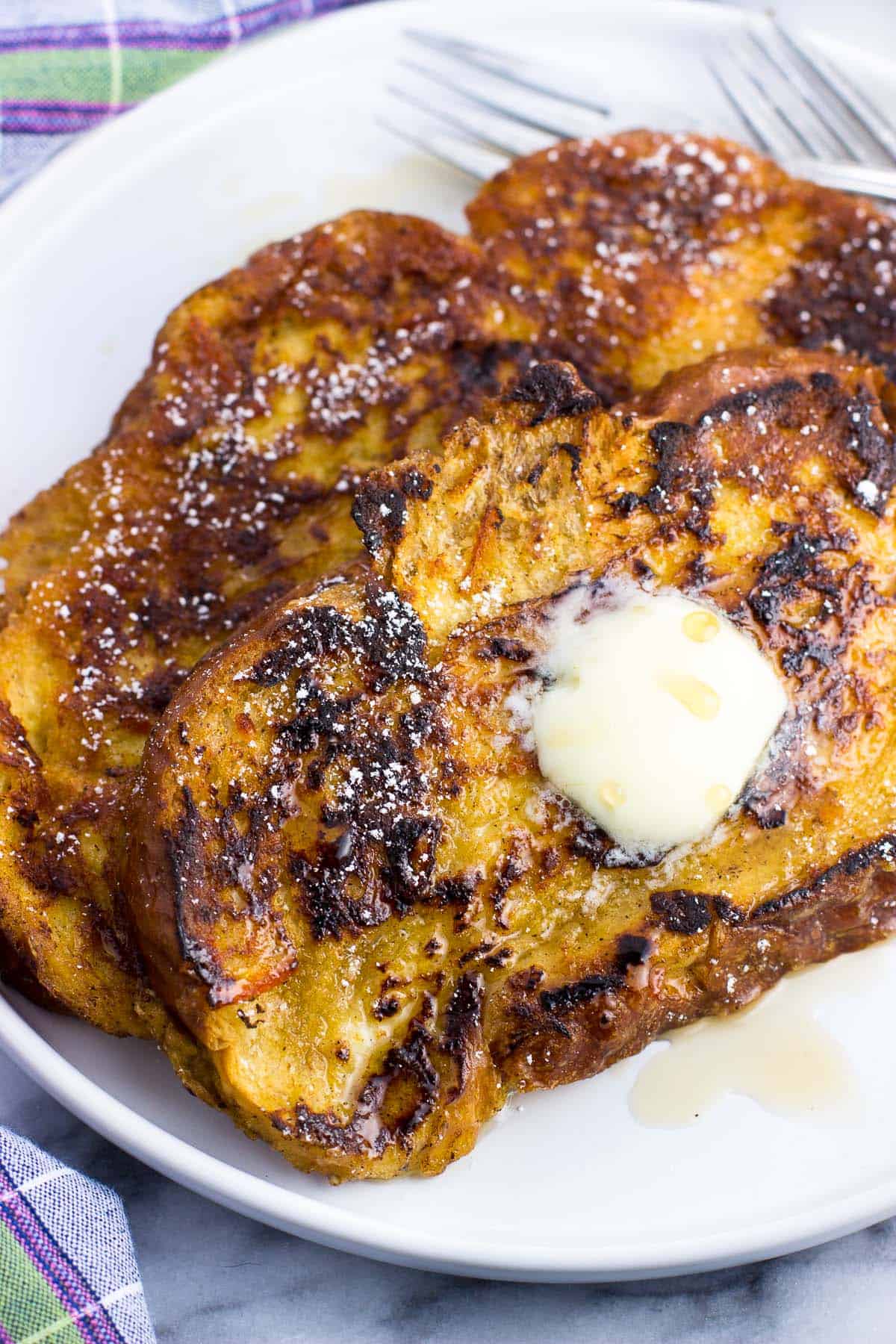 Serving and storing suggestions
Challah french toast is best served right away. Classic toppings include additional maple syrup, a pat of butter, fresh berries, and/or a dusting of powdered sugar.
While it's maybe not quite as good as freshly-cooked, leftover french toast slices can be refrigerated and then reheated, either in the microwave or in the oven. If going the oven route, cover the baking dish with foil or a lid to prevent the french toast from drying out.
Recipe notes
This recipe yields a fair amount, but can pretty easily be halved for a smaller batch.
Any fans of Fiori di Sicilia? Its orange and vanilla taste fits right in here! Simply omit the orange marmalade and vanilla extract, using Fiori di Sicilia instead. I would add max one-half teaspoon of it as a little goes a long way.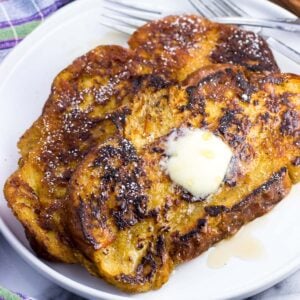 Challah French Toast
Golden brown challah french toast is a big treat in the mornings. This rich, dense bread makes the BEST french toast and perfectly soaks up a spiced and slightly sweetened custard. 
Print
Pin
Rate
Ingredients
1

16-oz loaf

slightly stale challah bread

cut into ¾" slices

6

large eggs

1 ¼

cup

milk

2

tbsp

maple syrup

2

tbsp

orange marmalade

optional (see note)

1

tsp

ground cinnamon

¾

tsp

vanilla extract

Pinch

salt
To cook:
1

tbsp

butter

1

tbsp

neutral-tasting, high-heat oil

such as vegetable or canola
To serve:
Powdered sugar

Maple syrup

Butter
Instructions
Cut challah loaf into ¾-inch thick slices.

Add eggs, milk, maple syrup, orange marmalade (or zest/juice), cinnamon, vanilla extract, and pinch of salt to a large baking dish. Whisk to combine the ingredients evenly.

Add butter and oil to a large skillet set over medium heat. Working in batches, add as many slices of challah that will fit in your skillet at once to the custard dish, letting them soak for 1-2 minutes per side. Once soaked, lift slices up with a spatula and hold them over the dish to allow excess custard to drip back in. Then transfer slices in a single layer to the hot skillet, leaving a little bit of space between slices.

Cook for 2-3 minutes per side, or until the exterior is a deep golden-brown and has crisped up. Keep an eye on the temperature. If you notice the slices cooking a little fast, reduce the heat to medium-low.

Continue for the remaining slices, adding additional butter/oil to the skillet between batches as needed. Serve warm with powdered sugar, maple syrup, butter, fruit, etc.
Notes
Challah: There should yield around twelve slices in a standard-sized challah loaf. Milk: You can sub in a small part of cream or half-and-half for some of the milk to make this french toast even richer. I like to use one cup milk and one-quarter cup cream when I have cream on hand.  Orange marmalade: If you don't have orange marmalade, you can use the zest and juice of one orange. Cooking fat: You can use all butter if you prefer for cooking your french toast, just keep an extra close eye on the stovetop temperature. Butter has a lower smoke point than many oils like vegetable and canola, and can lead to a slightly smoky/excessively browned french toast situation. I like a blend of butter and neutral cooking oil to hedge against burning.
Nutrition
Calories:
385
kcal
|
Carbohydrates:
47.5
g
|
Protein:
15.3
g
|
Fat:
15.6
g
|
Saturated Fat:
4.8
g
|
Sodium:
461
mg
|
Potassium:
94
mg
|
Fiber:
1.4
g
|
Sugar:
13.5
g
|
Calcium:
86
mg
|
Iron:
3
mg
Nutritional information is provided as an estimate. As it can vary due to many factors (brands used, quantities, etc.), we cannot guarantee its accuracy.
P.S. Coming back to this challah french toast post from Pinterest or a saved link? You may recognize the photos below. I have updated this post (recipe, text, photos) in 2021 from its original publish date in October 2014.