What a week it's been. Do you ever have one of those days (or couple of days in this case) when you're go-go-go all day and fall into bed exhausted at night still thinking you didn't get enough done? That kind of week.
That kind of week calls for this kind of Saturday breakfast. Honey orange whole wheat french toast. Dare I say it's comfort food, healthified.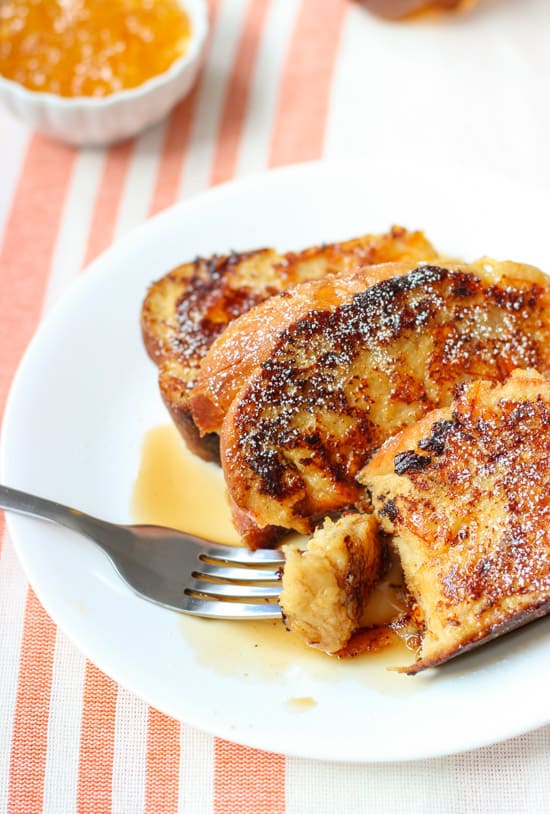 Yup, I dare.
So remember this bread I've been obsessing over? My mom read that post and promptly asked me when french toast was happening (we may be french toasts' #1 and #2 fans). A few minutes later I texted her a picture of these bread slices taking a dip in the french toast egg mixture. There are a few takeaways from this – 1) my mom and I pretty much have an ongoing text conversation about food, and 2) I will drop what I'm doing and french toast (french toast verb. "to french toast") at the suggestion.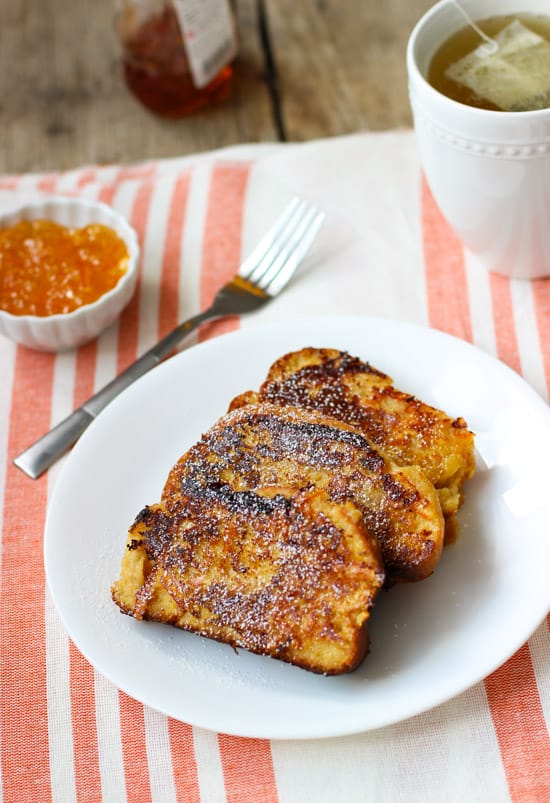 I've been whipping up this one-hour honey whole wheat bread like nobody's business, so I sawed off the end of a loaf and put it to work. I like to think of french toast as a breakfast that seems fancier than the amount of work required. Mix up liquid, soak bread, cook in pan. Bada bing bada boom as far as effort goes, but the output? A warm, crisp-around-the-edges, slightly-sweet, super satisfying breakfast. And this one in particular is 100% whole wheat and uses 1% milk.  Can ya beat it?
This french toast is flavored by honey and two kinds of orange – orange juice and orange marmalade. The orange juice soaks into the bread for an all-over flavor, while the marmalade is whisked throughout the mixture and poured over top of the slices in the frying pan to cook perfect little orange bursts into the bread surface. Honey, orange, and french toast – oh my.
Just to take things a smidge over the top I dusted these babies with powdered sugar and gave them a healthy drizzle of maple syrup. Both are recommended, and are the perfect way to begin a relaxing weekend (in my opinion). Now to just get through this Friday…
Enjoy your weekends, friends! xo
Honey Orange Whole Wheat French Toast
Servings
1
-2 servings (depending on how hungry you are!)
Ingredients
3

small to medium slices honey whole wheat bread*

1

egg

1/3

cup

milk

I used 1%

1/4

cup

orange juice

I used reduced-sugar

2

tbsp

orange marmalade

1/4

tsp

vanilla extract

1

tbsp

honey

1/8

tsp

cinnamon

3/4

tbsp

butter

powdered sugar

optional

maple syrup

optional
Instructions
Add egg to a medium-sized bowl and whisk until egg white and yolk are well combined and fluffy. Add milk, orange juice, orange marmalade, vanilla extract, honey, and cinnamon and whisk until ingredients are combined. Place bread slices in a shallow dish and pour egg mixture over top of slices. Let sit for 3-4 minutes, then flip slices and let sit for another few minutes.

In a skillet placed over medium heat, add 3/4 tbsp butter and let it melt, swirling it around the pan. Place bread slices in skillet and pour excess egg mixture over top. Let slices cook until the bottom side is a nice golden brown, then flip and cook until other side is golden brown as well.

Remove from heat and (optionally) top with powdered sugar and/or maple syrup before serving.
Notes
*You can also use a dense bread like challah if you prefer. Promise the honey whole wheat is easy, though!
Nutritional information is provided as an estimate. As it can vary due to many factors (brands used, quantities, etc.), we cannot guarantee its accuracy.