This whole wheat blueberry chai french toast bake is an easy and flavorful way to feed a crowd! Perfect for brunch and Mother's Day.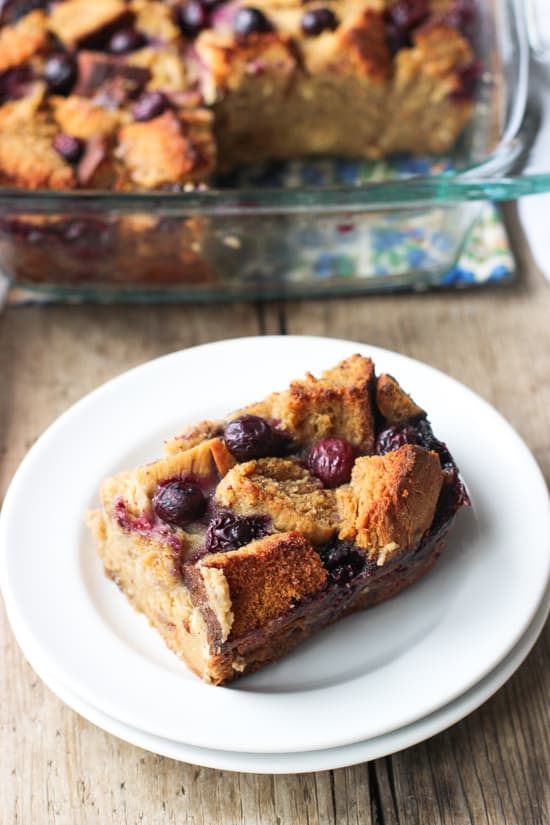 I am a HUGE fan of brunch. You can choose to eat savory or (really, "and") sweet foods, you can eat it right when you wake up or in the early afternoon, and you can sip on a morning cocktail, no problem. Lately we've been enjoying a laid back brunch at home on the weekends, consisting of eggs (scrambled for me), bacon, and a spicy homemade home fries-and-onion mixture that really needs to make a blog appearance soon. Sometimes we even eat brunch for dinner. Is that what brinner's all about?
While I love brunch in and the occasional brunch out, I have to ask: why oh why does there always seem to be a 45+ minute wait? Waiting that long to replenish my life blood, a.k.a. drink coffee is just cruel. On a particularly lazy Sunday morning we decided to stay in and gussy up our typical home brunch with this whole wheat blueberry chai french toast, and YES yes yes. This won't be a one-time occurrence.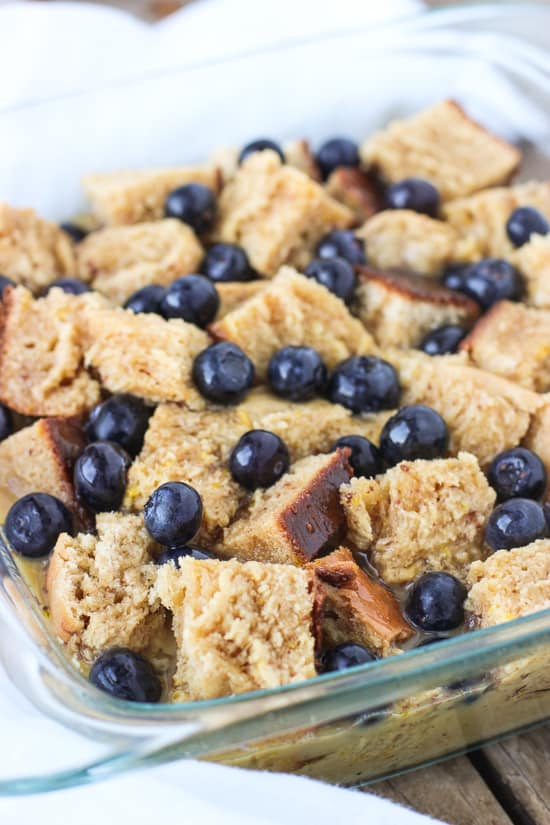 In keeping things real, I totally intended to pick up a loaf of challah at the supermarket but forgot it. Really I don't think they had any so that helped it slip my mind, but whatever. Turns out my one-hour braided honey whole wheat bread was a perfect stand in with its dense nature. I made it the day before whipping up this french toast bake and it was perfect. I used about two-thirds of the loaf for this recipe, so you'll have a few extra slices to nibble on or use for sandwiches. Using this quick bread also turns up the nutrition on this indulgent brunch dish – 100% whole wheat!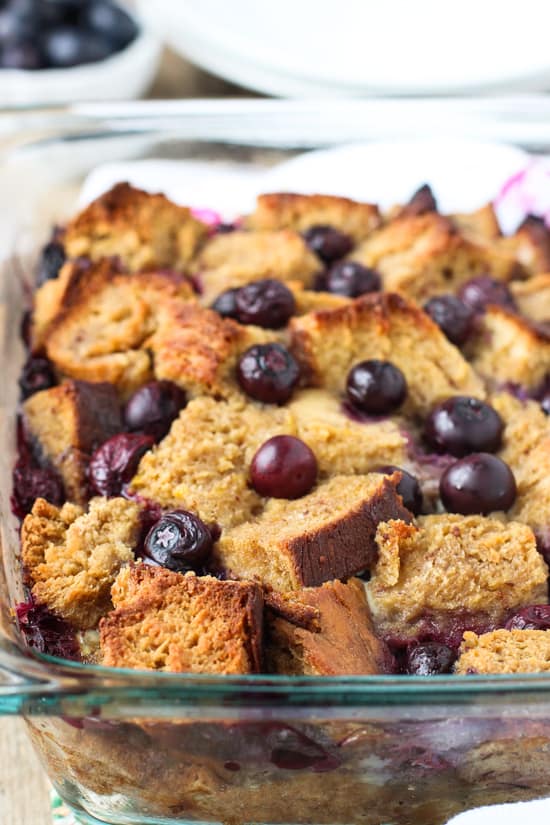 Those blueberries are literally bursting with flavor, and I may have gotten a little creative when portioning out my slice to include as many crisp top bread cubes as possible. They're too good not to!
Psst – this french toast bake is a recipe remix! A year ago I shared a version using challah, as I hadn't yet figured out the fabulousness that is one-hour braided honey whole wheat bread. Making this again recently made me remember just how wonderful it is, especially with the whole wheat tweak! Looking back at old posts also makes me freak at how fast time is passing. My first french toast bake is where I shared the news that we were moving. It's been almost a year since then? Huhwhaa? Utter craziness.

Whole Wheat Blueberry Chai French Toast Bake
Ingredients
10-12 oz. dense bread, such as honey whole wheat bread or challah
4 eggs
1 cup milk (any, I used almond milk)
3/4 cup chai latte concentrate
1/2 cup maple syrup, plus 2 tbsp for drizzle + serving
1/2 tsp ground cinnamon
1/8 tsp ground cloves
1/8 tsp ground nutmeg
1/8 tsp ground ginger
1/2 cup fresh blueberries
Instructions
Grease an 8" x 8" baking dish and set aside. Using a serrated knife, cut bread into 1"-sized cubes and place bread in the dish.
In a bowl whisk together eggs, milk, chai latte concentrate, 1/2 cup maple syrup, cinnamon, cloves, nutmeg, and ginger. Pour egg mixture over top of the bread cubes and press down a little bit with a spatula or spoon to submerge the bread.
Scatter blueberries over top of the french toast, then drizzle approx. 2 tbsp maple syrup over top as well.
At this point, preheat oven to 350 degrees F. I let the french toast sit for 5-10 minutes while the oven preheats so the bread absorbs the liquid. Once the oven has heated, bake for 30-35 minutes, or until the liquid is absorbed and the top bread pieces are beginning to brown and become crisp. This may take more or less time, depending on your oven. If the top bread pieces are beginning to brown too quickly in relation to the liquid being absorbed, place aluminum foil over the dish and continue baking. Once the liquid is fully absorbed and the french toast is fully cooked, you may optionally place dish under the broiler for a few minutes to help crisp up the top. Remove from oven and let sit for a few minutes before slicing and serving.
Notes
If using
honey whole wheat bread
, you can make the bread a day or two in advance of preparing this french toast bake.