Salted lime popcorn is a quick, no-fuss snack recipe made right on the stovetop. Coconut oil produces light and airy popcorn that's goes so well with its tart and salty toppings.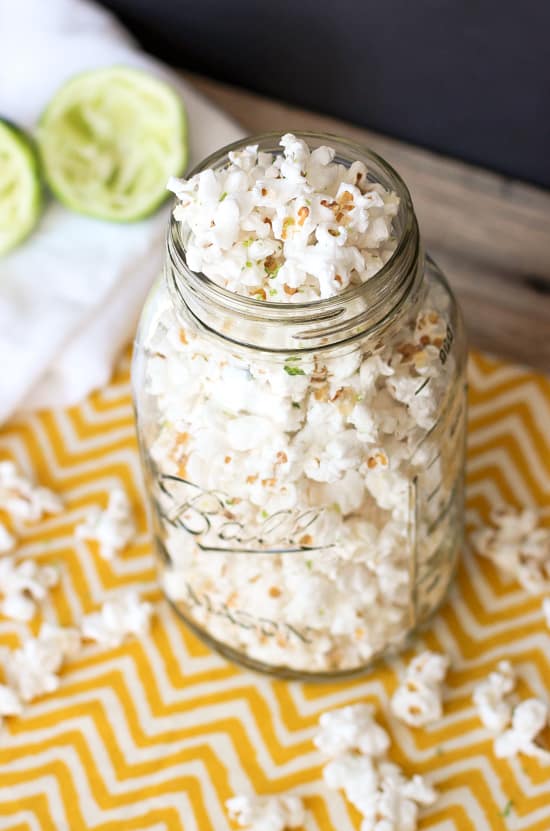 Popcorn and I seem to have developed a love/hate relationship. I love it because, come on, it's delicious. Classic salty kinds, caramel corn, chocolate drizzled kettle corn, you name it.
You know those tins of different flavored popcorn that get sent around the holidays? I don't even care if the flavors get all mixed around by a faulty partition. That tin is a goner if it enters my house.
But then, sometimes I hate popcorn because I can't stop eating it. Honestly it's a little concerning the volume of popcorn I can put away if I'm in a snack-y mood.
Like most people I also hate popcorn when it's scorched with that smell that permeates anything and everything in the vicinity. The first week or two of college when I was living in the dorms, a midnight snacker supernuked a bag of microwave popcorn and caused the smoke alarms to go off in the middle of the night.
Milling about outside in my pajamas with horrible bed head and pimple cream on my face, surrounded by people I hadn't yet gotten a chance to introduce myself to when I was looking put-together in daytime hours was SO not on my list of things to do. Remarkably I still made friends, but it was distressing at the time.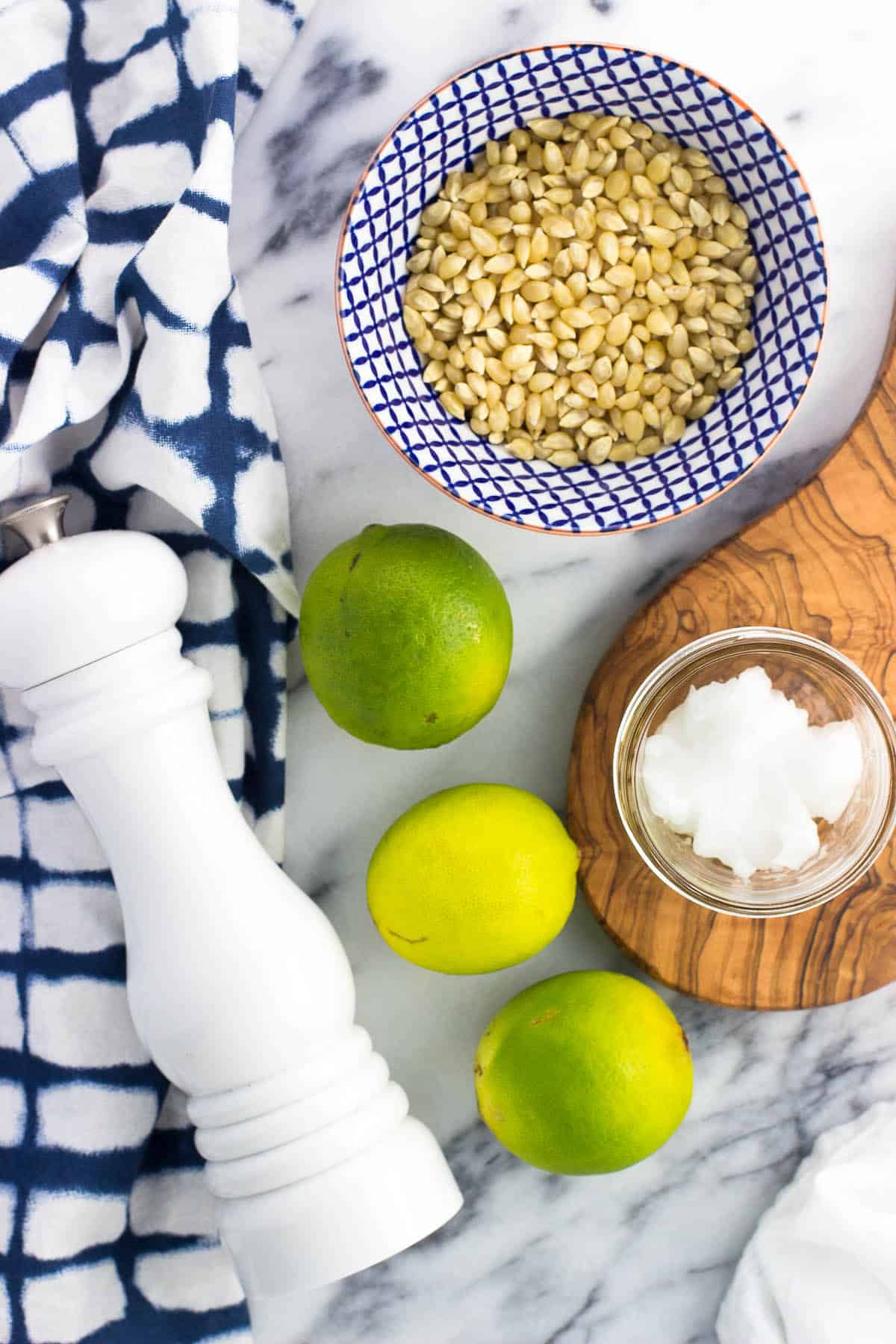 Thankfully this salted lime popcorn recipe is made on the stovetop, so theres no chance of a microwave meltdown. 😉
Four easy ingredients
It might seem daunting to make "homemade" popcorn if you're used to microwave packets. However with such a simple process and basic ingredients, it only takes a few minutes longer than removing a cellophane wrapper and setting the microwave time.
For this recipe you'll need:
coconut oil
popcorn kernels
a lime
salt
I usually see popcorn kernels available in two varieties: white or yellow. Either is fine! The ones you see here are white. A big thirty-ounce bag of them costs around $2.00 at my local supermarket, making from-scratch stovetop lime popcorn a really affordable snack.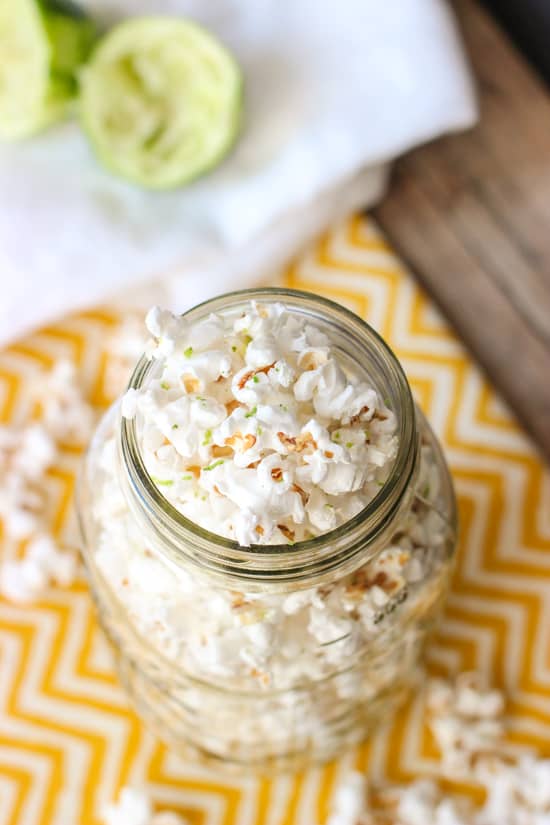 Quick recipe steps
Since stovetop popcorn is one of those recipes that picks up steam once it starts, you want to have your ingredients prepped and ready before you begin.
Start by first zesting a lime, and then juicing it. Measure out your popcorn kernels and keep your salt nearby.
Add two tablespoons of coconut oil to a large lidded pot over medium-high heat on the stovetop, along with three of the popcorn kernels. These are your test kernels. When the first one pops, you know the melted coconut oil is hot enough to add the rest (along with some salt) and start the show.
Immediately after adding the rest of the kernels, place the lid back on the pot and shake the pot back and forth on the stove top until the popping slows. This helps prevent the kernels that are on the bottom of the pot from burning. Continue and listen for there to be around 2-3 seconds between pops. The whole process will only take a minute or two!
Once the popping has slowed, remove the pot from the heat and crack the lid to allow steam to escape. Now it's time for flavoring. Toss the popcorn with lime zest, pour a drizzle of warmed lime juice over top, and add additional salt, if desired, to taste.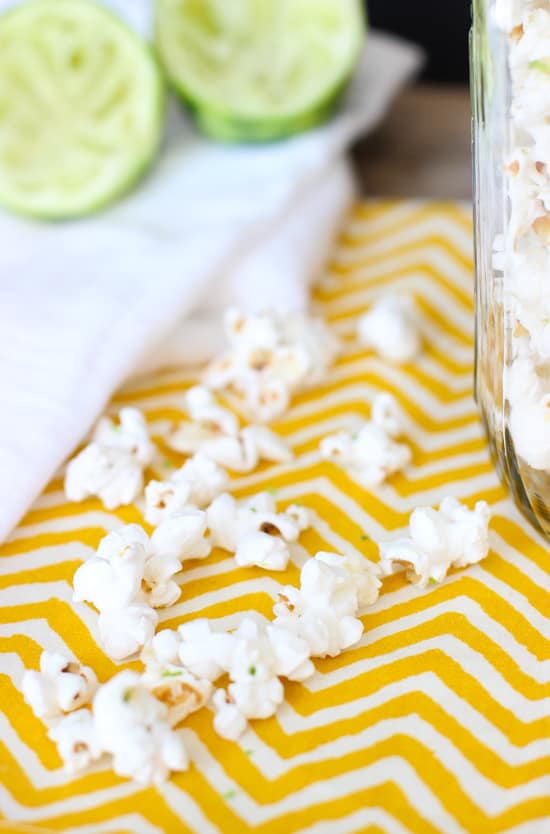 What coconut oil to use for popcorn?
While either refined or unrefined coconut oil works in stovetop popcorn recipes, the type you use can have an impact on the flavor.
I'm partial to using refined coconut oil in savory recipes, including this salted lime popcorn. It has virtually no "coconut" flavor or aroma, and works perfectly as a neutral-tasting, high smoke point cooking oil. It doesn't leave any sort of greasy feeling on this popcorn.
Unrefined coconut oil has a pretty bold coconut smell and taste, which may or may not be something you enjoy. Use whichever variety you prefer. Here I'd say either could work...coconut and lime is a pretty good flavor combination!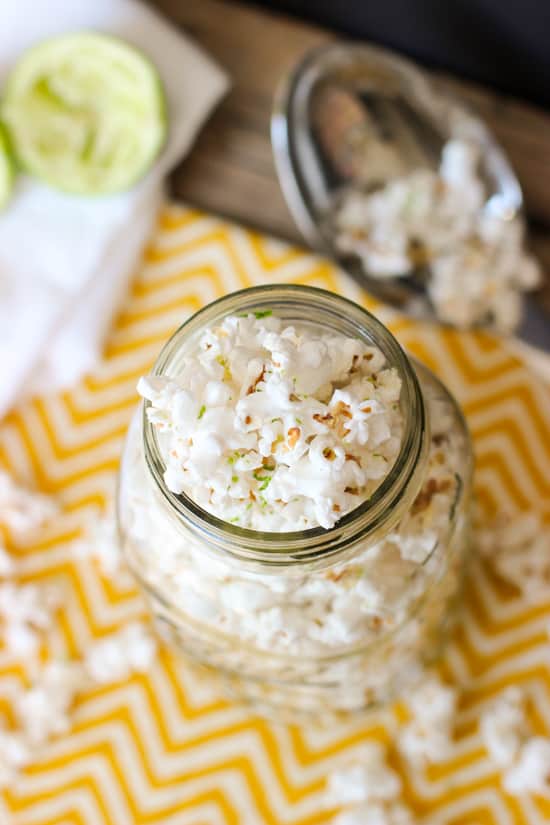 Recipe notes
Don't walk away from the stove when your test kernels are heating. This recipe moves quickly.
Likewise, zest and juice the lime before turning the stove on so they're ready right when the popcorn is done. I recommend zesting the lime before juicing - it's easier!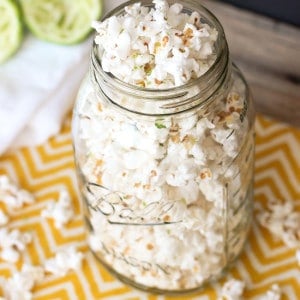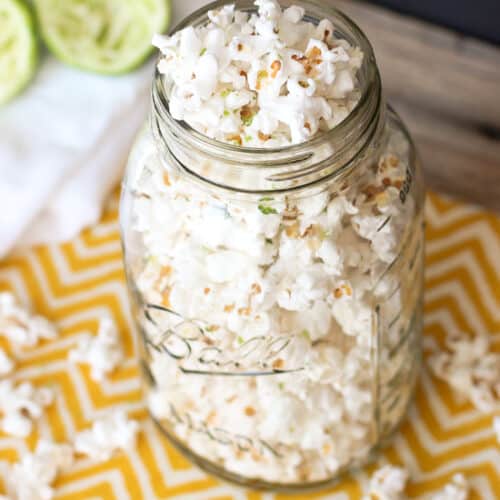 Salted Lime Popcorn
You'll be craving this easy lime popcorn for a snack. It's made on the stovetop in less than 10 minutes with simple ingredients. The perfect mix of tart and salty!
Print
Pin
Rate
Ingredients
1

lime

(juice and zest)

2

tablespoon

coconut oil

refined or unrefined (see note)

¼

teaspoon

salt

plus additional for serving

⅓

cup

popcorn kernels
Instructions
Zest and juice the lime before turning on the stove because the process goes quickly once it starts.

Add coconut oil and three popcorn kernels to a large pot (that has a lid) set over medium-high heat. Put the lid on the pot.

Once the coconut oil melts, stay close by to wait for the first kernel to pop. Once the first kernel pops, add ¼ teaspoon salt to the melted coconut oil and pour in the rest of the kernels.

Put the lid back on the pot and shake/shuffle the pot back and forth on the stove top by its handles until the popping slows to a few seconds between pops. Immediately remove the pot from heat and crack the lid to allow the steam to escape.

Toss the popcorn with lime zest. Heat lime juice for a few seconds in the microwave so it is warm. Slowly pour warmed juice over popcorn, trying to disperse the juice evenly without dampening any one area too much. Add additional salt if you'd like. Store in an airtight container.
Notes
Refined coconut oil is virtually flavorless, while unrefined coconut oil brings with it a coconutty aroma and flavor. Either works just fine to make stovetop popcorn, so pick in accordance with your taste preferences.
Nutrition
Calories:
127
kcal
|
Carbohydrates:
14.4
g
|
Protein:
2.5
g
|
Fat:
7.7
g
|
Saturated Fat:
6.8
g
|
Sodium:
147
mg
|
Fiber:
2.5
g
|
Iron:
0.5
mg
Nutritional information is provided as an estimate. As it can vary due to many factors (brands used, quantities, etc.), we cannot guarantee its accuracy.
Food Safety and Nutrition Disclaimer