This BLT Breakfast Sandwich is a delicious update to a breakfast staple! An over easy egg is joined by the classic BLT trifecta of bacon, lettuce, and a juicy tomato slice, topped with avocado, and piled high on a toasted bagel thin. This packed breakfast sandwich is easy to make, and works well for any meal of the day.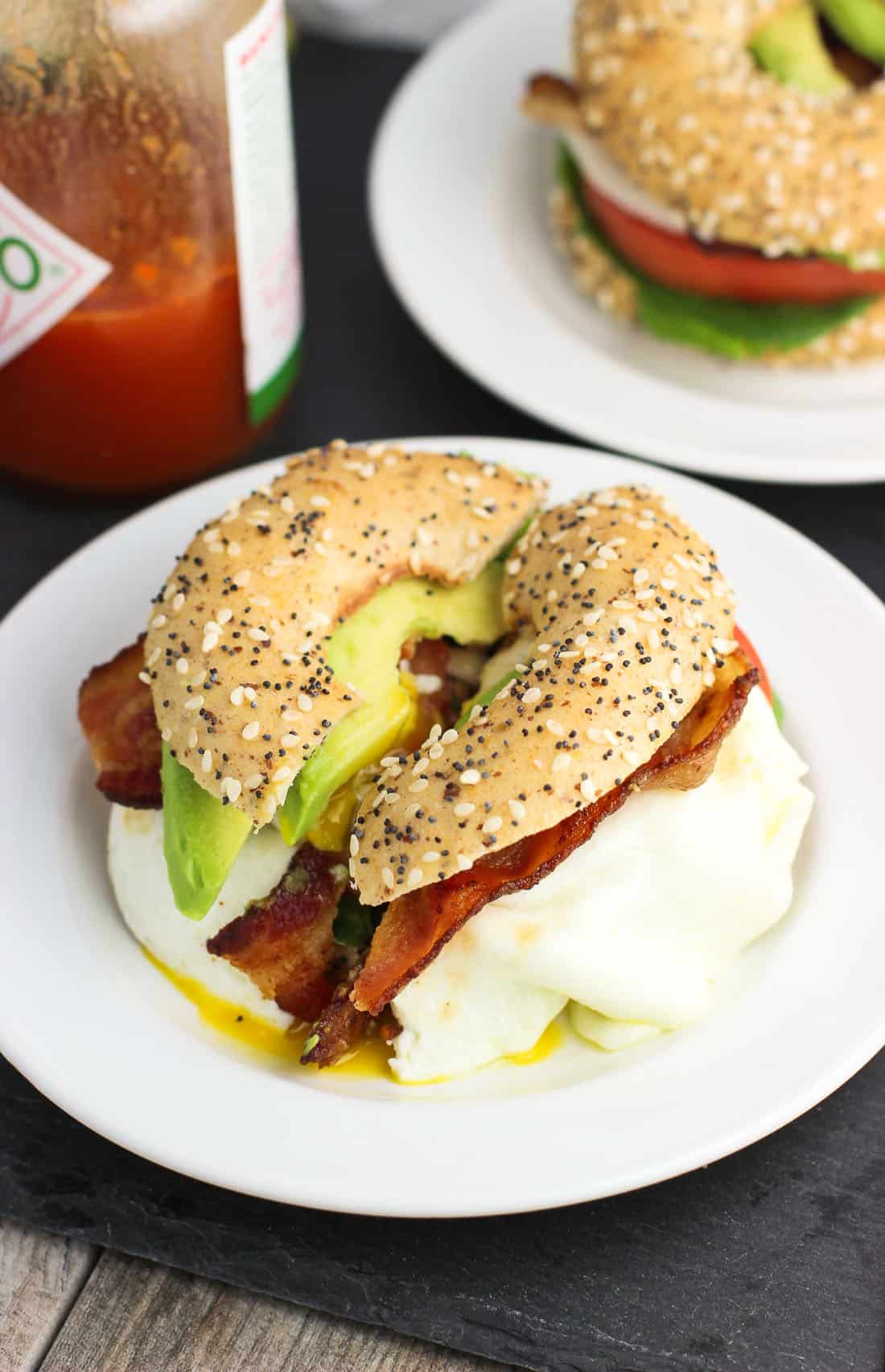 I'll say it – I need to redact a statement I made a year ago on this blog. It was in this (delicious) BBQ pulled pork egg scramble post that I alleged that I was not a lover of runny eggs. In fact I said I had an irrational fear of them and had never so much as tried them. How's that for being an adventurous eater?
Well guess what? I love runny eggs. LOVE them. ♥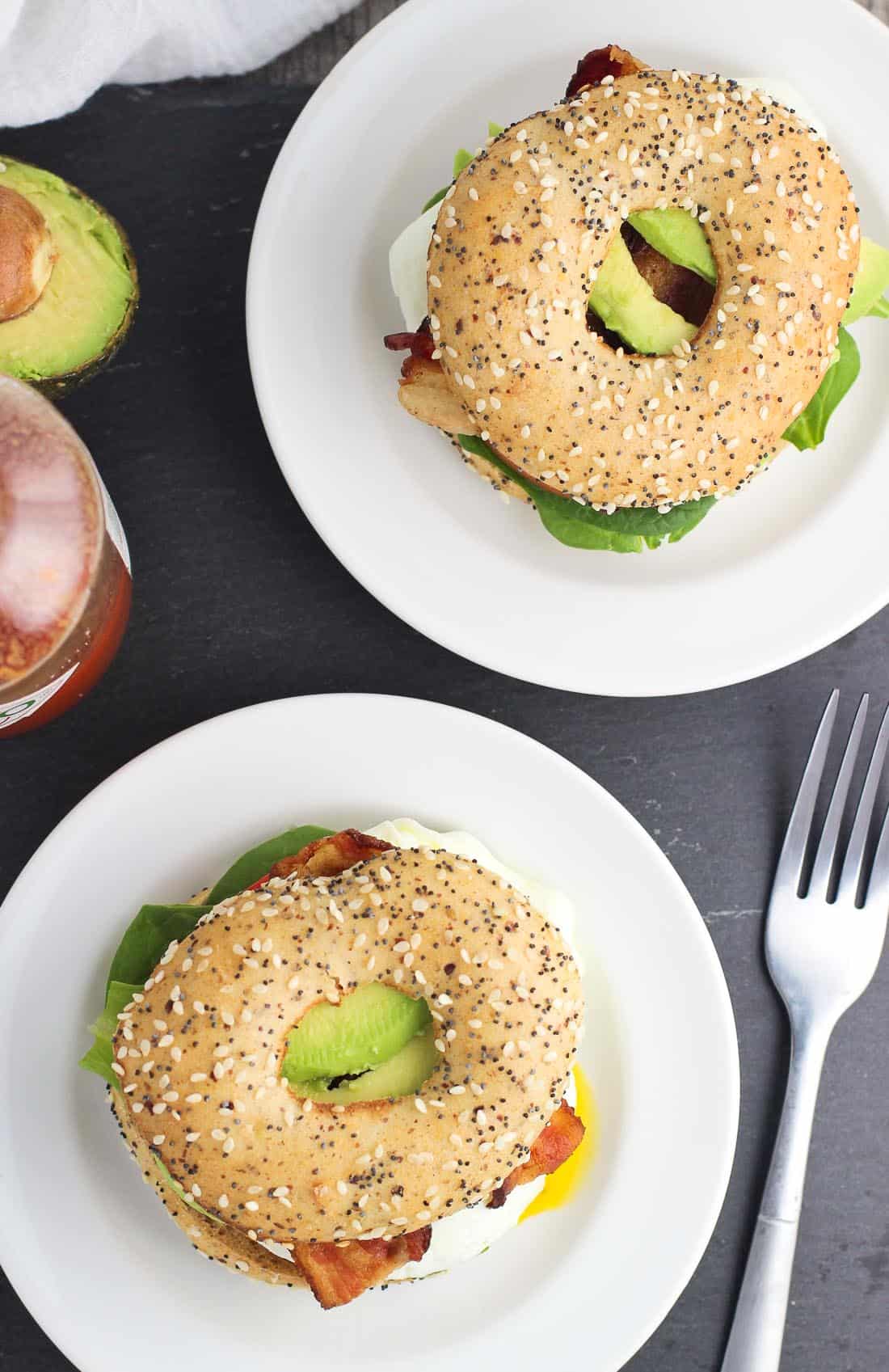 I wish I could say I woke up one morning feeling brave and amped up to squash my food fear, but that wasn't the case at all. Our favorite farmer's market has a bunch of pop-up locations from food trucks that offer food from cuisines all over. It's a really solid selection, so I usually walk back and forth a few times trying to make up my mind where to order from.
I had my heart set on a rice bowl that was jam-packed with goodies and topped with a fried egg. The duo working behind the counter was so lovely and totally would scramble the egg per my request. As I was waiting I noticed how freaking busy this place was, but how warm and friendly and efficient these two were while they totally handled everything from taking orders, fetching ingredients, cooking, and delivering the food. Talent!
So my rice bowl was ready and I notice…the egg is fried. I took this as the universe telling me – enough, Alyssa. Put your big girl pants on and get over yourself because fried eggs are delicious. Plus the two working behind the counter were so nice I couldn't bear to ask them to remake. It's not that big a deal. Anyway, the yolk was runny, I dug a fork in, and holy smokes – what was wrong with me? This is amazing!!
Since then I've eaten eggs with runny yolks alongside hash browns and as a truly indulgent-tasting topping to a burger, but eating them in a breakfast sandwich (this BLT breakfast sandwich) may have muscled its way into my top spot.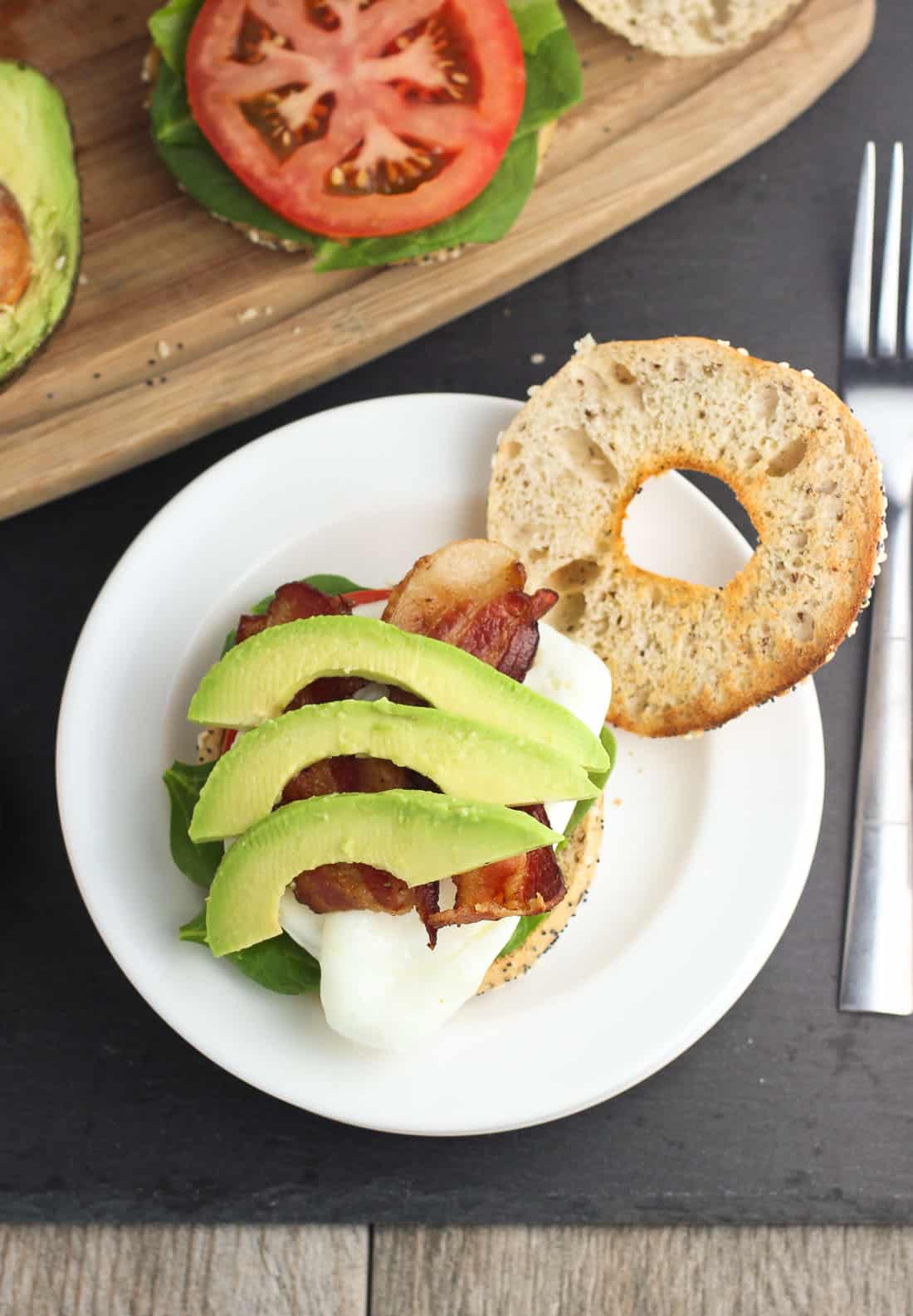 Breakfast sandwiches certainly have wiggle room for customization, so keep that in mind as I share one of my favorite varieties. This BLT breakfast sandwiches includes – you guessed it – bacon, lettuce, and tomato. I'm not a huge fan of mayonnaise so for a creamy element I added thinly-sliced avocado. Ever since dabbling in the avocado toast waters I've been thinking of more ways to incorporate avocado into my A.M. eats, so this was a no-brainer!
Of course an egg has to be involved in a breakfast sandwich, so I added an over-easy egg (using the cutest little single-egg frying pan
). When the sandwich is cut into, that yolk runs down and is without a doubt something I waited way too long to experience. You can use your favorite type of bread in this BLT breakfast sandwich, but what you see here is my ultimate favorite – a sesame bagel thin. They toast up great and tend to be lower in calories than using two pieces of bread (mine are 100 calories).
I know I've titled this post "BLT Breakfast Sandwich", but Brian and I both agreed these will be added into our dinner rotation. They work as a weeknight meal because they don't take very long to make, and hello? Breakfast for dinner is one of my very favorite things.
BLT Breakfast Sandwich (BLeaT)
For simplicity's sake, the recipe below is written with the ingredients to make one BLT breakfast sandwich. You will likely have leftovers, for instance if you cook up several slices of bacon at once (I've never just cooked one!). This recipe is easy to double, triple, etc.
Ingredients
1

slice

bacon

1

bagel thin

(or preferred bread)

1

tomato slice

1

large lettuce leaf

1

egg

over easy

One-quarter of an avocado

sliced thin
Instructions
Cook bacon however you like, but I like to bake mine. Preheat oven to 375 degrees F and line a baking sheet with aluminum foil. Place bacon strips on prepared baking sheet and bake for 12-15 minutes or until bacon has reached your desired crispness. Remove cooked bacon from sheet, blot with a paper towel, and set aside.

Toast your bagel thin (or bread). Place lettuce and tomato slice onto bottom half of bagel thin.

Spray a non-stick skillet with cooking spray and heat over medium-low heat. Crack egg into the skillet and raise heat to medium-high. Let egg cook until the whites have solidified and become white/opaque. Carefully place a spatula underneath the egg about halfway under the egg and gently flip the egg over to the other side, trying not to disturb the yolk. Let cook for another 30 or so seconds. Remove the egg and place it on top of the tomato on the breakfast sandwich.

Take one piece of bacon and cut it in half, and then place bacon on top of egg. Add avocado slices and top with the remaining half of the bagel thin. Serve while warm.
Notes
Prepare bacon however you like. This sandwich uses one piece of bacon per sandwich, so it probably makes more sense to cook more than one slice at a time. As a bonus this recipe is even easier if you have leftover bacon!
To reduce the potential of having your sandwich ingredients spill all out the sides if you want to cut this BLT breakfast sandwich in half, I suggest removing the top bagel thin/bread and cutting from the avocado layer downward. Then cut the top bagel thin in half separately and place it back on.
The cook time for this recipe factors in 15 minutes to cook bacon in the oven - may vary if you use the stovetop or if you use leftover, already cooked bacon.
Nutrition
Serving:
1
sandwich
|
Calories:
378
kcal
|
Carbohydrates:
29
g
|
Protein:
19.5
g
|
Fat:
23.1
g
|
Saturated Fat:
6
g
|
Cholesterol:
185
mg
|
Sodium:
694
mg
|
Potassium:
410
mg
|
Fiber:
8.4
g
|
Sugar:
3.6
g
|
Calcium:
50
mg
|
Iron:
2.5
mg
Nutritional information is provided as an estimate. As it can vary due to many factors (brands used, quantities, etc.), we cannot guarantee its accuracy.
*this post may contain affiliate links