This Pomegranate Moscow Mule is an easy, fresh twist on a cocktail classic. Tart pomegranate juice adds an extra flavor along with ginger and lime, and it gives this drink a pink hue!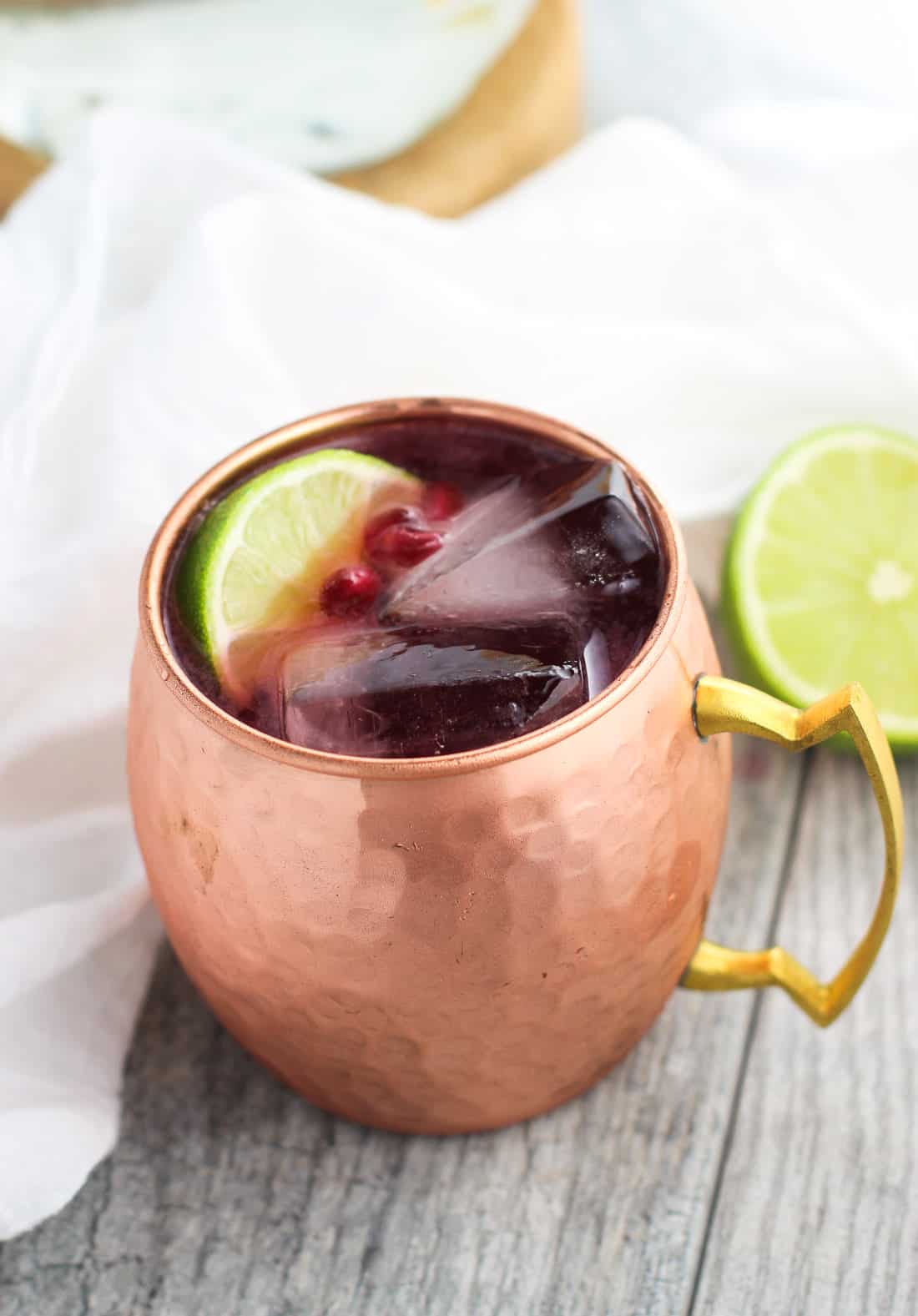 For a long time I didn't have a favorite drink. You know, that go-to you order when you're out and you've finally captured two seconds of a busy bartender's time? But not anymore! A spicy, fizzy Moscow Mule is where it's at. Especially when Valentine's Day is fast approaching, because a slightly tart + pink Pomegranate Moscow Mule is just the drink to fit in with the holiday.
A Moscow Mule is a vodka-based cocktail that includes ginger beer and lime juice. It's not fussy and features one of my favorite carbonated beverages (that would be the ginger beer). Traditionally you'll see them served in copper mugs, which help to keep the drink icy cold for longer, but on top of it all, they have a stunning presentation! As per (kinda) usual, I'm late to the Moscow Mule game (did you hear about the copper mug theft epidemic a few years ago?), but I can definitely understand its surge in popularity. Hello, delicious and refreshing.
This version is dressed up with a splash of tart pomegranate juice and garnished with pomegranate arils. As an aside – thank you blogland for teaching me the proper name of pomegranate seeds. 😉 Pomegranate juice is a great flavor addition to a cocktail classic, and the pop of pink is perfect for Valentine's Day.
A cocktail recipe doesn't need toooo much step-by-step explanation, but the only thing I will say here is to stir it – don't shake! Ginger beer is carbonated and the built-up pressure in a shaker is a serious no-go. When it's time to relax with a cocktail, it's usually never the time to have to clean up a sticky, sweet mess from your kitchen floor to ceiling.
I've tried several ginger beer varieties and my favorite is Cock'n Bull. It's on the spicier side (in my opinion) and its boldness works well in a mixed drink. When it comes to being a mixer in cocktails, most of the time I prefer regular (non-diet) varieties of sodas/juices because I find it balances the drink better, but in this case I like to use the diet Cock'n Bull ginger beer. You don't lose any flavor and it keeps this Pomegranate Moscow Mule lower in calories.
Tools used:
King-sized ice cube tray
(<– for the BIG ice cubes you see here)

Pomegranate Moscow Mule
Ingredients
2 oz. vodka
6 oz. ginger beer
2 oz. pomegranate juice
Juice of half a lime
Ice
Instructions
Pour all ingredients over ice and stir. Garnish with additional lime wedges and/or pomegranate arils.
Pssst
– here's a tip I found helpful if you don't already know. I came across store brand, frozen pomegranate arils at my local grocery store. I never knew they made that! I was feeling a little bummed that my store was out of whole pomegranates and was so glad to stumble upon these. They come in a resealable package to boot, so you can grab some out as needed without any mess.
*this post may contain affiliate links