Combine your love of BBQ with breakfast in this BBQ Pulled Pork Breakfast Bowl. Scrambled eggs, bacon, onions, and potatoes combine with BBQ pulled pork in this customizable recipe. It's a great use of leftover pulled pork!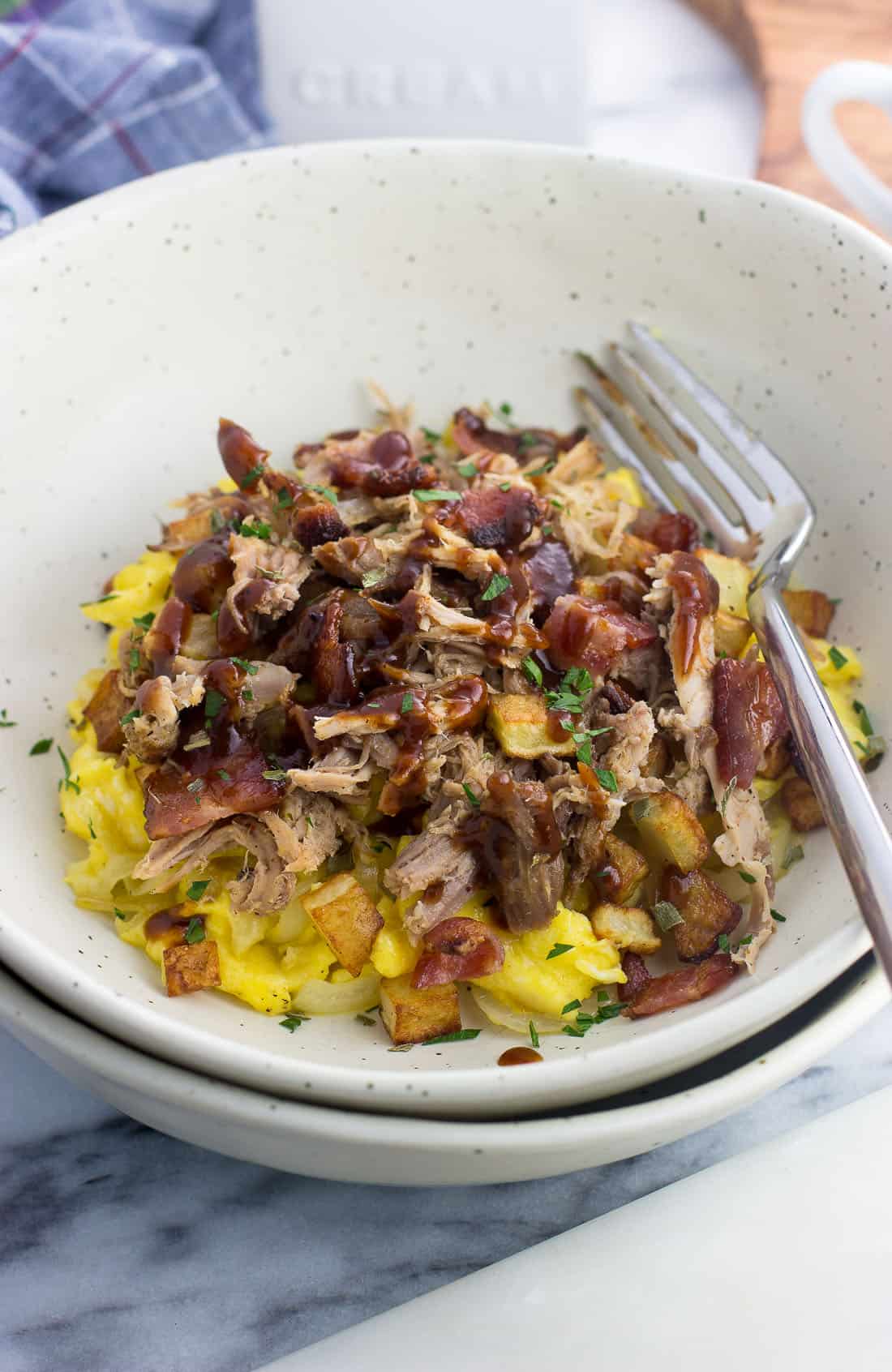 Several years ago a new restaurant, Acme Feed & Seed, opened on Broadway in downtown Nashville.
Per usual I couldn't make up my mind with what I should order for brunch. Saying yes to banana pancakes meant saying no to shrimp and grits. Saying yes to brisket meant saying no to hot chicken.
When the waitress came to take my order, I surprised myself by going off my short list and asking for an eggs and pulled pork breakfast bowl.
I proceeded to spend the next twenty minutes waiting for my food worrying I'd regret my choice (ooh that plate of chicken and waffles going past looks good...) but the food came out, and NO. No regrets here.
Turns out BBQ pulled pork sure goes well with eggs for breakfast.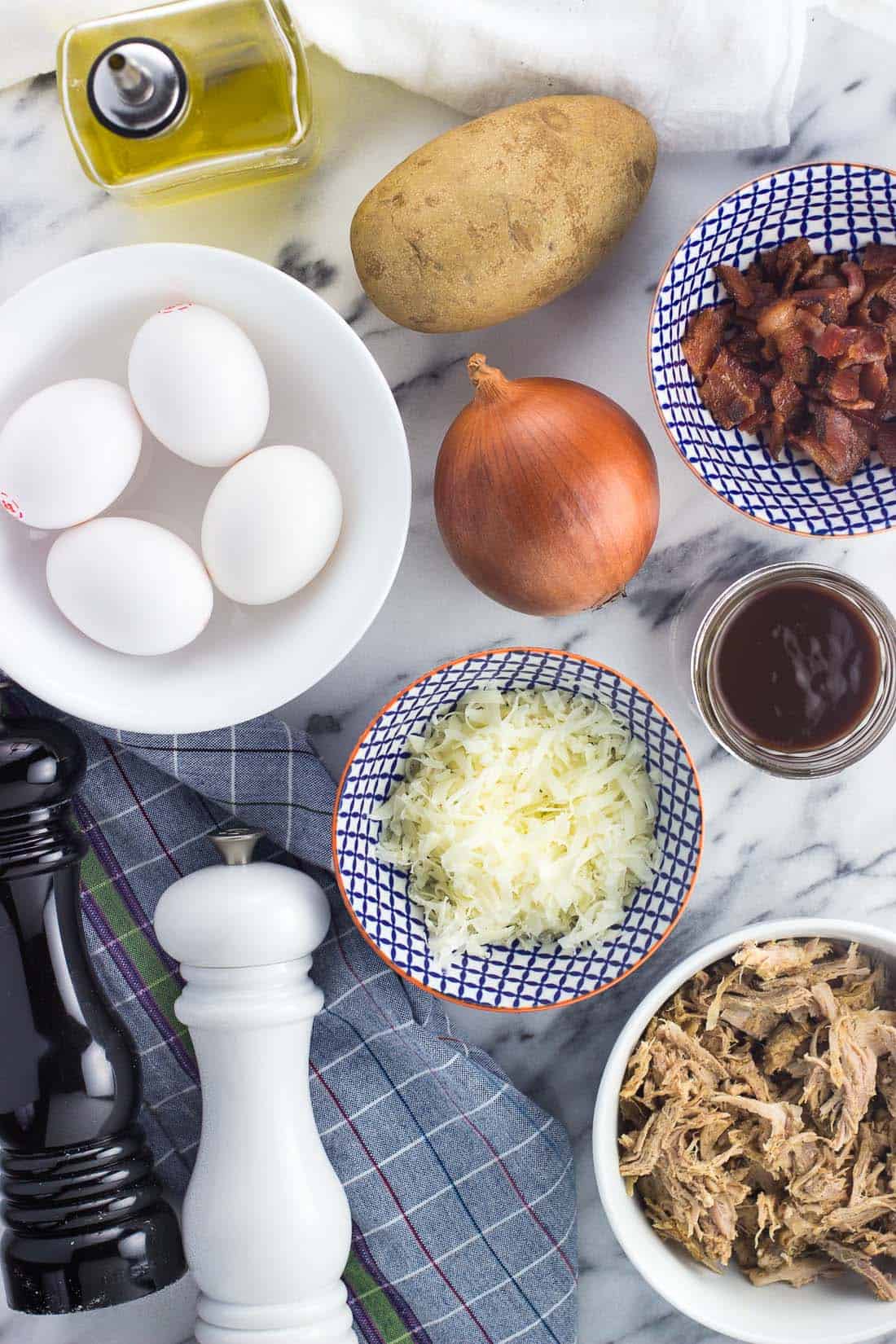 Recipe ingredients
This BBQ pulled pork breakfast bowl can be taken in a lot of ways. It's a great option for using up leftover roasted veggies, little bits of cheese, sauce, etc.
Besides the base layer of eggs (scrambled here, but can be prepared over easy or however you like), there's cheese, lots of sauteed onion, breakfast potatoes, pulled pork, and BBQ sauce.
You've probably already picked this up, but this breakfast recipe is on the opposite end of the spectrum as 'grab-and-go'. In fact, you'll have to start at least the day before, BUT that means it's a great way to use leftover already cooked and pulled pork.
Because sometimes eating four pulled pork sandwiches after making a big batch in the slow cooker gets a little old, you know?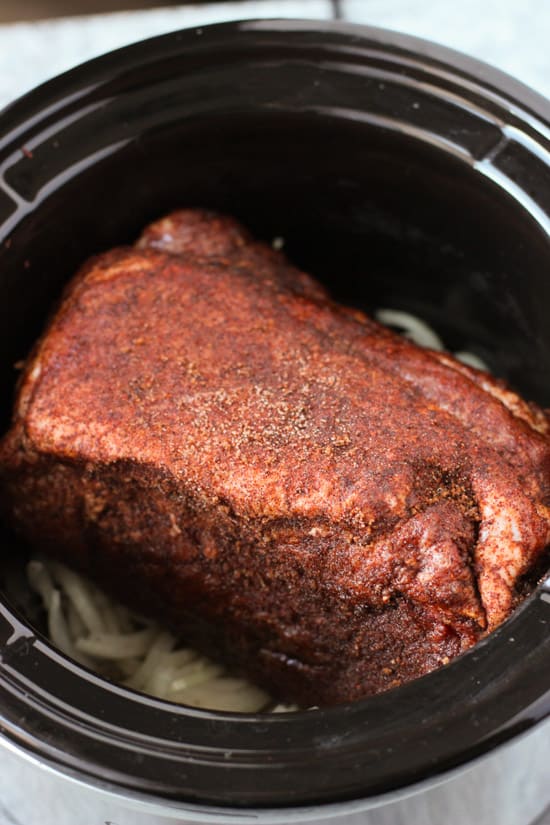 Recipe instructions
So that's the first step: cooking the pork. My favorite, fairly low-effort way to make pulled pork is pictured above. Slow cooker pulled pork takes awhile to cook but produces perfectly seasoned and recipe-ready meat.
Sandwiches are a given but I love using it to make BBQ pulled pork nachos, too. Now here's an option for breakfast. I'm not about getting bored with leftovers!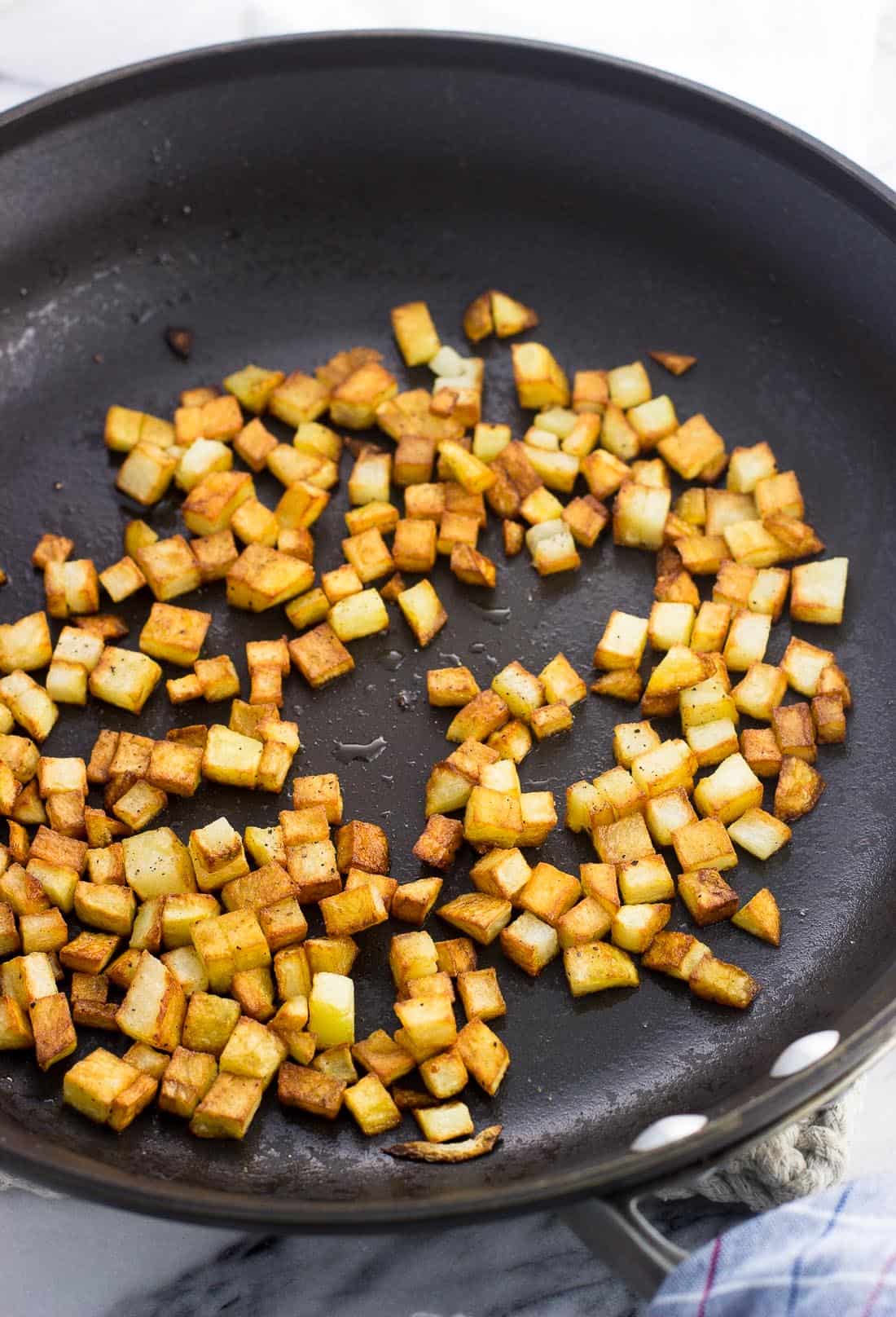 On the morning of, I like to start with sauteeing the onion slices until they're nice and tender. We don't have to go full-caramelization, but I like to keep them going while I prep the rest of the ingredients.
After those are set up I'll roast the potatoes and cook the bacon, unless I have leftover roasted potatoes or bacon in the fridge. I've made this dish with leftover spiced oven roasted sweet potatoes before and YES. Recommend.
All that's left is to heat up the pulled pork and and make the eggs. I like to transfer the sliced onion to a separate plate and use that skillet for the eggs. Then once the eggs are almost finished scrambling, I add the onion back and mix them in, along with the cheese.
Speaking of cheese - use whatever kind you like/have on hand. White cheddar, smoked gouda, colby jack...lots will work.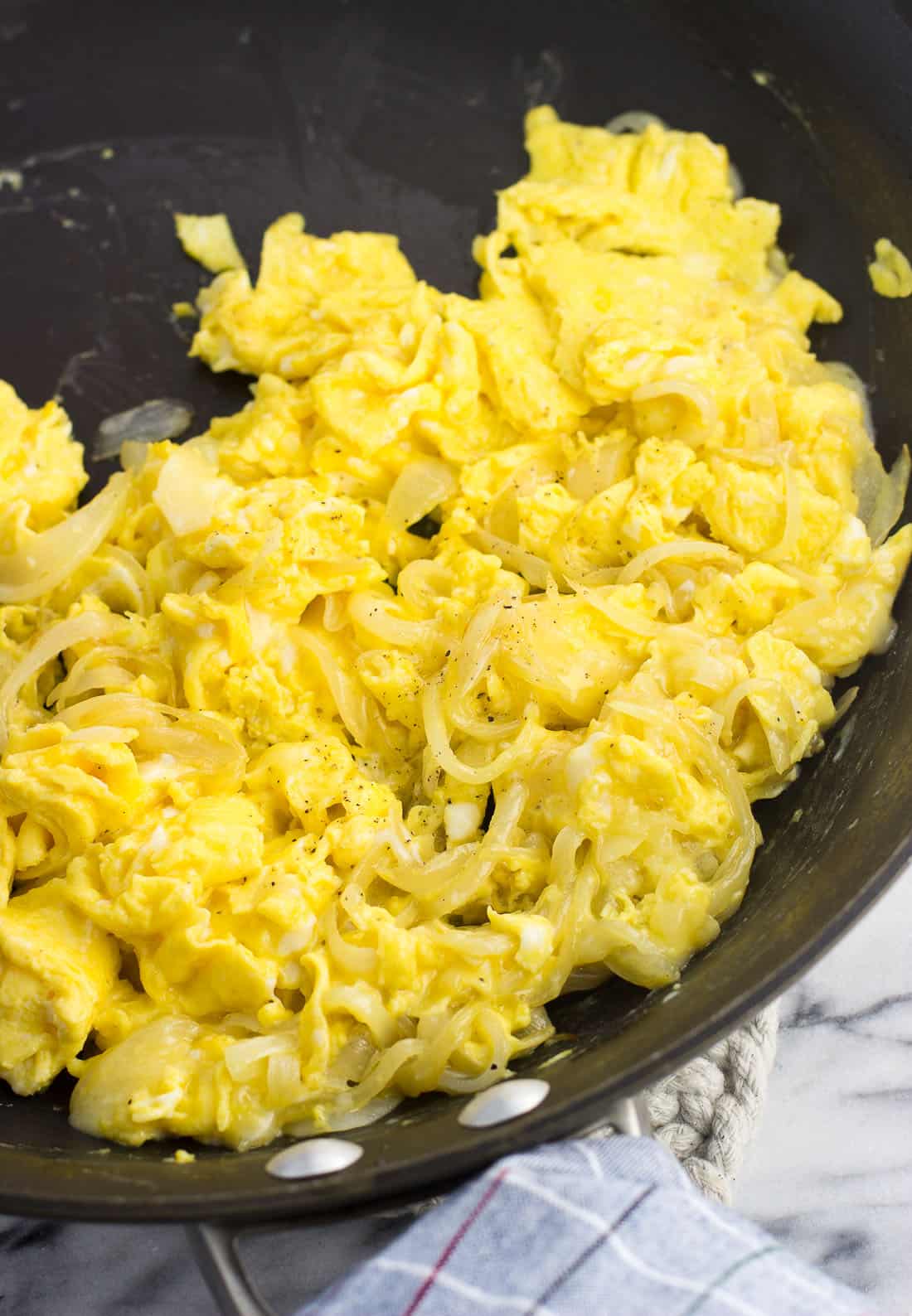 I know I said it before, but the one caveat to this meal is that it's not a grab-and-go, pre-work kinda thing.
Onions are semi-caramelized, bacon is cooked, potatoes are sauteed, eggs are scrambled (...or fried). Even if you could pull it off all before work, you'd come home to just about all of your cookware piled high in the sink, just waiting to be cleaned. If that's not a horrible welcome home, then I don't know what is.
This brunch just screams WEEKEND. And speaking of...is it Friday yet??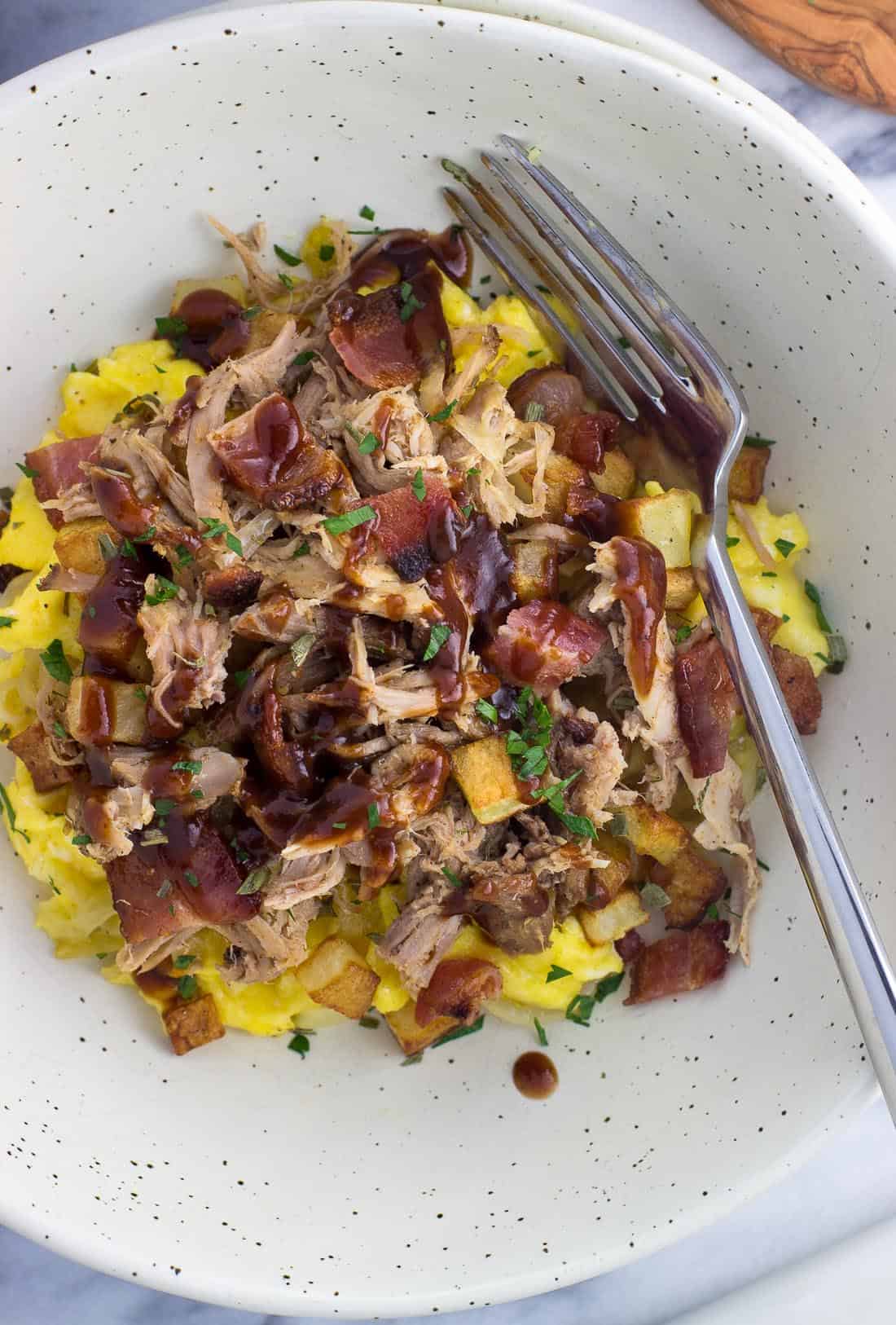 Recipe notes
While this is a perfect recipe for using up leftover pulled pork, you can also use leftover roasted potatoes/potato wedges and/or leftover cooked bacon crumbles to help make the day-of prep quicker.
This recipe is just a blueprint. Add leftover roasted vegetables, switch up the egg preparation, etc. Lots of wiggle room here.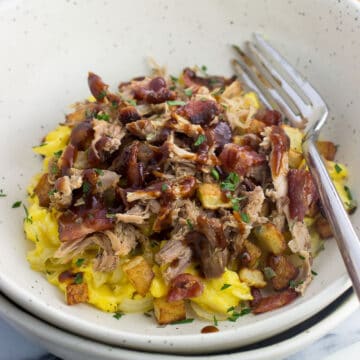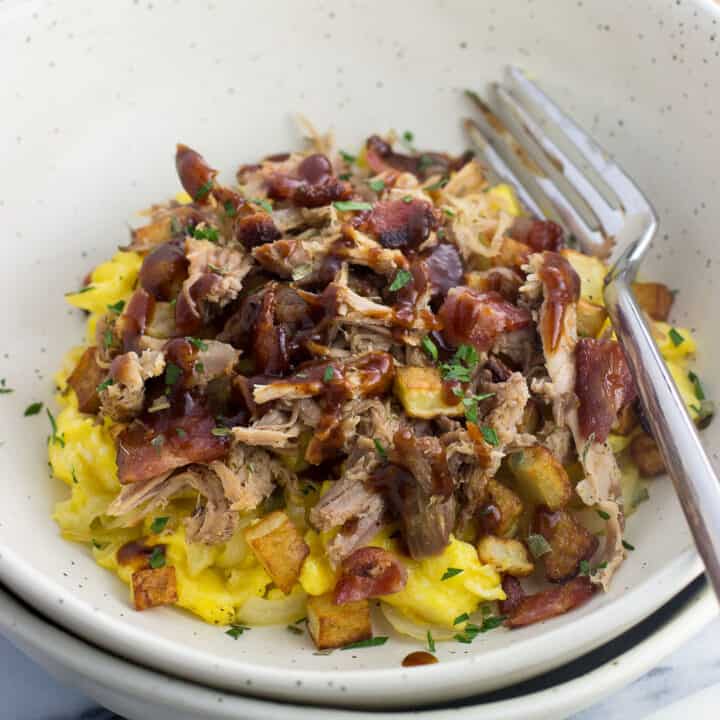 BBQ Pulled Pork Breakfast Bowl
Combine your love of BBQ with breakfast in this BBQ Pulled Pork Breakfast Bowl. Scrambled eggs, bacon, onions, and potatoes combine with BBQ pulled pork in this customizable recipe. It's a great use of leftover pulled pork!
Print
Pin
Rate
Ingredients
1

medium

Russet potato,

peeled and diced

1

onion,

sliced

2

tablespoon

olive oil,

divided

1

slice

bacon,

cooked and crumbled

Salt and pepper

to taste

1

cup

cooked pulled pork

¼

cup

BBQ sauce,

or to taste

4

eggs

1

tablespoon

milk

¼

cup

shredded cheese,

more or less to taste
Instructions
Prep all ingredients so the following steps come together more quickly: peel and dice potato, slice onion, etc.

Heat 1 tablespoon of oil in a skillet set over low heat. Add onion and allow to cook and semi-caramelize while you prepare the rest of the ingredients. Stir occasionally just so the onion slices don't burn.

Cook bacon slices as you prefer (baking, frying, air frying, etc.) If baking, I like to preheat oven to 400°F and place slices on an oven-safe wire rack, baking for 15-20 minutes, or until bacon reaches your preferred doneness. Let bacon cool and crisp on paper towels.

While bacon is cooking, heat remaining 1 tablespoon olive oil in a skillet over medium heat. Once heated, add cubed potato and cook until browned to your liking and semi-crispy. Season to taste with salt and pepper.

Once the potatoes and bacon have finished cooking, set aside. Heat pulled pork and BBQ sauce separately if they're not already warm.

Whisk together eggs and milk, then pour mixture into a greased skillet. Cook until eggs are light and fluffy, using a spatula to "scrape" the eggs into the center of the pan as they're cooking to scramble them. Once eggs are cooked and scrambled, add onions and cheese and mix together.

To assemble, add scrambled egg/onion/cheese mixture to a plate and layer potatoes, bacon crumbles, and pulled pork. Top with a drizzle of BBQ sauce. Repeat for the remainder.
Nutrition
Nutritional information is provided as an estimate. As it can vary due to many factors (brands used, quantities, etc.), we cannot guarantee its accuracy.
Food Safety and Nutrition Disclaimer
The pictures in this post were updated in March 2020 from the original publish date in January 2015. The recipe is the same, except for the addition of cheese this time around. Just my preference. 😉