You might want to hold onto your hats – this breakfast/brunch/dinner/fourth meal is a doozy.
Scrambled eggs. Breakfast potatoes. Onions. Bacon (♥). Pulled Pork. BBQ Sauce…the gang's all here in this BBQ Pulled Pork Egg Scramble!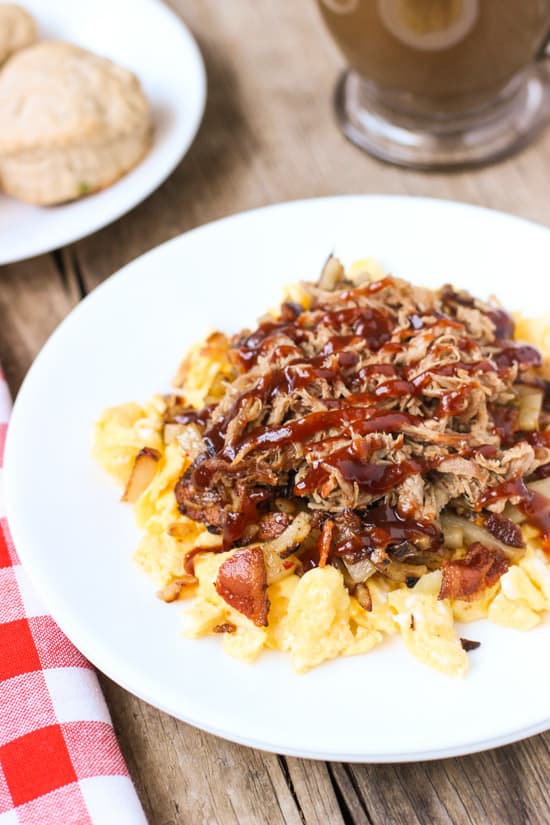 A few months ago a new restaurant, Acme Feed & Seed, opened on Broadway in downtown Nashville. Per usual I had the WORST time trying to choose what to eat for brunch. Seriously the worst. Saying yes to banana pancakes meant saying no to shrimp and grits. Saying yes to brisket meant saying no to hot chicken. I think I changed my mind five times in the time it took our waitress to walk across the room to our table. Anyone else know what I mean?
I decided to go rogue and choose an eggs + pulled pork combo, with one teeny tiny substitution that the kitchen staff was kind enough to oblige. The dish as written was supposed to be served with fried eggs…and I asked for scrambled. I feel like the lamest food blogger-slash-human being for saying this (so I've never mentioned it), but…
I'm afraid of runny eggs. I've never eaten them.
OMG I know, I know, I know. They're the best and need to be added to everything, stat. I really do believe you…maybe one day I'll work up the courage to join the masses in shouting their praises from the rooftops. But until then – we're keeping things scrambled (PS – pinky promise I won't be offended in the slightest if you'd like to serve this mess of deliciousness over fried eggs.)
This dish starts with a base of fluffy scrambled eggs (…or fried) mixed with sauteed onions. Then there's a layer of breakfast potatoes. Bacon crumbles are added to the mix and then the shining star – pulled pork! B and I have been majorly obsessing over this slow cooker pulled pork recipe from Chow. Perfectly spiced and tender, I saw zero reasons to adapt it.
Here it is, pre-cook. Isn't it beaaauutiful??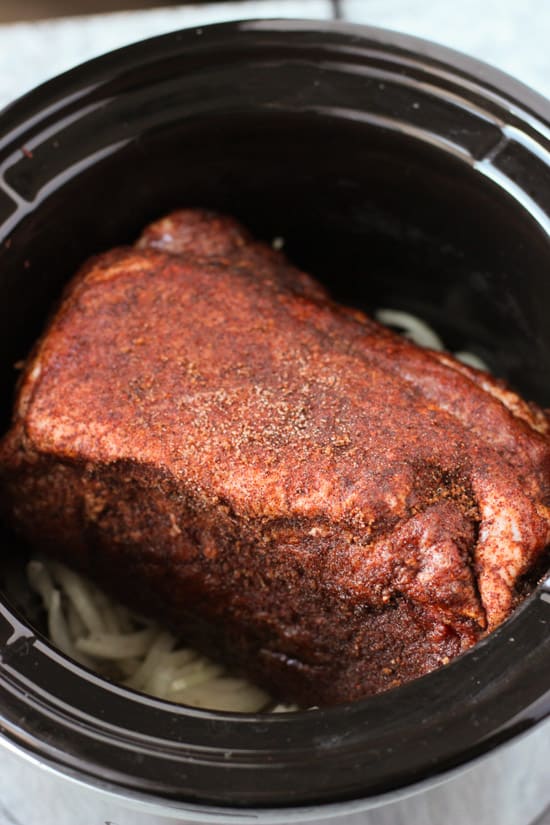 Of course, feel free to use whatever pulled pork (or chicken) recipe you prefer in compiling this breakfast 'best of' beauty. Since coordinating slow cooker meats with breakfast sounds a little tough, we prepared the pulled pork the day before indulging ourselves with this brunch dish, simply heating it up in the morning.
Warning: this meal is not a grab-and-go, pre-work kinda thing. Onions are caramelized, bacon is cooked, potatoes are sauteed, eggs are scrambled (…or fried). Even if you could pull it off all before work, you'd come home to just about all of your cookware piled high in the sink, just waiting to be cleaned. If that's not a horrible welcome home, then I don't know what is.
This brunch just screams WEEKEND. And speaking of…is it Friday yet??
BBQ Pulled Pork Breakfast Bowl
Ingredients
1

yellow onion,

sliced

1

slice

bacon,

cooked and crumbled

3

tbsp

olive oil,

divided

1

Russet potato,

peeled and diced

Salt and pepper

to taste

1

cup

cooked pulled pork

1/4

cup

BBQ sauce,

or to taste

4

eggs

1

tbsp

milk
Instructions
Prep all ingredients so the following steps come together more quickly: peel and dice potato, slice onion, etc.

Heat approx. 1 tbsp of oil in a frying pan on stove top over low heat. Add onions and allow to cook and caramelize while you prepare the rest of the ingredients. Stir occasionally just so the onions don't stick.

Cook bacon slices as you prefer (baking, frying, etc.) If baking, I like to preheat oven to 400°F and place slices on an oven-safe wire rack, baking for 15-20 minutes, or until bacon reaches your preferred doneness. Let bacon cool and crisp on paper towels

While bacon is cooking, heat remaining olive oil in a frying pan over medium heat. Once heated, add potato chunks and saute until browned to your liking and semi-crispy. Season to taste with salt and pepper.

Once the potatoes and bacon have finished cooking, set aside. Heat pulled pork and BBQ sauce separately if they're not already warm.

Whisk together eggs and milk and add to a greased frying pan. Cook until eggs are light and fluffy. Once eggs are cooked and scrambled, add onions and mix together.

To assemble, add scrambled egg/onion mixture to a plate and layer potatoes, bacon crumbles, and pulled pork. Top with a drizzle of BBQ sauce. Repeat for the remainder.
Notes
This recipe is adaptable to your tastes - feel free to prepare eggs, potatoes, bacon, pulled pork as you like 'em. The combination of flavors and ingredients is what's key here!
Nutrition
Calories:
291
kcal
|
Carbohydrates:
21.3
g
|
Protein:
11.8
g
|
Fat:
18
g
|
Saturated Fat:
4.1
g
|
Cholesterol:
179
mg
|
Sodium:
473
mg
|
Potassium:
307
mg
|
Fiber:
2.2
g
|
Sugar:
11.4
g
|
Calcium:
30
mg
|
Iron:
1.6
mg
Nutritional information is provided as an estimate. As it can vary due to many factors (brands used, quantities, etc.), we cannot guarantee its accuracy.