Forget store-bought, homemade breakfast sausage is quick and easy to mix together yourself! All you need is a pound of pork (or chicken, or turkey), maple syrup, and a variety of spices with wiggle room to make it your own.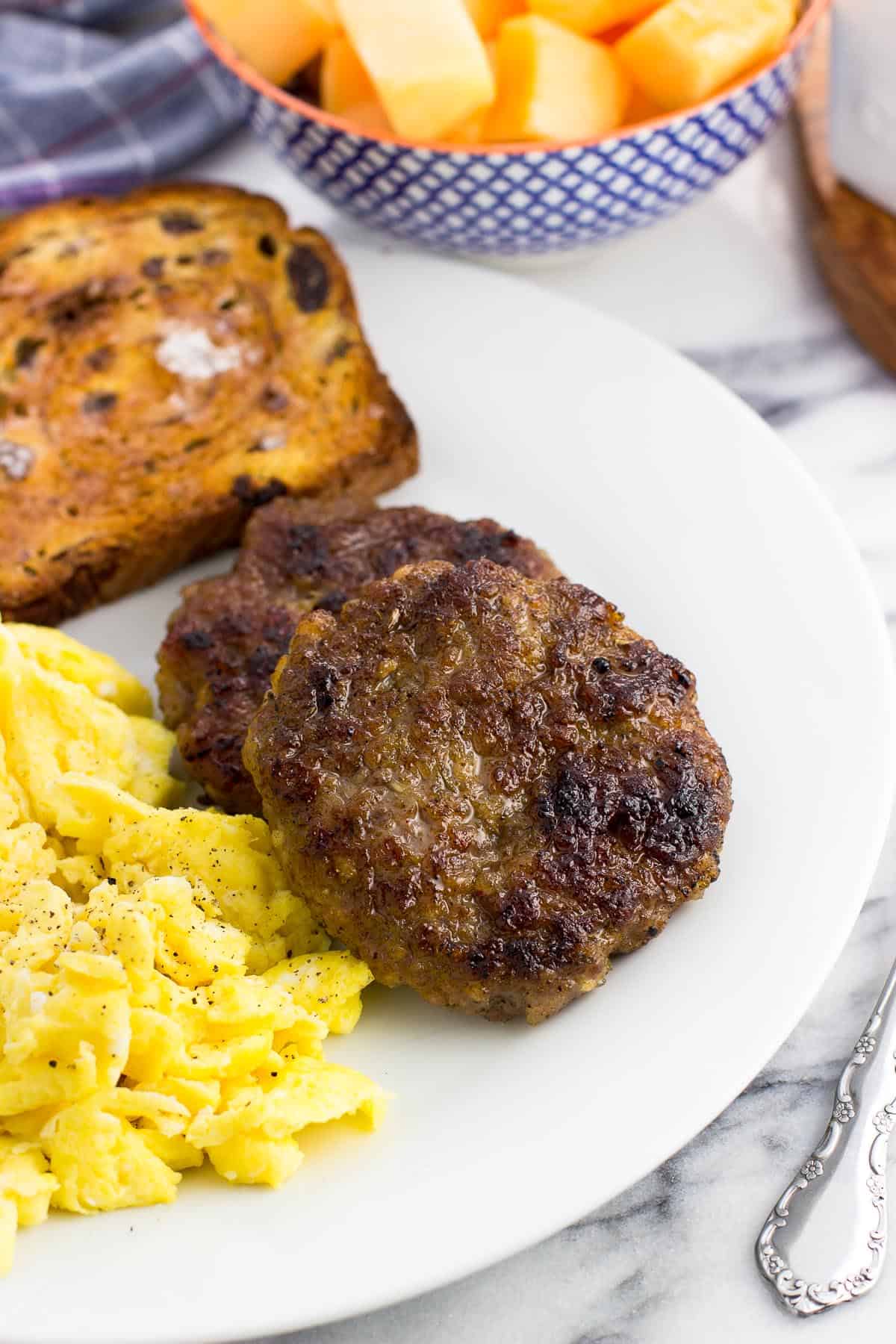 As a savory breakfast enthusiast, breakfast sausage in some form is up there on our weekend breakfast list. I'm not too picky with the type I buy from the store, but after happening upon a seriously good deal on plain ground pork, I decided to try my hand at making my own homemade breakfast sausage.
Spoiler alert: it's not hard at all! All you need to do is to mix up the ground pork with your preferred seasonings (more on these in a second), shape into patties, and cook in a skillet.
One pound of ground pork yields eight quarter-cup patties, and makes just the protein to be served alongside eggs or waffles, in breakfast sandwiches, freezer breakfast burritos, you name it.
While I'm not pledging to only make it from scratch from now on (let's be real), this breakfast sausage recipe has come in handy quite a lot already.
Recipe ingredients
Classic breakfast sausage is made with pork. And while my trusty copy of Michael Ruhlman's Ratio (affiliate link) instructs you to grind pounds of pork shoulder and pork fat together, I take the definitively easier step of using purchased ground pork.
Although this means this breakfast sausage recipe isn't *the most* from scratch it possibly can be, the time savings and efficiency of ingredients make it a very worthy trade-off. One pound of ground pork is the way to go.
One flavor I cannot get enough of in breakfast sausage patties is maple, so I've added one-quarter cup of pure maple syrup to the mix. Frankly it's even a dinner favorite in this maple sausage gnocchi skillet, which continues to be in semi-regular rotation in my house. Don't worry about it making this sausage too sweet or meshing weirdly with the savory spices as it blends in to complement.
And rounding out the non-dried ingredients are is fresh garlic: two pressed/minced cloves. You can't go wrong with garlic.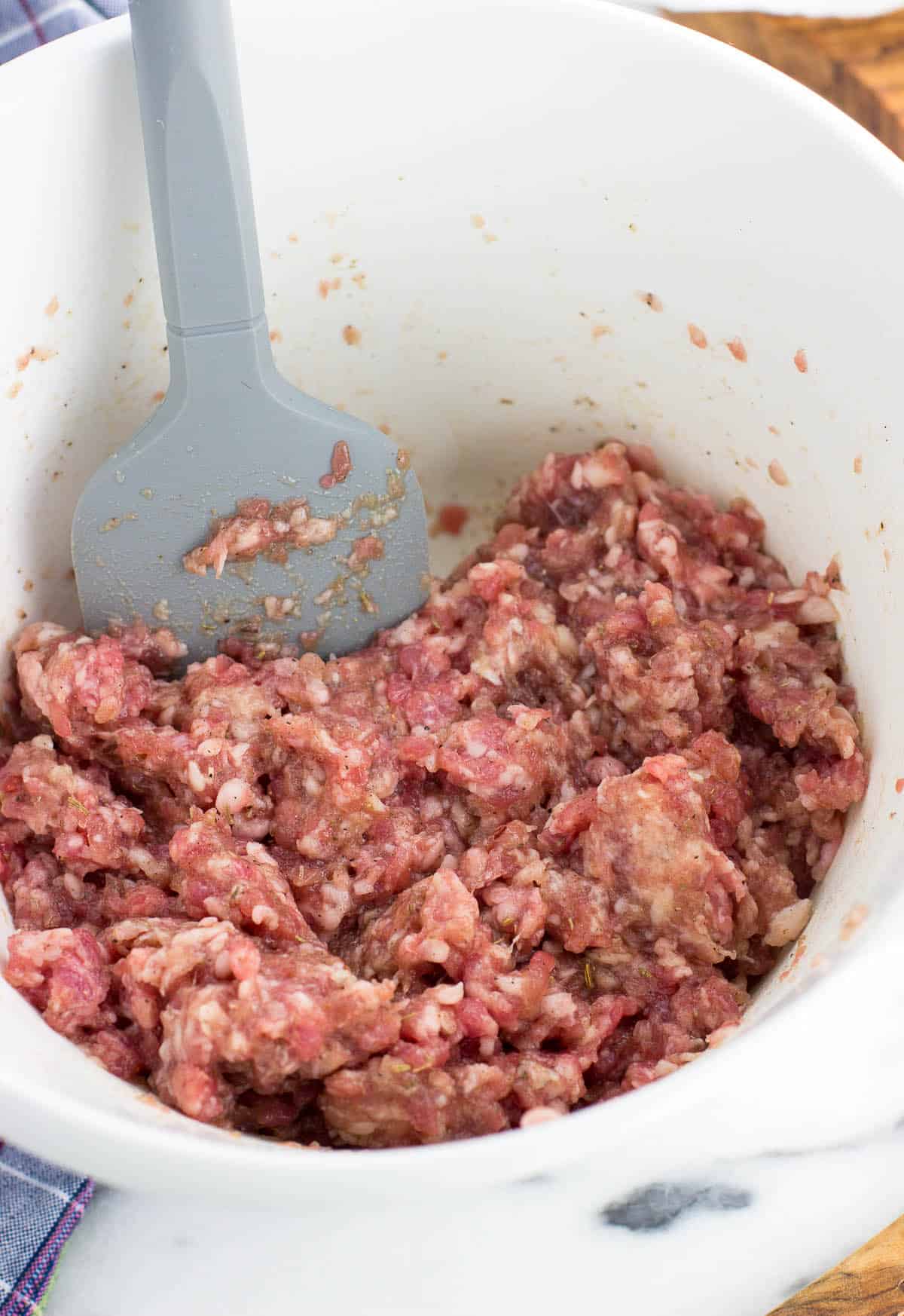 Breakfast sausage seasoning blend
While this is a simple recipe, the individual seasonings add a considerable bulk to the ingredients list. We have:
kosher salt
black pepper
rubbed sage
fennel seeds
dried thyme
ground ginger
onion powder
ground nutmeg
crushed red pepper
ground cayenne pepper
ground cinnamon
So, kind of a mix of everything! These spices fall both on the sweet and savory side but work together well to provide a nice breakfast sausage seasoning blend.
It's not really spicy at all despite the crushed red pepper and cayenne (though you could omit if you don't have/like), and the tiny bit of cinnamon has as a supporting role vs. being a noticeable and bold flavor.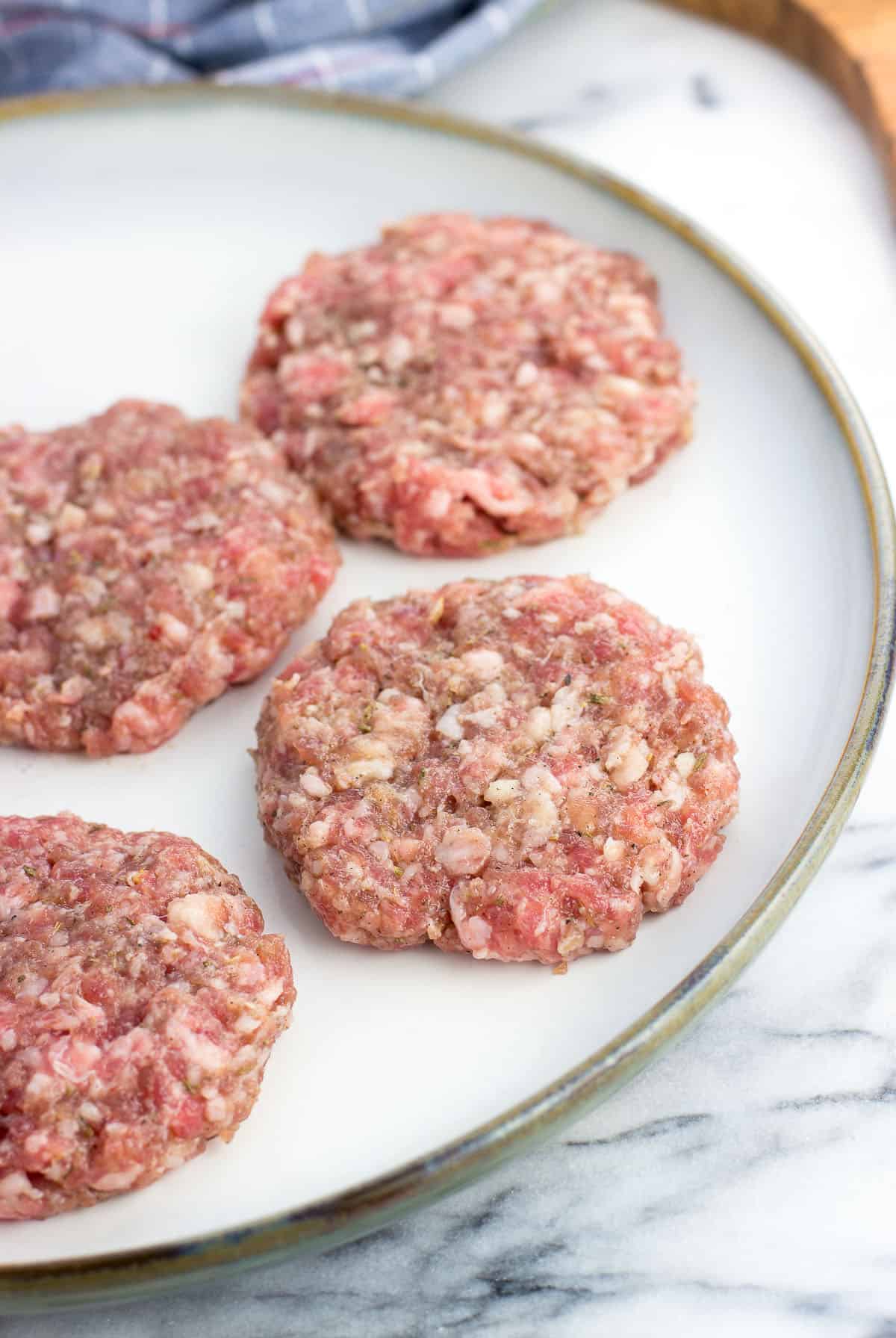 Step-by-step instructions
Break up the pork and mix everything together in a big bowl — it's that easy! What will take the longest is measuring out all of the dried herbs and spices.
When mixing things together, take care to really get in there and break up the pockets of plain ground pork into small bits. This way the flavorings are evenly integrated throughout each patty. I use a very sturdy spatula for this part.
Scoop the breakfast sausage mixture using a quarter-cup scoop and shape into eight patties.
Next heat a large skillet, sprayed with cooking spray, over medium-low heat. You'll likely have to cook the patties in two batches to ensure they're in a single layer with some space left in between. Cook them for 3-4 minutes per side, adjusting the time as needed until the center of the thickest part of the patty reaches 160°F for ground pork, and 165°F for ground chicken or turkey (per foodsafety.gov).
There may be small burnt bits in the skillet after cooking your first batch, so you can (carefully as it's hot!) wipe out the skillet between batches and give it another spritz of cooking spray in order to minimize sticking.
Place the cooked patties on a plate lined with a paper towel to absorb excess grease. Don't let them sit for too long on here as they might start to stick a bit due to the maple syrup. Regardless, if they do begin to stick they should release without much issue.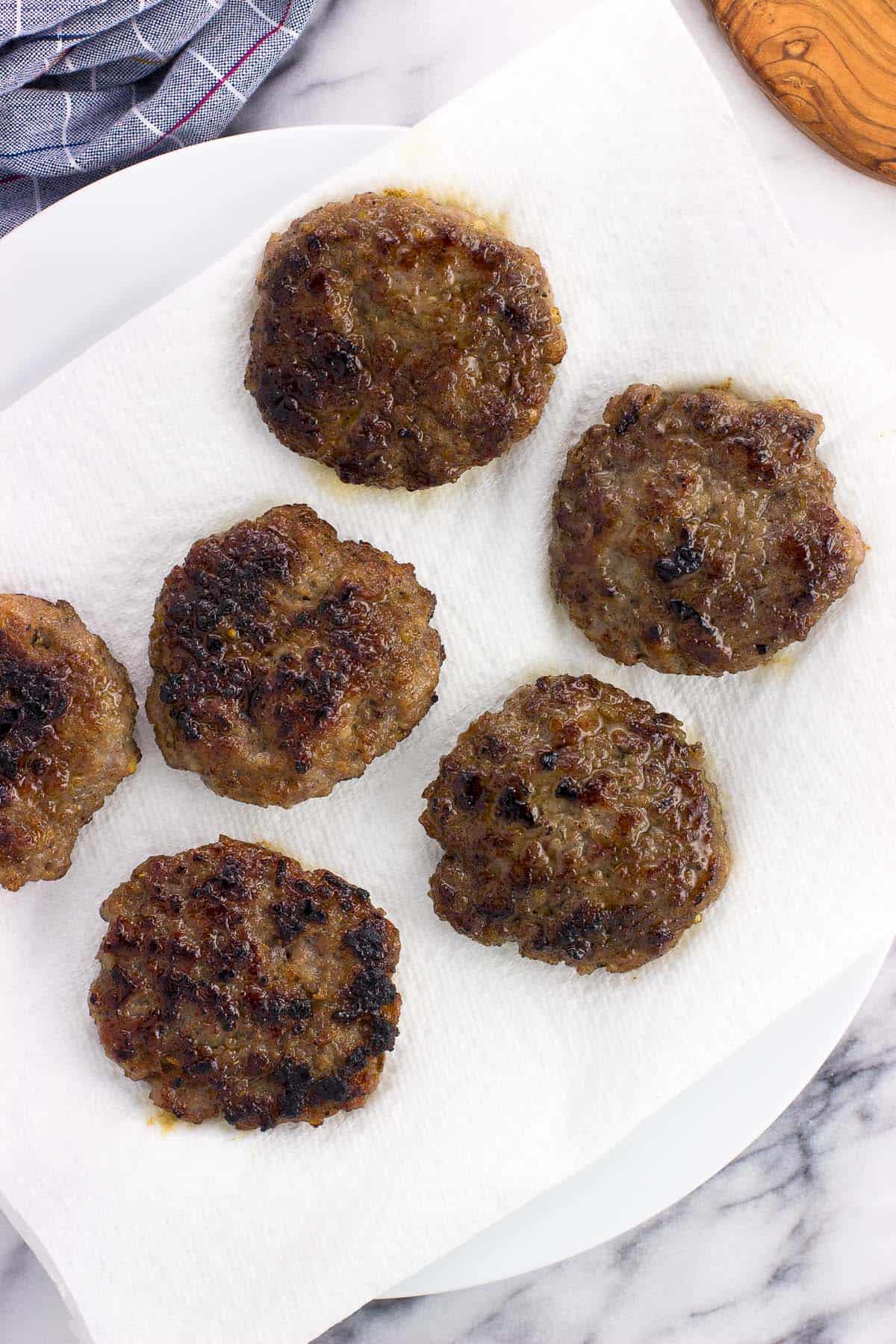 Recipe variations
While pork is my preference for homemade breakfast sausage, I've also used leaner meats with success. Of the two, I prefer chicken breakfast sausage over turkey breakfast sausage as I find it has a milder flavor that meshes better with the seasonings. That's just a personal preference, but either will work.
Because ground chicken and turkey have a lower fat percentage than ground pork, you'll want to make sure you spray the skillet well with cooking spray to lessen the patties sticking, or use a small amount of your favorite neutral-flavored cooking oil. And do re-spritz/oil between batches.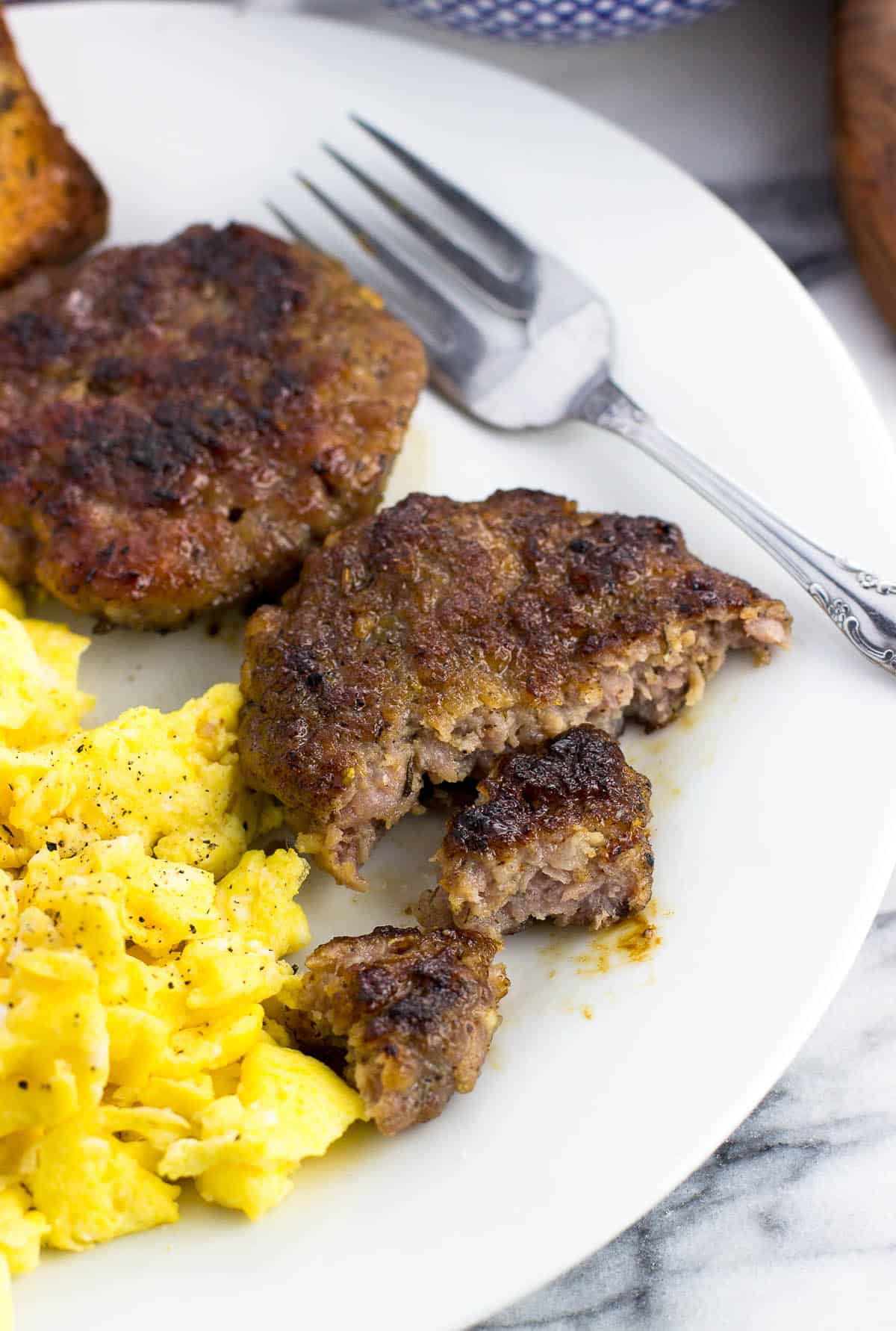 Recipe notes
The inclusion of delicious maple syrup can cause the cooked sausage patties to stick a bit to the paper towel if left on it for too long. Even still, they should release without too much trouble.
Breakfast Sausage Recipe
Forget store-bought, homemade breakfast sausage is quick and easy to mix together yourself! All you need is a pound of pork (or chicken, or turkey), maple syrup, and a variety of spices with wiggle room to make it your own.
Ingredients
1

lb

ground pork

or chicken/turkey (see note)

1/4

cup

pure maple syrup

1 1/2

tsp

kosher salt

2

cloves

garlic,

minced or pressed

1

tsp

rubbed sage

(see ground/fresh substitutions)

1/2

tsp

ground black pepper

1/2

tsp

fennel seeds

1/2

tsp

dried thyme

1/4

tsp

ground ginger

1/4

tsp

onion powder

1/16

tsp

ground nutmeg

1/16

tsp

crushed red pepper

1/16

tsp

ground cayenne pepper

Tiny pinch

ground cinnamon
Instructions
Add ground pork, maple syrup, garlic, and all herbs and spices to a mixing bowl and stir very well to combine evenly. Work to break up the pockets of plain ground pork so the spices can really get in there and evenly integrate into the mixture.

Scoop the sausage mixture into a ¼-cup measuring cup, then flatten and shape into patties. Try and make the patties the same thickness so they cook evenly. Set the shaped patties aside on a plate for now.

Set a large skillet on the stovetop over medium-low heat and spray with a little bit of non-stick cooking spray. Add patties in a single layer with a bit of space in between and cook for 3-4 minutes per side, or until patties are fully cooked (the center registering 160°F for ground pork, 165°F for ground chicken/turkey). You may have to work in batches.

Once a batch is done, remove cooked patties to a paper towel-lined plate to drain and carefully wipe the skillet a bit to clean the burnt bits, if needed. Repeat with the remaining patties.
Notes
Chicken/turkey: Ground chicken or turkey can work for this recipe. Just be sure to spray your skillet well (or use a small amount of your favorite neutral-tasting cooking oil) as the lower fat content of the meat can lead to more sticking. Sage: In place of rubbed sage, you can use 1/2 teaspoon of ground sage or 2 1/2 tablespoons of finely-diced fresh sage.
Nutrition
Serving:
1
patty
|
Calories:
143
kcal
|
Carbohydrates:
6.9
g
|
Protein:
10.1
g
|
Fat:
8.2
g
|
Saturated Fat:
3
g
|
Cholesterol:
37
mg
|
Sodium:
242
mg
|
Potassium:
166
mg
|
Fiber:
0.1
g
|
Sugar:
5.9
g
|
Calcium:
18
mg
|
Iron:
1
mg
Nutritional information is provided as an estimate. As it can vary due to many factors (brands used, quantities, etc.), we cannot guarantee its accuracy.