Looking for a maple sausage dinner recipe? This maple sausage gnocchi skillet comes together all in one pan for a relatively quick weeknight meal. No boiling is needed for the gnocchi, which are combined with sweet potato, maple sausage, and sage for a flavorful dinner recipe the whole family will love.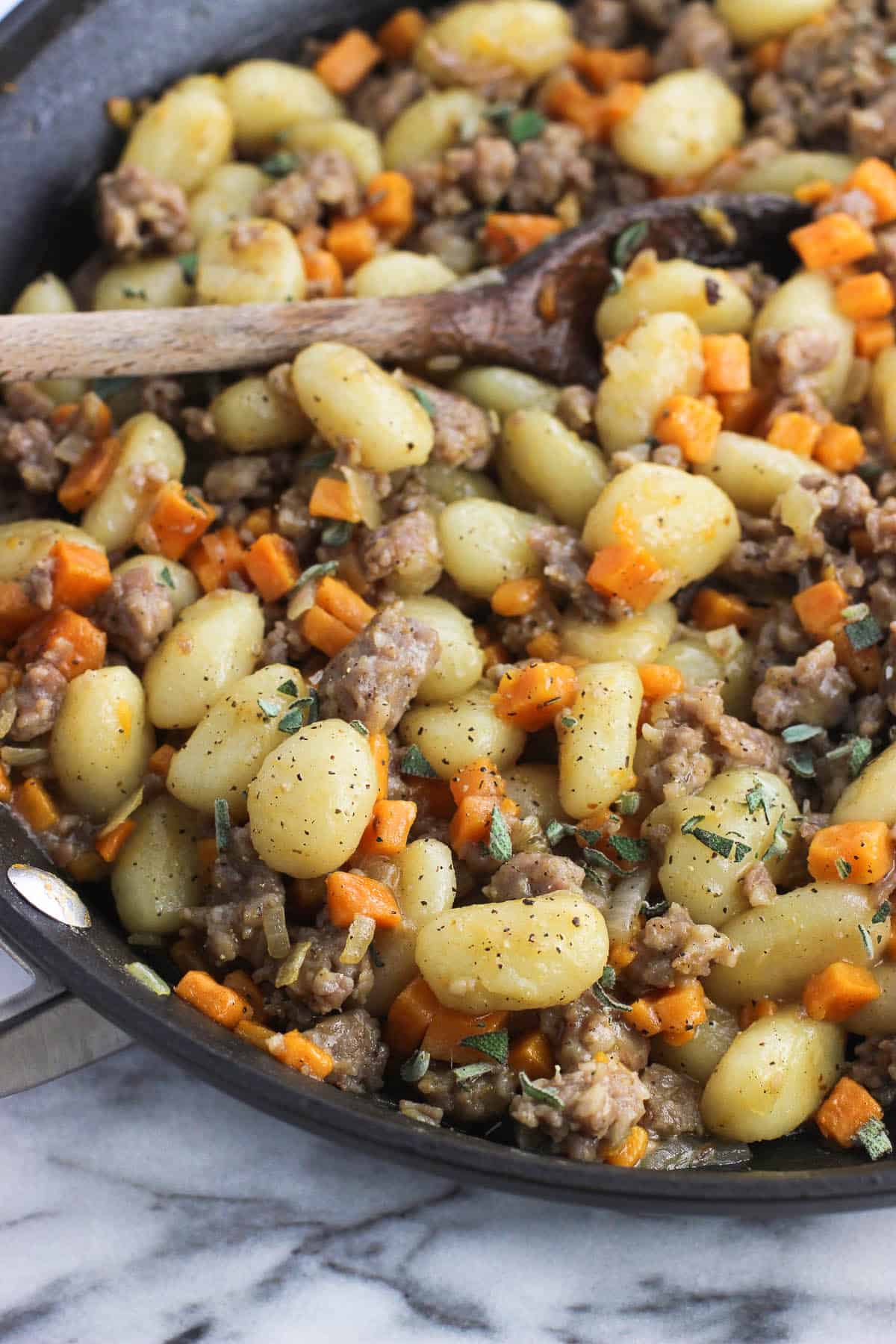 This recipe began as a mistake. And a pretty big one, at that!
Intending to make this gnocchi with Italian sausage recipe, I realized the ground Italian sausage I'd pulled from the freezer was still a solid block. Rather than mess around with quick defrosting methods, I chopped up some fully-cooked chicken sausage links in its place.
About three seconds after they went into the pan (and thankfully before I poured in the marinara) I realized they were maple chicken sausage. Whoops!
With a few ingredient adjustments to adapt to this flavor swerve, we actually ended up LOVING this unlikely maple + sausage + gnocchi flavor combination so much that this version, with a few tweaks, found its place in our regular dinner rotation.
Reasons to Love This Recipe
Using maple sausage in particular along with sage makes this dish just scream comfort food. I crave this flavor combination!
Everything cooks in one pan, from the sausage to the vegetables to the gnocchi, reducing the number of dishes needing to be washed.
Extra portions reheat very well for a top-notch lunch or quick leftover dinner.
Recipe Ingredients
Maple sausage: Any type of maple-flavored sausage product will likely work here (more discussion on the various kinds below). Even my homemade breakfast sausage recipe, with its hearty dose of maple syrup, would be a good option.
Gnocchi: I use the shelf-stable kind found in the dry pasta aisle, keeping in mind they'll be pan-toasted and not boiled.
Chicken broth: Though it's hard to tell in the finished pictures, two cups of broth reduce down to provide the base for an ultra creamy "sauce". It's one of my favorite tricks to employ when making gnocchi. I always use reduced-sodium.
Sage: This pairs with the maple sausage and sweet potato well to bring a warm and cozy flavor. You can use only dried sage varieties if it's inconvenient to get fresh sage.
What Type of Maple Sausage to Use?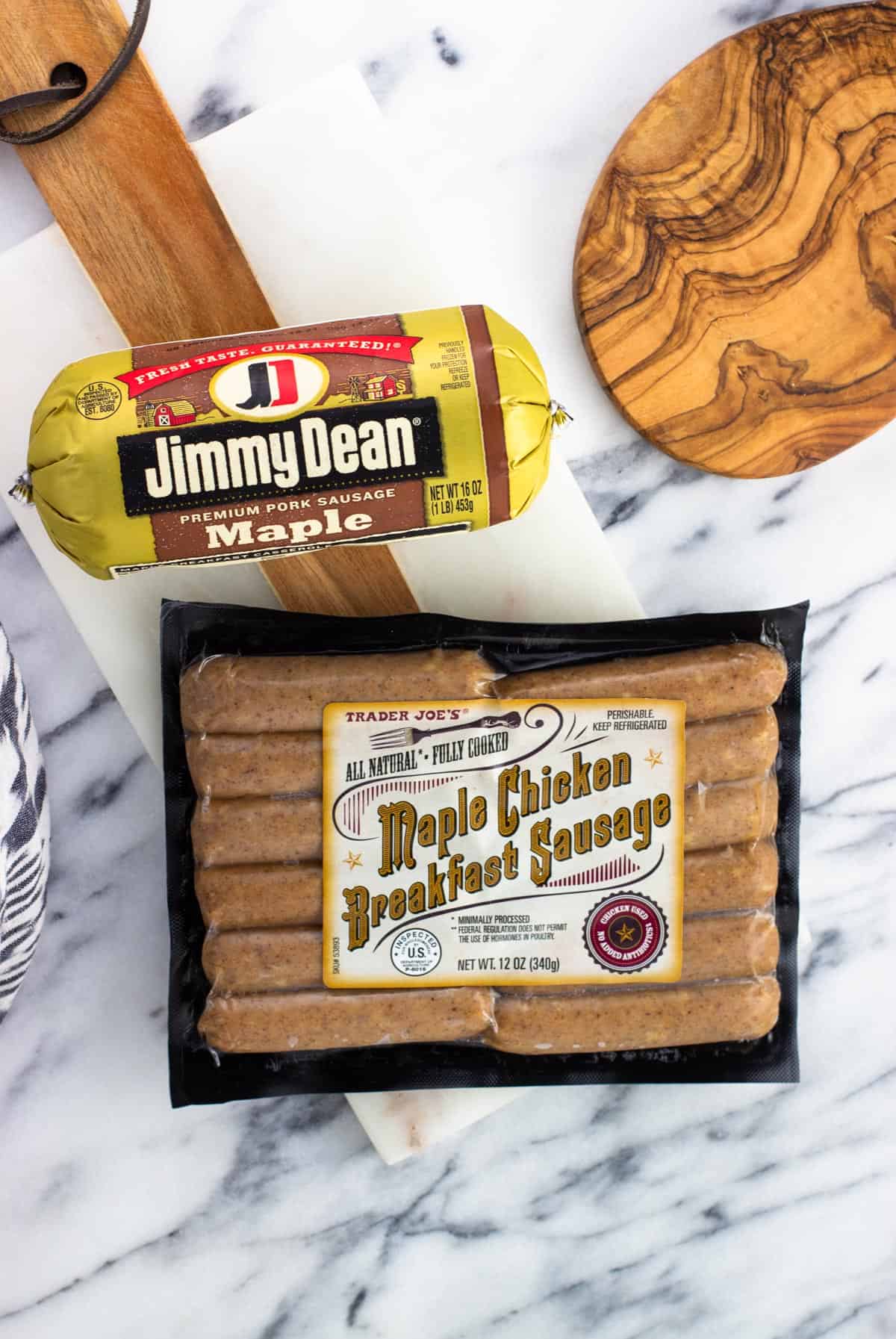 While the maple flavor makes the type of sausage used kind of particular, I've tested this maple sausage gnocchi recipe with several different types.
Ground maple sausage, found in a tube near the bacon in the supermarket, is a great option if you can find it. This is raw so you'll need to fully cook and crumble it.
If you can't find ground maple sausage, this also works with sliced maple chicken or turkey sausage links. These will likely be fully cooked already, so they'll just need to be heated thoroughly until browned in the pan as the first step. Then slice and add back to the pan at the end.
Step-by-Step Instructions
Brown the ground sausage in a pan, breaking it into crumbles as it cooks. Transfer the cooked sausage to a plate so you can use the pan again.
Heat a portion of the olive oil in the (now empty) pan and cook the sweet potato and onion until softened and golden. Transfer the veggies to another plate so you can use the pan one more time.
Now swirl together the remaining olive oil and the butter until melted. Add the gnocchi to the pan and toast it, stirring so that all sides turn golden-brown and no gnocchi are left sticking to one another.
Next pour in the chicken broth. It will look very soupy at this point, but keep it cooking over medium heat.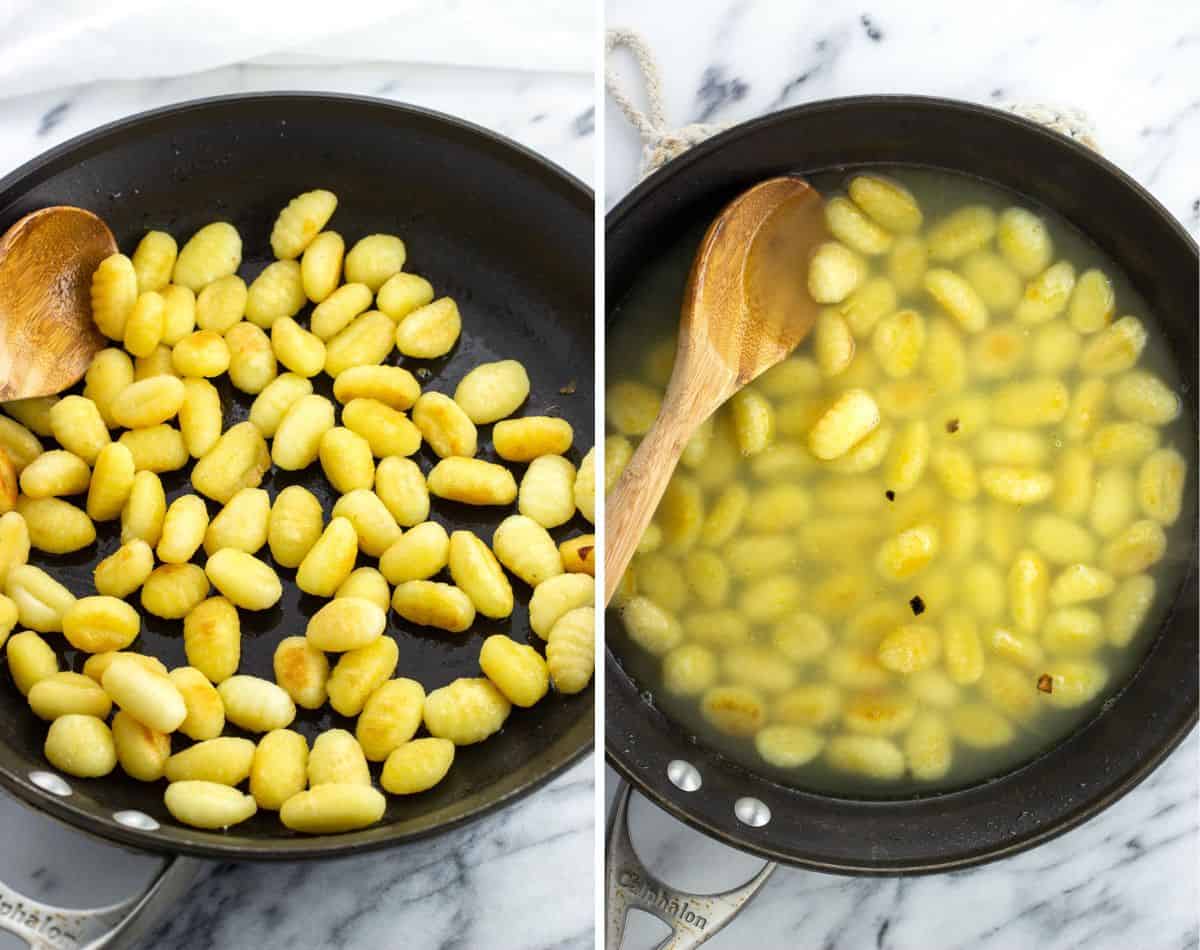 The broth will bubble up and begin to reduce. Stir everything up periodically.
You want to aim for the broth to coat the gnocchi like a thick sauce, as seen in the bottom right photo.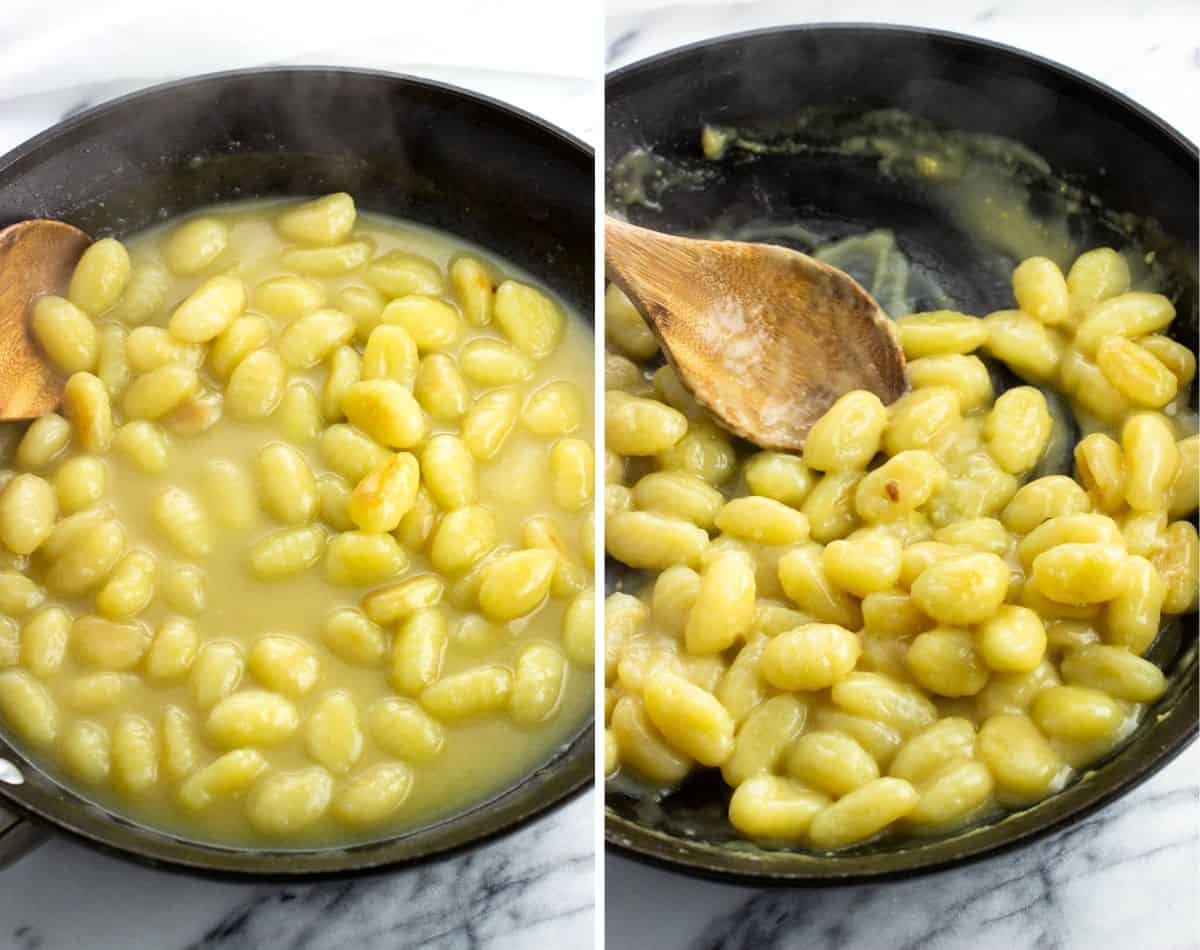 Add back the cooked and crumbled maple sausage and sweet potato, then add the sage, salt, and pepper. Stir everything up to combine, adjust the seasonings to taste, and then serve.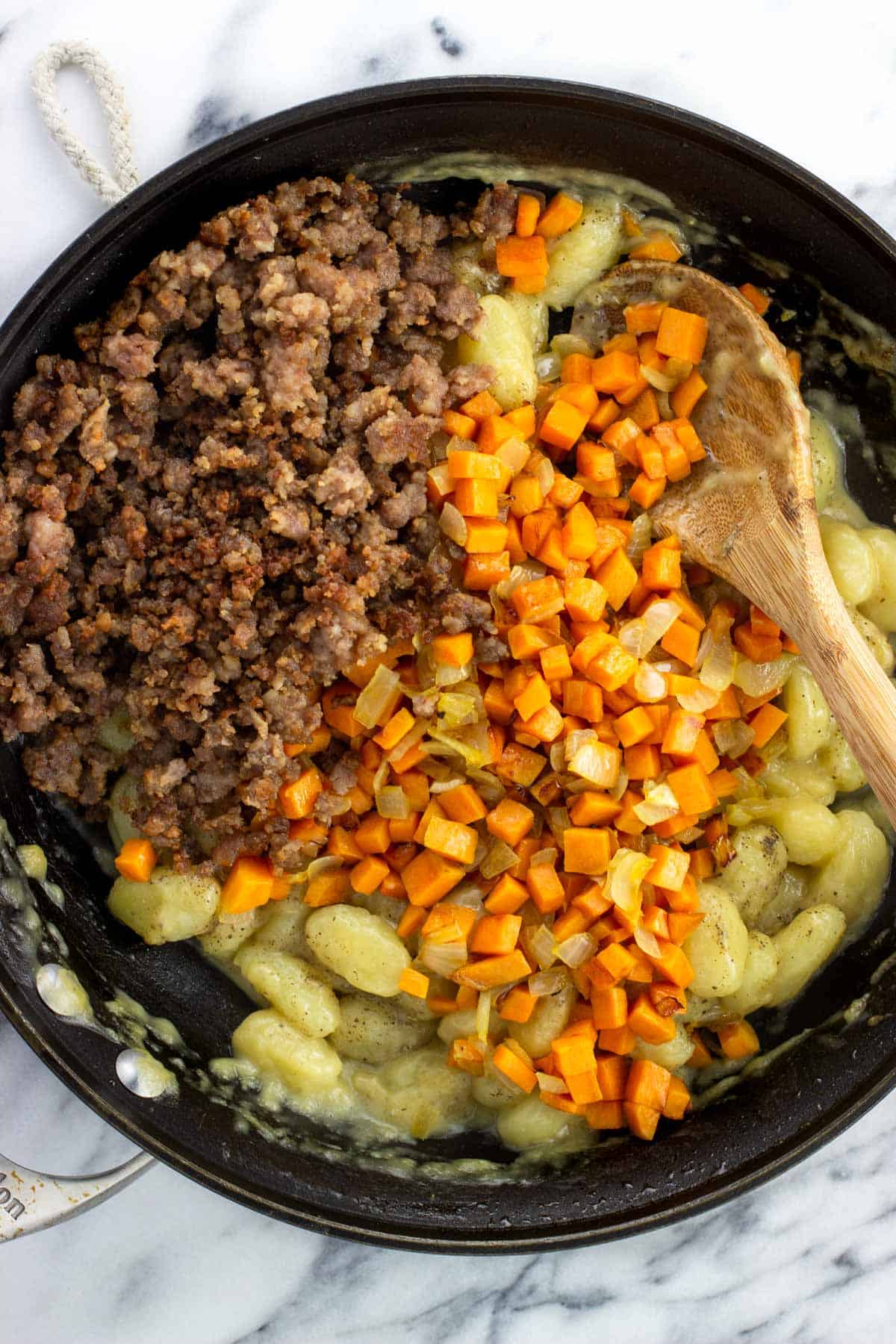 Recipe Tips and Tricks
You don't have to dice the sweet potato so small, but I wanted smaller pieces that wouldn't take a long time to cook. If using larger sweet potato chunks, increase the cooking time as appropriate before adding the onion.
Rubbed sage is used in this maple sausage gnocchi skillet, which consists of dried sage leaves that have been rubbed into a fluffed up powder. I find it more easily incorporates into a recipe in an even manner, so one bite isn't super heavy on the sage and the next it's missing entirely. You'll notice a few fresh sage leaves as garnish here simply because I found I had a few leftover from other recipes, but they're not necessary. See the recipe card below for substitution quantities for other forms of sage.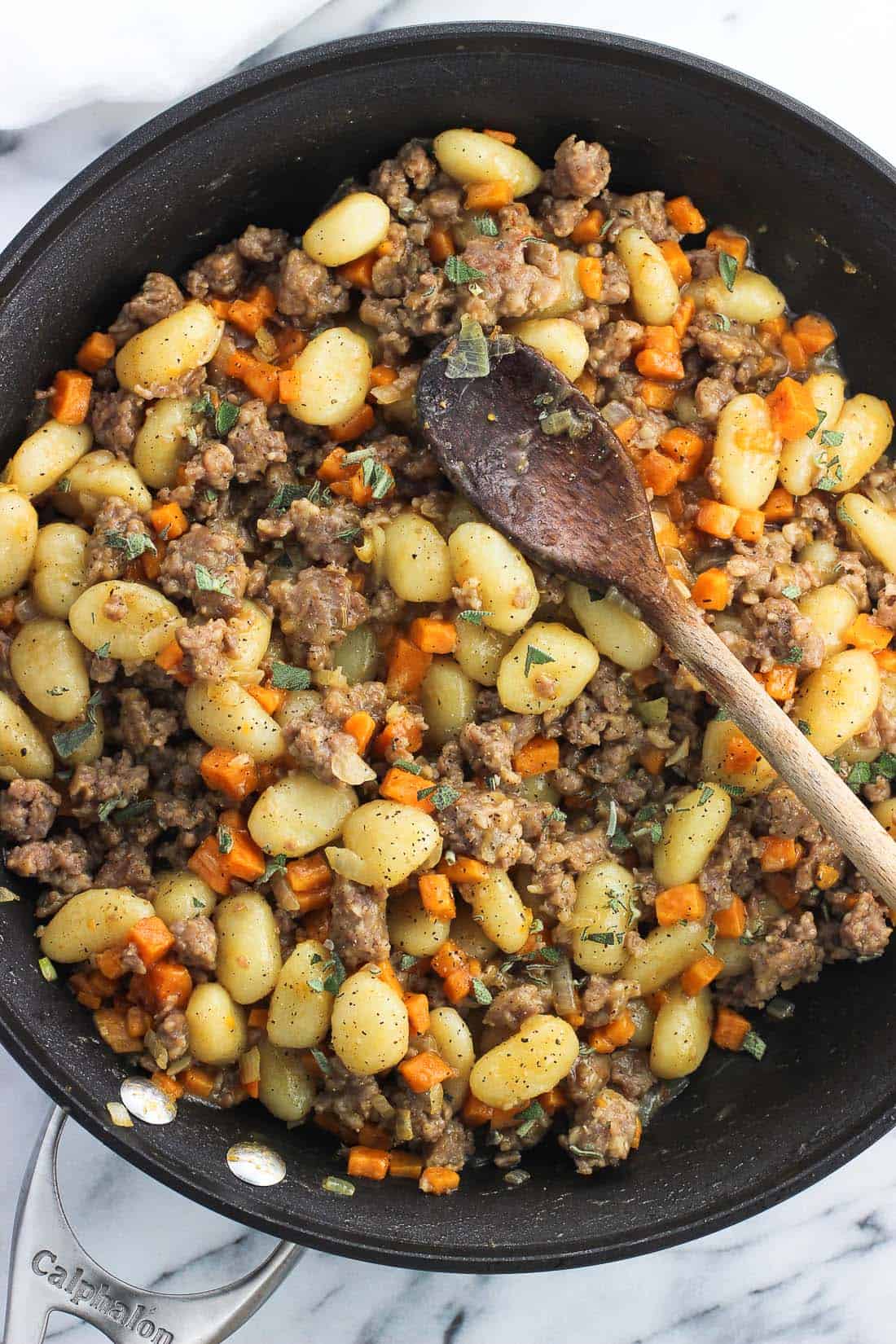 Related Recipes
If you've enjoyed this recipe, I'd love for you to leave a star rating in the recipe card and/or a comment review below!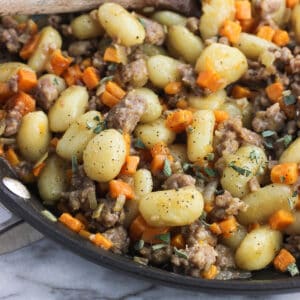 Maple Sausage Gnocchi Skillet
Looking for a maple sausage dinner recipe? This maple sausage gnocchi skillet comes together all in one pan for a relatively quick weeknight meal. No boiling is needed for the gnocchi, which are combined with sweet potato, maple sausage, and sage for a flavorful dinner recipe the whole family will love.
Print
Pin
Rate
Ingredients
1

lb

ground maple sausage

(or sausage links, see note)

3 ½

Tablespoons

olive oil

divided

1

medium/large

sweet potato

cut into ¼-inch cubes

1

medium

onion

diced

1

16-ounce package

gnocchi

uncooked

1

Tablespoon

unsalted butter

2

cups

reduced-sodium chicken broth

1

teaspoon

rubbed sage

⅛

teaspoon

salt

or to taste

⅛

teaspoon

ground black pepper

or to taste
Instructions
Add ground sausage to a pan set over medium heat. Break the sausage up into crumbles and cook until it's browned and no longer pink, about 8-10 minutes. Transfer the cooked crumbled sausage to a paper towel-lined plate and place skillet back on the stove over medium heat.

Add 1 ½ Tablespoons of the olive oil to the now-empty pan and then add the diced sweet potato. Cook for 2-3 minutes, occasionally moving the potatoes around the pan so that all sides brown evenly.

Add another 1 Tablespoon of the olive oil along with the diced onion and continue to cook everything for 5-6 minutes, or until the potatoes are fork-tender and the onions are golden. Remove the potatoes and onions from the pan to a plate.

Place the pan back on the stove again and raise the heat to medium-high. Add the remaining 1 Tablespoon of olive oil and 1 Tablespoon of unsalted butter to the pan. Swirl the olive oil and butter around until combined and the butter is melted. Add the gnocchi and stir to coat the gnocchi evenly.

Cook for 8 or so minutes, stirring frequently, until all sides of the gnocchi are golden-brown.

Reduce the heat to medium and pour in the chicken broth. Cook, stirring occasionally, until the broth has nearly all reduced. The mixture won't be soupy, rather the gnocchi will be coated in a thick sauce.

Add the cooked sausage, sweet potato, and onion back to the pan with the gnocchi and stir to combine. Stir in the sage, salt, and pepper to taste and serve.
Notes
Sausage: Ground maple sausage can usually be found in the breakfast meats area of the grocery store, near the bacon. Other maple/breakfast meats can be used here in its place if you can't find it, including chicken and turkey maple sausage links. Just cook them according to the package directions, slice them up, and continue with the recipe. Gnocchi: The variety of gnocchi I use are made up of 80% potato, and are found in the dry pasta aisle. Sage: If you do not have rubbed sage, you can substitute ½ teaspoon of ground sage or 1 ½ Tablespoons of finely diced fresh sage. Start with those amounts and adjust as you see fit.
Nutrition
Calories:
504
kcal
|
Carbohydrates:
43
g
|
Protein:
14
g
|
Fat:
32
g
|
Saturated Fat:
9
g
|
Cholesterol:
56
mg
|
Sodium:
1268
mg
|
Potassium:
129
mg
|
Fiber:
3.4
g
|
Sugar:
3.7
g
|
Calcium:
50
mg
|
Iron:
1.6
mg
Nutritional information is provided as an estimate. As it can vary due to many factors (brands used, quantities, etc.), we cannot guarantee its accuracy.
Food Safety and Nutrition Disclaimer