This maple sausage gnocchi skillet comes together all in one pan for a relatively quick weeknight meal. No boiling is needed for the gnocchi, which are combined with sweet potato, maple sausage, and sage for a flavorful dinner recipe the whole family will love.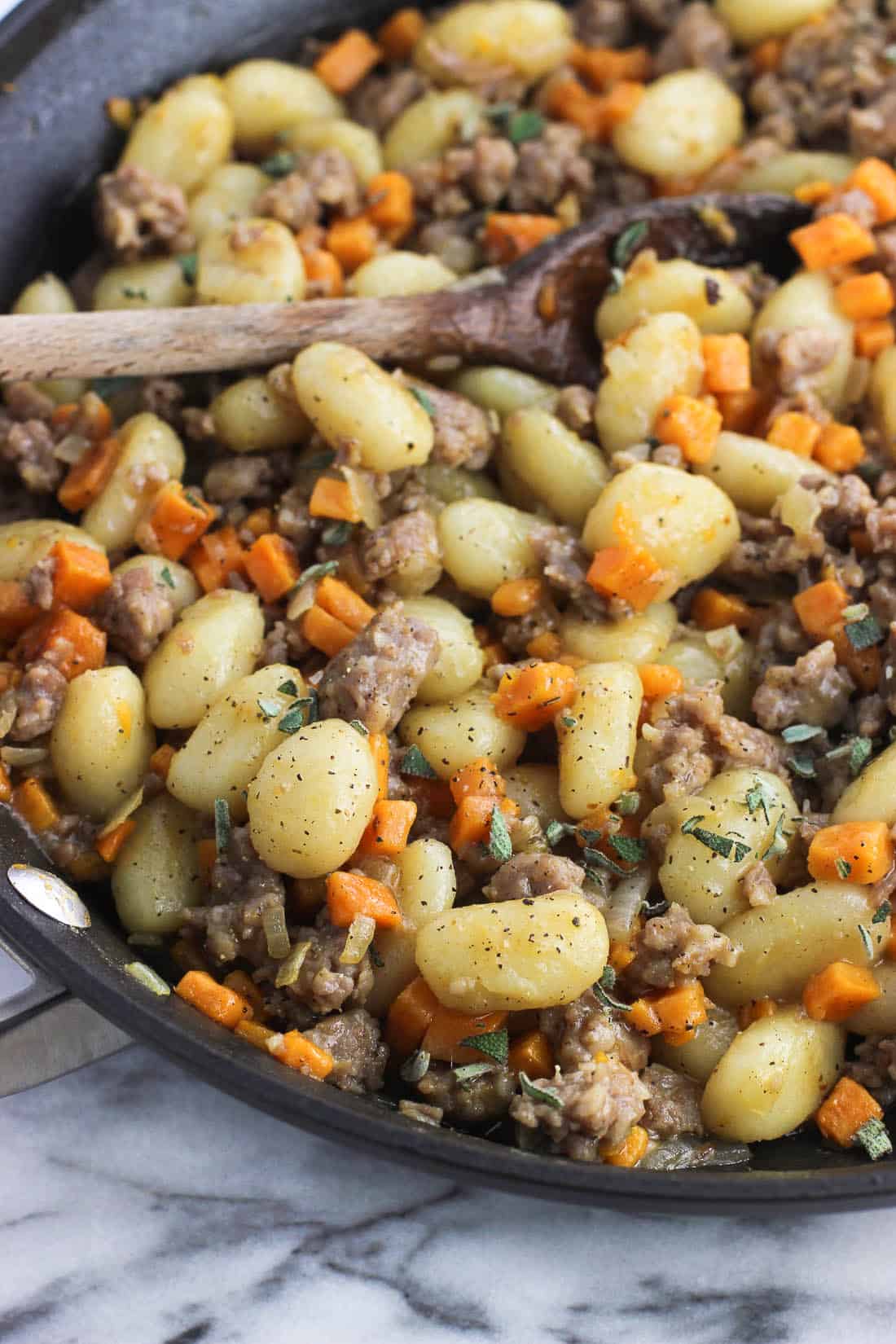 I think we all have those nights when we're up for trying a new recipe and committed to following all the steps. And then there are those other nights when a little of this and a little of that get thrown together and fingers crossed it all works out. This maple sausage gnocchi skillet started out as the latter, and then evolved into its current version below which has measurements and times — pretty important things for a proper recipe.
The little of this + that aspect of this gnocchi skillet actually began with a mistake. Or what I briefly thought was a mistake. Sausage and gnocchi together always works, and gnocchi with Italian sausage and homemade marinara makes an appearance on our dinner table pretty regularly. On one occasion the ground Italian sausage I pulled out of the freezer hadn't defrosted in the fridge yet (story of my life), so I chopped up some chicken sausage links in its place. Thankfully before I added the marinara sauce I realized that the chicken sausage was maple flavored…not quite marinara sauce compatible.
We ended up loving the unlikely maple flavor along with the creamy gnocchi so much that this version soon found its own place in our dinner rotation. To keep things a little more free and easy, I used a general maple-flavored ground sausage here instead of that particular maple chicken sausage variety and it works beautifully just as well. The key flavor here is the maple. Combined with the sage it makes this gnocchi skillet scream 'comfort food'.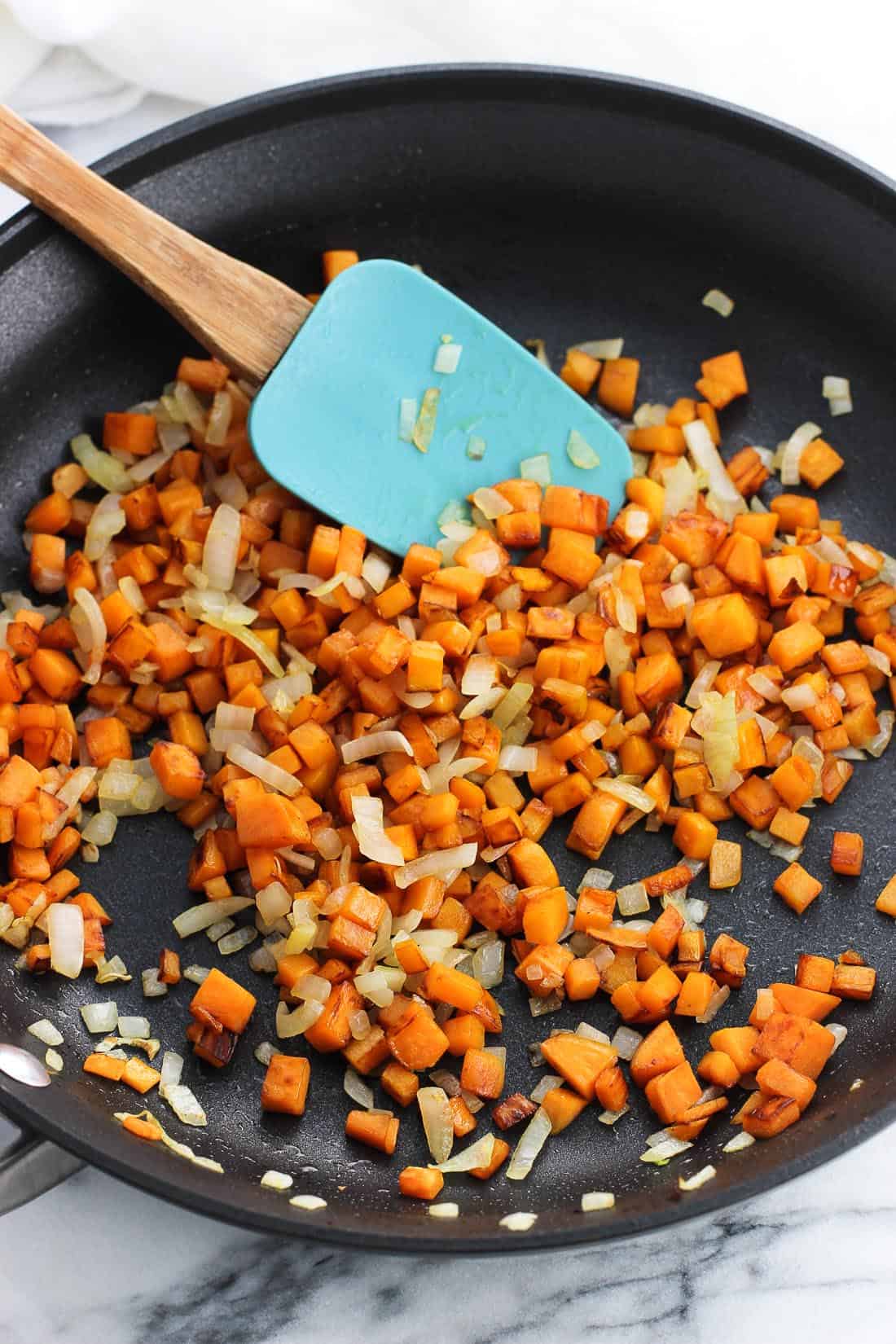 Cooking gnocchi in a skillet (no boiling!) has become one of my favorite ways to prepare it. It toasts up golden-brown in eight or so minutes, with a reduction of simple chicken broth coating each one in a thick sauce, if you will, that tastes indulgent without cream or a ton of butter.
Though you can't really tell from the pictures, I added about two cups of reduced-sodium chicken broth to this gnocchi skillet to reduce once the gnocchi have been toasted. You'll want to add back in the sweet potato, onion, and sausage to the skillet right when the gnocchi are coated in your preferred amount of 'sauce', or else the broth will likely reduce too much and not add that creamy coating. If that happens, no biggie…just add another glug glug of broth while the gnocchi skillet is cooking and then keep a closer eye as it reduces. I've had to do that more than once when I got distracted as it was cooking. Good as new.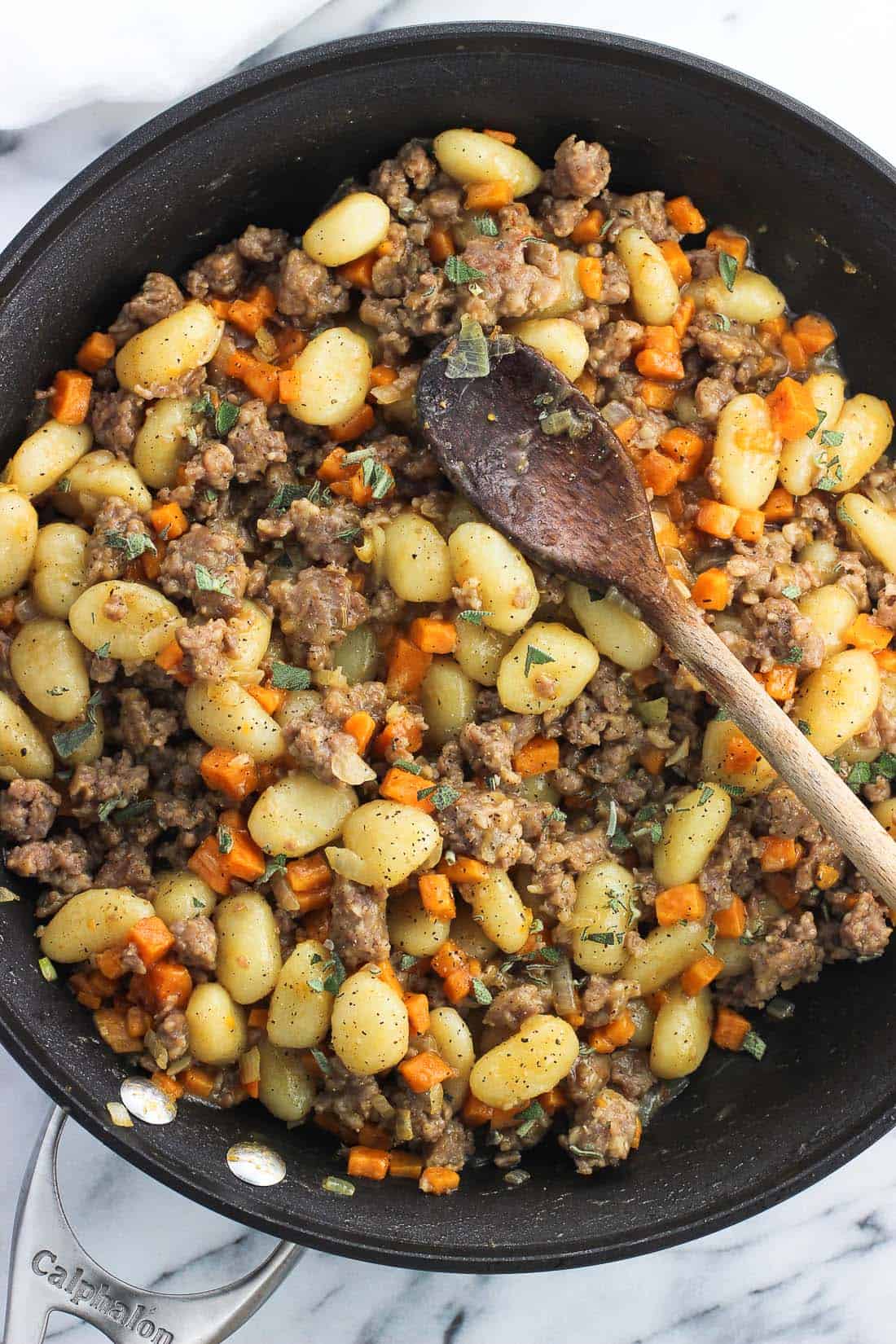 Recipe Notes:
Use your preferred brand of maple-flavored sausage, including ground pork sausage, sliced maple chicken sausage links, breakfast sausage, or whatever variety you can find at the store. I did not add any additional maple flavoring to this gnocchi skillet, so the sausage brings all of the maple flavor.
You don't have to dice the sweet potato so small, but I wanted smaller pieces that wouldn't take a long time to cook. If using larger sweet potato chunks, increase the cooking time as appropriate before adding the onion.
I used

rubbed sage

(affiliate link) in this gnocchi skillet, which consists of dried sage leaves that have been rubbed into a fluffed up powder. I find it more easily incorporates into a recipe in an even manner, so one bite isn't super heavy on the sage and the next it's missing entirely. You'll notice a few fresh sage leaves as garnish here simply because I found I had a few leftover from other recipes, but they're not necessary. 🙂
Maple Sausage Gnocchi Skillet
This maple sausage gnocchi skillet comes together all in one pan for a relatively quick weeknight meal. No boiling is needed for the gnocchi, which are combined with sweet potato, maple sausage, and sage for a flavorful dinner recipe the whole family will love.

Ingredients
1

lb

maple sausage,

browned and crumbled

3 1/2

tbsp

olive oil,

divided

1

sweet potato,

cut into 1/4" cubes

1

small onion,

diced

16

oz

gnocchi

1

tbsp

unsalted butter

2

cups

reduced-sodium chicken broth

1

tsp

rubbed sage

1/4

tsp

salt

1/4

tsp

ground black pepper
Instructions
Add sausage to a skillet set over medium heat. Break sausage up into crumbles and cook until browned and no longer pink. Transfer cooked sausage to a paper towel-lined plate and place skillet back on the stove over medium heat.

Add 1 1/2 tbsp of the olive oil to the skillet and then add sweet potato cubes. Cook for 2-3 minutes, occasionally moving the potatoes around the skillet so that all sides brown evenly. Then add another 1 tbsp of olive oil and diced onion and continue to saute for 5-6 minutes until the potatoes are fork-tender and the onions are golden. Remove potatoes and onions from the skillet to a plate.

Place the skillet back on the stove over medium-high heat and add remaining 1 tbsp of olive oil and 1 tbsp unsalted butter to the skillet. Swirl the olive oil and butter around until combined and the butter is melted. Add gnocchi and stir to coat the gnocchi evenly.

Cook for 8 or so minutes, stirring frequently, until all sides of the gnocchi are golden-brown.

Reduce the heat to medium and pour in the chicken broth. Cook, stirring occasionally, until the broth has nearly all reduced. The mixture won't be soupy, rather the gnocchi will be coated in a thick sauce.

Add the sausage, sweet potato, and onion back to the skillet with the gnocchi and stir to combine. Add sage, salt, and pepper to taste and evenly combine. Serve right away.
Notes
The variety of gnocchi I use are made up of 80% potato, and are found in the dry pasta aisle.
Nutrition
Calories:
504
kcal
|
Carbohydrates:
43
g
|
Protein:
14
g
|
Fat:
32
g
|
Saturated Fat:
9
g
|
Cholesterol:
56
mg
|
Sodium:
1268
mg
|
Potassium:
129
mg
|
Fiber:
3.4
g
|
Sugar:
3.7
g
|
Calcium:
50
mg
|
Iron:
1.6
mg
Nutritional information is provided as an estimate. As it can vary due to many factors (brands used, quantities, etc.), we cannot guarantee its accuracy.