Gingerbread spritz cookies are buttery and spiced with classic gingerbread flavors in this easily shaped version of gingerbread cookies. This flavored spritz cookie recipe makes more than enough for a crowd.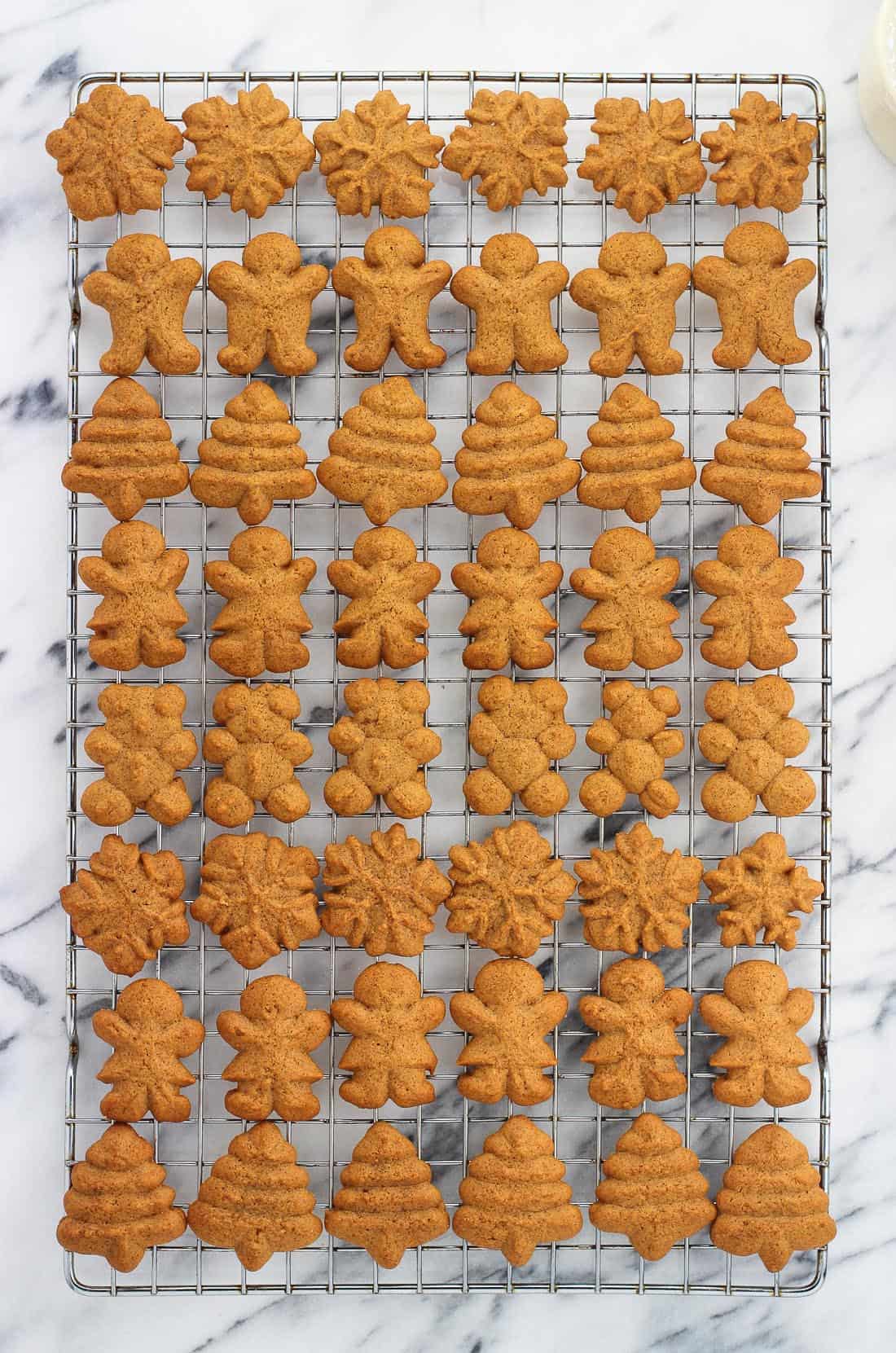 Although I don't have a real deal gingerbread cookie recipe on here, I think I have more than enough gingerbread bases covered with gingerbread waffles (whole wheat!), gingerbread biscotti, and now gingerbread spritz cookies.
Add spritz cookies to the list of recipes I grew up eating that has taken me an abnormally long time to share on the blog. They're rich and buttery but modest in size, and come in a variety of shapes. Once you get in the groove you can crank out dozens in no time. See: chocolate spritz cookies and Valentine's Day spritz cookies.
No matter how many times you'd shake your head at how many cookies were produced, there wasn't ever the question of what to do with leftovers...because there weren't any.
For years my mom had a trusty gold Italian cookie press that would make an appearance several times a year. The box was all but worn away by the end, but this cookie press would produce reliably, well, perfect spritz cookies. After making a few million cookies some mechanism gave way and we couldn't find the exact kind for sale anywhere. 😩 But! With a few tips listed below, this oxo cookie press (affiliate link) has made a pretty good substitute that gets the job done.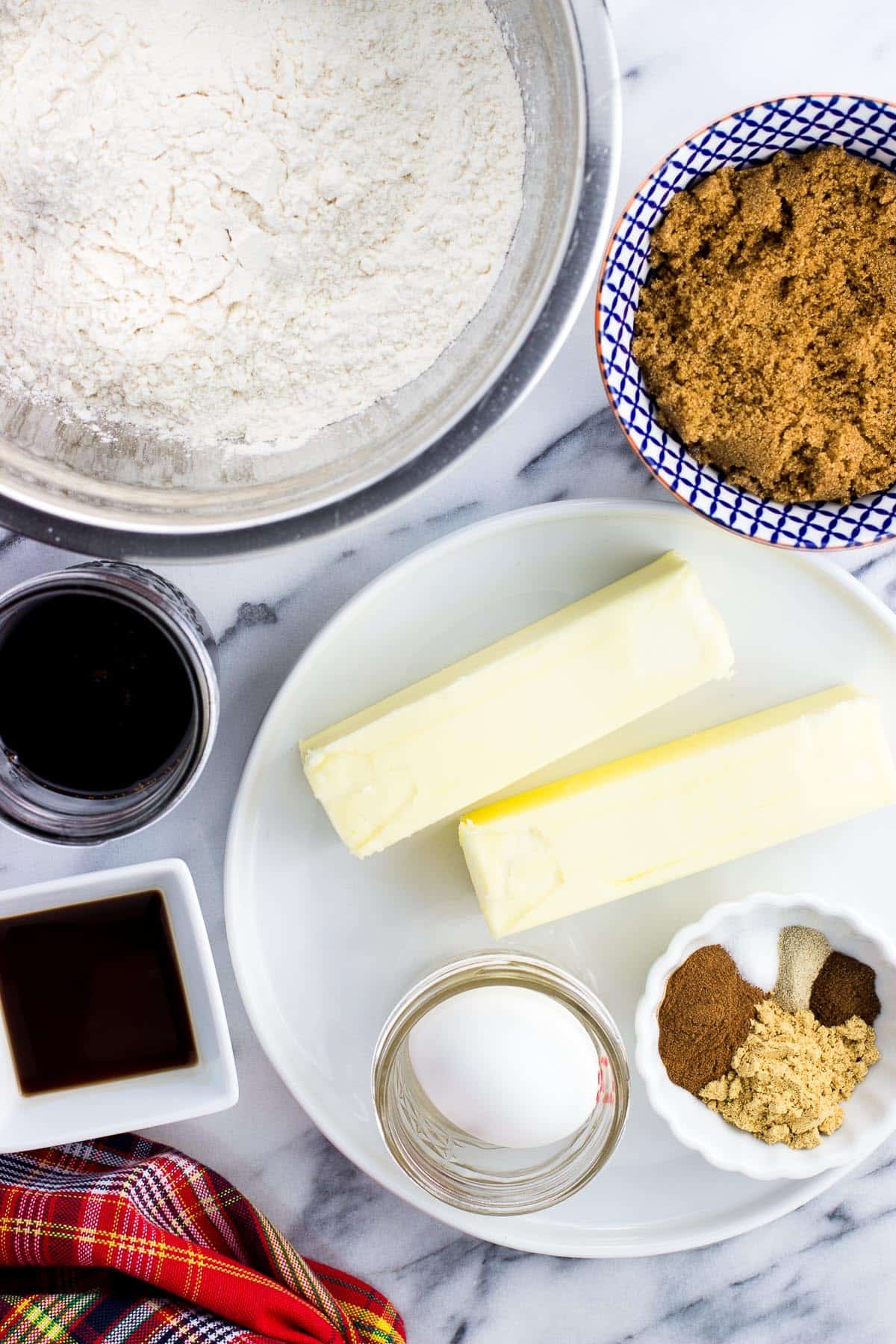 Recipe Ingredients
Butter is still prominently featured in the base here as it is with standard spritz cookies, but gingerbread must-haves like molasses, cinnamon, ground ginger, and cloves join in to result in buttery soft gingerbread cookies without all the rolling and cutting.
This is great news to someone like me who is not very artistically-inclined when it comes to desserts. And that might be putting it mildly. 🙂
In addition we have all-purpose flour, brown sugar for additional sweetness, an egg for binding, and vanilla extract for a little flavor oomph. And that leaves the remaining spice - ground white pepper.
While pepper of any sort may not be a traditional gingerbread spice, it adds a warm flavor (without too much of a bite) that works SO well here. It really blends in and is one of the reasons that I love pfeffernusse so much.
If you're not that familiar with spritz cookies the ingredient list might look like it's missing something, but it's not. These cookies don't utilize any leavening agents like baking powder/soda or cream of tartar.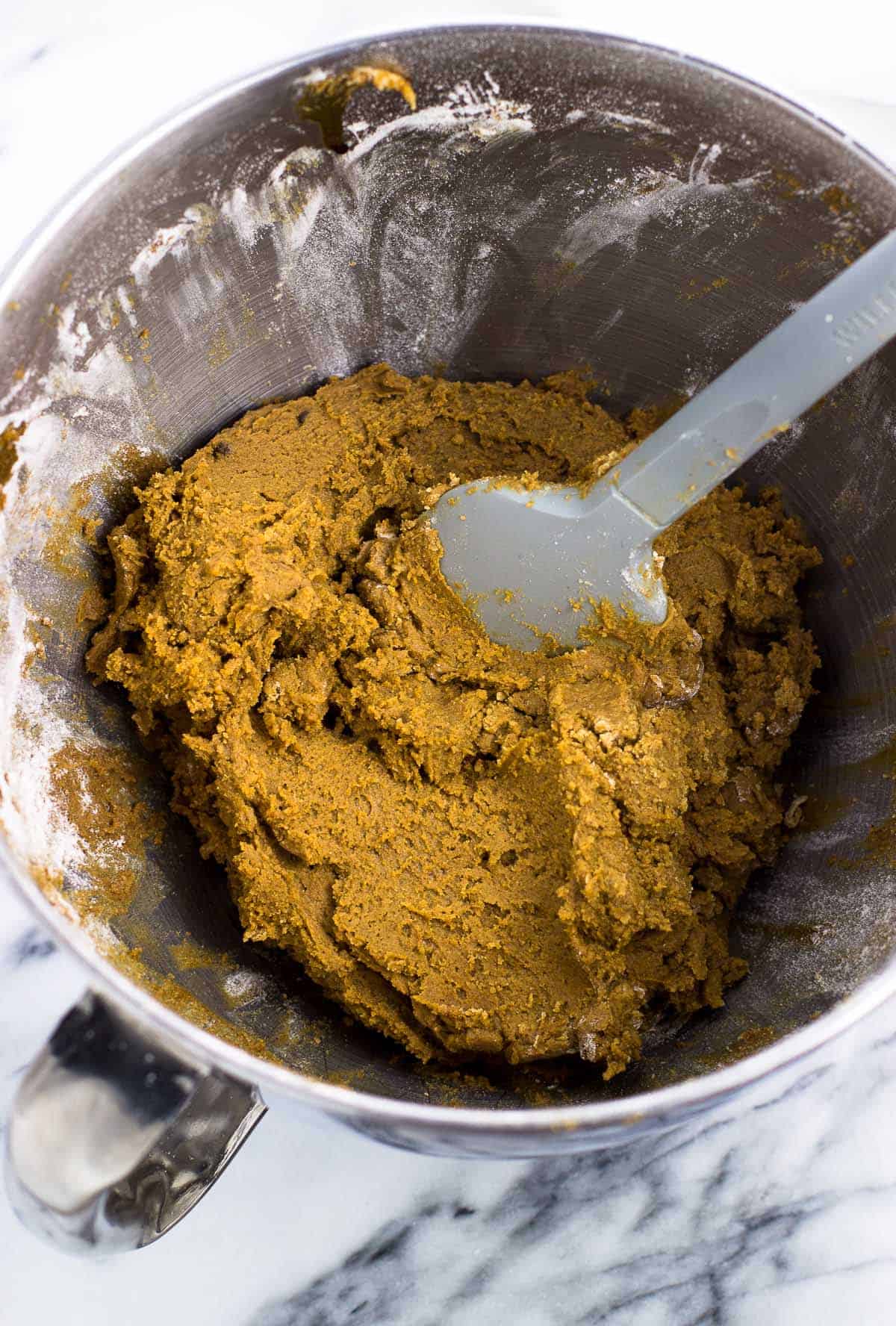 Step-by-Step Instructions
This cookie making process can be broken down into three parts: making the dough, chilling the dough (or not), and pressing/baking.
Making the dough is pretty simple. Start by creaming together the room-temperature softened butter and brown sugar. Then add the rest of the wet ingredients (molasses, egg, and vanilla extract) and mix until creamy and well-combined.
In a separate bowl whisk together the flour and spices, then add to the bowl with the wet ingredients in three or four intervals, mixing in each until just combined. The dough will still be a little sticky.
Here comes a decision point: chilling the dough or not. I always chill my gingerbread spritz cookies (not my regular or chocolate spritz cookies) for around 30 minutes as I find it firms up the dough a welcome amount and alleviates some of the stickiness that comes from the molasses. In the years since I first posted this recipe, I've received comments from readers who reported that unchilled dough performed better with their cookie presses.
My suggestion is to see how the dough looks to you and then decide. If you're familiar with your cookie press and know chilled dough would be tough to press through the discs, then try chilling for less time or not chilling at all. On the contrary if you do chill your dough and find it difficult to press, leave it out at room temperature to soften up a bit until it's ready.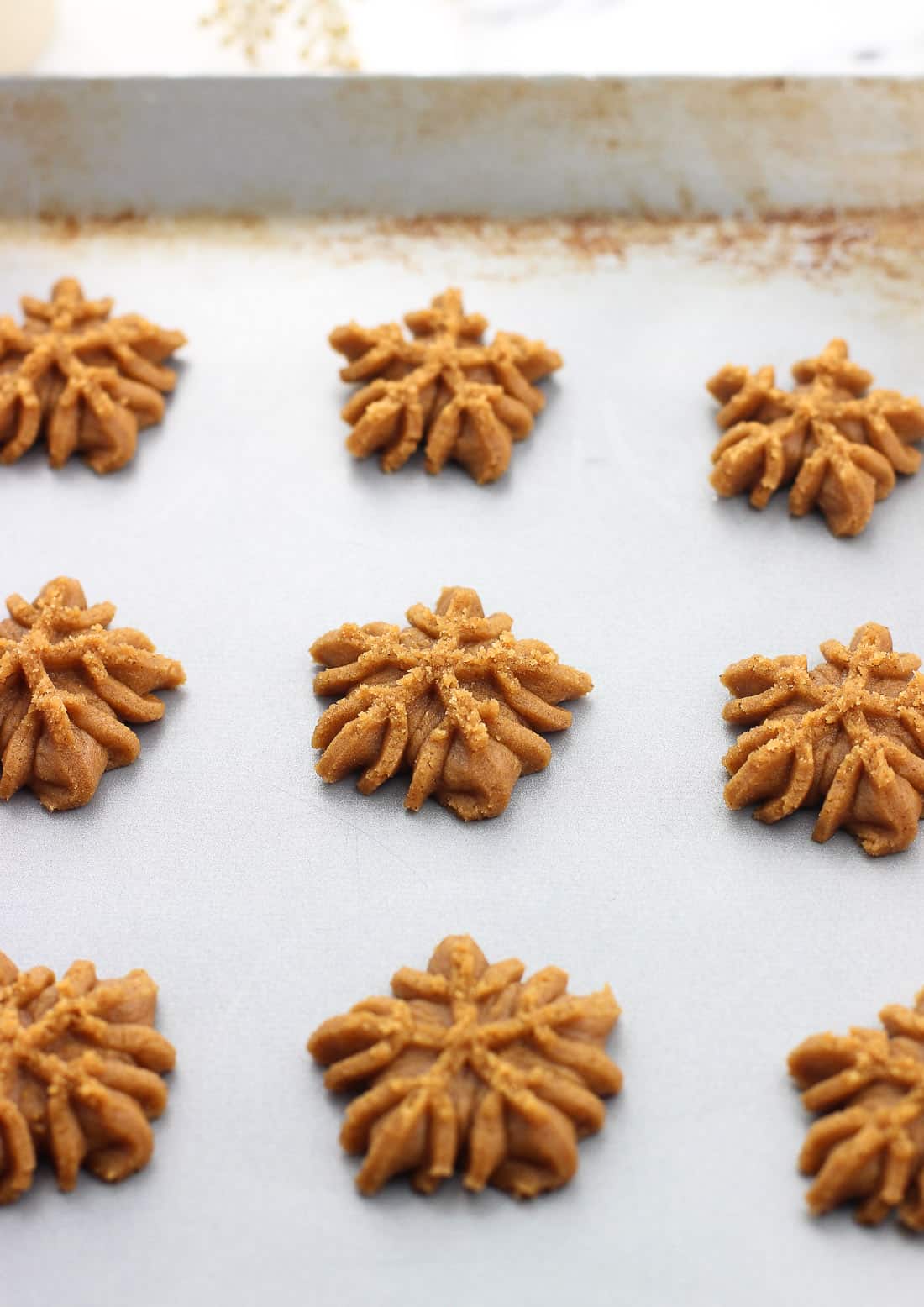 Now for the pressing and baking. Ungreased cookie sheets are used here as all that butter in the dough helps prevent any sticking.
Of course any shape of these gingerbread spritz cookies would be equally delicious, but there's something extra special about festive shaped cookies. Especially when you don't need to decorate them after baking. Which, I mean, of course you can if you like, but a little shake of powdered sugar is all I usually do.
The following are tips that work with my cookie press, but they may not be necessary for yours. A lot of them play into whether or not your press prefers chilled or unchilled dough. With mine, dough that is too warm doesn't hold its shape well, sticks, and mushes out of the canister.
I recommend spraying the inside of the cookie press canister with cooking spray to help prevent the dough from sticking in there if that's an issue.
Since you'll have to reload the cookie press a few times, leave half of the chilled dough in the fridge while you're pressing the first half. This way it doesn't warm up too much sitting on the counter before it's used.
Press any "intricate" shapes first. The most chilled dough will be the best to hold shapes with extra twists and details.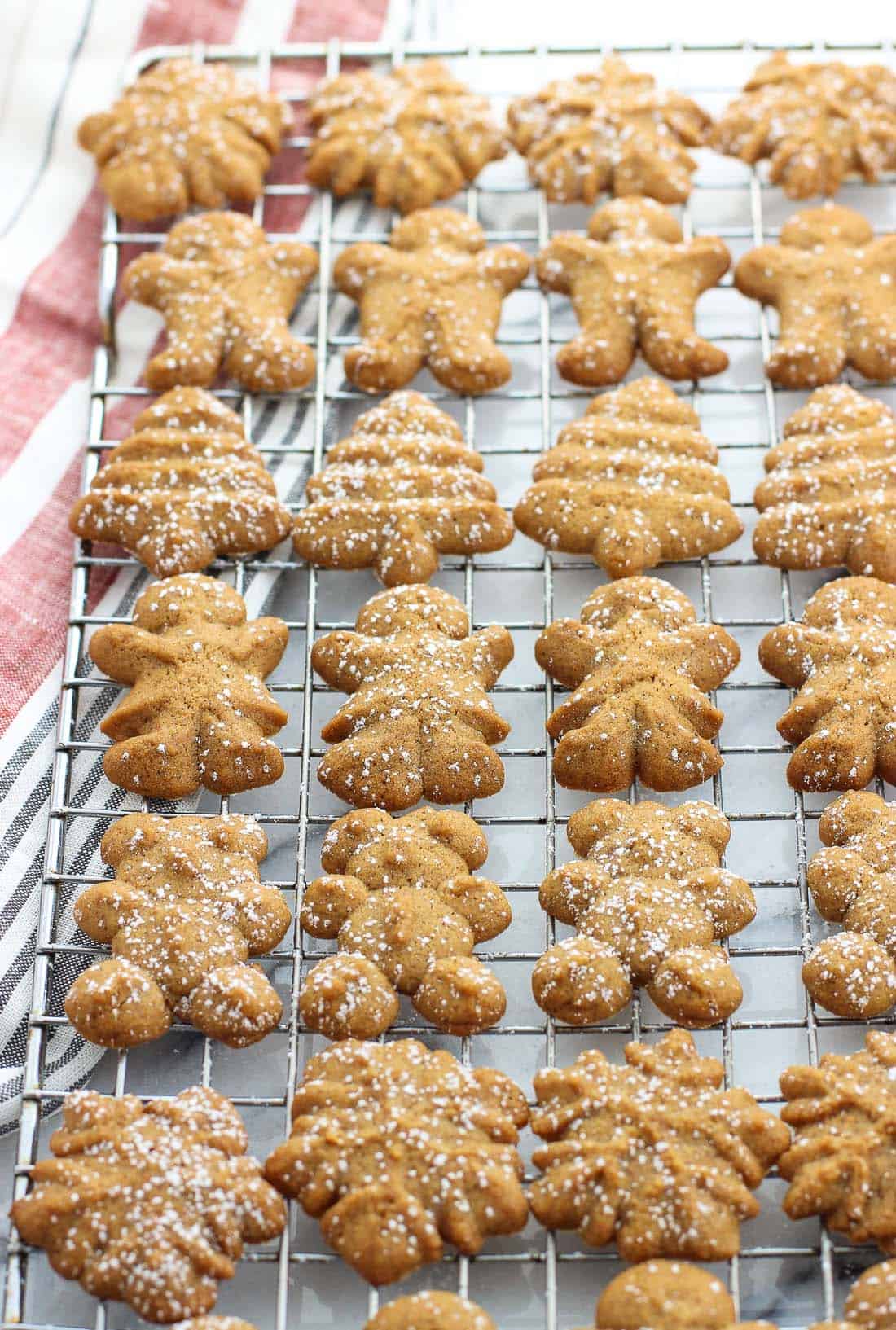 As for shaping these gingerbread spritz cookies, I've seen cookie press discs come in both metal and plastic varieties. I prefer the metal ones for their precision, though some of the shapes seen here were from a super thick and durable plastic that wasn't bad.
This metal set features the snowflake shape along with others, and this plastic version includes the gingerbread man and gingerbread woman (both affiliate links). I used the tree shape from the standard cookie press disc set, and I believe that's where the bear came from, too.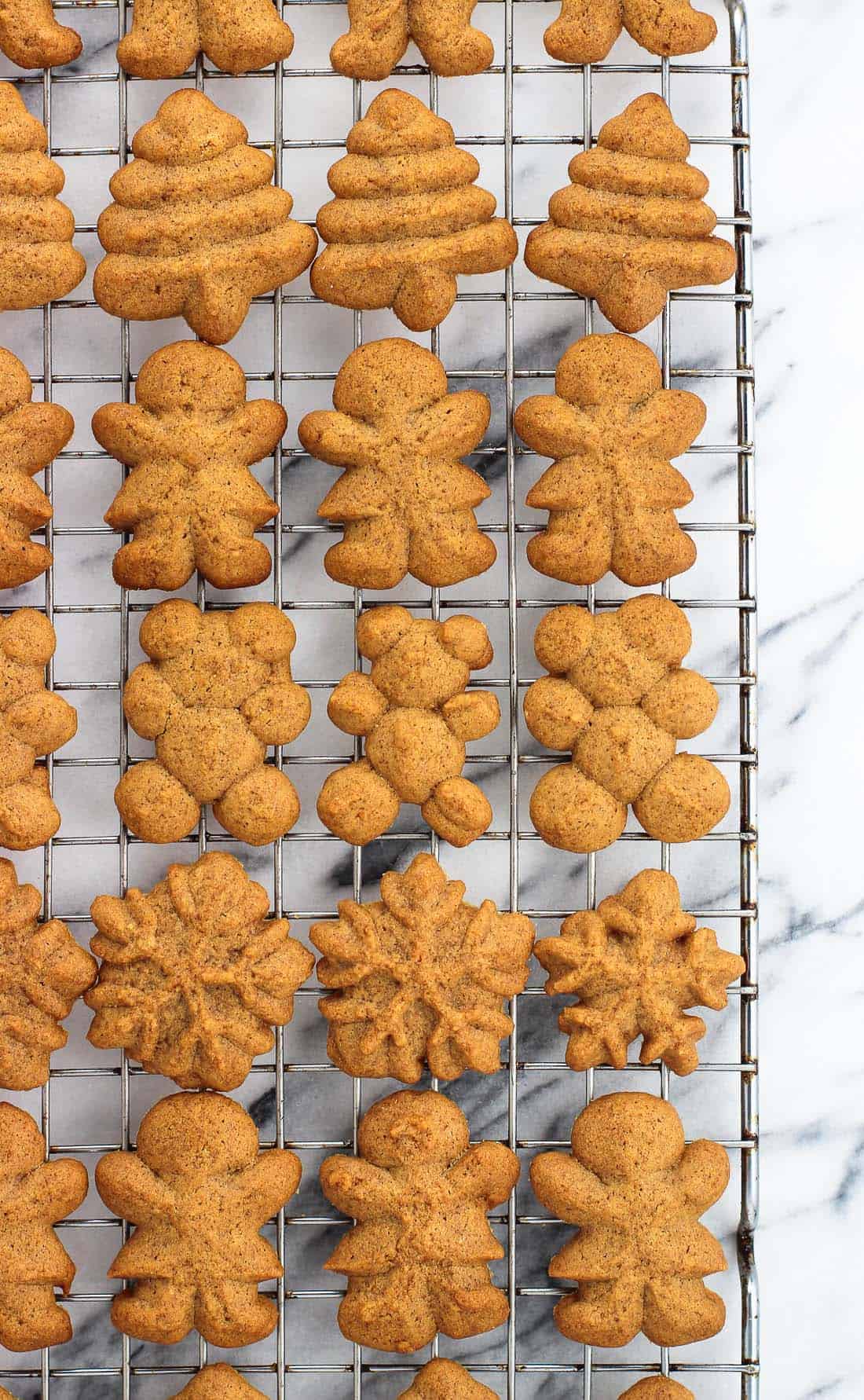 Important Recipe Note
I've received some comments that the dough handles better unchilled or when chilled for just a short amount of time. Otherwise if it's too firm, it may be difficult to press out into shapes until it warms up a bit. In my experience I found chilling the dough some was helpful to reduce a bit of stickiness (especially with the molasses in there) but once mixed up, see how it seems to you. You may wish to skip the chilling or cut down on the time.
If you've enjoyed this recipe, I'd love for you to leave a star rating in the recipe card and/or a comment review below!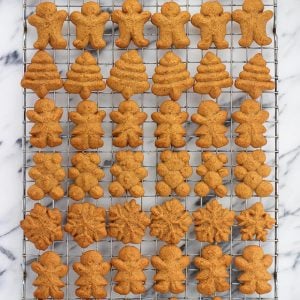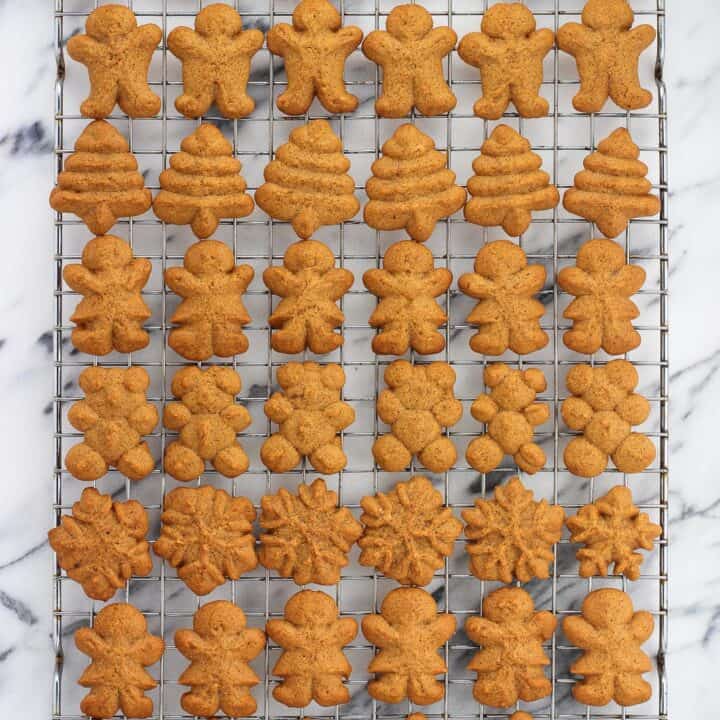 Gingerbread Spritz Cookies
Gingerbread spritz cookies are buttery and spiced with classic gingerbread flavors in this easily shaped version of gingerbread cookies. This spritz cookie recipe makes more than enough for a crowd.
Print
Pin
Rate
Ingredients
1

cup

unsalted butter

at room temperature (2 sticks)

½

cup

packed brown sugar

½

cup

molasses

1

egg

1 ½

teaspoon

vanilla extract

3

cups

all-purpose flour

2

teaspoon

ground cinnamon

2

teaspoon

ground ginger

¼

teaspoon

salt

¼

teaspoon

ground white pepper

¼

teaspoon

ground cloves
Instructions
Cream together butter and brown sugar in a large mixing bowl for a few minutes until smooth. Add molasses, egg, and vanilla extract and mix again until combined and creamy.

In a separate bowl, whisk together flour, cinnamon, ginger, salt, white pepper, and cloves until combined.

Add flour mixture to the bowl with the butter/sugar mixture in 3-4 batches, mixing until each increment is just combined.

Turn out dough onto a large sheet of plastic wrap and wrap snugly. Refrigerate for 30 minutes. See note on chilling vs. not chilling.

Once chilled, preheat oven to 375°F. Add dough to cookie press fitted with your preferred disc shape. Press cookies out onto ungreased baking sheet(s) about 1"-1 ½" apart from one another.

Bake in the center of the oven for 5-7 minutes, or until cookies are slightly browned around the edges. Let cookies cool for a few minutes on the baking sheet, then remove to a wire rack to cool completely. Store cooled cookies in an air-tight container for up to a week. These cookies also freeze well.
Notes
Chilling vs. not chilling: Some readers have reported that their dough handled better when it was unchilled, as chilling firmed it up too much and made it difficult to press. I always chill my dough to reduce stickiness, but your dough may not need it. Pepper: If you don't have white pepper, you can substitute in a pinch of ground black pepper in its place. I would use a pinch or so (definitely less than the amount called for of white pepper) as it's punchier/sharper than white pepper. Yield: The number of cookies you get may vary depending upon the size of your cookie press.
Nutrition
Serving:
4
cookies
|
Calories:
128
kcal
|
Carbohydrates:
16
g
|
Protein:
1.5
g
|
Fat:
6.4
g
|
Saturated Fat:
4
g
|
Cholesterol:
22
mg
|
Sodium:
68
mg
|
Potassium:
101
mg
|
Fiber:
0.3
g
|
Sugar:
5.5
g
|
Calcium:
10
mg
|
Iron:
0.9
mg
Nutritional information is provided as an estimate. As it can vary due to many factors (brands used, quantities, etc.), we cannot guarantee its accuracy.
Food Safety and Nutrition Disclaimer
Spritz dough recipe adapted from the oxo recipe booklet that came with the cookie press.