Pfeffernusse are thick and chewy spice cookies that just scream 'holidays'! These small yet substantial cookies are rolled in powdered sugar for a sweet touch. This version is dairy-free, too!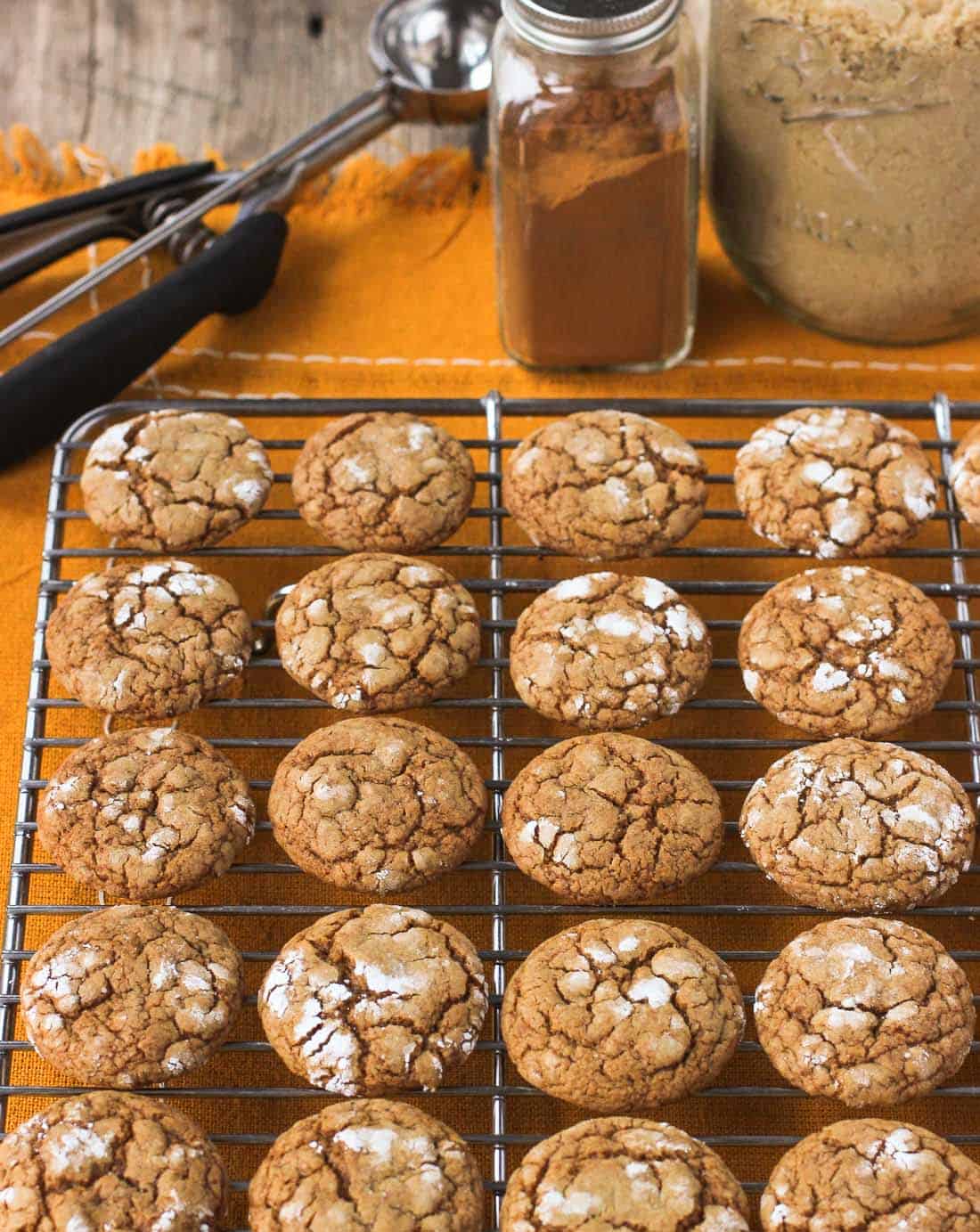 When it comes to holidays and events, I realized that I tend to be either the earliest of early birds or rush to put the finishing touches on whatever it is at the last possible moment. Lately? I'm the latter. What did we do before free two-day shipping (mostly Amazon Prime but did you know asos does it now too for a small yearly fee)? We certainly didn't have the excitement of wagering on the UPS guy. 'Did he or did he not bring the earrings I need to wear in three hours/gift for that night's birthday party (along with the wrapping paper and ribbon to wrap it)?'
I've been living on the edge over here, and I think it's safe to say that this fall has gotten away from me something fierce. However sometime in mid-October I found some time to make a million batches of Christmas cookies, because obviously that time wouldn't have been better spent focusing on what's going on in the actual fall, now would it?
Several of those batches were these pfeffernusse cookies, which I can't possibly wait to share with you. They're chewy, hardy cookies that are spiced up perfectly with the classic mix of cinnamon, cloves, nutmeg, and ginger, but also ground pepper. Pepper in your cookies! It adds a bite that blends so well with the sweet flavors. I promise your guests won't think you accidentally grabbed the pepper instead of the salt shaker!
Every December growing up we'd get our annual batch of (store-bought) pfeffernusse cookies, which came in a bag and were just TOO. GOOD. This year I wasn't holding out hope that I'd be able to find them in my local stores so I tried my hand at recreating them at home and tweaking the recipe until they were juuuuuust right. My first batch resulted in very large cookies, which we were thrilled about because you could enjoy many more flavor-packed bites while still sticking to your promise of eating "just one cookie".
After that first (delicious) batch I got a little self-conscious that the extent of my knowledge of pfeffernusse cookies came from a supermarket version so I did a little research and learned a few things. Number one being that pfeffernusse are typically small cookies, so my extra large batch was fab but atypical. So small was the name of the game for batches #2 and beyond.
Then there's the issue of the powdered sugar coating. The store-bought variety certainly had a sweet white coating, but my Googling brought back mixed results. Apparently *authentic* pfeffernusse cookies don't have a thick confectioners' sugar coating? Since this seemed like an area in which I could reduce a bit of extra sugar without sacrificing taste, I took it. I simply rolled the pfeffernusse cookie dough balls in powdered sugar pre-bake, and let them develop their cracked texture as they baked.
You can certainly dust the finished cookies in extra confectioners' sugar if you prefer. I mean, hey, it's the holidays after all. 😉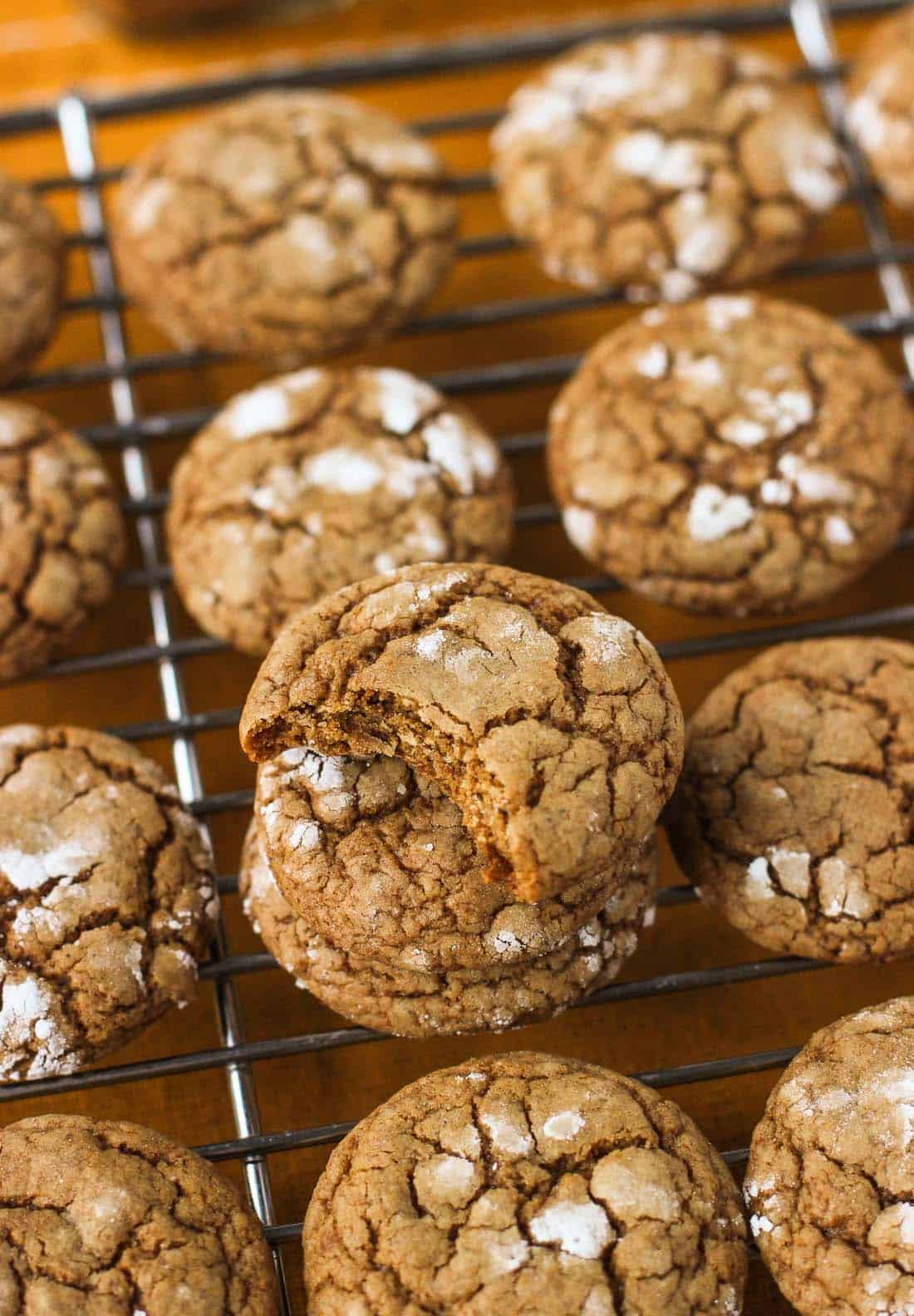 These pfeffernusse disappeared quickly! They're the best mix of chewy and spiced cookies, and would be a warmly-welcomed addition to any holiday cookie tray. I have a funny feeling that I'll be making these long after the holiday season has finished for this year. Not that that's a time I want to think about, of course. Let's focus on first things first. 🙂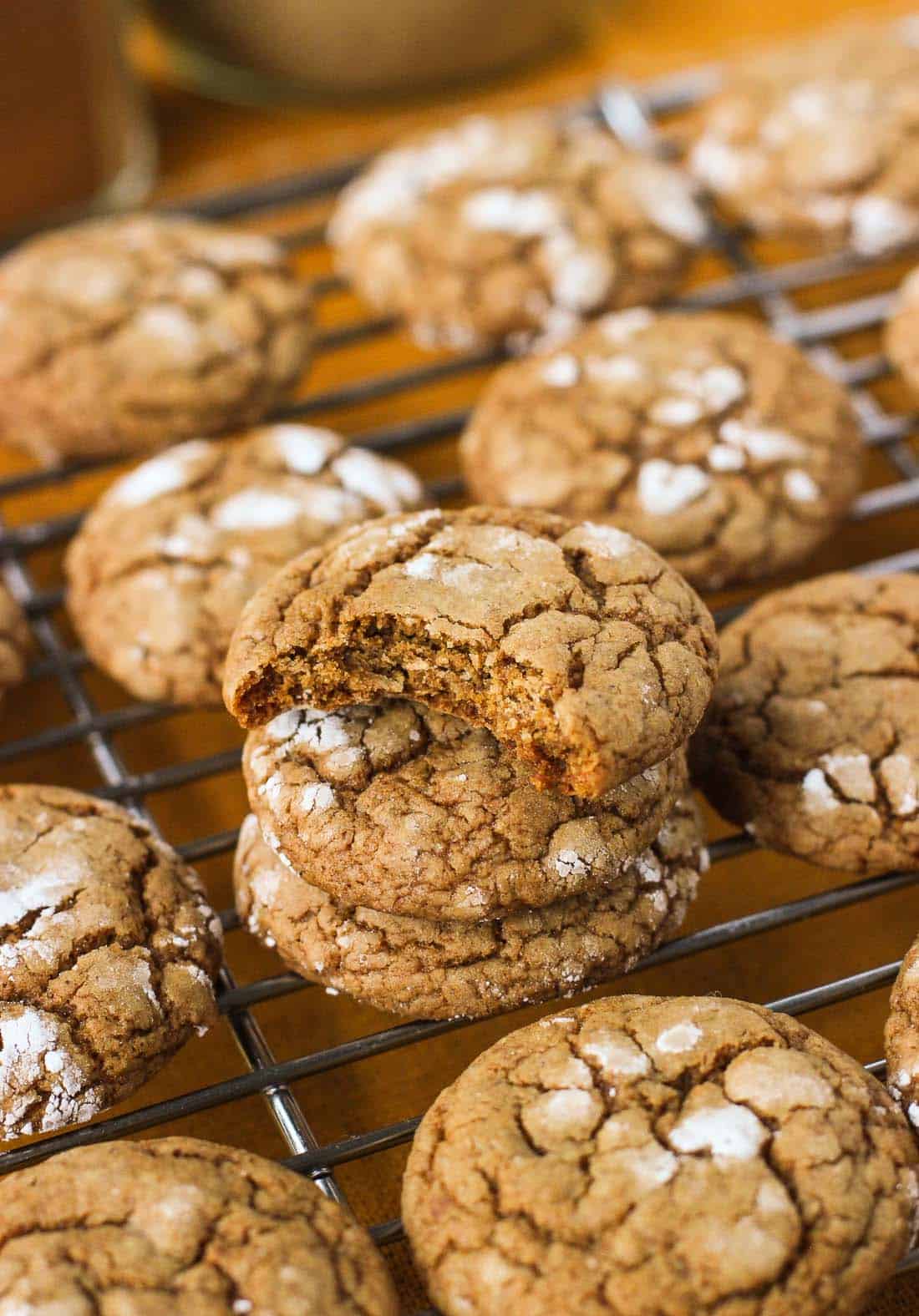 Pfeffernusse (Spice Cookies)
Pfeffernusse are thick and chewy spice cookies that just scream 'holidays'! These small yet substantial cookies are rolled in powdered sugar for a sweet touch. This version is dairy-free, too!
Ingredients
1/4

cup

molasses

3

tbsp

honey

1/4

cup

coconut oil

1

egg

1

tsp

anise extract

2

cups

all-purpose flour

1/4

cup

plus 2 tbsp granulated sugar

1/4

cup

brown sugar

3/4

tsp

baking soda

1

tsp

ground cinnamon

1/2

tsp

ground nutmeg

1/2

tsp

ground cloves

3/4

tsp

ground ginger

3/4

tsp

ground white pepper

1/4

tsp

salt

1/2

cup

confectioners' sugar

for rolling (divided - optional)
Instructions
Add molasses, honey, and coconut oil to a small saucepan set over medium heat. As the mixture heats, stir to combine ingredients until it's smooth and well-mixed (about five minutes). Remove saucepan from heat and let molasses mixture cool to room temperature. [see note]

In a separate small bowl, whisk together egg and anise extract. Once molasses mixture has sufficiently cooled, very slowly pour in small amounts of the egg mixture, whisking continually, until all is combined.

In a separate bowl, add flour, granulated sugar, brown sugar, baking soda, cinnamon, nutmeg, cloves, ginger, white pepper, and salt. Whisk to combine. Pour molasses mixture into bowl with the dry ingredients and stir so that everything is combined and mixture is smooth, trying not to overmix. Form the dough into a ball and wrap in plastic wrap. Refrigerate dough until thoroughly chilled, at least 1-2 hours.

Once dough is chilled, preheat oven to 325 degrees F and lightly grease baking sheet(s). Add 1/4 cup of confectioners' sugar to a small bowl and set aside. Scoop small balls of dough (approx. the size of a large gumball), form into a sphere with your hands, and roll all sides in the confectioners' sugar, dusting off any additional sugar. Discard remainder of sugar.

Place cookies about 1" apart from one another on prepared baking sheets. Bake for 11 or so minutes, or until the tops of the cookies are mostly firm to the touch and bottoms have darkened slightly. Let cookies cool on baking sheet for 5-6 minutes, and then transfer cookies to a wire rack to cool completely.

Once cooled completely, you may coat or dust pfeffernusse in remaining 1/4 cup confectioners' sugar before serving if you prefer. I skipped this step for the cookies in this picture.
Notes
Make sure the molasses mixture is at room temperature and no longer warm. If not, you run the risk of having small pieces of cooked egg in the batter if you add too much egg at once to the molasses mixture while it's still warm. If this happens, the batter will still be just fine to use (I've been there, done that), but it's a bit of a bummer. No worries though - you won't be able to tell in the final product cookies.
Prep time includes approximately 1/2 hour for cooling the molasses mixture and 1 1/2 hours for chill time.
Nutritional info includes the second rolling of confectioners' sugar.
Adapted from

allrecipes
Nutrition
Serving:
2
cookies
|
Calories:
126
kcal
|
Carbohydrates:
23.6
g
|
Protein:
1.6
g
|
Fat:
3.1
g
|
Saturated Fat:
2.5
g
|
Cholesterol:
8
mg
|
Sodium:
37
mg
|
Potassium:
80
mg
|
Fiber:
0.4
g
|
Sugar:
13.2
g
|
Calcium:
10
mg
|
Iron:
0.9
mg
Nutritional information is provided as an estimate. As it can vary due to many factors (brands used, quantities, etc.), we cannot guarantee its accuracy.