Pfeffernüsse are thick and chewy German spice cookies that just scream 'holidays'! These small yet substantial cookies are rolled in powdered sugar for a sweet touch. They stay chewy for days and freeze well, too.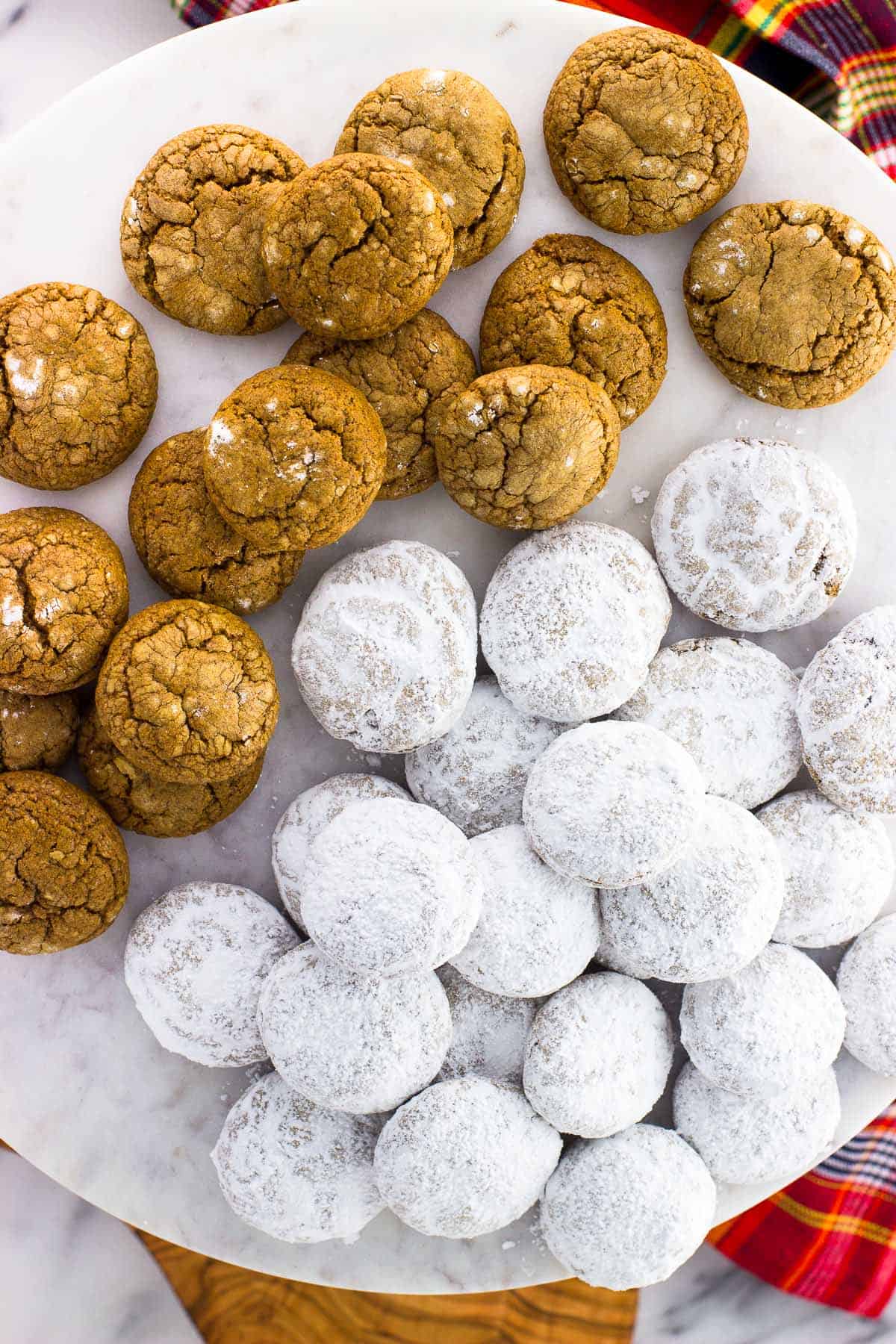 Each year at Christmastime I try and get one or two more family recipes on the blog. Sometimes this is easy as the recipes are written down (and with measurements, at that!) And other times it takes searching for clues in handwritten recipe books and mining various family members' memories to try our best to recreate traditions of yesteryear.
There's quite a variety of Italian Christmas desserts already published here as I'm mostly Italian in heritage (see pignoli cookies, struffoli, and cucidati), but the little bit of German that I am is poorly represented.
Psst - this pictures in this post were updated in 2020 after their initial publish date in 2015. If you're coming back this year to make them (thank you!!) you might recognize the photo below. It's the same great recipe, just baked up a little thicker and dusted in confectioners' sugar a second time.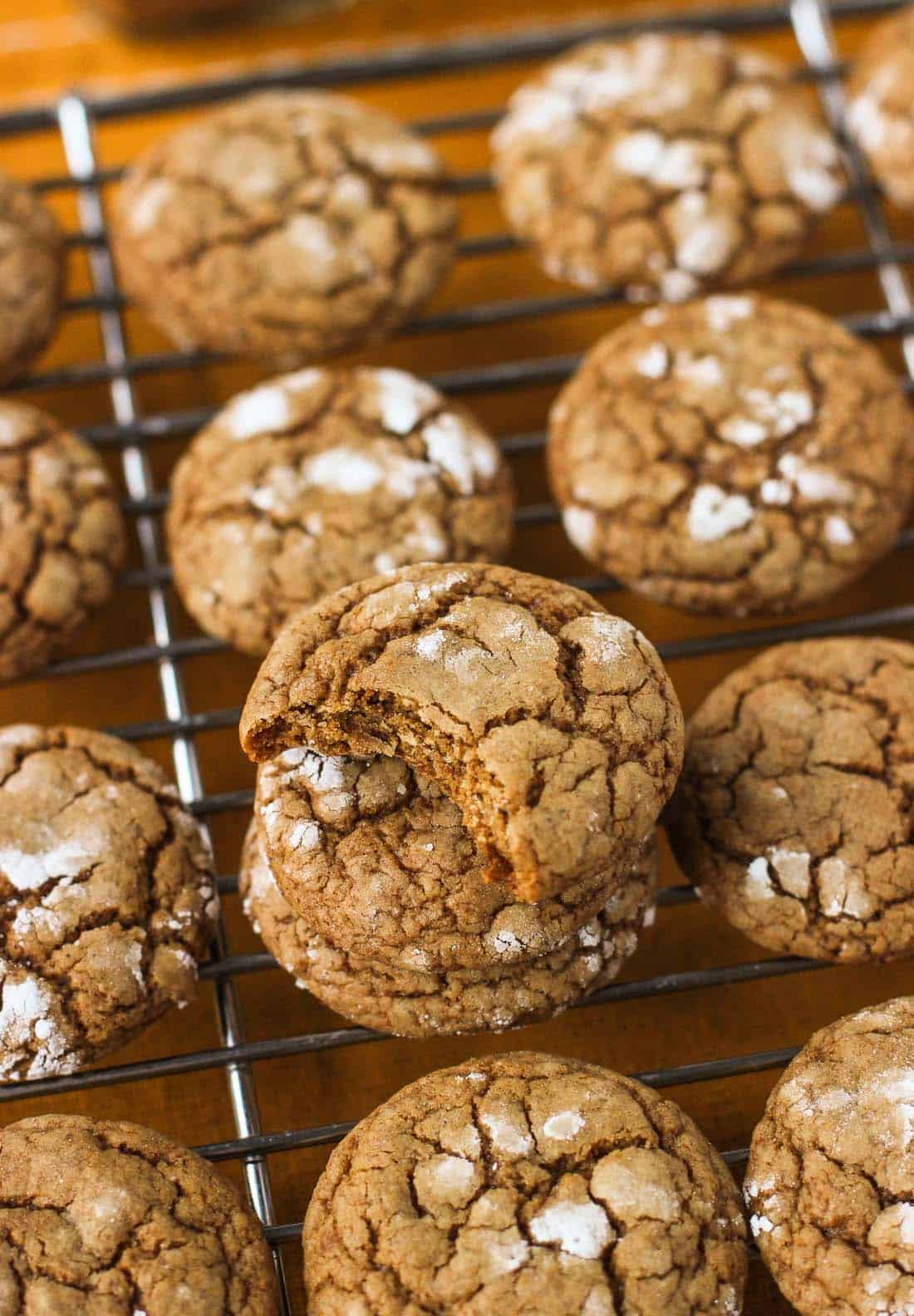 Unfortunately I don't have many recipes passed down from that side of my family, but without fail what we would do around the holidays was go to our local German butcher and pick up pfeffernüsse cookies along with other delicacies (like landjaeger and all kinds of wursts.)
Ever since I moved away from home (and said German butcher) I've taken to making my own pfeffernüsse cookies and they're just as uniquely spiced up as I remember.
Pfeffernüsse means "pepper nuts" in German, alluding to their small size and bold, spiced flavor. And true to their name, there's ground white pepper included in the cookie dough. Pepper in your cookies! It adds a bite that blends so well with the sweet flavors. I promise.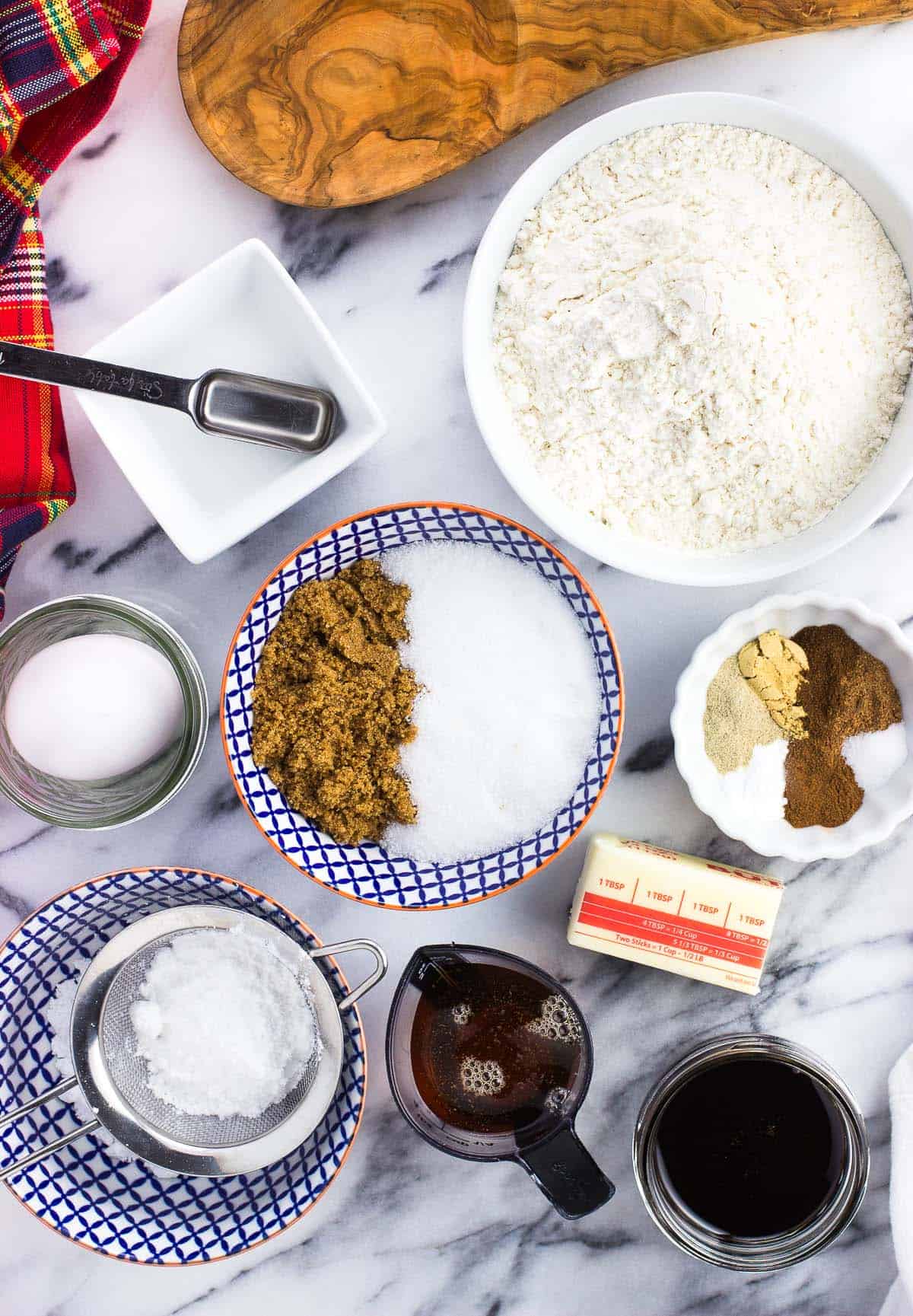 Recipe Ingredients
Thanks to the addition of both molasses and honey, these pfeffernüsse stay chewy for days. They combine with a blend of brown and granulated sugars to provide a warmly-flavored sweetness that acts as a wonderful complement to the flavor of spice cookies.
Rounding out the liquid ingredients we have melted butter (or coconut oil if dairy-free), an egg for binding, and anise extract...and you know I'm a big fan of anise flavoring in cookies.
These pfeffernüsse are SO different than my Italian anise cookies but are in the "favorites" category all the same. At first glance it might not look like anise, molasses, and ground pepper can coexist nicely in a dessert recipe, but they really do without any one ingredient overpowering the others.
Next we have flour, baking soda, a little salt and then the spices, including:
Cinnamon
Nutmeg
Cloves
Ginger
White pepper
Ground white pepper is not a usual addition to cookies but is quite essential to these "pepper nuts". Compared to black pepper, white pepper has a mellower, more earthy flavor with a less sharp bite. Since discovering the beauty of adding white pepper to spice cookies, I've started adding it to gingerbread-y things like gingerbread spritz cookies.
What's left is the confectioners' sugar. The store-bought pfeffernüsse variety I'm familiar with had a solid white coating, but the Internet shows a mixed bag as to what authentic pfeffernüsse cookies look like. With powdered sugar or without.
Here though you can see both ways: simply rolling each dough ball in sugar before baking, or going the extra step to roll them yet again once the cookies have cooled. Either way works!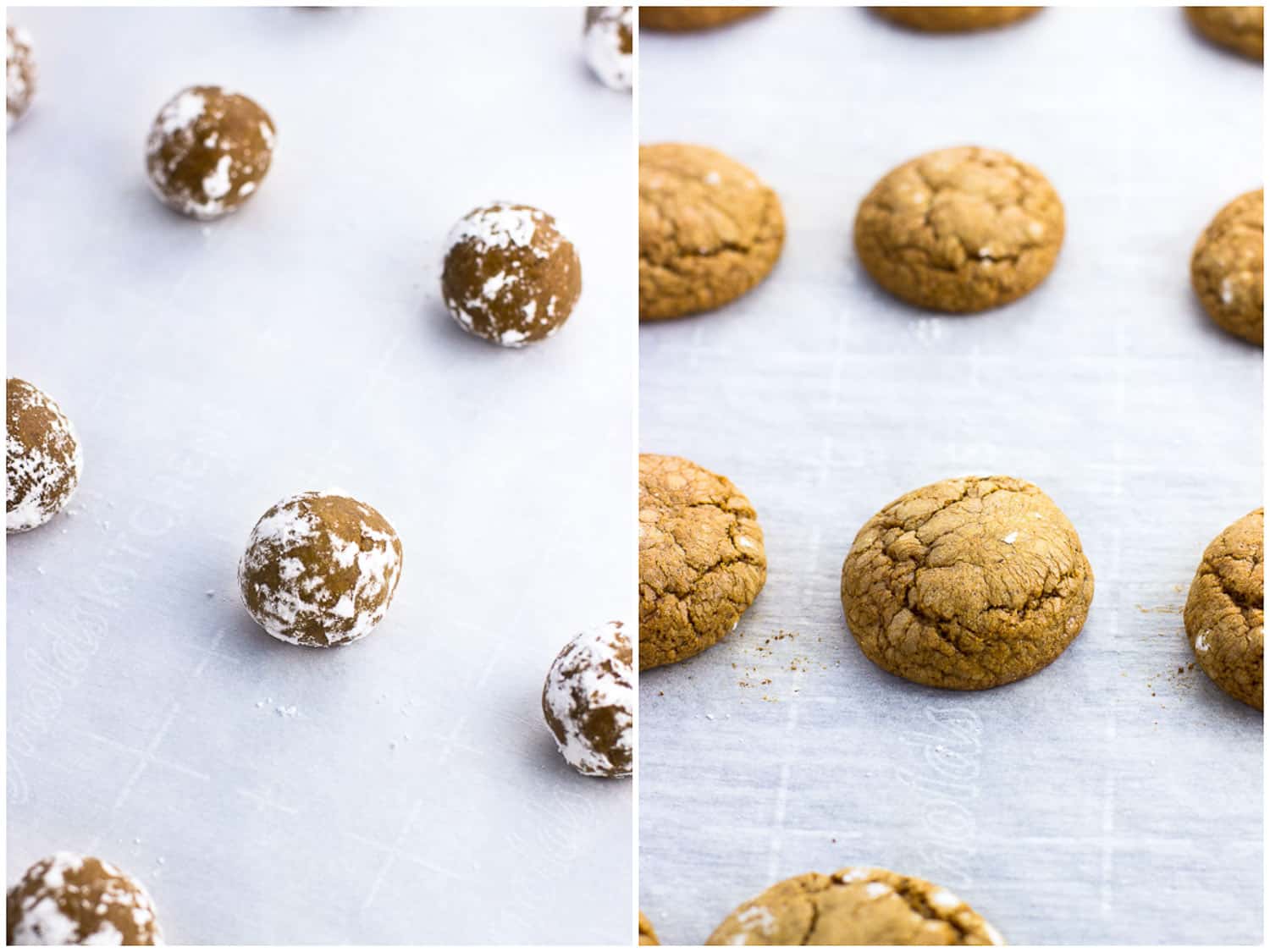 Step-by-Step Instructions
Start by heating the molasses, honey, and butter (or coconut oil) in a small saucepan on the stove until it's smooth and well-combined. Let this mixture cool off for around thirty minutes, during which time I measure out and prep the rest of the ingredients. This is so you don't cook bits of the egg with straight-off-the-stovetop hot liquid.
Next beat together the egg and anise extract, then slowly pour in the cooled molasses mixture, whisking as you pour. Whisk together the dry ingredients in a separate bowl and then stir them into the liquid ingredients until just combined.
Since this pfeffernüsse dough is sticky from the molasses and honey, we'll want to wrap it in plastic wrap and chill it for several hours. This works to both reduce the stickiness so it's easier to handle when it comes time to bake, as well as to help preventing these cookies from spreading too much in the oven.
I recommend chilling the dough for at least four hours, but overnight works even better.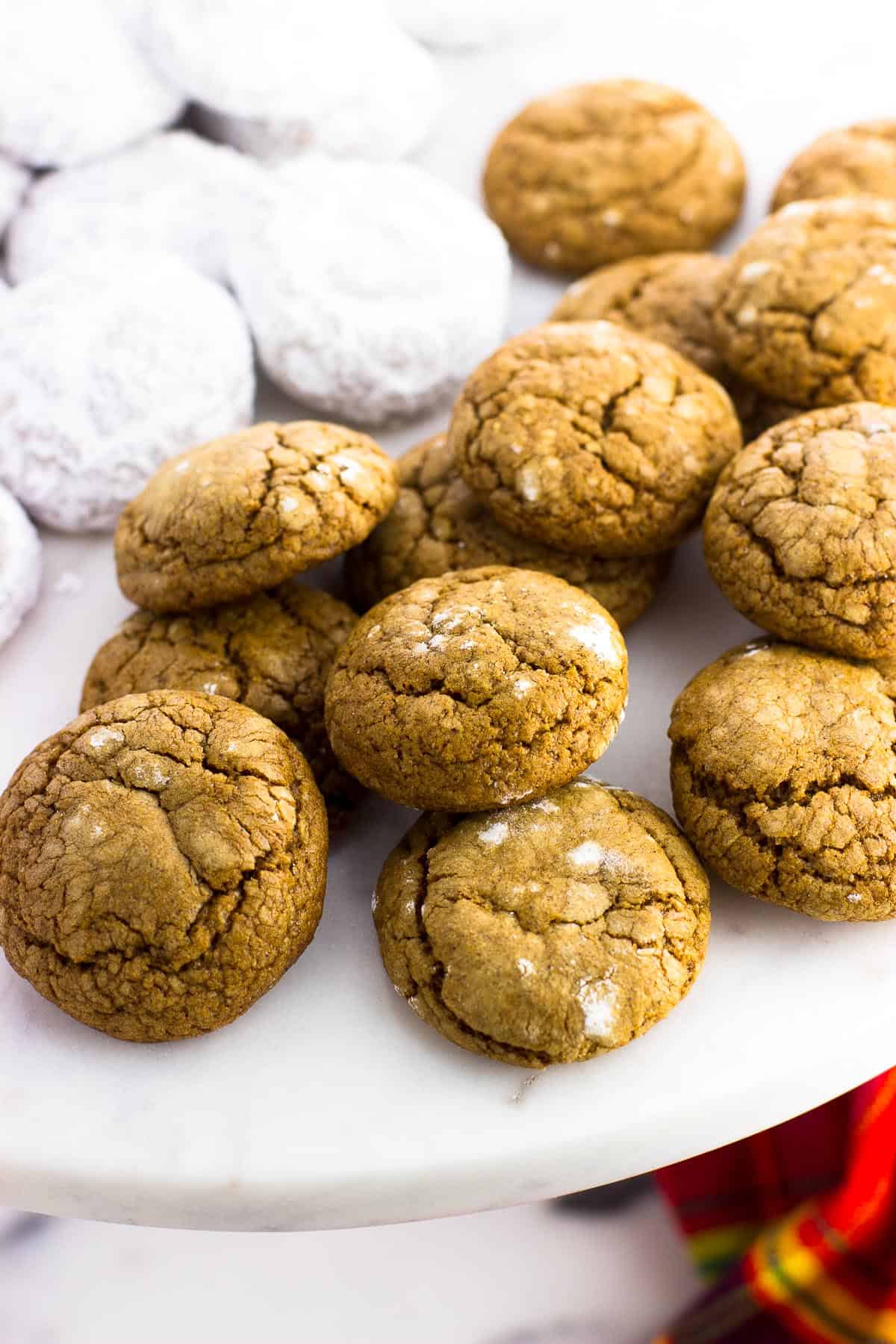 Once the dough is well chilled, scoop small amounts of dough (a little bit bigger than a large gumball), roll in powdered sugar, and then place about 1 ½" to 2" apart from one another on a parchment-lined baking sheet. Bake at 325°F for 11-12 minutes, or until the tops of the cookies are mostly firm and the bottoms have darkened slightly.
Cool the pfeffernüsse completely before tossing in powdered sugar for the second time (if you prefer your cookies coated.)
Your experience may differ, but over time I've learned that my darker metal baking sheets produce taller/thicker cookies than my lighter aluminum baking sheets, even with parchment paper. I believe this is because the darker sheets cook the bottoms of the cookies faster, setting them up and preventing excess spread. In all of my recipe testing I've gotten plenty of thinner pfeffernüsse cookies, and they're just as deliciously chewy as the thicker ones.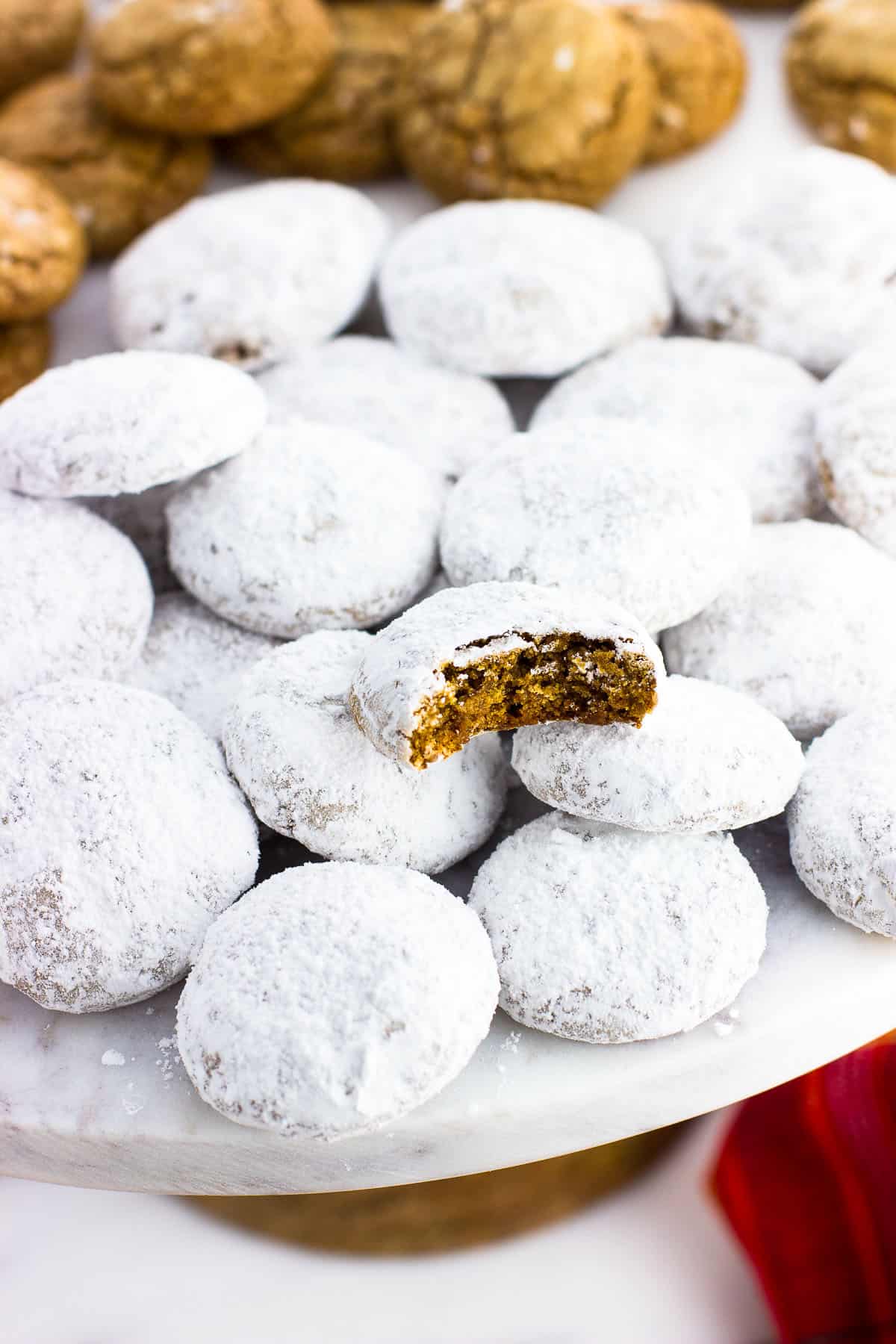 Recipe Notes
I've tested these cookies with coconut oil instead of butter and it works great! That will make this recipe dairy-free. I prefer to use refined coconut oil so it doesn't bring a coconut flavor, as that wouldn't mesh well with these spice cookie flavors.
If you don't have ground white pepper and prefer not to buy it, you could likely use black pepper in its place, though I would definitely use less as it's a fair amount punchier. Maybe more like one-quarter teaspoon? Just keep in mind I haven't tested it this way myself.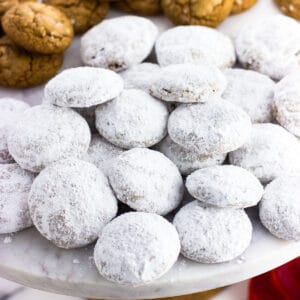 Pfeffernüsse (Spice Cookies)
Pfeffernüsse are thick and chewy German spice cookies that just scream 'holidays'! These small yet substantial cookies are rolled in powdered sugar for a sweet touch. They stay chewy for days and freeze well, too.
Print
Pin
Rate
Ingredients
¼

cup

molasses

3

tablespoon

honey

¼

cup

unsalted butter

or coconut oil

1

egg

1

teaspoon

anise extract

2

cups

all-purpose flour

¼

cup plus 2 tbsp

granulated sugar

¼

cup

brown sugar

1

teaspoon

ground cinnamon

¾

teaspoon

baking soda

¾

teaspoon

ground ginger

¾

teaspoon

ground white pepper

½

teaspoon

ground cloves

½

teaspoon

ground nutmeg

¼

teaspoon

salt

½

cup

confectioners' sugar

for rolling (divided, optional)
Instructions
Add molasses, honey, and butter (or coconut oil) to a small saucepan set over medium heat. As the mixture heats, stir to combine ingredients until it's smooth and well-mixed (about five minutes). Remove saucepan from heat and let molasses mixture cool to room temperature. You want it to cool before continuing so the hot mixture doesn't begin to "cook" the egg.

In a separate small bowl, whisk together egg and anise extract. Once the molasses mixture has sufficiently cooled, very slowly pour in small amounts of the egg mixture, whisking continually, until all is combined.

In a separate bowl, add flour, granulated sugar, brown sugar, cinnamon, baking soda, ginger, white pepper, cloves, nutmeg, and salt. Whisk to combine. Pour molasses mixture into bowl with the dry ingredients and stir so that everything is combined and mixture is smooth, trying not to overmix. Form the dough into a ball and wrap in plastic wrap. Refrigerate dough until thoroughly chilled, at least 4 hours or overnight.

Once dough is chilled, preheat oven to 325°F and line baking sheet(s) with parchment paper. Add ¼ cup of confectioners' sugar to a small bowl and set aside. Scoop small balls of dough (approx. the size of a large gumball), roll into a sphere with your hands, and roll all sides in the confectioners' sugar, dusting off any additional sugar. Discard remainder of sugar.

Place cookies about 1 ½" - 2" apart from one another on lined baking sheets. Bake for 11 or so minutes, or until the tops of the cookies are mostly firm to the touch and bottoms have darkened slightly. Let cookies cool on baking sheet for 5-6 minutes, and then transfer cookies to a wire rack to cool completely.

Once cooled completely, you may coat or dust pfeffernüsse in remaining ¼ cup confectioners' sugar before serving if you prefer.
Notes
Cooling: Make sure the molasses mixture is at room temperature and no longer warm. This is to prevent the hot liquid from cooking the egg once it gets mixed together. Time: Prep time includes about thirty minutes for cooling the molasses mixture. Chill time is listed as four hours, but longer and even overnight works great. Nutrition: Nutritional info is an estimate that includes the second rolling of confectioners' sugar. Freezing: If you'd like to freeze these cookies, you have options. You can freeze: the cookie dough itself in one big lump, individually-rolled raw cookie balls, or baked cookies. If freezing baked cookies, I would not dust them with confectioners' sugar before freezing, rather let them thaw to room temperature completely before dusting just prior to serving.
Nutrition
Serving:
2
cookies
|
Calories:
87
kcal
|
Carbohydrates:
16.8
g
|
Protein:
1.1
g
|
Fat:
1.8
g
|
Saturated Fat:
1.1
g
|
Cholesterol:
10
mg
|
Sodium:
56
mg
|
Potassium:
57
mg
|
Fiber:
0.2
g
|
Sugar:
9.4
g
|
Calcium:
9
mg
|
Iron:
1
mg
Nutritional information is provided as an estimate. As it can vary due to many factors (brands used, quantities, etc.), we cannot guarantee its accuracy.
Food Safety and Nutrition Disclaimer
Adapted from allrecipes