Cucidati, or Italian fig cookies, are a holiday treat! A citrus-y, spiced fig and date filling is covered by an easy pastry dough and topped with glaze and rainbow nonpareils. Love these any time of year, but they made a special addition to Christmas cookie trays.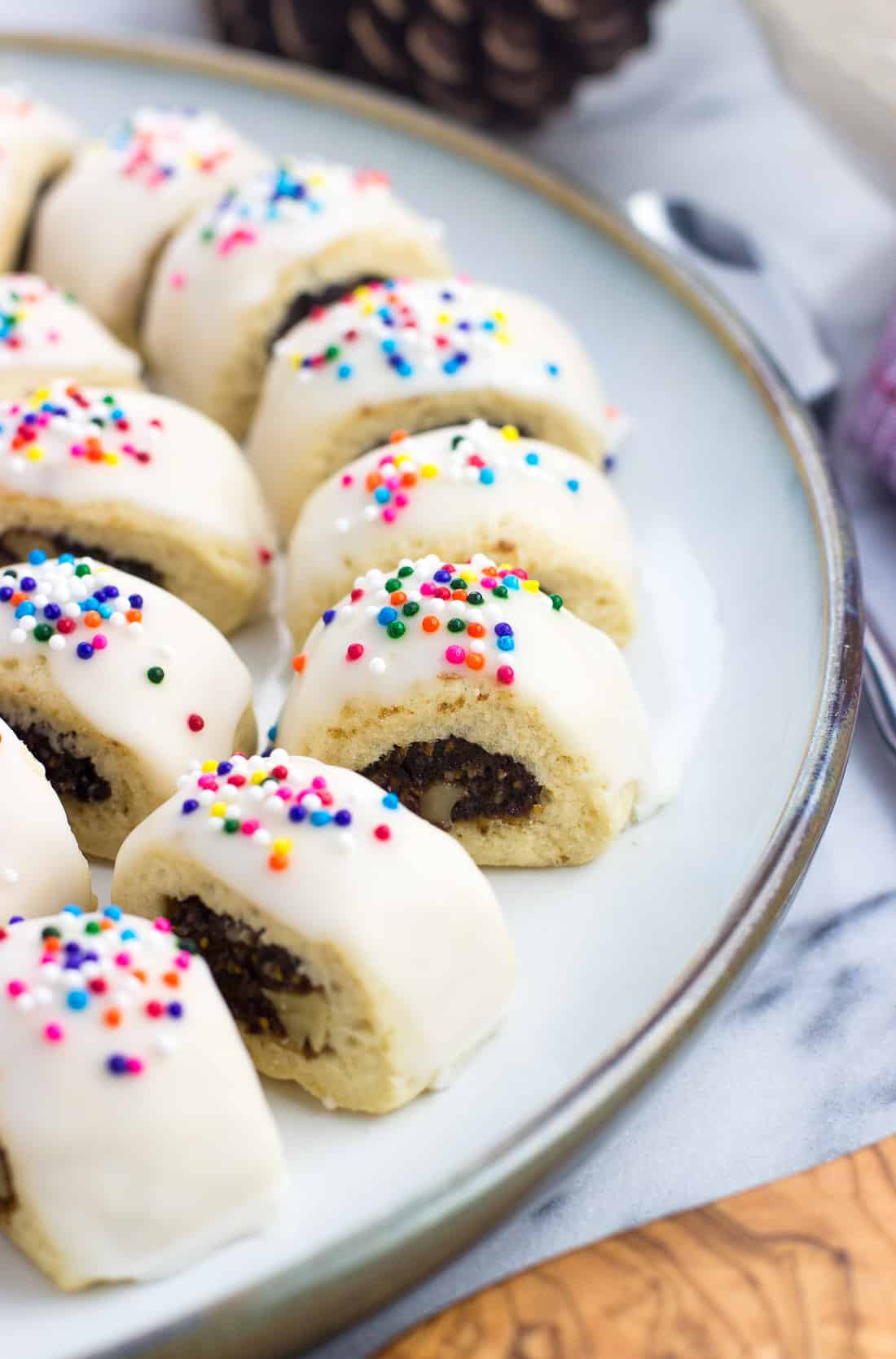 'Tis the season for rainbow nonpareils to maneuver into every possible nook and cranny in my kitchen.
To be honest I'm sure there are always a few tucked away somewhere thanks to several batches of Italian anise cookies and Italian ricotta cookies happening throughout the year. But cucidati join in with struffoli at Christmastime to make sure my dust pan and brush never get a chance to rest in the closet.
With what a special treat these Italian fig cookies are, that's fine by me!
What are cucidati (Italian fig cookies)?
Cucidati (pronounced coochie-dah-tee) are also known as Italian fig cookies, Sicilian fig cookies, or when circular-shaped, buccellati ('little bracelets'). At their base, a fig mixture is surrounded by pastry dough and baked, and then is covered in glaze and topped with rainbow sprinkles.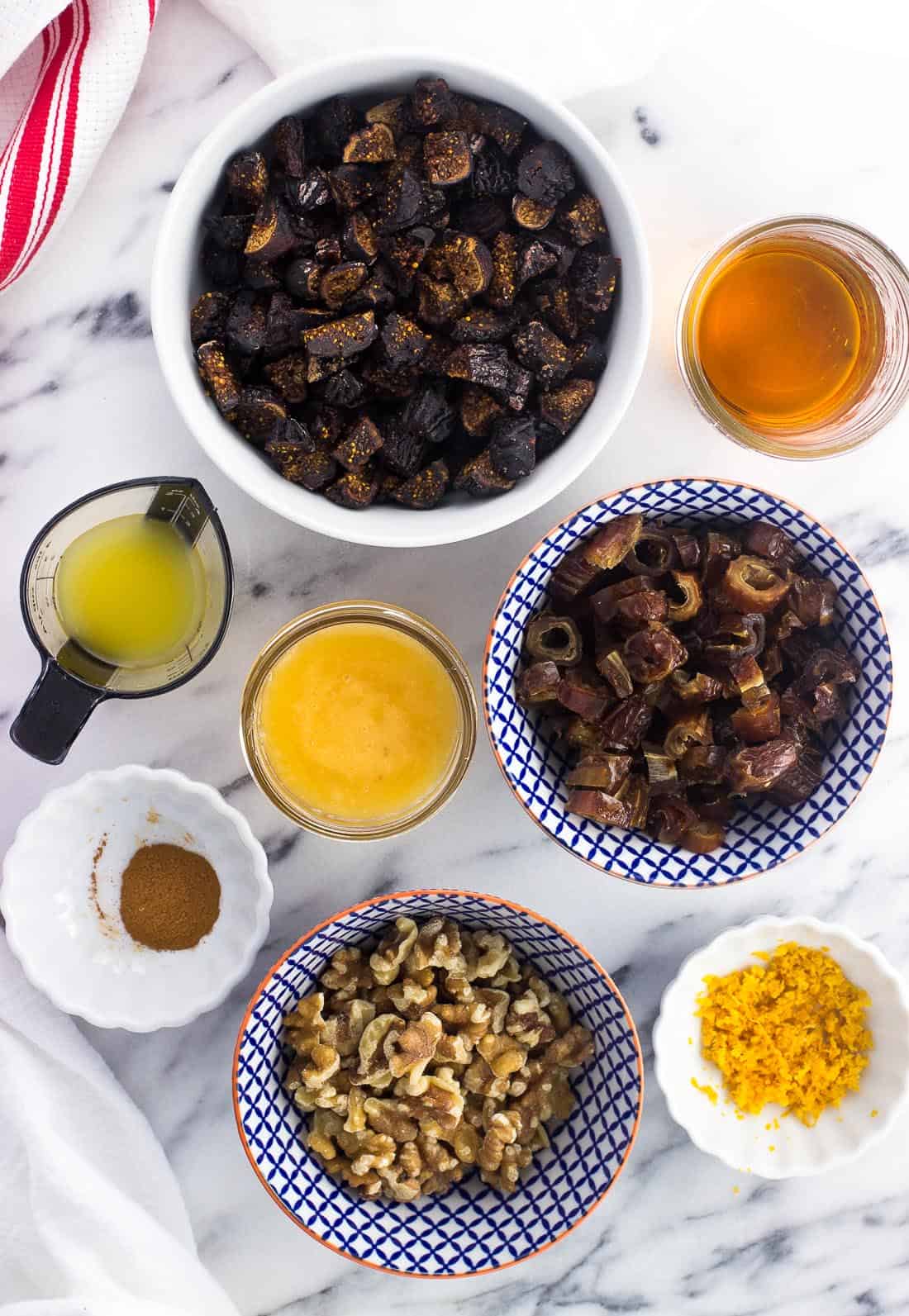 Now! There are many variations of Italian fig cookies out there. Some use all figs, some combine in dates and/or raisins. Some add orange, some add lemon. Some use nuts, some don't have nuts. Some add chocolate, some don't. Some are curved with dough cut-outs, some are in rings, some are in little bites.
Isn't this the case with many Italian cookie recipes, or rather, so many Italian recipes in general? If we're lucky enough, we get to hold a certain variation near and dear to our hearts that was passed down from older generations.
All this to say, this spin on cucidati was devised in conjunction with my mom in the interest of recreating my great aunt's Italian fig cookies. We're a fig-and-date, orange, nuts, no-chocolate kind of family. But by all means, play around with the filling and add some chocolate, use some raisins, swap in lemon zest, etc. if that's how you and yours like them. No family recipe is ever 'wrong'.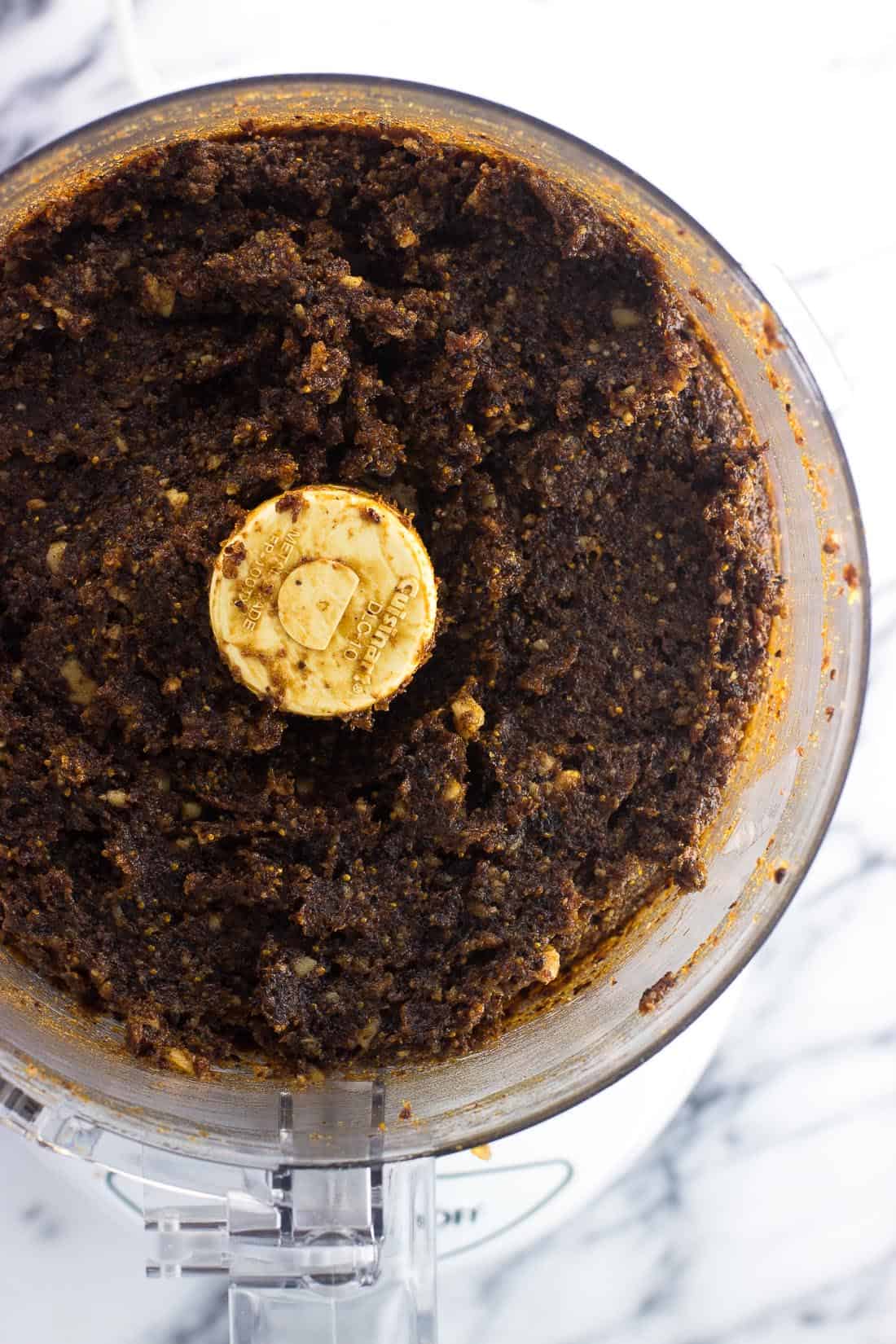 My favorite way to make the Italian fig cookie filling is to reconstitute the dried figs and dates in a mixture of honey, brandy, and orange juice. After simmering for a few minutes and then cooling, they're transferred to a food processor and chopped up with orange zest and ground cinnamon. Pulse in walnuts, and you're all set to make cucidati later in the day, or in a few days.
The great news about this filling is that it can be made several days in advance. Just wrap it up and stick it in the freezer to firm if you're making the cucidati same-day, or in the fridge if you're waiting overnight or longer. These aren't the simplest/quickest cookies to make, so having some leeway built in for convenience is a good thing.
I'm sure this is the first recipe in the six-year history of the blog that uses brandy. While we don't drink it, I found a dusty bottle in a top kitchen cabinet from when we made a roast goose recipe 3-4 years back? The details are fuzzy.
Anyway, a Google search tells me the brandy we had was not exactly top-shelf. I'm not even going to tell you the brand. Just know that you don't need to use anything special as far as these cookies go. Just like you don't need to use your good vodka in vodka sauce, same goes for this filling. The brandy adds just a hint along with the other warm flavors, so an inexpensive variety works perfectly.
See the bottom of the recipe card for substitutions if you don't have/don't want to buy brandy.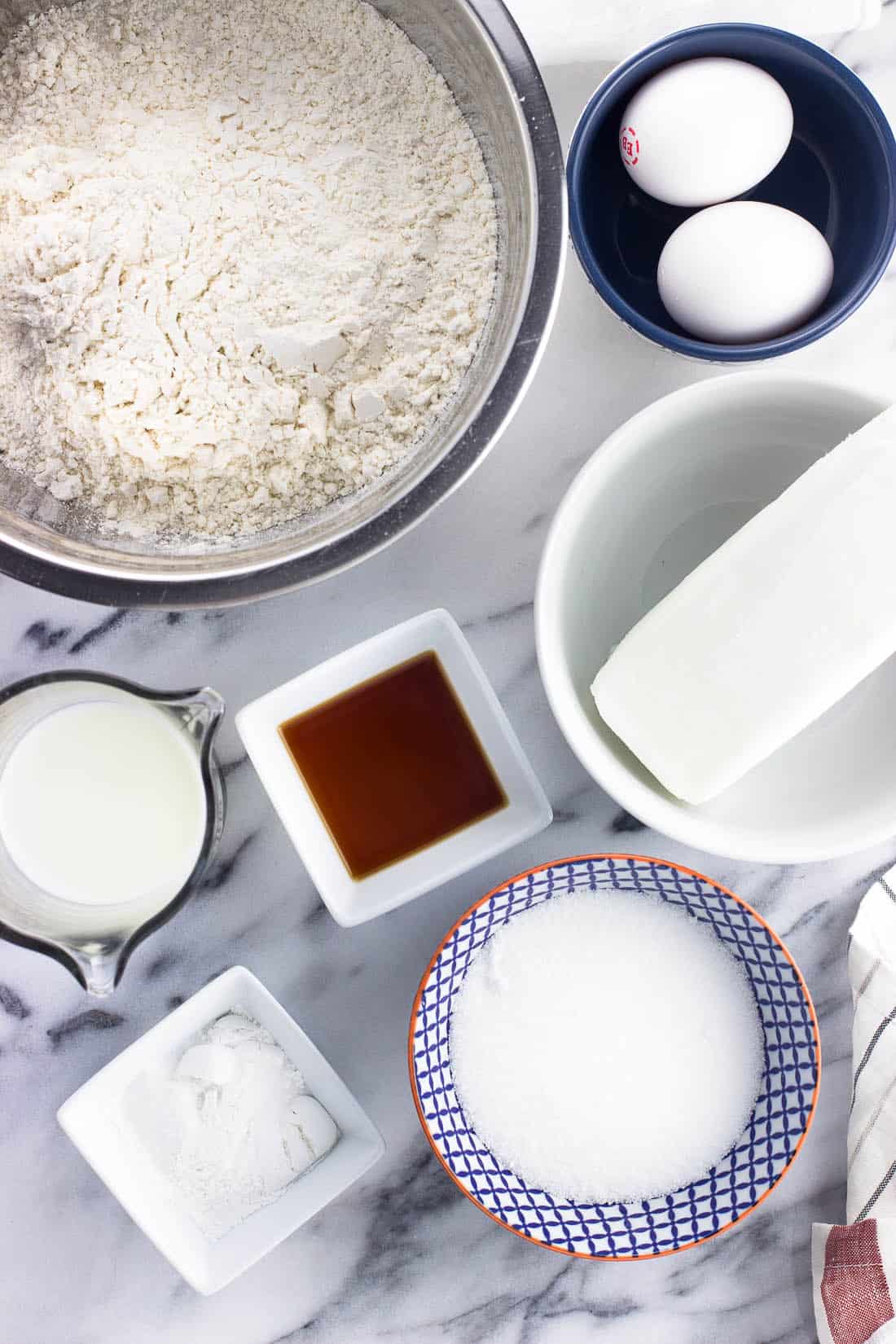 Pastry and I aren't the best of friends, so I played around with a few different methods of creating this cucidati dough. A lot of OG cucidati recipes use lard, which wasn't quite what I wanted to do here.
I was intrigued by a recipe where the dough came together in the food processor with just eggs and milk - no lard/shortening/butter. Tried that and eeesh. Not good (sorry, Lidia).
So! Shortening it is. Since shortening is 100% fat, it more closely mimics lard than butter, which is about 80% fat and 20% water content. Once the flour, sugar, baking powder, and salt are whisked together, you'll work the shortening into the dry ingredients until it forms small crumbly crumbs, as seen in the below picture (I continued breaking up the bigger ones after taking it).
To do this you can use a pastry cutter or you can just use your hands.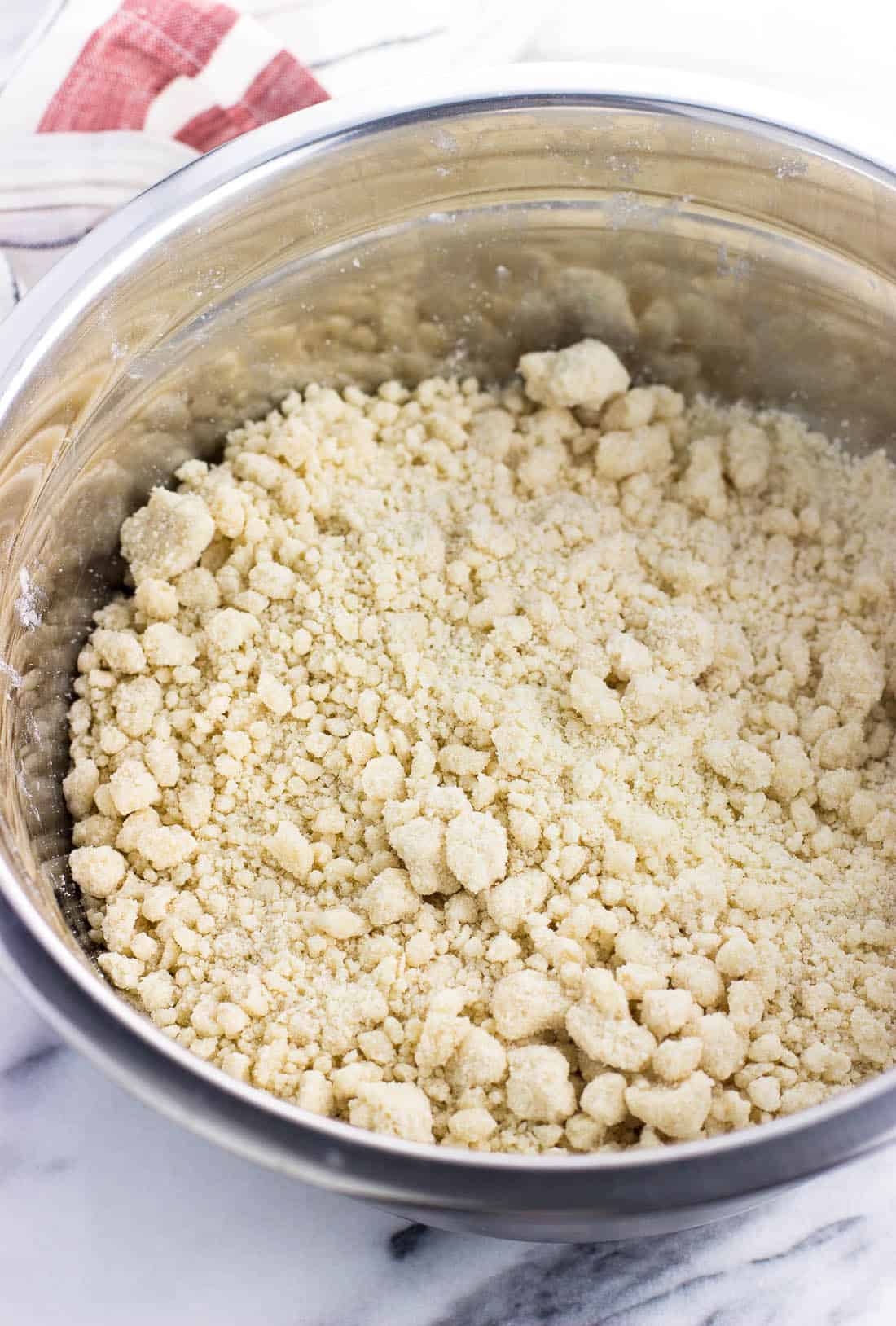 Next up is adding milk, eggs, and vanilla extract to form a dough. While you can chill the dough if you're not yet ready to bake these cookies, you can also just roll right on with the recipe. It's not too finicky.
Since our filling is nice and chilled, it should hold its shape well when you roll it. I know the below picture isn't exactly beautiful food photography or anything (understatement), but I thought including a picture of this step would convey the message far better than just text alone.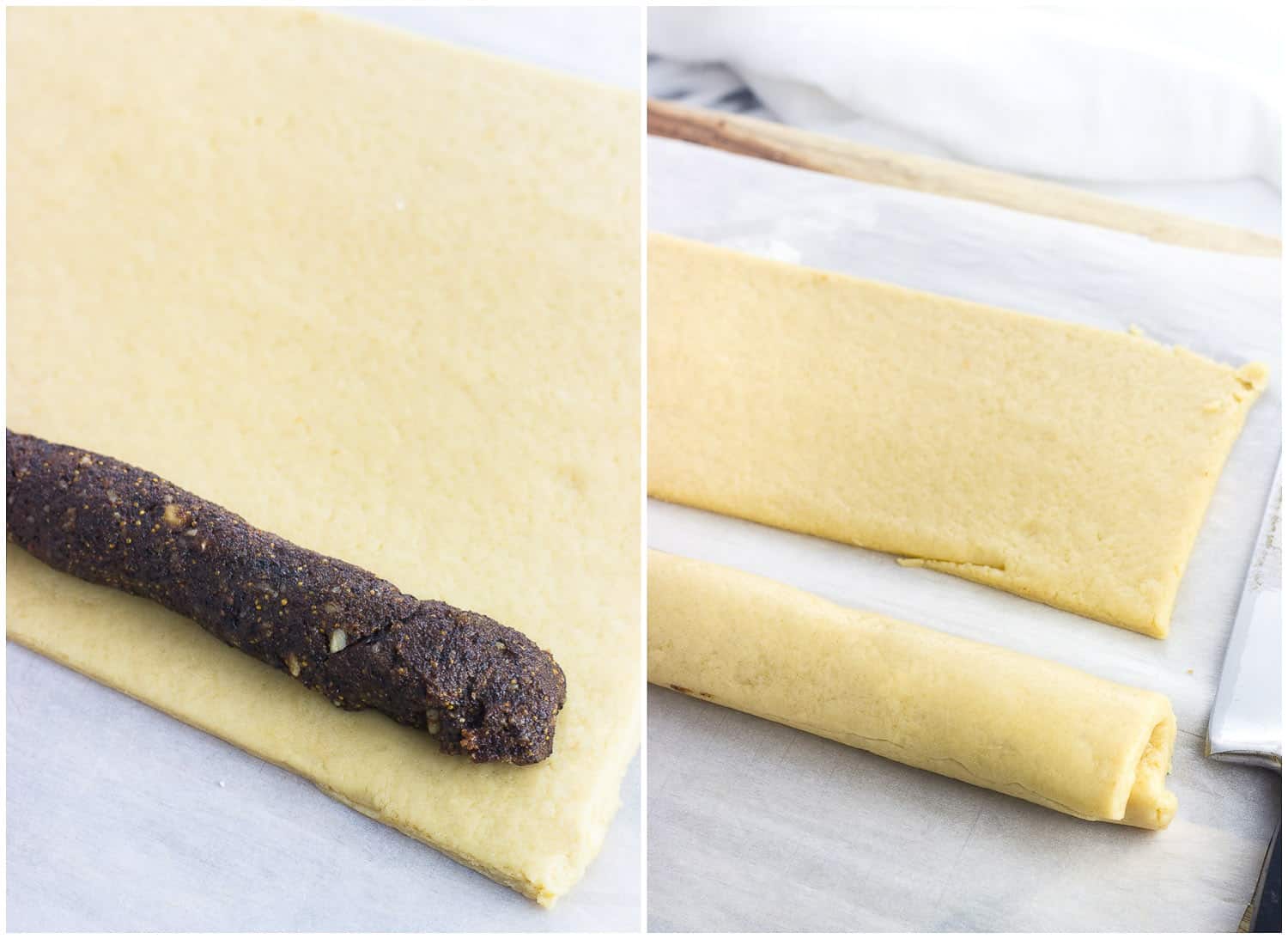 Roll out the dough into a rectangular shape, half at a time, then place a log of filling along the bottom edge. Roll the dough up and over the filling to cover it, then slice to separate from the rest of the dough. Pinch the seam and give it a few rolls to flatten the seam out.
Now you're ready to slice using a sharp knife and place, seam side down, on parchment-lined baking sheets. Italian fig cookies don't grow much at all when they bake, so you can place them fairly close together on the baking sheet. I got through all ninety-some-odd cucidati just using two large rimmed sheets.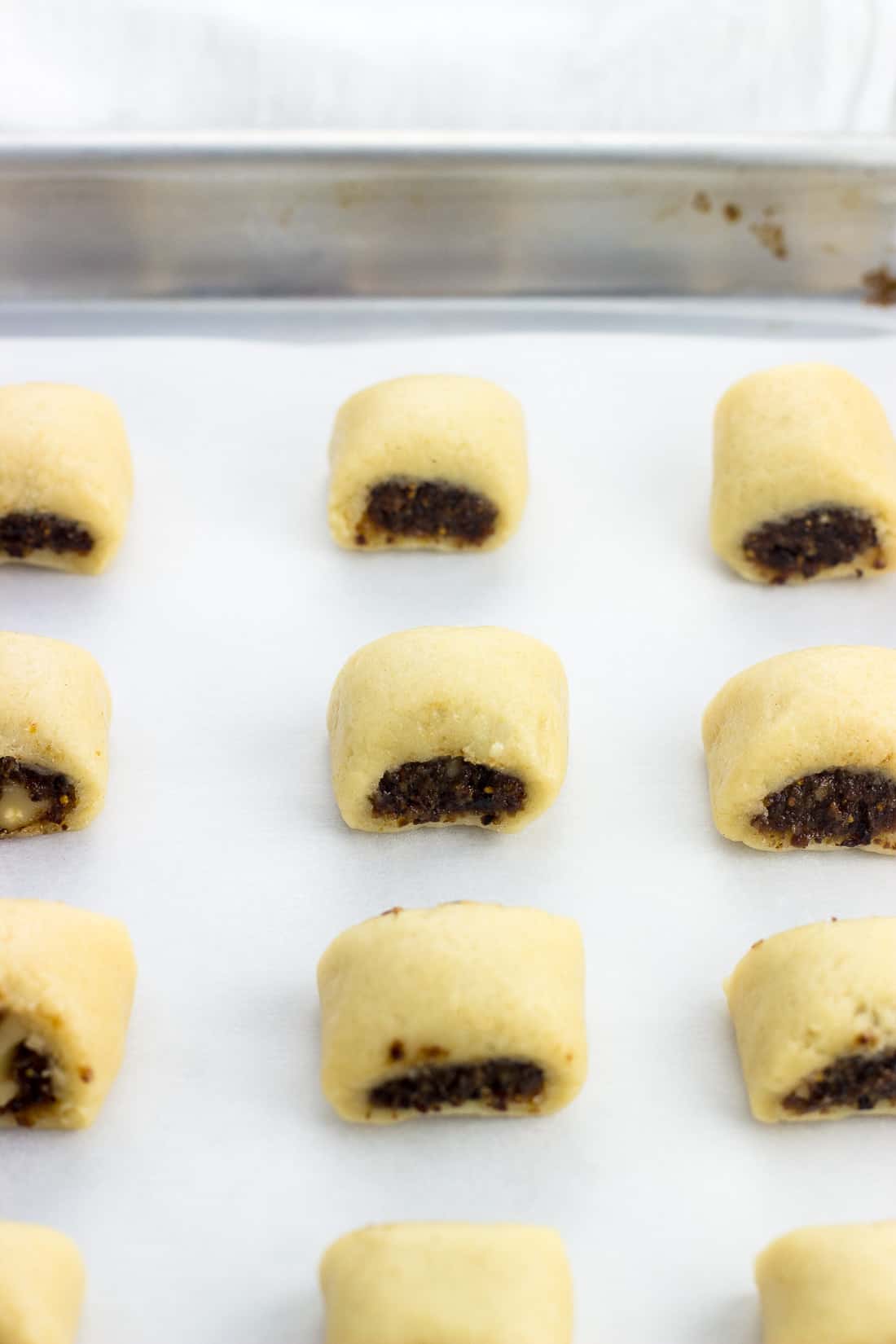 I keep things simple by slicing these Italian fig cookies straight-up into little sections (like my great aunt), but there are many different ways people like to shape them. Some make them wider, some curve thin sections and slice notches into the sides, and some make rings.
My preference is to make them fairly thin, like a two-bite kind of cookie. While I've made them larger before, sometimes too much filling in one bite is a little overwhelming. Plus with the variety of cookies sure to be on Christmas cookie trays, smaller cookies are easier to commit to if you want to sample the gamut. There's wiggle room here for you to shape them how you like.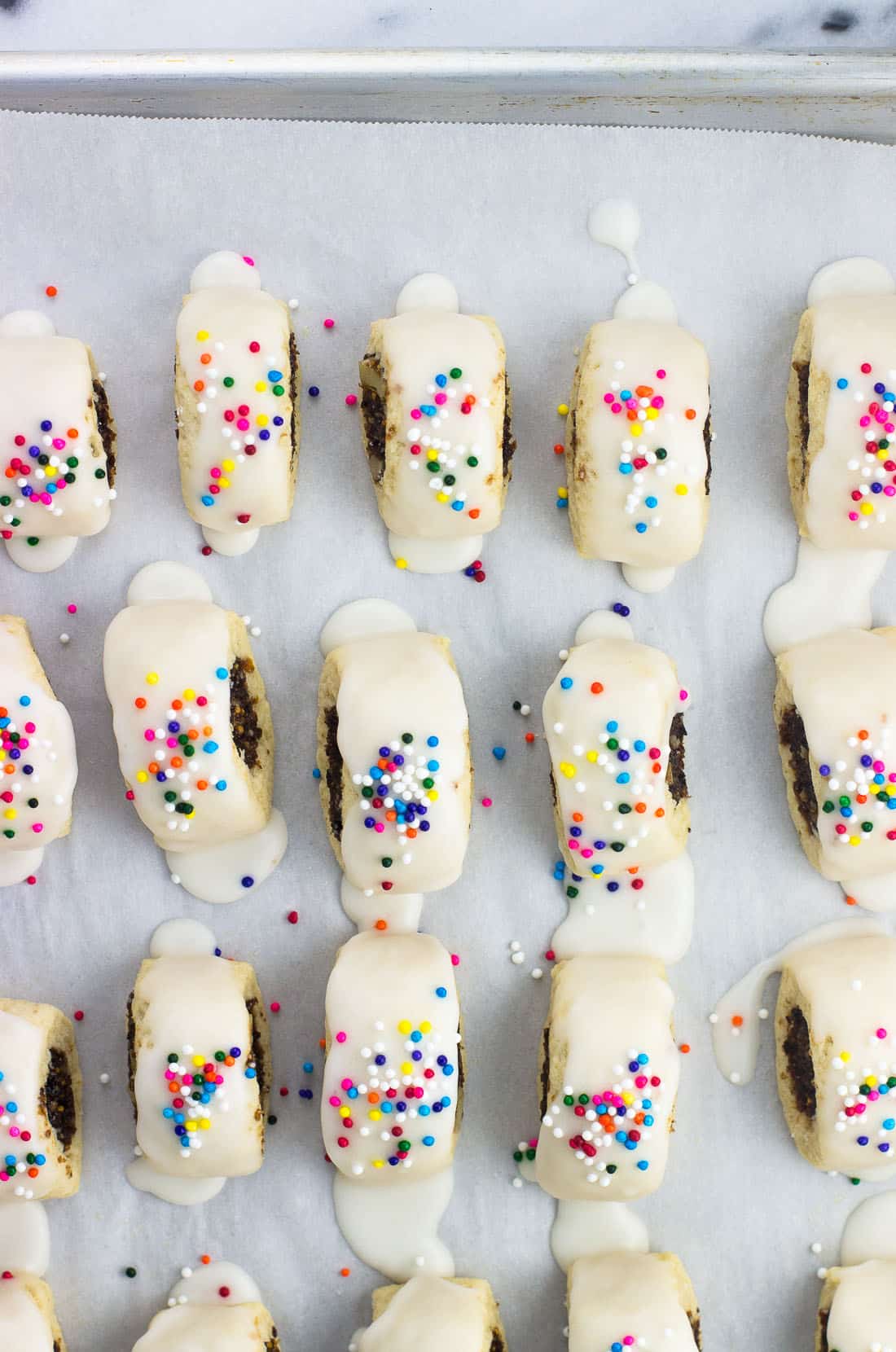 Something I love about cucidati is that they're a rustic kind of cookie. My favorite kind! No pressure to pipe decorative accents or be precise with royal icing. I just don't have the patience or artistic skill for that.
A layer of icing coats the tops of these Italian fig cookies, which not only covers any kind of dough imperfection but allows the rainbow nonpareils to stick.
In looks and in taste, cucidati are like an upscale Fig Newton. Sweet but not too sweet. Flavored with citrus, spice, and a little bite from the brandy, they straddle the line between being down-home but sophisticated at the same time. The filling is just moist enough where it doesn't dry out while they bake, but holds its shape and doesn't mush out the sides, either. The dough isn't the prettiest, but it's very tender without being too dry or too crumbly and soft.
They're an all-around enjoyable holiday treat.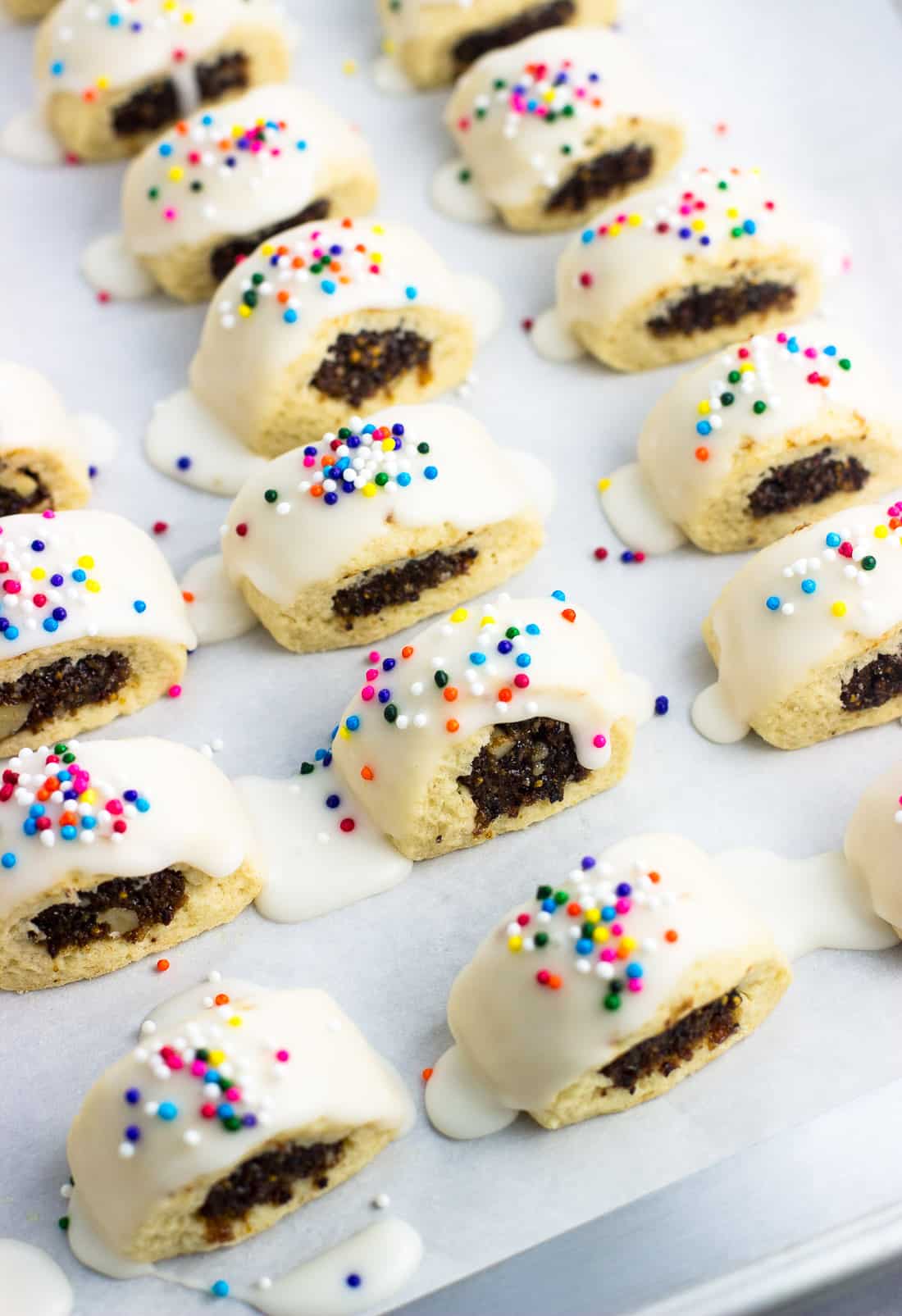 Recipe notes:
My standard disclaimer on rainbow nonpareils: After 2-3 days, the rainbow color can bleed onto the white icing. No impact on taste, but they might not be as picture perfect as they were on the first day. Not a big deal to some but wanted to note this. If making these cookies to go the distance, you can bake them then freeze without the icing, thawing completely and icing them prior to serving. Or you can ice them and use white nonpareils, or omit the sprinkles entirely.
The filling can be made up to a few days ahead of time, stored in the refrigerator.
I've subbed in a portion of the dates for raisins and it works well! In fact in some test batches I've used just dates and raisins and these cookies still taste great. However then they wouldn't be able to be called Italian fig cookies... 😉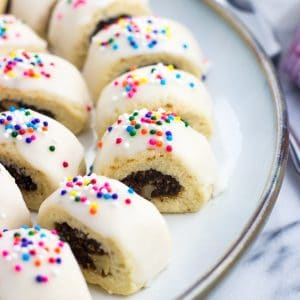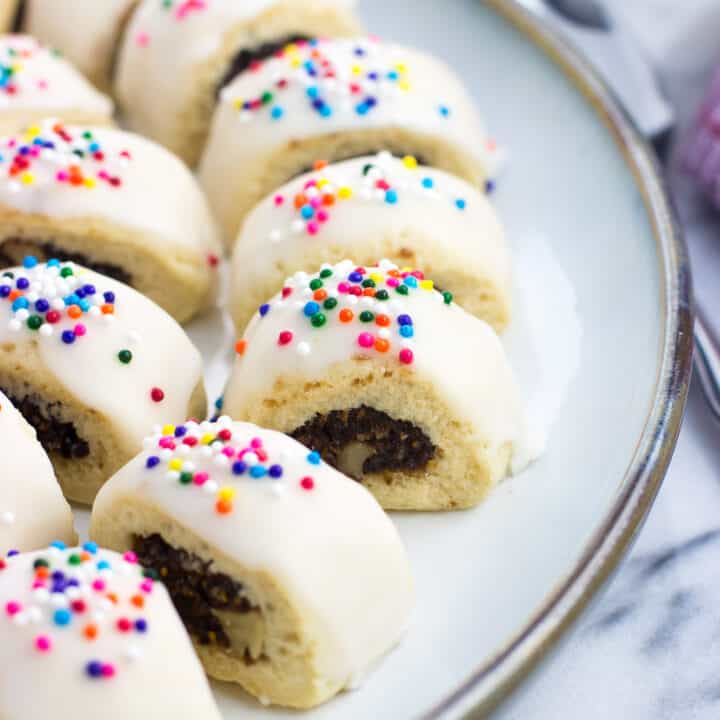 Cucidati (Italian Fig Cookies)
Cucidati, or Italian fig cookies, are a holiday treat! A citrus-y, spiced fig and date filling is covered by an easy pastry dough and topped with glaze and rainbow nonpareils. Love these any time of year, but they made a special addition to Christmas cookie trays.
Print
Pin
Rate
Ingredients
Filling:
6

tablespoon

honey

6

tablespoon

brandy

(see substitution notes)

4

teaspoon

orange juice

1 ¾

cups

chopped dried figs,

(about 9 oz)

1

cup

chopped dried dates,

pitted (about 4 oz)

2

teaspoon

orange zest

½

teaspoon

ground cinnamon

½

cup

walnut pieces
Dough:
4

cups

all-purpose flour

½

cup

granulated sugar

2

teaspoon

baking powder

½

teaspoon

salt

1

cup

shortening

⅓

cup plus 1 tbsp

milk

2

eggs

2

teaspoon

vanilla extract
Glaze:
2

cups

confectioners' sugar

3

tablespoon

milk

½

teaspoon

vanilla extract
Instructions
Filling:
Add honey, brandy, and orange juice to a medium saucepan set over low-medium heat. Let mixture come to a simmer, whisking as the honey liquefies.

Once mixture is simmering, add the chopped figs and dates and stir. Arrange the fruit in an even layer in the saucepan. Simmer for 4-5 minutes, then remove the pan from the heat. Let cool.

Once cool, transfer figs/dates to the bowl of a food processor, lifting out the fruit and leaving behind any excess liquid. Add orange zest and cinnamon and process until all the fruit is broken down and the mixture is fairly smooth. Stop and scrape down the sides of the bowl as needed.

Add walnuts and pulse to evenly distribute them. I like to leave the walnuts a little bit chunky.

Turn out the filling mixture onto a sheet of plastic wrap and wrap snugly. Transfer to the freezer to chill for at least 2 hours if making the cucidati the same day, or the refrigerator if letting the filling sit overnight or longer.
Dough:
Whisk together flour, sugar, baking powder, and salt in the bowl of a stand mixer (or a mixing bowl). Add shortening and work it into the dry ingredients with a pastry cutter or your hands, if you prefer. The mixture won't be smooth or very moist. It should resemble small, rough crumbs, none larger than the size of a pencil eraser or thereabout.

In a separate bowl whisk together milk, eggs, and vanilla extract.

Using the paddle attachment of a stand mixer (or a hand mixer), set the speed on low while you pour the combined wet ingredients into the bowl with the dry. Let everything mix until a ball of dough forms. It shouldn't be sticky.

Preheat oven to 350°F and line two large baking sheets with parchment paper. Set sheets aside for now.

Cut dough in half and roll out one half onto a floured work surface. Work the dough into an even, thin rectangle. I like to use a large sheet of parchment paper as you can easily lift it up when you roll the cucidati. You may wish to wrap the remaining half of dough and place it in the refrigerator while you work with the first half.

Take a piece of the filling and roll it between your hands until it's around ¾"-thick around. Place it along the bottom edge of the dough rectangle. Lift up the dough from the bottom and roll it up snugly around the filling to cover it. Cut the dough right at the base once it's rolled around completely.

Pinch the seam closed, then gently roll it to flatten the seam some. With the seam side down, slice segments using a sharp, non-serrated knife. Place on the parchment-lined baking sheets around 1" apart from one another. They don't spread much at all while they bake.

Repeat for the rest of the dough and filling. Bake for 18-20 minutes, or until the bottom of the cucidati are golden brown. Let cucidati cool for a few minutes, then transfer to a wire rack to cool completely.
Glaze:
Once the cucidati are cool, whisk together confectioners' sugar, milk, and vanilla extract until smooth. You want the glaze to be fairly thick so you can dunk the cucidati, but you can adjust the amounts of confectioners' sugar and/or milk to make the consistency in line with your preferences.

Dunk the tops of each cucidati in glaze, then sprinkle with rainbow nonpareils. Let the glaze set before serving or storing.
Notes
Brandy substitutions: You can use whiskey, rum, wine, apple juice, or even water if you're in a pinch.
Nutrition
Serving:
1
cookie
|
Calories:
74
kcal
|
Carbohydrates:
11.4
g
|
Protein:
1
g
|
Fat:
2.8
g
|
Saturated Fat:
0.8
g
|
Cholesterol:
3.5
mg
|
Sodium:
14
mg
|
Potassium:
49
mg
|
Fiber:
0.6
g
|
Sugar:
6.7
g
|
Calcium:
13
mg
|
Iron:
0.5
mg
Nutritional information is provided as an estimate. As it can vary due to many factors (brands used, quantities, etc.), we cannot guarantee its accuracy.
Food Safety and Nutrition Disclaimer
Filling adapted from epicurious, dough adapted from food.com.