Orange ginger snickerdoodles feature orange zest, orange juice, and fresh ginger (!) added to the batter for a warmly spiced version of a cookie classic. These snickerdoodle cookies stay soft and chewy for days!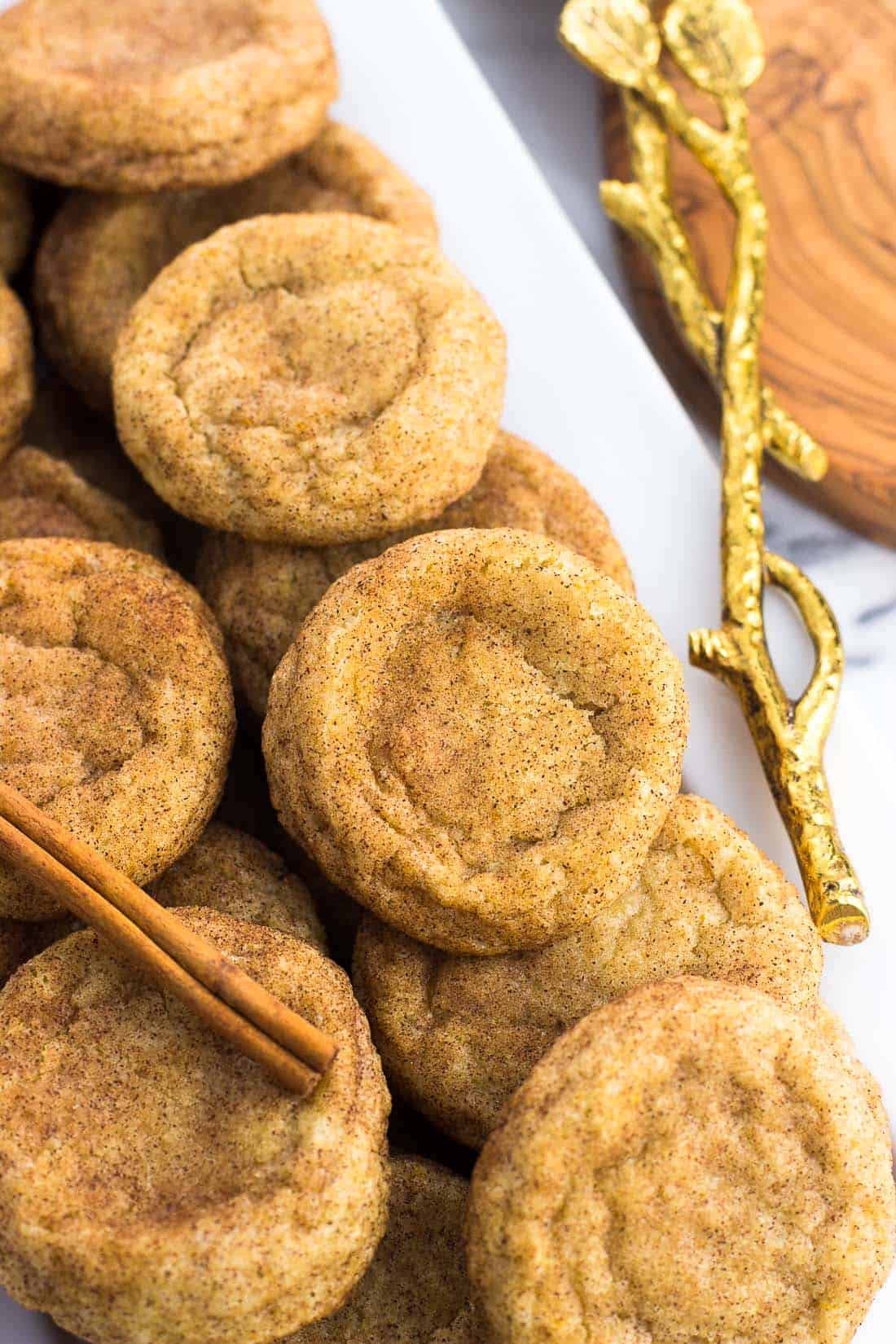 I am just a glutton for punishment when it comes to some foods. Entirely. Without fail I'll burn my mouth on a bowl of Instant Pot turkey chili because I can't wait for it to cool down. I slather sandwiches with enough horseradish mustard to cause me to take a breather after each bite so the heat building in my sinuses can subside.
And let's not even start with wasabi.
Over the past few years my love for ginger - fresh ginger - has grown and grown. I'll devour the ginger slices that are served alongside sushi, I crave ginger chew candy, and I have a love/hate relationship going on with a certain brand of ginger beer.
It's so spicy, wonderfully gingery, and makes a fab addition to a pomegranate moscow mule, but each time I half-contemplate whether I'm having some sort of allergic reaction to it by the way my mouth is burning and my lips are tingling.
But I love it, even if it scares me a little.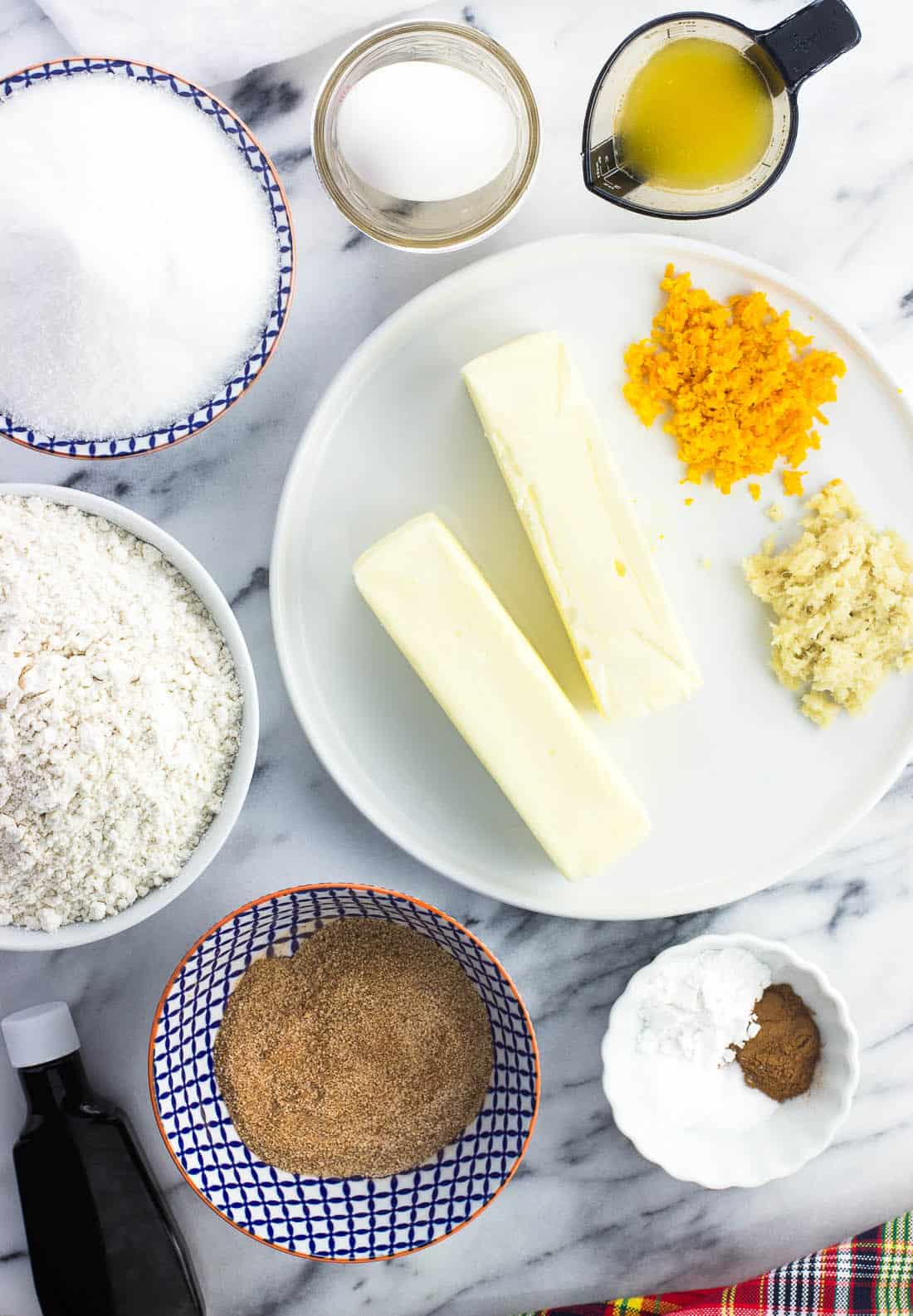 I've found that ginger pairs well with warmly-spiced and citrus flavors, so what better recipe to combine all three in than a snickerdoodle? These orange ginger snickerdoodles are a family favorite, and always a welcome addition to a party cookie tray. They really taste like the holidays!
Please don't be afraid of the fresh ginger added to this snickerdoodle cookie dough. I showed a mature restraint and added just enough to add a welcome bit to the flavor without risking any chance of nasal distress. 😉
How to make these cookies
The first part of this snickerdoodle recipe is fairly straightforward as far as cookies go. You'll cream together the softened butter and sugar, then add the egg, fresh ginger, orange juice, orange zest, and vanilla extract. Mix until creamy and combined.
Then you'll whisk the dry ingredients together in a separate bowl: flour, cream of tartar, ground cinnamon, baking soda, and salt. I like to add cinnamon into the dough as well as in the topping for an extra boost of flavor.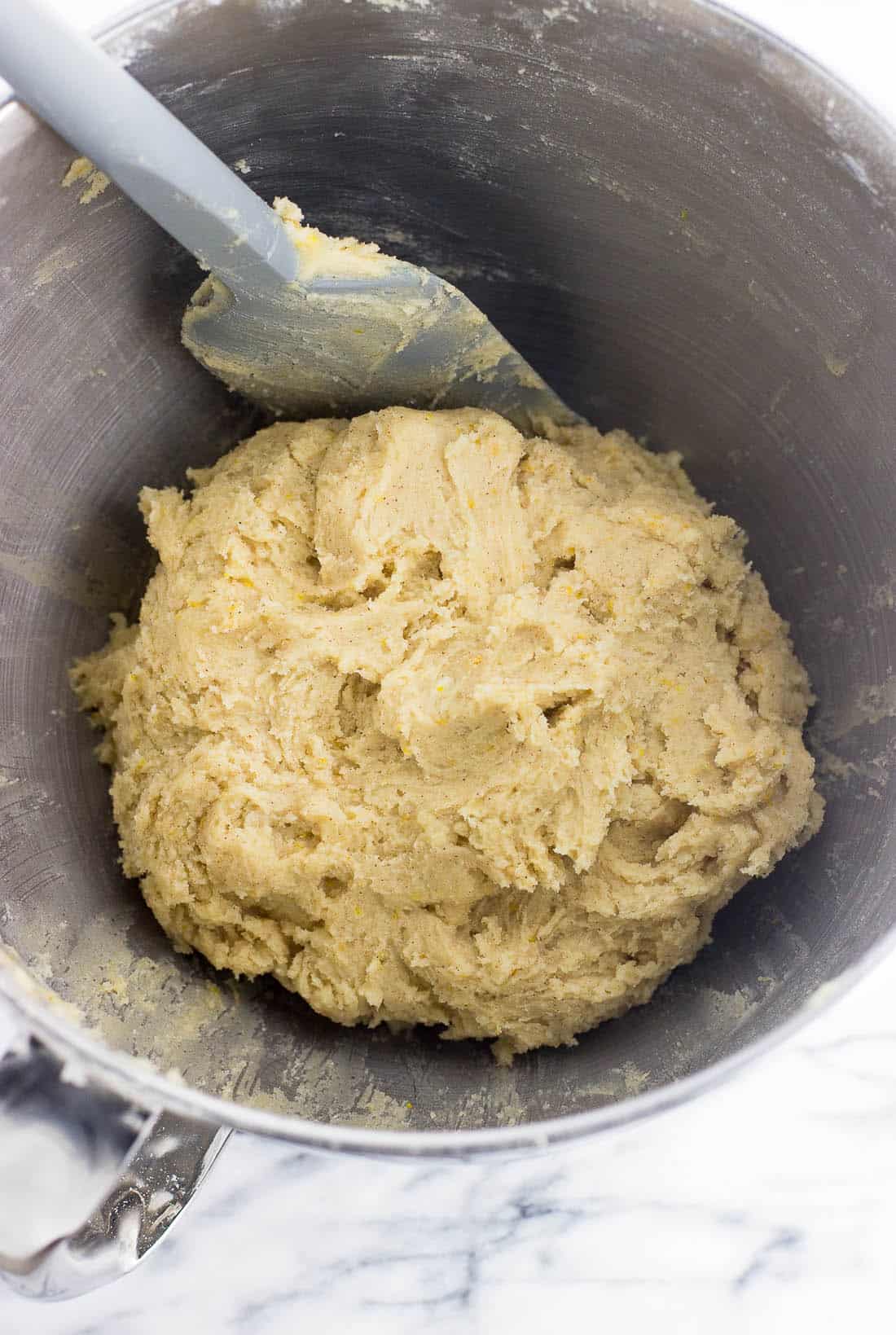 Mix all of the ingredients until just combined, then stick the bowl in the fridge until well-chilled, at least 2-3 hours.
If you cruise cookbooks and the Internet, you'll see a split opinion on whether or not you should chill snickerdoodle cookie dough. Some do, some don't, some like thin snickerdoodles, and some like thick.
To give these snickerdoodles the best shot at being soft, thick, and chewy, I say chill them.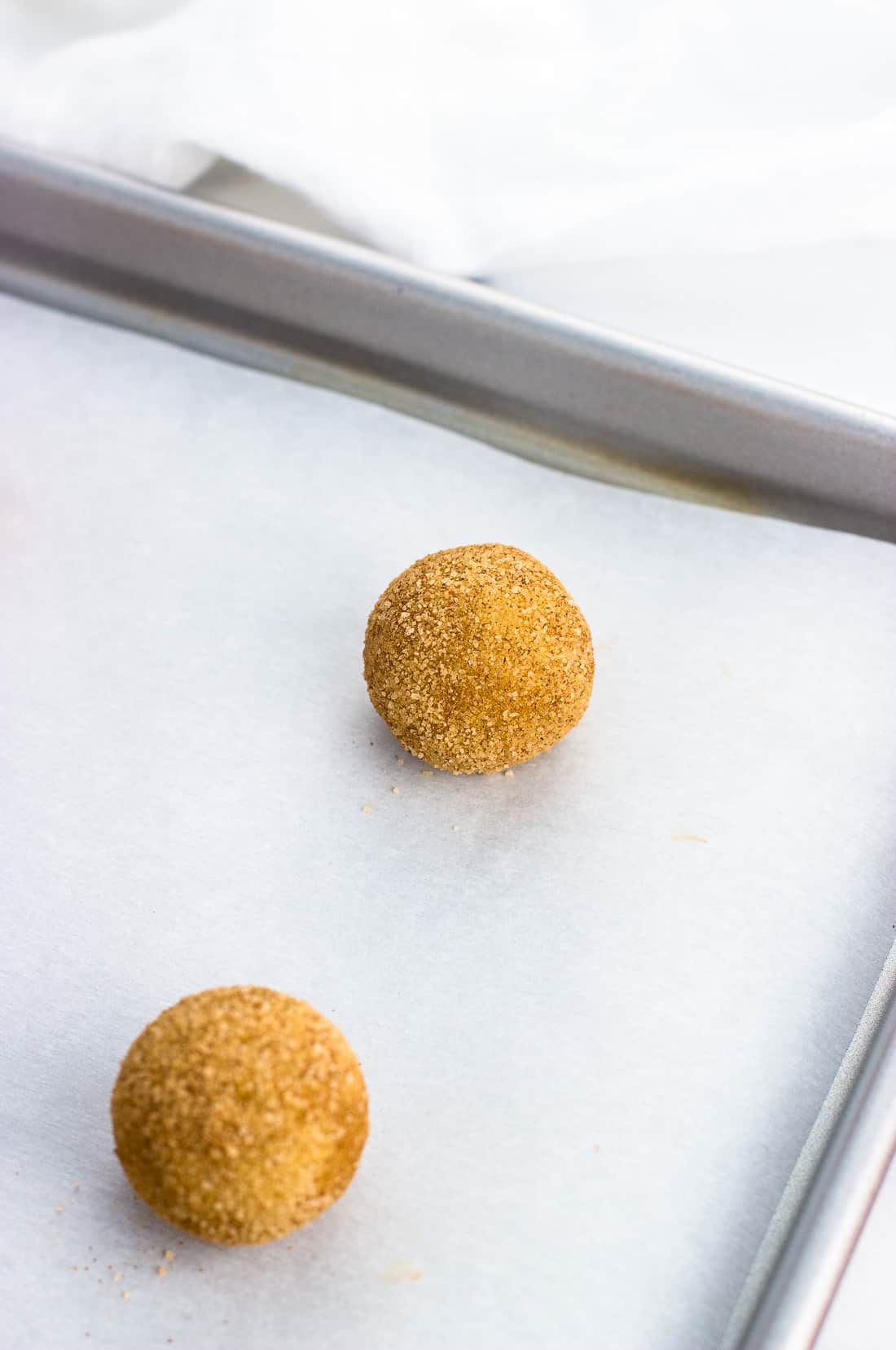 Once chilled and rolled in cinnamon sugar, bake at 375°F for 8 minutes. Be sure to give them sufficient space on the baking sheet as they do spread. I know I'm always tempted to get as many cookies on a sheet as I can, but try to resist that urge with these orange ginger snickerdoodles.
They'll be done when the edges have firmed up and become golden. The center will not be firm, but the very thin top surface layer will be dry, with a very soft interior underneath. This is key in producing chewy snickerdoodles, versus crumbly ones. The cookies will firm up as they cool down.
Right out of the oven the snickerdoodles will be puffy, but they'll deflate as they cool. Let the cookies hang out on the cookie tray for 5-10 minutes or so before transferring them to a wire rack to cool completely because when warm they're fairly delicate and can mush out of shape.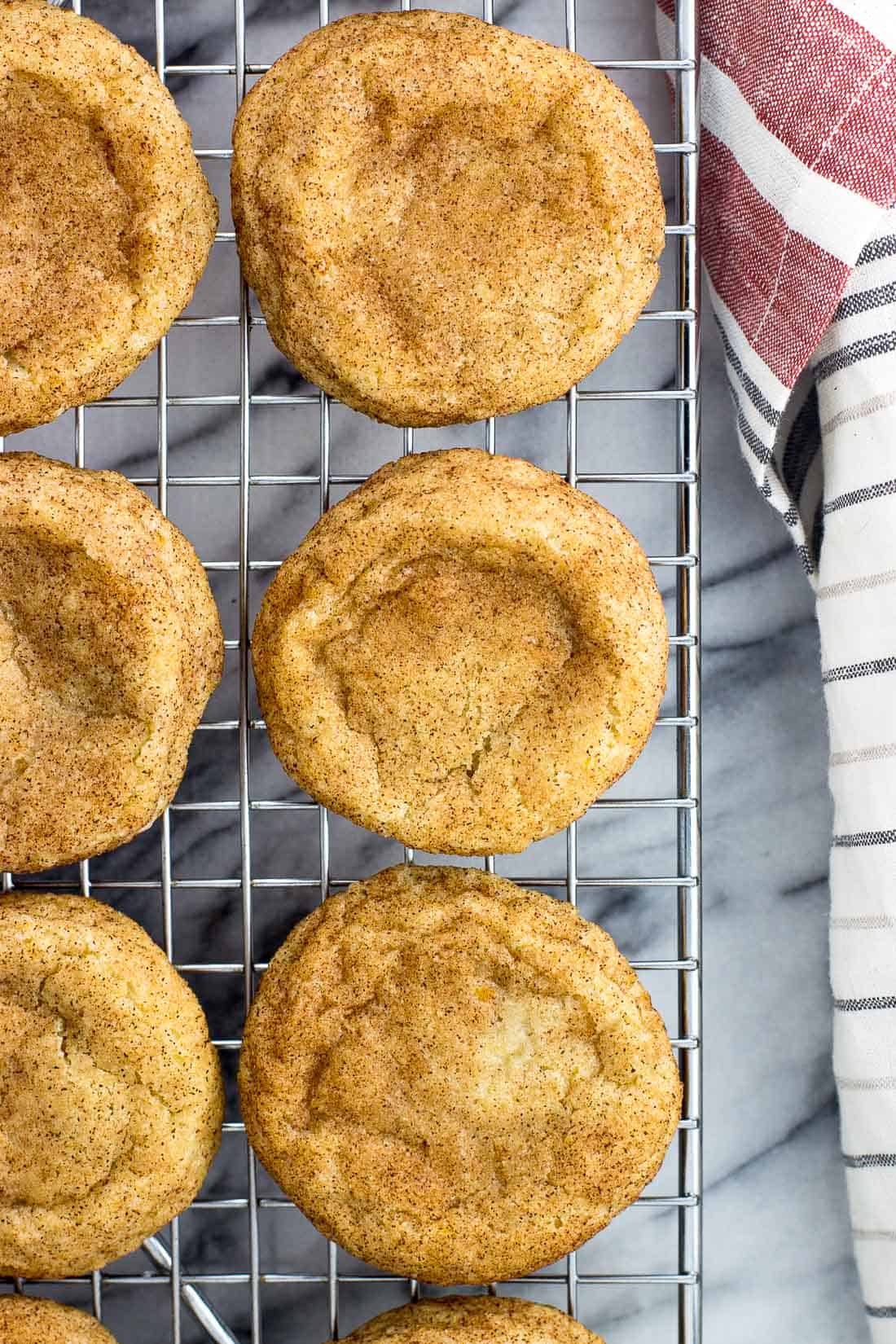 A note about cookie sheets
When baking chilled cookies (and just about all cookies, in fact), you'll want to use fresh baking sheets for each batch. This helps prevent the cookies from spreading too much from sitting on already hot or warm sheets.
I cycled through all of my baking sheets in testing this orange ginger snickerdoodle recipe a few times. Old ones and new ones, light ones and dark ones, etc. All lined with parchment paper.
Over time I noticed a pattern. The cookies baked on my (old, very inexpensive) darker cookie sheets baked up taller and thicker than the ones on my lighter metal sheets.
Per this Kitchn article, dark sheets absorb and radiate heat more so than lighter sheets. This can cause baked goods to brown more on the bottoms, but using parchment paper alleviates some of that excess browning. The combination of dark cookie sheets, parchment paper, and a slightly lower oven temperature than my standard cookbook snickerdoodle recipe worked the best to produce my preferred style of snickerdoodles - taller and thicker, without any crazy browned bottom or anything.
So! If you have a variety of baking sheets at home and also prefer tall/thick cookies, try them on on darker sheets. If all you have are lighter sheets, see the recipe notes section below on some tips to give your cookies the best chance of being thicker (I follow them no matter which kind of sheet I'm using).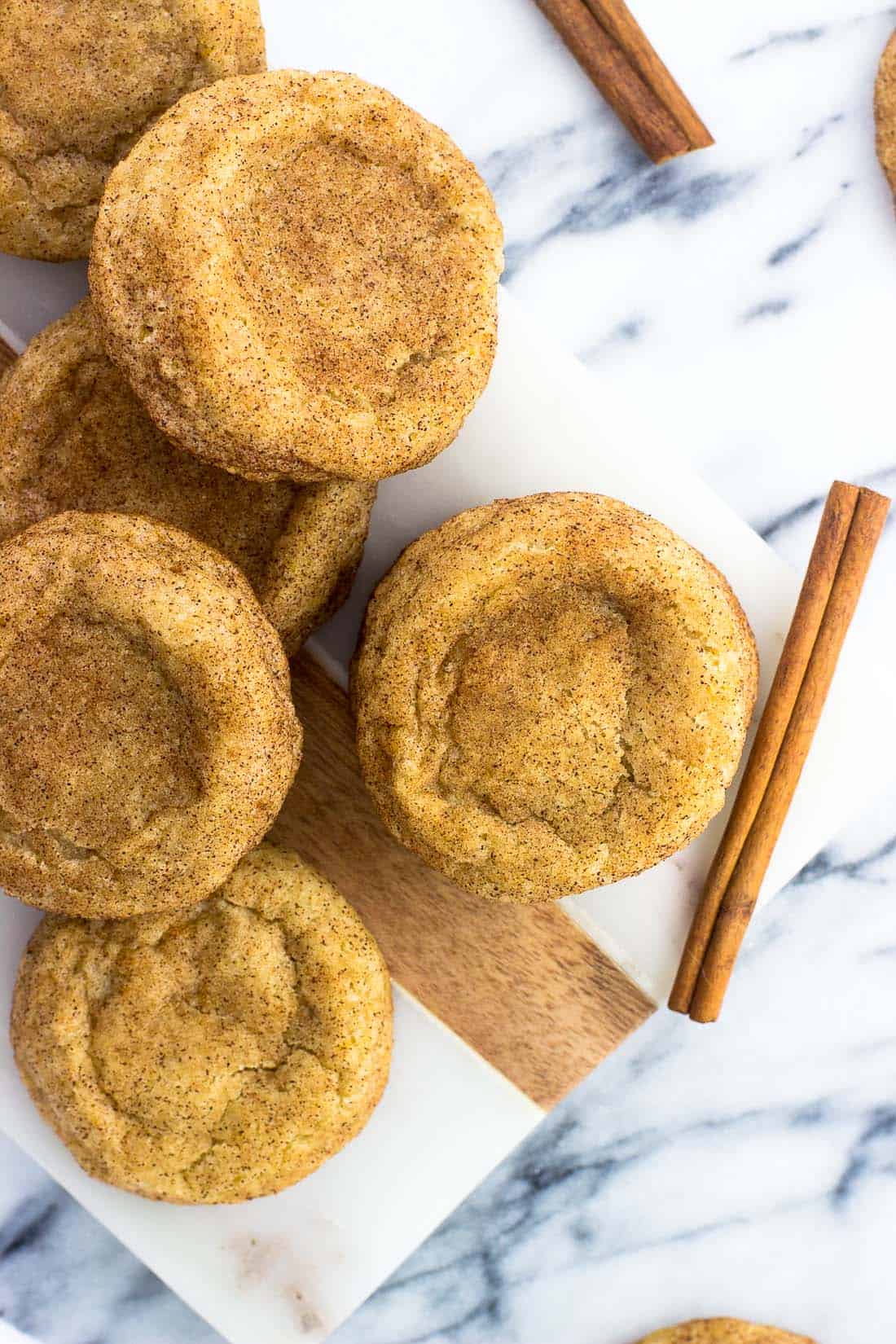 How to store snickerdoodles
One great thing about these orange ginger snickerdoodles is that they stay soft and chewy for days. DAYS. Store them in an air-tight container at room temperature. They're also a great cookie to freeze, making them a nice make-ahead option for Christmas cookie baking.
If you'd like to freeze them pre-bake, I'd roll them into balls and freeze in air-tight freezer bags or your container of choice. I wouldn't roll them in cinnamon sugar yet. I like to place frozen cookie dough balls on a paper plate like you see here in this homemade break and bake cookies post.
Then once they've become unfrozen a bit, you can roll them in cinnamon sugar and bake as instructed.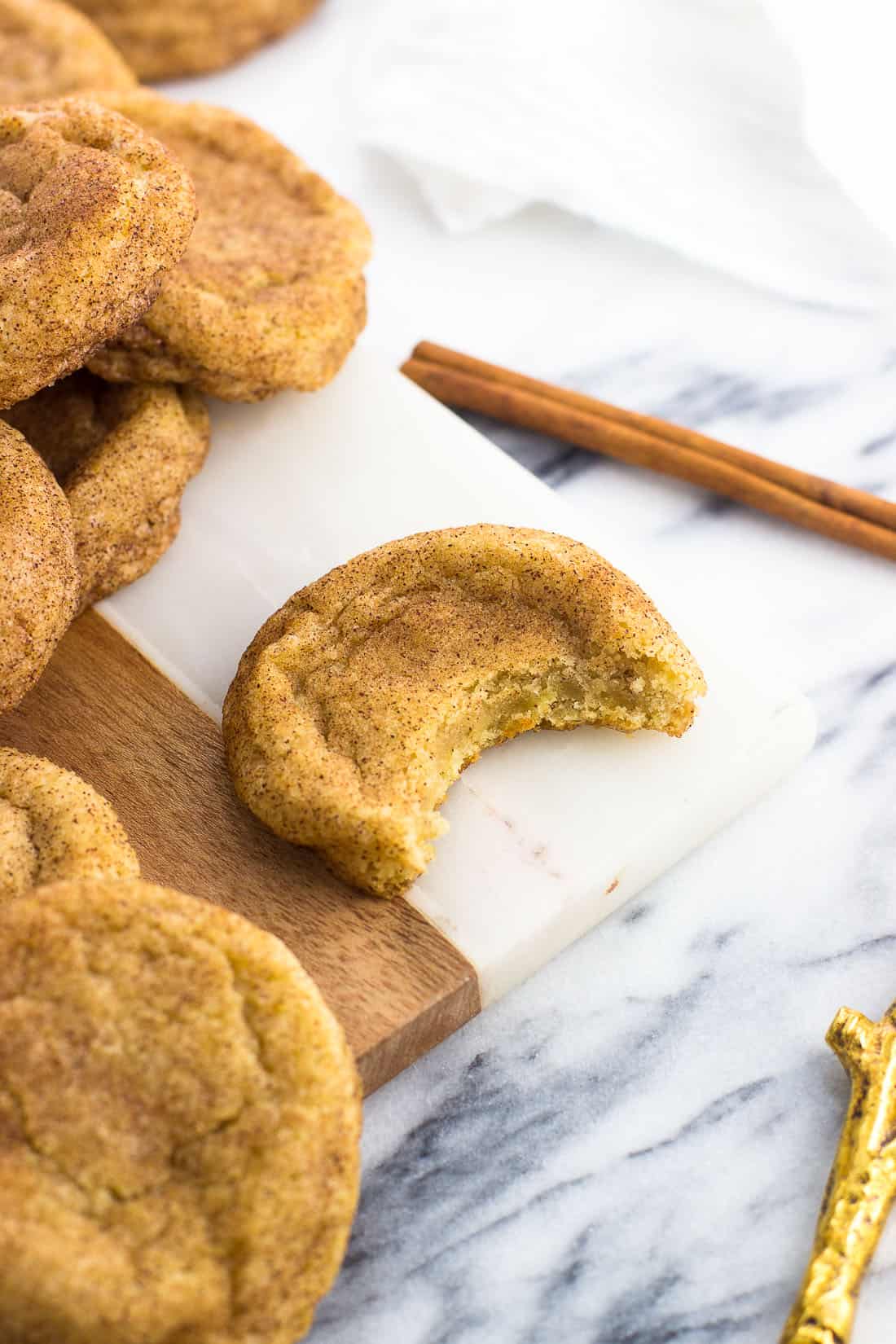 Recipe notes
Use a "fresh" baking sheet for each batch, a.k.a. one that is completely cool. Even slightly warm sheets and cause cookies to spread too much.
Give these cookies lots of room on the baking sheet to spread without running into each other. Resist the urge to crowd the pan!
If you're having an issue with the cookies baking thinner than you'd like, try scooping a cookie dough ball and rolling into an oblong shape like an egg - taller than wider. Then place each egg-shaped cookie on the parchment-lined sheets, very lightly pressing them down so they stand up straight. This is a little trick I use to help boost the thickness of a cookie.
While every batch of these cookies I've made has been chewy and enjoyable, I've found lining a darker baking or cookie sheet with parchment paper repeatedly resulted in the thickest batches of snickerdoodles.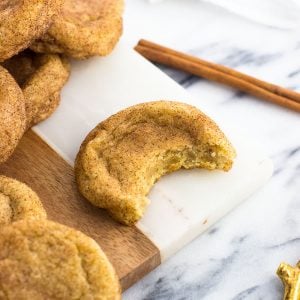 Orange Ginger Snickerdoodles
Orange ginger snickerdoodles feature orange zest, orange juice, and fresh ginger (!) added to the batter for a warmly spiced version of a cookie classic. These snickerdoodle cookies stay soft and chewy for days!
Print
Pin
Rate
Ingredients
For the dough:
1

cup

unsalted butter,

softened

1 ½

cups

granulated sugar

1

egg

4 ½

teaspoon

freshly grated ginger,

about one 2" long section

1 ½

tablespoon

orange juice

2 ½

teaspoon

orange zest

1 ½

teaspoon

vanilla extract

3

cups

all-purpose flour,

spooned and leveled

2

teaspoon

cream of tartar

1 ¼

teaspoon

ground cinnamon

1

teaspoon

baking soda

¼

teaspoon

salt
Cinnamon sugar, for rolling:
8

teaspoon

granulated sugar

(equal to 2 tablespoon plus 2 tsp)

2

teaspoon

ground cinnamon
Instructions
In a large bowl, cream together the softened butter and 1 ½ cups sugar until mixture is light-colored and fluffy, about 1-2 minutes.

Add the egg, grated ginger, orange juice, orange zest, vanilla extract, and mix well, for about 1 minute.

In a separate bowl, whisk together flour, cream of tartar, 1 ¼ teaspoon ground cinnamon, baking soda, and salt. Add dry ingredients to the bowl with the wet ingredients and mix until just combined, scraping down the sides of the bowl as needed.

Cover bowl with plastic wrap and place in the refrigerator for at least 3 hours, or until the dough is well chilled.

Once the snickerdoodle dough is chilled, preheat oven to 375°F. Line large baking sheets with parchment paper. Stir together 8 teaspoon granulated sugar and 2 teaspoon ground cinnamon in a small bowl until evenly combined.

Using a 1 ½-tbsp capacity cookie scoop (or a spoon), scoop cookies and quickly form into balls with your hands. You may wish to roll each ball a bit oblong like an egg (a bit taller than wider) to help snickerdoodles bake thicker. Roll each ball in cinnamon sugar to cover all sides and place on the prepared baking sheet at least 3"-apart from one another. Repeat with the remainder of the dough.

Bake for 8 minutes, or until the edges of the snickerdoodles are golden and have set. The center of each cookie will remain soft but not raw. Allow cookies to cool on the baking sheet for 5-8 minutes (they will deflate and firm up some as they cool), then carefully transfer cookies to a wire rack to cool completely.
Notes
Flavors As written this recipe is pretty boldly flavored. You can certainly reduced the orange zest if you'd like less of that flavor in the mix. Keeping dough chilled: If baking chilled cookies in multiple batches, I like to keep the mixing bowl with the remaining dough in the fridge while the other batches are baking. That way I scoop/roll and place them on the sheet just prior to that batch baking. This helps prevent the dough from warming up too much, which can lead to thinner and spread out cookies. You can also scoop/roll the cookies, place them on their baking sheets, then place the whole sheets in the fridge, but I rarely have enough room in there for that.
Nutrition
Serving:
1
cookie
|
Calories:
89
kcal
|
Carbohydrates:
12.8
g
|
Protein:
0.9
g
|
Fat:
3.8
g
|
Saturated Fat:
2.4
g
|
Cholesterol:
13
mg
|
Sodium:
13
mg
|
Potassium:
32
mg
|
Fiber:
0.2
g
|
Sugar:
6.8
g
|
Calcium:
2
mg
Nutritional information is provided as an estimate. As it can vary due to many factors (brands used, quantities, etc.), we cannot guarantee its accuracy.
Food Safety and Nutrition Disclaimer
Base snickerdoodle recipe adapted from Betty Crocker's Cooky Book (affiliate link). This book is total nostalgia!
The recipe and the photos in this post have been updated in November 2019 from the original publish date in July 2015.