These snickerdoodle cookies are a step away from the original with fresh orange juice and zest, grated ginger, and cinnamon added to the batter. They're tender and perfectly crumbly, and are rolled in just the right amount of cinnamon sugar.
I am a glutton for punishment when it comes to some foods. Entirely. Without fail I'll burn my mouth on a bowl of chili because my mouth is watering and I just can't wait for it to cool down. I slather my weekday sandwiches with enough horseradish mustard to cause me to take a breather after each bite so the heat building in my sinuses can subside. And brain freeze? Every time I eat a popsicle. Or ice cream. Can't let it melt!!
My love for ginger over the past few years has grown and grown, and I'm realizing that it's now included on the (growing) list of foods I overdo. I'll devour the ginger slices that are served alongside sushi, I crave ginger chew candy, and I have a love/hate relationship going on with a certain brand of ginger beer. It's so spicy and wonderfully gingery, but each time I half-contemplate whether I'm having some sort of allergic reaction to it by the way my mouth is burning and my lips are tingling.
But I love it…even if it scares me a little bit.
In my kitchen, extra ginger has been sneaking its way into marinades, drinks, and now baked goods. Well, technically it's not anything new new (see these and these and these…) but this is the first time I've added fresh ginger to a cookie. And it certainly won't be the last! Ginger paired with the juice and zest of an orange and cinnamon in the batter results in an orange ginger snickerdoodle that's a little bit citrusy, a little bit spiced, and just sweet enough.
If you're not a huge fan of ginger or spicy things, fear not. The recipe as written below calls for four teaspoons of ginger, which is not anywhere near the level of blowing out your sinuses or making your mouth tingle. Of course, you can decrease the quantity of ginger if you're really not a fan, but four teaspoons hit the spot for us. It's balanced by the orange juice + zest, which gives these cookies a pleasant and discernible flavor on their own. There's something about orange, ginger, and cinnamon that just works together.
I'd be hard-pressed to describe a snickerdoodle and not talk about the cinnamon sugar topping. Yessss. In the past I've tended to have a heavy hand when it comes to cinnamon (because I love it so much!), but I've had to practice self-restraint when it comes to times when it won't be mixed in, like this cinnamon sugar topping. My preferred and perfected ratio of cinnamon to sugar is 1:4. You'll have all of the cinnamon flavor with a slightly crisped edge from the sugar. The perfect amount of sweetness and spice without that weird chalky/dry thing that happens when there's WAY too much cinnamon on something.
Of course, not that I know about that situation…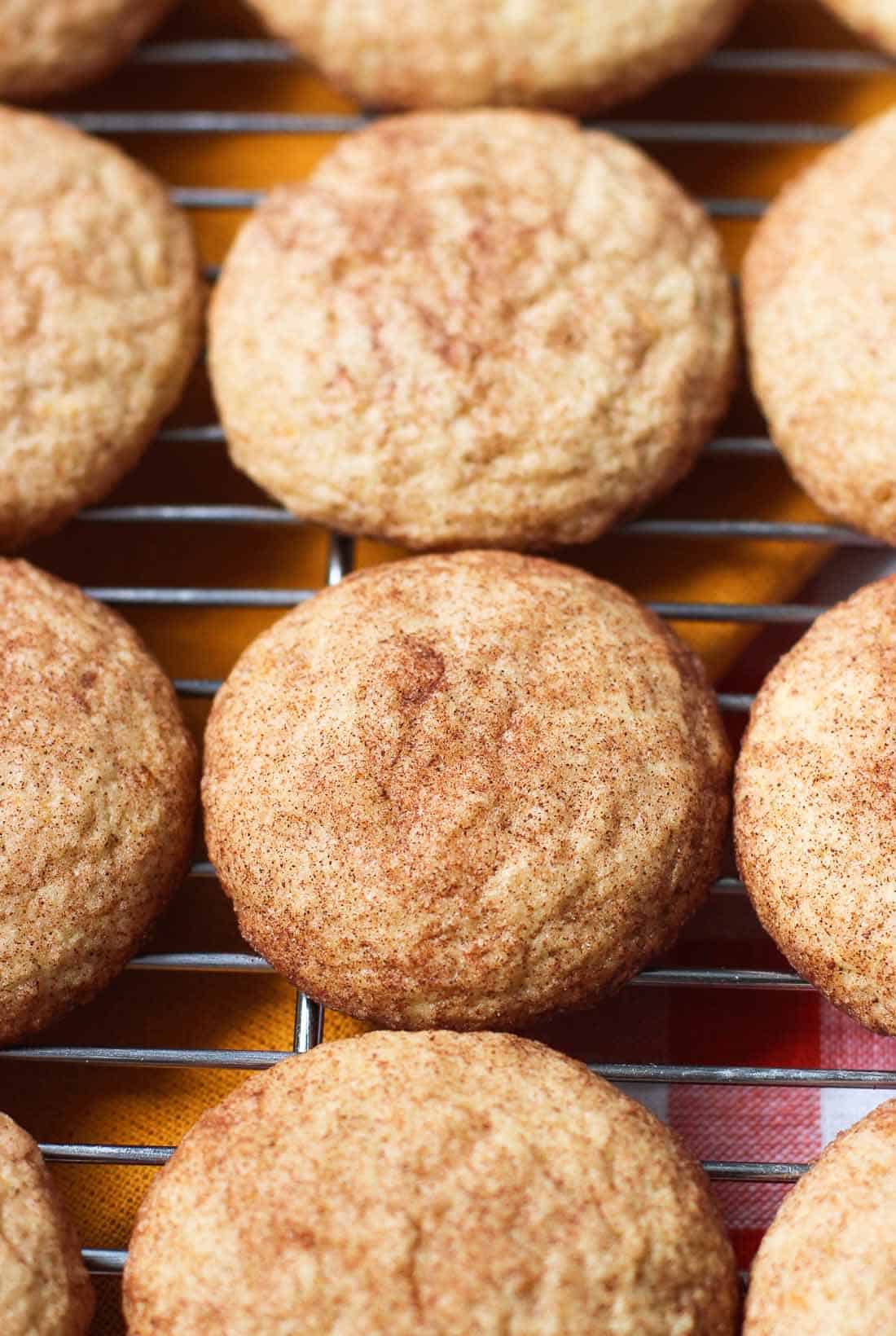 Orange Ginger Snickerdoodles
These snickerdoodle cookies are a step away from the original with fresh orange juice and zest, grated ginger, and cinnamon added to the batter. They're tender and perfectly crumbly, and are rolled in just the right amount of cinnamon sugar.
Ingredients
For the dough:
1

cup

unsalted butter,

softened

3/4

cup

granulated sugar

1

egg

1 1/4

tsp

vanilla extract

2 1/2

tsp

orange zest,

or amount from one orange

Juice from one orange

3 1/2 - 4

tsp

freshly grated ginger,

about one 2" long section

2 1/2

cups

all-purpose flour

1 1/4

tsp

ground cinnamon

1/2

tsp

baking powder

1/2

tsp

baking soda

Pinch

of salt
Cinnamon sugar, for rolling:
2

tsp

ground cinnamon

8

tsp

granulated sugar
Instructions
Preheat oven to 350 degrees F. Grease a large baking sheet and set aside. In a large bowl, cream together the butter and the sugar until mixture is light-colored and fluffy. Add egg, vanilla extract, orange zest, orange juice, and grated ginger and mix well.

In a separate bowl, combine flour, cinnamon, baking powder, baking soda, and salt. Slowly add dry mixture into wet and mix until ingredients are just integrated.

Combine 2 tsp cinnamon and 8 tsp granulated sugar in a bowl until evenly mixed. Using a 1 1/2" cookie scoop (or a spoon), scoop cookies and form into balls with your hands. Roll ball in cinnamon sugar to cover all sides and place on baking sheet. Repeat with the remainder of the dough, leaving about two inches between balls on the baking sheet.

Using the bottom of a glass or other flat surface, lightly press down on the balls so they have an even surface, approximately 1/2" - 3/4" tall. Bake for 9-12 minutes, or until the bottoms are golden brown and the times are semi-firm to the touch. Transfer cookies to a wire rack to cool completely.
Nutrition Facts
Orange Ginger Snickerdoodles
Amount Per Serving (1 cookie)
Calories 91
Calories from Fat 30
% Daily Value*
Total Fat 3.3g 5%
Cholesterol 14mg 5%
Sodium 24mg 1%
Potassium 16mg 0%
Total Carbohydrates 14.3g 5%
Protein 1.3g 3%
* Percent Daily Values are based on a 2000 calorie diet.