These pistachio muffins stay moist for DAYS thanks to an easy special ingredient: instant pudding mix. Flavorful and fun, these green muffins feature real pistachios for extra crunch.
I'll save you a long preamble and just get right to it. I excitedly bought a four-count of pistachio muffins from an unnamed store's bakery section, got them home, took a bite, and was disappointed.
Sure they were fiiiine, but they were kind of dry and didn't have much flavor. Basically they were big, green muffins. Not a repeatable purchase.
These pistachio muffins are not like those pistachio muffins.
For starters, these are regular muffins and not jumbo-sized. They're extra moist and tender thanks to instant pudding mix - almost like a cupcake without the frosting. They have extra crunch from *real* pistachios and as far as flavor goes? Bumped up from a not-so-obvious-but-makes-a-ton-of-sense kind of ingredient.
So, same name but very different result.

How to make pistachio muffins
In this recipe, we're treating the instant pistachio pudding mix as a dry ingredient. Don't prepare it per the package instructions - simply open the pouch and pour it into the bowl with the flour. When it combines with the wet ingredients and bakes, it lends not only color and flavor, but a TON of moisture that helps these muffins stay moist until the last one is eaten.
It's a method that works so well in these chocolate pudding muffins with bananas, I've been happy to experiment with other pudding flavors.
Like many muffin recipes, this one is simple. Mix together the wet and dry ingredients separately, combine them, then fold in the mix'ins. Easy as that.
Almond extract in pistachio desserts?
Most of the ingredients here are pretty straight-forward, but there's one that may give you some pause - almond extract. Have you ever thought that pistachio-flavored foods like pudding and ice cream don't really taste all that similar to raw pistachio nuts?
That's because in many cases, commercially-produced pistachio confections are actually flavored with almond products and dyed green (source). I found almond flavoring listed as an ingredient in the instant pistachio pudding mix, as well as in several brands of pistachio ice cream.
So, to enhance what our taste buds have come to know and love as that "pistachio" dessert flavor, I added extra almond extract to these pistachio muffins to bump up the flavor. It's not an absolute must, but I found the flavor to be a bit more muted (à la big green grocery muffins) without it.
To use muffin papers or not to use muffin papers
This is probably not a big deal to you, but I did something a little different with my muffin procedure here. I used muffin papers.
In the past I've gotten annoyed by losing what seems like half the muffin or cupcake to the paper when peeling it back, so I've scrapped them in favor of spritzing the muffin tin with cooking spray and baking them straight. You definitely don't lose any muffin that way, but the muffin sides do darken more than I'd like in a perfect world, and having to deep clean twelve muffin wells afterward? Not my favorite.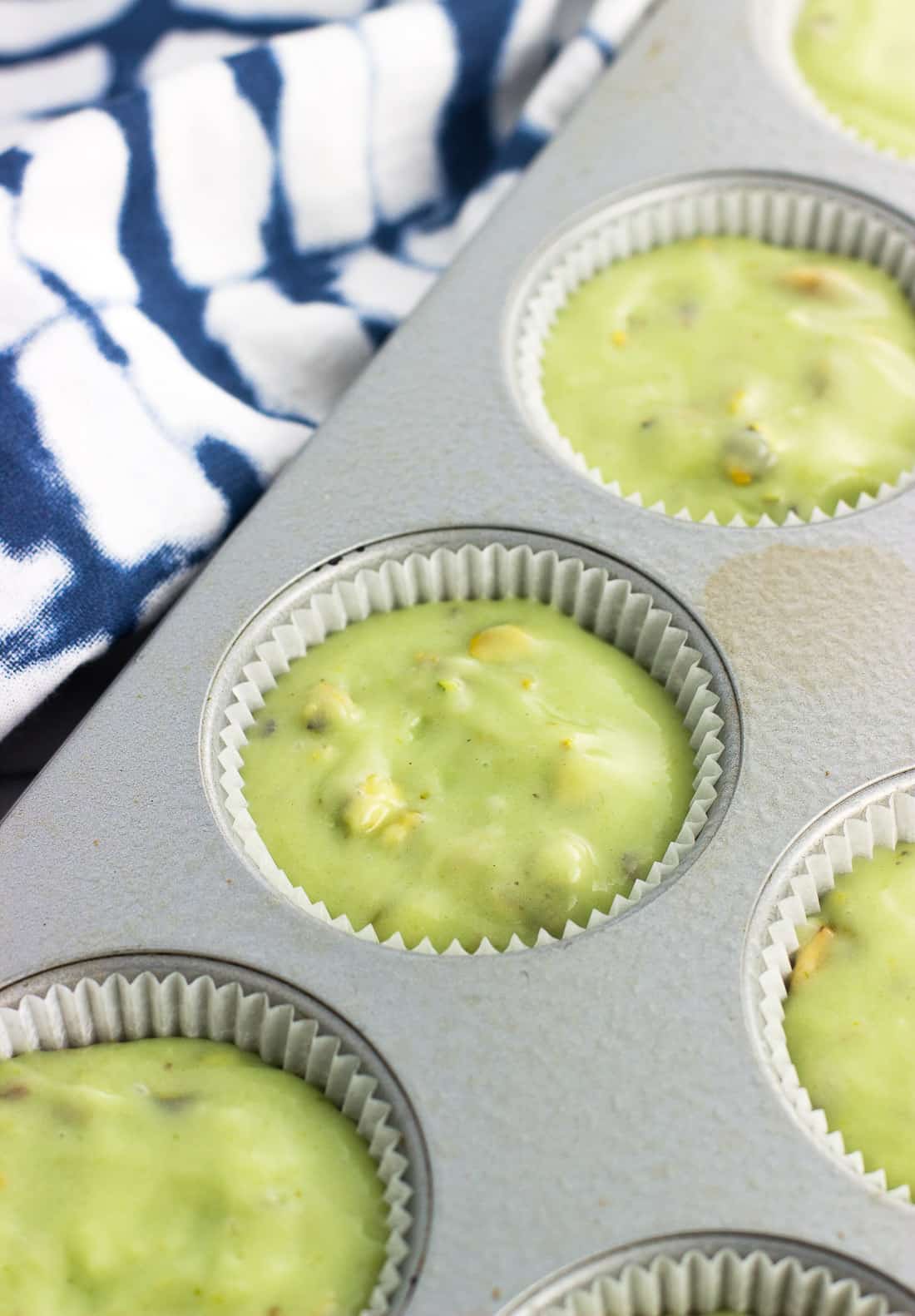 Here though for #aesthetics I used simple white paper muffin cups and gave them a quick spritz of cooking spray. This worked beautifully! The muffin paper releases just as you'd like, all the while not bogging down the papers with too much liquid (hence the super quick spritz).
While clean up was better, I still opted to spray the top surface of my muffin pan in case of any spillover muffin top. These aren't humongous muffins but some of them did spread out that way so I was happy I didn't have to rip any muffin top edges freeing them from the pan.
What kind of pistachios to bake with
I use unsalted pistachios for these pistachio muffins. Just a heads up that they might be a little tricky to find, as my regular big-chain grocery store just carried in-shell, salted, or salted + flavored pistachios. I've found them in the bulk bins of Sprouts, as well as Trader Joe's. And there's always online. Either raw or roasted work.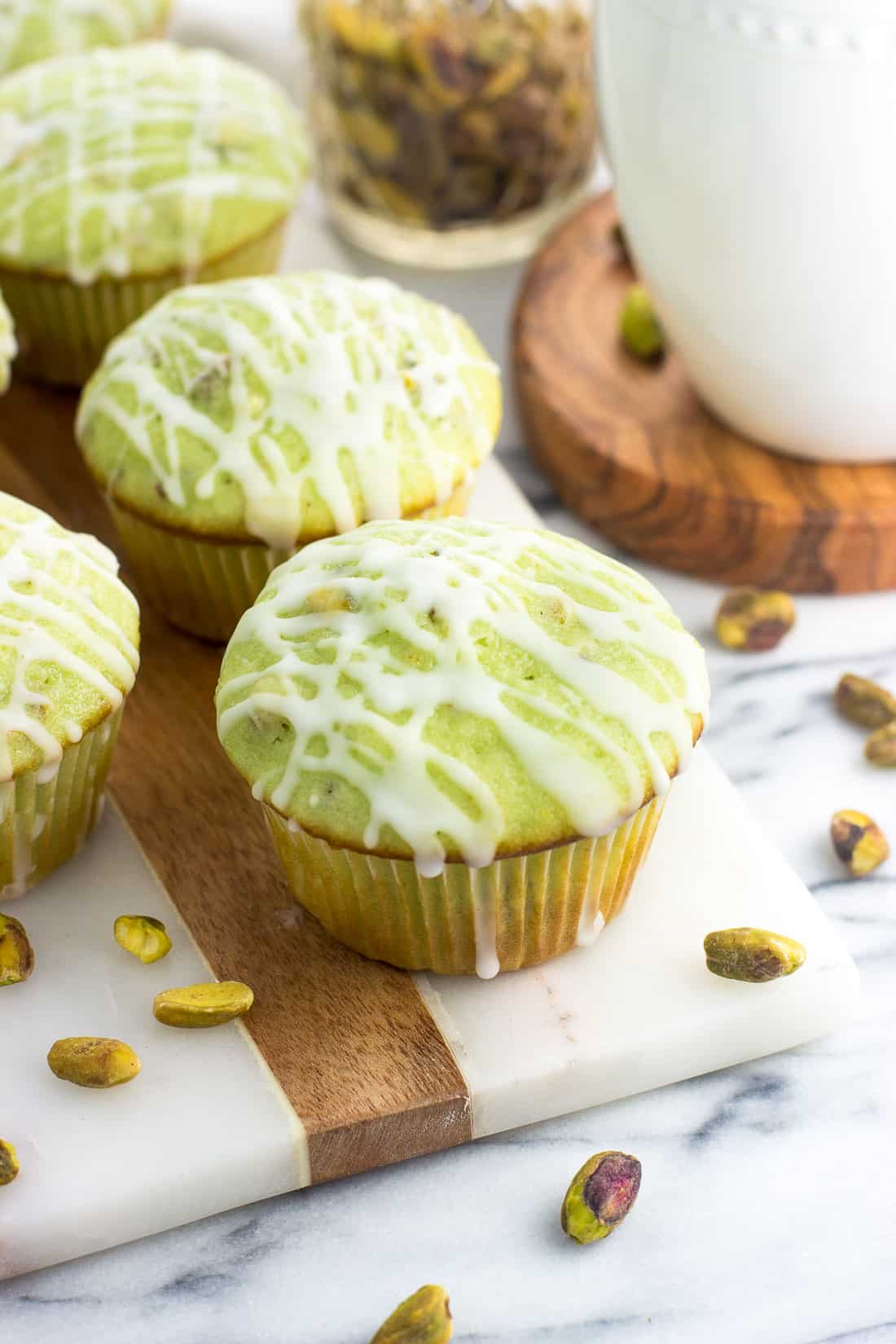 How to store pistachio muffins
Sorry about this word again but these pistachio muffins are moist. Very much so, in fact, thanks to the box of instant pudding mix added to the batter.
The plus side means these muffins won't become dry even days after baking, but the downside is that they're more prone to the classic muffin-top-gets-more-moist conundrum as time goes by.
To counteract that, I recommend storing these pistachio muffins in an air-tight container at room temperature, with a paper towel lightly placed over top to be in contact with the surface of the muffins. If you're not using muffin papers and your muffins are in the buff, line the bottom of the storage container with a paper towel, too.
The paper towel absorbs excess moisture and helps mitigate the problem. Though I will say, if you don't go the paper towel route, even with an increasingly-moist muffin top the rest of these muffins are perfectly fluffy and enjoyable.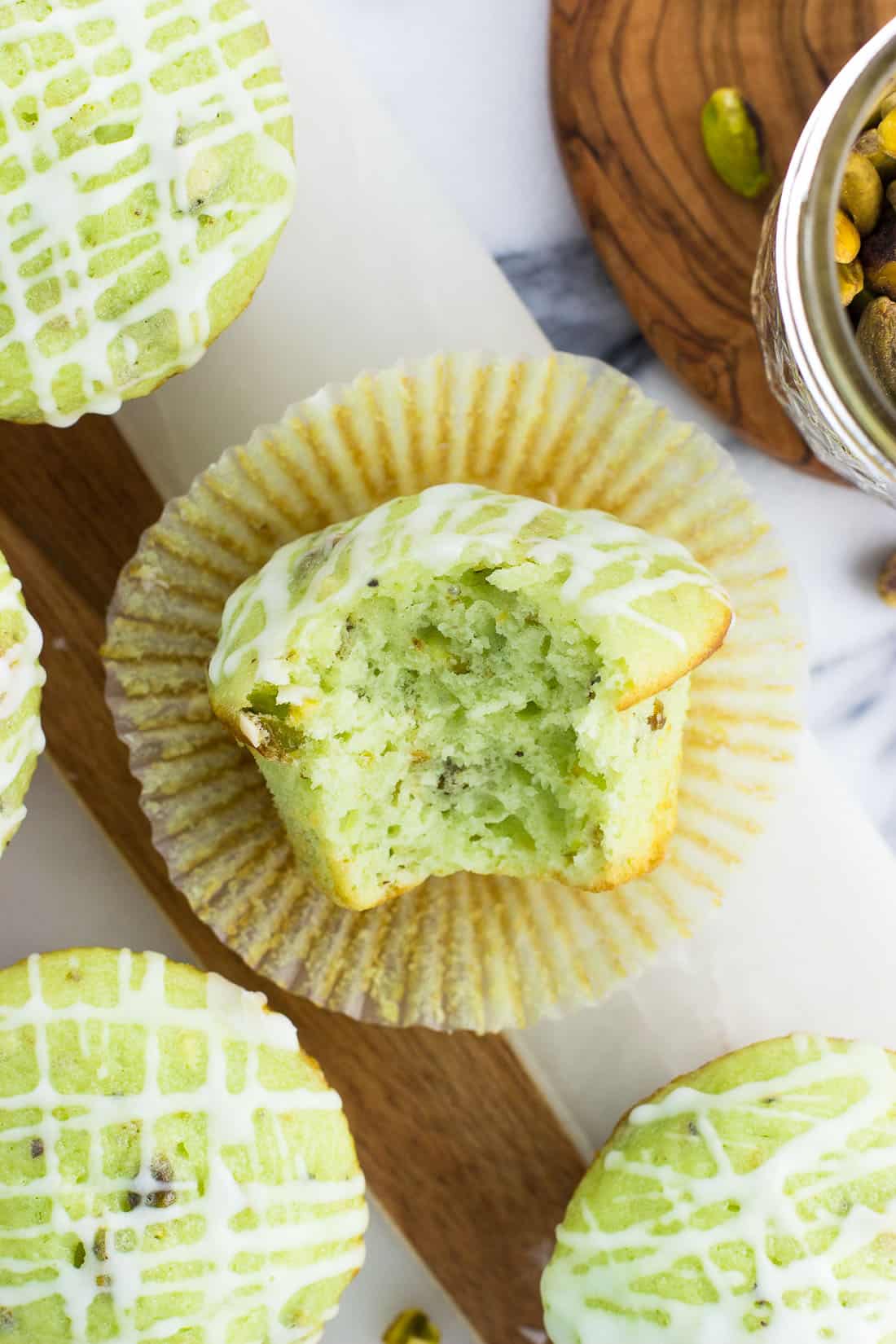 Recipe notes:
Measure flour by the spooning and leveling method. To do this, stir up the flour so it's fluffed up and not packed down. Then spoon it into your measuring cup, just letting it fall in there. Don't press down. Once the flour is overflowing in the cup, use a straight edge like a knife (or the handle of your spoon if it's flat) and even out the top, letting the excess fall back into its canister or bag. This prevents excess flour from being added to the recipe, which can result in drier baked goods.
I recommend not adding a glaze to these muffins if you expect them to sit for several days before being served. Laying a paper towel across the tops of the muffins, as is highly recommended to absorb excess moisture, will disturb the glaze.
If you're a muffin aficionado, you may want to check out the recipes for these

lemon ricotta muffins

(also with almond flavoring) and

blueberry crumb muffins

, too. Very different flavor-wise but favorites none the less!
Pistachio Muffins
These pistachio muffins stay moist for DAYS thanks to an easy special ingredient: instant pudding mix. Flavorful and fun, these green muffins feature real pistachios for extra crunch.
Print
Pin
Rate
Ingredients
2

cups

all-purpose flour,

spooned and leveled

1

3.4-oz box

instant pistachio pudding mix,

dry

2

teaspoon

baking powder

¾

teaspoon

salt

½

cup

neutral-tasting oil

(such as canola, vegetable, melted coconut oil, etc.)

8

oz

buttermilk

(see note)

¾

cup

granulated sugar

2

eggs

1

teaspoon

vanilla extract

½

teaspoon

almond extract

½

cup

unsalted pistachios,

chopped
Instructions
Preheat oven to 350°F. Line a 12-cup regular muffin tin with muffin cups. Lightly spritz the tin and papers with cooking spray. This helps the muffin papers peel back cleanly.

Whisk together flour, dry instant pudding mix, baking powder, and salt in a mixing bowl. Set aside for now.

In a separate bowl, add oil, buttermilk, sugar, eggs, vanilla extract, and almond extract. Using a hand or stand mixer, beat 1-2 minutes until light and creamy.

Pour in dry ingredients and mix until just combined. Fold in chopped pistachios, taking care not to overmix the batter.

Evenly transfer the batter to the prepared muffin tin. I like to use a cookie scoop to cut down on drips and mess.

Bake for 18-20 minutes, or until a thin tester inserted into the tallest part of a muffin comes out clean.

If using muffin papers, immediately remove the muffins from the pan and let them cool completely on a wire rack. This helps prevent condensation from sogging up the papers. If you're not using muffin papers, you can leave the muffins in the pan for 5-10 minutes, before carefully loosening the edges and transferring to a wire rack to cool completely.

Store muffins in an air-tight container only after they have completely cooled. Lightly pressing a paper towel along the top of the muffins in their storage container will absorb excess moisture that forms after a few days.
Notes
Homemade buttermilk: Add 1 tablespoon of white vinegar (or lemon juice) to a measuring cup, then pour in the milk of your choice up to the 8 oz (1 cup) marker. Let sit for 5-10 minutes or until thickened, then use in place of buttermilk. Instant pudding mix: Add this dry to the bowl with the dry ingredients. Do not prepare it as you would if you were just eating the pudding. Decorating muffins: If you'll be eating/serving these muffins the day you bake them or the day after, you can decorate them with a glaze as seen in these pictures. If you'll be serving these muffins after a few days, I recommend storing them unglazed with a paper towel along the surface (as described below), then decorating them with glaze or even a simple powdered sugar topping shortly before serving. Storing muffins: Once muffins are completely cool, store them in an air-tight container at room temperature with a paper towel laid across the top. The paper towel absorbs excess moisture the muffins release as the days go by. Replace as needed.
Nutrition
Serving:
1
muffin
|
Calories:
282
kcal
|
Carbohydrates:
38.6
g
|
Protein:
4.5
g
|
Fat:
12.8
g
|
Saturated Fat:
1.4
g
|
Cholesterol:
29
mg
|
Sodium:
312
mg
|
Potassium:
176
mg
|
Fiber:
1.1
g
|
Sugar:
19.6
g
|
Calcium:
77
mg
|
Iron:
1
mg
Nutritional information is provided as an estimate. As it can vary due to many factors (brands used, quantities, etc.), we cannot guarantee its accuracy.
Food Safety and Nutrition Disclaimer