Fluffy almond-flavored muffins are bursting with fresh cherries and topped with a fabulous streusel topping. These babies have rounded muffin tops and will be calling your name for breakfast, brunch, or a snack!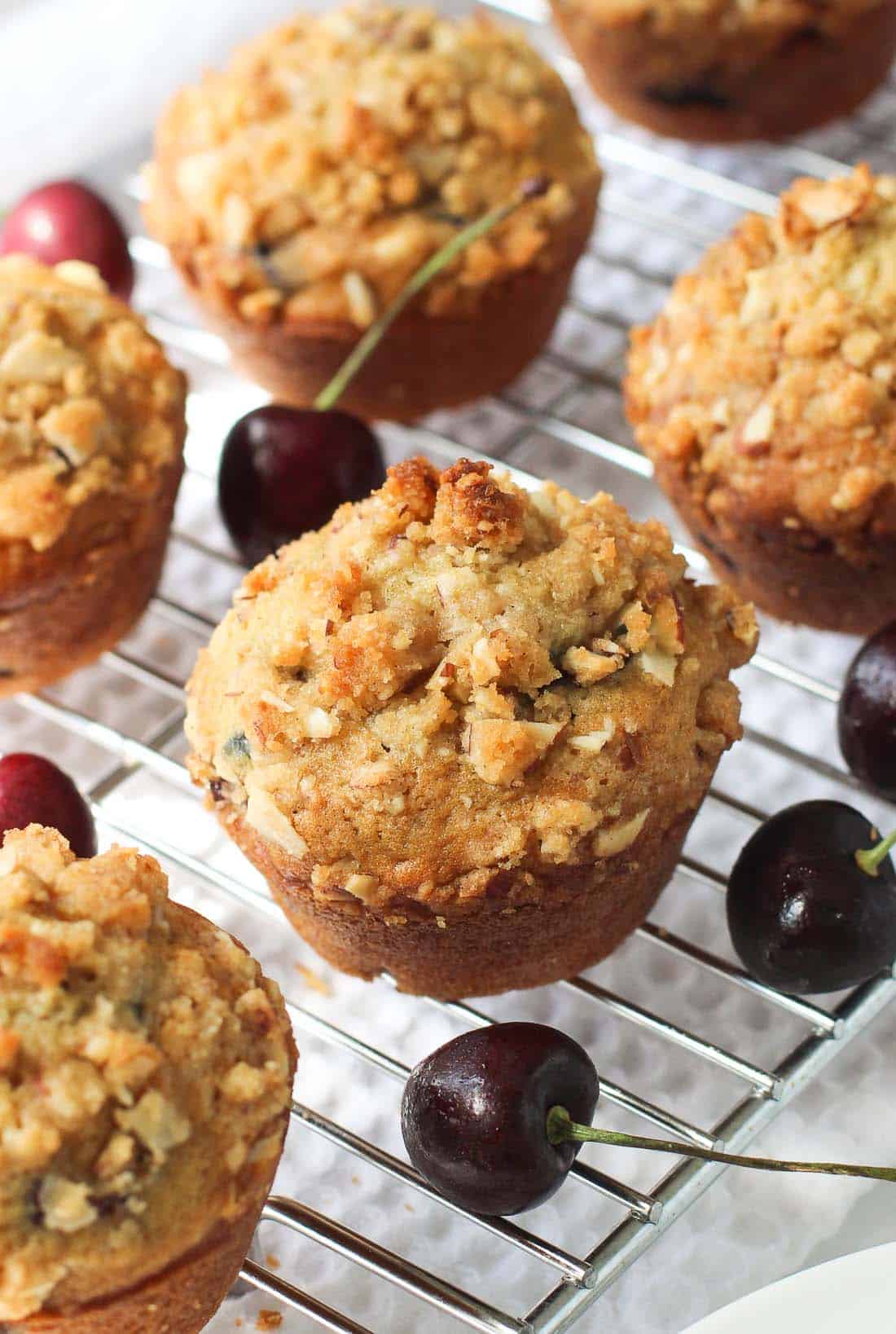 There's no way you'd ever pin me down to choose a favorite morning baked good. Between scones, muffins, coffee cakes…it's not happening. But these Cherry Almond Streusel Muffins are making a strong case for being my #1. They include one of my favorite summertime fruits, they have springy muffin tops piled high with streusel topping, and according to my mom, muffins are legal breakfast cake. Who can argue with cake in the A.M.?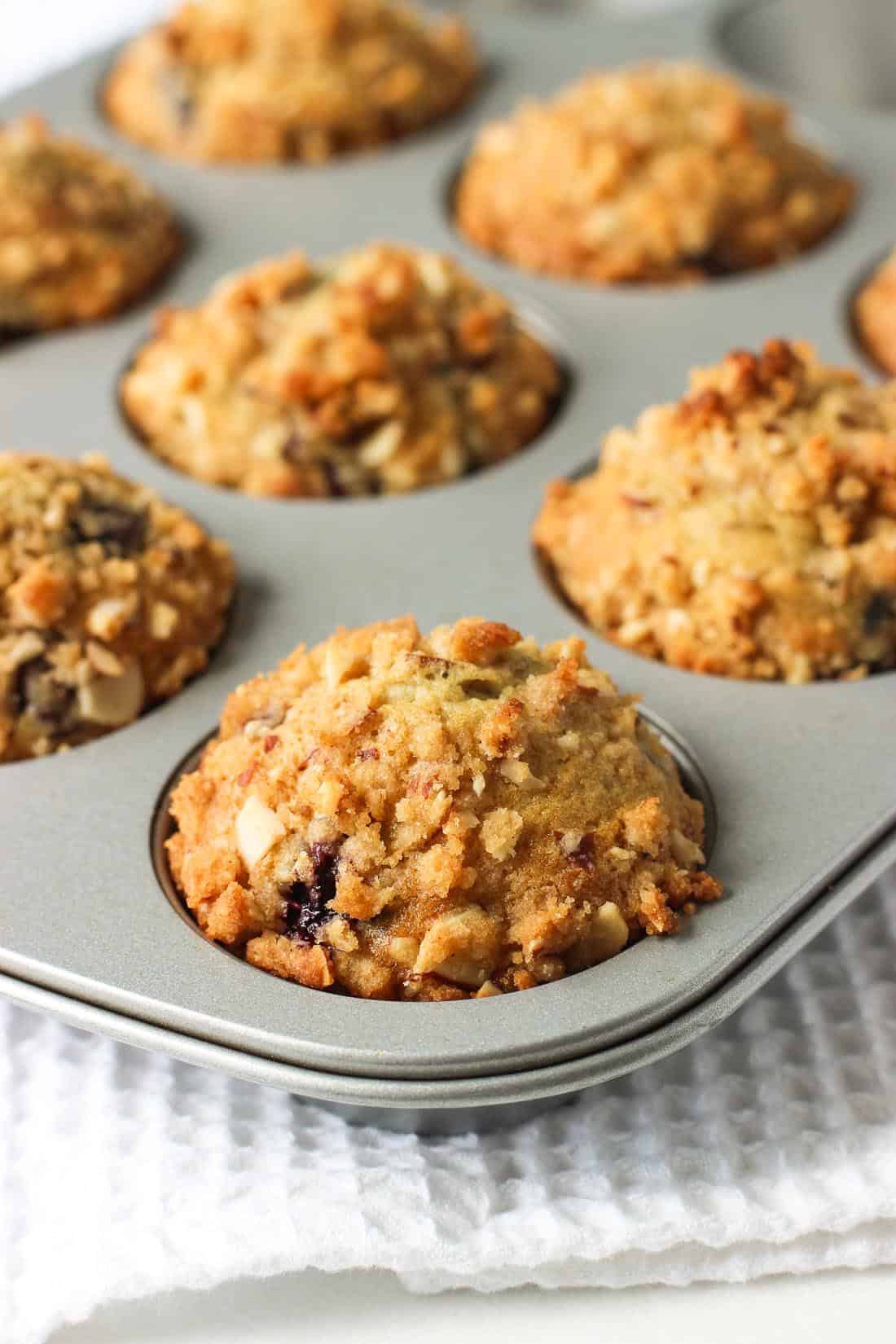 For all of the muffin love I have, muffin recipes have been woefully absent from My Sequined Life. Isn't that the way so many things go? You love something but for some reason hardly ever make/do/eat it? I wonder why that is. It's not like muffins take THAT much time to make, and judging by the mountain of dishes in the sink, I'm certainly not a stranger to mixing up baked goods. Whatever the reason, I think now is as good a time as any to make up for lost time.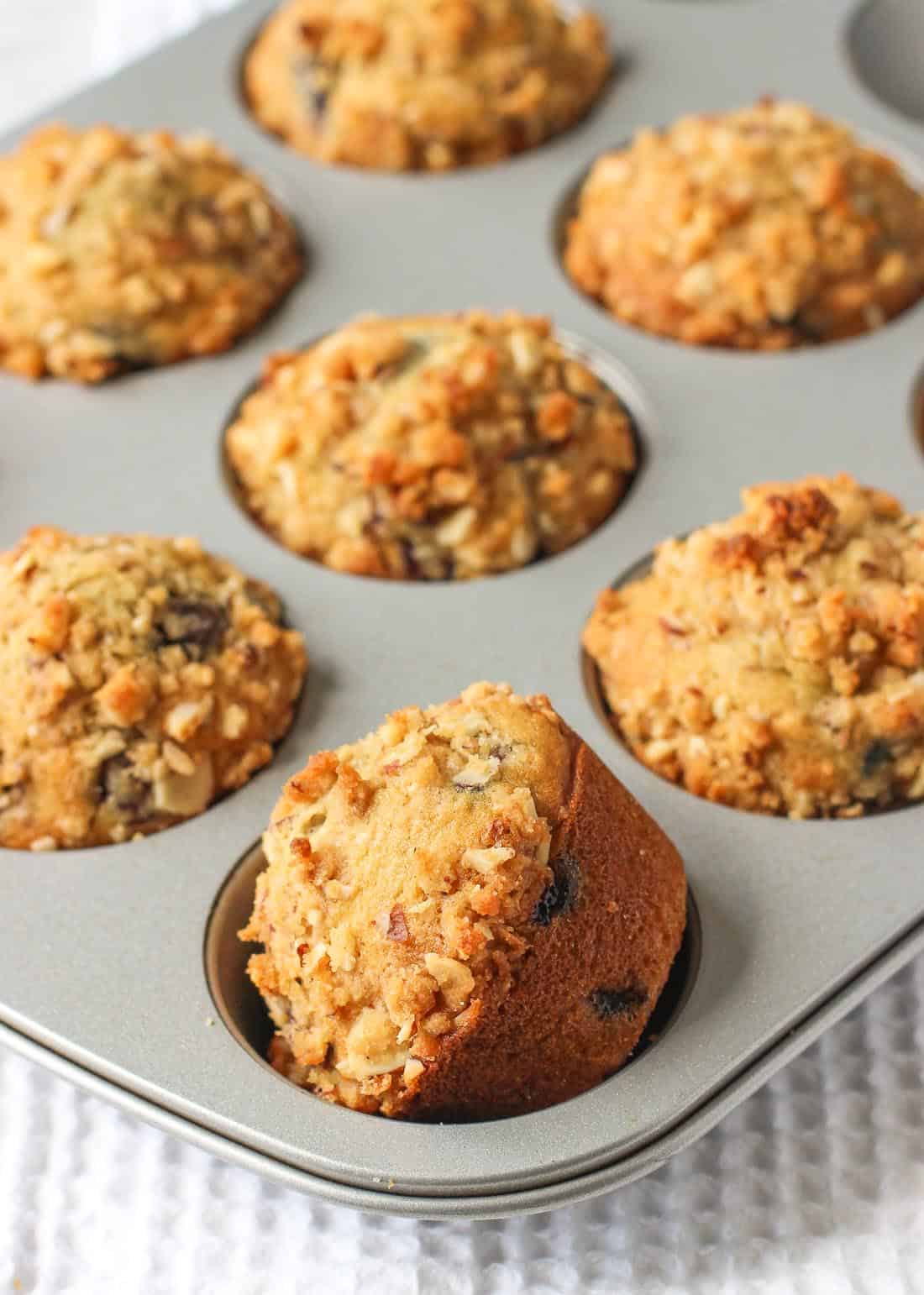 I've said it before, but one of my favorite baking cookbooks is The Art & Soul of Baking
 by Sur La Table and Cindy Mushet. It features a ton of solid, customizable recipes that a) will have you drooling and b) detail out the reasons why certain steps are written as they are, why certain ingredients are used, etc. It's definitely a cookbook that I page through for enjoyment. So when I had my "huh…where are the muffins on My Sequined Life?!" moment, I knew I was headed to my baking cookbook BFF for inspiration. 🙂
It definitely didn't disappoint! These muffins are soft and tender, filled with fresh cherries and almonds, and are topped with a streusel topping – for good measure, of course. They also smell SO good as they bake. I don't think that would come as a surprise with the almond extract and cinnamon streusel topping added in the mix here, but waiting during the twenty or so minutes they're tied up in the oven might be a little rough. Just a fair warning.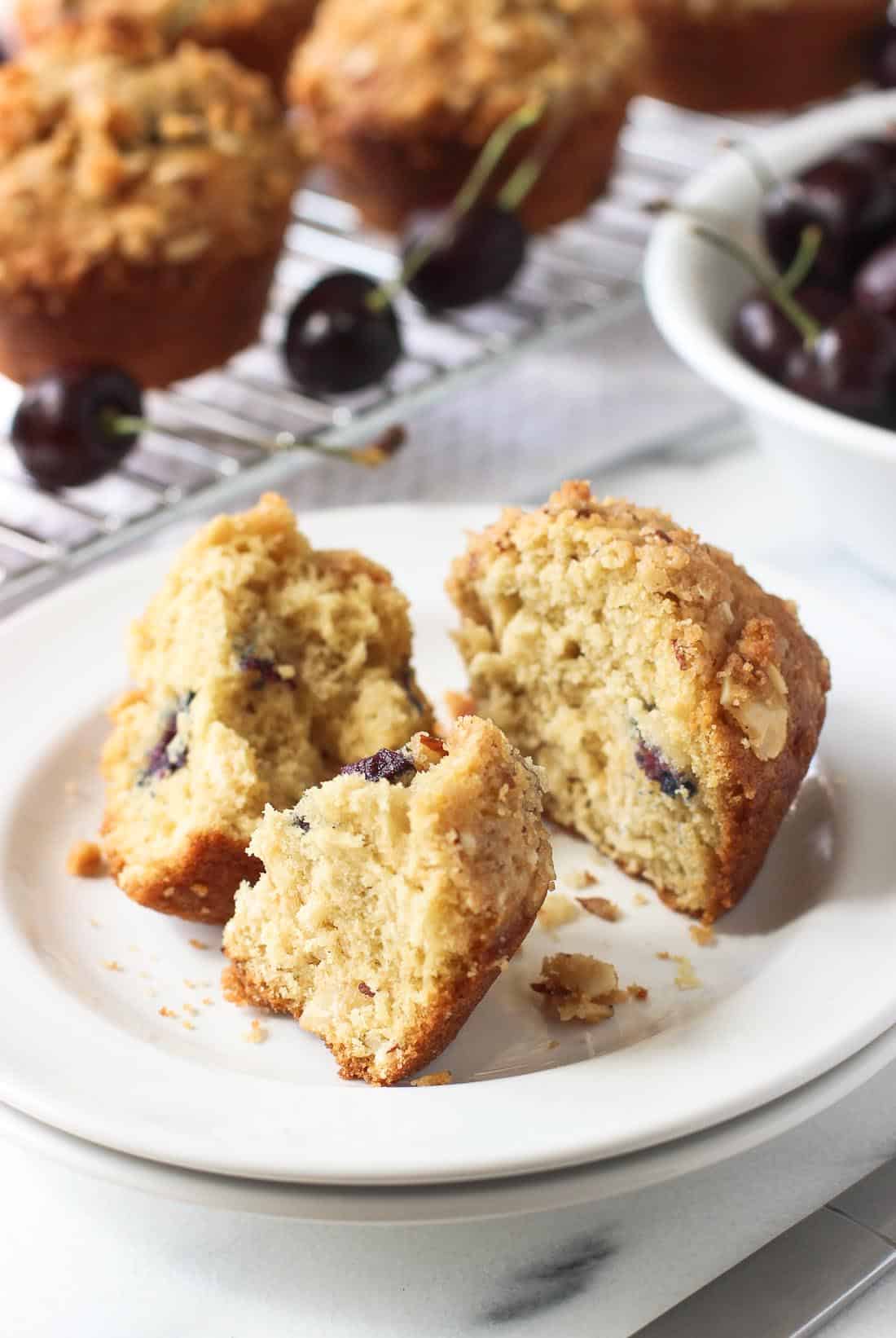 When I was younger, I remember wishing that Jergens made perfume. You know, scented like their cherry almond soap? Obviously cherry/almond flavor and scent combinations hold a special place in my heart (or should I say, my nose?), so their combination in these muffins are a winner. Of course, other fruit and/or nuts would also work here in place of the cherries. I've made these with blueberries and without the almond slivers in the batter and was a big fan of that combination, too.
[As a side note: I've now moved on from wanting to smell like hand soap to a more grown-up guilty pleasure – Lush's Sympathy for the Skin lotion. Oh my gawwwd…can I please eat it??]
Thankfully these muffins have staved off any fleeting temptations to taste test that lotion. Which is a good thing, because I'm pretty sure four batches of these muffins would be the cheaper snack. 😉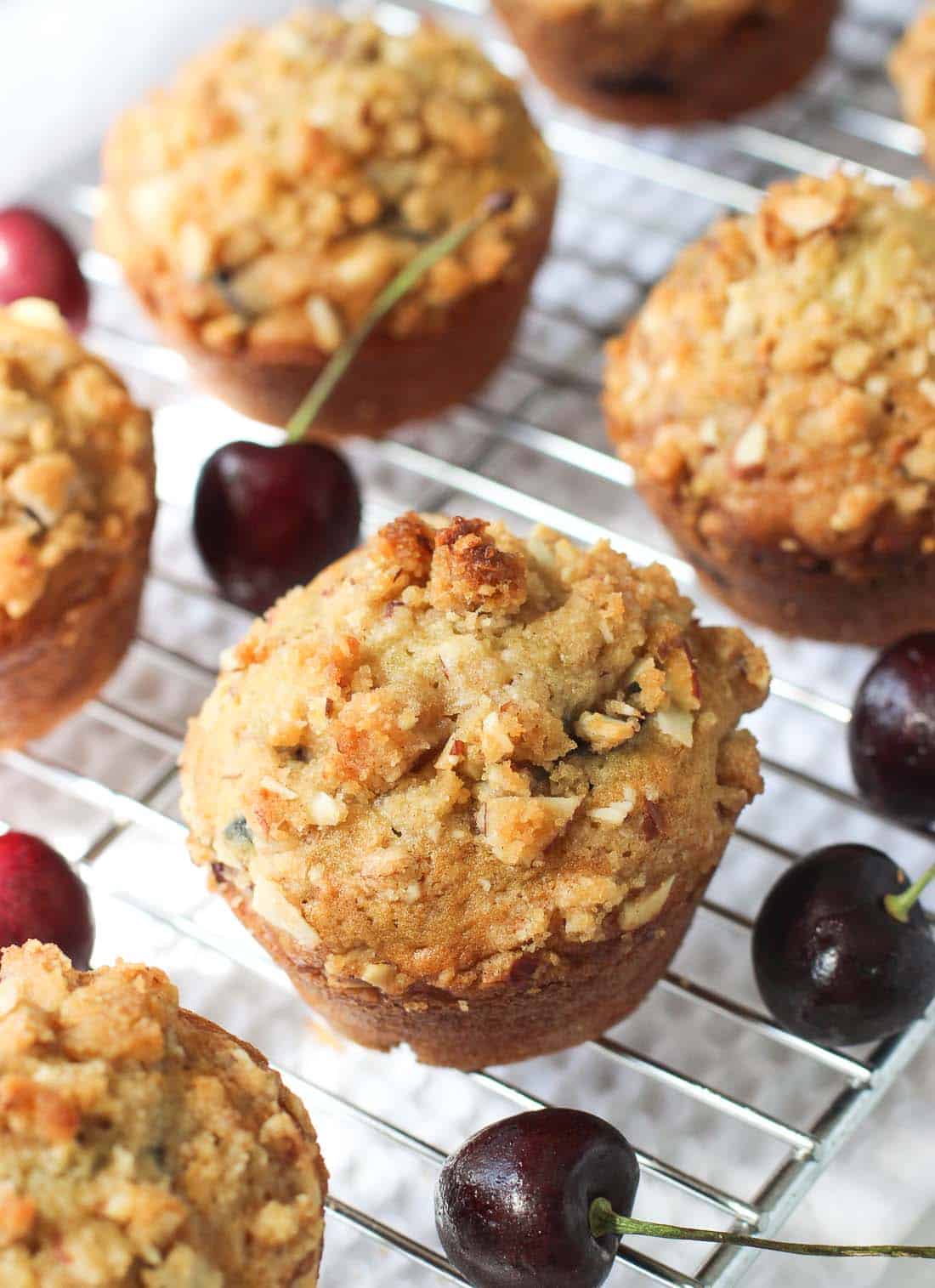 And to not blow my credibility from this post, I have to share that I totally ate these muffins with vanilla espresso almond butter. Or maybe I had some muffin with my almond butter…not telling. 😉
Cherry Almond Streusel Muffins
Ingredients
For the muffins:
2 cups all-purpose flour
2/3 cup packed brown sugar
2 tsp baking powder
1/2 tsp baking soda
pinch of salt
6 tbsp unsalted butter, melted
2/3 cup milk (any variety - I used almond milk)
2 large eggs
1 tsp vanilla extract
1 tsp almond extract
1 cup chopped fresh sweet cherries + 1/2 tsp granulated sugar
1/3 cup chopped almond slivers
For the streusel topping:
1/4 cup packed brown sugar
1/2 cup chopped almond slivers
2 tbsp all-purpose flour
1 tsp ground cinnamon
1 1/2 tbsp unsalted butter, melted
Instructions
Preheat oven to 400 degrees F and grease a 12-well muffin pan. In a small bowl, combine chopped cherry pieces with 1/2 tsp granulated sugar and toss to coat cherries evenly. Set aside.
In a bowl, add the flour, brown sugar, baking powder, baking soda, and salt and whisk to combine.
Add melted butter, milk, eggs, vanilla extract, and almond extract to a separate bowl and whisk thoroughly.
Pour butter mixture into bowl with the flour mixture and gently stir to combine, making sure all ingredients are integrated without overmixing. A few clumps may remain - that's okay. Fold in cherries.
Add muffin batter to each of the 12 wells evenly (I like to use a cookie or ice cream scoop to reduce the mess and drips).
In a small bowl, add the brown sugar, chopped almond slivers, flour, and cinnamon necessary for the streusel topping and whisk together so that everything is well mixed. Slowly pour in 2 tbsp of melted butter and stir. You'd like for the streusel mixture to become evenly moist and clump up into small pieces. Once mixture reaches this stage, evenly scatter streusel topping over muffins, pre-bake.
Bake muffins for 16-20 minutes, or until a tester inserted into the largest muffin comes out clean and the tops are golden brown and semi-firm to the touch. Let the muffins remain in the pan for a few minutes, and then remove to let muffins cool completely on a wire rack.
Notes
Adapted from the "Easy Morning Muffins with Raspberries" recipe in
The Art & Soul of Baking
by Sur La Table and Cindy Mushet
Kitchen gear + tools used:
Wilton Recipe Right Nonstick 12-Cup Regular Muffin Pan
The Art & Soul of Baking
*this post contains affiliate links.