Homemade almond butter is so easy to make at home – and cheaper, too! This version includes vanilla extract and whole espresso beans for a unique, flavor-packed spread. Perfect for slathering on toast, pancakes, and waffles, or as a dip for pretzels and fruit. Straight spoonfuls, too. 😉
Breakfast! It's one of my favorite meals and a source of frustration all at once. I know I've touched on this before, but I go through mega phases with breakfast. Either I eat the same thing every day for months, or I'm staring into the fridge and/or cabinets each morning wondering what combination of breakfast-friendly foods I feel like that morning. The past few months have been filled with wildcard A.M meals, like peach mango smoothies, this blueberry chai french toast bake, and plenty of freezer honey crunch almond pancakes, all of which are fab, but I *think* I'm heading into a new phase. An almond butter phase.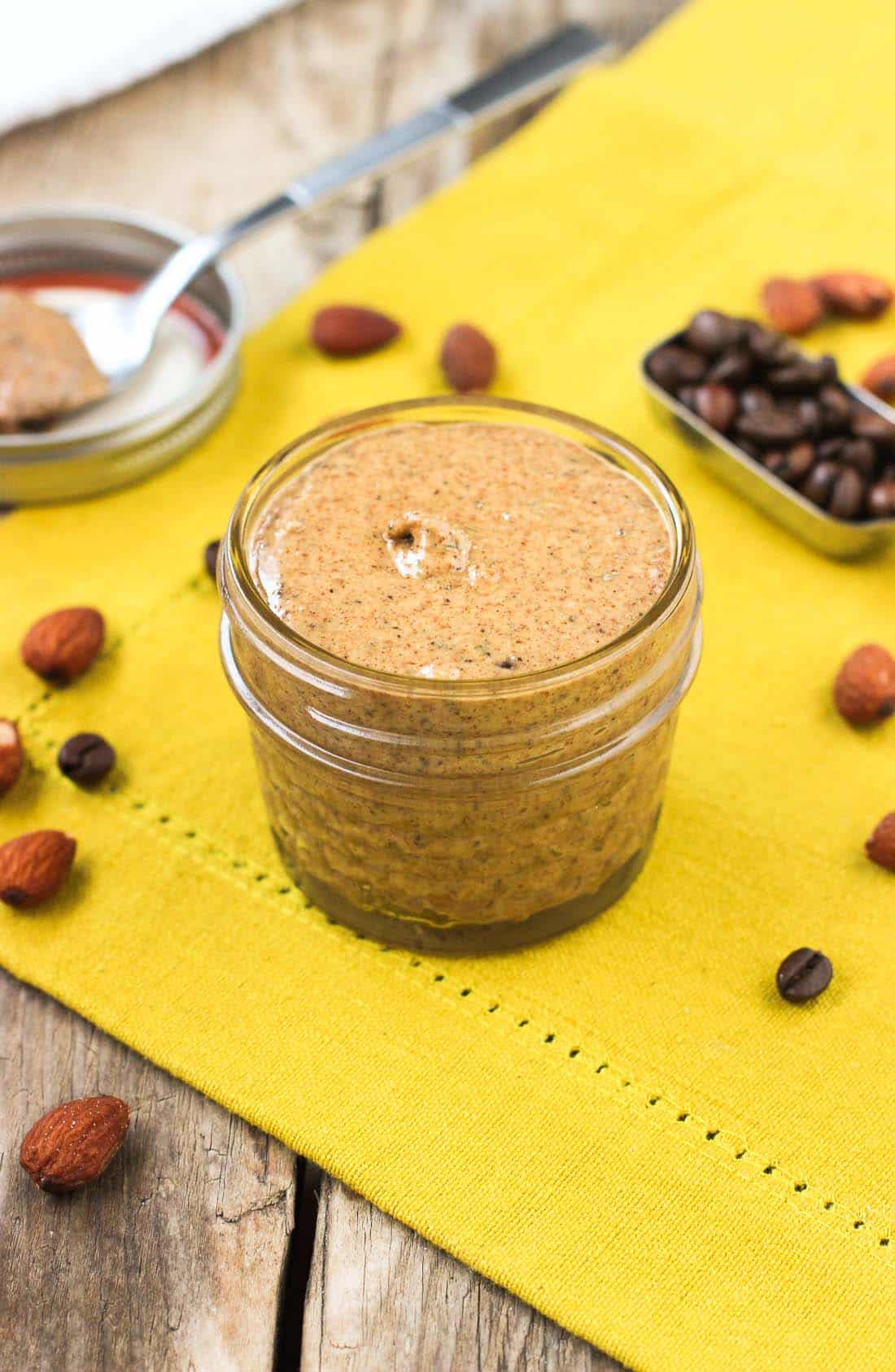 Almond butter on toast, almond butter on pretzels…I could write a Dr. Seuss book on all the ways I eat almond butter. Straight with a spoon included! One of my supermarket indulgences lately has been treating myself to a new and exciting flavor, and I may or may not have squealed when I saw a vanilla bean + espresso version. I bought it, I loved it, I devoured it…but it was a little pricey for the crazy amount I eat each week. I'm talking having it for breakfast, and then bringing the jar with me to work so I could have it again as an afternoon snack. Oof!
Obviously a homemade version was on my mind.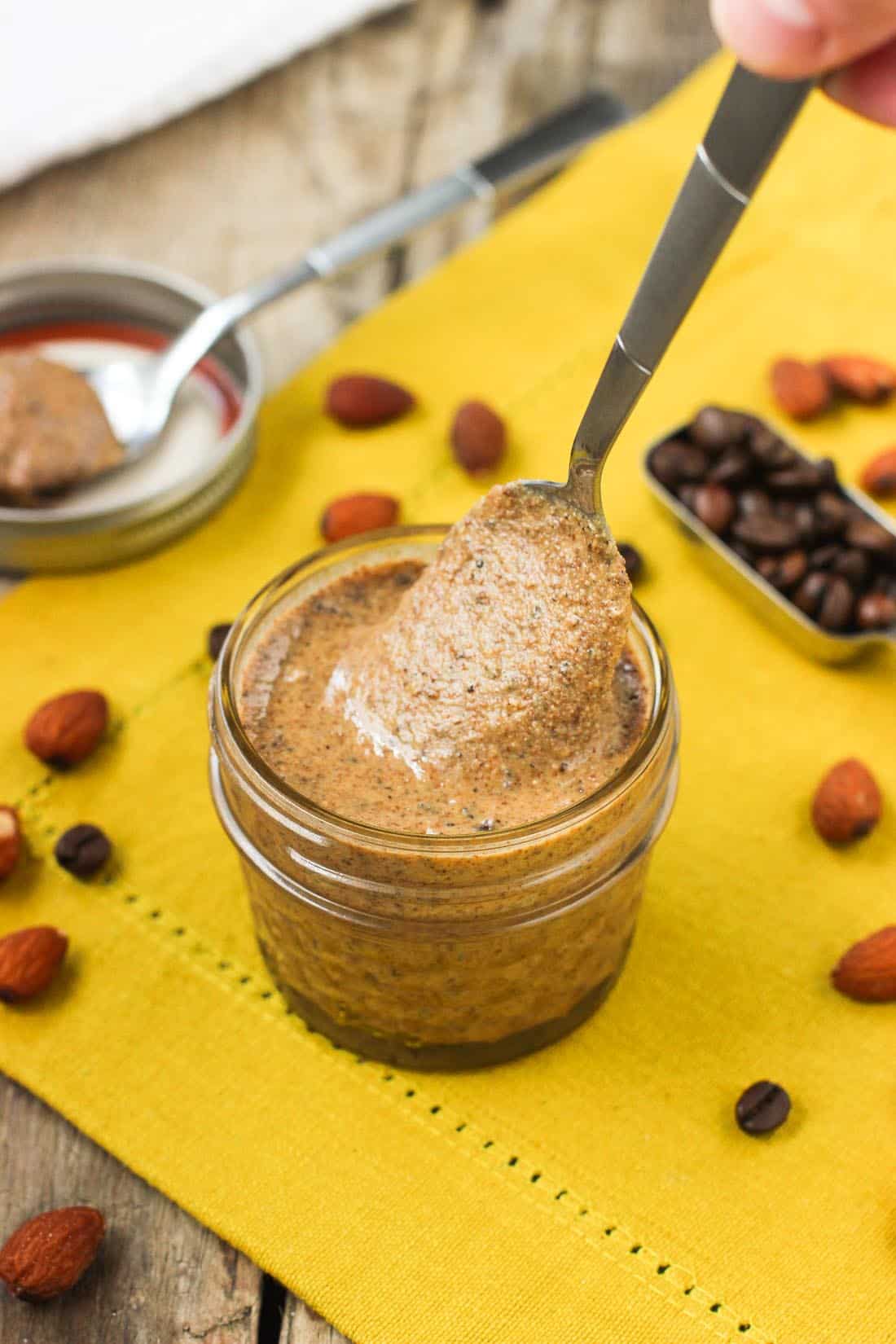 This vanilla espresso almond butter is a cinch to whip up and adds an extra special flavor dimension to a staple. This almond butter recipe uses just three ingredients and a food processor (I love my Ninja
). I used roasted and salted almonds to give a rich flavor, with a smidge of vanilla extract and a few tablespoons of whole espresso beans. That's it! No added sugar or oil.
Speaking of espresso beans, I had the hardest time finding whole bean espresso at my local grocery store. There was one variety, but it was pretty expensive for just 8 oz. of beans. Instead, I ordered a whopping 2.2 lb bag of Lavazza Gran Crema whole espresso beans from Amazon and only spent a few dollars more than the 8 oz. one at the store. If there's anything that'll invigorate you in the morning, I swear it's taking in a big whiff of espresso beans. Goooood morning!
So, almonds, vanilla extract, and espresso beans are blended until everything is nice and mostly smooth – and that's it! I love recipes like this. 🙂 I've been eating a tablespoon or two along with multi-grain crackers before work and it's held me over until lunchtime, which is a rarity given my snack attack-ing tendencies. Same thing goes for my afternoon snack – it staves off any hints of hangriness while I prepare dinner after work. This almond butter is a keeper!
Vanilla Espresso Almond Butter
Recipe type:
Dips & Spreads
Ingredients
1 1/2 cups roasted, salted almonds (you may use unsalted if you prefer)
1-2 tbsp whole espresso beans, to taste
1/4 tsp vanilla extract
Instructions
Place all ingredients in a food processor and process for 2-3 minutes, occasionally stopping to scrape down the sides with a spatula. Mixture will become very finely chopped, to sandy, and then will begin to resemble a creamy almond butter as the oil from the almonds releases. Continue processing until almond butter is a smooth, spreadable consistency.
Notes
I suggest starting with 1 tbsp of espresso beans, processing, and then taste testing. Add additional beans if you'd like a stronger espresso flavor.
*this post contains affiliate links.