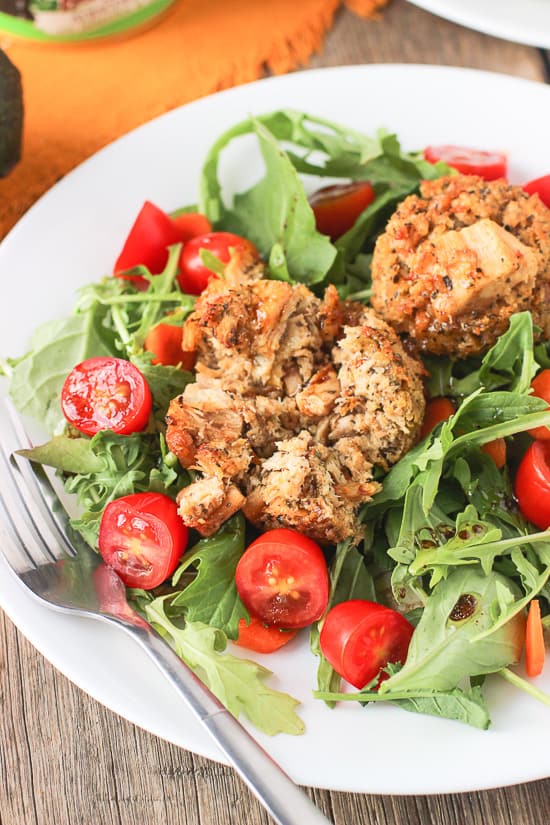 It's officially summer – yessssss! As I say every month, June (or May, or April…) is flying by. Right now my hair is wondering how I'll deal with the south's humidity for the next few months, I'm nursing my first mosquito bite of the season, and might be the teeny tiniest bit jealous of anyone with a summer vacation from work/school. Okay…supremely jealous.
What I am looking forward to this summer is patio sitting, frozen drink drinking, and fresh, light, and refreshing meals. Patio sitting? Check. Frozen drink drinking? Check check. And fresh, light, and refreshing meals? Yessir/yes ma'am, starting with this spicy tuna cake salad. Roughly chunked Bumble Bee® Prime Fillet® Albacore Tuna with Jalapeños & Olive Oil is combined with a few simple ingredients and made into cakes, and served over a mixed green salad with fresh vegetables. A drizzle of orange balsamic vinaigrette adds an extra special, slightly fruity and tart touch. This one will be on repeat this summer!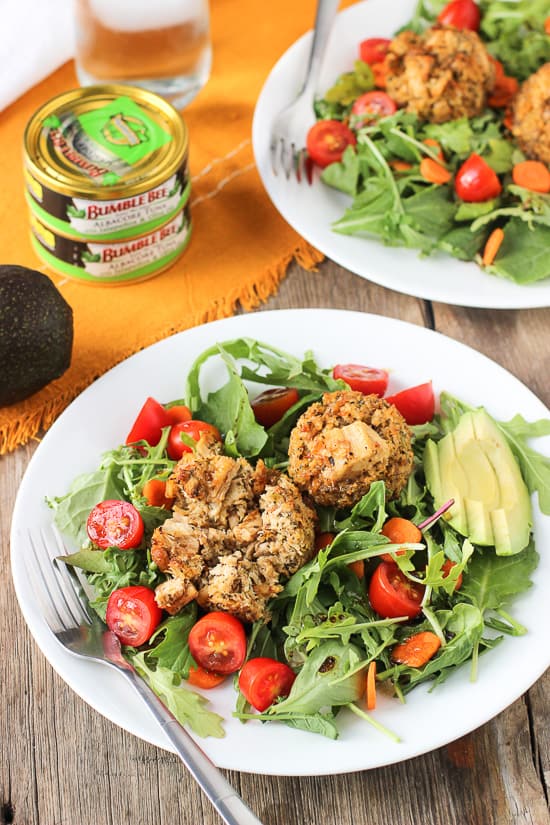 It probably doesn't come as a surprise that I have a soft spot in my heart for quick, good-for-you meals. When I get home from work, I'm allll about fast and easy dishes. Of course, they have to be flavorful, too. 🙂 This spicy tuna cake salad with orange balsamic vinaigrette hits on all of the above, with the star of the show being Bumble Bee Tuna with Jalapeños & Olive Oil! The highest quality albacore tuna comes packed in olive oil with jalapeños, so it's moist, zippy, and just right as the main ingredient in these spicy tuna cakes. It's a convenient premium ingredient that I love having on hand (for quick, nutritious meals like this!) and is available in 5 oz. cans as I used here, or 2.5 oz. pouches perfect for health-minded meals on-the-go.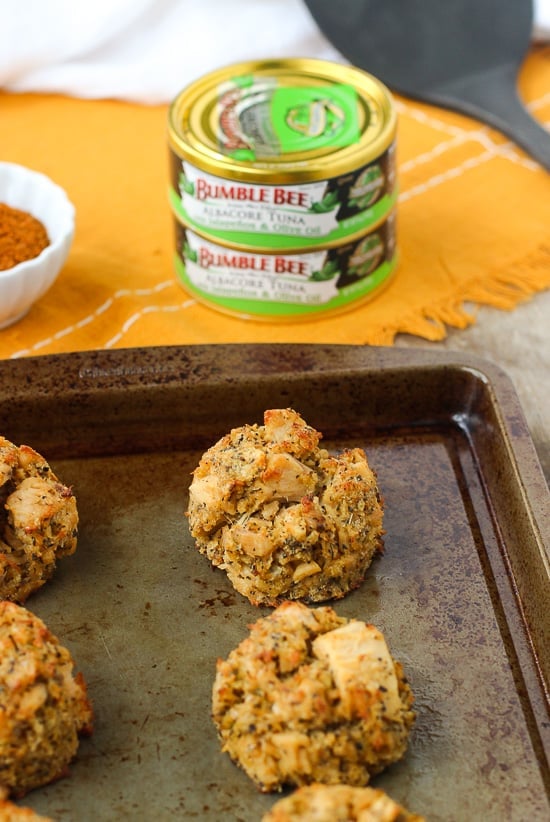 These spicy tuna cakes combine the flavors of jalapeños and Old Bay seasoning, along with other pantry/fridge staples like an egg, mayonnaise, dry mustard, dried basil, and panko breadcrumbs. Everything is combined (one bowl!) and baked for ten minutes, with a quick, two minute broil at the end to add that nice and browned crust. I added them to a salad with fresh vegetables and a quick and easy orange balsamic vinaigrette, but I've got to share that these made a killer spicy tuna cake sandwich the next day.
Any way you serve them, they're sure to please!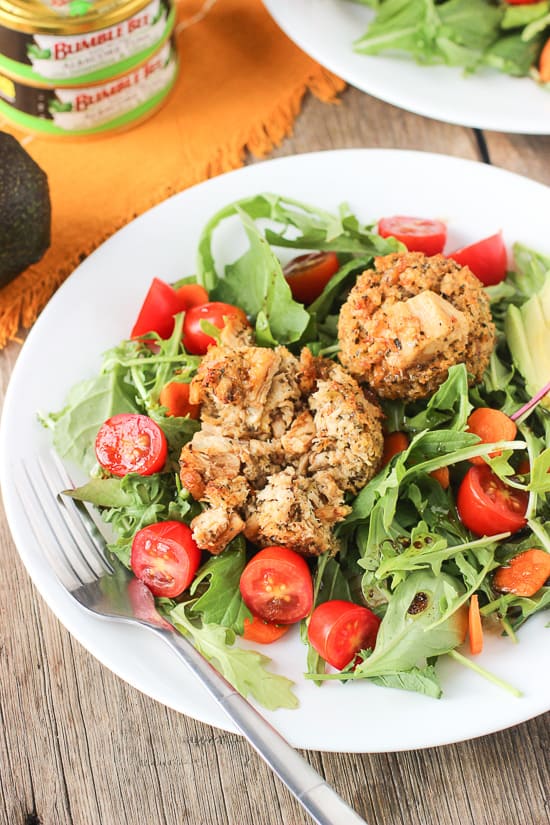 Pssst – if you're a little bit worried about jalapeños – don't be! Yes, they add spice, but just the right amount. No singed taste buds here! Just happy ones. 🙂

Spicy Tuna Cake Salad with Orange Balsamic Vinaigrette
Ingredients
Spicy Tuna Cakes:
1 egg, beaten
2 tbsp mayonnaise
1/2 tsp dry mustard
1 tbsp dried basil
1 tbsp Old Bay seasoning, or to taste
1/4 cup + 2 tbsp panko breadcrumbs
3 5-oz. cans Bumble Bee Prime Fillet® Albacore Tuna with Jalapeños & Olive Oil
Orange Balsamic Vinaigrette:
1/3 cup balsamic vinegar
1/3 cup extra-virgin olive oil
Juice and zest from one-half to one whole orange, to taste
Salads:
Mixed greens (I used a mix with arugula)
Cherry tomatoes
Carrots
Avocado slices
Instructions
Preheat oven to 400 degrees F and very lightly oil a baking sheet and set aside.
In a medium-sized bowl, mix together beaten egg, mayonnaise, dry mustard, dried basil, and Old Bay seasoning. Fold in breadcrumbs and tuna until ingredients are evenly dispersed.
Using a one-quarter cup measuring cup (or an ice cream scoop), firmly pack tuna mixture into measuring cup and place tuna cakes evenly spaced on baking sheet, leaving at least two inches between cakes. Repeat for remainder of tuna mixture (you should have about seven cakes).
Bake for 10 minutes, and then move baking sheet to the top rack in the oven and broil for 1-2 minutes at 450 degrees F to brown the outsides. Let tuna cakes cool as you prepare the dressing and salads.
For the dressing, combine all dressing ingredients in a lidded container and shake to combine thoroughly.
To serve, add 1-2 spicy tuna cakes over top of salads and drizzle with orange balsamic vinaigrette.
Do you have any favorite
Bumble Bee®
recipes in your go-to summer meal arsenal? Let me hear 'em!
I was selected for this opportunity as a member of Clever Girls and the content and opinions expressed here are all my own.