Homemade almond butter is jazzed up with the flavors of a Starbucks Cinnamon Dolce Latte! Roasted almonds are blended with cinnamon, nutmeg, brown sugar, vanilla extract, and whole espresso beans for a quick and easy spread just perfect for breakfast or snacking.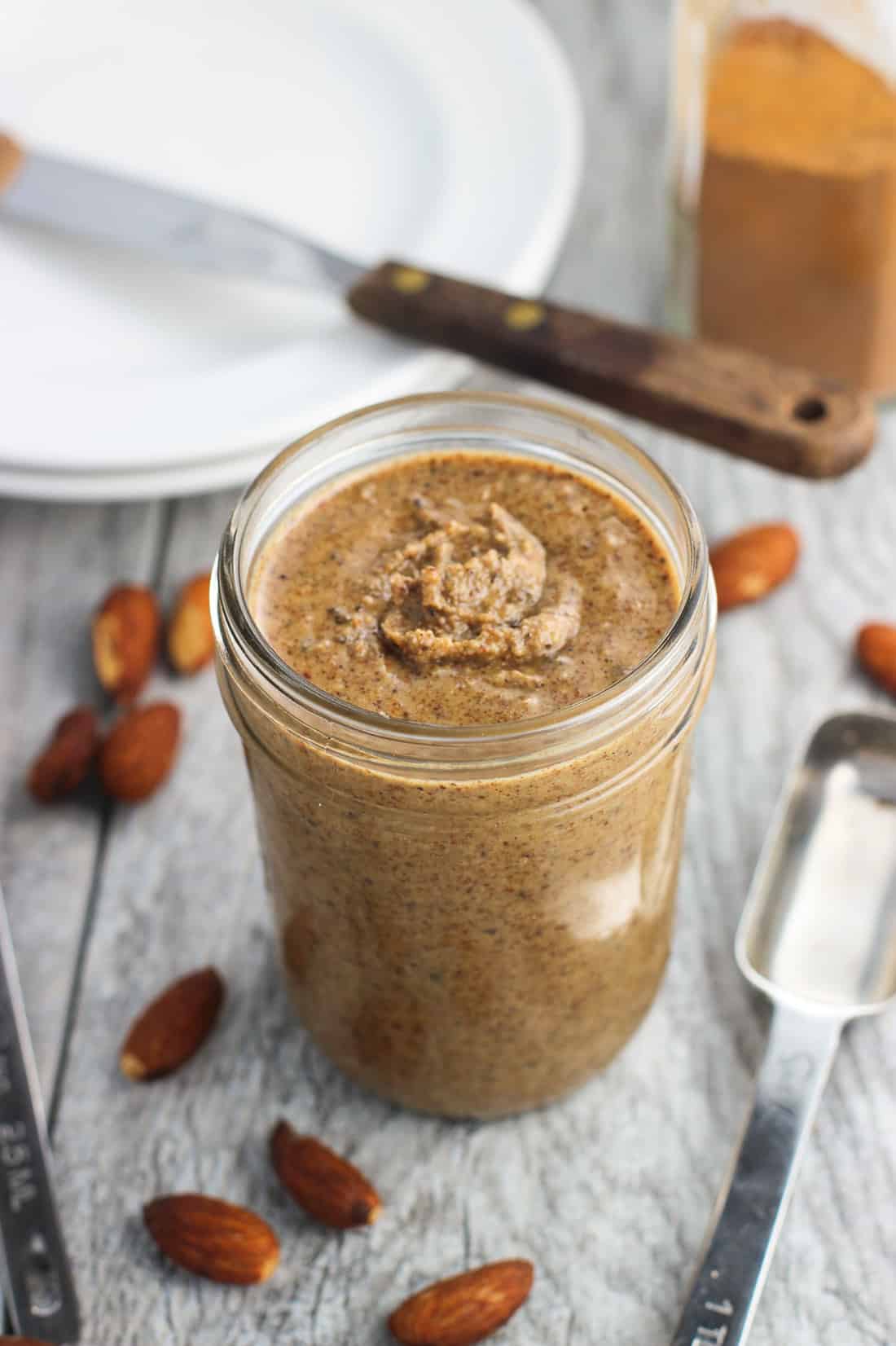 Hi friends! Today is Friday, which is a fabulous thing because I'm in serious need of r + r. Or should I say in urgent need, because 'urgent' seems to be the name of the game around here lately. Urgent work requests (being an accountant this time of year….eeeesh), urgent home buying paperwork and tasks (but we closed this week – yaaasss!), urgent urgent urgent. Can't a girl do anything with a little leisure nowadays?
That's why I've been very intentional with the little happy things in my life that make the chaos a smidge easier. Dog-centered instagrams (like this and this and this) and spending ten minutes coloring with glitter gel pens are on the list. I've also discovered the joy that is Sleepytime Extra tea, which works shockingly well (serious zzzzzzzz's). With all that's been going on, I know I'd be in rough shape without a solid breakfast to get me going, and that's where this cinnamon dolce latte almond butter comes in! It's perfection on apple slices, toast, or even on cinnamon raisin toast if you're feeling fancy.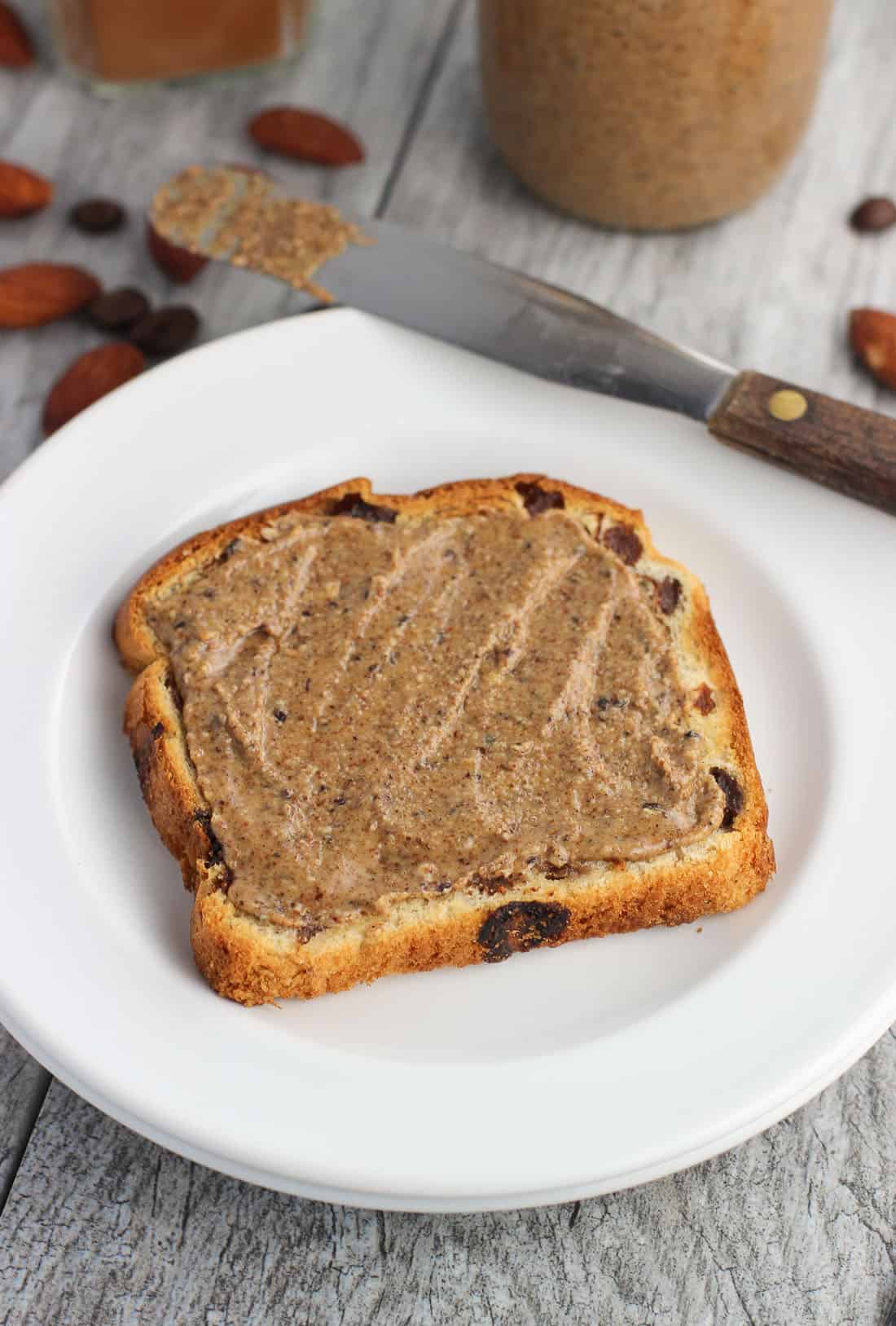 My every-so-often treat is a flavored latte from Starbucks, and the Cinnamon Dolce Latte is a favorite. While I do love me some coffee as soon as possible after waking up, lattes tend to be a little sweet for me in the mornings. Because homemade almond butter can be made as simply as throwing almonds in the food processor and processing until smooth and creamy, I figured it would take no time to amp this one up with the warm spiced flavors of a CDL. Now it's A.M.-approved…and disappearing quickly.
If we break down a cinnamon dolce latte, we get espresso, cinnamon/other warm spices, brown sugar, and some sort of steamed milk. Not too hard to work into homemade almond butter, minus the whole preservatives and non-essential additives. I added whole espresso beans, a little bit of brown sugar, a pinch of cinnamon and nutmeg, and vanilla extract to make this cinnamon dolce latte almond butter, and I think it may become a refrigerator staple. I've been *loving* espresso flecks in almond butter (like this vanilla espresso almond butter), and this one is no exception. It instantly boosts homemade almond butter into the fancy schmancy kind you'd find for $10 at those types of shops that have a knack for clearing out your wallet. 😐 Not here though!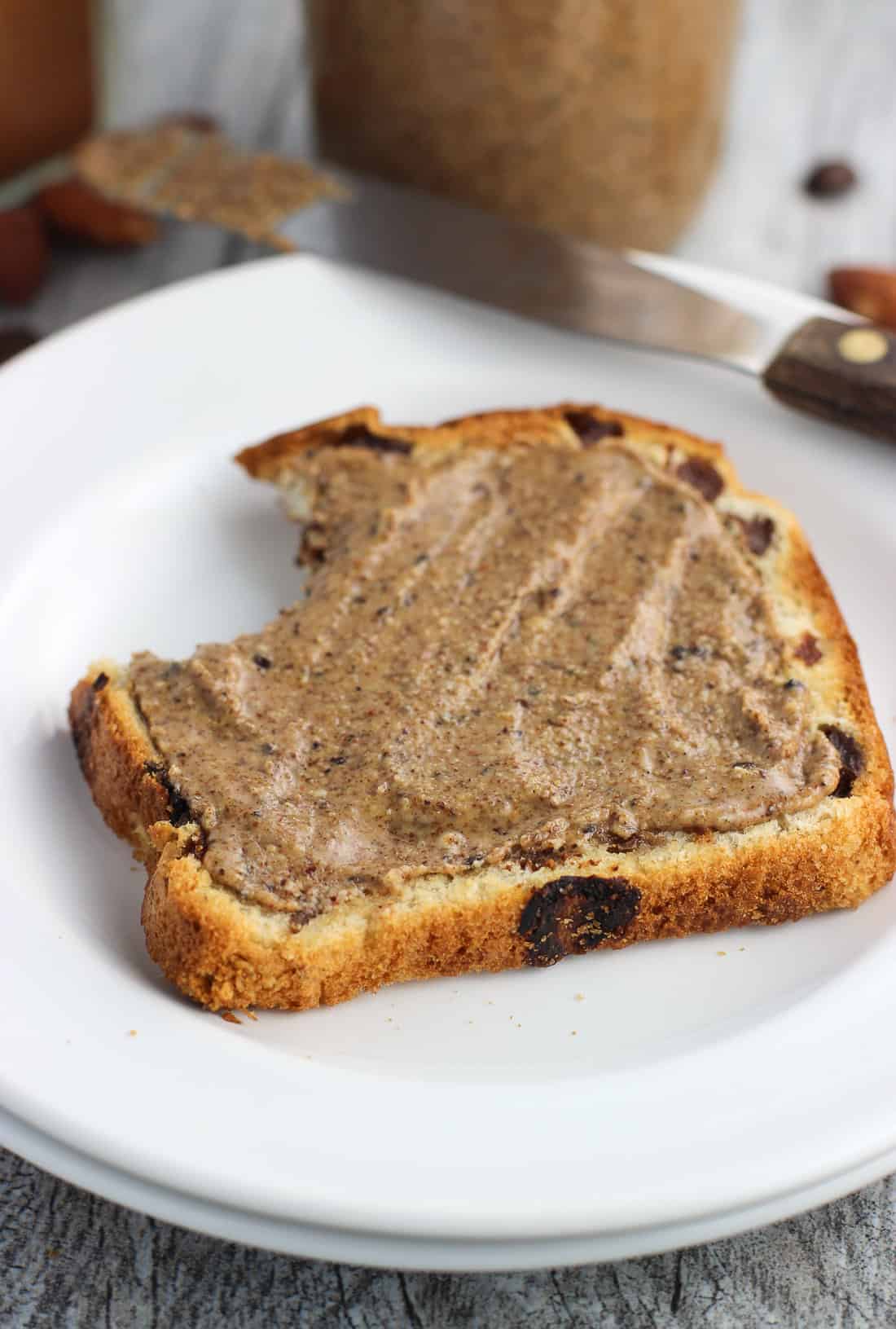 *this post contains affiliate links

Cinnamon Dolce Latte Almond Butter
Recipe type:
Dips & Spreads
Ingredients
1 1/2 cups roasted almonds (I used low-sodium)
1 tbsp whole espresso beans
1 tbsp brown sugar
1/4 tsp vanilla extract
1/4 tsp ground cinnamon, or more to taste
1/8 tsp ground nutmeg
Instructions
Add all ingredients to the bowl of a food processor and process until mixture is creamy and very spreadable, stopping to scrape down the sides as needed. The mixture will first become sandy and chopped into small pieces, then will begin to clump up and moisten as the oils are released from the almonds. Keep processing though and it will become smooth and creamy (see note below on texture).
Notes
Adjust the quantity of spices and add-ins to taste! I didn't want this almond butter to be too strongly flavored so I didn't go overboard with the spices. Feel free to add as much as you like.
My
cranberry vanilla peanut butter
post has pictures of the different stages of processing nut butter if you're curious!