Espresso cinnamon almond butter tastes just like a roast-y and spiced latte, and is so easy to make at home! This homemade almond butter recipe is perfect for toast, dipping fruit, and more.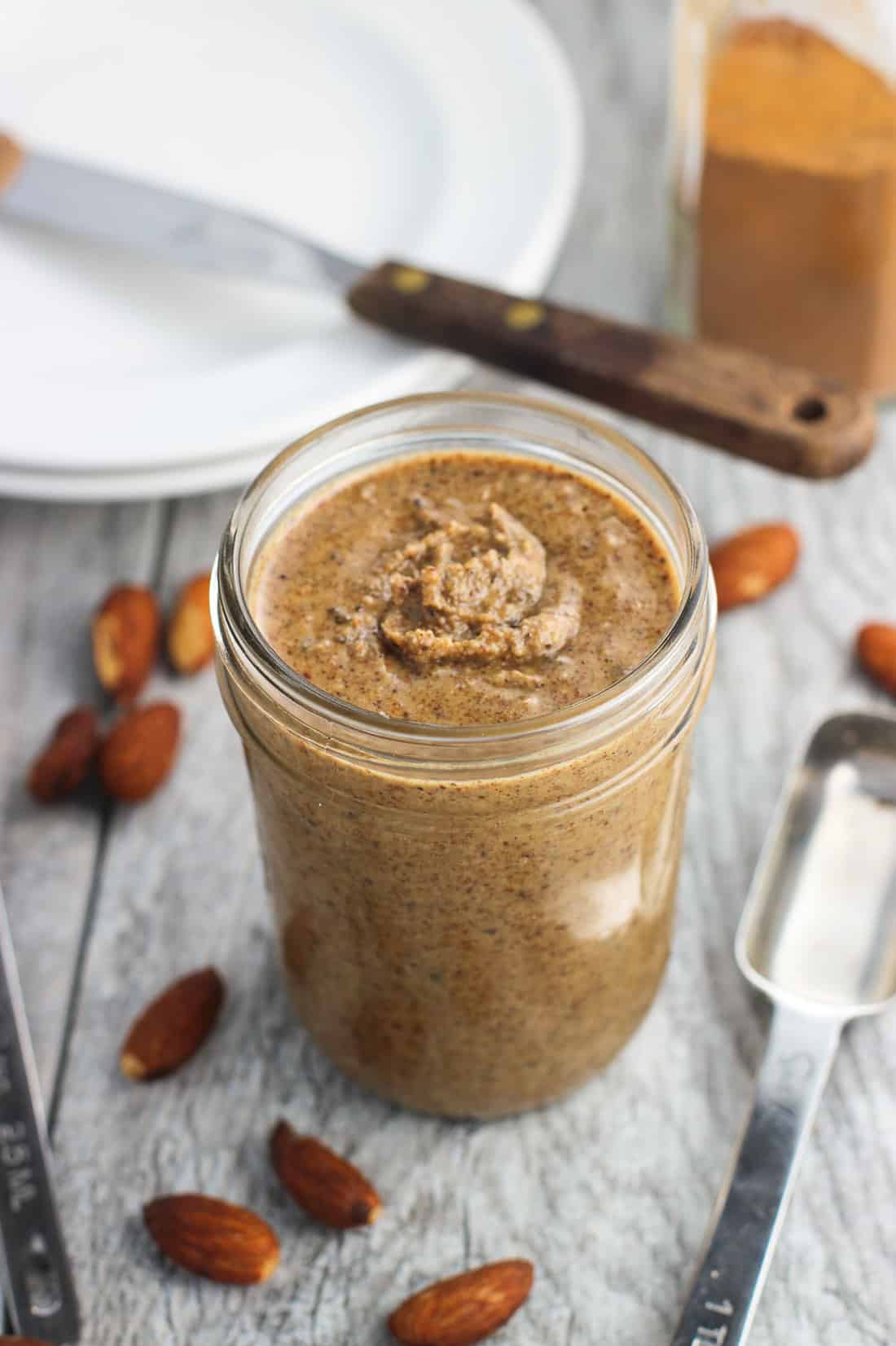 Hello! Today is Friday, which is a fabulous thing because I'm in serious need of some r + r. Or should I say in urgent need, because 'urgent' seems to be the name of the game around here lately.
Urgent work requests (being an accountant this time of year....eeeesh), urgent home buying paperwork and tasks (but we closed this week!), urgent, urgent, urgent. Can't a girl do anything with a little leisure nowadays?
With all that's been going on, I know I'd be in rough shape without a solid breakfast to get me going, and that's where this espresso cinnamon almond butter comes in.
Almond butter ingredients
This easy almond butter is made in the food processor with roasted almonds, whole espresso beans (!), and a variety of pantry staples, it's warmly spiced and total perfection on apple slices, toast, or you name it.
A spoon straight-up as a snack? Very possible.
I prefer using roasted almonds when it comes to homemade almond butter. They just give a simple recipe like this a deeper flavor.
All that to say if all you have are raw almonds, they would work just fine as-is, or you can roast them yourself.
To roast almonds at home, I heat the oven to 350°F and arrange whole almonds in a single layer on a rimmed, ungreased baking sheet. Roast them for 8-13 minutes, or until they're becoming fragrant and browning. Immediately transfer them from the hot pan to a plate to cool (as they hot pan will continue roasting them).
Keep a close eye on them as they roast. Much like toasting coconut, they can go from perfectly golden brown to burnt very quickly.
My preference is to use dry-roasted or lightly salted/low-sodium almonds, though you can use whatever kind you like or have on hand. There isn't any salt added to this recipe, so the bit you get from the almonds offsets the bit of sweetness nicely.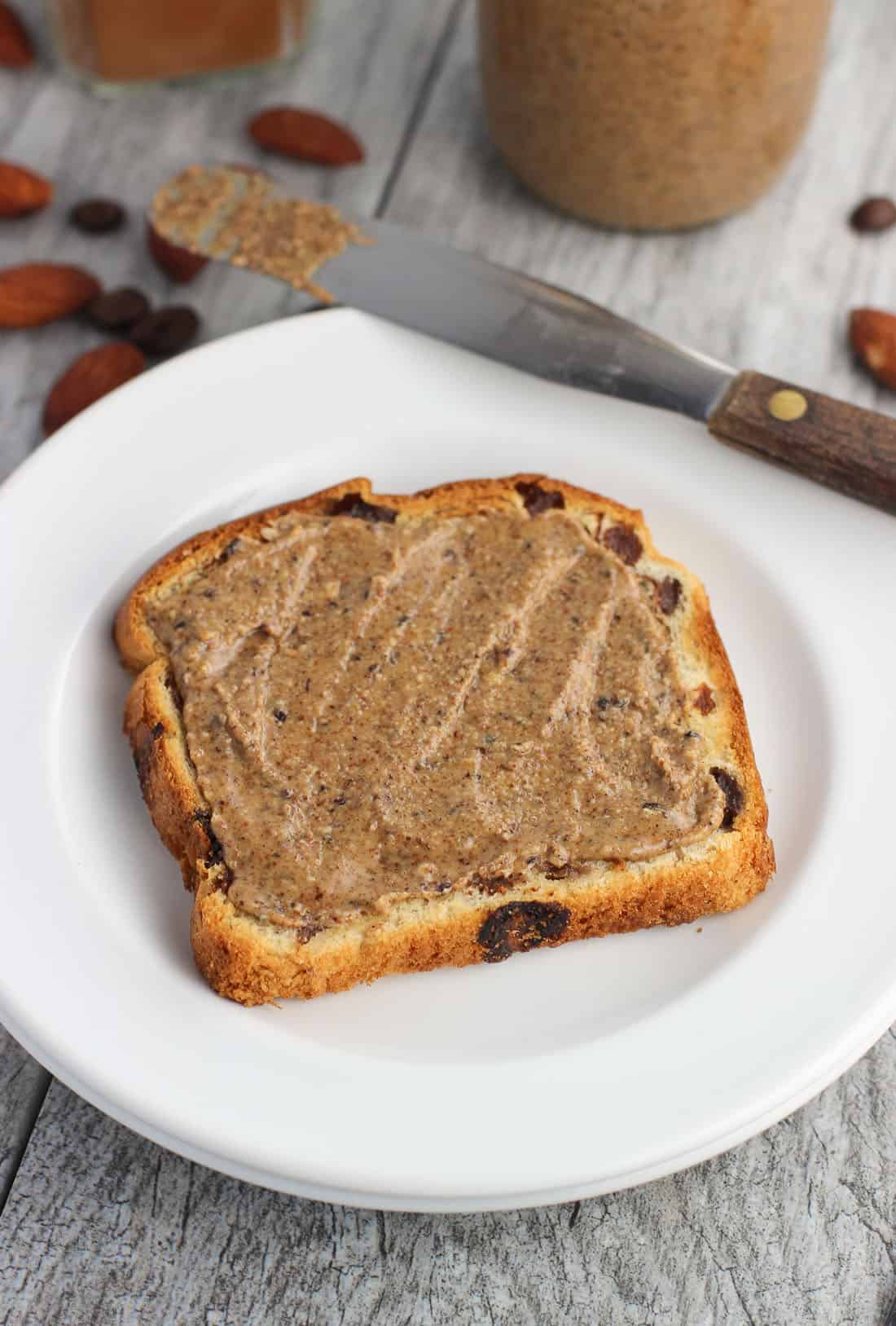 My every-so-often treat is a flavored latte from Starbucks, and the Cinnamon Dolce Latte is a fall/winter favorite. Those flavors work so well in this espresso cinnamon almond butter!
To the almonds we add whole espresso beans, brown sugar, cinnamon, nutmeg, and vanilla extract. Just like its coffeehouse muse, minus the steamed milk situation.
I have a massive bag of whole beans so that's the kind of espresso I use, but ground espresso varieties would likely work just fine, too. Everything gets pulverized in the food processor after all.
Espresso flecks have become a favorite of mine in nut butter (see also this vanilla espresso almond butter, a dupe of a store-bought kind), and this one is no exception. It instantly boosts homemade almond butter into the fancy pants, delicious-but-expensive varieties you'd find at the store or specialty online shops. So, SO easy to make at home.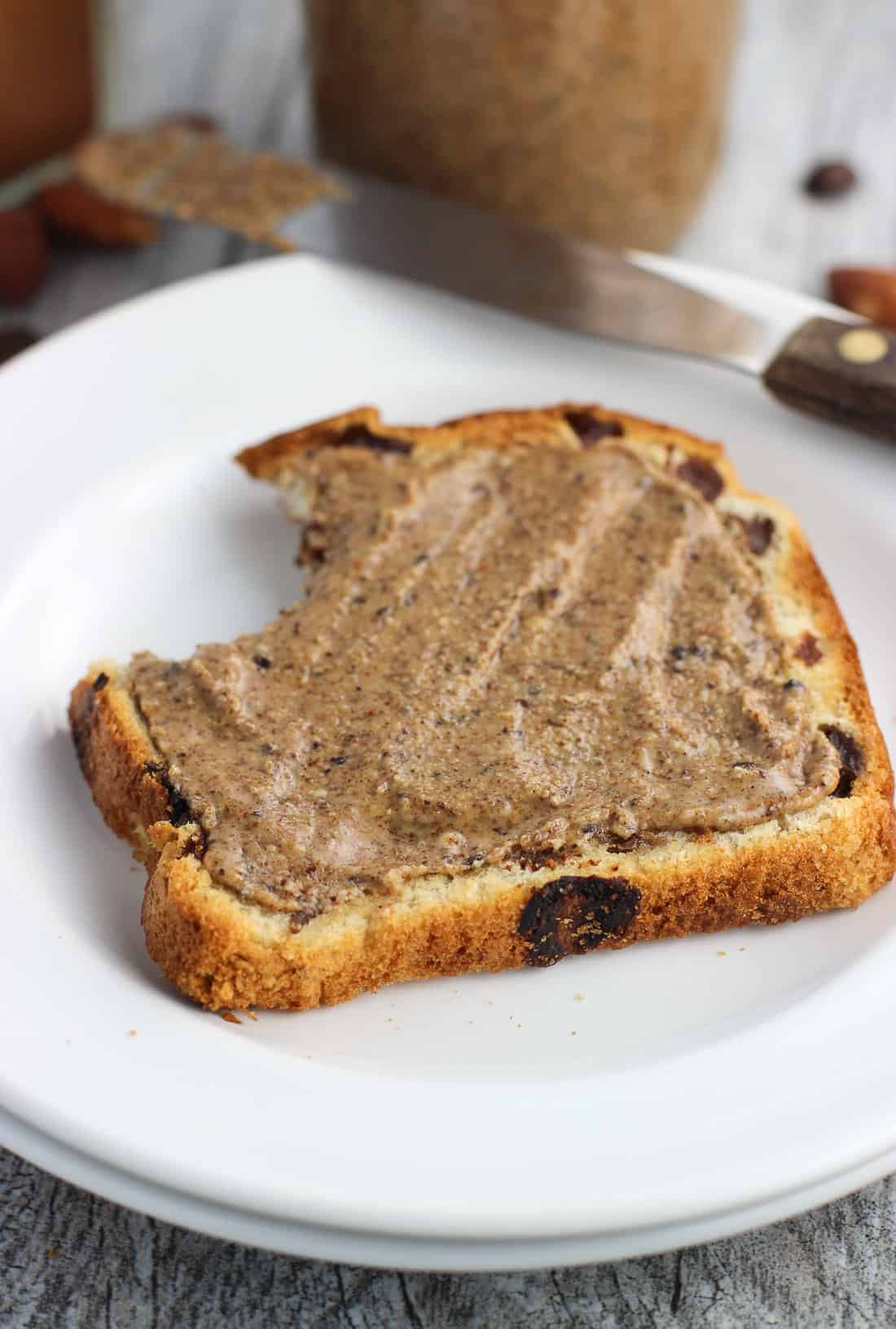 And that's it! You'll want to whiz everything up in the food processor very well, stopping to scrape down the sides and incorporate all of the ingredients as needed.
Since all of these ingredients are shelf-stable you can store this cinnamon almond butter in the pantry or in the fridge. Just whatever your preference. It'll set up firmer if you store it in the fridge.
Recipe notes:
See the body of the post above for tips on roasting almonds yourself.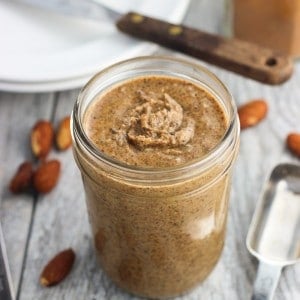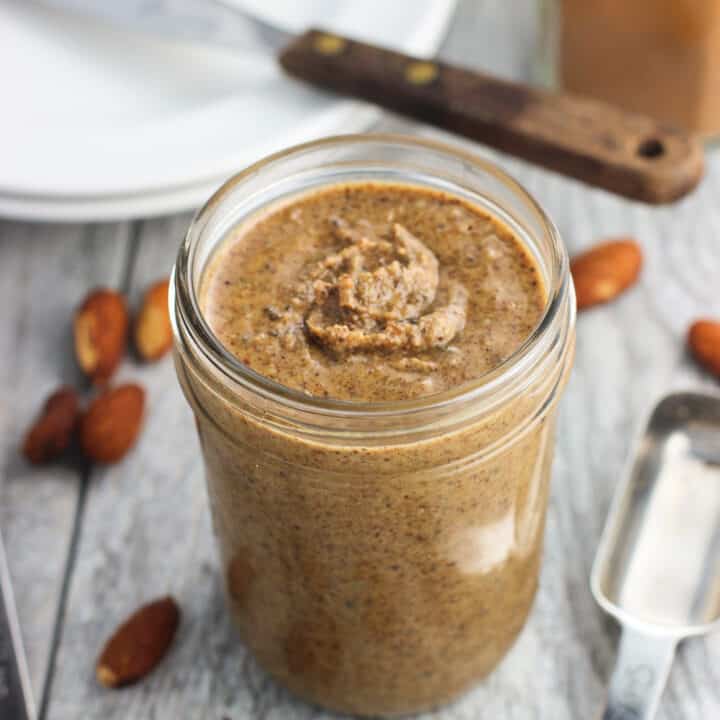 Espresso Cinnamon Almond Butter
Espresso cinnamon almond butter tastes just like roast-y and spiced latte, and is so easy to make at home! This homemade almond butter recipe is perfect for toast, dipping fruit, and more.
Print
Pin
Rate
Ingredients
1 ½

cups

roasted almonds

(I used lightly-salted, but dry would work)

1

tablespoon

whole espresso beans

1

tablespoon

brown sugar

¼

teaspoon

vanilla extract

¼

teaspoon

ground cinnamon,

or more to taste

⅛

teaspoon

ground nutmeg
Instructions
Add all ingredients to the bowl of a food processor and process until mixture is creamy and very spreadable, stopping to scrape down the sides as needed. The mixture will first become sandy and chopped into small pieces, then will begin to clump up and moisten as the oils are released from the almonds. Keep processing though and it will become smooth and creamy (see note below on texture).
Notes
Adjust the quantity of spices and add-ins to taste! I didn't want this almond butter to be too strongly flavored so I didn't go overboard with the spices. Feel free to add as much as you like.
My cranberry vanilla peanut butter post has pictures of the different stages of processing nut butter if you're curious!
This recipe yields about 8 oz in total.
Nutrition
Serving:
2
tablespoon
|
Calories:
157
kcal
|
Carbohydrates:
6.2
g
|
Protein:
5.1
g
|
Fat:
14.3
g
|
Saturated Fat:
1.3
g
|
Sodium:
30
mg
|
Potassium:
179
mg
|
Fiber:
2.5
g
|
Sugar:
2.8
g
|
Calcium:
50
mg
|
Iron:
0.9
mg
Nutritional information is provided as an estimate. As it can vary due to many factors (brands used, quantities, etc.), we cannot guarantee its accuracy.
Food Safety and Nutrition Disclaimer