This champagne orange curd is creamy, tart, and bursting with citrus flavor. Plus you can taste a hint of champagne, making this a new way to enjoy a mimosa anytime of day. This curd is great spread on toast, in yogurt, (on cake), and more.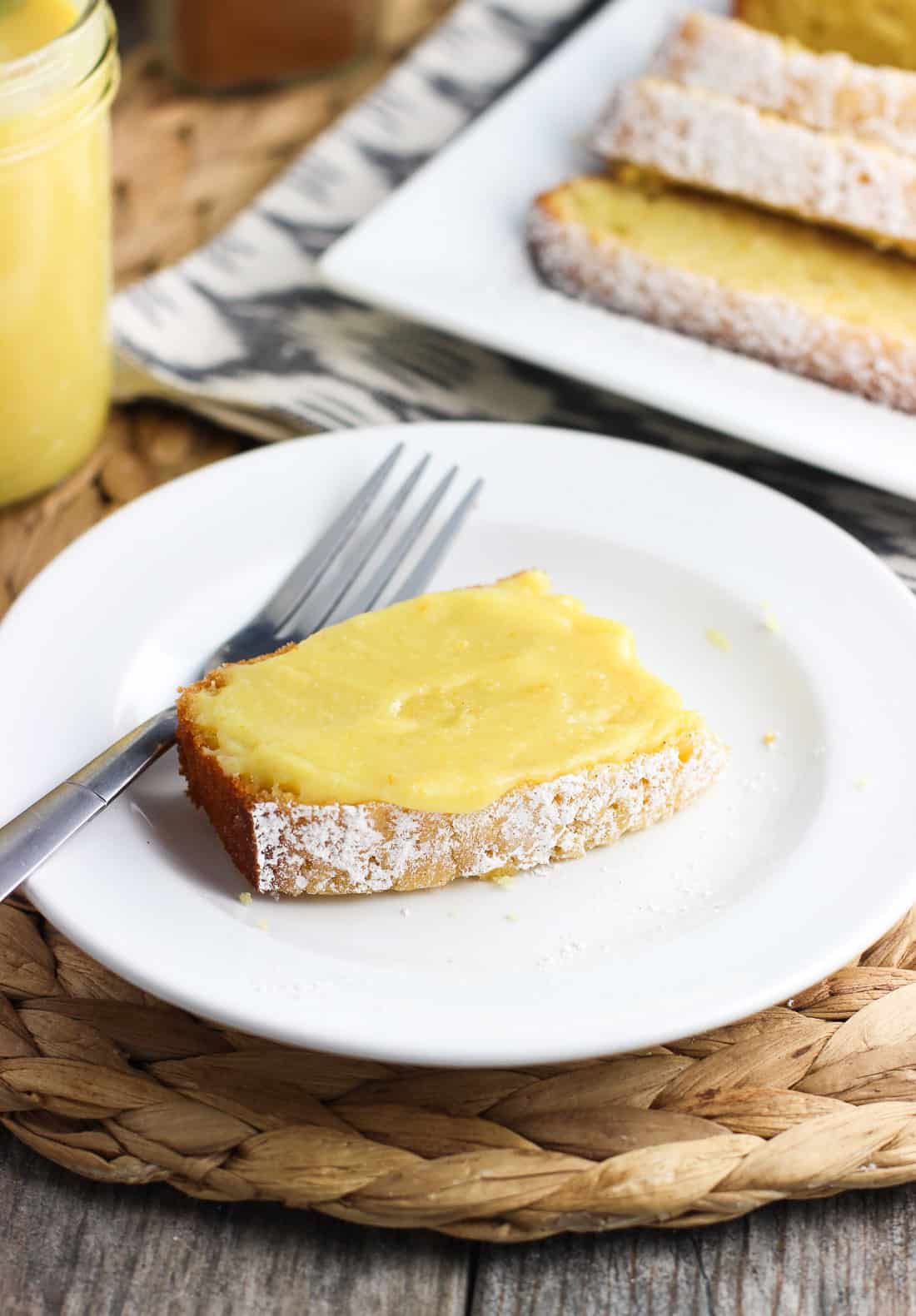 There are certainly worse problems to have than leftover champagne, that I know for sure.
But after a celebratory glass or two to toast to no longer being hounded by paperwork and phone calls (I mean, closing on a house), we were stuck with half a bottle taking up room in our fridge.
Obviously mimosas were an option, but the thought of lounging around sipping a brunch-time beverage while my to-do list unfurls all the way out the door seemed counterintuitive.
Enter, champagne orange curd! A.k.a. mimosa curd. A citrusy, tart, and creamy spread featuring orange zest, freshly-squeezed orange juice, and champagne that zhushes up toast, yogurt, pound cake, and more. It's here to help you feel like a fancy pants brunch-goer without a) the hour-plus wait for a table or b) the lack of motivation post-brunch that relegates you to a day of Netflix marathons and not much else.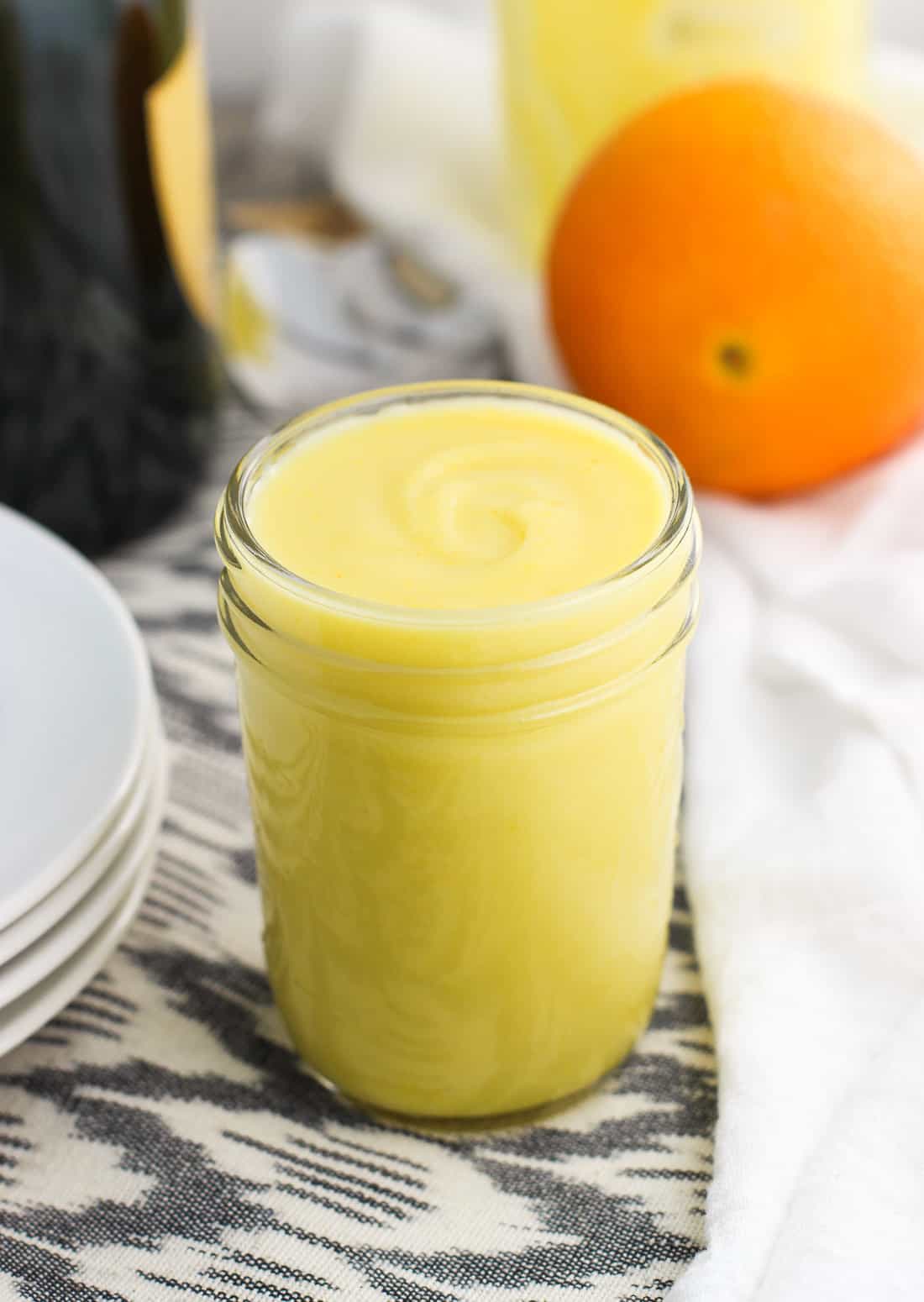 There are a *lot* of curd recipes out there, usually using lemons which I just love. Years ago though we went to Costa Rica and our hotel had the BEST orange curd. I seriously slathered everything I ate in it. Bread, cookies...you name it. That vacation would have been worth it if only for the orange curd.
Thankfully it's easy to make at home!
Recipe ingredients
Citrus curd tastes fancy but uses such simple ingredients. You'll need the juice from one orange, the rind from two, champagne, sugar, eggs, coconut oil or butter, and a pinch of salt.
On a regular basis I buy a mix of conventional and organic produce and usually stick with conventional for fruits that have a thick peel I won't be eating (like bananas). In foods like this orange curd, however, the rinds of two oranges are added into the recipe, so I like to buy two organic oranges for this one.
As for the champagne, you really don't need anything fancy. I stick with a medium-dry version (not too sweet) because that's my personal preference for drinking. And since one batch of this curd only uses half a cup of champagne, you'll certainly have leftover for drinking.
(If you switch that around, this is also a great option for using up leftover champagne!)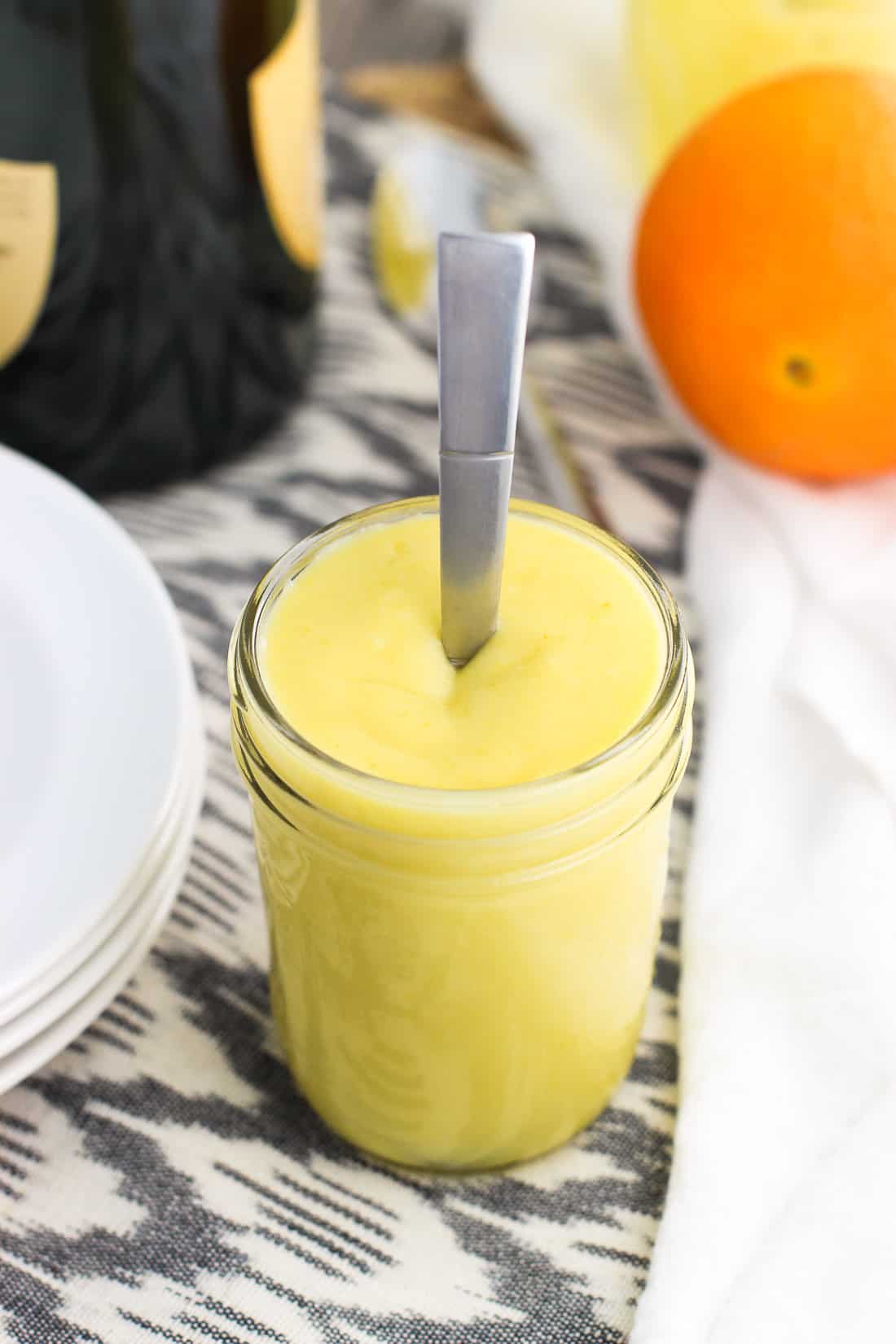 Step-by-step instructions
Start by whizzing together the orange rind and granulated sugar in a food processor. This infuses the sugar with an even greater orange flavor. Once that's done, mix it together with the melted coconut oil or butter, eggs, orange juice, champagne, and pinch of salt.
Pour the mixture into a small heavy-bottom saucepan and heat over low to low-medium heat. Keep a relatively close eye and stir the mixture often; this orange curd isn't a recipe to set up and walk away for awhile. Overcooking curd can lead to egg solids developing in the mixture that isn't exactly appealing.
The curd is done once it reaches 170°F (an instant-read thermometer is a big help!) and can coat the back of a wooden spoon or utensil.
Remove the saucepan from the heat right away and carefully pour it through a mesh sieve into a heat-safe jar or container. It won't be the easiest mixture to pour, so use the wooden spoon to push into the sieve and help it along. We want this curd to be super smooth so the sieve separates out the remaining orange zest.
Store the strained orange curd in the refrigerator where it will thicken up nicely.
Related recipes
If you're into orange-flavor desserts, this recipe for orange ginger snickerdoodles is a fun one that uses orange zest in the cookie dough, as well as fresh ginger! These warmly spiced cookies just scream 'holidays'.
And for the champagne lovers? While drinking it solo or enjoying a classic mimosa are given, it makes a really great addition to other mixed drinks. This champagne paloma pairs it with another citrus element (grapefruit) for a delicious and festive tequila cocktail.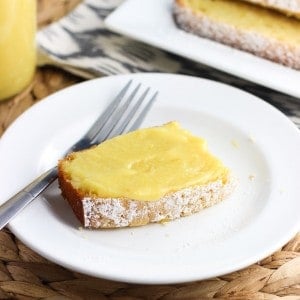 Champagne Orange Curd
This champagne orange curd is creamy, tart, and bursting with citrus flavor. Plus you can taste a hint of champagne, making this a new way to enjoy a mimosa anytime of day. This curd is great spread on toast, in yogurt, on cake and cheesecake, and more.
Print
Pin
Rate
Ingredients
½

cup

granulated sugar

¼

cup

packed orange peel

(from 2 large oranges)

¼

cup

coconut oil or butter

melted

2

eggs

¼

cup

freshly squeezed orange juice

(from one orange)

½

cup

champagne

Pinch of

salt
Instructions
Add granulated sugar to a food processor. Using a vegetable peeler, remove peel from the oranges and also place in the food processor. You want to grab all of the orange zest but you can leave the white pith attached to the orange.

Pulse until the orange peel is chopped into small bits and mixed in evenly with the sugar. It should be an orange-hued, slightly moist mixture.

In a bowl, add sugar mixture and coconut oil/butter and beat using an electric mixer on medium speed until creamy. Add eggs and mix. Add orange juice, champagne, and salt and beat until all combined and mostly smooth.

Pour mixture into a saucepan set over low to low-medium heat. Stirring or whisking often, let curd heat until thickened and reaches 170°F. You'll want the curd to coat the back of a wooden spoon. Keep a close eye on the curd as it heats as you don't want to overcook it.

Remove pan from heat and pour curd until a heat-safe jar or container through a strainer. You may wish to use a spoon to help the curd through the strainer, as it won't pour through easily. Remove the excess orange peel pieces that are left behind in the strainer to help free up space for the curd to pass through if you need. Store in an air-tight container in the refrigerator for up to a week, or freeze.
Notes
Yield: This recipe yields approximately 10 oz in total. Coconut oil: If using coconut oil, I recommend using refined (vs. unrefined) as to avoid introducing a noticeable coconut flavor.
Nutrition
Serving:
1.5
tablespoon
|
Calories:
76
kcal
|
Carbohydrates:
9.5
g
|
Protein:
0.8
g
|
Fat:
4.2
g
|
Saturated Fat:
3.3
g
|
Cholesterol:
22
mg
|
Sodium:
28
mg
|
Potassium:
20
mg
|
Fiber:
0.2
g
|
Sugar:
7.1
g
|
Iron:
0.2
mg
Nutritional information is provided as an estimate. As it can vary due to many factors (brands used, quantities, etc.), we cannot guarantee its accuracy.
Food Safety and Nutrition Disclaimer
Adapted from Food Network