This champagne orange curd is creamy, tart, and bursting with citrus flavor. Plus you can taste a hint of champagne, making this a new way to enjoy a mimosa anytime of day. This curd is great spread on toast, in yogurt, (on cake), and more.
There are certainly worse problems to have than leftover champagne. That I know for sure. But after a celebratory glass or two to toast to no longer being hounded by paperwork and phone calls (I mean, closing on a house), we were stuck with half a bottle taking up room in our fridge. Obviously mimosas were an option, but the thought of lounging around sipping a brunchtime beverage while my to-do list unfurls all the way out the door seemed counterintuitive.
Enter, champagne orange curd! A.k.a. mimosa curd. A citrusy, tart, and creamy spread featuring orange zest, freshly-squeezed orange juice, and champagne that zhushes up toast, yogurt, pound cake, and more. It's here to help you feel like a fancy pants brunch-goer without a) the hour-plus wait for a table or b) the lack of motivation post-brunch that relegates you to a day of Netflix marathons and not much else.
There are a *lot* of curd recipes out there, usually using lemons which I just love. Years ago though we went to Costa Rica and our hotel had the BEST orange curd. I seriously slathered everything I ate in it. Bread, cookies…you name it. That vacation would have been worth it if only for the orange curd.
Surprisingly I've never tried my hand at making orange curd myself, only a doctored up coconut lime version in these bars that doesn't include eggs like traditional varieties. This champagne orange curd calls for eggs, but uses coconut oil instead of butter for a dairy-free version. Despite some differences, the method is relatively the same. The ingredients are prepped and then heated on the stovetop, stirring/whisking often, until the curd has thickened. Then it's off to the fridge to cool (and store) to maintain that thick, spreadable consistency.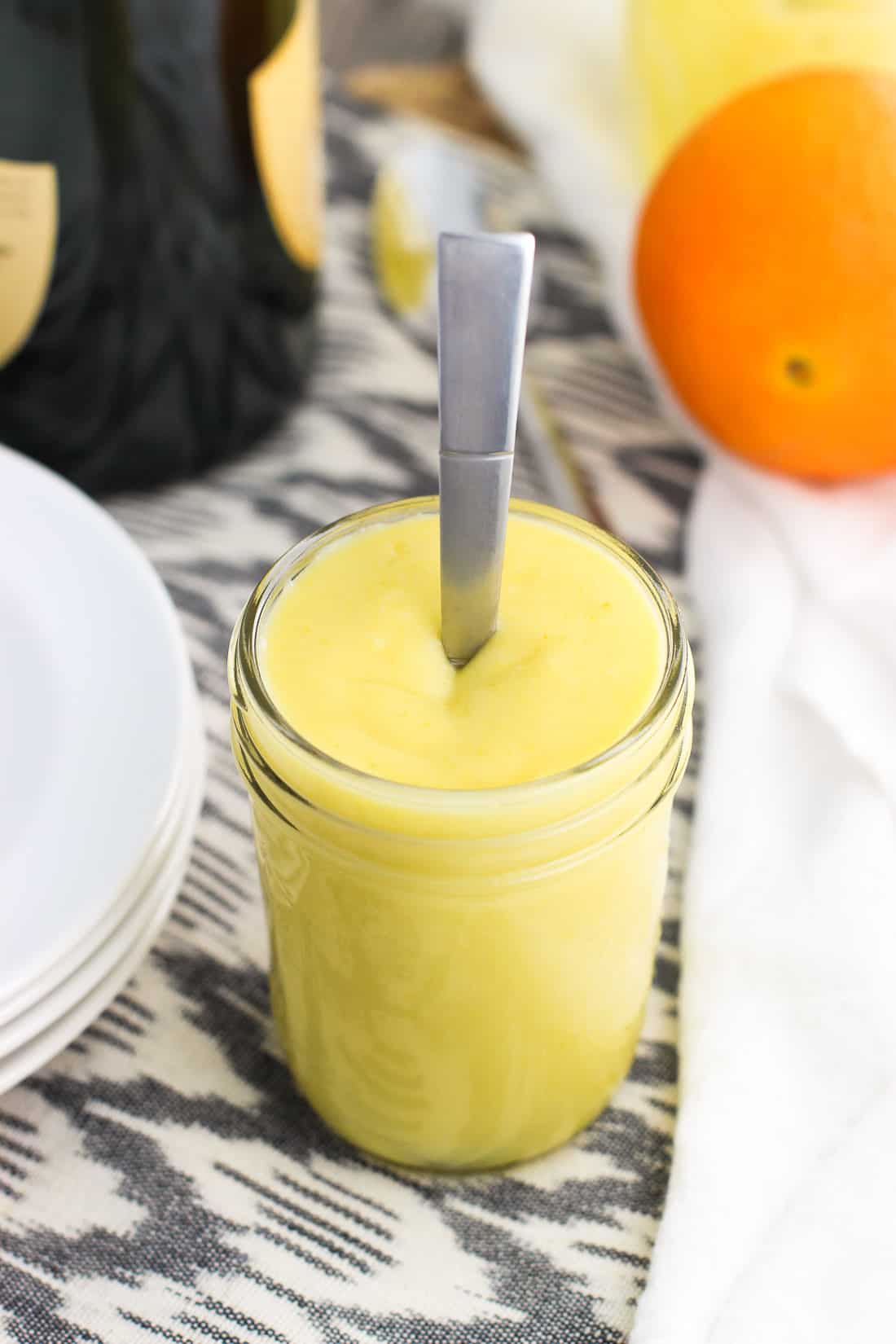 Oh and P.S. I'm not a champagne connoisseur by any means. I used an inexpensive variety here that is medium-dry and not too sweet. But please use your favorite kind!

Champagne Orange Curd
Recipe type:
Dips & Spreads
Ingredients
1/2 cup granulated sugar
Rind of 2 large oranges (roughly 1/4 cup packed)
1/4 cup coconut oil
2 eggs
1/4 cup freshly squeezed orange juice (from one orange)
1/2 cup champagne
Pinch of salt
Instructions
Add granulated sugar to a food processor. Using a vegetable peeler, remove rind from the oranges and also place in the food processor. You want to grab all of the orange rind and leave the white attached to the orange.
Pulse until the orange rind is chopped into small bits and mixed in evenly with the sugar. It should be an orange-hued, slightly moist mixture.
In a bowl, add sugar mixture and coconut oil and beat using an electric mixer on medium speed until creamy. Add eggs and mix. Add orange juice, champagne, and salt and beat until all combined and mostly smooth.
Pour mixture into a saucepan set over low to low-medium heat. Stirring or whisking often, let curd heat until thickened and reaches 170 degrees F. You'll want the curd to coat the back of a wooden spoon. Keep a close eye on the curd as it heats as you don't want to overcook it.
Remove pan from heat and pour curd until a heat-safe jar or container through a strainer. You may wish to use a spoon to help the curd through the strainer, as it won't pour through easily. Remove the excess orange rind pieces that are left behind in the strainer to help free up space for the curd to pass through if you need. Store in an air-tight container in the refrigerator.
Notes
I tend to buy the conventional varieties of fruits/veggies that have a rind or thick peel, like avocado, watermelon, etc. However when I'm going to be incorporating the rind into the recipe like in this curd, I will buy organic.
Adapted from
Food Network