Easy, flaky palmiers are made from puff pastry and coated in sugar, which caramelizes wonderfully as they bake. Mini chocolate chips add an extra sweet touch for this four-ingredient cookie recipe!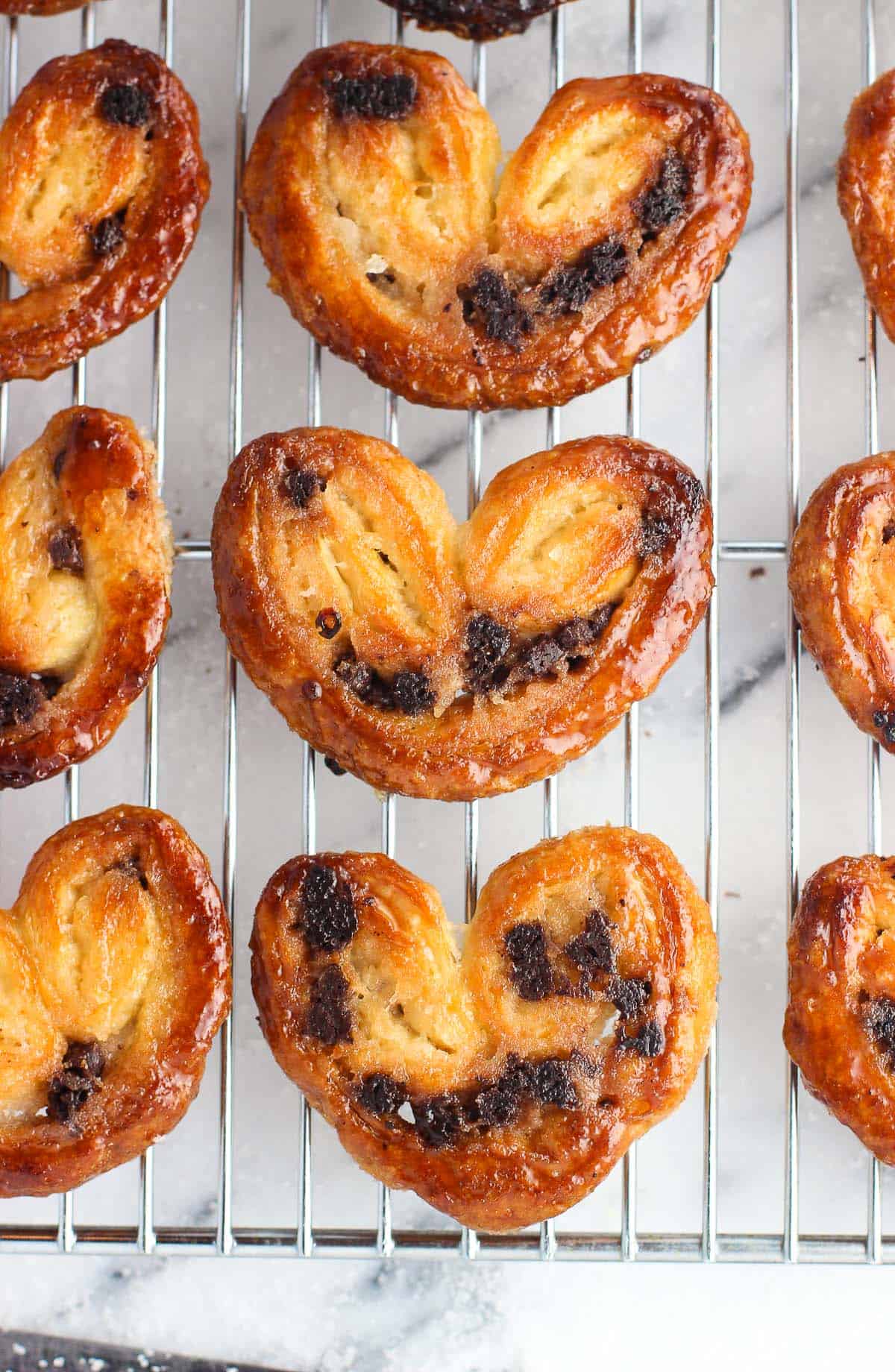 Prior to making palmiers myself, I thought they were some combination of time, labor, or ingredient heavy treats. I guess because I associate them with elephant ear pastries, and those I have fond memories of tucking into at our local bakery.
Real talk: my patience and skill level most certainly do not line up with making bakery pastries at home. And that might be an understatement!
But once I figured out that palmiers are made from puff pastry? Game on.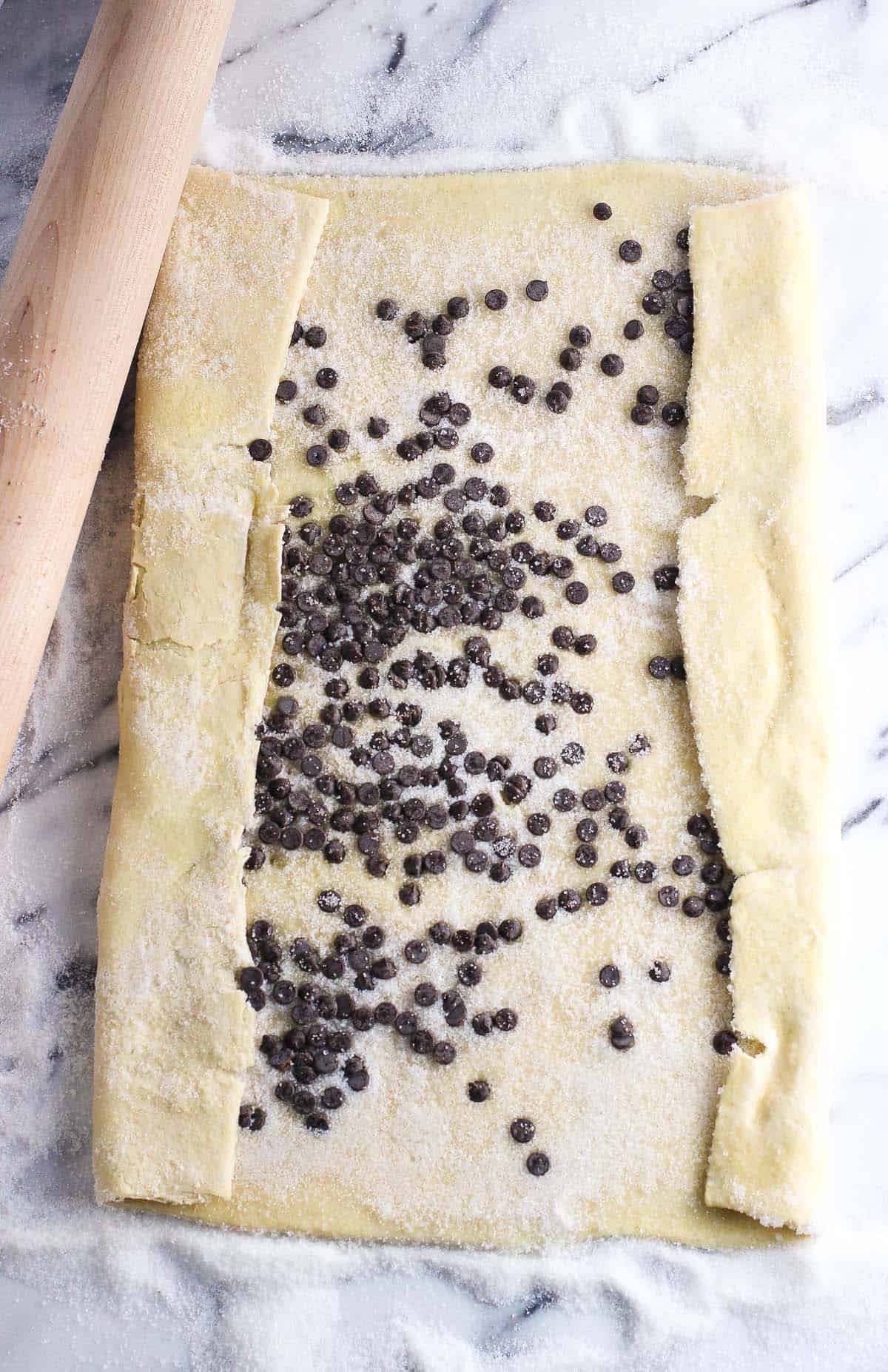 While I'm slightly intrigued by the prospect of making a laminated pastry dough at home, using a store-bought frozen box is MUCH more my speed here. With just four ingredients, why make things longer and more complicated than they need to be??
Recipe ingredients
This chocolate chip palmier recipe uses just four ingredients. Puff pastry dough, granulated sugar, a pinch of salt, and mini chocolate chips.
Puff pastry dough is the star of the show here. It can be found in the frozen dessert section of your grocery store, near the prepared pie crusts and such. Each box usually contains two sheets, of which this recipe uses one.
One sheet of puff pastry yields about twenty palmiers, so you can use the other one for future palmiers, or for four puff pastry apple turnovers or a tray of baked brie bites. Love the versatility.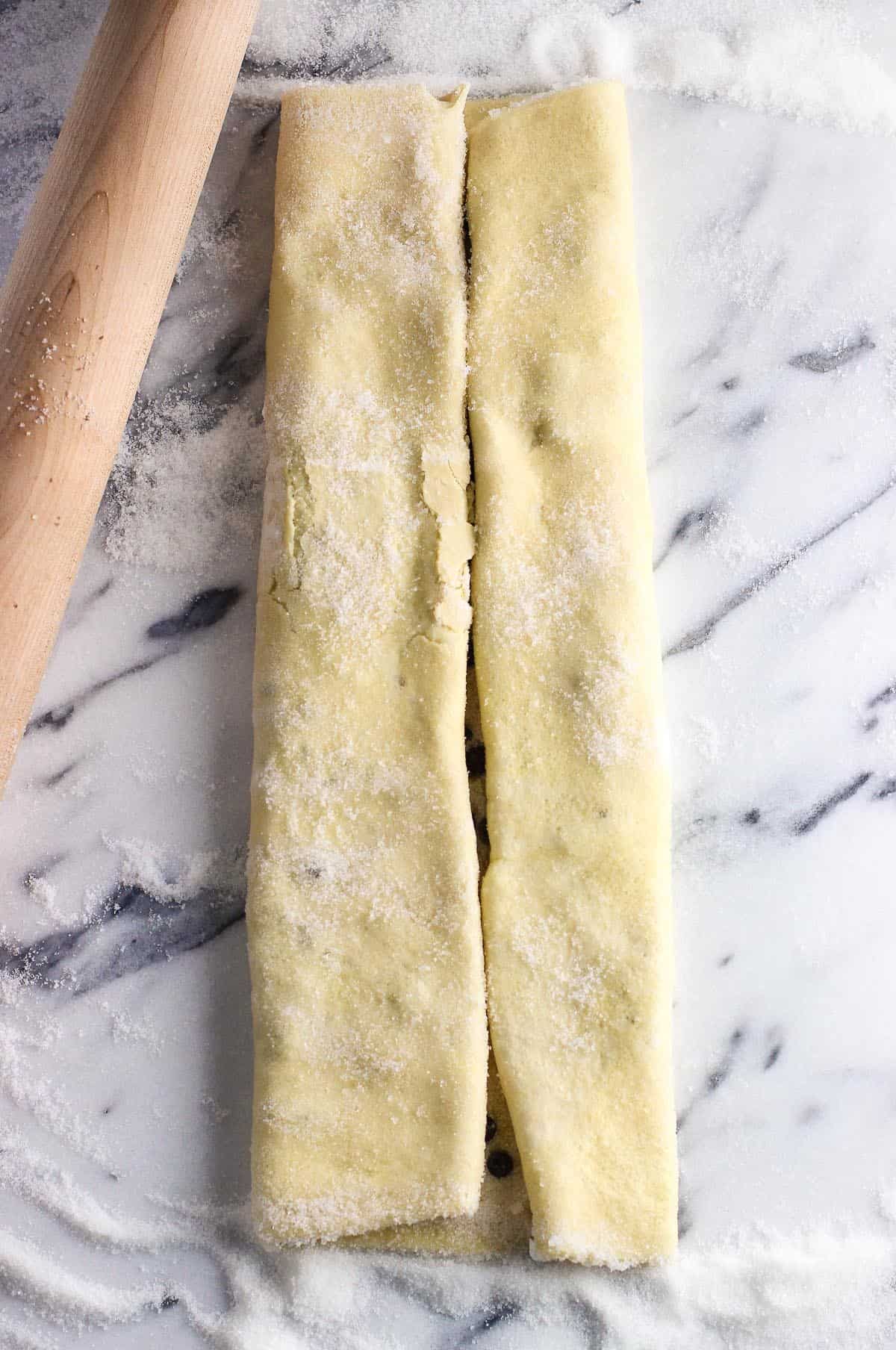 Method
The first step is to thaw the puff pastry dough, which I do by leaving the sheet out at room temperature for about 40-45 minutes. You can also thaw it in the fridge for several hours (or according to package directions), but I like the speediness of thawing at room temperature.
Combine the sugar and tiny bit of salt, then scatter half of it on your work surface. Unroll the thawed puff pastry sheet onto it and scatter the remaining sugar/salt on top.
Next scatter the chocolate chips evenly over the top and it's time to roll. The reason for rolling is twofold. You'll want the dough to end up around ⅛" in thickness, but you also want to press the chocolate chips into the dough. This helps prevent them from flying all over the place when you roll everything up.
Even still, some chocolate chips might fall out as you slice the cookies. Not a big deal. I simply placed the chocolate chips back into the palmier layers once the cookies were arranged on the baking sheet...and nobody was the wiser.

Once rolled out and pressed, take the left and right side and fold each over onto itself. Each folded up portion will take up one-quarter of the surface area.
Fold each segment over again. Now the two folds will be touching in the middle.
Gently fold one side over onto the other, where you will end up with one "log" of dough, six layers deep. Slice it into ½"-ish slices and place them on a parchment-lined sheet. Bake for six minutes, then flip and bake for another three to five minutes.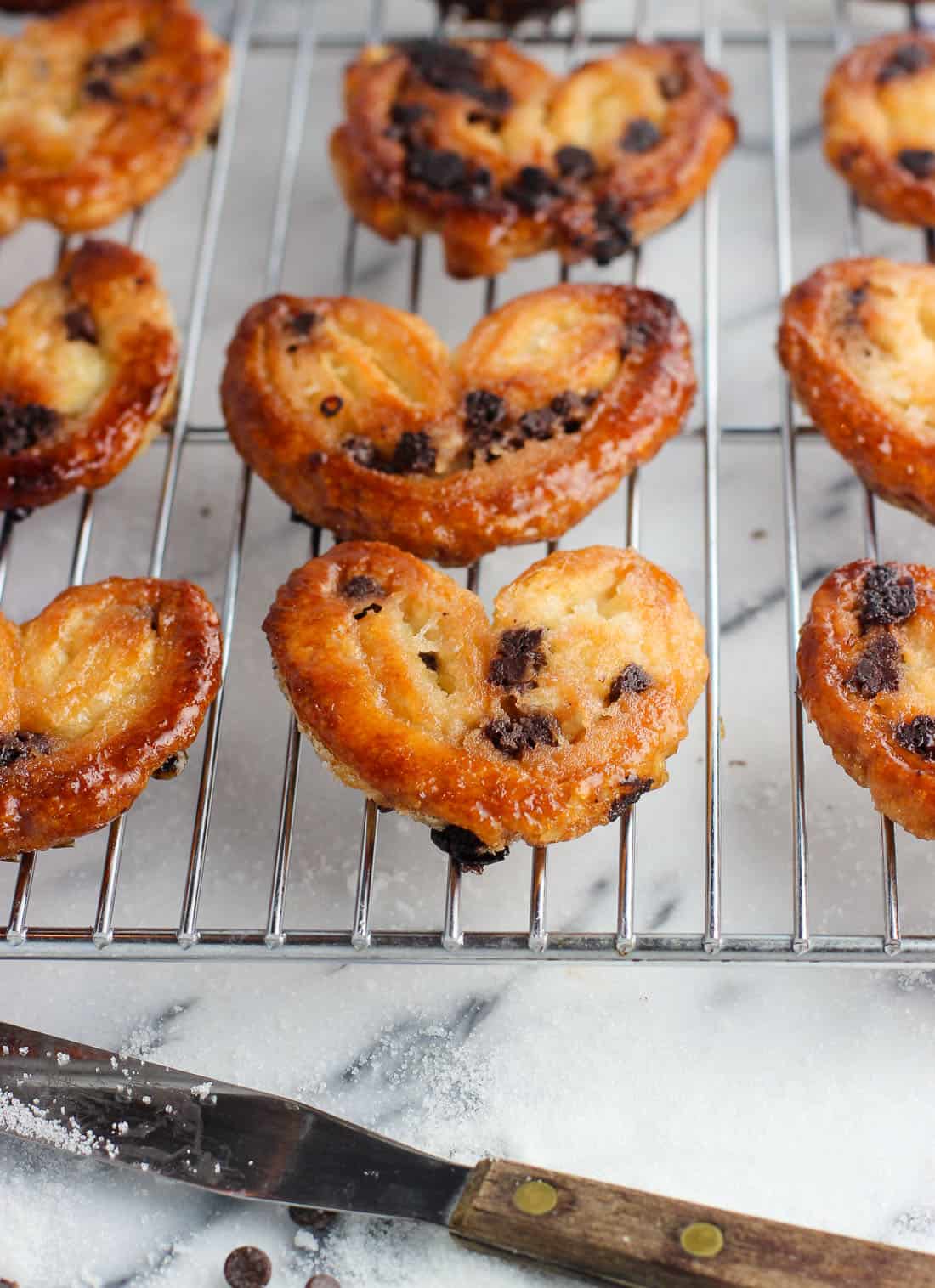 The sugar that coats the exterior of these cookies caramelizes as they bake for a kind-of sticky and deeply flavored touch that palmiers are known for. Plus with a little bit of chocolate? A win-win.
Palmiers are vaguely heart-shaped. Rustic, if you will. I say rustic only because precisely pretty and artistic desserts aren't my forte, so my rolling of the dough here wasn't as even as some of you could make it.
No matter how heart-shaped they end up being, these beauties are sure to satisfy!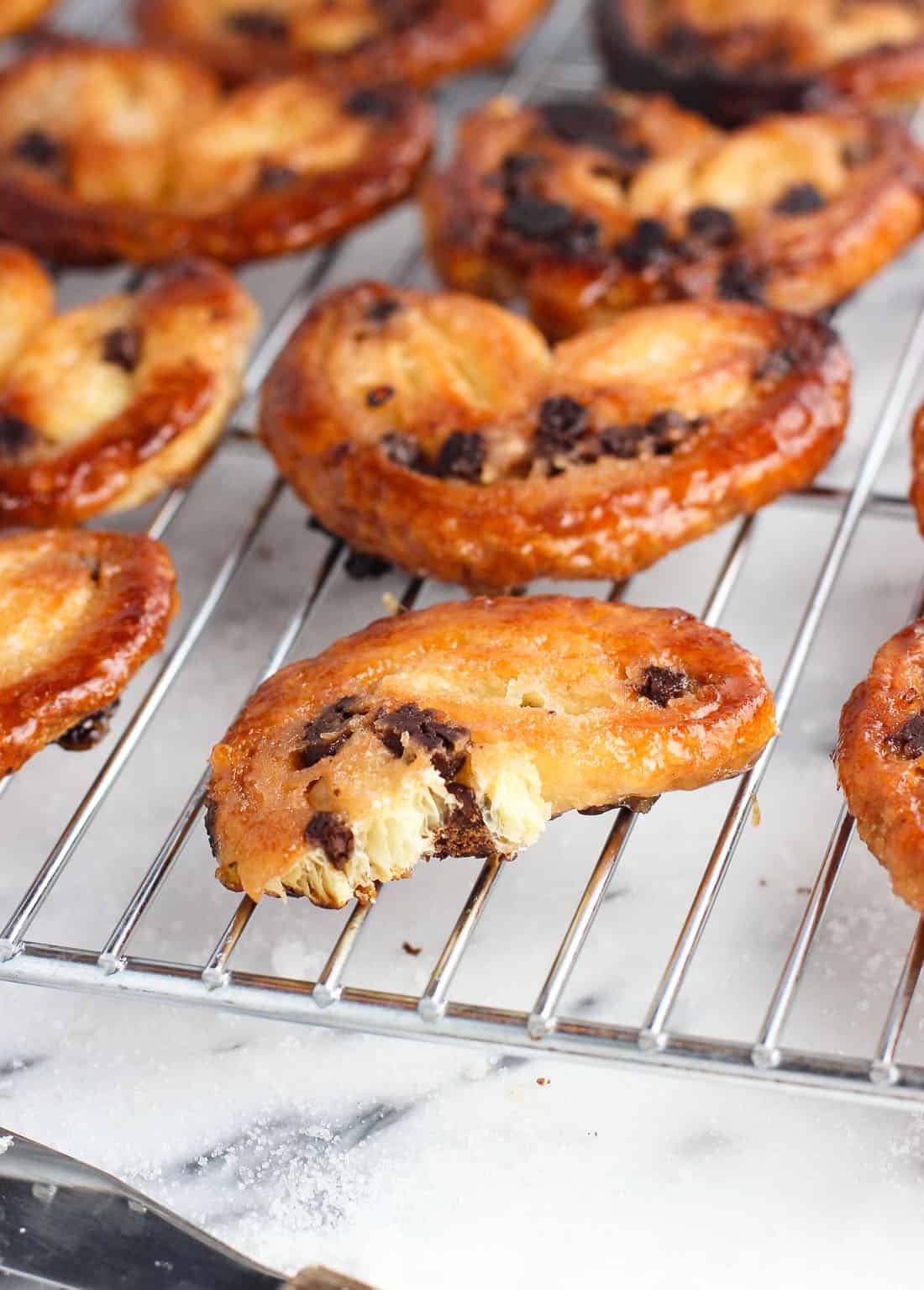 Recipe notes
Thaw your puff pastry according to package directions before beginning this recipe.
If some chocolate chips fall out in all the rolling and slicing, simply press them back into the palmiers once they're arranged on the baking sheet prior to baking.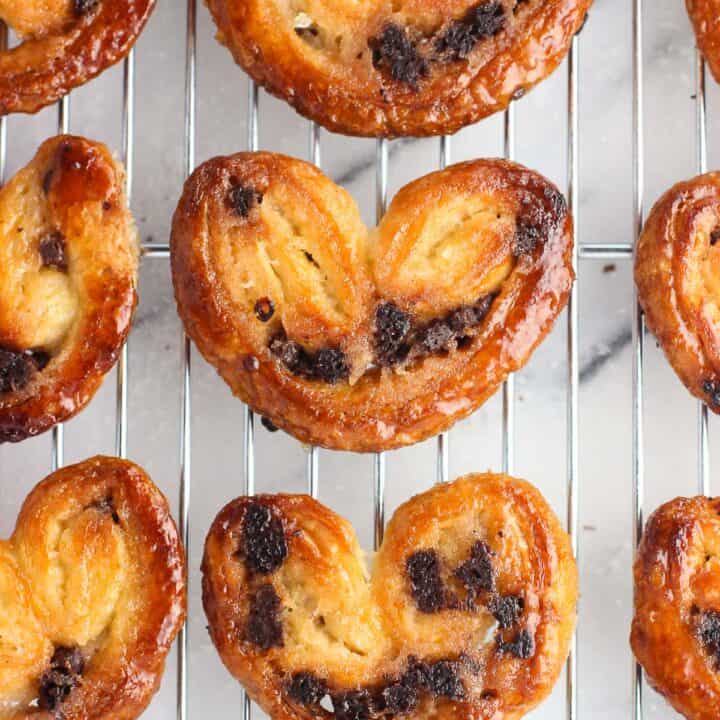 Chocolate Chip Palmiers
Easy, flaky palmiers are made from puff pastry and coated in sugar, which caramelizes wonderfully as they bake! Mini chocolate chips are added between pastry layers here for an extra little touch. These chocolate chip palmiers only use four ingredients and are an impressive sweet treat.
Print
Pin
Rate
Ingredients
1

sheet of

puff pastry,

thawed (half of a 17.3 oz pkg of two sheets)

1

cup

granulated sugar

Pinch of

salt

⅓

cup

mini chocolate chips
Instructions
Heat oven to 400°F. Line a baking sheet (or two, if needed) with parchment paper and set aside.

Mix together sugar and salt. Evenly scatter about half of the sugar/salt mixture on a clean work surface and place the unrolled puff pastry sheet over top.

Spread the remaining sugar/salt evenly over top of the puff pastry, then scatter mini chocolate chips over top and roll out the pastry sheet until it's about ⅛" thin. You want to make sure the chocolate chips are fairly-well pressed into the dough, or else they'll fall out when you're rolling it.

Working with the left and right side of the pastry dough, fold each side so that the folded-over piece takes up a quarter of the dough. Fold each side over again and the two sides will meet in the middle.

Carefully fold one of the sides over top of the other so you will have a tallish, skinny log of six pastry layers.

Using a sharp knife, slice the log in about ½"-thick slices and place with the cut side down on parchment-lined baking sheets. You'll want to leave about about two inches between palmiers on the baking sheet because they'll expand as they bake.

Bake for about 6 minutes, then remove baking sheet from oven and carefully flip over each palmier. They will be slightly sticky from the caramelizing sugar. Once flipped, bake for another 3-5 minutes, or until a deep golden brown. Remove and let cool completely on a wire rack before serving/storing.
Notes
Some of the chocolate chips will probably fall out as you cut slices. I simply pressed them back into the cookies once they were cut and on the baking sheet.
Nutrition
Serving:
1
palmier
|
Calories:
104
kcal
|
Carbohydrates:
16.7
g
|
Protein:
0.7
g
|
Fat:
4.3
g
|
Saturated Fat:
2.6
g
|
Cholesterol:
8
mg
|
Sodium:
91
mg
|
Fiber:
0.4
g
|
Sugar:
12
g
|
Iron:
0.2
mg
Nutritional information is provided as an estimate. As it can vary due to many factors (brands used, quantities, etc.), we cannot guarantee its accuracy.
Food Safety and Nutrition Disclaimer
Adapted from Food Network