Healthy pumpkin muffins are made with Greek yogurt, maple syrup, and chia seeds for a soft and tender muffin recipe. You'll never know these whole wheat pumpkin muffins are naturally sweetened!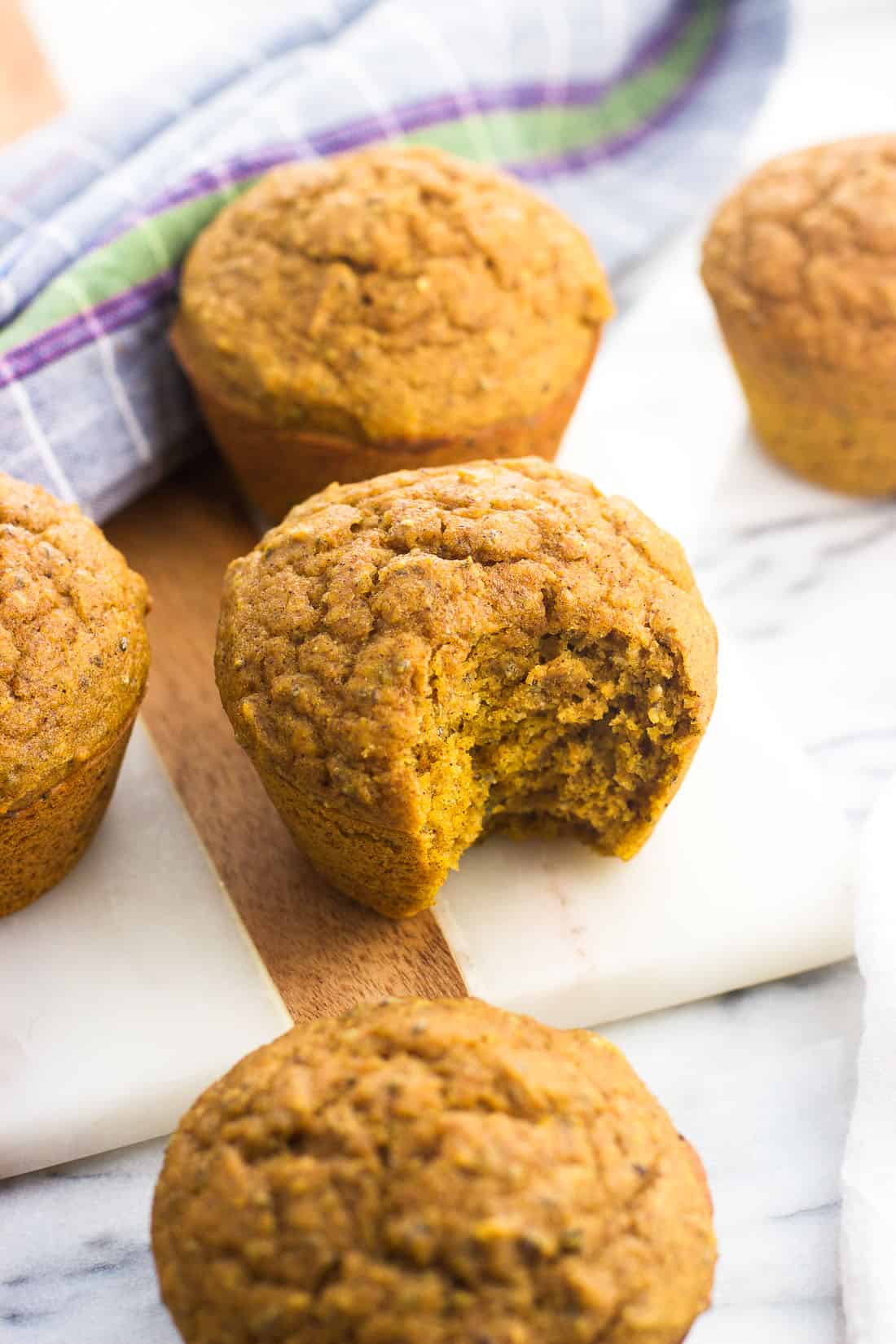 What better recipe to post now that it's *officially* fall than healthy pumpkin muffins? The time is HERE.
Not that you'd know it by walking outside. Next week is showing temps in the high 90s (!) so my sweaters and boots are staying in the attic until a date TBD.
In the kitchen though I've transitioned full time into fall, having made two batches of pumpkin muffins and two pots of roasted butternut squash soup all in the past week alone. Taking a breather on the beta carotene for a little bit lest we turn orange!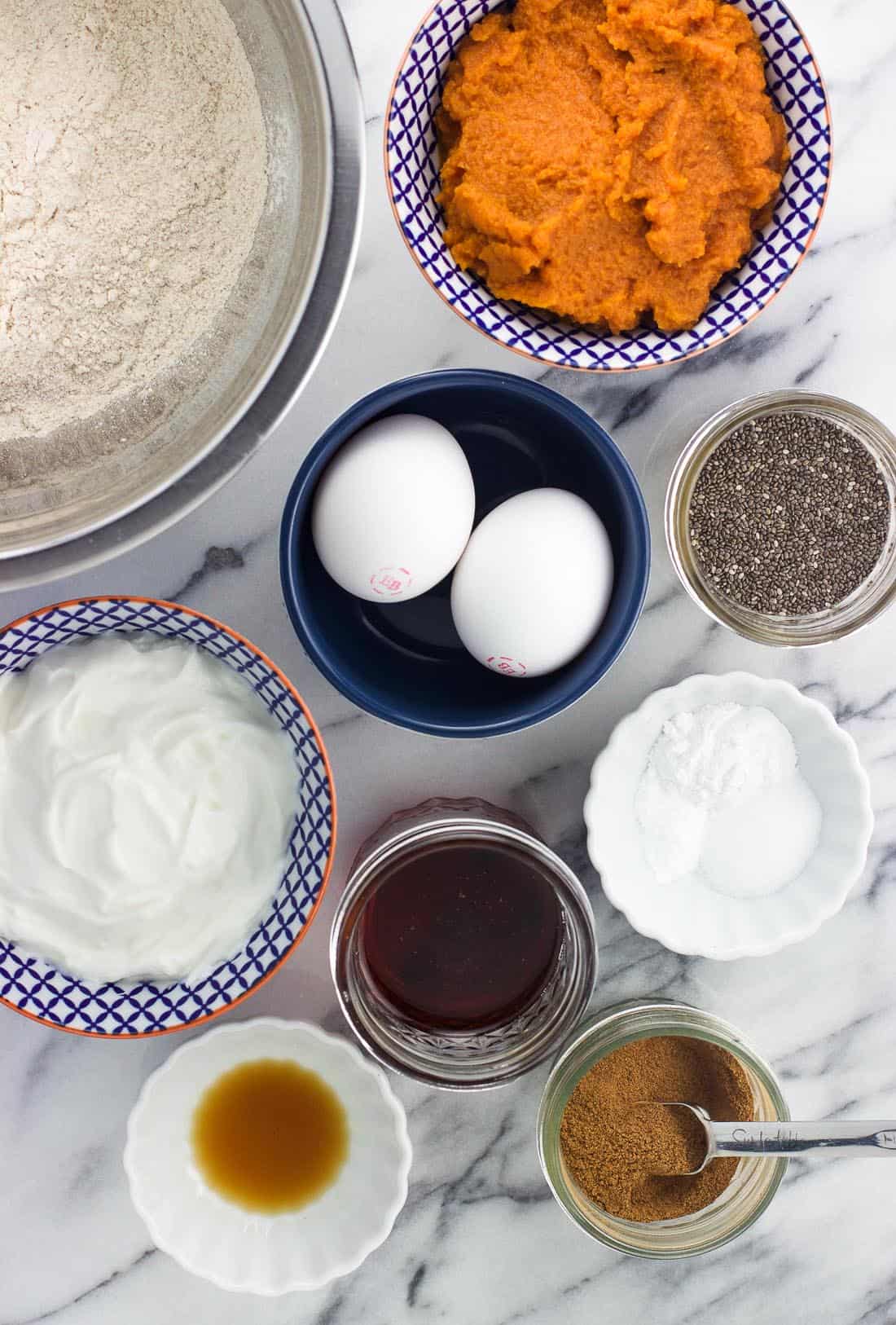 Straight-forward ingredients and steps
These whole wheat pumpkin muffins are a classic two-bowl, hand-mix, wet-into-dry kind of easy muffin recipe. Let's start with the bowl with the dry.
White whole wheat flour is one of my favorite healthy switches in baking, or any kind of recipe that calls for flour, really. It subs in beautifully here. I bet you won't even be able to tell these muffins are 100% whole wheat when you bite into one. Well, you might, since you made them, but unsuspecting taste buds? I don't think so.
I like to use white whole wheat flour (instead of straight-up whole wheat flour) because it's lighter not only in color but in flavor. White whole wheat flour is made from a different type of wheat than whole wheat flour (white wheat vs. red wheat), but it still contains the wheat bran and wheat germ, unlike all-purpose flour. Source: The Kitchn
I find that it's a simple and accessible swap that make sense when you're making something a bit healthier in the first place.
In addition to the flour, the bowl of dry ingredients gets pumpkin pie spice, baking powder, salt, and baking soda.
While you can definitely use a store-bought pumpkin pie spice, I've linked to my homemade version above (and in the recipe card). Ground cinnamon has the biggest presence in the blend, followed next by ground ginger. Ground nutmeg, ground allspice, and ground cloves follow suit to result in a balanced but bold spice ready for all your fall baking. It stays for a long time when stored in an air-tight container and also makes a great DIY food gift!
Now for the wet ingredients. Obviously we have pumpkin, in the form of one cup of pumpkin puree. Be sure when you're buying a can of pumpkin that you get the kind that's 100% pumpkin puree and not canned pumpkin pie filling. The pie filling variety is already spiced/sweetened and would really throw off these healthy pumpkin muffins.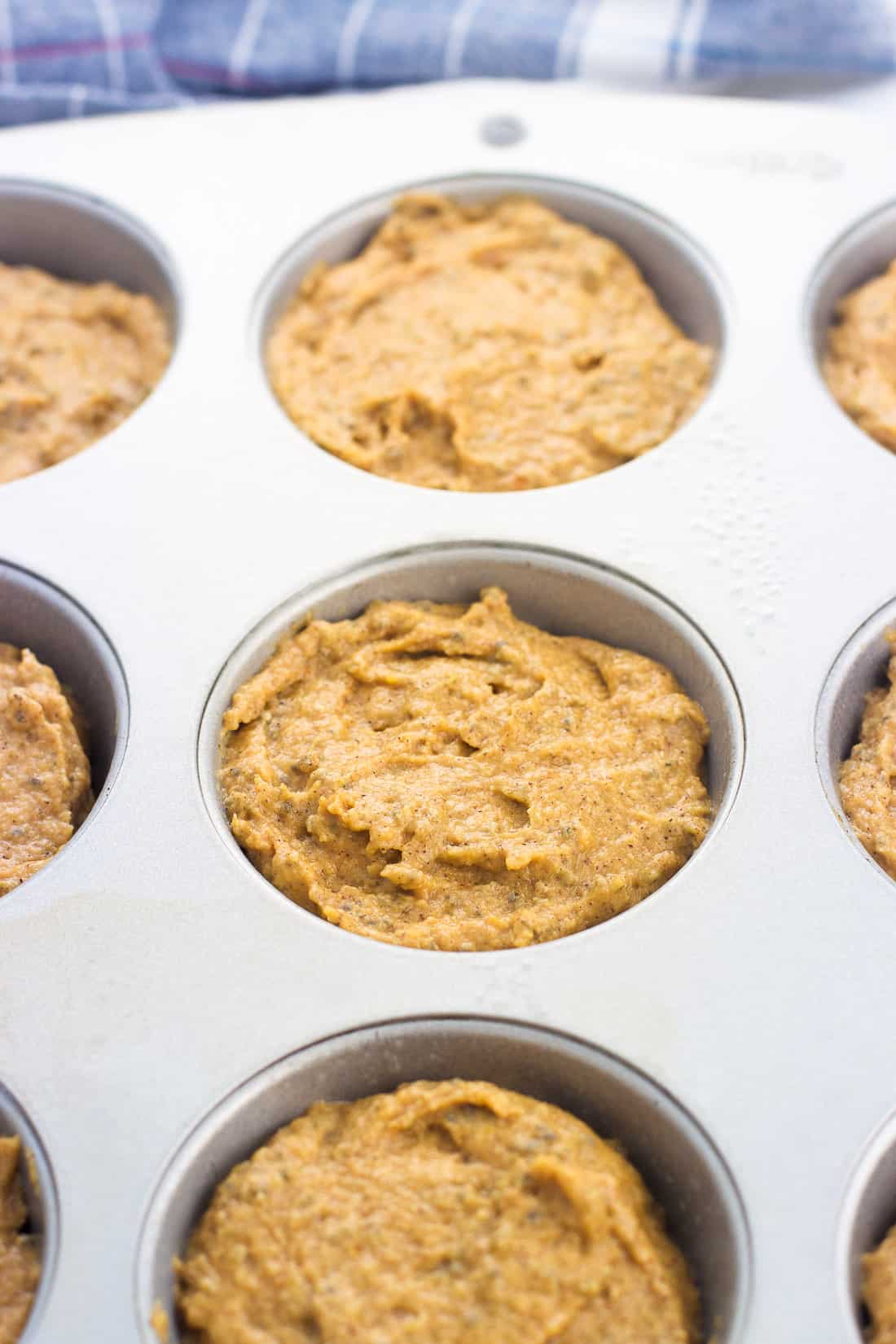 Next up is maple syrup. It basically brings all the sweetness here, so we're using two-thirds of a cup. It naturally sweetens these whole wheat pumpkin muffins and, I mean, has pumpkin ever not benefitted by a hint of maple flavor? I think not.
It also helps ensure these muffins are moist (sorry) along with plain Greek yogurt. Different Greek yogurt brands out there offer a variety of fat contents, but I'm not ultra picky. For recipes like this I usually use Greek yogurt within the 4-5% range. I wouldn't use nonfat as the yogurt helps us reduce the oil/butter that's usually found in traditional muffin recipes.
Speaking of, one-quarter cup of oil is used here. I've tried to make these healthy pumpkin muffins without any oil and found they never got quite moist (sorry again) enough. Use your favorite, neutral-tasting oil here such as canola, vegetable, or sunflower, or even melted coconut oil.
Add two eggs and vanilla extract to the bowl and then it's time to mix. You can use a hand or stand mixer for this step, but I just whisk everything really well by hand. Creamy and combined is what we're going for.
Once the wet ingredients are poured into the bowl with the dry ingredients (this order of operations describes the "muffin method" of baking), stir until they're just combined. The last ingredient, chia seeds, is folded in at this time.
I love adding them to baked goods because they're a sneaky way to boost the nutrition without any texture or flavor impact. I have a hard time not throwing in a handful here and there when I'm baking ever since using them in these whole wheat banana muffins.
Storage tips
Once baked and cooled completely, store these healthy pumpkin muffins in an air-tight container at room temperature for up to 3 days. Or you can store them in the fridge to extend their life a bit. They also freeze well!
They'll likely be just fine to eat for longer than that, but they'll become a bit more moist (SORRY) as time goes by. I like to store them in a plastic container with a paper towel lightly pressed on top to absorb some of the moisture that accumulates.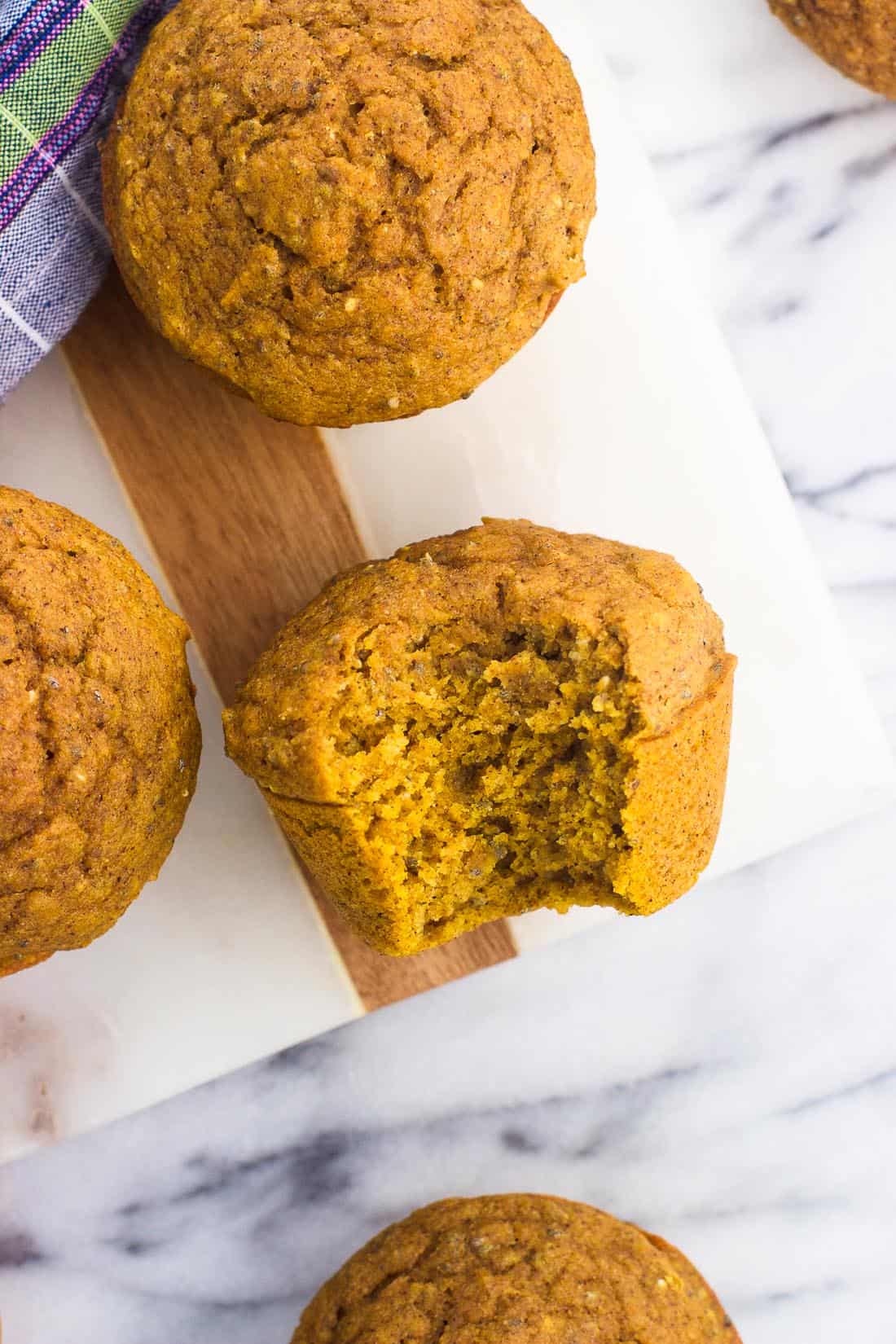 Related recipes
If you're digging these muffins, take a peek at this naturally-sweetened pumpkin bread. Just a few tweaks from this recipe yield a wonderfully seasonal quick bread favorite.
Now there's nothing healthy about these, but fudgy chocolate chip pumpkin swirl brownies? UNREAL.
While they're a big departure flavor-wise from pumpkin, pistachio muffins are a family favorite. Instant pudding mix is a key addition for texture, and a potentially-unexpected extract helps amplify the flavor. Can you guess what it is?
Recipe notes
Be sure to buy and use 100% pumpkin puree and not canned pumpkin pie filling. The two cans look very similar and are next to one another on the shelf.
If using melted coconut oil, measure out the one-quarter cup of oil to add to the recipe after it's been melted.
See the note section in the recipe card below about measuring flour correctly. Too much flour packed in the measuring cup can lead to dry baked goods.
Use your preferred plain Greek yogurt, though I don't recommend nonfat. The Greek yogurt is helping us reduce the oil, so we need a little bit of fat there!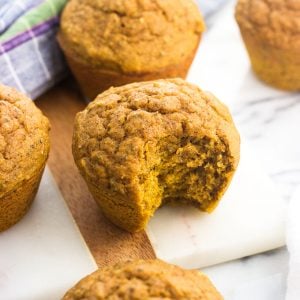 Whole Wheat Healthy Pumpkin Muffins
Healthy pumpkin muffins are made with Greek yogurt, maple syrup, and chia seeds for a soft and tender muffin recipe. You'll never know these whole wheat pumpkin muffins are naturally sweetened!
Print
Pin
Rate
Ingredients
2

cups

white whole wheat flour

5

teaspoon

pumpkin pie spice

2

teaspoon

baking powder

½

teaspoon

salt

¼

teaspoon

baking soda

1

cup

pumpkin puree

⅔

cup

maple syrup

½

cup

plain Greek yogurt

¼

cup

neutral-tasting oil,

such as canola or melted coconut oil

2

eggs

1 ½

teaspoon

vanilla extract

3

tablespoon

chia seeds

(whole)
Instructions
Preheat oven to 350°F and spray a regular-sized, 12-cup muffin tin with cooking spray.

In a large mixing bowl, add flour, pumpkin pie spice, baking powder, salt, and baking soda. Whisk to combine evenly.

In a separate mixing bowl, add pumpkin puree, maple syrup, Greek yogurt, oil, eggs, and vanilla extract and mix until smooth and combined. You can use a hand mixer if you like, but I usually just use a whisk and mix by hand.

Pour the wet ingredients into the bowl with the dry ingredients and stir until just combined. Some lumps in the batter are okay. Fold/gently stir in the chia seeds, taking care not to over-mix.

Portion out the batter evenly into the greased muffin tin. I like to use a cookie scoop to help make this process more efficient with less drips.

Bake for 18-20 minutes, or until a tester inserted into the center of a muffin comes out clean and the tops spring back when lightly pressed.

Let muffins cool in the muffin tin for 5 minutes, then carefully loosen the edges with a small spatula or butter knife and transfer to a wire rack for them to cool completely.
Notes
Measuring flour: To measure the flour correctly, first stir up the flour in its bag or canister to "fluff" it up. Then spoon it into your measuring cup, taking care not to press it down/pack it in. Continue until the measuring cup is overflowing, then use a straight edge (like the straight handle edge of the spoon or a knife) to level off the measuring cup. I do this over the opening of the flour canister so the excess goes back into the bag.
Nutrition
Serving:
1
muffin
|
Calories:
196
kcal
|
Carbohydrates:
29.5
g
|
Protein:
4.8
g
|
Fat:
7.4
g
|
Saturated Fat:
1.1
g
|
Cholesterol:
29
mg
|
Sodium:
213
mg
|
Potassium:
194
mg
|
Fiber:
3.8
g
|
Sugar:
12.3
g
|
Calcium:
58
mg
|
Iron:
1
mg
Nutritional information is provided as an estimate. As it can vary due to many factors (brands used, quantities, etc.), we cannot guarantee its accuracy.
Food Safety and Nutrition Disclaimer