Instant Pot split pea soup features hearty ingredients and smoky ham flavor for a satisfying meal the whole family will love. The pressure cooker shaves so much time from this recipe, and makes this gluten- and dairy-free pea soup recipe so easy to make!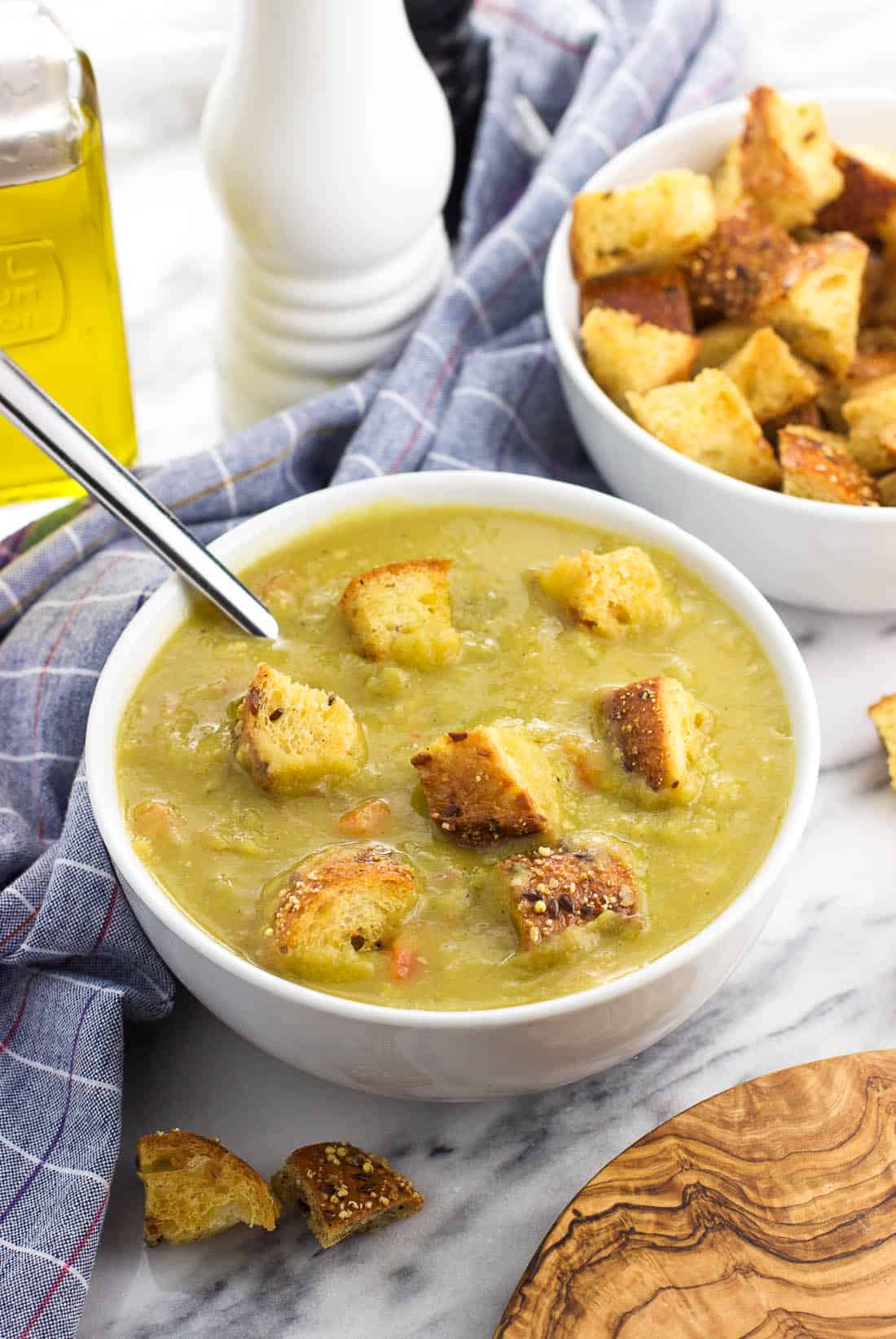 Lentil soup's less popular BFF (at least by number of Google searches), split pea soup brings the same thick and creamy texture made in a flash in an electric pressure cooker.
I'm a soup year-rounder so I made this Instant Pot split pea soup several times over the summer, but felt a little funny sharing it with you when it was a million degrees outside. Even though it's made in the Instant Pot and doesn't heat up your kitchen with hours of cook time on the stove.
Just wasn't feeling inspired to write a bunch of words about a soup recipe in the middle of summer, you know?
As with many pressure cooker recipes like my fav smoky Instant Pot lentil soup, this IP pea soup is quick (16 minutes of pressure cook time) and EASY. It's a healthy soup recipe with lots of fiber to keep you full for a long while afterwards. I speak from experience when I say it makes the best leftover lunch.
And we all know how good a day can go when you're excited about your lunch.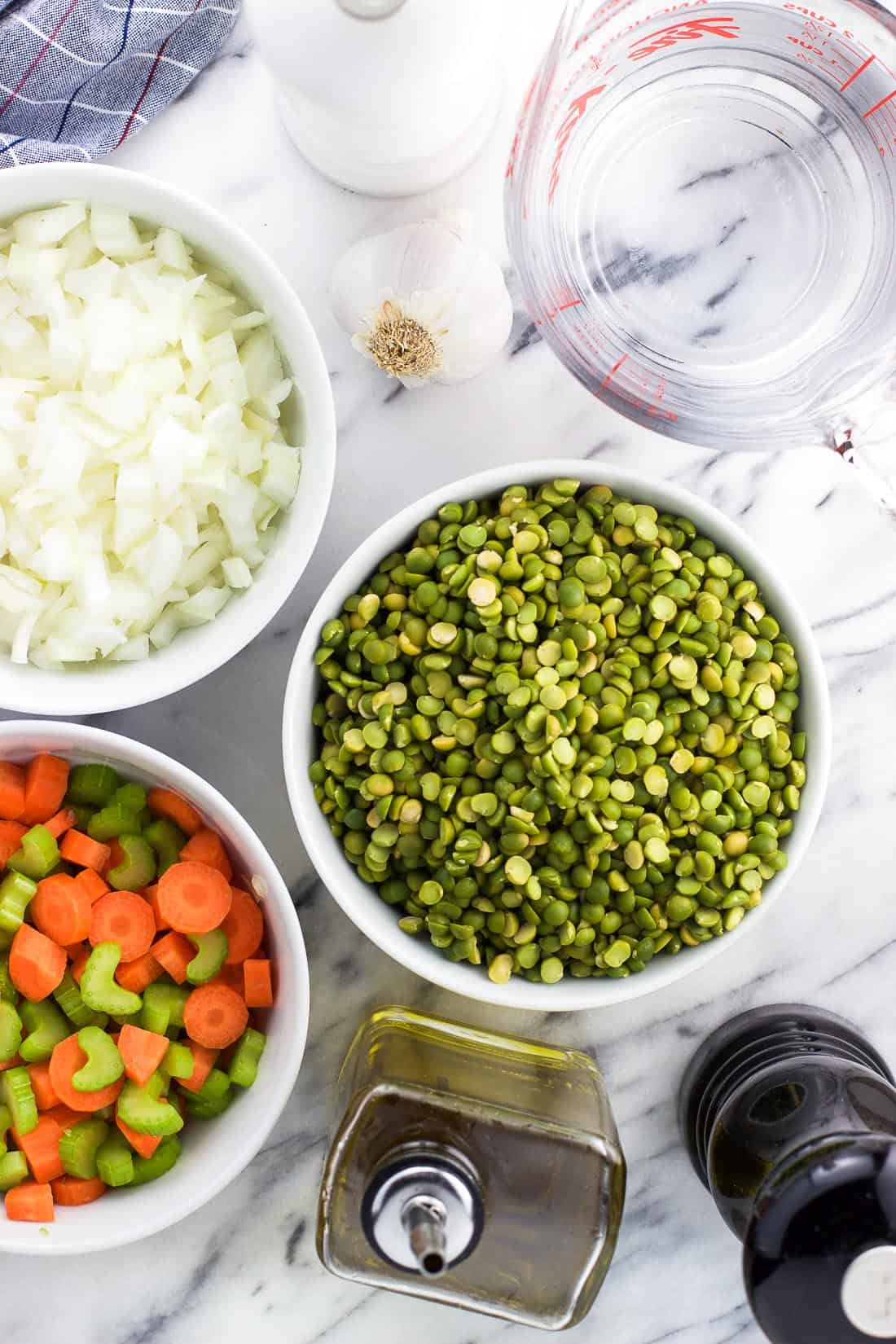 Sorting split peas
As with many dried legumes, the split peas require a little prep work before you can throw them in the Instant Pot.
First they need to be sorted. Now, when I first started getting into using dried beans and peas I had no idea what I was looking for. I'd stir them around a few times and go, "yeah, looks good". But after managing to find a small rock in a batch with my haphazard sorting, I started paying more attention.
You want to remove any rocks (obviously), shriveled up, misshapen, or otherwise "off-looking" peas, or any other detritus that ended up in the bag with the peas. My procedure is now pouring the dried peas out onto a plate or kitchen towel in a single layer and giving everything a good look over.
Next give the sorted split peas a good rinse with cool water. Up until recently, for reasons I'm not sure about, I was getting by in the kitchen with a small mesh strainer. This meant I'd need to rinse beans, peas, or quinoa in 4-5 batches. Since buying a large strainer in an inexpensive set (affiliate link), I can rinse everything at once. It's the little things that make a big difference sometimes!
Now your peas are good to go – no soaking required.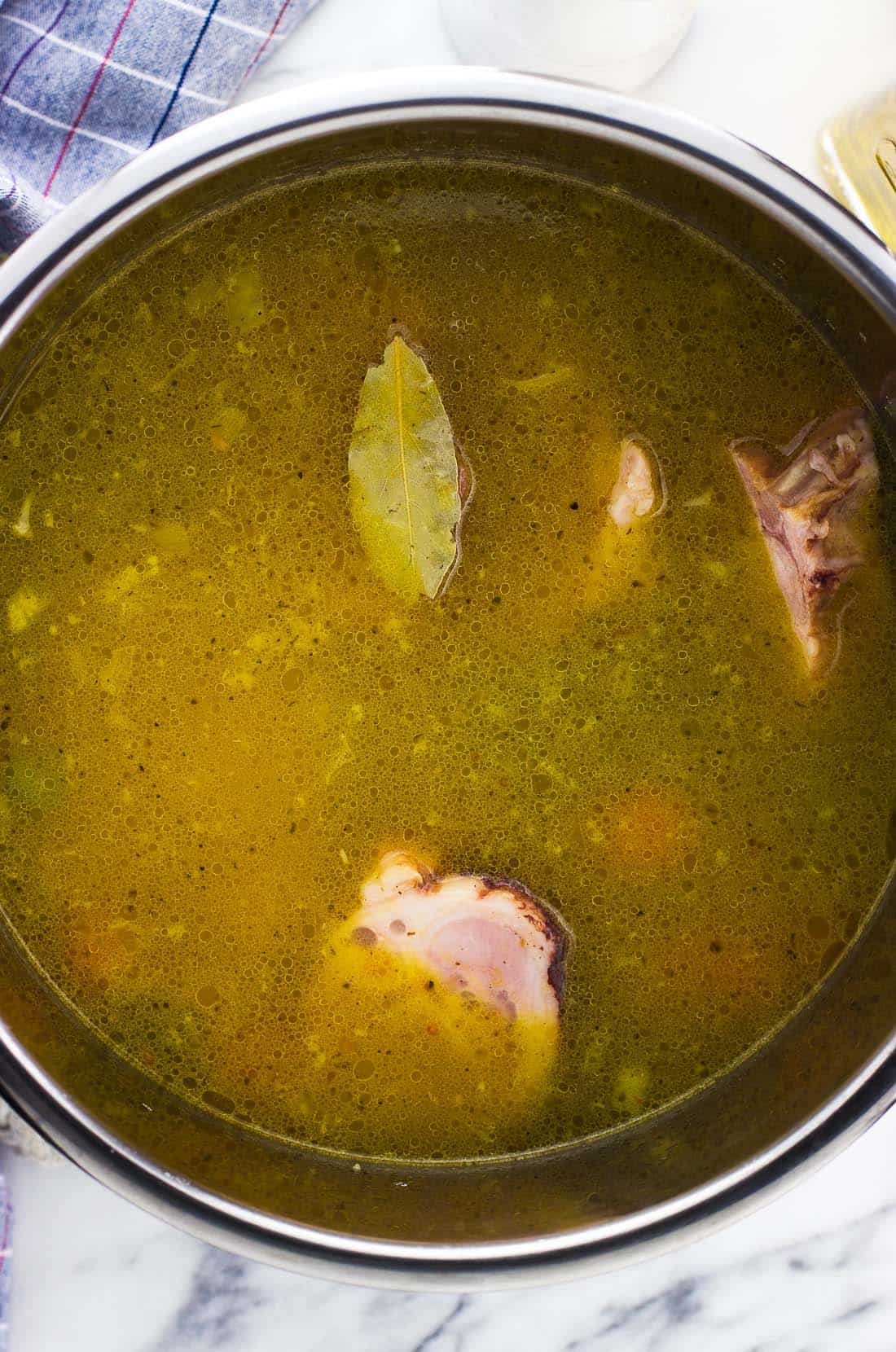 Recipe steps
Once the peas are sorted and rinsed, I'd argue that the hard work is behind you.
You'll start the cooking process by heating olive oil in the Instant Pot and sautéing the onion, carrots, celery, garlic, and spices. After years of using a super basic slow cooker for "off-stove" recipes, it still wows me that you can brown and sauté things right in the Instant Pot insert. Hell-ooooooo, less dishes to wash.
Once your vegetables are softened, it's important to scrape up any burnt bits from the bottom of the Instant Pot insert before adding the rest of the ingredients and pressure cooking. Besides integrating that delicious flavor into the dish, it helps prevent the dreaded "burn" message you might have read about or experienced on the Instant Pot.
To do this I pour in a little bit of the liquid (one-third cup of broth or so, doesn't have to be exact) to do a quick and dirty deglazing of the pan. I recommend deglazing every time you finish sautéing something in the Instant Pot and before locking the lid for pressure cooking. It's extra helpful for thick mixtures that are all the more risky for triggering a "burn" message, like my dinner menu regular Instant Pot turkey chili.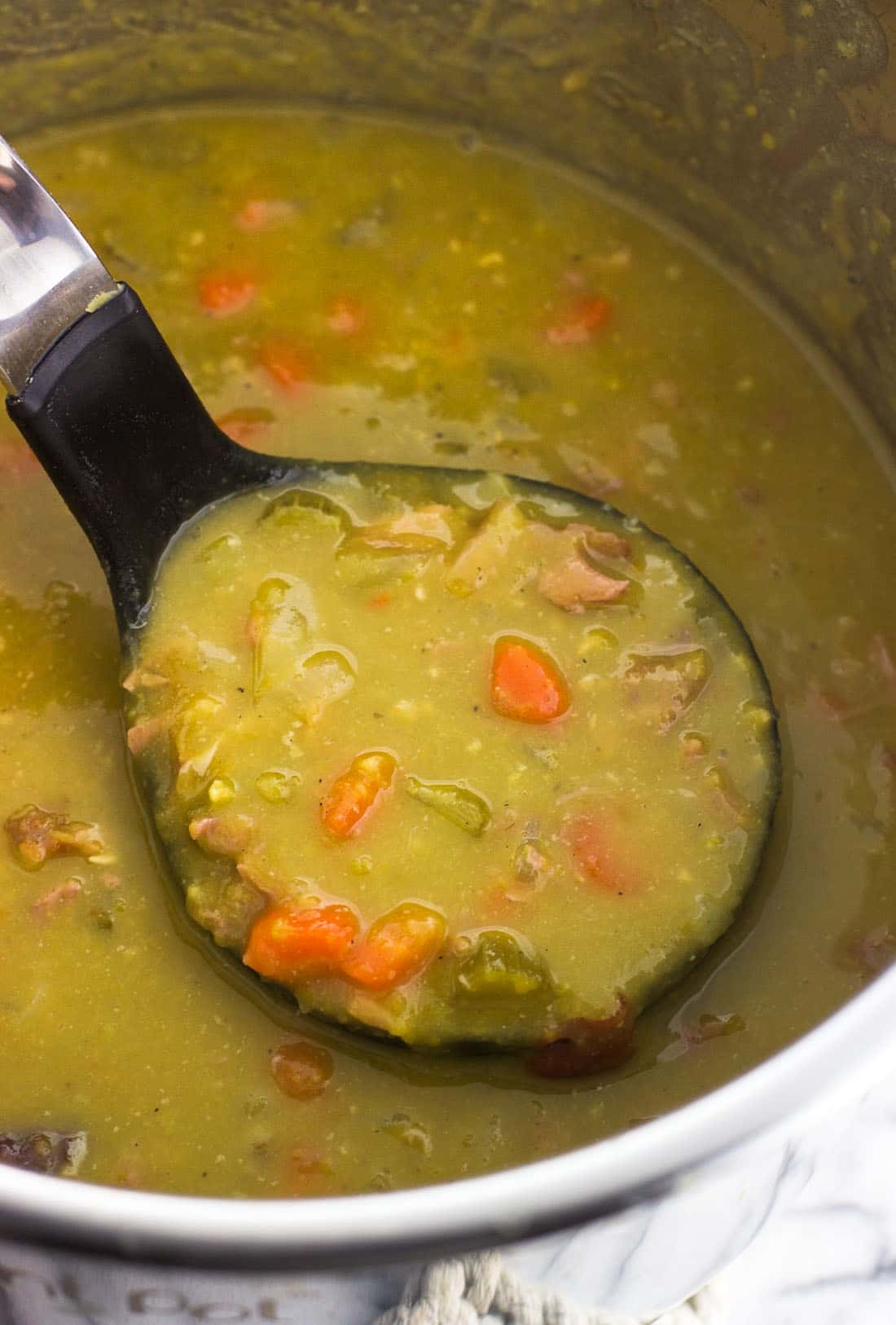 Once that's done, pour in the rest of the broth, water, split peas, ham, and a bay leaf. Lock the lid, set the valve to "sealing", and select the Manual/Pressure Cook function for 16 minutes. Easy as that.
What kind of ham to use in this soup
I like to use smoked ham shanks in pea soup. While you can use ham hocks if that's more convenient, I like the meatier shanks to help give this soup some heft. Anywhere between 1 – 1.5 pounds of ham shanks is my recommendation (keep in mind that's the weight including bones), though there's definitely wiggle room here.
Once the soup has finished cooking and the pressure has released naturally, fish out the super tender ham shanks, remove the bone segments, and cut the meat into bite-sized pieces to be added back to the soup for serving. There will likely be excess fatty bits on the shanks that you can remove at your discretion, too.
And oh yeah, don't forget to remove the bay leaf!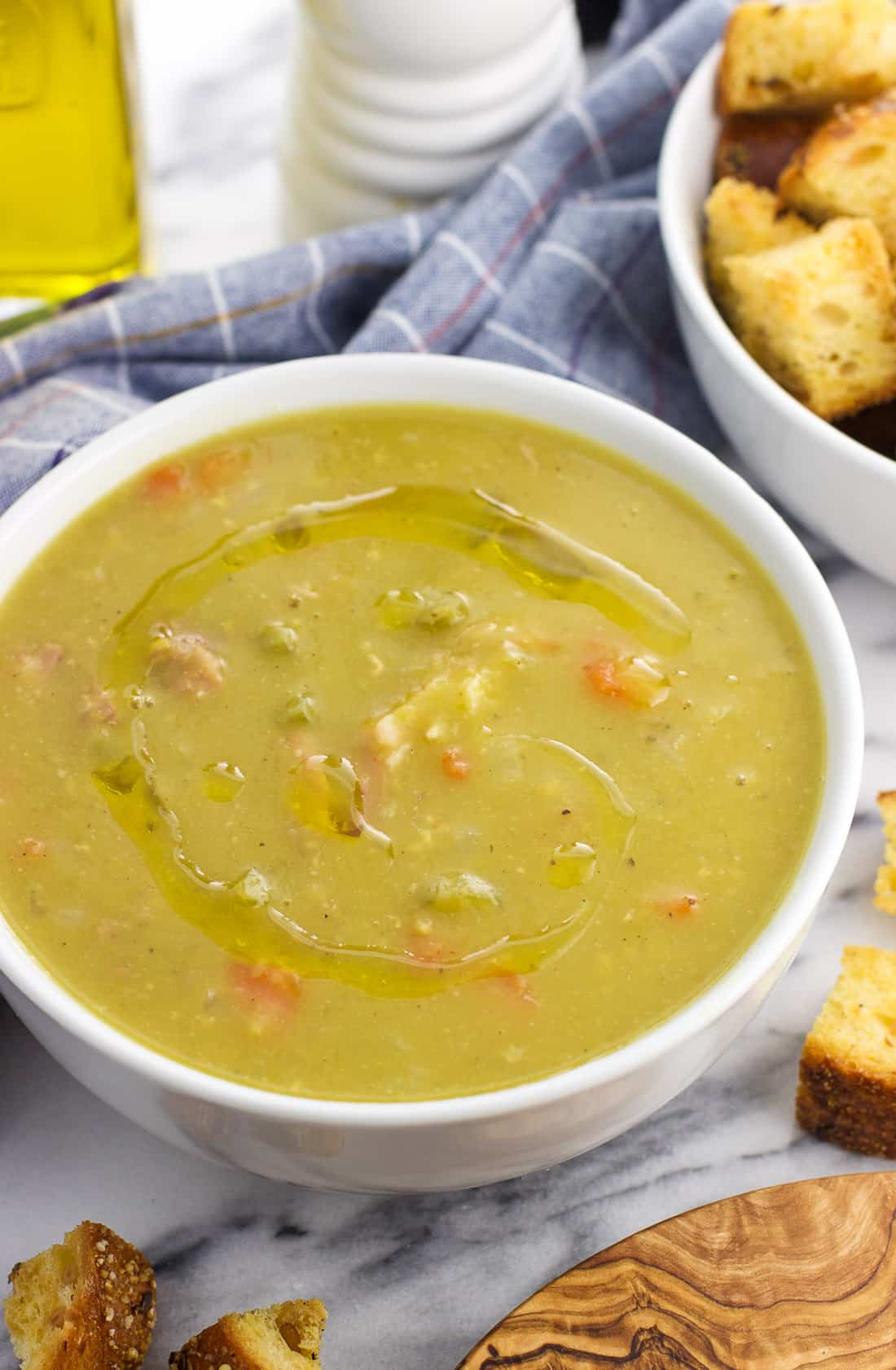 During cooking, the split peas break down beautifully and become ultra tender and creamy. No immersion blending of any kind was done here. With perfectly softened vegetables and smoky ham, this is one hearty soup recipe that has the ability to keep you full for hours.
Serving suggestions
One touch that instantly makes a soup feel ~*luxe*~ is to drizzle some extra-virgin olive oil over top when serving. I need to update my potato and white bean soup recipe card to show this as a heavy recommend, not just an optional one.
Also so good as a split pea soup topper? Croutons. The ones you see here are homemade and detailed in my how to make croutons post. Baking them low and slow is key in getting them perfectly crisped and light without too much browning. My favorite bread for croutons? An Italian five grain baguette, hands down.
If you're looking for a more substantial soup accessory, a grilled cheese is a great one. This havarti grilled cheese is on sourdough bread and includes easy oven-roasted poblano peppers and caramelized onions for extra bite.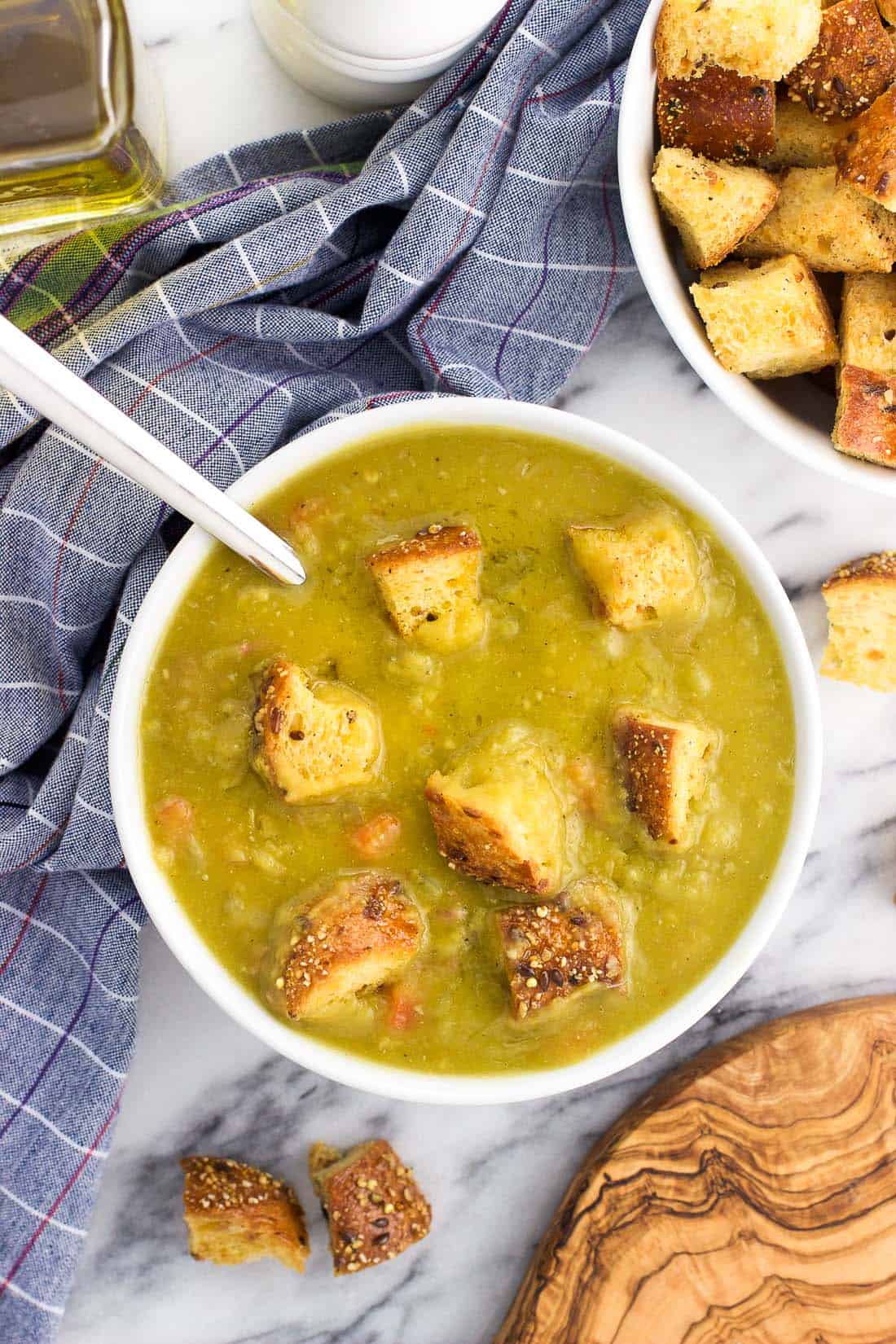 Recipe notes
I have a

6-quart Instant Pot

(affiliate link), so that's the size used in testing this recipe. While I don't have personal experience with the larger Instant Pot, I would imagine the significant liquid content of this recipe would be just fine to make in an 8-quart IP, too.
You'll find leftover split pea soup thickens up a lot in the refrigerator. I simply stir a little water into the soup before reheating to bring it back to the right consistency.
Instant Pot Split Pea Soup
Instant Pot split pea soup features hearty ingredients and smoky ham flavor for a satisfying meal the whole family will love. The pressure cooker shaves so much time from this recipe, and makes this gluten- and dairy-free pea soup recipe so easy to make!
Print
Pin
Rate
Ingredients
3

tbsp

olive oil

1

onion,

chopped

3/4

cup

chopped carrots

3/4

cup

chopped celery

3

cloves

garlic,

minced

1/2

tsp

salt

1/2

tsp

ground black pepper

1/2

tsp

dried oregano

4

cups

reduced-sodium chicken broth

(32 oz)

2

cups

water

1

lb

green split peas

(dried)

1-1.5

lbs

smoked ham shanks

(anything in that range is fine)

1

bay leaf
Instructions
Add olive oil to the Instant Pot. Press the "Saute" button, leaving the lid off.

Once the oil is hot, add the chopped onion, carrots, and celery. Saute for 4-5 minutes, or until the vegetables are softening.

Next add the minced garlic, salt, pepper, and oregano and give everything a stir. Cook for 2-3 more minutes.

If there are any burnt bits on the bottom of the Instant Pot, pour in about one-third cup of the chicken broth and scrape up anything stuck to the bottom. Then pour in the remainder of the broth and the water.

Stir in the split peas, then add the smoked ham shanks and the bay leaf. Press the "Keep Warm/Cancel" button to shut off the Saute function, and then close and lock the lid. Make sure the pressure release valve is set to "sealing".

Press the "Manual" button (or "Pressure Cook" on newer IP models), and adjust the cook time using the "+" or "-" button to 16 minutes.

Once the 16 minutes are up, let the pressure release naturally before turning the valve to "venting" and removing the lid. Discard the bay leaf, then transfer the ham shanks to a cutting board. Remove and discard the bones. Chop the ham into bite-sized pieces, discarding any excess fatty bits as you see fit. Add the ham back into the Instant Pot and give everything a stir. Serve while hot.
Notes
Leftovers: Leftover portions of Instant Pot split pea soup thicken up considerably after being refrigerated. You can add a small amount of water to thin it out as you reheat leftovers. Time: The 30 minutes of inactive time in this recipe is an estimate for the time it takes the Instant Pot to come up to pressure and for the pressure to release naturally.
Nutrition
Calories:
489
kcal
|
Carbohydrates:
37.1
g
|
Protein:
45.7
g
|
Fat:
17.5
g
|
Saturated Fat:
4.8
g
|
Cholesterol:
101
mg
|
Sodium:
465
mg
|
Potassium:
1031
mg
|
Fiber:
15.2
g
|
Sugar:
5.9
g
|
Calcium:
40
mg
|
Iron:
3.8
mg
Nutritional information is provided as an estimate. As it can vary due to many factors (brands used, quantities, etc.), we cannot guarantee its accuracy.