Instant Pot turkey chili is an easy, one pot chili recipe that's hearty and perfectly balanced with spice. Two unexpected ingredients help give this healthy turkey chili a ton of richness.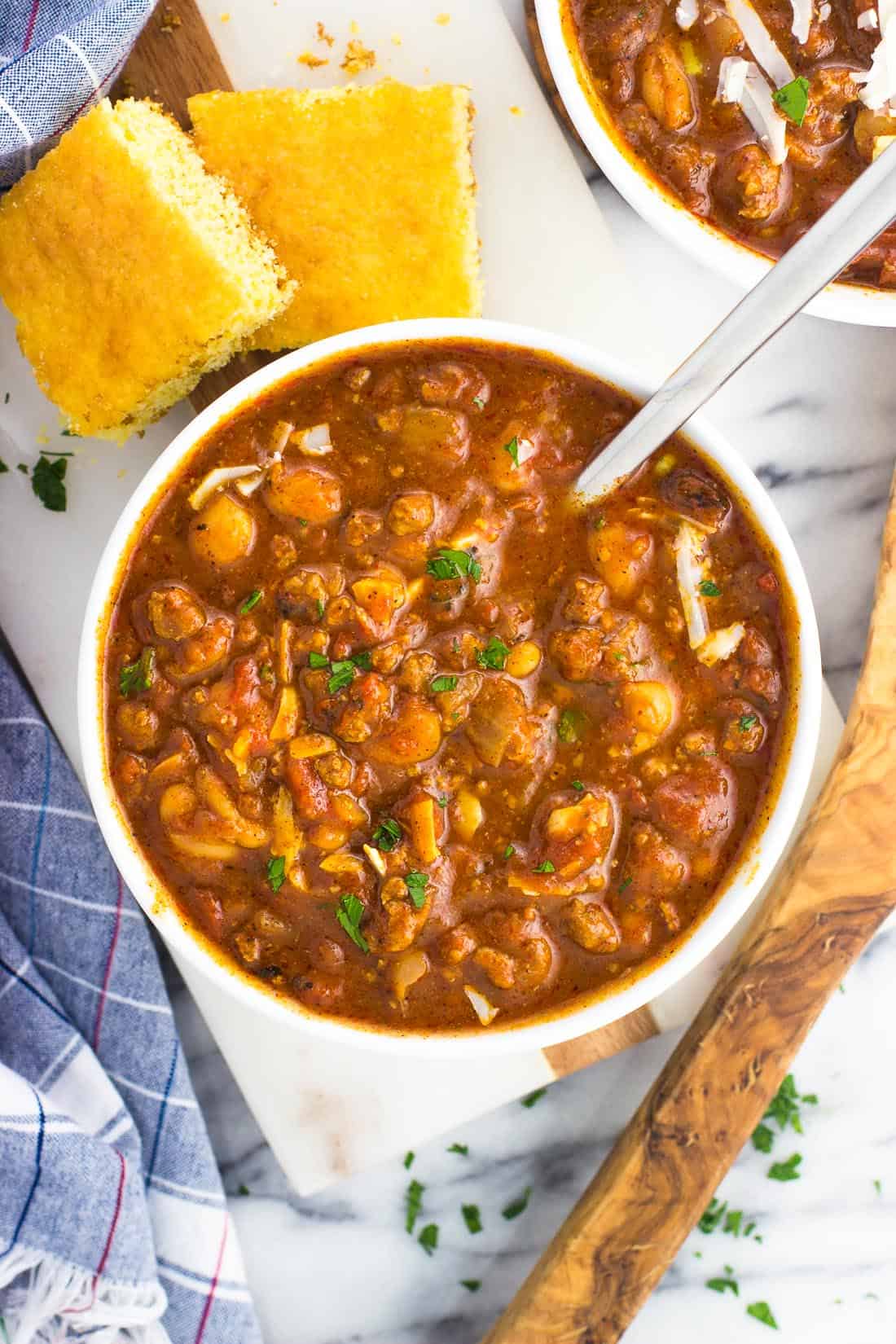 Most of the time when I make something in the Instant Pot I start washing the dishes right after I set whatever it is on pressure cook. That way I know I have at least twenty-ish minutes of hands-off coming-up-to-pressure and cooking time to clean up and/or prep whatever else it is we're eating for dinner.
The first time I experimented with making my turkey chili in the Instant Pot, it was two minutes into the pressure cook time when I heard the distinct sound of the float valve dropping. My head whipped around from the sink to eye up the IP because that's a bad sound to hear with thirteen minutes of cooking to go.
The issue I hadn't taken into account when adapting my usual chili recipe was that the mixture pre-cook was very thick. Too thick! There wasn't enough steam able to be created, so the IP couldn't maintain pressure. I blame the crushed tomatoes, not enough liquid, and my maniacal stirring together of everything before cooking as the culprits.
Since all of the ingredients were cooked beforehand, I added some water and abbreviated the cook time and my Instant Pot turkey chili hobbled along. Wouldn't you know it resulted in the best tasting turkey chili I think I've ever made??
Clearly my recipe needed structural help before being ready for the big time, which I was glad to do. And here it is! With the added bonus of the Instant Pot functioning correctly this time.
Read on to see what tips are *super* important when cooking with tomato-based liquids and thick mixtures.
Healthy ingredients
This chili is made with ground turkey so it's leaner than traditional beef chilis. Sometimes turkey-instead-of-beef recipes get a bad rap for lacking flavor, but I've found with the right type of recipe and sufficient other ingredients and seasonings, you can hardly tell the difference.
Such is the case with my gold standard taco meat recipe. No flavor lost whatsoever by using turkey – promise!
The first step in making Instant Pot turkey chili utilizes the Instant Pot's "Saute" function. Besides the whole time thing, this feature is a huge benefit to the Instant Pot when you compare it to a slow cooker. There's no need to dirty up a separate pan to brown and saute things before cooking.
So! Saute the onion for a few minutes, then add the ground turkey. Once the turkey has browned, add in the minced garlic and cook for just a minute or two.
Next, everything in there is seasoned with the spice blend. Of course there's a bunch of wiggle room when it comes to seasoning chili, but my preferred blend features chili powder, ground cumin, dried oregano, salt, pepper…and unsweetened cocoa powder.
If you haven't added cocoa powder to your chili before, don't panic. One tablespoon blends in seamlessly as a support ingredient and deepens the flavor without adding any chocolate notes whatsoever. It's the first 'unexpected' ingredient in this turkey chili recipe.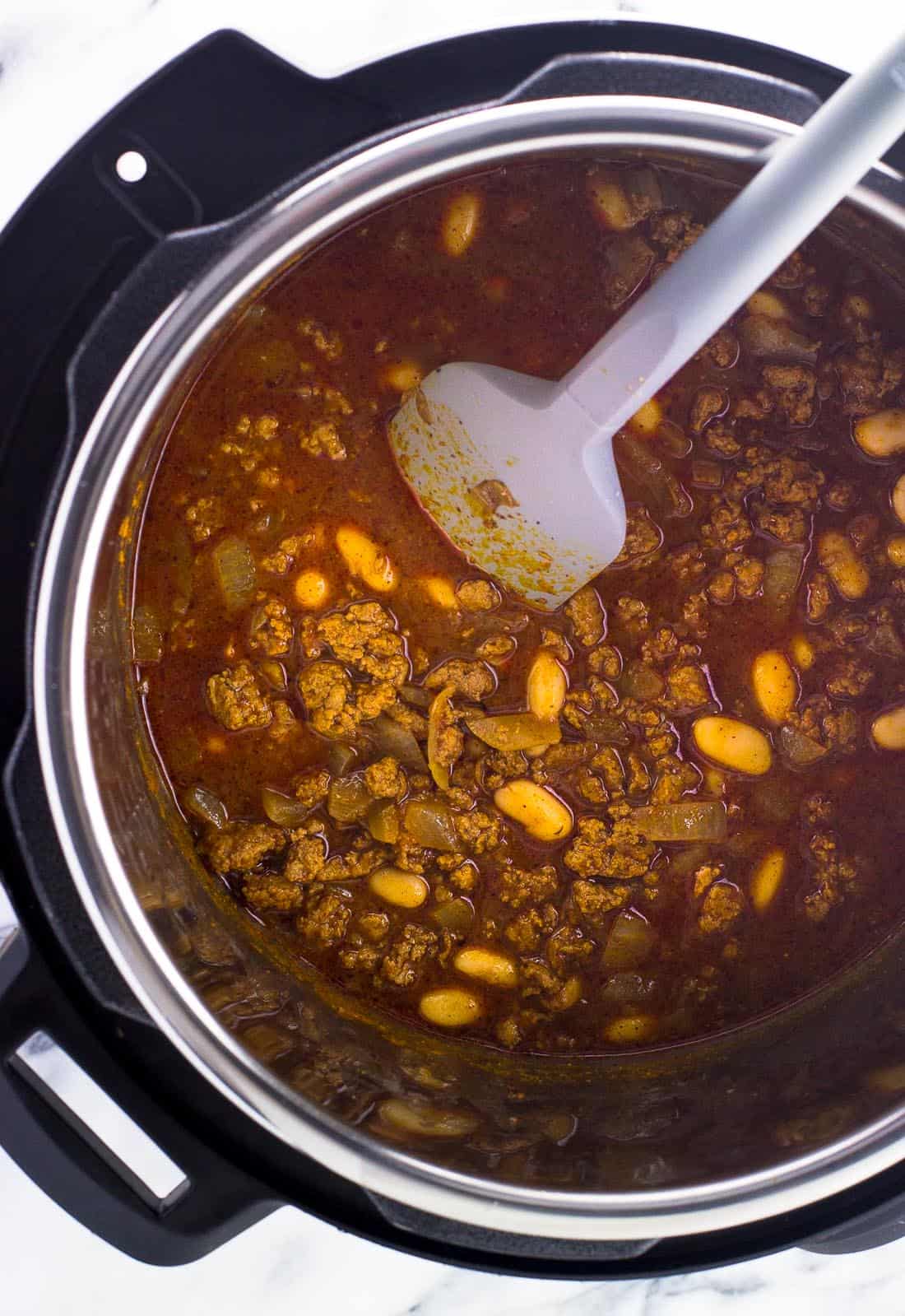 Deglazing the Instant Pot
The next step is an important one: deglazing the Instant Pot. Pour about 1/2 cup of the reduced-sodium beef broth into the pot while it's on "Saute" mode and scrape up all of the burnt bits that are stuck to the bottom of the pot.
Not only does this add a great flavor to the chili, it's essential in preventing any "burn" error messages that you might have heard about when it comes to Instant Pot cooking.
Once it's all deglazed, pour in the rest of the broth, the cannellini beans, the pumpkin puree, and the Worcestershire sauce and stir it all up.
Pumpkin is the second sort-of unusual ingredient here. Just like with the cocoa powder, it doesn't add any pumpkin flavor to this chili, rather it brings a silky texture that makes this healthy turkey chili truly taste more luxe than it is.
All that's left is to pour in the crushed tomatoes (see the trick to this in the section below), lock the lid, and cook. Since all of the ingredients are cooked already, just 15 minutes of manual high pressure cook time are that's needed for the flavors to meld and for everything to combine and thicken.
Prevent the Instant Pot 'burn' message
Getting the "burn" error isn't unheard of when making chili in the Instant Pot. The combination of chunky ingredients and thick crushed tomatoes without a ton of soup-level liquid is a perfect storm for Instant Pot shenanigans.
While I haven't gotten a display "burn" message on my Instant Pot, the float valve dropping during cook time is another mechanism that signals there's not enough liquid (to provide steam) to maintain pressure. Basically it gives up before the food along the bottom of the pot scorches beyond belief.
Some Instant Pot models can be touchier than others with the "burn" message, but there are three things you can do to help prevent any trouble while cooking this Instant Pot turkey chili.
Use sufficient liquid. I've found the sweet spot for this chili to be 1 3/4 cups of broth. The time my float valve went down I used 1 cup, which *should* be enough for cooking in a 6-quart Instant Pot in general, but not with a thick chili recipe.
Deglaze the pot. This step is a MUST. Leaving anything stuck to the bottom of the pot after sauteeing and before pressure cooking is just too risky. The Instant Pot registers the temperature on the bottom of the pot, so that would be a surefire way to trigger a "burn" message.
Don't stir in the crushed tomatoes. Pour them on top of the other ingredients in one general area and let them stay there. Stirring them in thickens the liquid too much, which can lead to issues maintaining pressure like my float valve situation. During cooking they integrate into the rest of the chili no problem. I carefully removed the spatula from the Instant Pot in the picture above and closed/locked the lid.
Sometimes things happen despite our best efforts. If you still get a burn message or the Instant Pot has trouble maintaining pressure, carefully release the rest of the pressure (if there is any), scrape up the bottom, and add additional broth or water to thin the liquid. Replace the lid, seal it up, and cook it again.
All the ingredients here are cooked prior to pressure cooking, so there isn't a worry of things not being cooked through.
Serving suggestions
For starters, cornbread is a classic! As is shredded cheese, sour cream, green onion/herbs, etc. I don't have a go-to homemade cornbread recipe (yet) so real talk: usually I use a mix.
This chili isn't too spicy, so something like a jalapeno cornbread would probably make a great pairing.
On that note — cornbread croutons? Sign me up.
For a slightly different direction, these garlic and herb pumpkin dinner rolls would be a delicious continuation of the pumpkin theme. They use just over 1/3 cup of pumpkin puree, so if you're opening a new can for this chili, you'll have more than enough.
And as always, a simple side salad using whatever vegetables you have on hand is a winner. The juxtaposition between warm chili and a cool, fresh salad works especially well here.
Variations
Switch up the beans. I'm not a lover of a strong bean presence in chili. However cannellini beans are a great middle ground. They're really neutral in flavor and blend in just right, adding heft and a nutritious boost of fiber here. Instead of white beans you can use pinto beans, red kidney beans, or whichever type you prefer.
Use chicken broth. It's a bit of a mismatch to use a ground turkey/beef broth combo, but it helps make this leaner chili taste, well, not so lean. That said chicken broth can be used instead if you'd like to omit red meat derivatives.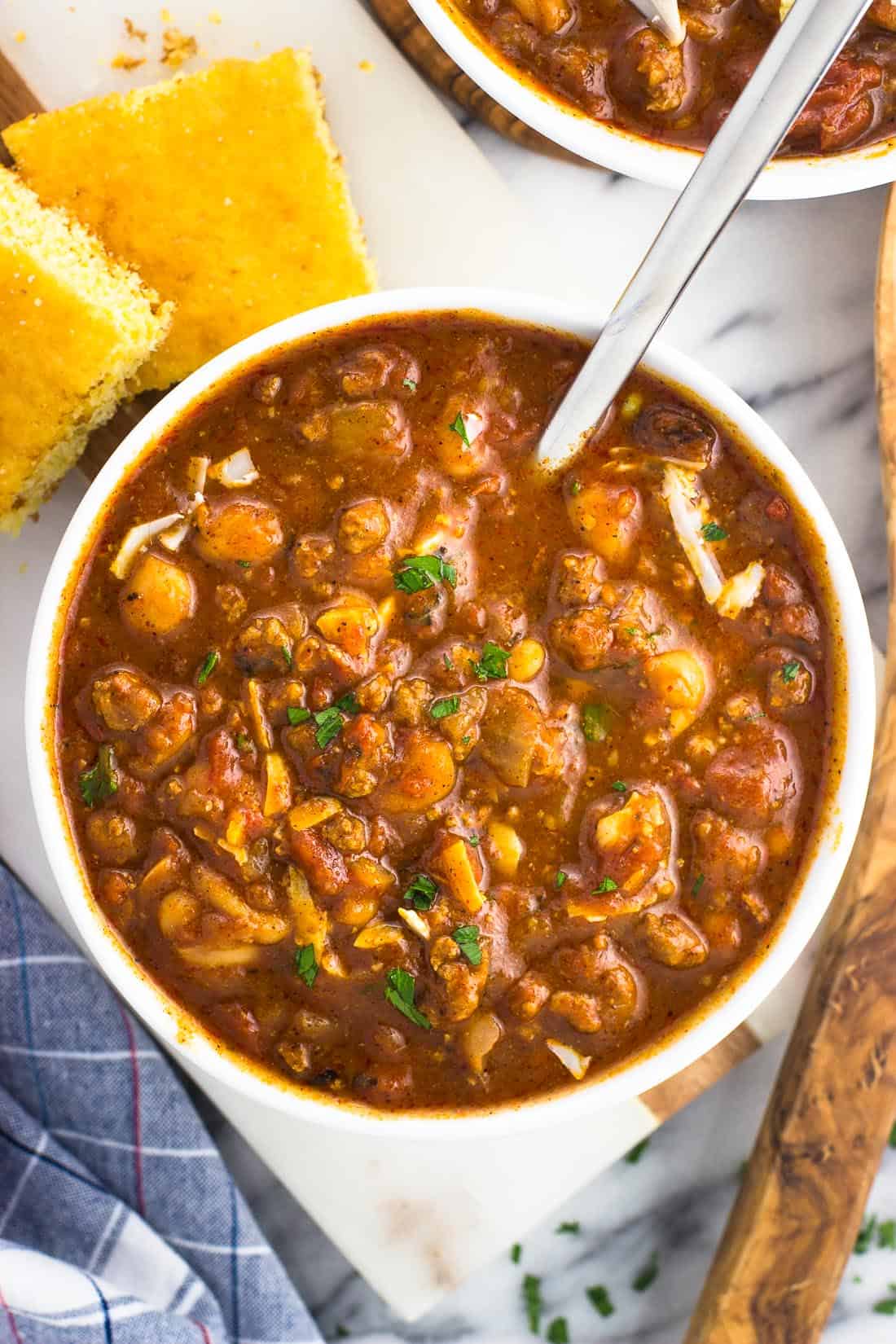 Recipe notes
I've only made this chili with canned beans, though if you pre-soak dried beans (use your preferred method), they should work just fine.
The amount of pumpkin can vary if you're looking to use up an open can. From 1/2 cup to 1 cup of pumpkin puree should be fine.
If after cooking and natural pressure release this Instant Pot chili is still too liquid-y for your liking, set the Instant Pot to "Saute" and cook until it thickens up.
Chili freezes beautifully. Pour leftover chili into the air-tight, freezer-safe containers of your choice and pop them in the freezer. They'll be just fine for 5-6 months at the proper conditions, probably even longer.
This recipe was tested and made in a

6-quart Instant Pot

(affiliate link).
Instant Pot Turkey Chili
Instant Pot turkey chili is an easy, one pot chili recipe that's hearty and perfectly balanced with spice. Two unexpected ingredients help give this healthy turkey chili a ton of richness.
Print
Pin
Rate
Ingredients
2

tbsp

olive oil

1

onion,

diced

1

lb

ground turkey

5

cloves

garlic,

minced

2

tbsp

chili powder

1

tbsp

unsweetened cocoa powder

1

tsp

ground cumin

1

tsp

dried oregano

1

tsp

salt

1/2

tsp

ground black pepper

1 3/4

cup

reduced-sodium beef broth

1

15.5-oz can

cannellini beans,

rinsed and drained

3/4

cup

pumpkin puree

1

tsp

Worcestershire sauce

1

28-oz can

crushed tomatoes
Instructions
Set the Instant Pot on "Saute" and add the olive oil. Once heated, add the diced onion and cook for 2 minutes.

Add the ground turkey and break it up into crumbles. Cook for 6-7 minutes, or until the turkey is fully cooked and no longer pink, stirring occasionally. Add minced garlic and cook for another 2-3 minutes.

Season turkey with chili powder, unsweetened cocoa powder, cumin, oregano, salt, and pepper and stir to coat evenly.

Pour in about 1/2 cup of the beef broth and scrape up any browned bits stuck to the bottom of the pan. Once deglazed, add the rest of the broth, the rinsed and drained beans, pumpkin, and Worcestershire sauce and stir to combine.

Pour the crushed tomatoes into one side of the Instant Pot and do not stir. Stirring would make the mixture too thick and would risk triggering a "burn" error message.

Press the "Keep Warm/Cancel" button to shut off the Saute function. Close and lock the lid. Press the "Manual" button (or "Pressure Cook" on newer IP models) and using the "+" or "-"buttons, adjust the time to 15 minutes of high pressure cooking.

Once the 15 minutes are up, let the Instant Pot release the pressure naturally. Once the float valve goes down and the pressure is released, carefully remove the lid and give everything a stir. Serve with your favorite chili toppings, such as shredded cheese, parsley, green onion, sour cream, crushed tortilla chips, etc.
Notes
Nutritional estimate: The nutritional information is an estimate. It takes into account rinsing and draining the beans and reduced-sodium beef broth. It does not include any toppings or what you might serve alongside this chili. Time estimate: The time estimate does not include the time for the Instant Pot to come up to pressure, or the natural pressure release. Freezing instructions: Leftover chili can be frozen in air-tight, freezer-safe containers for 5-6 months at the proper conditions (probably even longer).
Nutrition
Calories:
311
kcal
|
Carbohydrates:
30.4
g
|
Protein:
21.8
g
|
Fat:
11.9
g
|
Saturated Fat:
1.9
g
|
Cholesterol:
56
mg
|
Sodium:
816
mg
|
Potassium:
715
mg
|
Fiber:
9.3
g
|
Sugar:
9.1
g
|
Calcium:
76
mg
|
Iron:
4
mg
Nutritional information is provided as an estimate. As it can vary due to many factors (brands used, quantities, etc.), we cannot guarantee its accuracy.