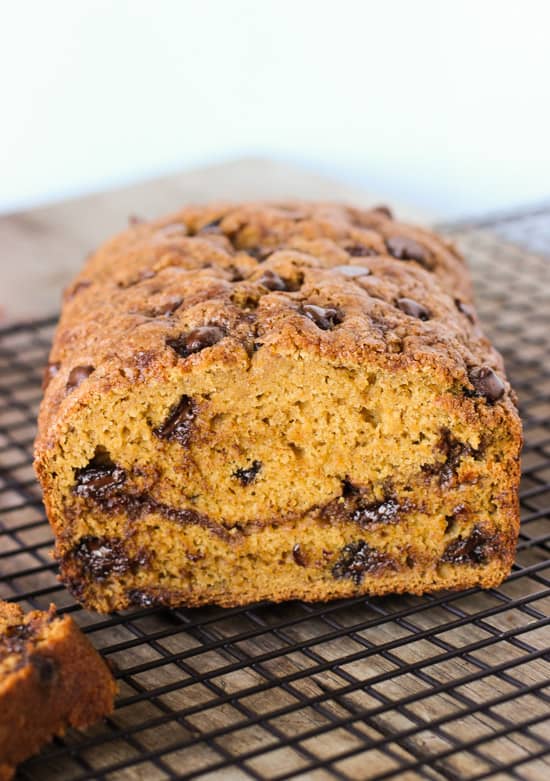 You know those times when you're running low on kitchen inspiration? I've been there a lot lately, and I think I just may have found the cure. Cleaning out your kitchen cabinets!
We have a tiny apartment with tall ceilings, so the top shelves of our cabinets might as well be a black hole. Groceries go up and never come down. But recently I wrangled the step ladder so I could get a good look at the goodies languishing away up there and geeeeez was I glad I did.
I found a bag of marshmallows that became a fab kitchen sink cereal treat and an extra bag of white chocolate chips, which were promptly opened and dumped into loaded oatmeal cookies. Then I found a leftover can of pumpkin puree, which was quite a surprise between all of the recipe testing I've been doing lately. And then I realized it was November and I hadn't yet made pumpkin bread.
Well, duh – let's make that happen!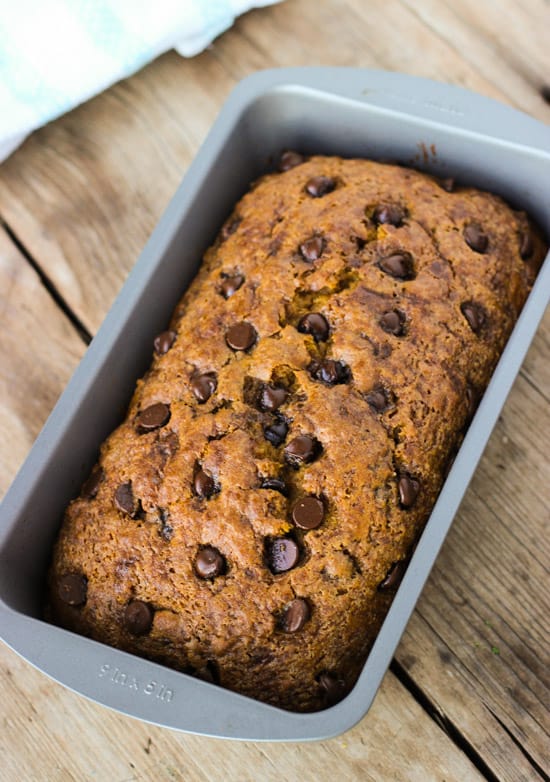 While pumpkin bread was on the menu, I spied two bananas on the verge of disintegrating (not really, but really). This bread became the best of both worlds – pumpkin banana bread. It's super moist but doesn't use any butter or oil, thanks to all of the pumpkin, banana, and coconut milk goodness packed into this baby. It has the warm spice of pumpkin bread with a tiny little tinge of banana, es-peeec-ially when you get a bite with a chocolate chip or two in it, too. Oh, and there's a brown sugar and cinnamon layer throughout and on top. Can ya stand it?
I can't.
Do you want to know why there's coconut milk in here? Another top kitchen cabinet find. It's an abyss of lost groceries up there, guys. You can sub in regular milk or any milk substitute you prefer, but I was on a roll with cracking into the cupboard of misfit ingredients and I didn't want to stop just yet! 🙂
As with the milk, this recipe is open to customization. Dark chocolate chunks or cinnamon chips would be miiighty delicious methinks (or no chips at all, if you roll that way). Same thing with the brown sugar/cinnamon layer. But I will tell you that I'm a little bit obsessed with it. It adds a sweet, warmly-spiced crispness to the top crust that had me not-so-discreetly cutting straight pieces of crust off. But if you're pressed for time (or, at least as pressed for time as one can be when making bread that bakes for one hour+), this bread will certainly bake up wonderfully without.
Except now that I've shared with you how sugary sweet and delicious the crust is, I wouldn't want you to be gripped by FOMO. It's an extra minute or two well spent! Surely a moist baked good made without oil or butter deserves a high five in the form of extra sugar and spice. At least that's what my sweet tooth told me.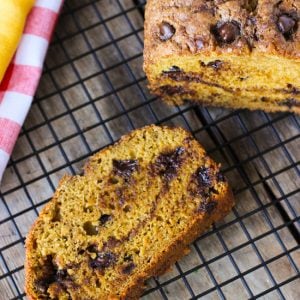 Ingredients
1/2

cup

pure pumpkin puree

1/2

cup

granulated sugar

1/4

cup

brown sugar

plus approx. 1/4 cup for layer

1

egg

2

medium-large bananas

very ripe and mushy

1/4

cup

lite coconut milk

1

tsp

vanilla extract

1/2

tsp

maple extract*

2

cups

all-purpose flour

1

tsp

ground cinnamon

plus approx. 1/2 tsp for layer

1

tsp

baking soda

1

tsp

baking powder

1

tsp

salt

2/3

cup

semi-sweet chocolate chips

or to taste
Instructions
Preheat oven to 325°F and grease a 9" x 5" loaf pan and set aside.

In a large bowl, mix together pumpkin, granulated sugar, and 1/4 cup of brown sugar until creamy. Add egg and bananas and continue to mix until banana is evenly mixed in to batter. Pour in coconut milk and add extract(s). Mix well.

To bowl with the wet ingredients, add flour, 1 tsp cinnamon, baking soda, baking powder, and salt. Stir until dry ingredients are just combined. Stir in chocolate chips.

Pour about half of the batter into prepared loaf pan. In a small bowl, mix together remaining 1/4 cup brown sugar and 1/2 tsp of cinnamon until evenly dispersed. Sprinkle half of brown sugar/cinnamon mixture evenly over batter in the loaf pan. Pour remaining half of batter over top and sprinkle remaining brown sugar/cinnamon mixture. For an extra snazzy presentation, gently press additional chocolate chips into the top of the batter.

Bake for 1 hour to 1 hour 15 minutes, or until the top of the bread springs back lightly when pressed and a tester inserted into the highest part of the bread comes out clean. Let bread cool in the pan for about twenty minutes or so, and then remove and let cool completely on a wire rack before slicing. Store loaf in an air-tight container with a paper towel pressed against the top to prevent the sugar coated crust from becoming mushy.
Notes
*If you don't have maple extract on hand, feel free add in an extra 1/2 tsp of vanilla extract.
Nutritional information is provided as an estimate. As it can vary due to many factors (brands used, quantities, etc.), we cannot guarantee its accuracy.
Recipe adapted from the Food Network's Banana Bread