How disorienting is it to walk into a different supermarket than your usual one? You're meandering through the aisles, not quite sure if the tomato sauce aisle comes before or after the crackers. The order in which you wrote your list probably doesn't correspond with the new store's layout, adding to all the zigzagging you're doing. And what about those items that just don't seem to be anywhere? Like honey, for example. When I lived on the East Coast, I knew my former supermarket like the back of my hand. Honey was next to the PB&J. But in this new store? Nope. Also not in the baking aisle. Or by the tea. After an embarrassing length of time, I discovered it nestled up by the ketchup and soy sauce. What under normal circumstances should be a quick errand just morphed into one of those scavenger hunts you're forced to do in those team building exercises. "Find a South Carolina state quarter". "Yeah, okay". I mean, is it just me?
The truth is, I still don't know my way around my new supermarket, and it's been many months. Maybe it's some sort of mental block, I don't know. More often than not though I find myself gravitating toward the baking aisle, because while I have no clue where the seasoned breadcrumbs may be (seriously, never found them), I know precisely the bottom shelf where the pumpkin puree lives. Obviously this means pumpkin cookies are happening instead of toasted ravioli. 🙂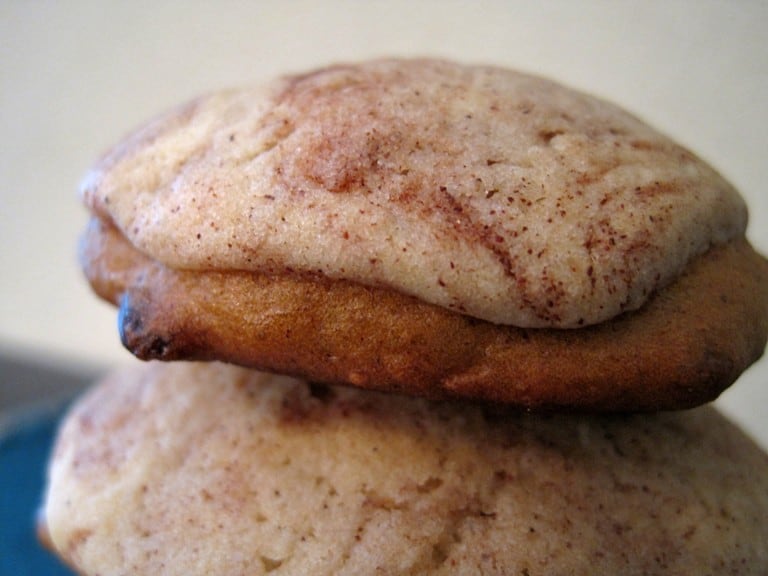 The pumpkin chocolate chip cookies are based on this recipe from Chocolate Moosey, which I halved and made several modifications. The snickerdoodle dough recipe (which was quartered) is from my mom's completely dilapidated copy of the Betty Crocker "Cooky Primer" cookbook that's at least a few decades old. Always interested in baking, I went through the book when I was little and wrote "yes" or "no" on each and every picture of a cookie, dependent on whether or not I thought it looked good. Not surprisingly, most cookies are a "yes".
Yeah, periodically I went back and reevaluated.
I love these cookies for several reasons, mainly because the doughs complement each other so well (cinnamon and pumpkin, hello?). The soft and pillowy texture of the pumpkin cookies juxtaposes nicely with the crisp, smooth feel of the snickerdoodle, so you really feel like you're biting into a cookie with a hardened icing layer on top. Plus, with several flavors already going on, the mini chips add just the right amount of chocolate without overwhelming the rest.
To hit the highlights for this recipe: I spent too much time wandering the grocery aisles, wanted to make frosted pumpkin chocolate cookies for a gathering I was going to, but realized I wouldn't have enough time for the frosting to harden before I had to leave. What if I "frosted" a cookie...with another cookie? Same look, right? Right.
Ingredients
For the Pumpkin Chocolate Chip Cookie Dough:
½

cup

pumpkin puree

½

cup

brown sugar

½

cup

yogurt

I used vanilla Greek

2

tablespoon

egg whites

or equivalent to ½ an egg

½

tablespoon

vanilla extract

1

cup

flour

I used ½ cup all-purpose and ½ cup white whole-wheat

1

teaspoon

baking powder

1

teaspoon

cinnamon

¼

teaspoon

salt

½

teaspoon

baking soda

⅛

teaspoon

ground cloves

⅓

cup

mini chocolate chips
For the Snickerdoodle "Frosting" Dough:
¼

cup

butter

⅓

cup

sugar

2

tablespoon

egg whites

¾

cup

all-purpose flour

½

teaspoon

cream of tartar

¼

teaspoon

baking soda

pinch

of salt

1

teaspoon

sugar

or more

1

teaspoon

cinnamon

or more
Instructions
Preheat oven to 375°F. First mix up snickerdoodle dough so it can chill while you prepare the pumpkin dough. Mix together butter, sugar, and egg whites in small bowl. Mix together flour, cream of tartar, baking soda, and salt in a medium bowl. Stir dry ingredients into wet until well-combined. Place dough in refrigerator until you're ready to use.

Next, for the pumpkin dough, mix together pumpkin, brown sugar, yogurt, egg whites and vanilla extract in medium bowl. Then in larger bowl mix together flour, baking powder, cinnamon, salt, baking soda, and cloves. Mix wet ingredients into dry until combined. Stir in chocolate chips.

Take out the snickerdoodle dough from fridge. In a small bowl, mix together cinnamon and sugar. Roll dough into one BIG cookie and roll in cinnamon/sugar mixture. Roll out dough on lightly-floured board until approx. ¼? thick. Take a pause on the snickerdoodle dough for a sec and grease cookie sheet(s). Drop rounded tablespoonfuls of the pumpkin dough 1 ½? – 2? apart.

Back to the snickerdoodle dough: cut round shapes that are similar in size as the pumpkin cookies that are now on the cookie sheets (I used the lid of something to cut circular shapes). Atop each pumpkin cookie, place a snickerdoodle round and lightly and evenly press to adhere.

Bake for 12-15 minutes, or until bottoms are lightly browned and top is pretty solid. Cool on wire rack.
Nutritional information is provided as an estimate. As it can vary due to many factors (brands used, quantities, etc.), we cannot guarantee its accuracy.
Food Safety and Nutrition Disclaimer