Because maybe indulging in the Halloween haul is a little too easy. Unwrap candy of choice and pop in mouth. Repeat. And repeat. And repeat.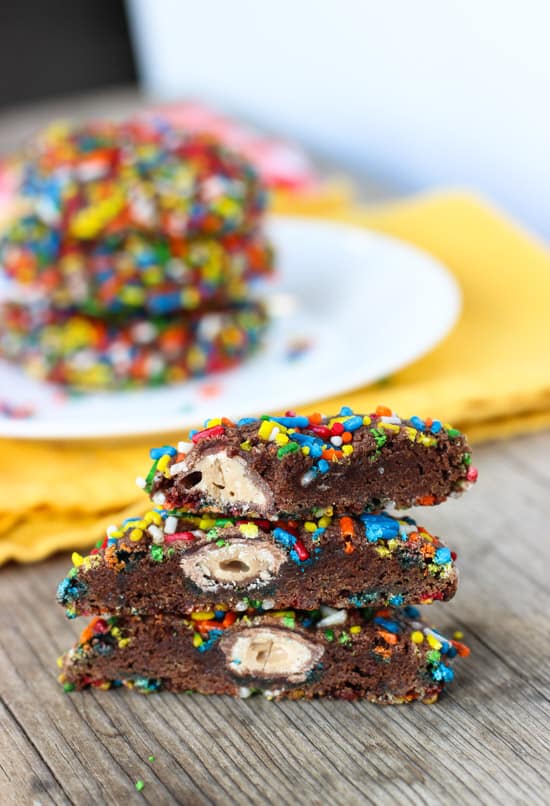 Let's slow it down with these Chocolate Sprinkle Whoppers Cookies. Chewy and rich chocolate cookie dough is wrapped around chocolate-covered malted milk balls,  and rolled in rainbow sprinkles. These chocolate cookies spread perfectly, look festive, and have an oh-so-good crunch of malty sweetness.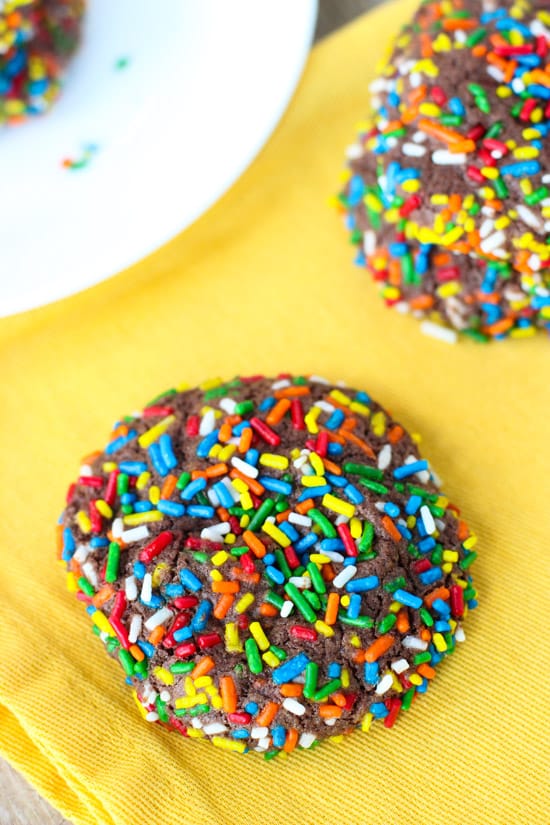 First things first – how was your Halloween?
Our night consisted of sweatpants, couch, and Netflix. Nothing too different than our usual Friday nights! 🙂 B and I knew we'd have zero trick-or-treaters, so we had a hard time even justifying buying contingency candy. Not even one mini bag. How-ev-errrr during our last trip to the grocery store, my arm did reach up to the top shelf of the candy aisle and pull down a (large) carton of Whoppers. Happy Halloween to me. 🙂
Since I really can't resist Whoppers (and enjoyed more than my fill of them on Halloween), I knew I needed to rehome the ones remaining. Cookies! Cookies were happening. I whipped up my favorite chocolate cookie base, which first made its appearance in these chewy chocolate peanut butter chip cookies, and halved the batter because I knew the candies would add some bulk. Plus when you're a household of two, there are only so many 3″ wide cookies one can store in the house before someone's willpower implodes and all that's left is a trail of crumbs.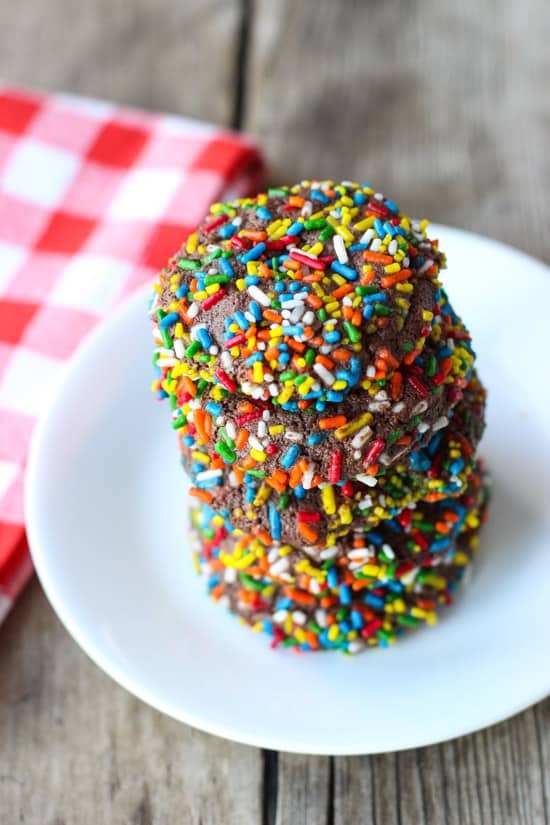 While all that's left of these cookies are indeed a few errant crumbs and some runaway sprinkles, knowing it was a small yield recipe makes me feel a liiiittle bit better. Because it takes a lot more time to eat ten Whoppers cookies than ten actual Whoppers, right?
Errr…right.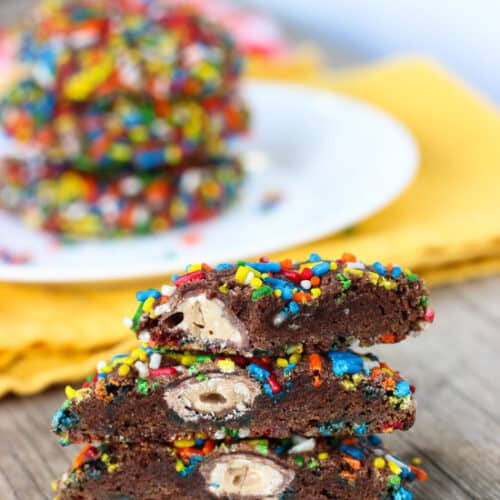 Ingredients
5

tbsp

unsalted butter

softened

1/3

cup

granulated sugar

1/4

cup

brown sugar

1

egg

1

tsp

vanilla extract

3/4

cup

all-purpose flour

3

tbsp

unsweetened cocoa powder

1/4

tsp

baking powder

1/8

tsp

cornstarch

24-30

Whoppers candies

Rainbow sprinkles
Instructions
Preheat oven to 325°F. In a medium-sized bowl, beat butter, sugars, egg, and vanilla extract until light and fluffy. Add flour, cocoa powder, baking powder, and cornstarch and mix until just blended.

With a spoon, scoop up about 1 tbsp of batter and press around 2-3 Whoppers, allowing some of the cookie batter to come between the candies. Add additional batter as necessary. Make sure all of the candies are covered by batter, and roll cookie with your palms into a round(ish) shape. Roll cookie in sprinkles, then place on an ungreased non-stick baking sheet. Repeat the process with remaining ingredients, leaving about 2" between cookies on baking sheet.

Bake for 13-15 minutes, or until tops of cookies are just about firm and edges/bottoms are just beginning to brown slightly. Remove from baking sheet and let cookies cool completely on a wire rack.
Notes
You can make smaller (or larger) cookies by using a different number of candies in each cookie. Just be sure to adjust the cooking time accordingly.
Nutritional information is provided as an estimate. As it can vary due to many factors (brands used, quantities, etc.), we cannot guarantee its accuracy.