I know, I know. Posting a cookie recipe when we're not even two weeks out from Christmas. What is she thinking? But hear me out. I had such a smattering of ingredients left over after my holiday baking, and they were taking up some prime real estate in my fridge. Not that this is necessarily a bad thing – there could be far worse situations in which to find yourself. There was a half-full jar of maraschino cherries here, a little bit of dark chocolate almond milk there (which is a surprise, given the number of times this Healthier Mexican (Dark) Hot Chocolate happened), even some unsweetened coconut flakes were kicking around the bottom drawer (also used in this Oven-Baked Coconut Almond Pancake). Basically, my fridge was full of food odds and ends.
With 2014 rapidly approaching, I felt a strong urge to start fresh. Clean the house from top to bottom, organize everything I own, drink green smoothies daily, double my time on the elliptical, conquer the world, etc. You know, all that resolution stuff. What sprung from the infectious, inspiring spirit of a new year soon overwhelmed me, and quite frankly I was exhausted even before that sparkly, decked-out ball dropped in Times Square.
So, baby steps. I couldn't clean the whole house without starting somewhere, and I chose the fridge for my starting point. Cherries, chocolate…I mean that just screams black forest right? By my thinking, finishing off these ingredient misfits was in a way cleaning the fridge. Making these black forest cookies was practically a resolution.
These cookies are chewy, thanks to the untraditional addition of unsweetened coconut flakes mixed into the batter. The unsweetened flakes (which I found at my local natural foods grocer) are smaller than the traditional sweetened coconut flakes, so in this recipe they tend to absorb into the batter rather than stand out on their own. Hence, the chewiness. They also don't spread much during baking, so if necessary you may drop dough closer together than I did (see picture above).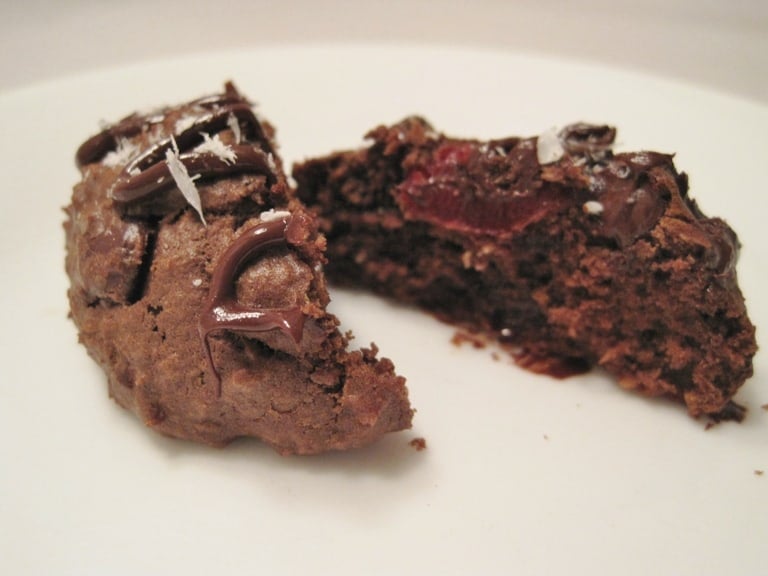 Black Forest Cookies
Ingredients
2

cups

all-purpose flour

1

tsp

baking soda

1/4

cup

+ 2 tbsp unsweetened cocoa powder

1/2

cup

butter

softened

1/2

cup

granulated sugar

1

tsp

vanilla extract

3

eggs

2

tbsp

Nutella

3/4

cup

dark chocolate almond milk

1/2

cup

maraschino cherries

quartered

1

cup

unsweetened coconut flakes

divided

2

cups

semisweet chocolate chips

divided
Instructions
Preheat oven to 350°F. In a large bowl, combine flour, baking soda, and cocoa powder.

In a separate bowl, blend together butter, sugar, vanilla extract, eggs, Nutella, and almond milk. Pour wet ingredients into dry and combine.

Stir in cherries, 3/4 cup of the coconut flakes, and 1 cup of the chocolate chips.

Drop rounded two-tablespoonfuls of batter onto ungreased cookie sheets. Bake for 13-15 minutes or until tops of cookies spring back lightly to touch. Let cool on wire racks.

To make chocolate drizzle, melt the remaining cup of chocolate chips in microwave for twenty-second intervals, stirring after each interval, until chocolate is melted and smooth. Transfer melted chocolate to a plastic bag, seal, and snip corner of bag. Drizzle over top of cookies.

Sprinkle remaining 1/4 cup of coconut flakes on top of cookies while chocolate drizzle is still malleable so they adhere. Let drizzle harden before serving and/or packaging.
Nutritional information is provided as an estimate. As it can vary due to many factors (brands used, quantities, etc.), we cannot guarantee its accuracy.