Chocolate Orange Chip Cookies are rich and chewy with the perfect hint of orange flavor. This twist on a classic double chocolate cookie is a crowd favorite. Orange and chocolate work so well together!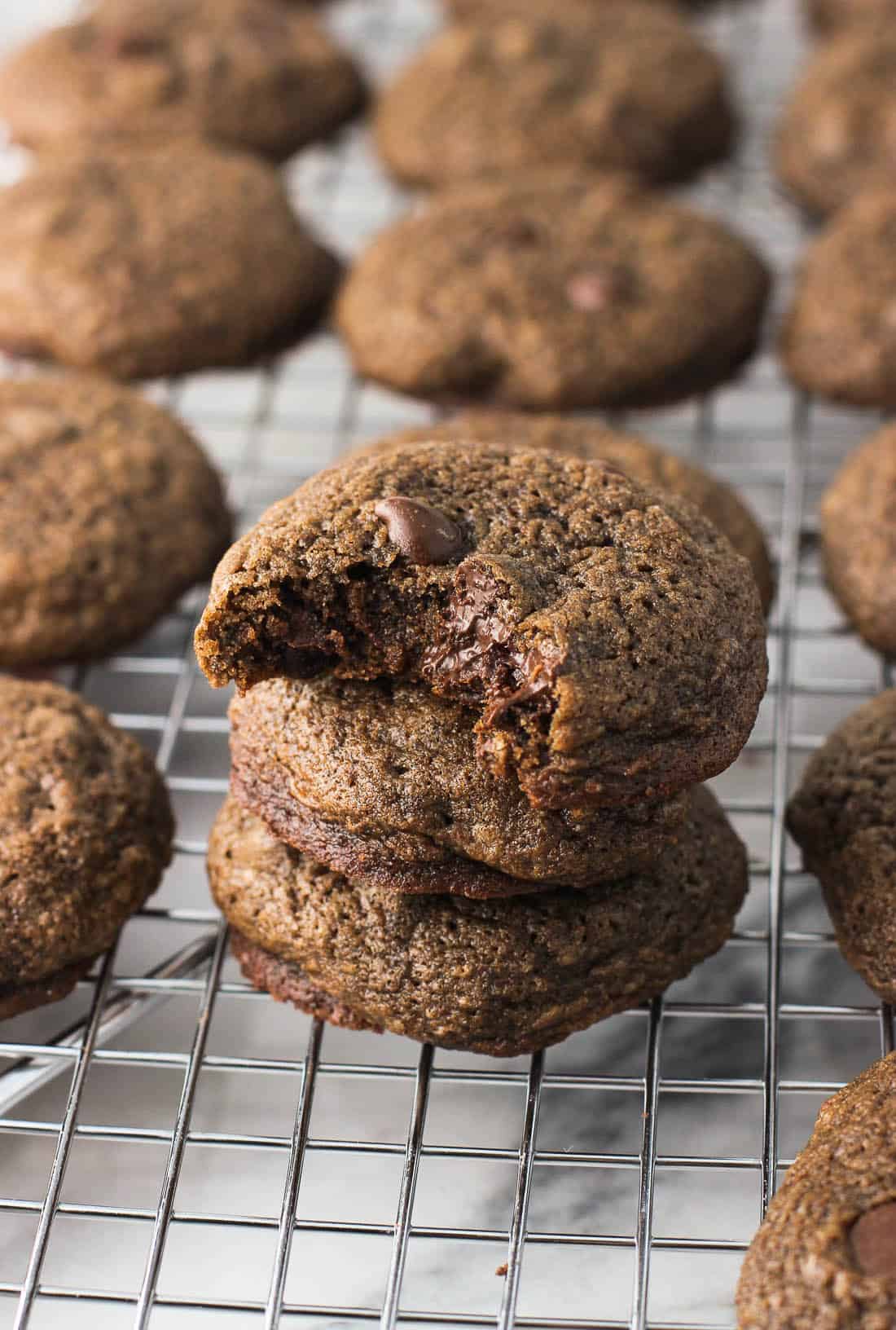 Does anyone else have those moments from your life where you can remember every detail? And I'm not talking about big things like the first day of school or first concert you went to, but totally mundane things that for some reason or another have etched themselves into your brain? I have tons of those.
I can vividly remember the first time I used a stapler. The first time I ate shrimp cocktail. The first time I ate a jelly stick from Dunkin Donuts. The first time I ate a chocolate orange. (Can you tell a bunch of these memories are food-related?)
But back to that chocolate orange. I have no clue why this was memorable for me. For starters, the whole thing just made me suspicious. It was round. Was it an orange or was it chocolate? And what do you mean I have to whack it on the table before opening it? Weird. But SO. GOOD. Chocolate and orange was never a flavor combination I'd thought of before, but it completely blew my middle-school mind (maybe that's what seared it in my memory?).
But despite the WOW-inducing experience, that was the first and last time I had a chocolate orange. Truthfully, I kind of just forgot about it. But my chocolate orange fascination slowly crept back - and thankfully so. As I could take or leave smacking my dessert on the table AND having recently treated myself to a brand-new cookie scoop, I knew the flavor combination of my dreams had to be reincarnated as cookies. Chocolate orange chip cookies.
The cookie base here consists of deep + dark chocolatey goodness, with semisweet chocolate chips stirred in for good measure. It's chewy and all kinds of good. The usual chocolate cookie culprits are here such as a mix of granulated and brown sugars and a pinch of espresso powder to amp up the chocolate flavor (it's optional), but the orange flavor comes from orange extract. It adds the perfect hint of orange flavor without being overpowering or tasting 'artificial', and trust me - it's a delicious complement to chocolate.
And these cookies are totally the kind where every time you walk past them, you open the container and inhale in the glorious aroma. You have been warned.
Chocolate Orange Chip Cookies
Rich chocolate cookies combine with an unlikely flavor pairing - orange - in these unique but tasty cookies.
Print
Pin
Rate
Ingredients
2

cups

all-purpose flour

¼

cup

unsweetened cocoa powder

1

teaspoon

baking soda

½

teaspoon

salt

½

teaspoon

espresso powder

optional

1

cup

unsalted butter

softened to room temperature

½

cup

granulated sugar

⅔

cup

brown sugar

¾

teaspoon

vanilla extract

¾

teaspoon

orange extract

2

eggs

at room temperature

1 ¼

cup

semisweet chocolate chips
Instructions
Add flour, cocoa powder, baking soda, salt, and espresso powder in a mixing bowl and whisk to combine evenly.

In a separate bowl, cream together butter, sugars, and extracts. Add eggs and mix again until combined.

Add dry ingredients to the bowl with the wet ingredients in two or three increments, stirring after each addition until just combined. Do not overmix.

Stir in chocolate chips. Chill batter in the fridge for at least one hour.

Once chilled, preheat oven to 350°F. Lightly grease baking sheets with cooking spray.

Using a 1 ½-tbsp capacity cooking scoop, scoop cookies onto baking sheets, leaving about 1-½" to 2" of space between them to leave room for them to spread.

Bake for 11 minutes or so, or until the tops have mostly set. Remove from oven and let cookies cool on the sheets for a few minutes before transferring to a wire rack to cool completely.
Notes
The chill time helps prevent these cookies from becoming too flat as they bake.
I've baked these cookies on both parchment-lined baking sheets and lightly greased cookie sheets, sans parchment paper. The batch I baked on parchment spread out considerably more than the others and was much thinner, so I recommend lightly greasing a baking sheet and placing the cookies directly on there.
Nutritional information is provided as an estimate. As it can vary due to many factors (brands used, quantities, etc.), we cannot guarantee its accuracy.
Food Safety and Nutrition Disclaimer
*this post may contain affiliate links