Cornbread waffles are made easy using a corn muffin mix, and feature a touch of cinnamon and fresh blueberries. The homemade blueberry maple syrup adds an extra special touch!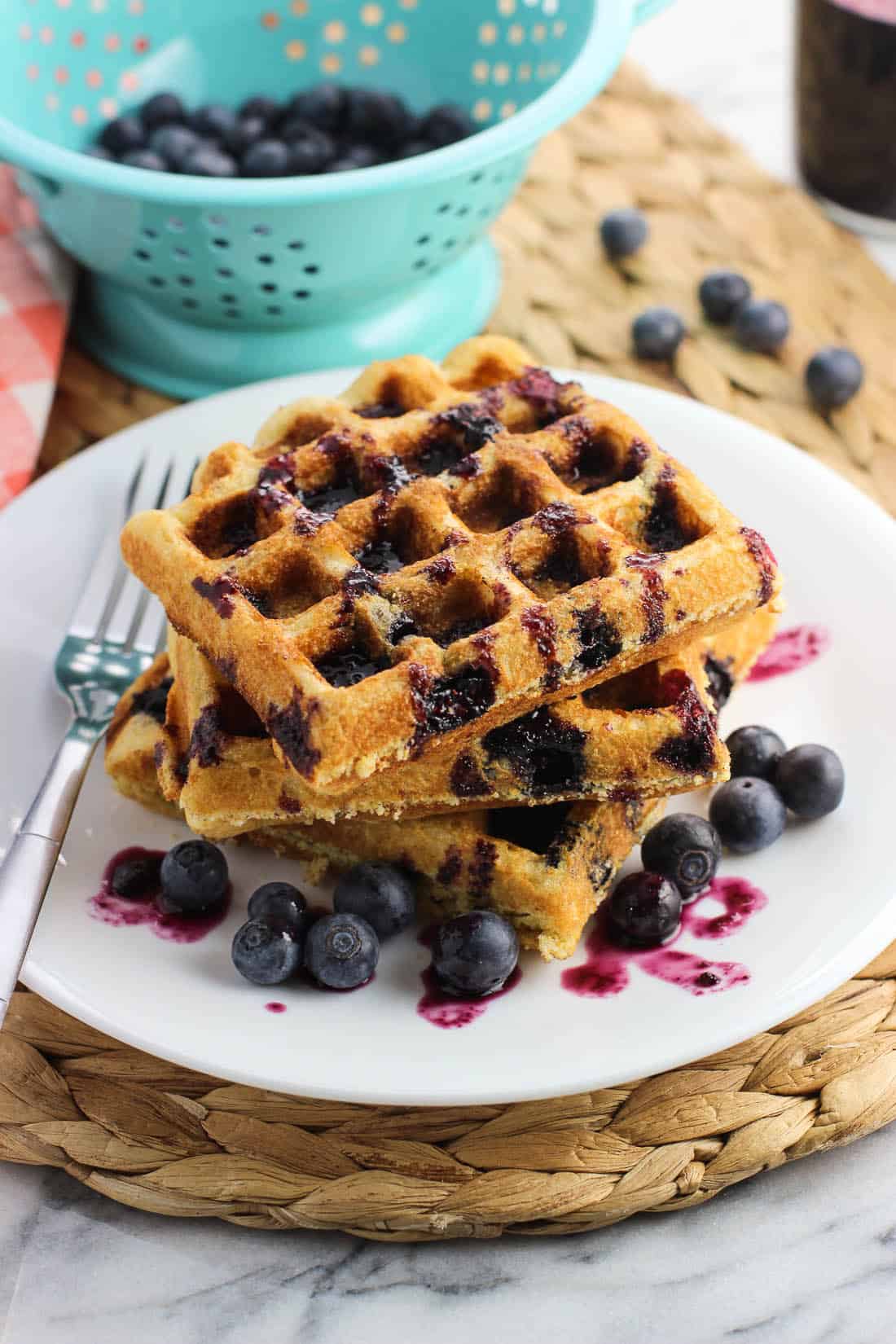 Do you ever get the "after-vacation" blues? Where you walk through the door, set down your bags, and sink into the couch while thoughts of reality (such as quantifying the loads of laundry to be done, chores to complete, work emails to answer, etc.) come hurdling back at you?
I think I have the "after-these-waffles" breakfast blues.
It's likely on this Monday morning that the only breakfast excitement I'll get is deciding between a pineapple- or a strawberry-flavored Greek yogurt. But it's normal to look forward to the breakfast you'll eat five days from now, right? Because I'm pretty sure I'll be daydreaming of juicy blueberries and fluffy cornbread waffles until Saturday morning rolls around.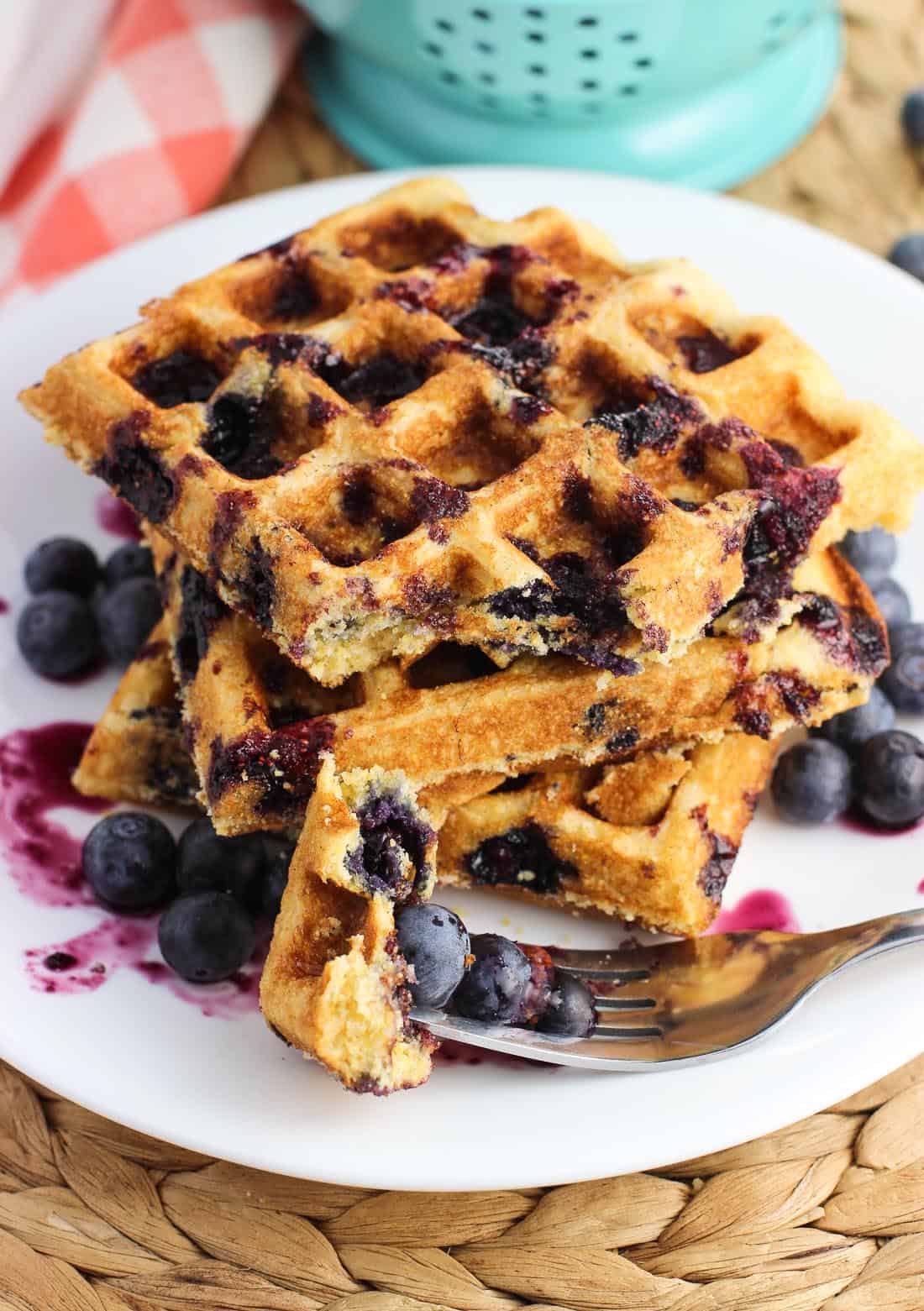 I've had the cornbread + blueberry flavor combination on the brain now for awhile, ever since spying a waffle featuring both on a brunch menu in downtown San Diego. Since most of the concerts we go to are held downtown and we live a good drive away from the city proper, we sometimes treat ourselves to a mini staycation and book a hotel nearby to the venue. Besides not having to drive 30+ minutes at midnight, another perk of this arrangement? Exploring new places for breakfast the next morning.
Truthfully we're not that into the whole brunch scene – I've definitely mentioned my love for Jersey diners before – so sometimes I just don't have the patience to walk halfway around the restaurant just to find the end of the line. But after hearing about one spot that actually has a coffee service for those waiting in line, we knew exactly where we were going. Doesn't a half-hour wait sound SO much more palatable if you're able to defog your yet-to-be jump-started caffeinated brains in the meantime?
By the time we were seated, I was about two cups in, slightly-jittery, and, no surprises here, having a hard time deciding what to order. I vacillated big time between blueberry cornbread waffles and something else. The something else won and probably was delicious (although for the life of me I can't remember what it was?), but those blueberry cornbread waffles have haunted me since.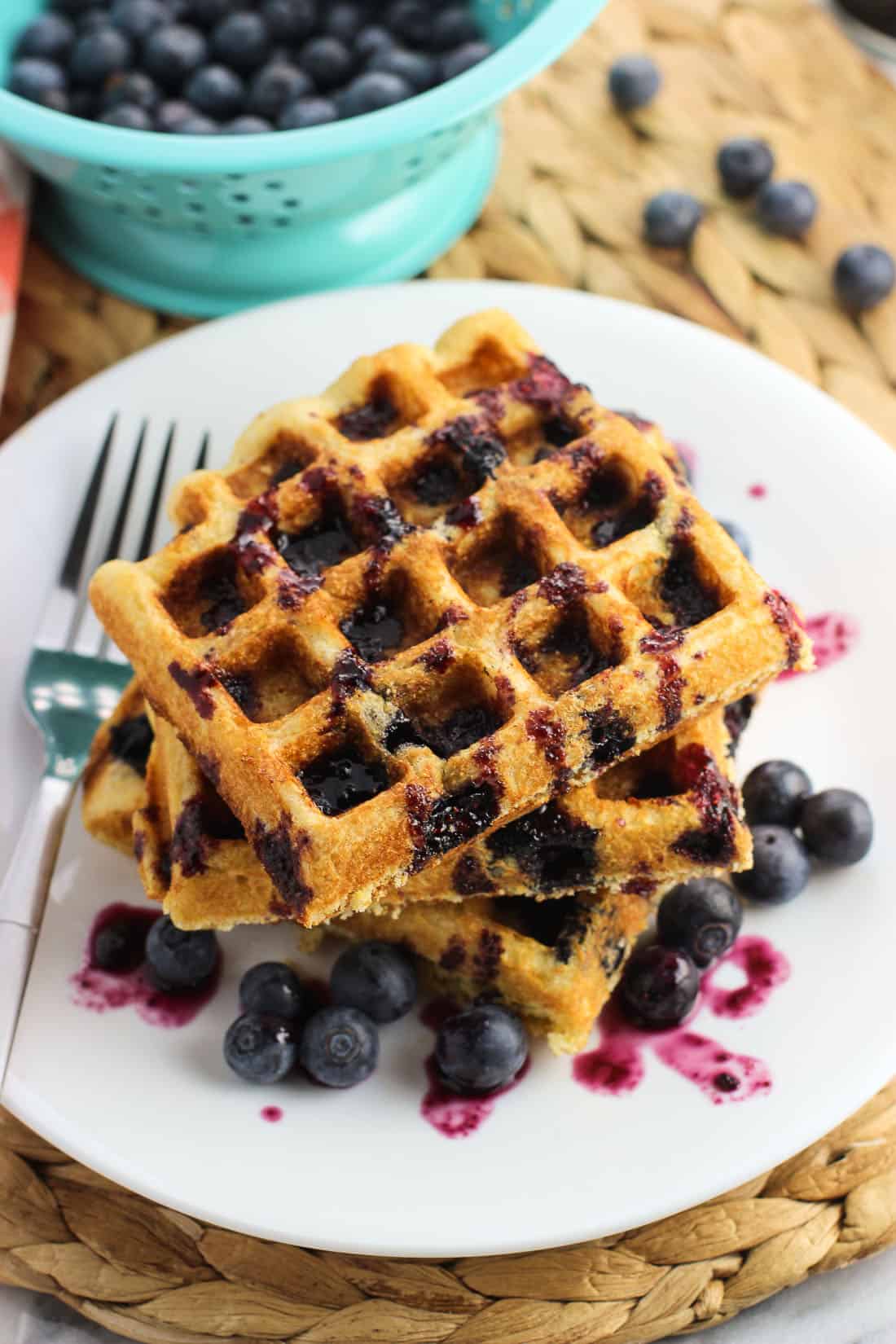 These waffles have a cornbread base that's crispy on the outside and tender and light inside, with juicy fresh blueberries dotted throughout. I had a box of corn muffin mix sitting in the pantry that I picked up when it was on super sale (I'm pretty sure it was like forty-five cents), so I sped the recipe up by using it and more or less following the waffle directions on the side of the package. I added vanilla extract to the mix (and added blueberries, of course). The blueberry syrup adds such a nice twist, is SUPER easy to make at home, and will probably be added to every breakfast food I eat for the foreseeable future. My weekday Greek yogurts included. 😉
Blueberry Cornbread Waffles with Homemade Blueberry Syrup
Ingredients
For the syrup:
1/3

cup

maple syrup

3/4

cup

fresh blueberries

1/4

tsp

vanilla extract
For the waffles:
1 8.5-

oz

pkg corn muffin mix

1/8

tsp

ground cinnamon

1/2

cup

milk

2

tbsp

unsalted butter

melted

1/2

tsp

vanilla extract

1

egg

1/2

cup

fresh blueberries

approximate
Instructions
For the syrup:
Add maple syrup, the first 3/4 cup blueberries, and 1/4 tsp vanilla extract to a small saucepan set over medium heat. The syrup will begin to bubble after a minute or two. Allow syrup to bubble for a few minutes longer, then stir and slightly mash blueberries against the sides of the saucepan with the back of a wooden spoon (it's not necessary to break up each one). Syrup should be a deep purple color at this point. Remove from heat and set aside while you prepare the waffles.
For the waffles:
In a medium-sized bowl, whisk together corn muffin mix and cinnamon.

Add milk, melted butter, 1/2 tsp vanilla extract, and egg and whisk until just combined, taking care not to overmix.

Pour waffle mixture into greased waffle iron set to medium-doneness, and sprinkle blueberries over mixture in the waffle iron. Close top iron, and let cook until outsides are crisp.

Once done, remove waffles from iron. Serve immediately with blueberry syrup poured over top.
Waffle recipe adapted from pancake/waffle mix on Jiffy box, and photos updated March 2017.
P.S. If you're feeling blueberries with breakfast, you may also like these recipes:
(Whole Wheat) Blueberry Chai French Toast Bake