These whole wheat waffles are soft on the inside, slightly crisp on the outside, and just the thing for your breakfast table. Using a homemade and 100% whole wheat waffle mix, these buttermilk waffles feature a special trick to help them become SUPER fluffy. A family favorite!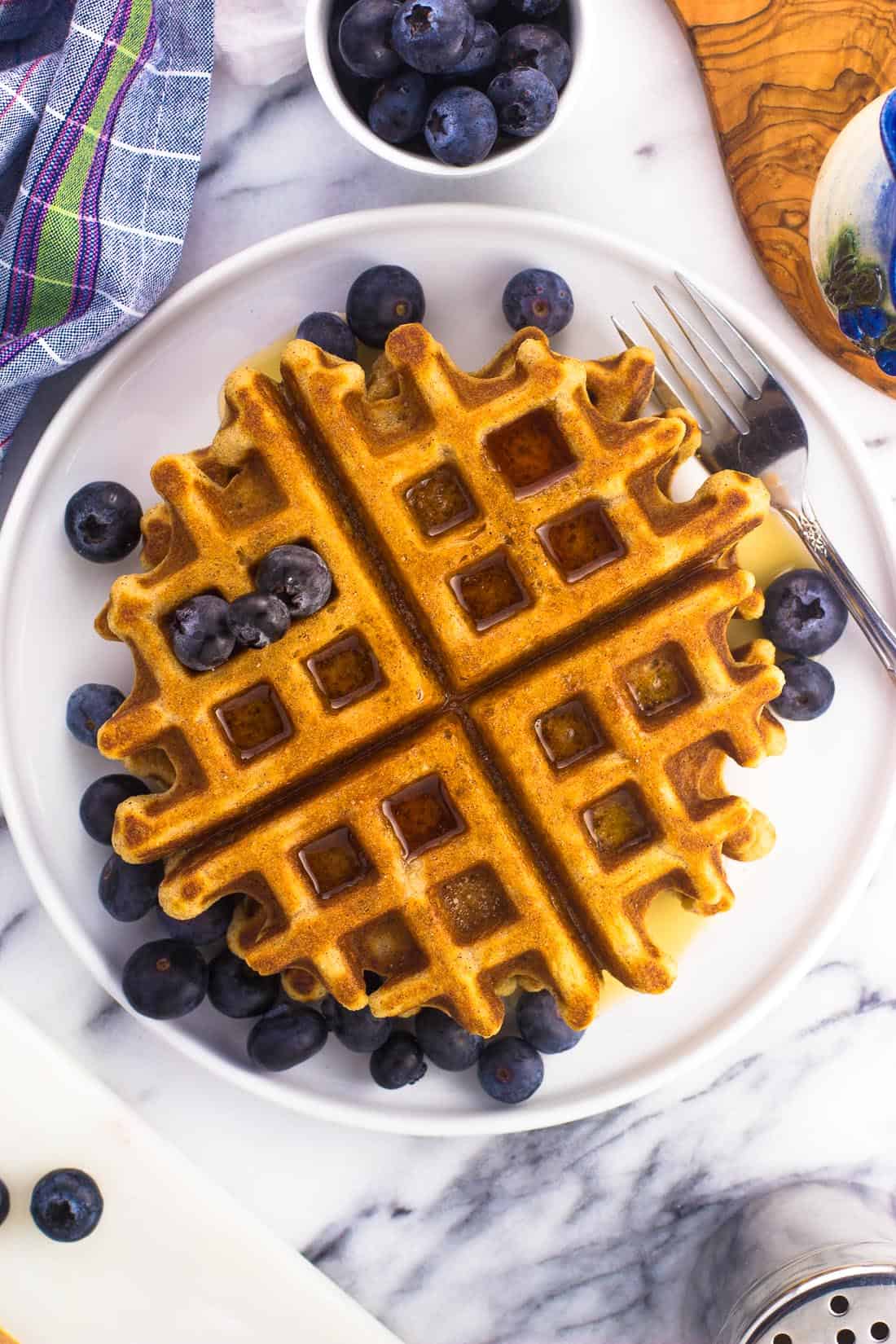 This whole wheat waffle recipe has been hanging around the site since August 2014. Over five years! It's one I pull up often to make, and every single time end up saying that I really need to update the pictures.
It's not that the pictures were horrendous or anything. It's just that I really don't think they did these super good whole wheat waffles enough justice.
So without further ado, here are the new and improved waffle glamour shots. And if you've made these in the past, don't worry. The recipe is exactly the same.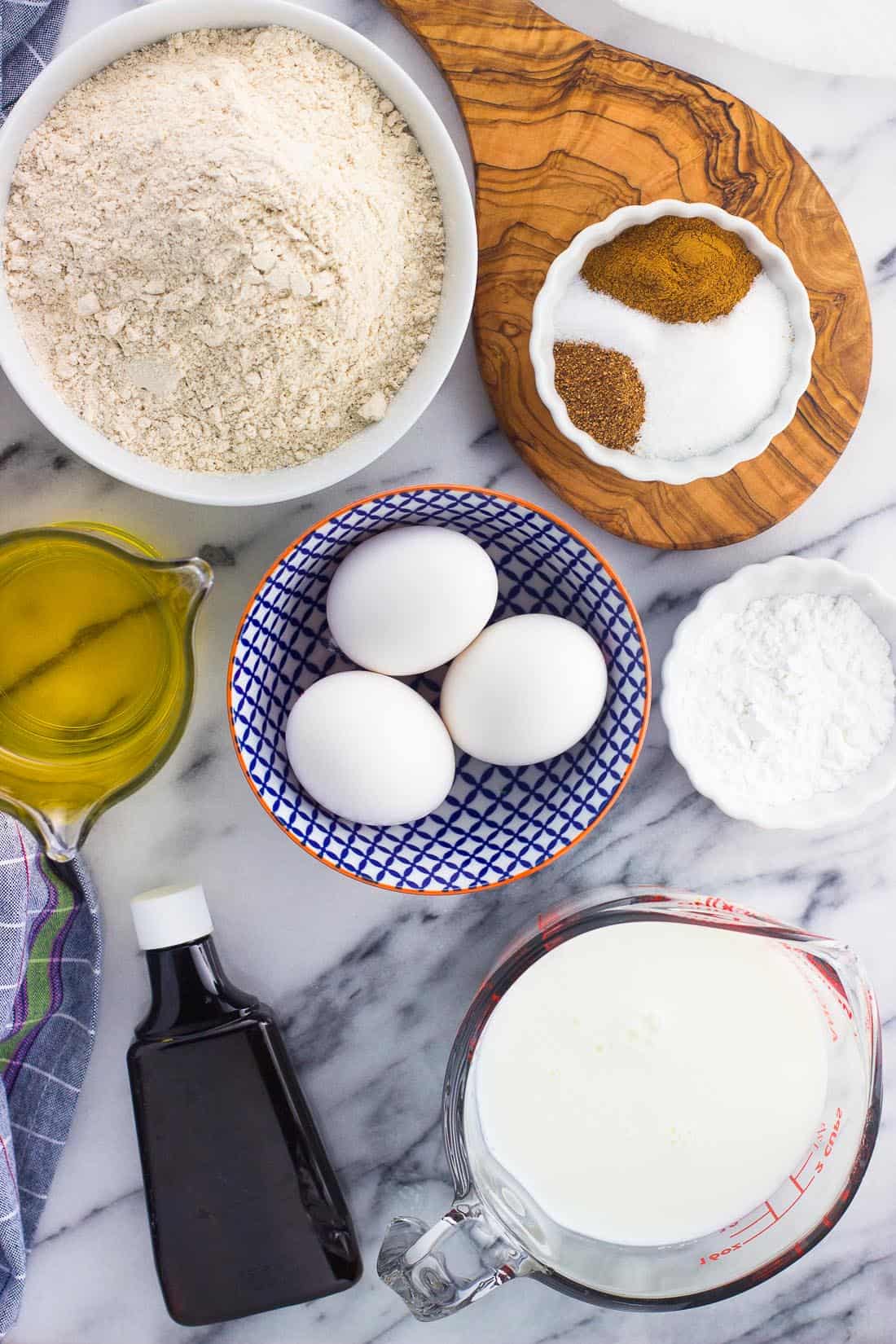 Step-by-step instructions
Right off the bat this whole wheat waffle recipe is a little different than you might think. The first step here is to separate the eggs. Yolks go in a regular mixing bowl, but the whites go in the food processor.
I KNOW this means that there are extra things to wash. I'm staunchly on the side of being creative and efficient with kitchen tools so as to wash as little as I possible can, so you know I don't suggest this lightly. But getting the egg whites extra foamy and fluffed up before stirring them into the prepared waffle batter makes a noticeable difference as far as producing fluffy waffles goes.
Of course over the years there have been times I was feeling lazy in one way or another and skipped this step, instead just cracking the eggs straight into the mixing bowl. That way certainly is fine. In fact better than fine, even, but I always get a pang afterwards of wishing I fluffed up the whites instead.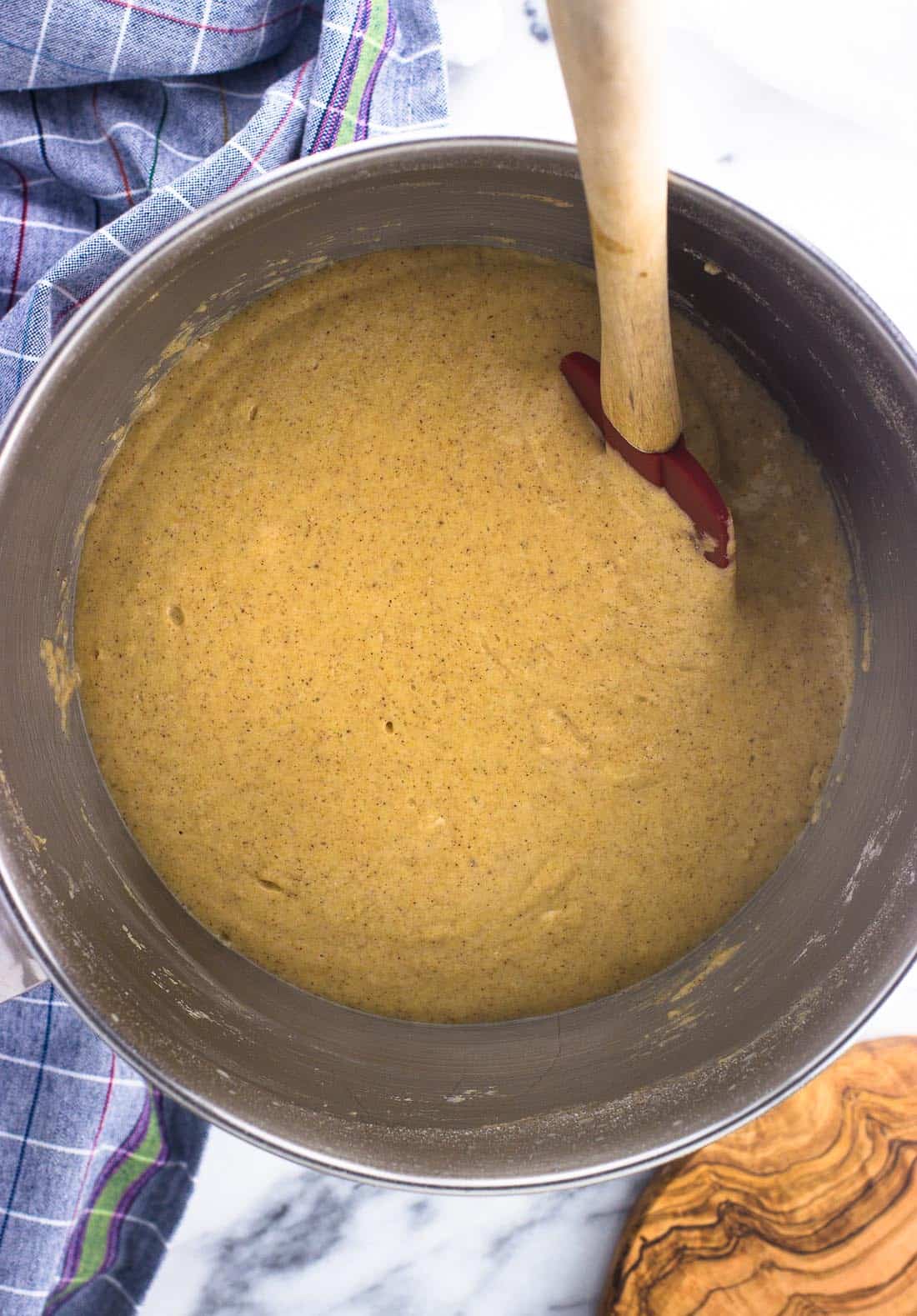 Into the bowl with the egg yolks goes buttermilk, vanilla extract, and oil. You have several options when it comes to the oil here. Use whichever neutral-tasting oil you like. This could be canola, corn, or vegetable oil, or even melted coconut oil.
Making homemade buttermilk
I virtually never buy a carton of buttermilk, instead making a quick and dirty buttermilk substitute with milk and vinegar.
My rule of thumb when it comes to the ratio is to add one tablespoon of white vinegar to a measuring cup, and then pouring in milk up to the one cup line. These whole wheat waffles call for 1 ½ cups of buttermilk, so I added 1 ½ tablespoons of white vinegar, and then poured the milk up to the 1 ½ cups (12 ounces) line. Let the milk and vinegar sit for 5-10 minutes to thicken up, and then add it into the recipe.
Then in go the dry ingredients: white whole wheat flour, sugar, baking powder, cinnamon, nutmeg, and salt.
A favorite in other deceptively made-healthier recipes such as these healthy pumpkin muffins, white whole flour is lighter in color and flavor than regular whole wheat flour, and more easily sneaks into baked goods and breads that aren't intended to be "hearty" in appearance or mouthfeel.
I've made these whole wheat waffles with all-purpose flour on occasion when I've been out of white whole wheat and it's honestly hard to tell a difference between the two.
A must when it comes to making homemade waffles for me is adding ground cinnamon and nutmeg. Their flavors aren't overly strong, but it's enough to add something special to plain waffles. That said if you're not much of a nutmeg fan, you can add half the amount (one-quarter teaspoon instead of one-half teaspoon) to be on the safe side.
Once the wet and dry ingredients have been mixed together until just combined, it's egg white time. Let them whiz around the food processor until light and foamy, and then stir/fold them into the waffle batter until just combined.
For visual reference, the third picture from the top in this post is this whole wheat waffle batter mixed together before adding the egg whites. The next picture features the foamy egg whites in my food processor, which are then added to the batter in picture #5. The picture directly below this paragraph is what the batter looks like when all the egg whites are incorporated and it's ready to hit the waffle iron.
The reason I went a little extra with these pictures was to really highlight the one above. You want to fold in the egg whites completely so you don't find cooked little eggy bits in your waffles, but you also don't want to overmix the batter, which would act as a double whammy of deflating the egg whites and toughening the gluten in the flour.
So, aim for folding the egg whites into the batter with broad, deep strokes until you don't notice any pockets of foam left anymore. And if you do under fold in the egg whites by chance (ask me how I know about that tip!), the waffles will still be perfectly enjoyable.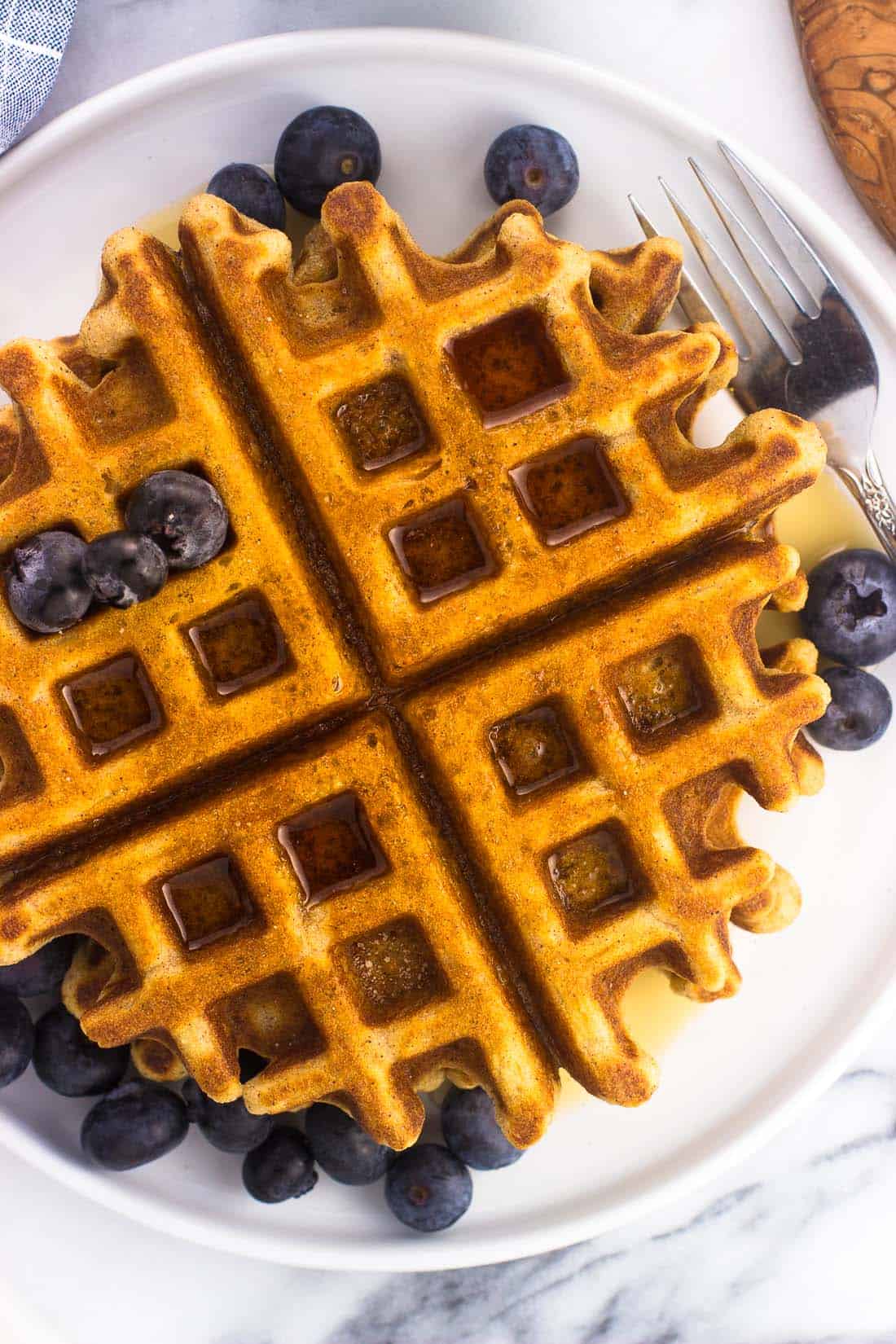 And there we have it. 100% whole wheat waffle batter ready for your waffle iron. I have an older model of this waffle maker (affiliate link), which makes nice and deep Belgian waffles. Never an issue with sticking!
This recipe will yield three full sheets of waffles, resulting in twelve waffles. Since I am just not capable of adding the right amount of waffle batter to the iron to produce a full sheet without missing corners or creating an overflow, I pour waffle iron in the center of the iron and make vaguely round waffles.
These waffles are best made the same day, but leftover batter can be covered and refrigerated for 1-2 days. Just give it a good stir before pouring into the waffle iron in case any of the ingredients have separated.
Storage tips
No matter the shape, this recipe will probably yield more waffles than you'd eat in one sitting. I wrap leftover waffles in foil and place them in an air-tight container or sealable plastic bag in the freezer. Then I pop them in the toaster to reheat so they don't sog up. While they're not quite as good as hot off the waffle iron fresh, I'll take a speedy homemade waffle vs. cleaning up a sink full of dishes on a weekday morning any day.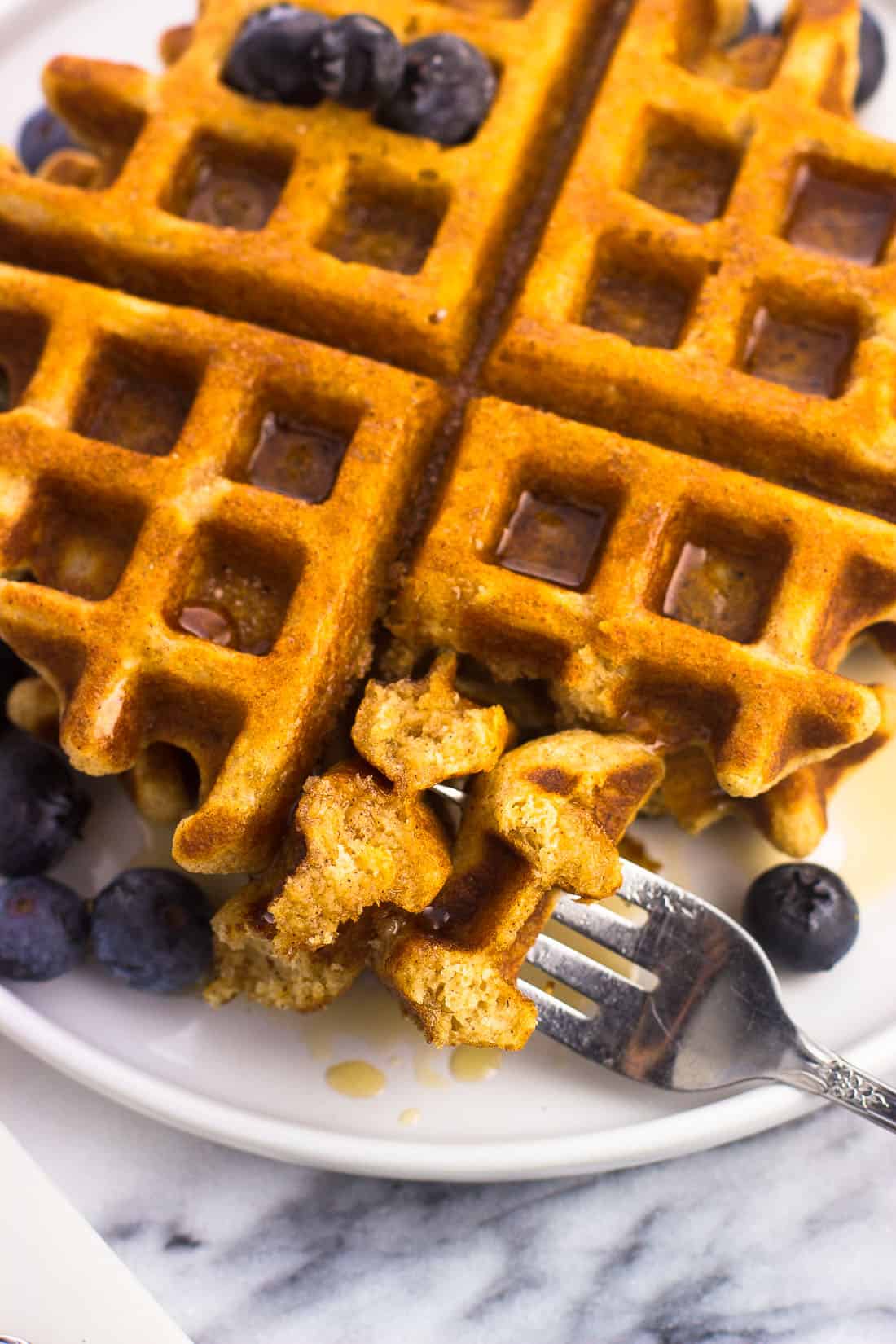 For a seasonal twist, these whole wheat gingerbread waffles are fun for the holidays (or really, anytime). They also follow the procedure to produce wonderfully crisp and fluffy waffles, just like these basic ones.
Recipe notes
If you're not a big fan of nutmeg, you can halve the amount in the recipe no problem.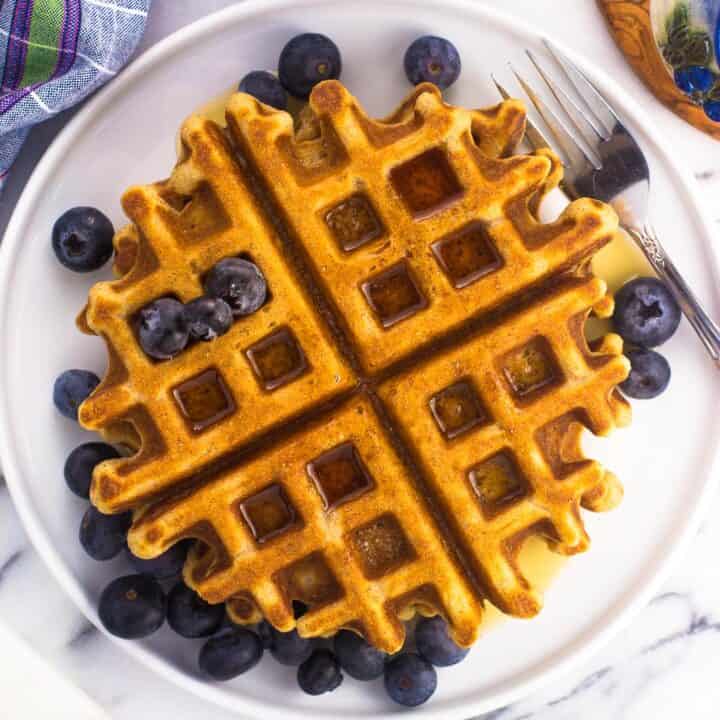 Best Ever Whole Wheat Waffles
These whole wheat waffles are soft on the inside, slightly crisp on the outside, and just the thing for your breakfast table. Using a homemade and 100% whole wheat waffle mix, these waffles feature a special trick to help them become SUPER fluffy.
Print
Pin
Rate
Servings:
12
4"x4" squares
Ingredients
3

eggs,

yolks and whites separated

1 ½

cups

buttermilk

(see note for making your own)

¾

cup

neutral-tasting oil,

such as canola, corn, coconut, vegetable, etc.

1 ½

teaspoon

vanilla extract

2 ¼

cup

white whole wheat flour

3

tablespoon

granulated sugar

2

tablespoon

baking powder

1 ¾

teaspoon

ground cinnamon

½

teaspoon

ground nutmeg

½

teaspoon

salt
Instructions
Separate the egg yolks and whites, adding the yolks to a large mixing bowl and the whites to the bowl of a food processor.

In bowl with the yolks, add buttermilk, oil, and vanilla extract. Mix on medium-high speed or until all ingredients are combined and creamy.

Add flour, sugar, baking powder, cinnamon, nutmeg, and salt and mix until dry ingredients are just combined.

In a food processor, process egg whites until they are very fluffy and light. Fold/stir egg whites into the waffle batter using broad, deep strokes until they're fully incorporated and no foamy pockets remain, but try not to overmix.

Pour batter onto preheated waffle iron and cook to preferred doneness.
Notes
To make homemade buttermilk: Add 1 ½ tablespoon of white vinegar to a measuring cup, then pour in your milk of choice up to the 1 ½ cup mark. Let sit and thicken for 5-10 minutes before adding it to the recipe. I use 2%. Storing leftover waffles: Wrap excess waffles with aluminum foil and add them to an air-tight container or sealable plastic bag. Foil-wrapped waffles can stay in the fridge for several days, or they can be frozen for several months. To reheat, pop individual waffles in the toaster so they crisp back up as they heat.
Nutrition
Serving:
1
4"x4" waffle
|
Calories:
228
kcal
|
Carbohydrates:
18.4
g
|
Protein:
5.3
g
|
Fat:
15.7
g
|
Saturated Fat:
1.7
g
|
Cholesterol:
43
mg
|
Sodium:
128
mg
|
Potassium:
366
mg
|
Fiber:
2.3
g
|
Sugar:
2.1
g
|
Calcium:
148
mg
|
Iron:
1
mg
Nutritional information is provided as an estimate. As it can vary due to many factors (brands used, quantities, etc.), we cannot guarantee its accuracy.
Food Safety and Nutrition Disclaimer
Waffle recipe adapted from allrecipes.