Pop quiz for your Monday morning – pancakes or waffles? Tough question, huh? I'm firmly planted in the middle as I love them both, but B is overwhelmingly a waffle guy. So in the interest of preparing one meal instead of two, 90% of the time waffles win the weekend breakfast games.
Poor pancakes. 🙁
For awhile now I've been itching to tweak our standard waffle recipe to be 100% whole wheat. Let's just say that some of my attempts were…less than great. Too dense, not crispy enough, too whole-wheaty. They were edible, sure, but not that airy and crisp perfect waffle we've come to love. Until these. Fluffy, light, crisp, perfectly spiced, 100% whole wheat waffles.
Can it just be Saturday morning already? Geez.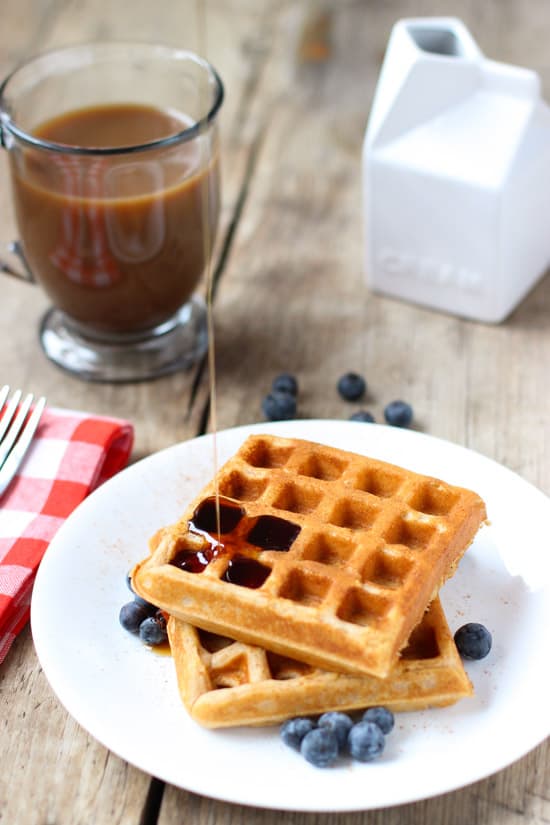 Mmmm waffles. These definitely passed the test – waffle connoisseur B wasn't aware that these waffles were even any percentage whole wheat until we were doing the dishes after breakfast and he noticed the white whole wheat flour out on the counter. Cha-chiiing! That's how I knew these whole wheat waffles were a winner.
I used white whole wheat flour in these waffles, which provides the deceptive lighter color and minimizes the whole wheat-y taste. How's that for technical? I love using white whole wheat flour in my whole wheat baking for this reason. It flies under the radar! You sneaky flour, you.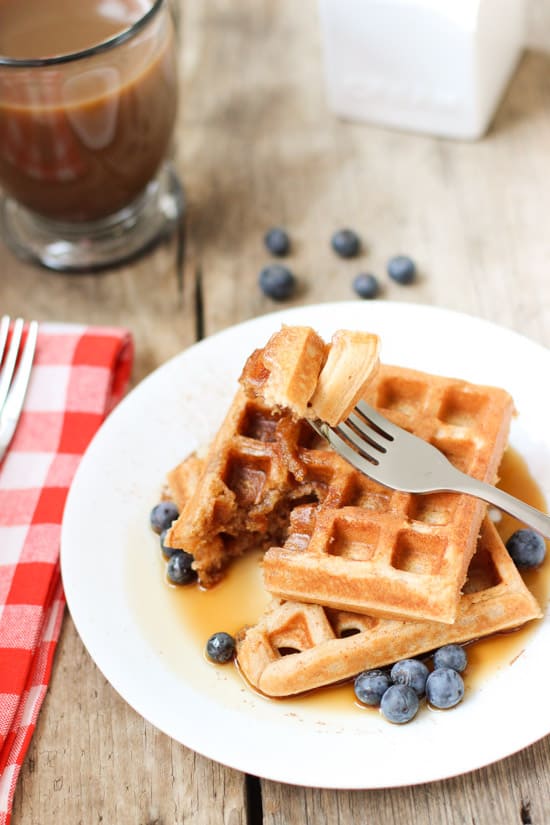 These waffles are SO incredibly fluffy thanks to an extra step I took with the recipe. I separated the egg yolks and whites, and reserved the whites until the very end. After all of the other ingredients were mixed together, I whipped up the egg whites in the food processor until they were super foamy and folded them into the batter right before pouring it onto the waffle maker. This made *such* a difference! I know this creates extra kitchen gear to clean, but I found processing the whites worked much better than simply hand whisking . You want the whites to be as light and as fully-integrated into the batter as possible without over-mixing in order to avoid having visible cooked egg white pieces in your waffles. If you prefer to hand whisk and that happens to you, I'll tell you from experience that it'll still taste great but it's a little unnerving (this was experiment #3 for me).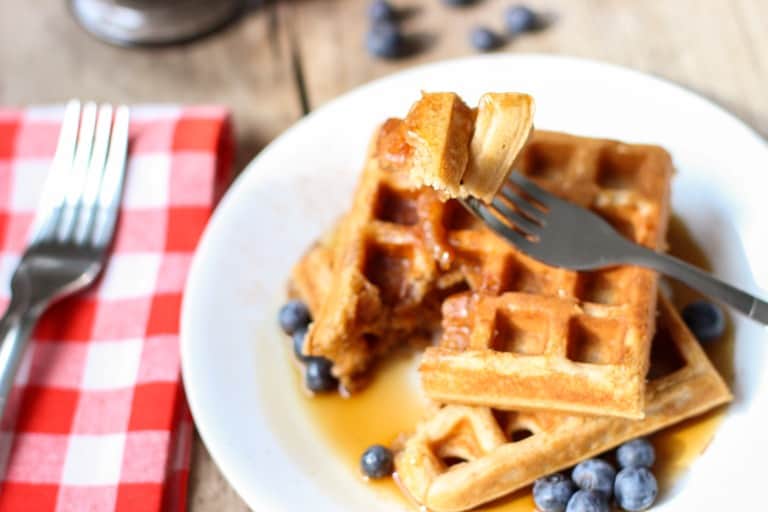 One last tip! This recipe makes 12 waffle squares, so depending on the size of your breakfast crowd (and your appetites!) you may have extras. I froze leftover waffle squares in twos for easy defrosting and toasting so you can actually enjoy them on weekdays. It's super simple – I stuck the frozen waffles in the microwave for a few seconds to take the chill off and then popped them in the toaster. The result was a pair of crispy, just-out-of-the-waffle-iron waffles, in just a few seconds longer than if you were making toast.
Weekend waffles on a pre-work weekday? I am iiinnnnn!
Best Ever Whole Wheat Waffles
Servings
12
4"x4" squares
Ingredients
3

eggs

yolks and whites separated

1 1/2

cups

low-fat buttermilk*

3/4

cup

canola oil

3

tbsp

granulated sugar

'1 1/2 tsp vanilla extract

2 1/4

cup

white whole wheat flour

2

tbsp

baking powder

1/2

tsp

salt

1 3/4

tsp

ground cinnamon

1/2

tsp

ground nutmeg
Instructions
Separate egg yolks and whites into two separate bowls.

In bowl with the yolks, add buttermilk, canola oil, sugar, and vanilla extract. Mix on medium-high speed or until all ingredients are combined and creamy.

Add flour, baking powder, salt, cinnamon, and nutmeg and mix until dry ingredients are just combined.

In a food processor, process egg whites until they are very fluffy and light. Stir egg whites into waffle batter until fully incorporated, but do not overmix.

Pour batter onto preheated waffle iron and cook to preferred doneness.
Notes
*To make homemade buttermilk, I added 1 1/2 tbsp of white vinegar to 1 1/2 cups of 1% milk and let sit for a few minutes before adding to the recipe.
Wrap excess waffles (if there are any!) with aluminum foil and refrigerate/freeze. To reheat, pop individual waffles in the toaster so they're crispy.
Waffle recipe adapted from Allrecipes.