Roasted butternut squash soup is a warm and creamy homemade soup recipe that tastes harder to make than it is! Butternut squash, carrots, celery, onion, and garlic cloves are ALL roasted for a deeper flavor in this classic fall soup.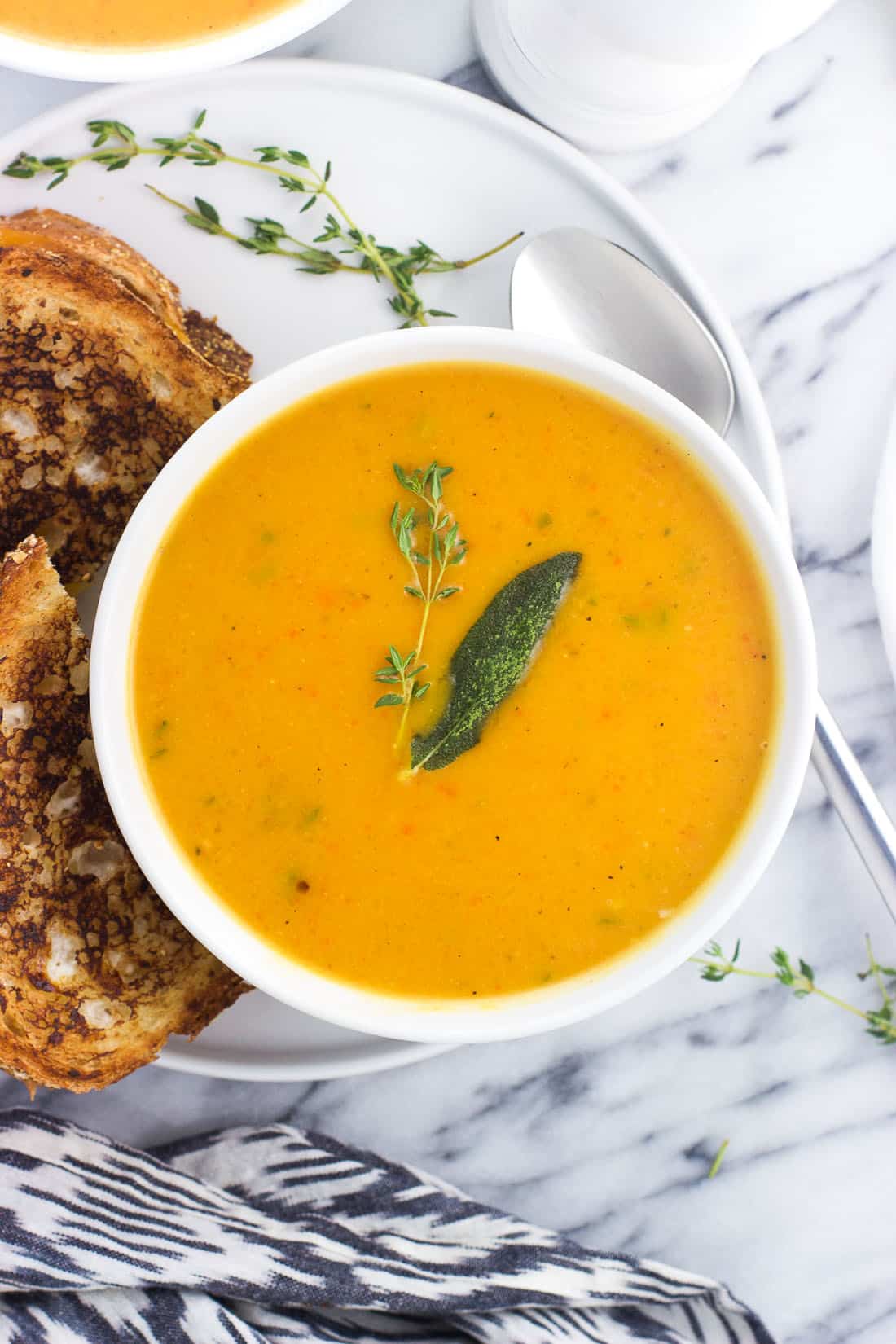 Along with a batch of healthy pumpkin muffins, this roasted butternut squash soup was one of the first "fall" recipes I made this year. Never mind the fact that it was still a sweltering 95°F+ here last month when I finally had enough of our endless summer and craved something orange and squash-y.
Truthfully I surprised myself by waiting that long after wanting to make this easy butternut squash soup since July. On season 4, episode 8 of Queer Eye, Antoni prepared a butternut squash soup with one of their heroes that totally is the inspiration behind this soup right here.
While there are differences in ingredients used and measurements, I liked the premise of roasting not just the butternut squash, but as many of the ingredients as you can before pureeing it all into one satisfying soup.
Reasons to Love This Recipe
Everything's roasted! Well, just about everything. Roasting all of the vegetables brings a deeper flavor that shines in a simple soup recipe like this.
Just a touch of cream (one-quarter cup) added to the whole batch balances a fancier feel while still remaining relatively healthy.
Most of this recipe time is hands-off, due to the longer squash and vegetable roasting time.
This soup recipe can easily be adapted to be vegetarian and/or dairy-free and/or vegan.
Recipe Ingredients
Butternut squash: Buy a squash with a large neck vs. a large rounded base section. The neck contains all usable squash, while the curved bottom part has all the seeds and stringy bits that aren't roastable. A larger neck means more squash to roast.
Vegetables: Carrots, celery, quartered onions, and whole garlic cloves are also roasted for maximum flavor.
Olive oil: Use olive oil for roasting the squash and other vegetables for its delicious flavor.
Chicken broth: Substitute vegetable broth for the chicken broth to make this soup vegetarian.
Herbs: Fresh sage and thyme sprigs are classic accompaniments for roasted butternut squash soup, but smaller quantities of dried herbs (or even other herbs of your choice) can work, too.
Cream: A small amount of cream (two ounces) makes this roasted butternut squash soup truly taste luxe without adding too much heaviness. Coconut milk can be used in place of the cream if you'd like to make this soup dairy-free.
Step-by-Step Instructions
Arguably the most elbow-grease-intensive part of this homemade butternut squash soup is prepping the squash.
Breaking Down a Butternut Squash
Slice off the very top and bottom of the squash to make two flat edges.
Cut the squash in half horizontally where the base of the neck and the rounded part meet.
Carefully peel or slice off the skin.
Slice the rounded part in half vertically. Scoop out and remove the stringy bits and seeds. You may wish to reserve the seeds for another use, or you can just discard.
Cut the resulting butternut squash into cubes.
If you're a visual person, this Kitchn tutorial may be helpful. Just FYI: I use a sharp knife to carefully remove the skin, not a peeler. Either way works.
Roasting the Vegetables
Chop the carrots and celery, quarter the onion, and peel the garlic. Place them, along with the cubed butternut squash, on a large rimmed baking sheet. You may need to use two baking sheets as you'll want everything to fit in a single layer.
Pour olive oil evenly over the vegetables and sprinkle three-quarters teaspoon of the kosher salt over top. Using a spatula, stir everything up so that the vegetables are evenly coated on all sides. Roast at 450°F/232°C for 40 minutes or so, or until the squash is fork-tender.
Making the Soup
Add all of the roasted vegetables to a large soup pot. Season with the remaining kosher salt and pepper. Add chicken broth and water (if using -- you can use an extra cup of broth in place of the water if you prefer).
Heat for 10 minutes on the stove over medium heat, then blend using an immersion blender or by carefully transferring the soup to a stand blender. I have this (affiliate link)

immersion blender

-- it's nothing fancy but it works like a champ.
Lower the heat to a simmer, then pour in the cream.
Stir in and heat the soup for an additional minute or two (or until everything is heated back up again). Stir in the herbs then take a taste and add more salt and/or pepper as you like.
Tips and Tricks
Have you ever experienced squash hands? While it might seem silly, I wear disposable gloves when breaking down a butternut squash, as otherwise the liquid/sap from the flesh causes my hands to become tight and uncomfortable for hours afterwards. It's thought this is more likely to happen with a fresher squash, so just a heads-up if you're newer to cooking with butternut squash.
I find cream goes a long way in a soup recipe so I landed on one-quarter cup as just the right amount. It elevates this soup and makes it a little bit more special without tacking on a lot of fat and calories to the nutritional bottom line. Of course, if you prefer a creamier soup then add more as you see fit.
The flavors of fresh sage and thyme really drive home the cozy warmth of this roasted butternut squash soup. Because they both have such a bold presence in a dish, I suggest dicing them very finely before stirring them into the soup. Grabbing a big hunk of sage or thyme leaves in one spoonful of soup wouldn't be that good.
If you don't have an immersion blender and are transferring everything to a stand blender, do use care not to burn yourself. Transfer the soup in multiple batches and do not fill the blender right up to the top. Once the blender turns on the soup will travel upwards and if it's too full you risk hot soup spilling out of the top.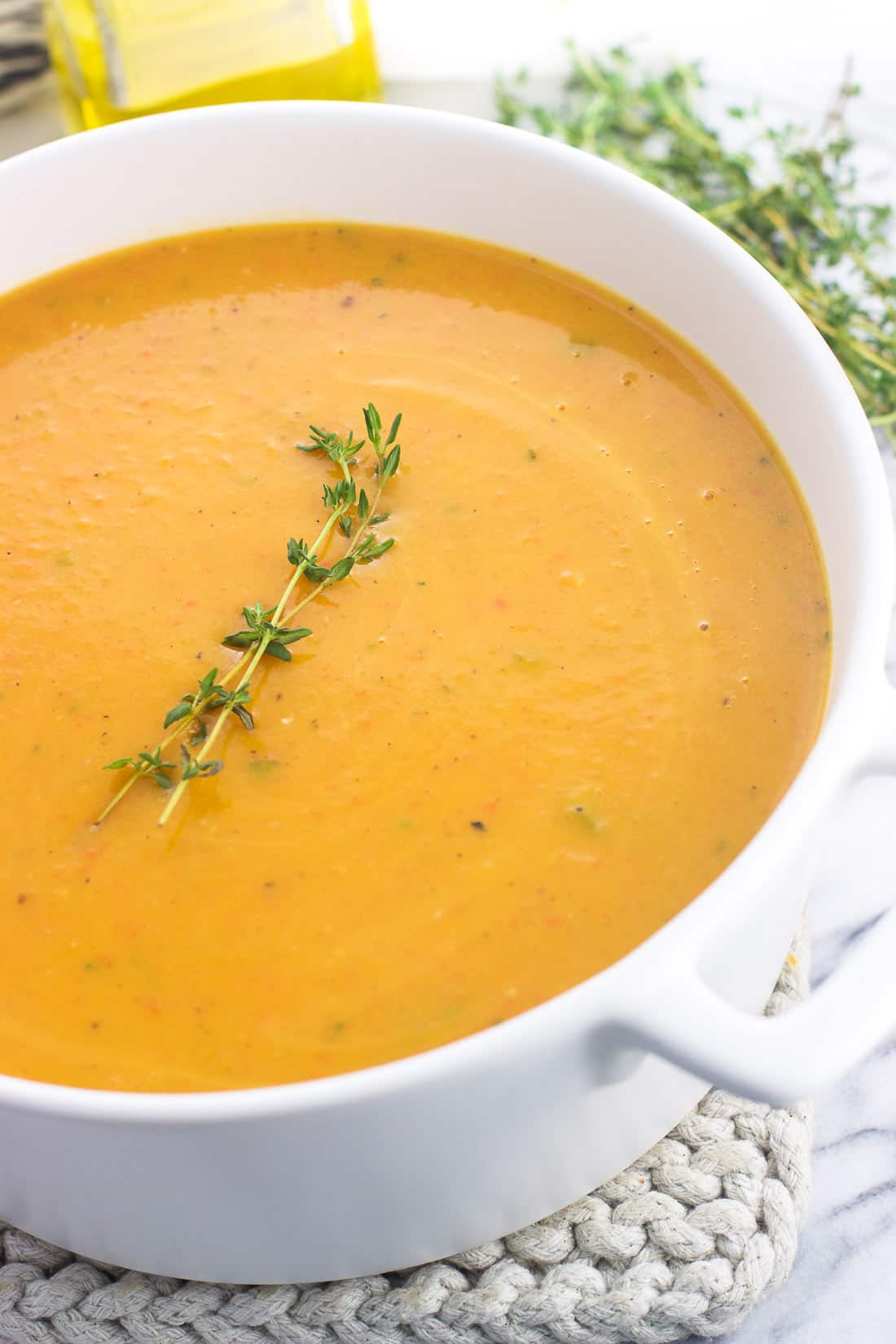 Recipe FAQs
What to serve with butternut squash soup?
Picking two from a soup, salad, or sandwich menu is a classic for a reason. If going for a sandwich, a grilled cheese works especially well. This sourdough havarti grilled cheese features roasted peppers and caramelized onions for an extra hearty twist. If going for a salad, something like an easy caesar salad with Greek yogurt caesar dressing has extra oomph to it while still keeping the better-for-you vibe going.
What are some good roasted butternut squash soup toppings?
A drizzle of extra-virgin olive oil over top of creamy soups is forever a favorite of mine. Homemade croutons are as well, especially when made from a nice and crusty baguette or bakery loaf of bread. And if you're looking for a hearty homemade bread recipe for dunking, I recommend honey whole wheat bread or pumpkin dinner rolls.
Can you freeze butternut squash soup?
Yes! This soup freezes very well. Once cooled, portion out the soup in an air-tight container or gallon-sized sealable bags (with the excess air pressed out) for 3-4 months. There's such a small amount of cream that it won't cause any separation or otherwise mess with the texture when reheating, though you can always opt to add the cream fresh when heating up leftover servings.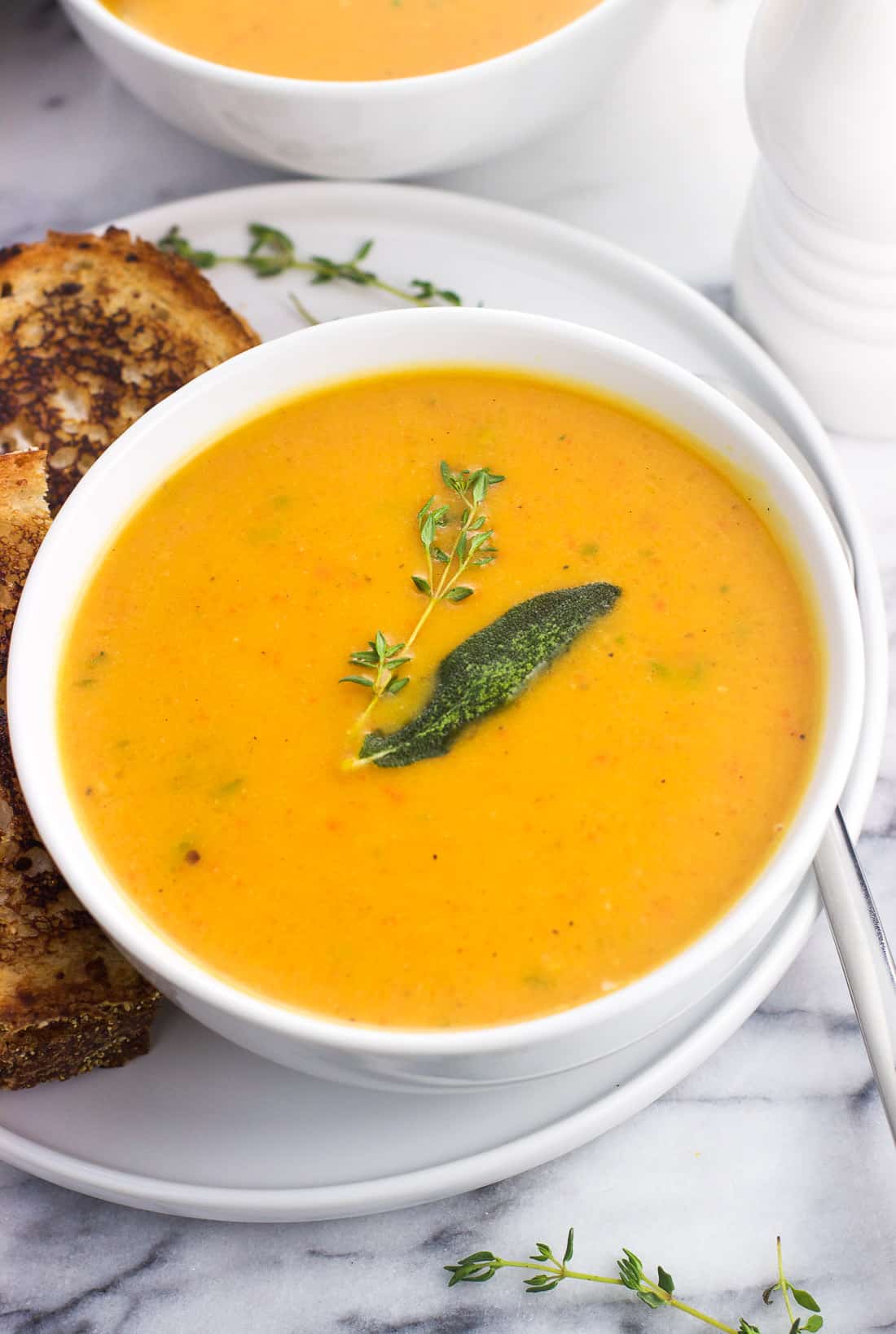 More Soup Recipes
If you've enjoyed this recipe, I'd love for you to leave a star rating in the recipe card and/or a comment review below!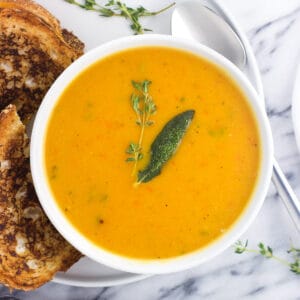 Roasted Butternut Squash Soup
Roasted butternut squash soup is a warm and creamy dinner or side dish soup recipe that tastes harder to make than it is! Butternut squash, carrots, celery, onion, and garlic cloves are ALL roasted for a deeper flavor in this classic fall soup.
Print
Pin
Rate
Ingredients
1

large butternut squash,

peeled and cubed, with seeds removed (roughly 3-3.5 lbs)

2

large carrots,

cut into roughly 1" pieces

3

large celery ribs,

cut into roughly 2" pieces

1

onion

quartered

6

whole garlic cloves

¼

cup

olive oil

1 ¼

teaspoons

kosher salt,

divided

¼

teaspoon

ground black pepper

or to taste

32

ounces (4 cups)

reduced-sodium chicken broth

8

ounces (1 cup)

water

or additional broth or a combination

2

ounces (¼ cup)

heavy cream

1

teaspoon

finely diced fresh sage leaves,

or to taste

½

teaspoon

finely diced fresh thyme leaves,

or to taste
Instructions
Preheat oven to 450°F. Peel and cube butternut squash, removing the seeds. Aim for roughly equal cubes about 1- to 1-½-inches wide.

Place cubed butternut squash, sliced carrots, sliced celery, quartered onion (with the layers separated), and whole garlic cloves on a large rimmed baking sheet. Use two sheets if needed to fit everything in a single layer.

Drizzle olive oil evenly over the squash and vegetables, then season with about ¾ teaspoon kosher salt. Gently stir up everything on the sheet so the oil coats everything evenly, making sure it all ends up in a single layer before roasting.

Roast the vegetables for 40-45 minutes, or until a fork can easily be inserted into the center of a piece of butternut squash.

Transfer the roasted squash and vegetables to a large pot, scraping any liquefied oil/juices into the pot as well. Add remaining ½-teaspoon kosher salt and ¼-teaspoon ground black pepper, then pour in the chicken broth and water (or additional broth). Set the pot on the stovetop over medium heat.

Let everything heat for 8-10 minutes, then blend using an immersion blender until smooth and creamy. If you don't have an immersion blender, carefully pour everything into a blender in batches and blend until creamy. Pour the soup back into the pot when you're done.

Once blended, reduce heat to low and stir in cream and continue to heat for 1-2 minutes, stirring occasionally. Stir in finely chopped sage and thyme. Take a taste and season with additional salt and/or pepper as you like.
Notes
Ingredient Notes
Butternut squash: Look for a squash that has a larger neck than one that has a larger round base, as the neck features all usable squash while the base contains all of the seeds. To peel and cube a butternut squash:
Slice off the very top and bottom of the squash horizontally so it will stand up.
Slice horizontally to separate the neck and rounded base portions.
Remove the skin using a vegetable peeler or knife.
Chop the neck area into cubes.
Do the same for the base area after spooning out the seeds and other stringy bits.
Broth: Substitute vegetable stock in for the chicken to make this butternut squash soup vegetarian.
Cream: Substitute coconut milk in for the cream to make this soup dairy-free.
Herbs: You can use dried herbs if you're in a pinch and don't have fresh thyme and/or sage. I recommend starting with ⅛ teaspoon dried thyme and ⅛ teaspoon rubbed sage, and then adjust the seasonings to taste. Rubbed sage has a fluffy consistency that has a less concentrated flavor than dried ground sage. If using ground sage, start with 1/16 teaspoon (basically, a pinch) instead.
Recipe Tips
Wear disposable gloves when breaking down the butternut squash to prevent "squash hands". The juices released from the squash (usually younger and fresher squashes) can cause your skin to feel tight and uncomfortable after handling it.
If using a stand blender to puree this soup, transfer the soup from the pot to the blender in batches, taking care not to overfill the blender. This will prevent hot soup from splattering out of the top.
Storage Instructions: Leftover portions of this soup will stay in the fridge for 4-5 days.
Freezing instructions: Let the soup cool, then portion into air-tight containers or gallon-size freezer bags. Freeze for 3-4 months. The small amount of cream won't impact texture when reheated.
Nutrition
Calories:
263
kcal
|
Carbohydrates:
27.9
g
|
Protein:
6.5
g
|
Fat:
15.8
g
|
Saturated Fat:
4.5
g
|
Cholesterol:
16
mg
|
Sodium:
699
mg
|
Potassium:
982
mg
|
Fiber:
5
g
|
Sugar:
6.7
g
|
Calcium:
130
mg
|
Iron:
2
mg
Nutritional information is provided as an estimate. As it can vary due to many factors (brands used, quantities, etc.), we cannot guarantee its accuracy.
Food Safety and Nutrition Disclaimer