Sausage and spinach lasagna rolls are FULL of comfort food flavor. Hot Italian sausage, spinach, three Italian cheeses, and more are all combined in these lasagna roll ups. Use your favorite marinara and top with fresh basil for serving.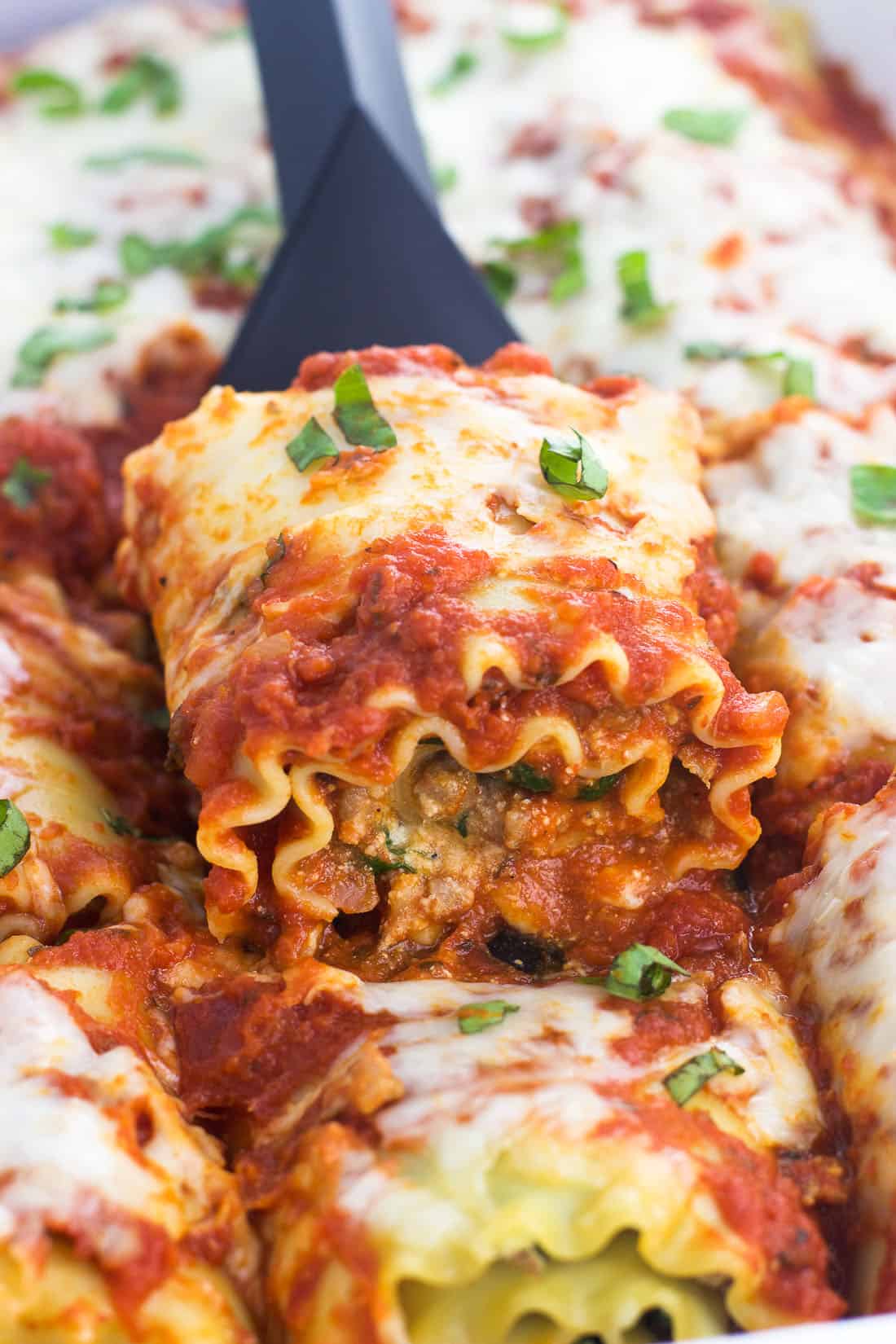 Hello, comfort food! Lasagna rolls have entered the chat.
While the idea of prepping a full tray of lasagna seems daunting, for some reason refashioning many of the same ingredients into rolls doesn't seem quite as much work.
All the classic lasagna flavors are here, from the noodles to the meat (more on this in a second) to the cheese and spices, so things aren't so different there. Instead each noodle is rolled up around the filling for a much easier way to serve.
And just like traditional lasagna, this lasagna roll recipe is perfect for entertaining a crowd, with leftovers freezing wonderfully. Because is there anything better than finding that your past self set your current self up with homemade Italian comfort food, just needing a reheat? I'm not sure there is.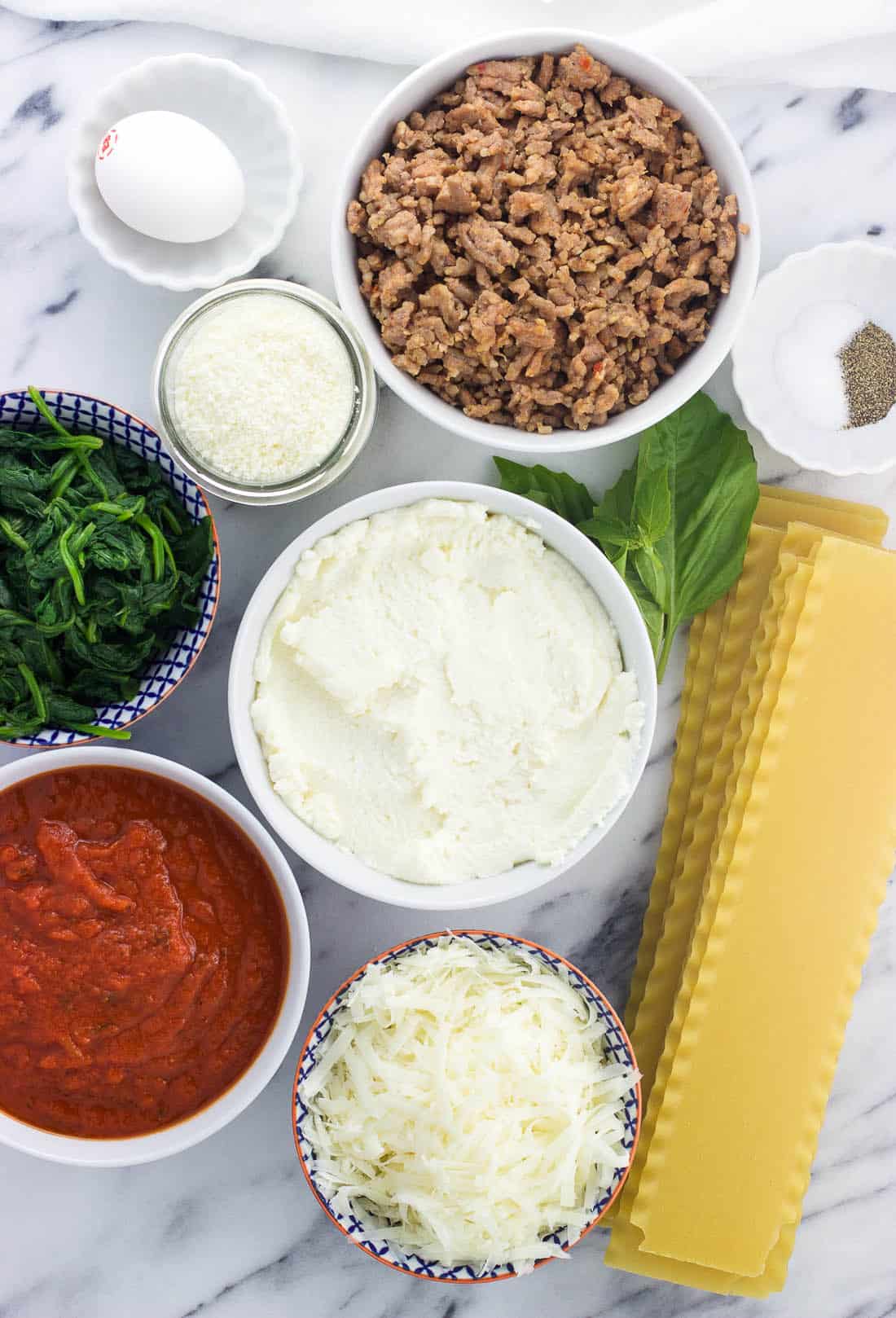 Recipe steps
While lasagna rolls aren't light on prep work, I think the end result is well worth the effort! There are three main parts of making these: ingredient prep, assembly, and cook time.
As far as ingredient prep goes, you'll start by cooking the Italian sausage. That's right - instead of beef, these lasagna roll ups use hot Italian sausage. Of course you can use mild or sweet Italian sausage if you're not into spicy foods, but we love the zip and flavor that comes from the hot.
Once the Italian sausage has been crumbled and cooked through, it's time to prep the spinach. I used fresh spinach and cooked it until it wilted. You can also thaw frozen spinach and use that instead.
Whichever route you go, just be sure to press out as much moisture as you can from the wilted spinach before adding it to the filling mixture.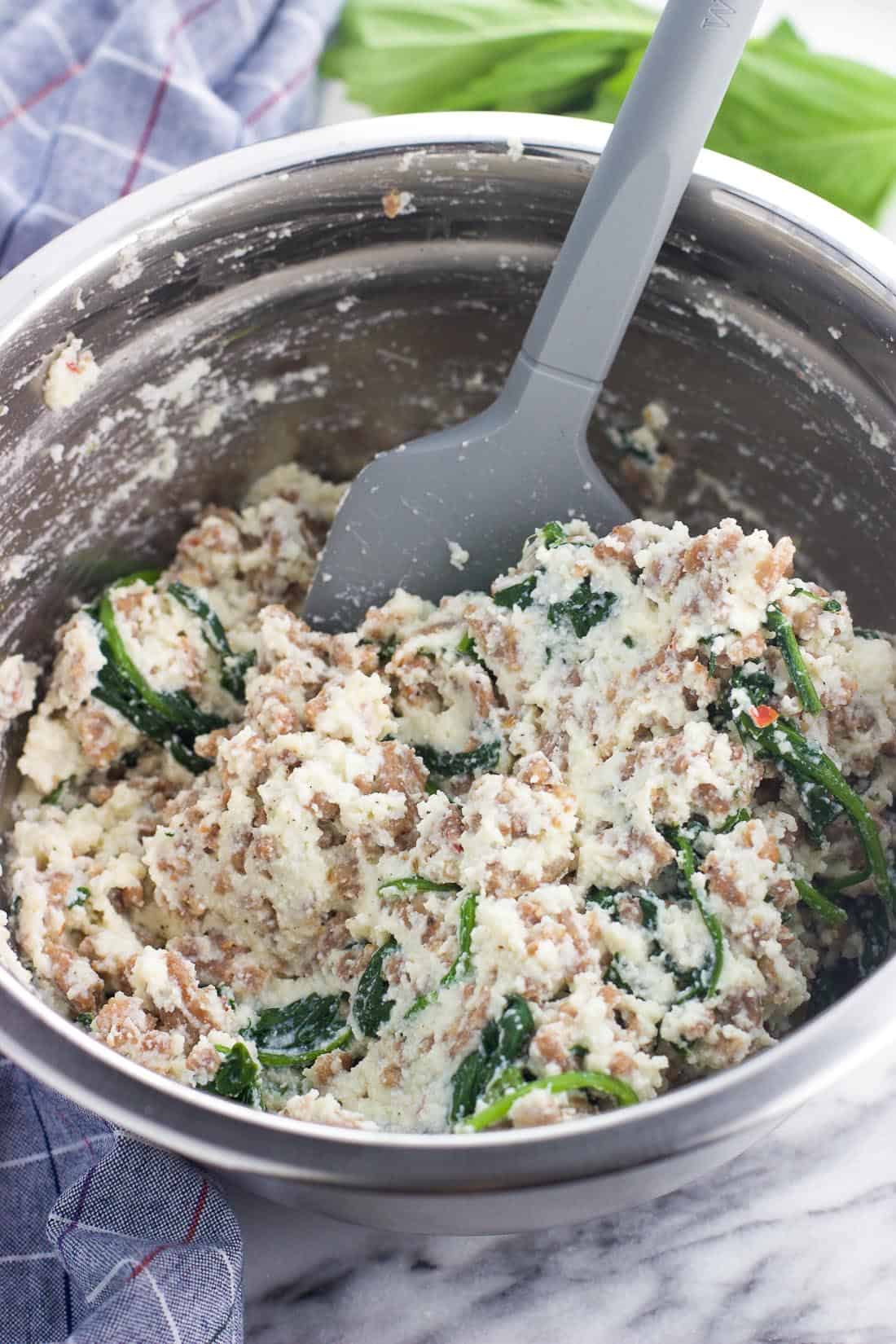 Next up is boiling the lasagna noodles. I've noticed that different brands of lasagna noodles specify varying times to al dente perfection. What we want here are noodles that are bendable but not too soft/mushy that they would tear while being rolled up. I recommend cooking your lasagna noodles about a minute less than the package indicates.
You should have enough time to mix together this sausage lasagna roll filling as you wait for the water to boil. Along with the cooked and crumbled Italian sausage and spinach, add an egg, ricotta, Pecorino Romano (or Parmesan), salt, and pepper to a large bowl. Pretty straightforward ingredients! The egg helps keep the filling moist and cohesive.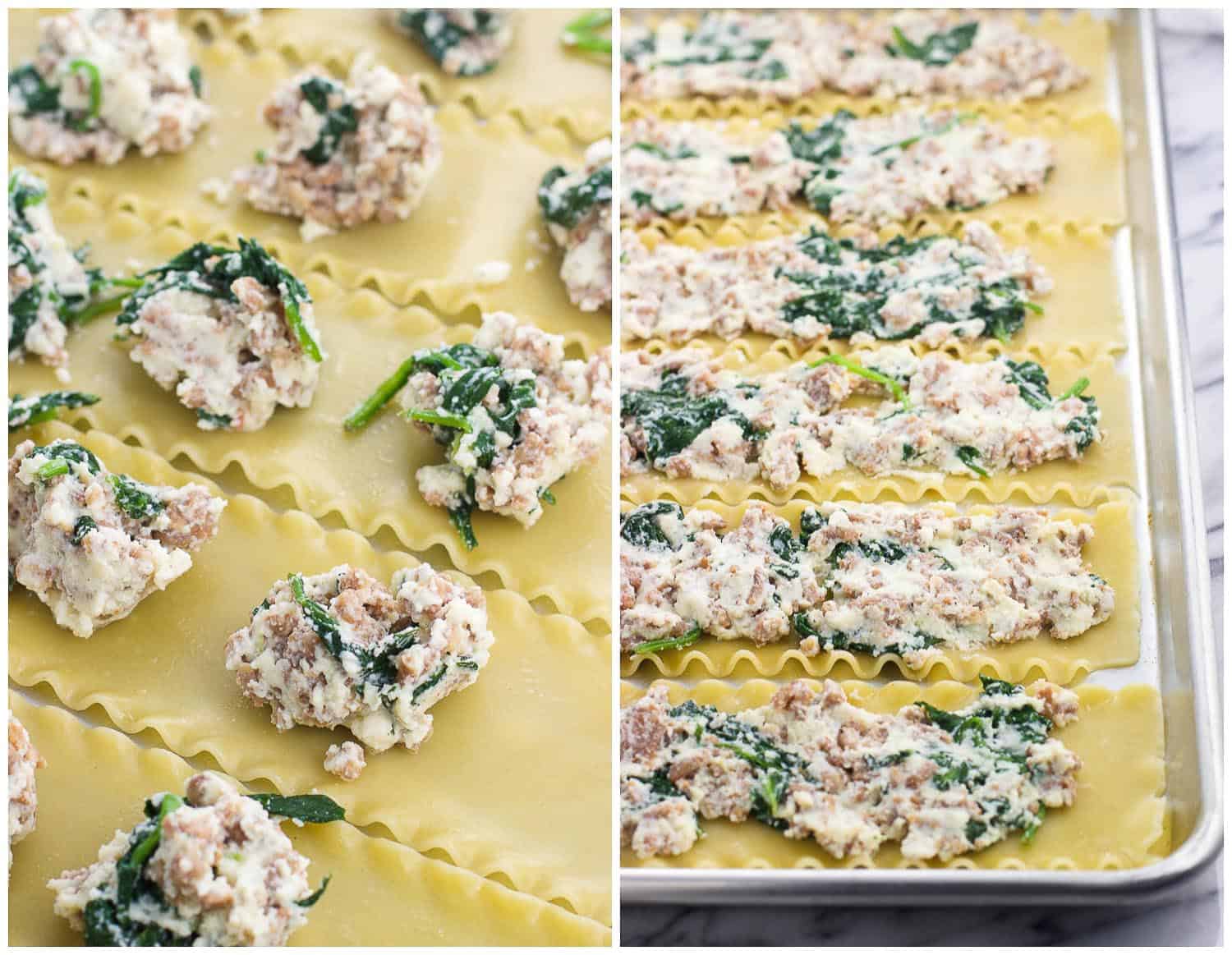 When the noodles are done boiling, you'll want to lay them flat on a slightly greased surface. I used two large rimmed baking sheets (here are similar baking sheets <--affiliate link), which each fit six noodles perfectly.
Now it's time to add the filling. To try to make this part as low-mess as possible, I used a cookie scoop to portion out the filling evenly. Aim to add about one-quarter cup of filling to each and then spread it evenly along the length of the noodle, leaving a little buffer margin along the edges.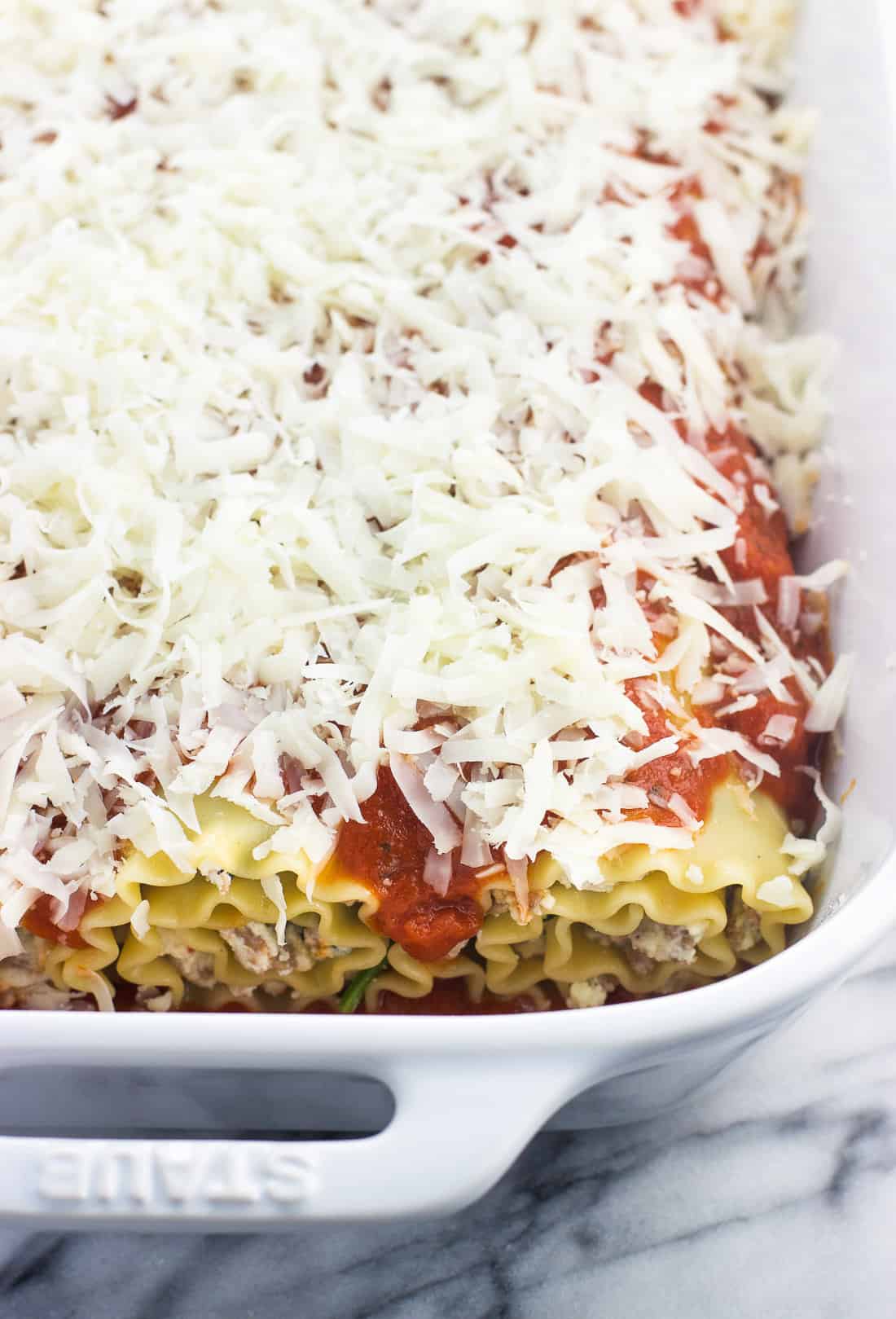 Before rolling everything up and putting the lasagna rolls in a baking dish, pour enough marinara sauce into the bottom to coat it completely. Think ¾ cup or so. Then place the lasagna rolls next to one another, seam-side down.
Lots of mozzarella cheese gets sprinkled over top before they go into the oven to cook for around 40-45 minutes. In order to prevent the cheese from browning too much before the lasagna rolls are heated throughout, I like to cover the baking dish with aluminum foil for the first half of the bake time, and then remove for the second half.
Tip: Spray the underside of the sheet of aluminum foil with cooking spray so the mozzarella cheese doesn't stick to it when you take it off!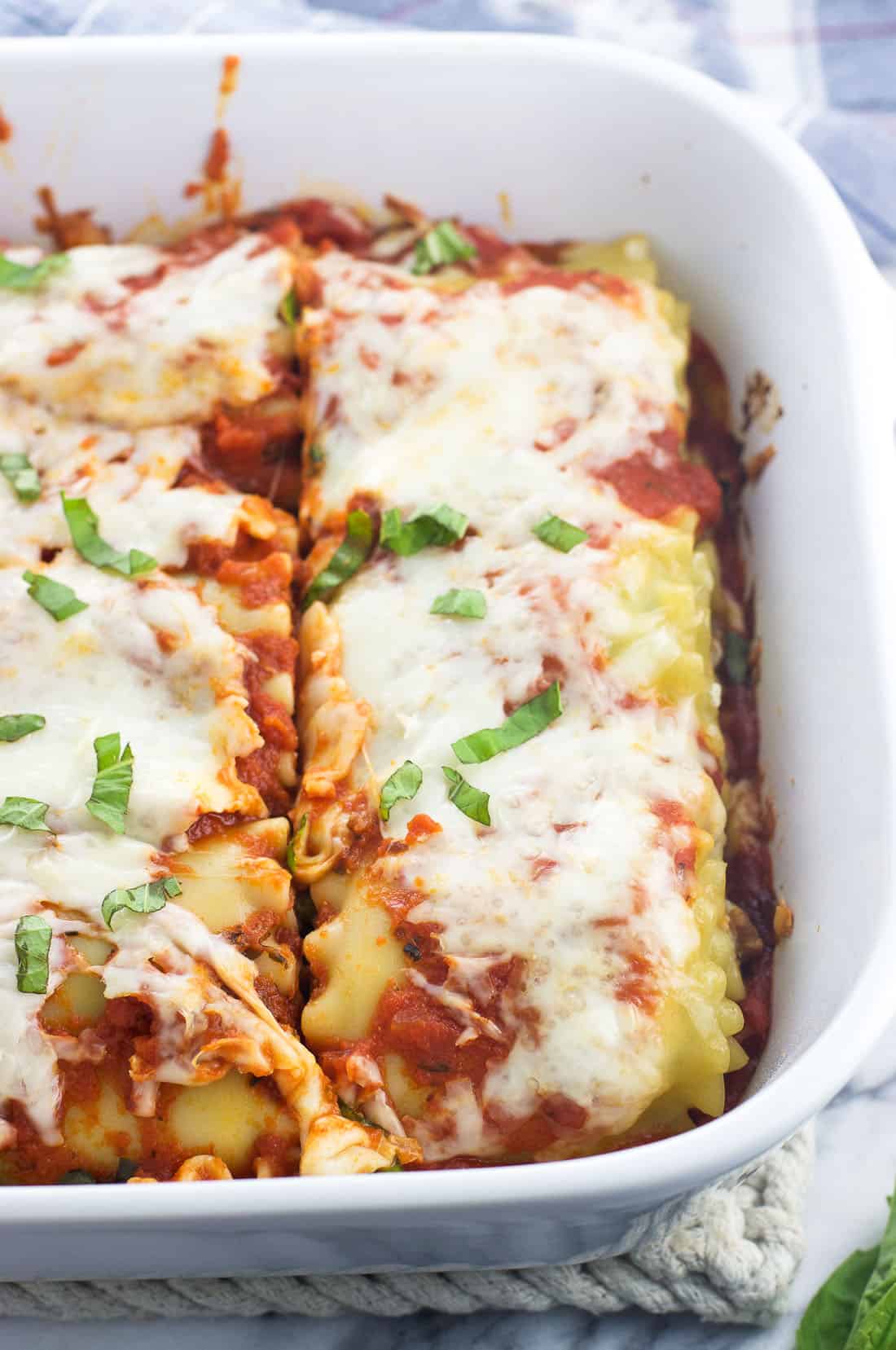 Here we are! Gently run a spatula between the rolls to make them even easier to lift out and serve. Highly suggest fresh basil as a topping option!
Instructions for freezing
Yes. You can freeze lasagna rolls both before and after cooking, just depending on your preference.
If you want to freeze them before baking, assemble the lasagna rolls and package them snugly in air-tight freezer-safe containers. Don't add any sauce or mozzarella cheese over top or anything. This is just for the rolled up lasagna noodles and filling.
Then when you're ready to prepare them, thaw in the refrigerator, then spread the marinara sauce on the bottom of your baking dish, add your lasagna rolls seam-side down, and then cover in marinara sauce and mozzarella. Adjust the bake time as needed.
Note: I haven't baked them directly from frozen, so I'm unsure of how that would alter the bake time.
If you'd rather bake them and then freeze, let the spinach lasagna roll ups cool completely to room temperature before packaging in air-tight, freezer-safe containers. Then simply heat your preferred way, adding additional sauce if you'd like to ensure everything is juicy and moist.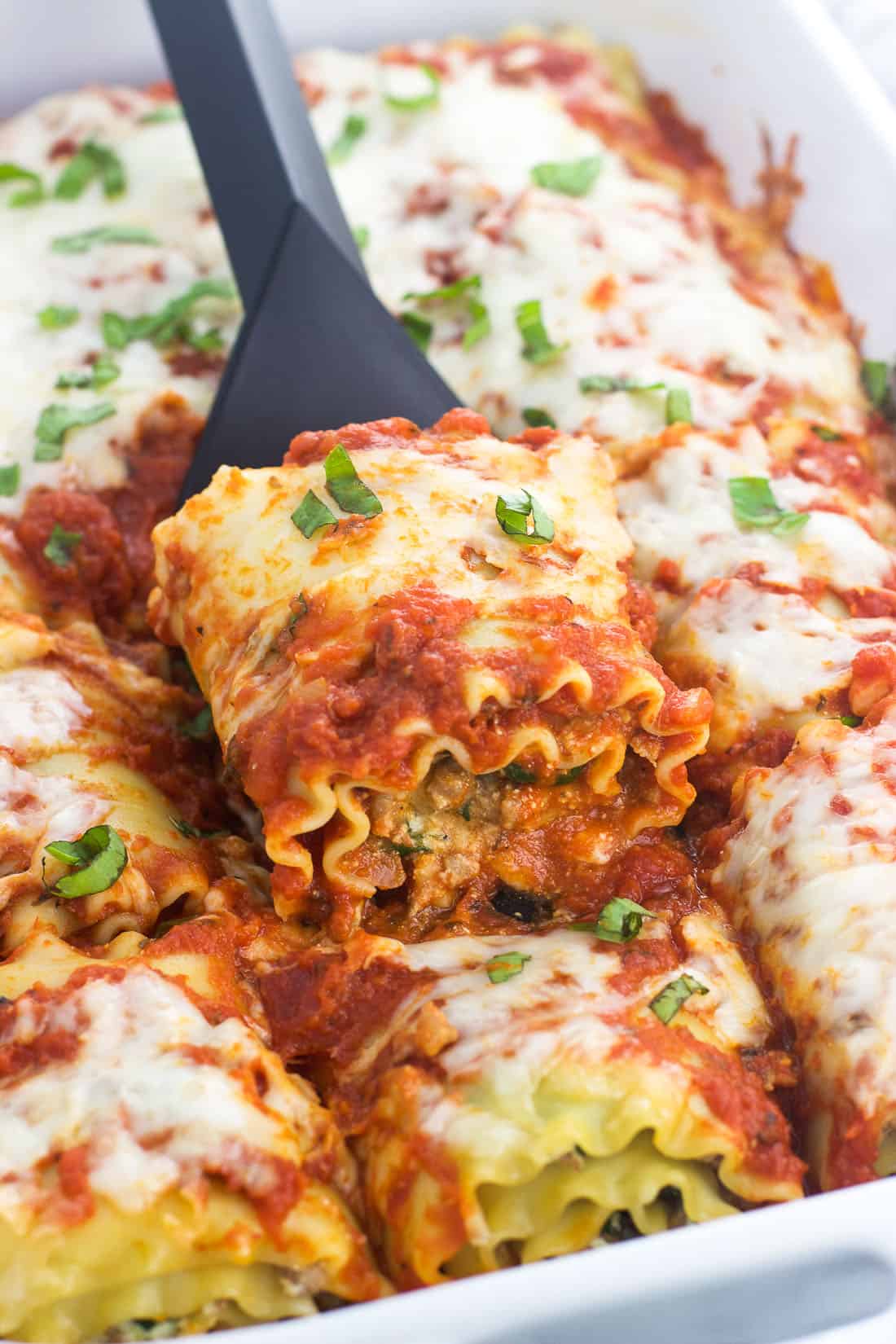 More Italian sausage recipes
30 minute meal: For a quick, weeknight-friendly meal, check out these Italian sausage quesadillas. Simple ingredients with great flavor!
Soup: Keep warm with a cozy bowl of Italian sausage soup with orzo and spinach. This recipe has a lot of wiggle room for you to make it your own.
Sausage links: Classic Italian sausage and peppers is always a favorite.
For pesto fans: A creamy sauce coats pesto gnocchi, white beans, and Italian sausage for another easy meal.
Recipe notes
Hot, mild, or sweet Italian sausage all work for this recipe. Same goes for pork, turkey, or chicken Italian sausage varieties.
See recipe notes section below in the recipe card for the best cook time for the lasagna noodles. I've noticed different brands specify different times!
Fresh or frozen and thawed spinach can be used here. Just be sure to squeeze out any excess moisture before adding the spinach to the lasagna roll up filling.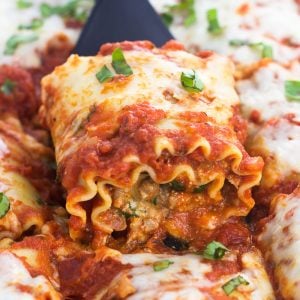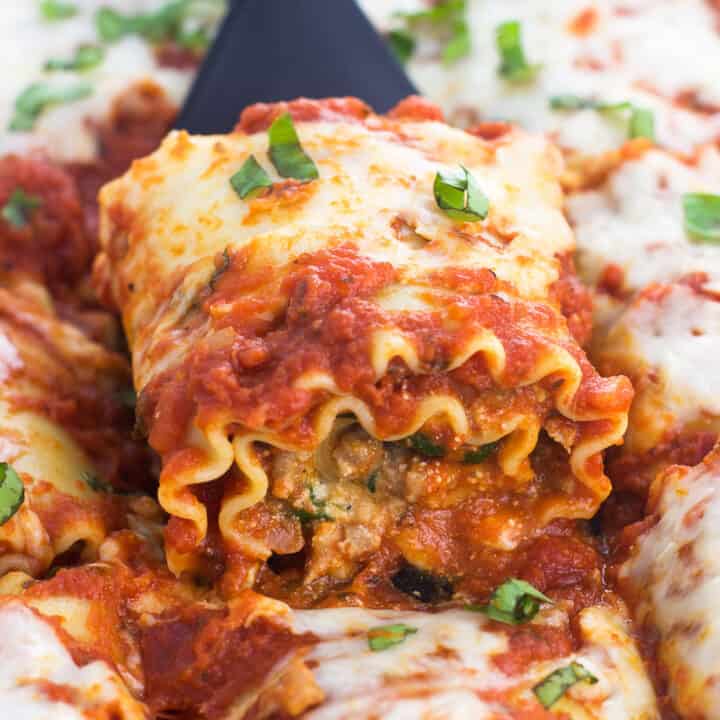 Sausage and Spinach Lasagna Rolls
Spicy sausage lasagna rolls with spinach are FULL of comfort food flavor. Hot Italian sausage, spinach, three Italian cheeses, and more are all combined in these lasagna roll ups. Use your favorite marinara and top with fresh basil for serving.
Print
Pin
Rate
Ingredients
16

oz

hot Italian sausage,

ground

9

oz

fresh spinach,

or frozen and thawed

¼

cup

water

1-2

tablespoon

olive oil,

for boiling the lasagna noodles

12

lasagna noodles,

uncooked

1

egg

15

oz

ricotta cheese

½

cup

Pecorino Romano

or Parmesan, grated

1

teaspoon

salt

½

teaspoon

ground black pepper

24

oz

marinara sauce

divided

4

oz

mozzarella cheese,

shredded

3

tablespoon

chopped fresh basil,

to serve
Instructions
Add sausage to a large pan and set over medium heat. Break up sausage into crumbles and cook, stirring occasionally, until fully cooked and no pink remains. Transfer cooked sausage to a paper towel-lined plate to absorb excess grease and wipe out pan to use again.

Set the now-empty pan over low-medium heat and pour in about ¼ cup water. Add in as much spinach as can fit in the pan and cover, stirring everything up and adding more spinach as room frees up. Cook until spinach wilts, then transfer spinach to a colander lined with paper towels. Let spinach drain, then press out as much of the excess liquid as you can. Set aside for now.

Bring a large pot of salted water to a boil. Once boiling drizzle in 1-2 tablespoons of olive oil. Add lasagna noodles and boil according to package directions* (see note below).

Meanwhile spray two large baking sheets with cooking spray (mine are 13"x17" and fit 6 noodles on each). You may also use sprayed sheets of aluminum foil as your lasagna roll assembly surface. Once noodles are to your preferred doneness, drain and lay noodles in a single layer on greased baking sheet (or foil).

Add egg to a mixing bowl and whisk until light and creamy. Add cooked and crumbled sausage, spinach, ricotta, Pecorino Romano (or Parmesan), salt, and pepper and stir until everything is combined evenly.

Spray an 8"x10" (or similarly sized) baking dish with cooking spray and spread ¾ cup of marinara sauce evenly on the bottom. Set aside. Preheat oven to 350°F.

Using a cookie scoop (or two spoons), add about ¼ cup total of the ricotta mixture over top of each noodle in dollops. Spread the mixture into an even layer on each noodle,

Roll each noodle as tightly as you can (from the short side) without squishing the filling out of the sides and place each lasagna roll seam-side down in the baking dish. Place lasagna rolls close together in the pan to help keep them in place.

Once all rolls are in the dish, pour remaining marinara sauce evenly over top and top with mozzarella. Cover with aluminum foil, spraying the bottom side of the foil with cooking spray so it doesn't stick to the cheese.

Bake for 20 minutes, then remove foil and bake for another 20-25 minutes, or until bubbly and the cheese has melted. Top with chopped basil for serving.
Notes
Cook time: I've noticed different brands of lasagna noodles specify slightly different boil times. I've used one that says 8 minutes, and another that says 10. Either way, I cook the noodles about 1 minute to 30 seconds less than the package indicates to ensure they're bendable but not mushy.
Sausage varieties: You can use mild Italian sausage if you don't want this dish to be spicy. If you can only find mild sausage and like spicy things, add crushed red pepper flakes to the sauce in line with your tastes.
You can also use ground turkey or chicken Italian sausage to lighten the nutritional stats, which take into account the use of pork sausage.
Nutritional info: The information displayed is an estimate for two lasagna rolls. Amounts will vary depending on the brand of ingredients you use.
Nutrition
Serving:
2
lasagna rolls
|
Calories:
602
kcal
|
Carbohydrates:
51.1
g
|
Protein:
35.5
g
|
Fat:
28.8
g
|
Saturated Fat:
12.8
g
|
Cholesterol:
98
mg
|
Sodium:
1529
mg
|
Potassium:
505
mg
|
Fiber:
3.8
g
|
Sugar:
6.4
g
|
Calcium:
346
mg
|
Iron:
5
mg
Nutritional information is provided as an estimate. As it can vary due to many factors (brands used, quantities, etc.), we cannot guarantee its accuracy.
Food Safety and Nutrition Disclaimer