Italian sausage soup with orzo and spinach is a healthy and filling soup recipe perfect for year round! Serve with a crusty piece of bread and a salad for a well-balanced meal.
I know it's July. Yes, it's sweltering. And yes, this is a hot soup recipe.
But when something is this good, it would just be wrong to keep it from you for months until the weather becomes a little more soup-friendly.
One of the perks of growing up in a foodie house is constant chatter about what we're eating now, what we'll be eating later, and what we want to eat over the weekend. Rinse and repeat.
As an adult, this still comes in handy for those times I totally space and can't think of what to cook for dinner. Which is something that happens more frequently than you might think. I just call my mom and ask what she's making, and I'll usually follow suit and make the same. It's hard to go wrong with this method! 🙂
This Italian sausage soup is one of those meals I love eating at my parents, and was the lucky meal in question on a recent "what should I make for dinner?" phone call. But there are several differences, one being that my mom doesn't exactly measure things. So our beloved Italian sausage soup was described to me as "a few of these, a can of this, a couple good shakes of this, and two handfuls of that".
But I got the gist.
A couple of extra spices, a pasta switch-up, and a few practice rounds later, I've landed on my own spin on Italian sausage soup, this one featuring orzo and spinach.
P.S. If you're into orzo in soup, you may also want to check out my vegetable beef soup, too.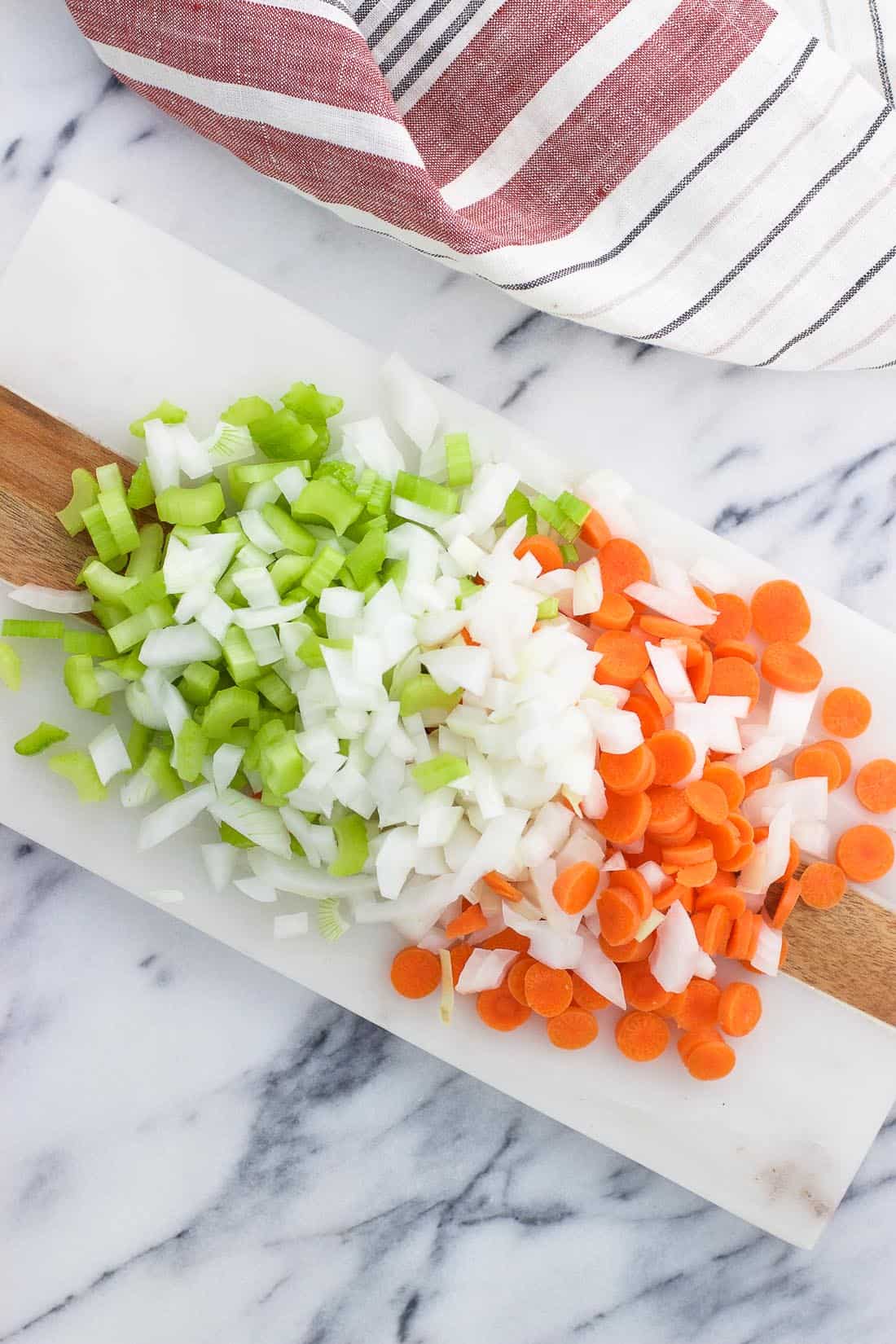 How to make this soup
This one pot soup recipe begins by cooking Italian seasoned sausage. You can use mild or hot, but I used mild. We generally like spicy food in my house so hot Italian sausage isn't off the table, but after buying one brand (that I can't remember the name of so don't know what to look out for…) that was hot hot, like REALLY hot, I'd rather go with mild and add crushed red pepper to our taste.
You do you though!
After comes mirepoix: onions, celery, and carrots. If you're wondering why the carrot slices you see above are small and perfectly round, it's because I absent-mindedly used my last full-sized carrots in a juice just before making this Italian sausage soup for these photos. Since I realized this mid-recipe (and this was going to be dinner tonight), I dug into my snacking baby carrots and used those. Obviously that worked fine.
You'll just want to make sure your chopped onion, celery, and carrots end up roughly the same size so they don't saute/cook unevenly.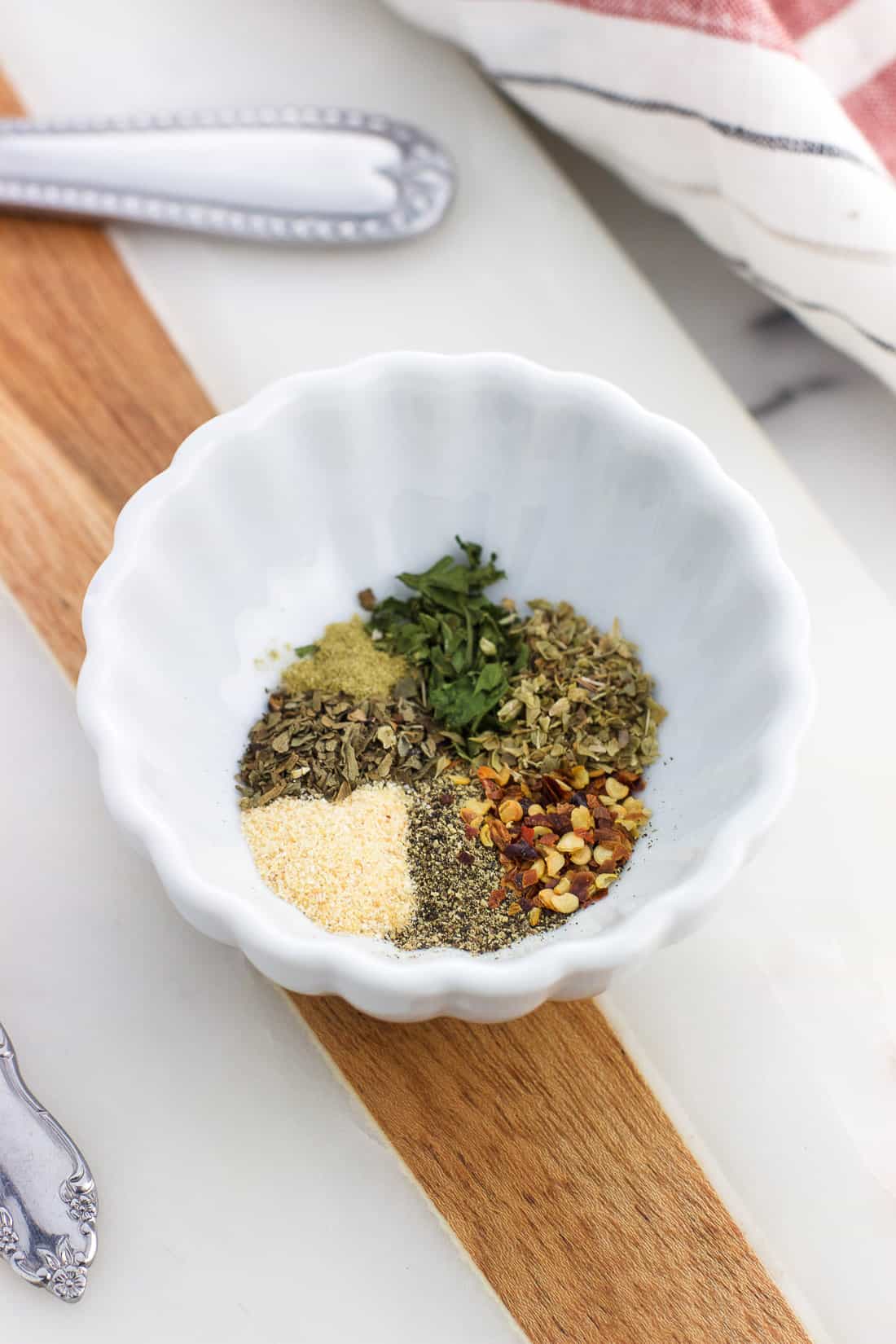 Soup spices
Now for the spices. I kept it simple with Italian spices you probably have in your kitchen cabinets, but you can really do your own thing here. If you have a bottle of Italian seasoning you can skip a few steps and use that in place of all the herbs listed separately in the recipe card below.
Since we touched on spice level earlier, I'll say that the half-teaspoon of crushed red pepper listed in the recipe card below doesn't bring much heat. Feel free to add extra if you like things to be on the spicier side.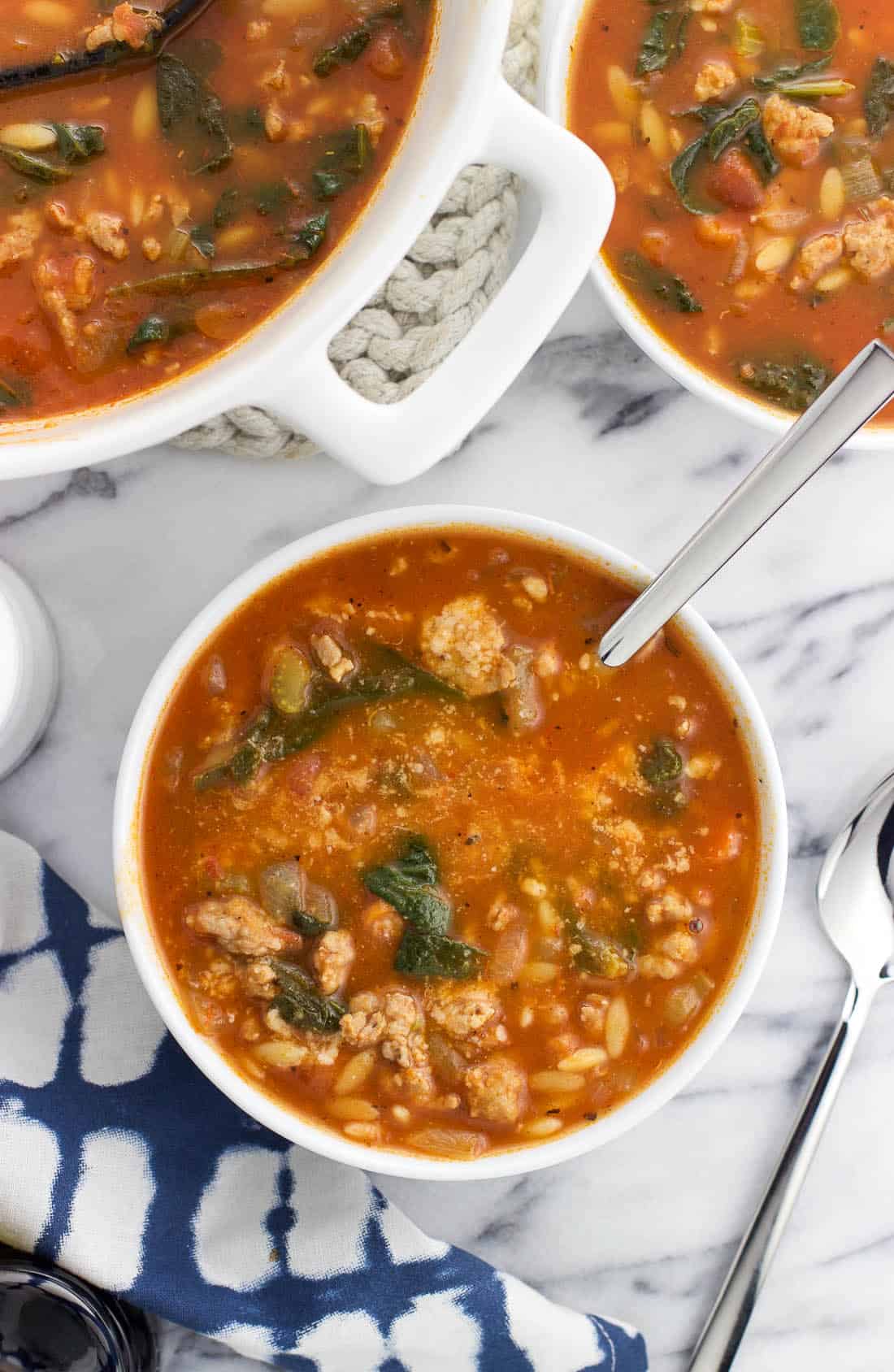 After a nice long simmer, it's time to add the pasta. I'm partial to tiny shapes like orzo (healthy potato leek soup) and pastina (creamy Italian wedding soup) in my soups, so orzo won out here.
One of the things I love best about making a big batch of soup is how big the orzo gets after its left to sit in the leftover soup overnight. It makes the soup that much more hearty. Adding half a cup of dry orzo to the pasta ensures you have plenty for each bowl for serving that day, but not too much that it completely takes over the leftovers.
All that's left is to add the spinach. Six ounces may look like a lot of spinach going in, but it'll wilt and reduce quickly. Definitely add as little/much as you want, but I found this much (approximately four cups packed, per my large mixing bowl with side measurements) added the right amount of heft to each serving without being overwhelming.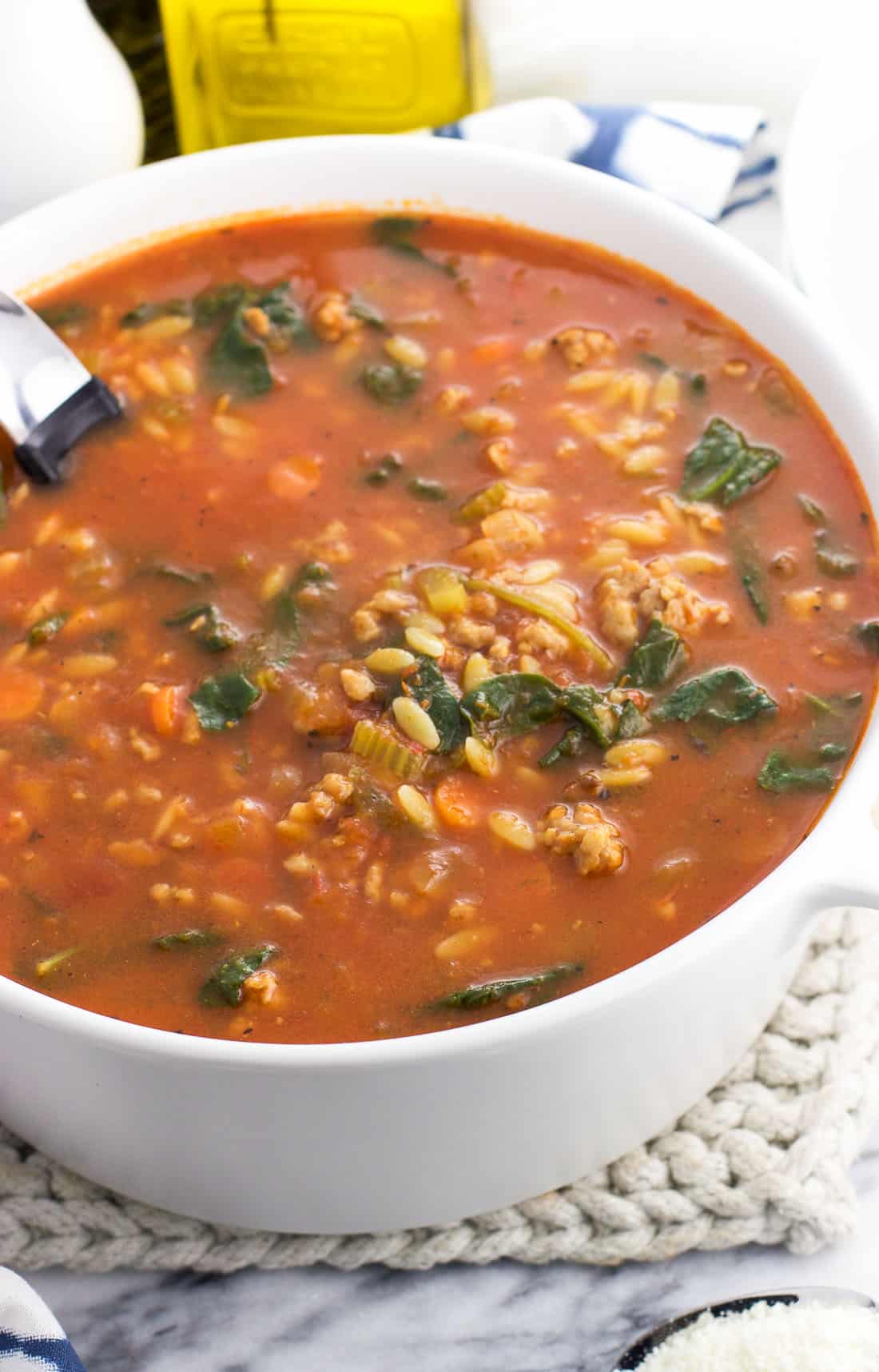 Recipe notes
You can use mild or hot Italian sausage in this Italian sausage soup. If using hot, I would omit adding crushed red pepper until after you taste it prior to serving, and then add if you like.
The amount of water you add doesn't have to be precise. I fill up the empty 28-ounce can of crushed tomatoes as much as I can without risking spilling it on the way from the sink to the stove and pour it in.
I highly recommend sprinkling grated Pecorino Romano over top for serving! Coupled with a side salad and a crusty piece of bread? Ugh. Perfection.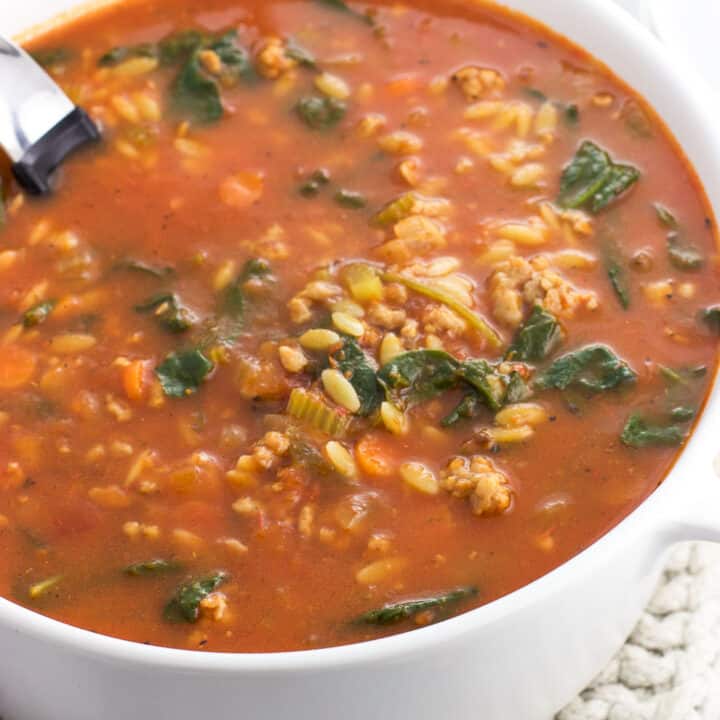 Italian Sausage Soup with Orzo and Spinach
Italian sausage soup with orzo and spinach is a healthy and filling soup recipe perfect for year round! Serve with a crusty piece of bread and a salad for a well-balanced meal.
Print
Pin
Rate
Ingredients
1

lb

ground Italian sausage

1

tbsp

olive oil

1

onion,

chopped

1/2

cup

chopped carrots

2

celery ribs,

chopped

32

oz

reduced-sodium chicken broth

1

28-oz can

crushed tomatoes

28

oz

water

1/2

tsp

salt

1/2

tsp

ground black pepper

1/2

tsp

garlic powder

1/2

tsp

crushed red pepper

1/2

tsp

dried oregano

1/4

tsp

dried parsley

1/4

tsp

dried basil

1/8

tsp

dried ground thyme

1/2

cup

dry orzo pasta

(about 3.5 oz)

6 oz

baby spinach

(about 4 cups packed)
Instructions
Place a large, heavy-bottomed pot on the stovetop over medium heat. Add the sausage and break it up with a spatula. Cook for 8-10 minutes or until sausage is no longer pink and fully cooked, breaking up the pieces into smaller chunks as you go. Remove sausage to a paper towel-lined plate and set aside.

Add olive oil to the pot and place it back on the stove over medium heat. Add onion, carrots, and celery. Cook, stirring occasionally, for 6-8 minutes, or until the vegetables have softened some.

Add back in the cooked and crumbled sausage. Pour in broth, crushed tomatoes, and water and stir.

Add the salt, pepper, garlic powder, crushed red pepper, oregano, parsley, basil, and thyme and stir. Adjust seasonings to your taste.

Reduce heat so the soup is at a simmer. Let simmer for an hour, stirring occasionally.

Raise the heat to bring it up to a boil, then add the dry orzo. Let cook for 10 minutes, or according to orzo package directions. Stir frequently so that the orzo doesn't clump together.

Stir in the spinach a minute or so before the orzo will be done. Soup is ready to serve once the orzo is tender and the spinach is slightly wilted.
Notes
Recipe cook time includes one hour of mostly hands-off time for the soup to simmer.
Nutrition
Calories:
377
kcal
|
Carbohydrates:
21
g
|
Protein:
16
g
|
Fat:
25
g
|
Saturated Fat:
9
g
|
Cholesterol:
57
mg
|
Sodium:
1458
mg
|
Potassium:
909
mg
|
Fiber:
5.3
g
|
Sugar:
6.5
g
|
Calcium:
40
mg
|
Iron:
3.8
mg
Nutritional information is provided as an estimate. As it can vary due to many factors (brands used, quantities, etc.), we cannot guarantee its accuracy.