This hearty vegetable beef soup is comfort food for any time of year. Tender chunks of beef join with a medley of vegetables (including leafy greens) and orzo pasta for a satisfying and flavorful homemade soup.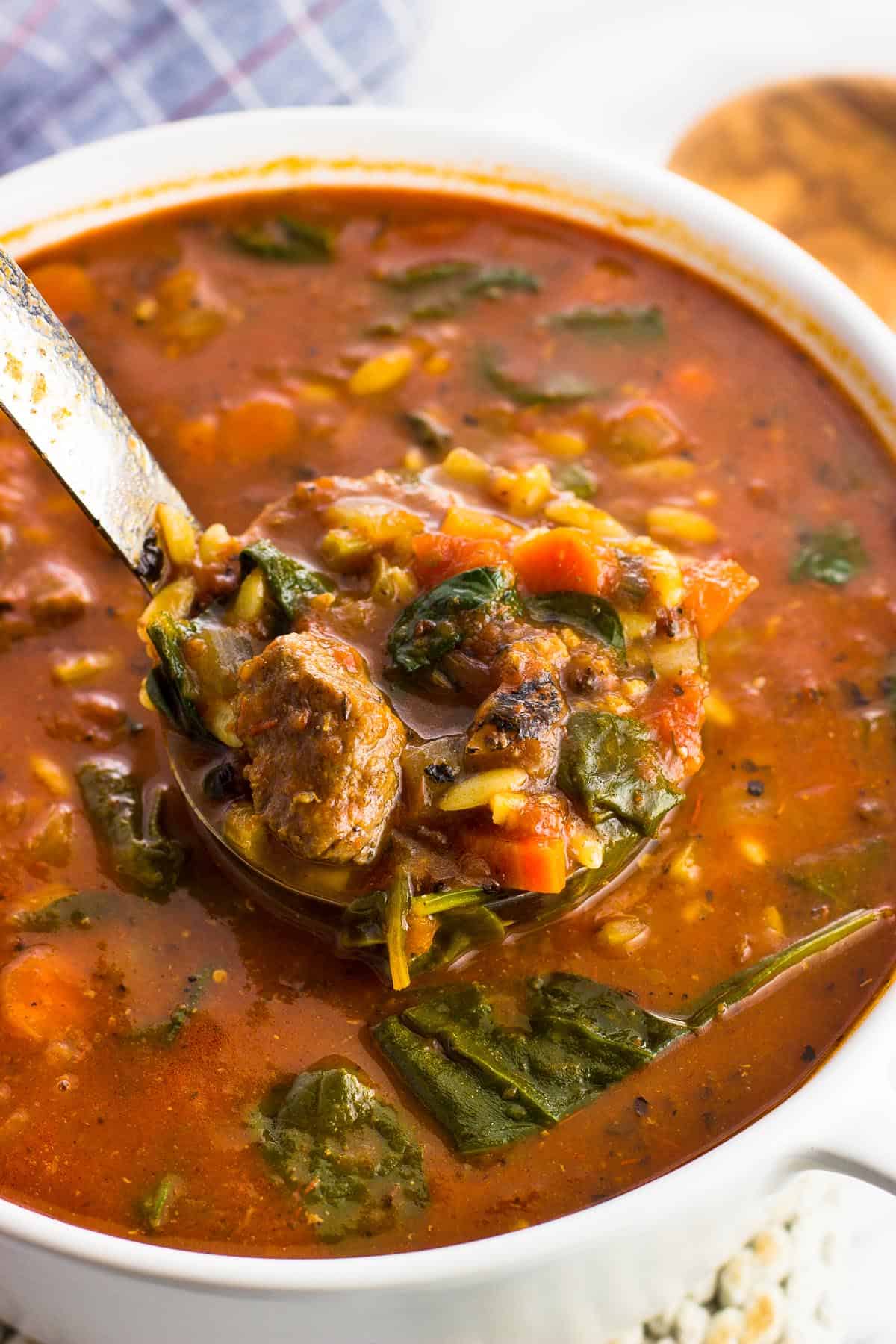 Orzo in soup is one of my very favorite ingredients to add (see also Italian sausage soup or this healthy potato leek soup). More subtle on the front end in just-made soup, it expands in leftover portions to be even heartier the next day. To be honest I'm not really sure which way I like better.
Good thing there's no choosing with this vegetable beef soup recipe as you can enjoy it both ways. Tender stew beef is not chewy at ALL, and along with a variety of vegetables, Italian seasonings, and a tomato/beef broth, really makes this simple soup taste special.
I cook this soup about once a month, year-round. It's that good!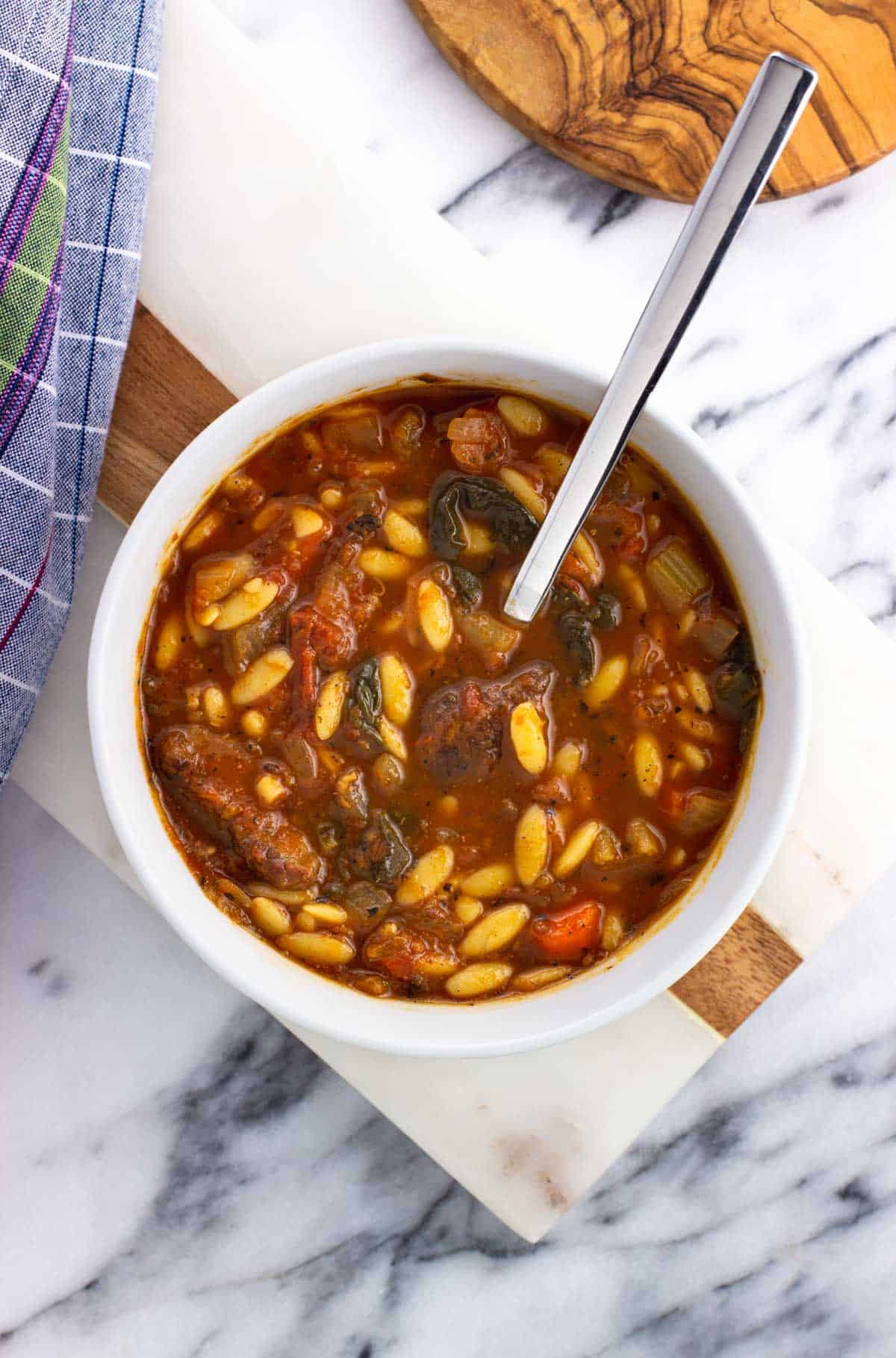 What Makes This Recipe Work
Searing the stew beef enhances both the flavor of the meat itself from its browned crust and also the soup's liquid, which benefits by scraping up the resulting heavily browned bits (called fond) from the bottom of the pan in the deglazing step and working it into the broth. Fond provides a lot of flavor!
Choosing the right ingredients, from tender cuts of beef to fire-roasted tomatoes to plenty of freshly-minced garlic elevate a simple dish into special comfort food.
Adding just enough orzo is key in having it be present in each bowl of freshly-made soup, but not overwhelming leftover portions and absorbing all of the liquid.
Recipe Ingredients
Stew beef: For convenience I just about always use packaged stew beef here. Having the meat pre-sliced is a big time-saver, and this kind of beef works wonderfully in soups and stews (like Guinness beef stew) to produce tender, not-too-chewy-at-all pieces of meat. If you're unable to find packaged stew beef, look for a boneless chuck roast with a fat marbling and cut it into pieces.
Tomatoes: Crushed tomatoes and diced tomatoes are added to this vegetable beef soup to flavor both the broth and allow tomato chunks to be present in the end result. While any canned diced tomatoes will work (though some have chiles or other ingredients that might not mesh well), the fire-roasted variety is my favorite as it brings an extra burst of flavor.
Vegetables: This vegetable beef soup includes the ubiquitous onion/carrot/celery trifecta, the aforementioned tomatoes, and fresh spinach. You can mix-and-match other vegetables as you see fit (peas, corn, potato cubes, etc.) but this is my preferred line-up.
Orzo: One-half cup of dry orzo pasta is added to cook in the soup near the end of the recipe time. While it might not look like a lot of pasta in a soup to start, the orzo enlarge and soak up some of the liquid in leftover portions and makes this soup feel even heartier. I would not add more than one-half cup.
Step-by-Step Instructions
Season the stew beef with kosher salt and pepper. Heat canola oil (or other neutrally-flavored, high-heat cooking oil) in a large pot over medium-high heat until the oil is shimmery. Add the stew beef and sear until all sides have a deep brown surface, about three minutes per side. Remove seared beef to a plate for now.
Add the olive oil to the now-empty pan and reduce the heat to medium. Once heated, add the onions, carrots, and celery and cook for 6 minutes.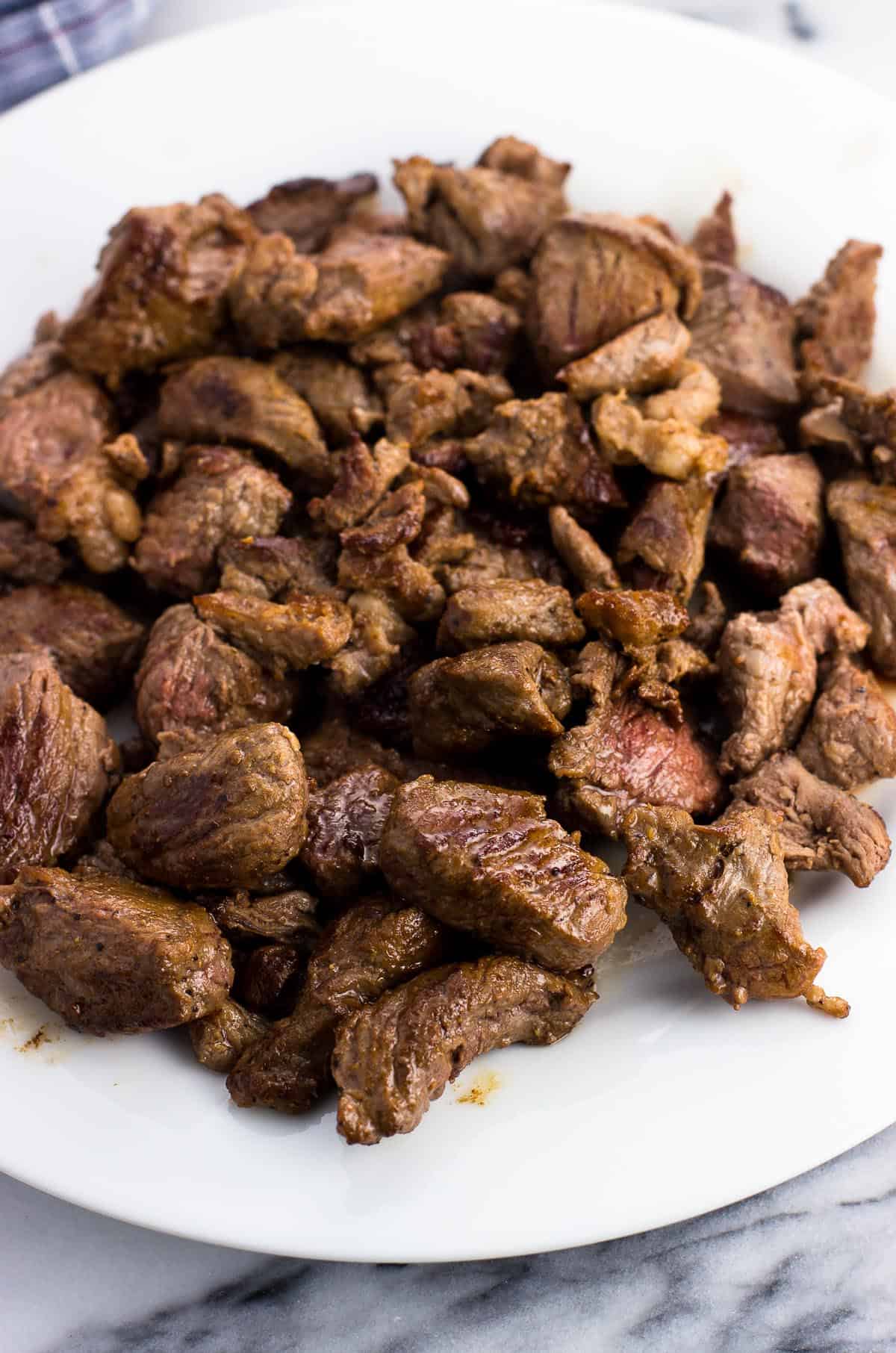 Add the garlic to the pan and cook for one minute more.
Now it's time to deglaze. Pour a little bit of the beef broth into the pan and scrape up all of the burnt bits up off of the bottom of the pan so they're a part of the soup's liquid.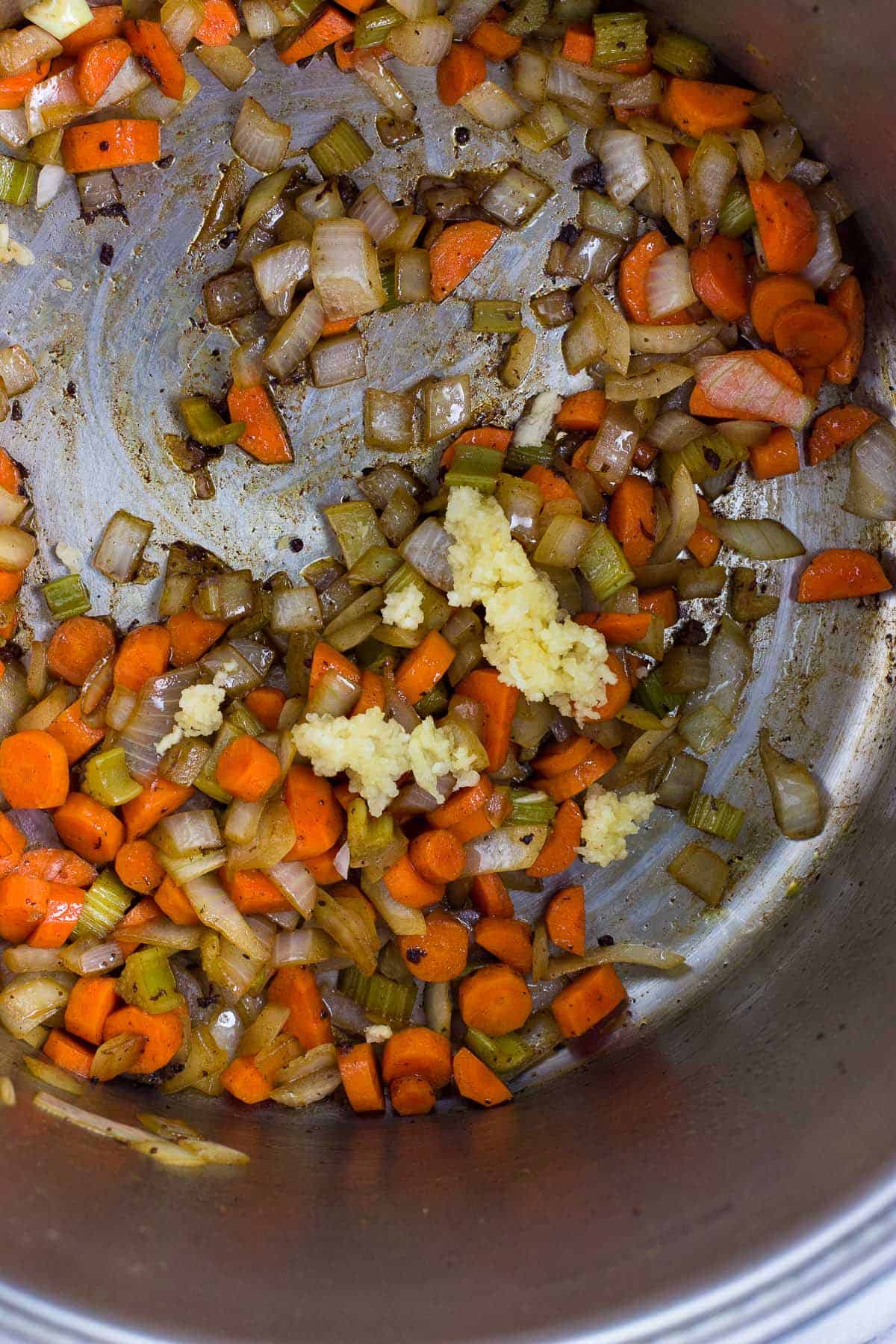 Pour in the rest of the broth, then the crushed tomatoes, diced tomatoes, dried oregano, dried basil, dried thyme leaves, and the two bay leaves. Stir in the seared beef.
Bring the soup to a simmer for 45 minutes to one hour. Remove the bay leaves after the simmer time -- something I always forget!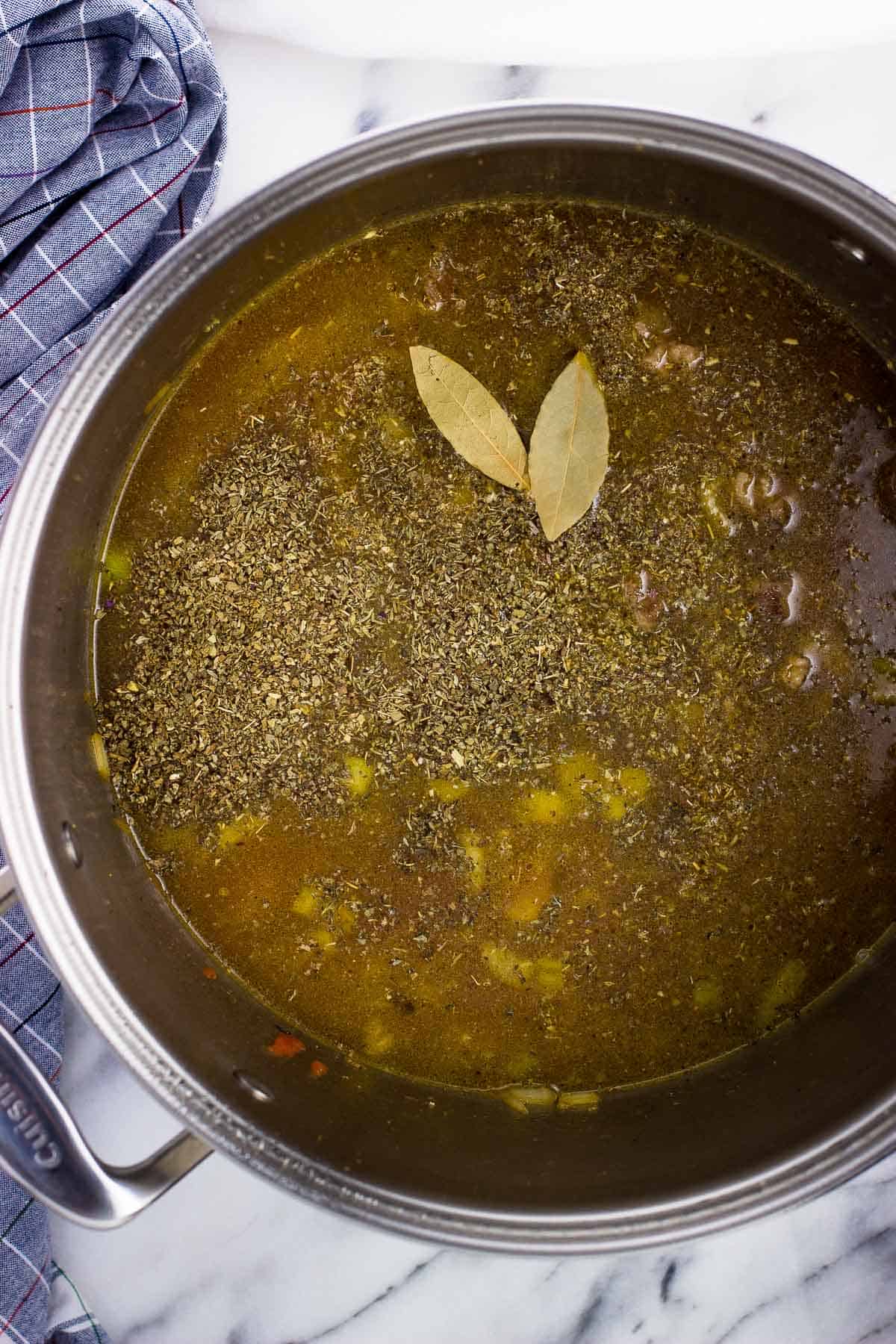 After it simmers, raise the heat to bring the soup to a boil. Add the dry orzo and cook until tender according to the package instructions. This will take about 10 minutes or so.
Add the spinach leaves and stir in until just wilted, then serve.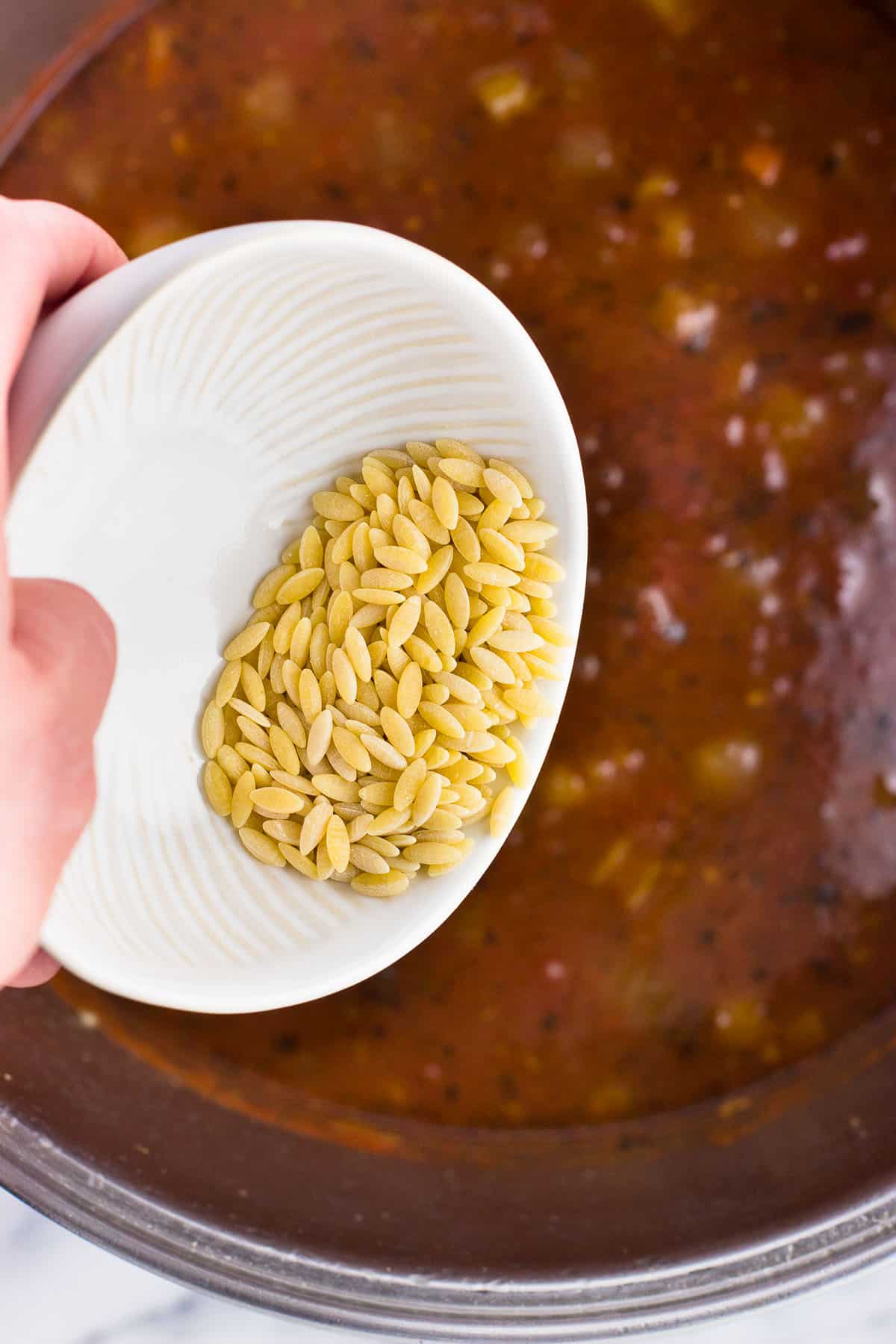 Expert Tips
Ideally for this soup use a stainless steel pot, as it will develop more fond (thus, flavor) than a non-stick pot. Plus you don't have to worry about scratching the bottom when you scrape and deglaze. If all you have is non-stick, don't scrape hard on the bottom of the pan, and use utensils that will be gentler on the surface, such as silicone and wood. Metal utensils will leave scratches.
Salting the stew beef before searing it is very important in providing the right level of saltiness for this soup. As the only other salt-added ingredient is the beef broth, don't skimp on salting the meat. For 1 ½ pounds of stew beef, aim to use around 1 ½ teaspoons of coarse kosher salt (I use Morton's), or until the meat is well coated.
Stir the dry orzo when adding it to the soup, and stir frequently throughout its cook time, making big sweeps along the bottom of the pot. This will prevent it from clumping and sticking together as it cooks, as well as from sticking to the bottom of the pot.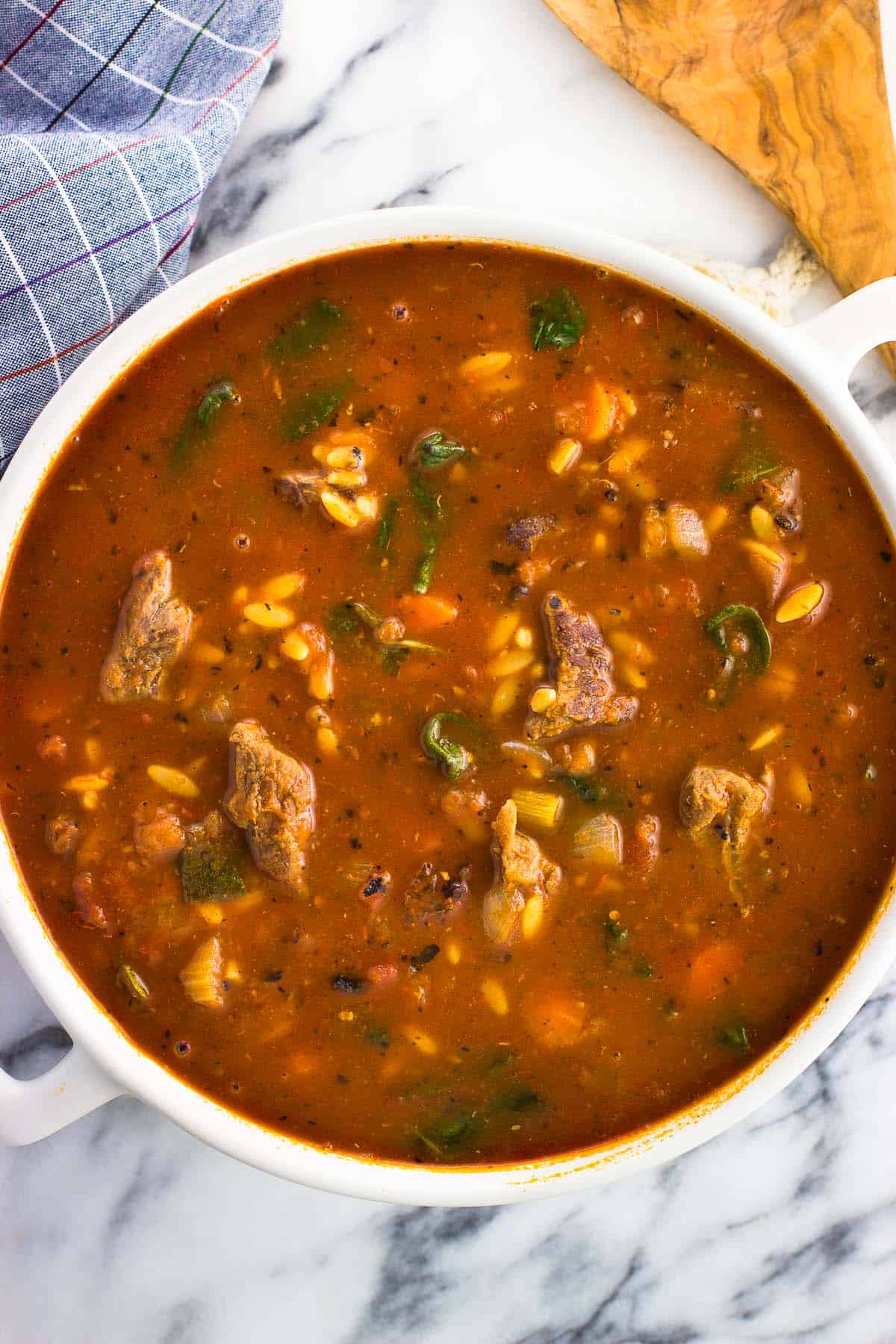 Recipe FAQs
How long should this soup simmer?
I aim to let this soup simmer for at least 45 minutes so the flavors can meld, but if I have the time I let it go for an hour or a bit longer. Just keep the pot covered (or keep the lid open just a crack) to prevent the soup's liquid from evaporating. No matter how long you let the soup simmer for, just be sure to add the orzo during the last 10 minutes so it doesn't overcook and become mushy.
What are good serving suggestions for this soup?
Freshly grated Pecorino Romano cheese is my all-time #1 soup topper, this vegetable beef soup included. It melts into the surface and adds a punch that complements the other flavors going on here. Crusty bread to dip into the soup is another great option, or you can take things a step further with homemade croutons. All of that plus a simple side salad is how I serve this soup for dinner.
How do you store vegetable beef soup?
Store this soup in the refrigerator for up to three days. If you know you won't be able to get through the leftovers in that time, place them in a freezer container as soon as possible (for the most freshness) and freeze for up to several months. It's an excellent choice for freezing.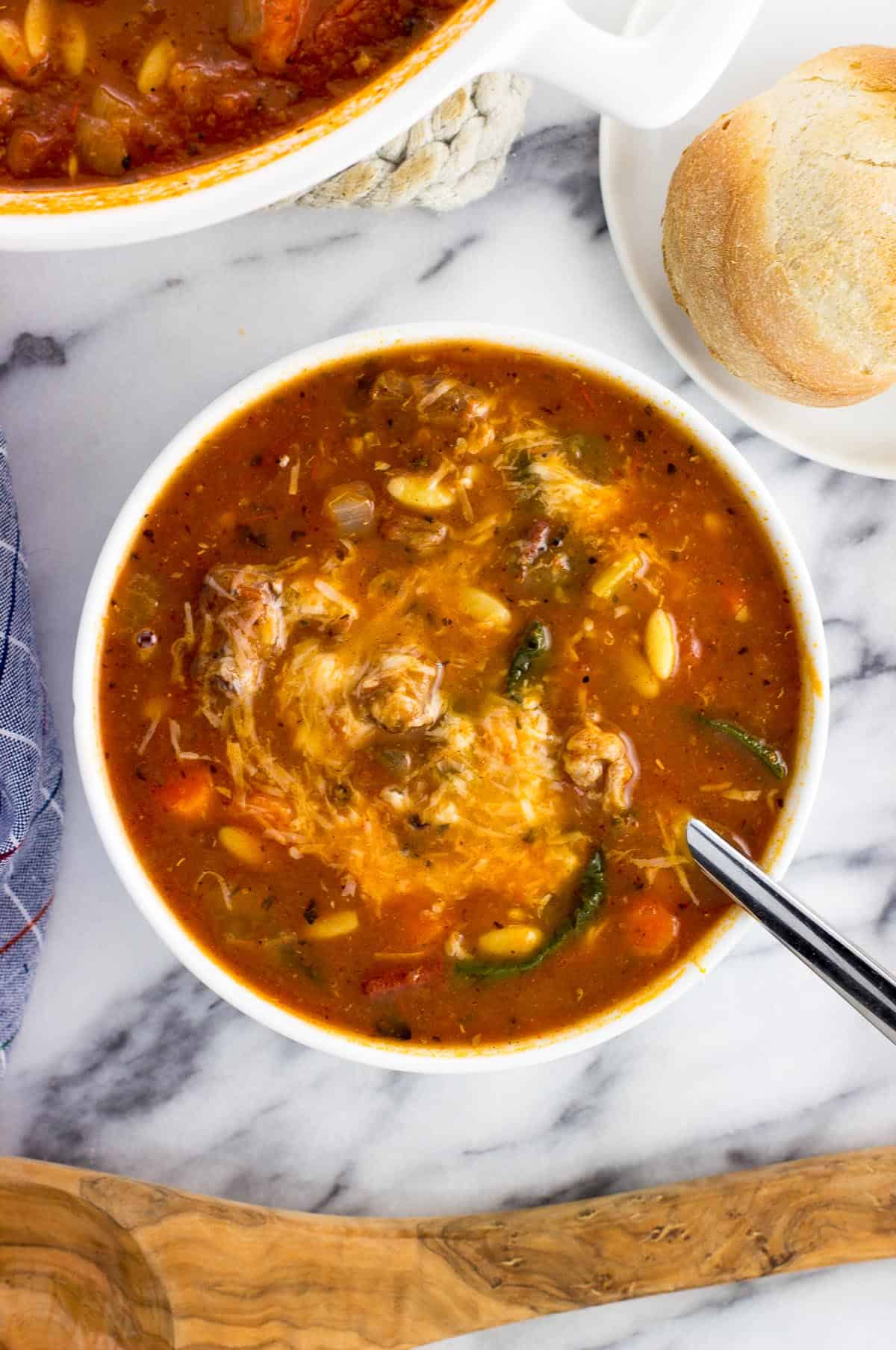 More Soup Recipes
If you've enjoyed this recipe, I'd love for you to leave a star rating in the recipe card and/or a comment review below!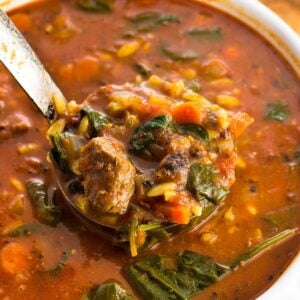 Vegetable Beef Soup with Orzo
This vegetable beef soup is comfort food for any time of year. Tender chunks of beef join with a medley of vegetables (including leafy greens) and orzo pasta for a satisfying and flavorful homemade soup.
Print
Pin
Rate
Ingredients
1.5

lbs

beef stew meat

cut into roughly 1-inch chunks

Kosher salt

for seasoning meat

Ground black pepper

for seasoning meat

1 ½

Tablespoons

canola oil

for searing the meat

2

Tablespoons

olive oil

1

medium

onion

diced

1

cup (150g)

chopped carrots

½

cup (61g)

chopped celery

8

cloves

garlic

pressed or minced

6

cups

reduced-sodium beef broth

1

28-oz can (794g)

crushed tomatoes

1

14.5-oz can (411g)

diced tomatoes

undrained (ideally fire-roasted)

1 ½

teaspoons

dried oregano

1 ½

teaspoons

dried basil

1

teaspoon

dried thyme

2

bay leaves

½

cup (85g)

dry orzo

5

oz

spinach leaves

(about 4 cups packed)

Grated Pecorino Romano or Parmesan

for serving
Instructions
Season all sides of the stew meat generously with kosher salt (see note) and ground black pepper. Add 1 ½ Tablespoons of canola oil to a large pot set on the stove over medium-high heat. Once heated, add the stew beef and cook for about 3 minutes per side, until all sides of the beef develop a nice brown sear. Transfer the seared beef to a plate.

Add 2 Tablespoons of olive oil to the now empty pan and reduce the heat to medium. Once the oil is heated, add the onion, carrots, and celery. Cook for 5-6 minutes, then add the garlic. Stir and cook for 1 minute more.

Pour in a splash (about one-third cup or so) of the beef broth to deglaze the pan, scraping up any of the burnt bits from the bottom of the pan and working them into the liquid.

Pour in the rest of the broth, crushed tomatoes, diced tomatoes (including the liquid), oregano, basil, thyme, and bay leaves. Give everything a stir then add in the seared beef.

Adjust the heat so the soup is at a constant simmer. Simmer for one hour, then remove the two bay leaves.

Next raise the heat to bring it to a boil. Once it reaches a boil, add the dry orzo and cook according to the package instructions (about 10 minutes), stirring frequently so it doesn't stick together in clumps.

Once the orzo is cooked, stir in the spinach and cook until it's wilted, which will take just a few minutes. Serve.
Notes
Ingredient Notes
Kosher salt: A rule of thumb for salting meat before cooking is to use around one teaspoon of kosher salt per pound of meat, so here I use between 1 - 1 ½ teaspoons of kosher salt (the brand I use is Morton's). You want to generously coat the pieces of stew beef to bring the flavor, keeping in mind there's no separately added salt in the ingredients list here (besides the salt content in the broth and canned tomatoes).
Stew beef: Look for specially-packaged and tender stew beef in the meat department. It will already be sliced, but if some of the pieces are on the larger side you may need to cut them so that they're all relatively the same size. If you cannot find stew beef, a chuck roast with nice fat marbling (more marbling = more flavor) would be a good option to use.
Canola oil: You can use any other high-heat cooking oil with a neutral flavor if you prefer something else, such as corn, sunflower, avocado, or grapeseed oil.
Vegetables: Other vegetables may be added as you like, including corn kernels, peas, small potato chunks, etc. If any of the vegetables are frozen, there's no need to thaw, but add them towards the end of the simmer time so they don't become too mushy.
Recipe Tips
A stainless steel pot works best here for developing the fond (the browned bits that stick to the bottom of the pan) and deglazing. If using a non-stick pan, be careful not to use metal utensils to scrape the bottom as they will leave scratches. Use silicone or wood instead and be gentle on the surface.
Store leftover vegetable beef soup in the refrigerator for three days, or freeze in air-tight containers for up to several months.
When adding the dry orzo to the soup, be sure to stir it well as it cooks to prevent it from sticking together and to the bottom of the pan.
Nutrition
Calories:
462
kcal
|
Carbohydrates:
31.3
g
|
Protein:
33.3
g
|
Fat:
23.6
g
|
Saturated Fat:
6.9
g
|
Cholesterol:
80
mg
|
Sodium:
1393
mg
|
Potassium:
281
mg
|
Fiber:
5.9
g
|
Sugar:
12.3
g
|
Calcium:
59
mg
|
Iron:
3
mg
Nutritional information is provided as an estimate. As it can vary due to many factors (brands used, quantities, etc.), we cannot guarantee its accuracy.
Food Safety and Nutrition Disclaimer