Can you freeze spinach? The answer is a big YES. Keep fresh spinach on hand for months to use in smoothies, soups, pasta bakes, and more. No blanching necessary.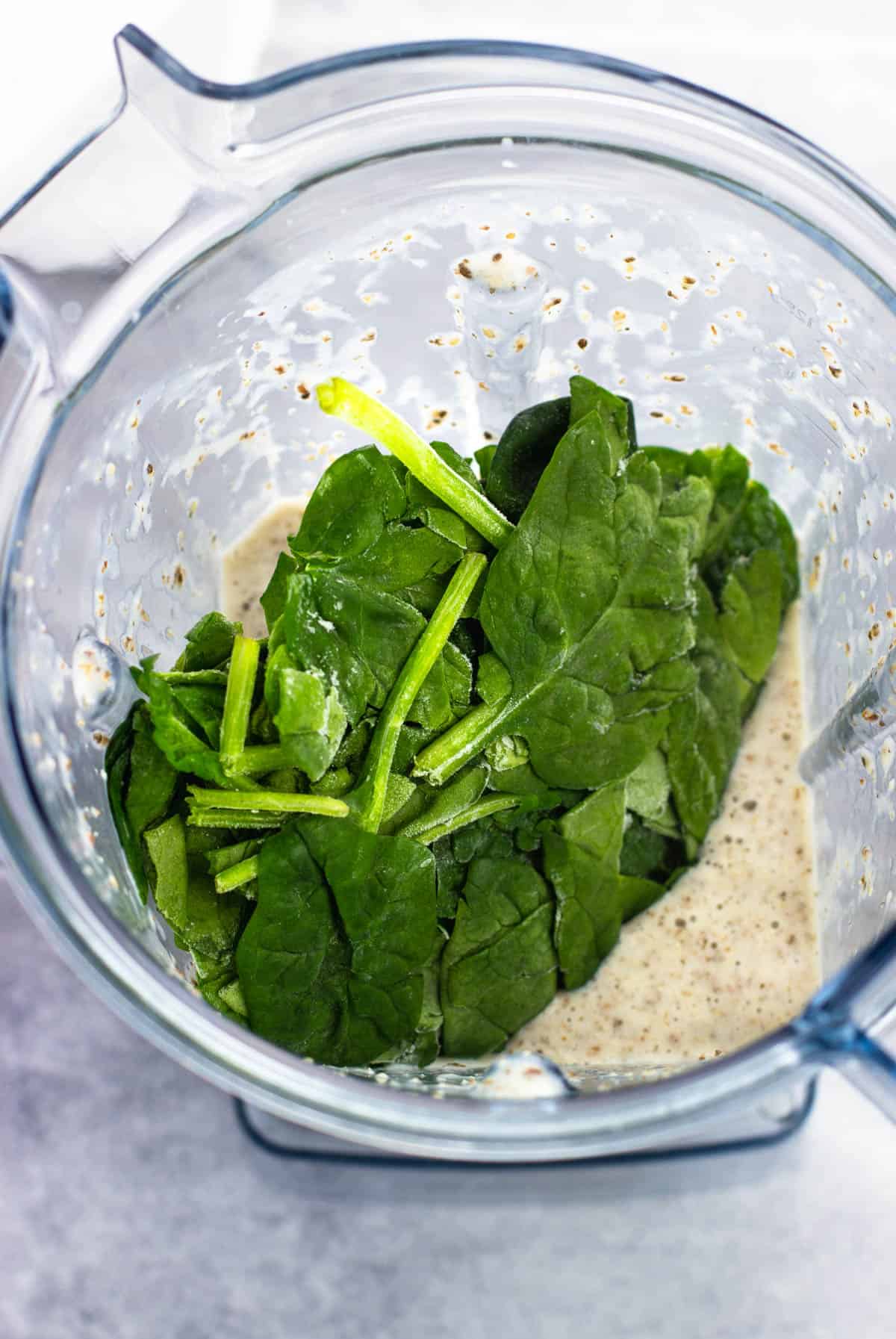 As a near-daily filling green smoothie drinker, it's a fine line to walk between stocking up with enough fresh spinach to last for awhile and worrying that the leaves will get slimy and gross before I get a chance to use them.
Thankfully (with a few guidelines) it's really easy to freeze spinach for later use.
P.S. While we're on the topic, do you know how easy it is to freeze tomato paste? Never waste an open can or tube of tomato paste again!
What You'll Need
Fresh spinach: Regular or baby spinach, either bagged or packaged in a bunch, work for the purposes of freezing.
Paper towels or a clean dish towel: Used to thoroughly pat the spinach leaves dry before freezing to reduce ice crystals.
Air-tight freezer bags: These allow excess air to be pressed out of the bag before forming a tight seal, minimizing freezer burn.
Also helpful (but not necessary) is a salad spinner for drying the spinach.
Step-by-Step Instructions
For a bunch of spinach: If starting with a bunch of spinach, trim off the stems if you like, then shake the spinach leaves around in a bowl of cool water to dislodge any dirt from the leaves. Then continue with the next step.
Add spinach leaves to a colander or salad spinner insert, discarding any slimy, yellowed, or otherwise discolored leaves. Give the remaining leaves a good rinse.
Step #1 above is not necessary if you're starting with bagged spinach. And even though bagged spinach often says "pre-rinsed" and "ready to eat", my preference is to give them a rinse anyway before using. It's up to you.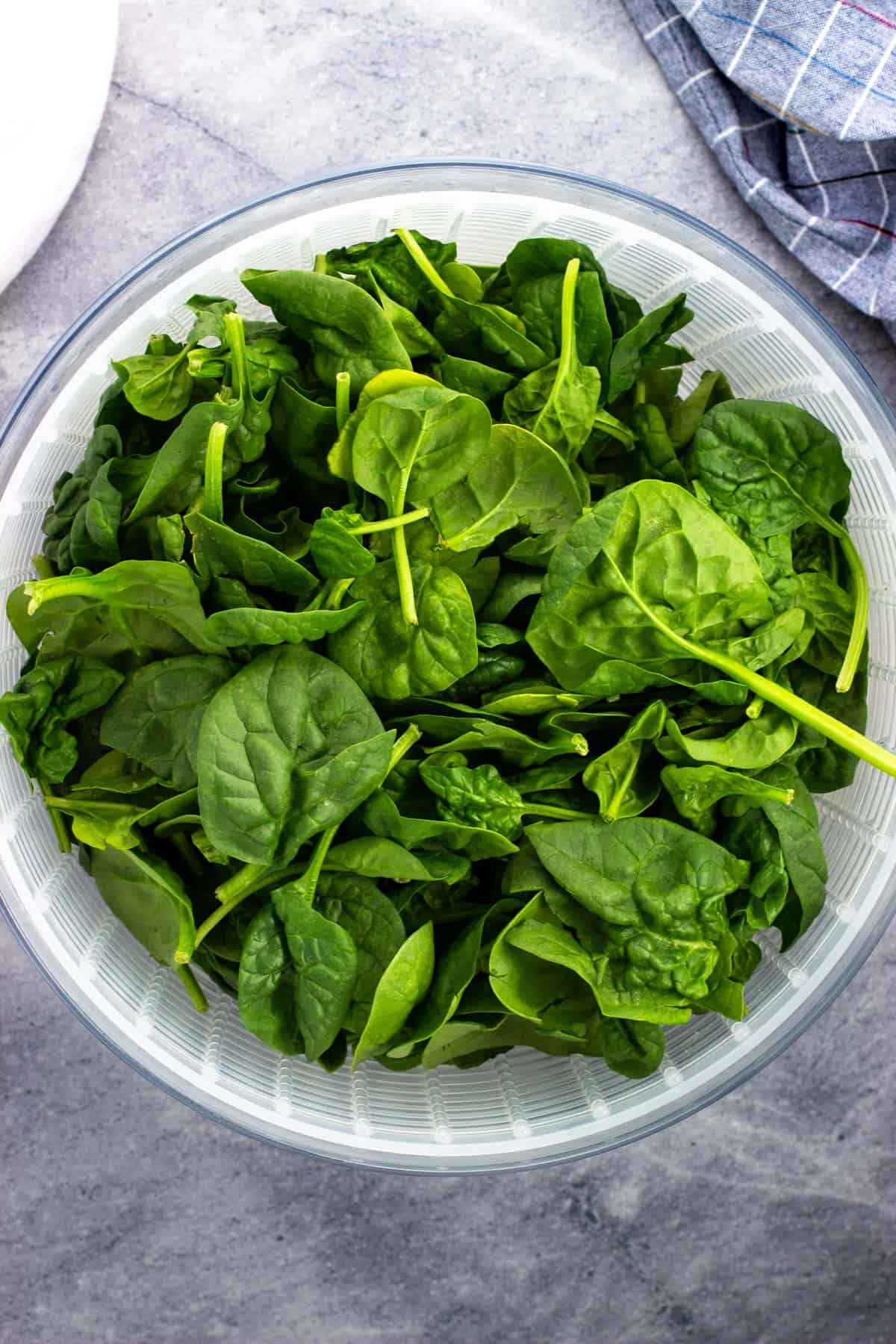 If using a salad spinner, spin the spinach well to dry off the leaves. If not, transfer the rinsed spinach leaves to a paper towel or clean dish towel and pat very well to dry.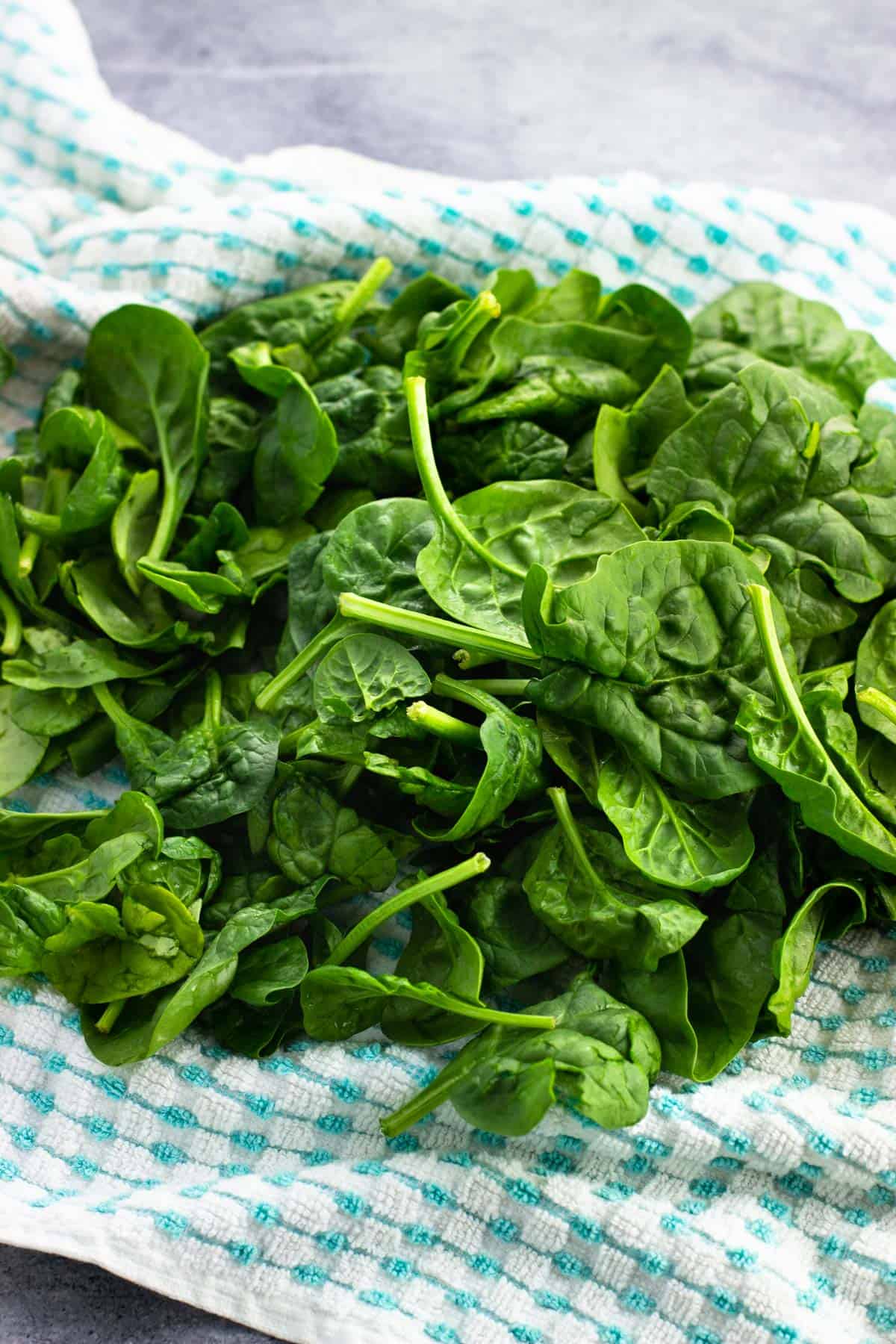 Place dried-off spinach leaves into a freezer bag and arrange them in as equal of a layer as you can. Seal the bag most of the way, then do your best to press out as much of the excess air from the bag as you can before sealing it the rest of the way. Freeze flat.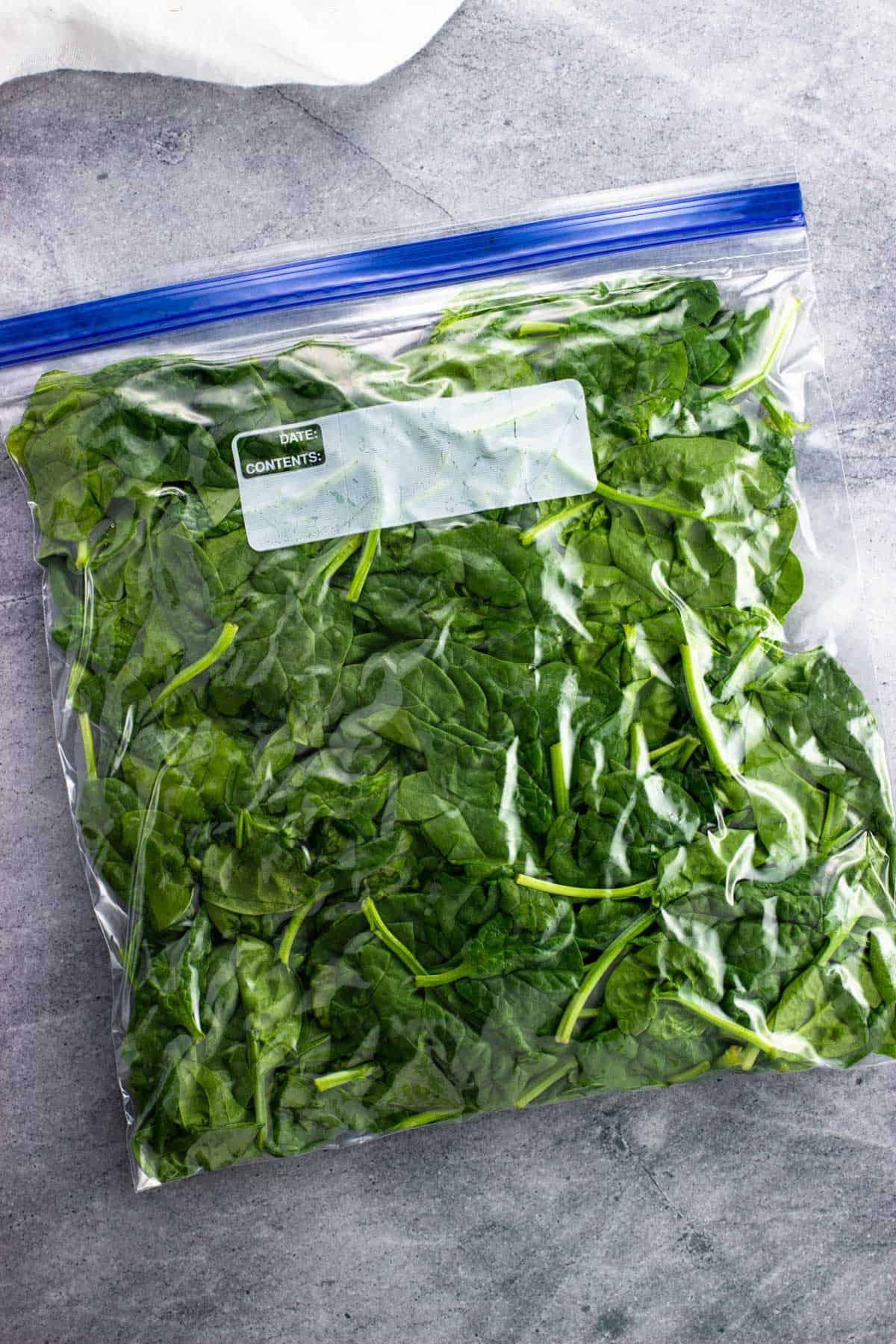 Do I Have to Blanch Spinach Before Freezing?
Blanching spinach (boiling spinach for a set amount of time then quickly transferring to ice water) is often recommended before freezing in order to retain color and/or nutrients if intending to freeze it for an extended period of time.
However since I use up frozen spinach quicker than that, I've found spinach to be just fine in terms of color and texture without blanching before being frozen. In my experience it easily keeps its color after being frozen for one month or longer. With a negligible benefit for the majority of purposes, I'm more than happy to leave extra steps behind and skip blanching.
That said, if you really want your frozen fresh spinach to go the distance in terms of retaining its bright color for a long time (10-12 months), then blanching may be something you'd want to consider.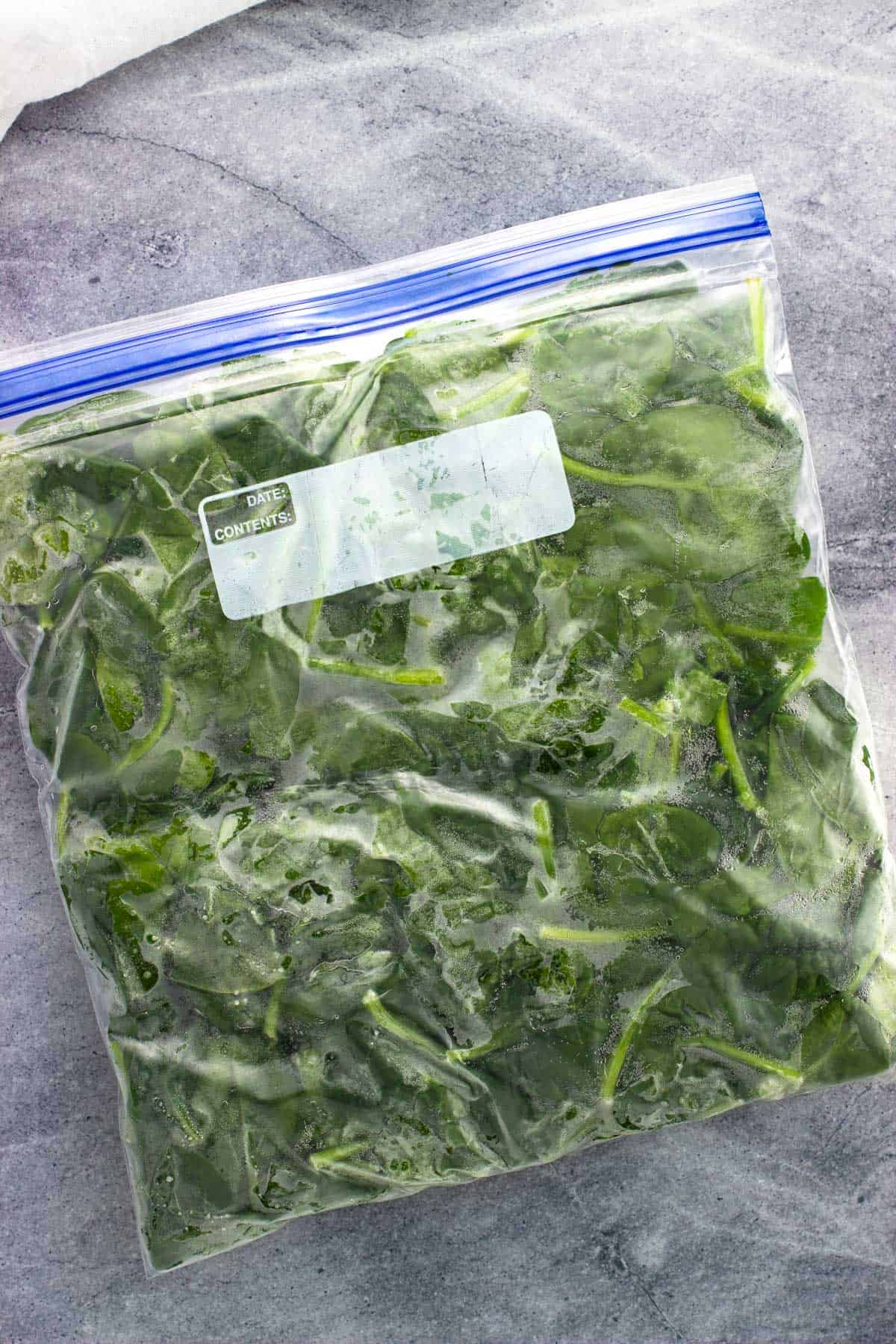 Frequently Asked Questions
What is fresh frozen spinach not good for?
The freezing process messes with the cellular structure of the leaves, so it will not thaw to be crisp like it is when fresh. This means that after freezing spinach, it won't able to be used in something raw like a spinach salad, or sliceable à la chiffonade basil.
Does freezing fresh spinach lose nutrients?
Studies are mixed on the impact freezing has on the nutrient content of vegetables, but several show that freezing does not have a material impact when compared to fresh (source).
How long does spinach last in the freezer?
Spinach frozen in this way can last for about 3-4 months, after which it would be fine to eat, just may develop a bit of a freezer burnt taste as time goes on. If planning to store spinach long-term, you may wish to blanch it before freezing.
Do I have to thaw frozen fresh spinach before use?
Fresh frozen spinach doesn't need to be thawed before use. It's great added frozen to smoothies and will heat up and cook right when added to something like soups or skillet meals. You will want to thaw it in the refrigerator before making something like a spinach pesto sauce.
Recipes to Use Frozen Spinach
If you've enjoyed this recipe, I'd love for you to leave a star rating in the recipe card and/or a comment review below!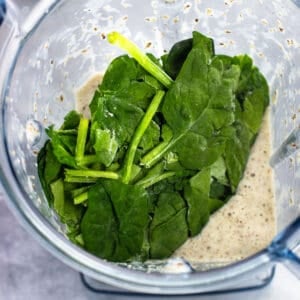 How to Freeze Spinach
Curious how to freeze spinach? It's not hard! Keep fresh spinach on hand for months to use in smoothies, soups, pasta bakes, and more. No blanching necessary.
Equipment
Colander or salad spinner

Paper towels or clean dish towel

Plastic freezer bags
Ingredients
Fresh spinach

bagged or in a bunch
Instructions
Pick out and discard any slimy, yellowed, or otherwise discolored leaves.

If using a bunch of spinach, trim the stems if desired, then swirl the leaves around a bowl of cool water to dislodge any dirt. Skip this step if using bagged spinach.

Place spinach leaves to a colander or insert of a salad spinner and rinse very well. While many kinds of bagged spinach say pre-washed/ready to eat, my preference is to rinse them regardless, though you technically don't have to.

Spin the leaves well if using a salad spinner, otherwise transfer rinsed leaves to a clean dish towel or paper towels and pat to dry thoroughly.

Transfer dried spinach leaves to freezer bag(s), arranging them in an even layer. Seal the bag(s) most of the way, pressing out as much air as you can from the bag before sealing it the rest of the way. Freeze flat.

Fresh frozen spinach is best used within 3-4 months, after which it would be fine to eat, but may run the risk of becoming freezer burnt as time goes by. It can be added frozen to smoothies, soups, etc.
Notes
Freeze fresh spinach as soon as possible to retain the best coloring and texture.
If drying leaves with a dish towel, some of the green coloring may transfer so don't use a fancy one.
Do your best to dry the spinach leaves as thoroughly as possible to prevent many ice crystals from forming, though if there are ice crystals, it won't prevent you from separating off sections to use once frozen. They'll just make it a little more difficult.
A 9-ounce bag of spinach will fit in one gallon size plastic freezer bag. The spinach will be packed in, but the frozen leaves are not difficult at all to separate once frozen to use just a portion at a time.
To cut down on waste, I reuse the same gallon bag for freezing spinach over and over.
If you know you'd like to freeze spinach for a long time (over six months before using) consider blanching it before freezing to help retain color and texture. I have not found this necessary for shorter-term freezing, one month-ish.