While it may look plain, this cavatelli and broccoli recipe tastes anything but! Thanks to a few selected ingredients and intentional steps, both the cavatelli and broccoli florets become flavorful and perfectly tender (never mushy). This broccoli pasta dish can be on the table in under 40 minutes.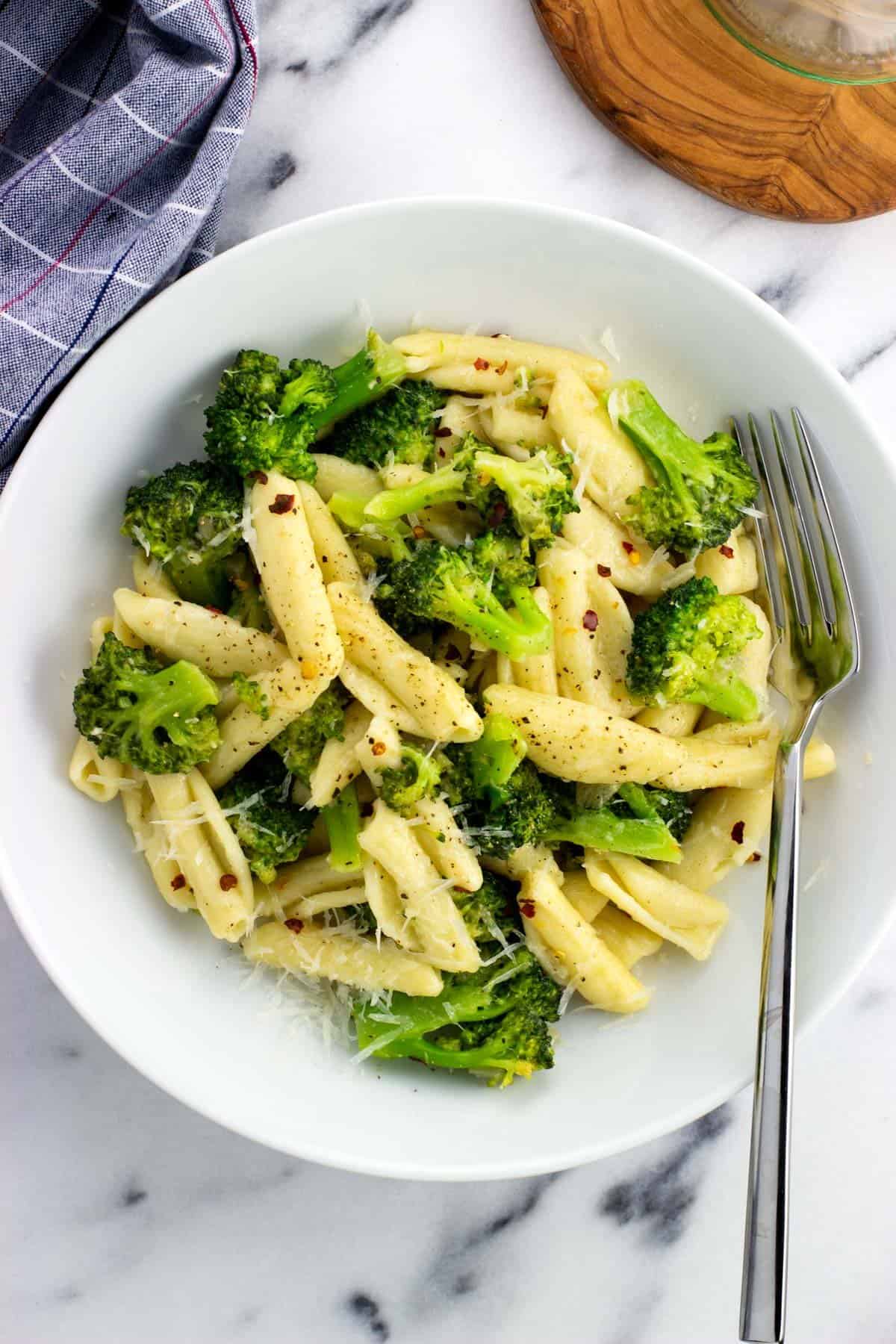 Pasta with broccoli is a dish I grew up eating all the time. Sometimes with cavatelli (gavadeel in some parts!), sometimes with penne, and sometimes with Italian sausage thrown in, the common threads were always pasta, tender broccoli, lots of garlic, and grated Pecorino Romano for serving. Perfection.
I experimented a lot when coming up with my own official cavatelli and broccoli recipe. Since it's a recipe with basic ingredients, it risks tipping into bland territory if proper care isn't taken (just like tortellini alla panna).
With a purposeful amount of olive oil, salt, and garlic, and the right order of recipe steps, you'll be well on your way to a quick and easy weeknight-appropriate dinner recipe the whole family will love.
Why This Recipe Works
Water salted properly (it might be more salt than you'd think!) provides optimum flavor for a pasta recipe with simple ingredients and doubles as part of the sauce.
Blanching the broccoli in the same pot as the pasta cuts down on the number of dirty dishes, but also works to retains a bright green color and reduces the amount of sauté time needed for perfectly tender florets.
Cooking the cavatelli only until al dente (or just before) allows the pasta to soak up some of the broth/sauce in the final recipe steps without becoming mushy.
Recipe Ingredients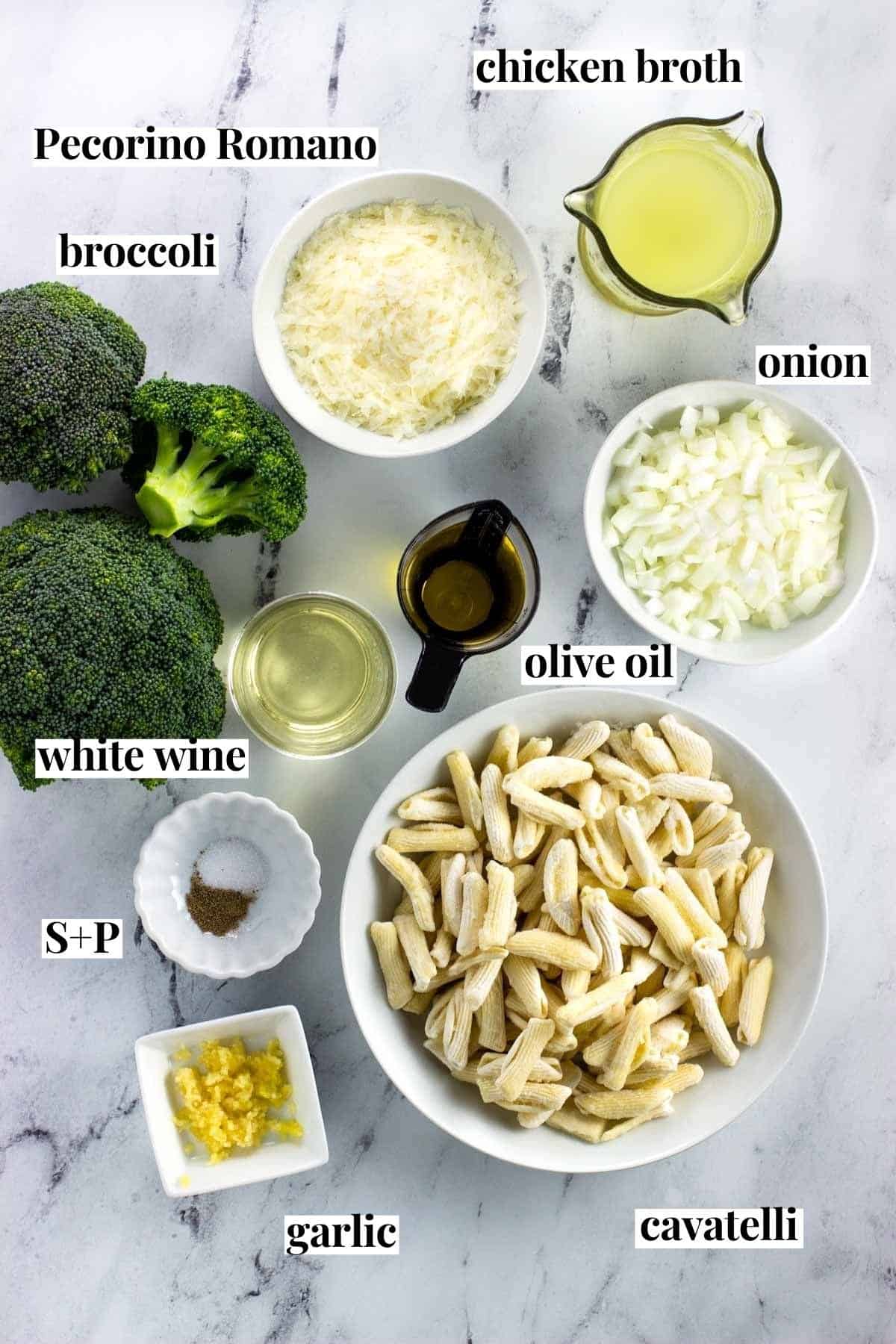 Cavatelli: I always use and recommend frozen cavatelli as I have never seen dried in my local stores. If all you can find is dried cavatelli, be sure to cook it to the "al dente" listed time on the package.
Broccoli: You'll need around one pound of broccoli with stems to result in roughly six cups (12 ounces) of florets. Using fresh bagged broccoli florets would save some prep work, usually found in 8- or 12-ounce packages.
Pecorino Romano:

A similar hard Italian cheese, such as Parmesan, can also be used here. Freshly grated is my preference, but tubs of grated Pecorino from the refrigerated supermarket deli case are also good (and more convenient) options.

Wine: Deglazing the pan with wine after sautéing the onion and garlic boosts the flavor nicely. Use a white wine that's on the drier side here, such as Sauvignon Blanc, Pinot Grigio, or Chardonnay.
Garlic: You can use less if you like, but the garlic holds its own in this simple pasta dish and provides a delicious complementary flavor to everything else going on.
Salt: Pasta water is added to the pan when finishing this cavatelli and broccoli, so it's very important that it be properly salted in the first place. With the broth, Pecorino, and pasta water I find this dish doesn't need any additional salt, but you can always add more to taste at the end if you like.
Step-by-Step Instructions
Bring a pot of water to boil, then add salt. See more on the specifics of this detailed below and in the recipe card itself. Blanche the broccoli florets for two minutes, then drain and set aside in a colander.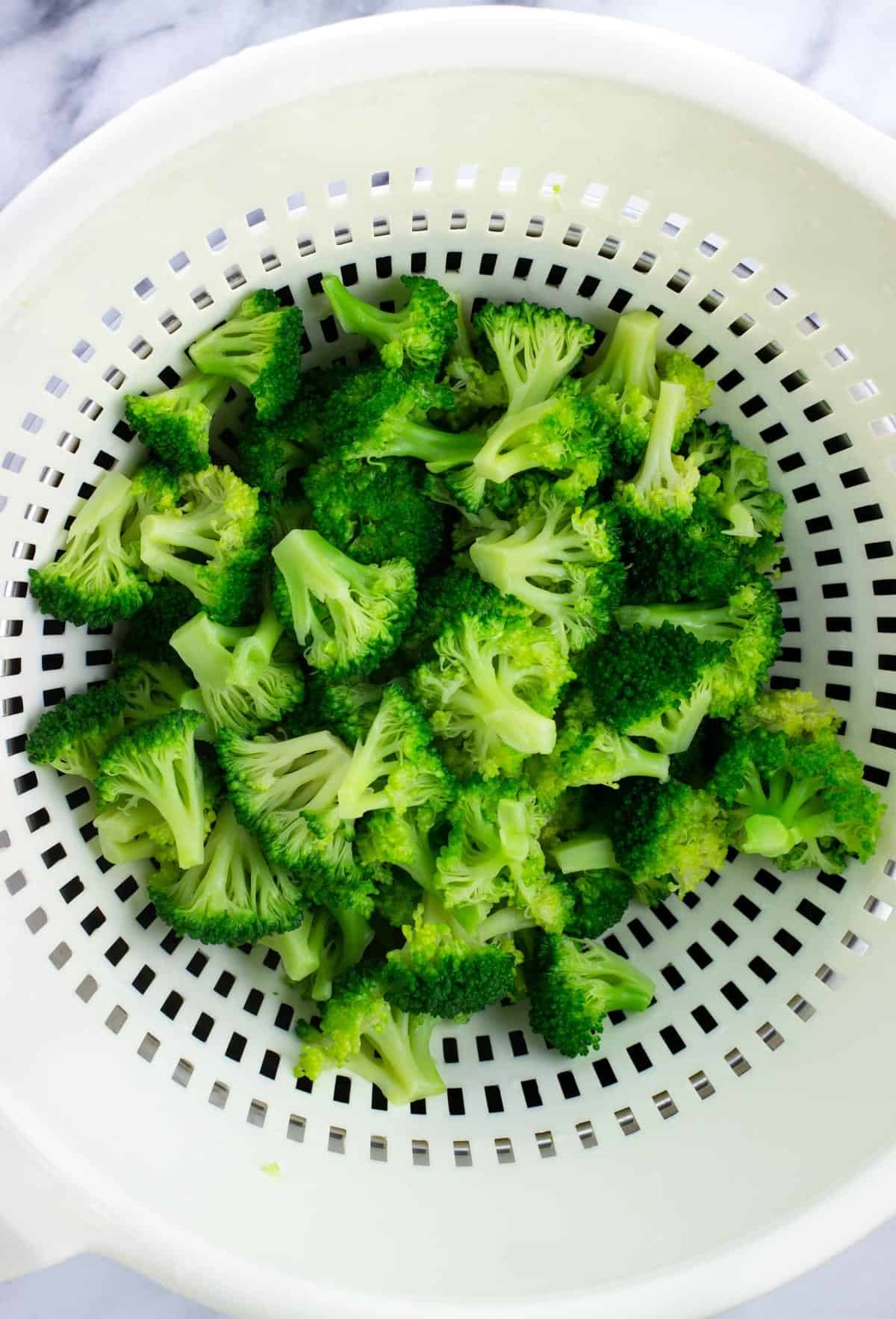 Heat olive oil in a separate pan, then add the onion. Let it cook for 5-6 minutes to start becoming golden and begin softening, then add the garlic and cook for a minute more.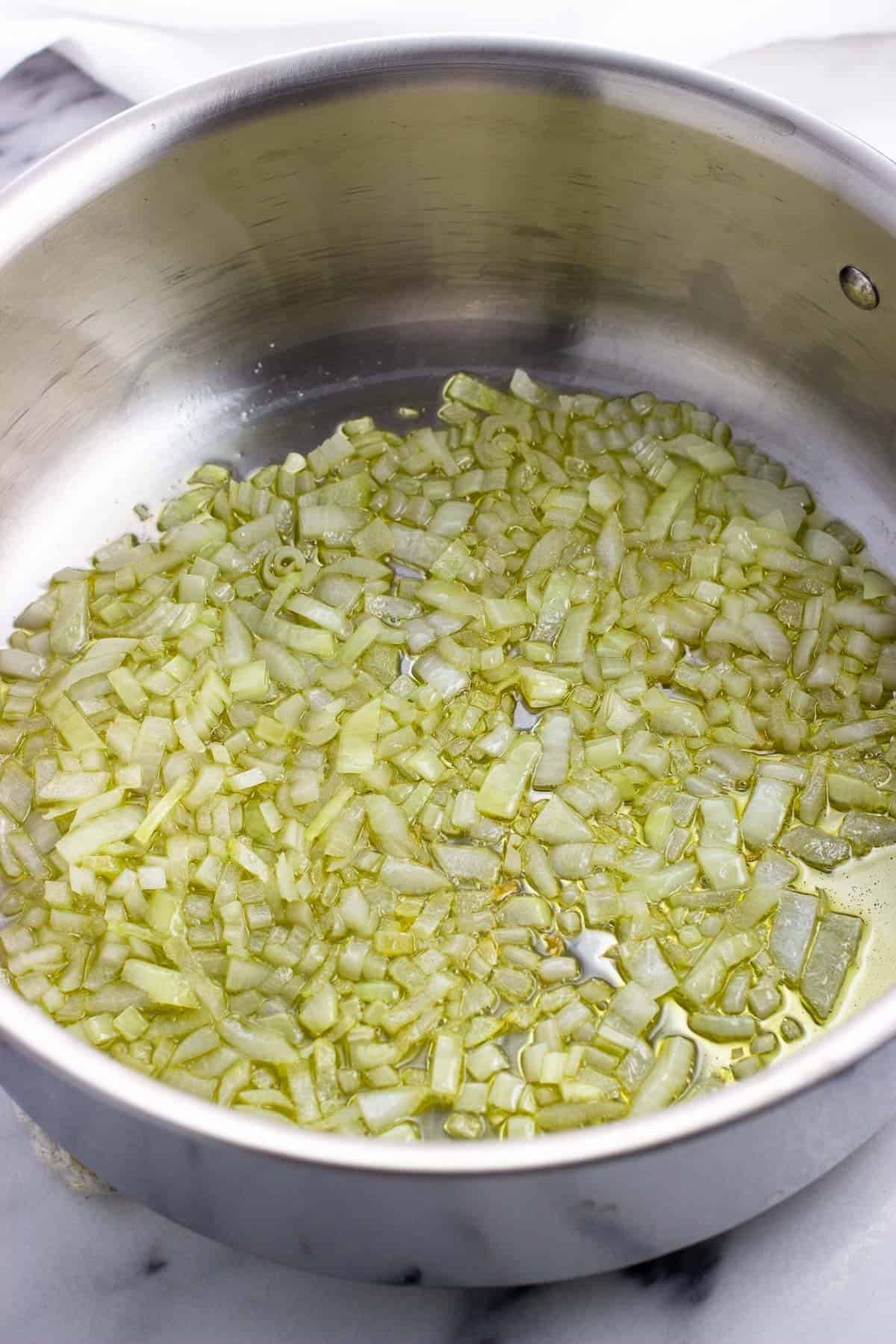 While the onion is cooking, bring the pot of water that blanched the broccoli back to a boil. Add the cavatelli and cook until al dente (five minutes for frozen cavatelli). If it's done before the rest of the recipe, transfer to a colander and set aside but do not drain away the pasta water.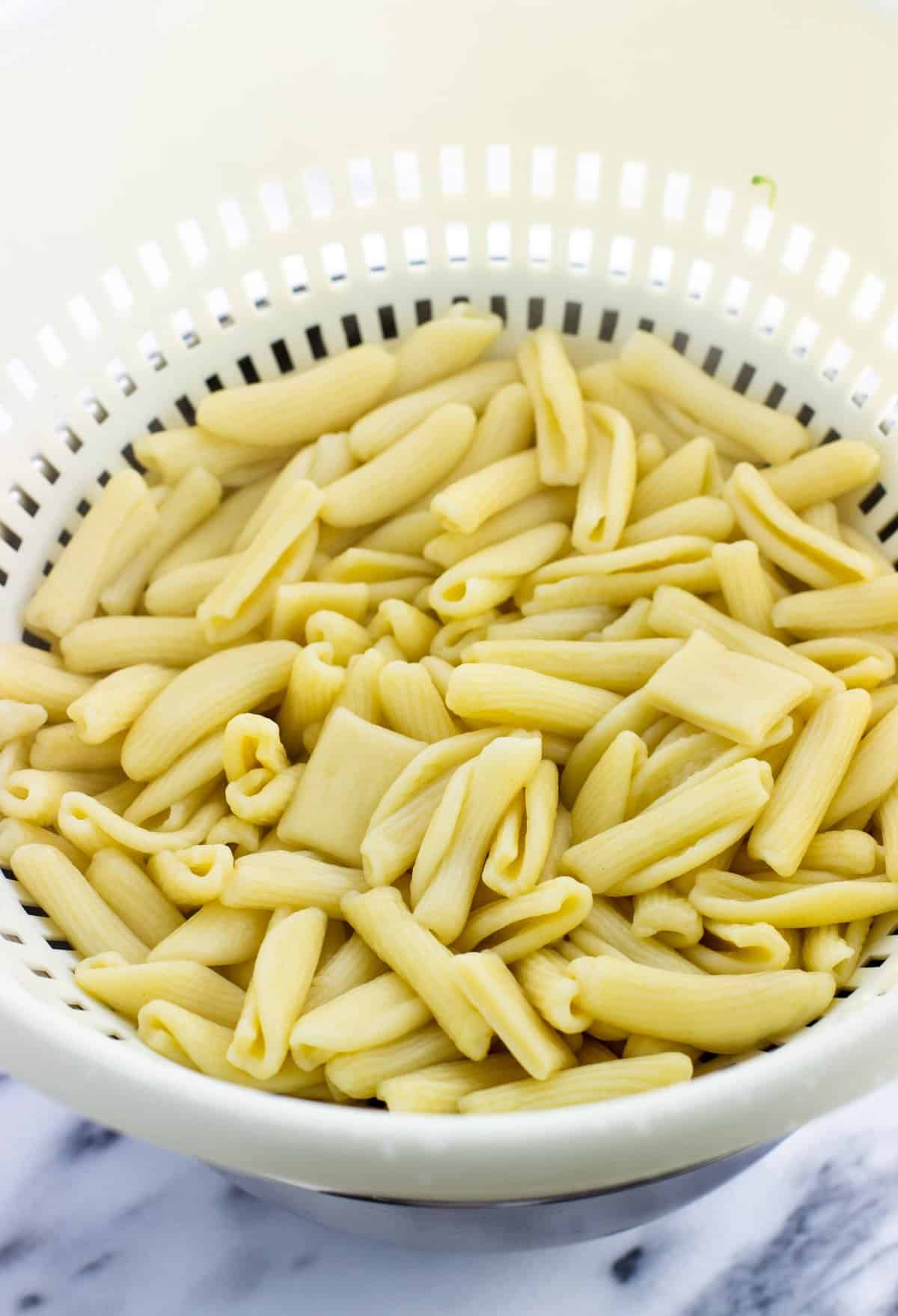 Deglaze the pan with wine, then once reduced pour in the chicken broth. Let this lightly simmer until reduced by half. (You don't want all of the liquid to reduce).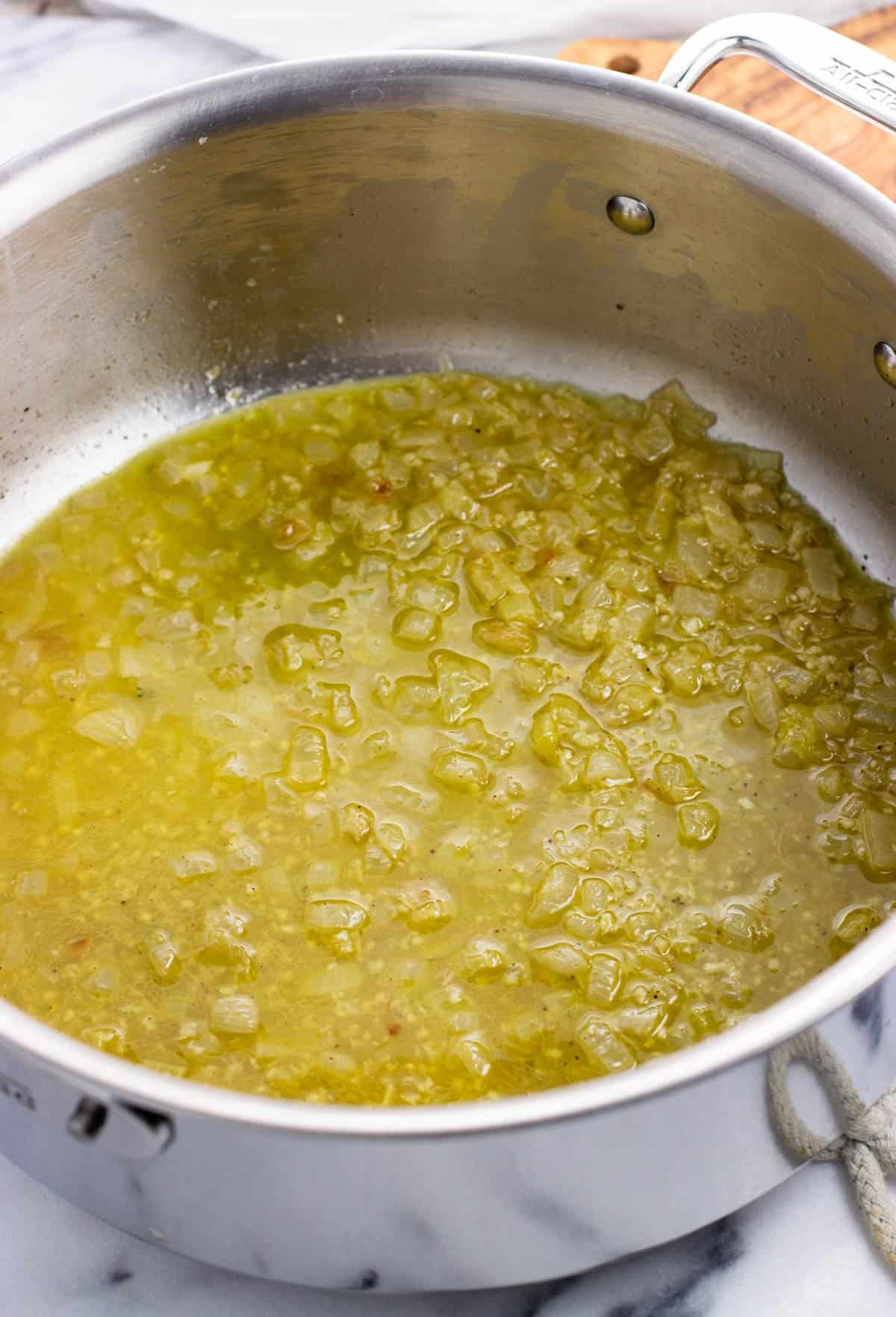 Add the blanched broccoli to the pan and cook for another three minutes, or until the broccoli is just fork-tender.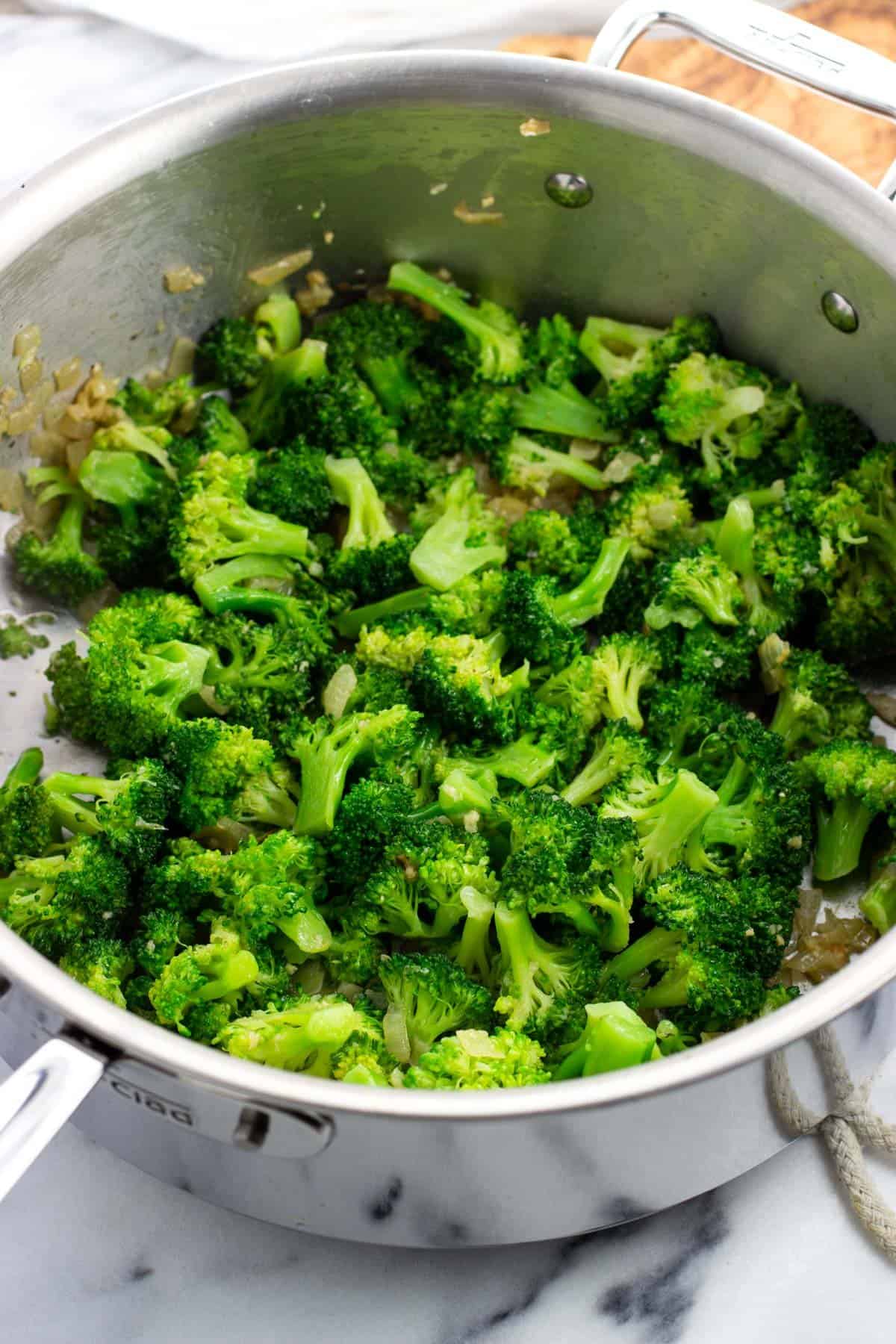 Add the cooked cavatelli to the pan, then stir in the Pecorino and a ladle of the reserved pasta water. Cook for a few minutes, or until the Pecorino has melted and the pasta water has reduced to just a light sauce before serving.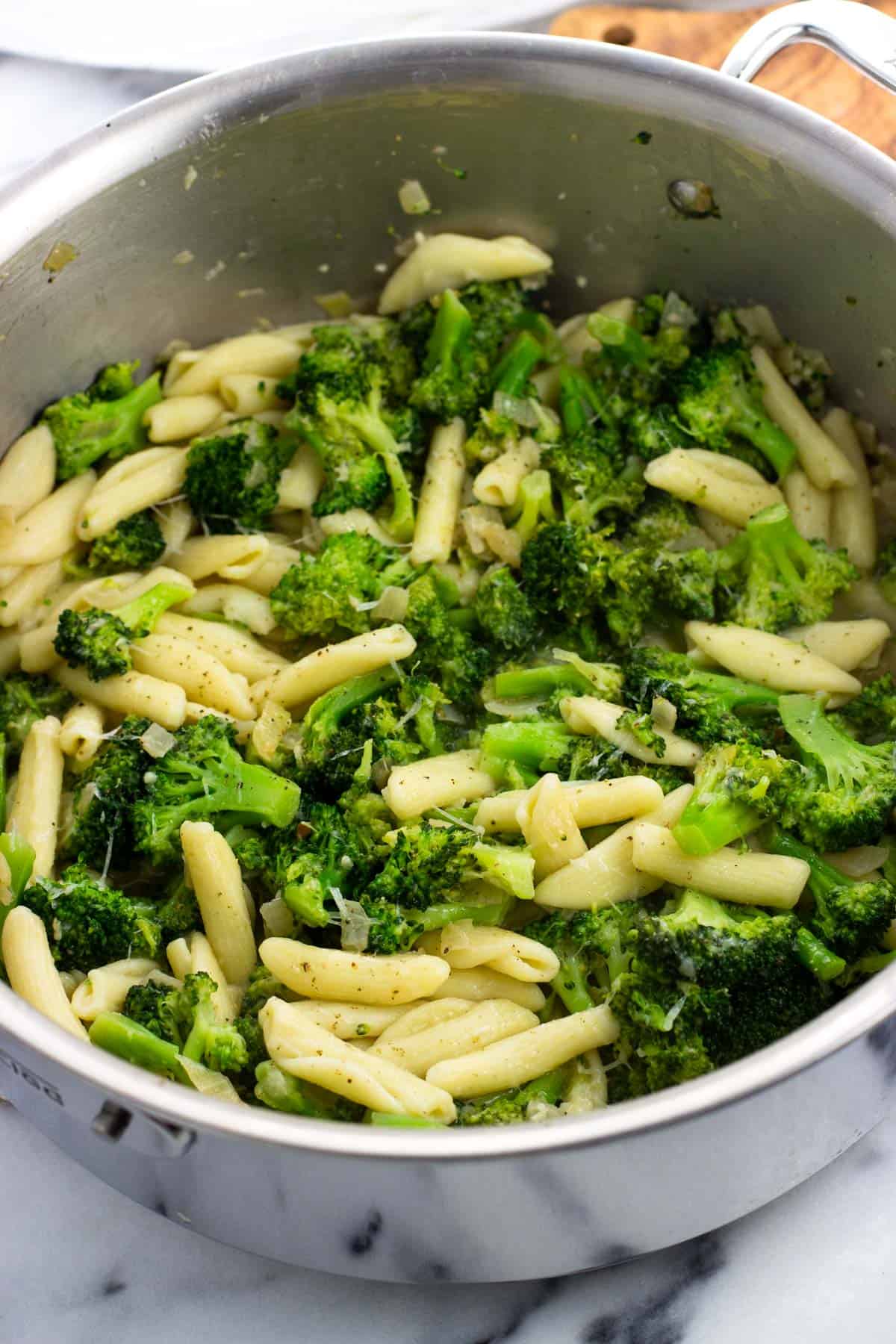 A Note on Properly Salting Water
I find the often-used phrase "as salty as the sea" to be less than helpful when describing how much salt to add to pasta water. For starters, no one is tasting the water once it's boiling, and how salty is the sea? This subjective metric seems wildly open to interpretation, which can make or break your recipe, especially when relying on a ladle of pasta water to finish the dish.
After much experimentation, I've landed on 1.5 Tablespoons of table salt per four quarts of water to be the optimal salted water ratio for this recipe. This salted water first blanches the broccoli and then cooks the cavatelli, providing both with a bit of seasoning and enhanced flavor.
Combined with Pecorino and reduced-sodium chicken broth, appropriately-salted water makes it so you don't need to add salt separately at any point in this cooking process.
Recipe Tips
Add salt to the water once it reaches a boil. It will dissolves quickly, which prevents pits from forming on the bottom of stainless steel cookware.
While cavatelli and broccoli is a simple dish, you'll want to pay attention to the cooking times for blanching the broccoli, boiling the pasta to al dente, and then finishing the broccoli in the pan for a few minutes. Being precise with the timer in a recipe with multiple moving parts prevents the cavatelli and broccoli florets from becoming mushy.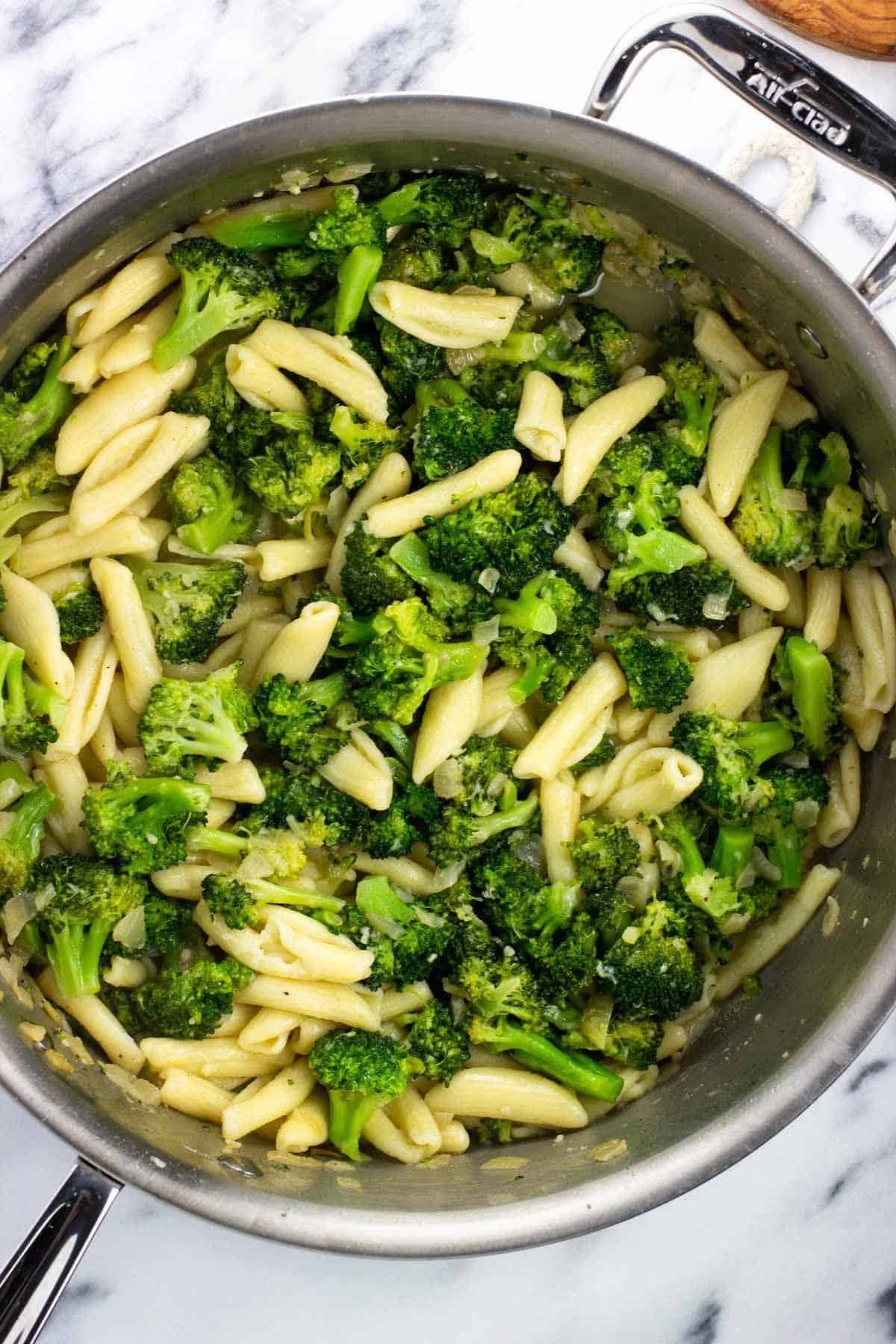 Recipe FAQs
Can I use dried cavatelli?
I have never personally used dried cavatelli here (it's not in my stores) but it can work, with some notes. Cavatelli is a thick pasta shape where dried requires more than double the cook time as frozen. This runs the risk of mushy pasta. Make sure to cook the dried cavatelli just until the al dente listed time, or even a minute before to prevent it from overcooking when the dish gets combined in the pan.
Can I use different salt to salt the water?
Yes. If dissolved, there really isn't a difference between table salt, sea salt, or kosher salt. I use table salt for salting pasta water as it dissolves the quickest and is the cheapest. You'll have to use a greater quantity of the other salts to maintain the same saltiness. As the equivalent can vary by brand, check to see the table salt conversion listed for the particular brand you're using.
How do you serve cavatelli and broccoli?
Once everything comes together in the pan, take a taste and see if you'd like to add any additional salt (I don't). Season to taste with freshly ground black pepper, crushed red pepper flakes, more Pecorino, or even a squeeze of fresh lemon juice. As a side dish, I keep things simple with a green salad.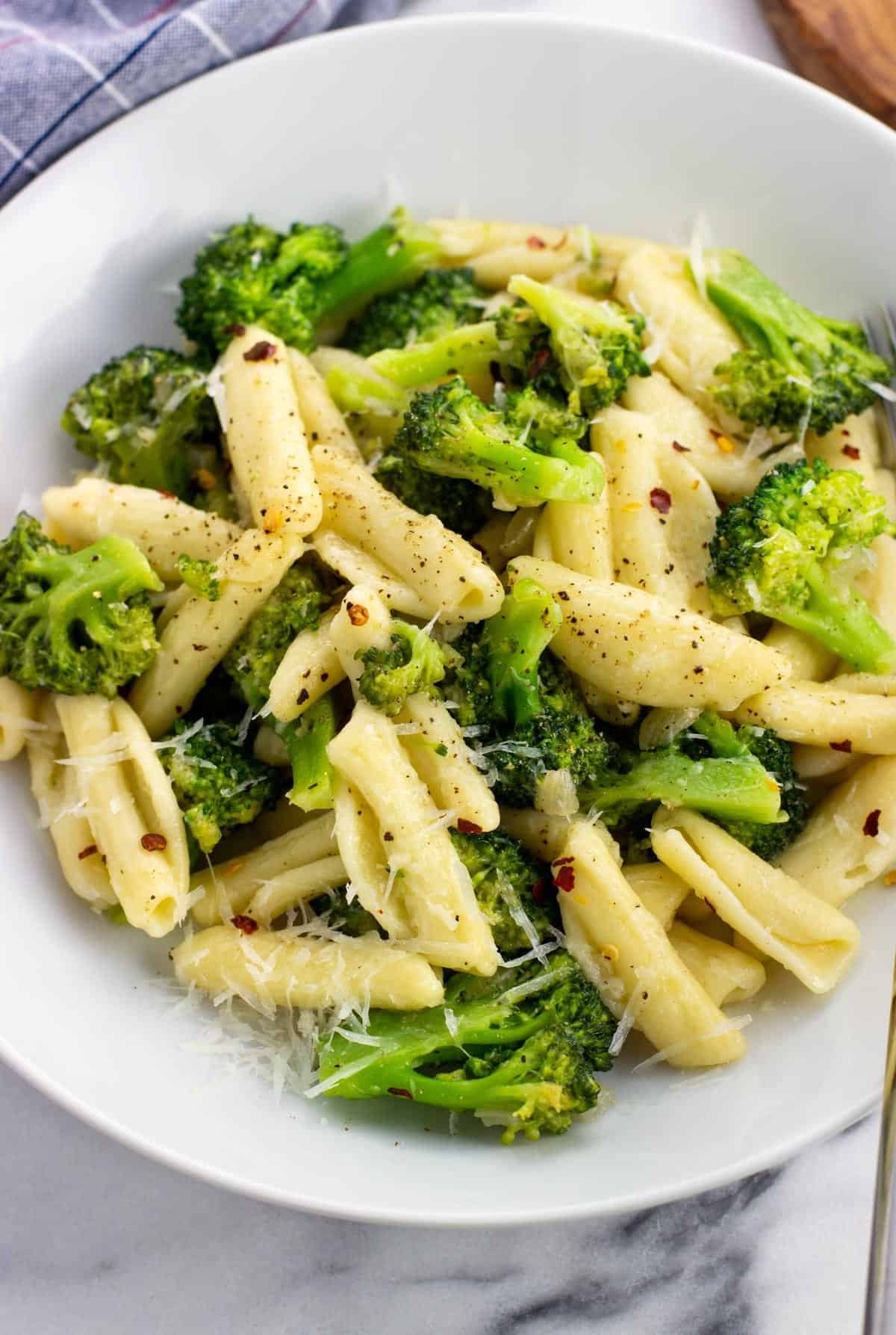 Related Recipes
If you've enjoyed this recipe, I'd love for you to leave a star rating in the recipe card and/or a comment review below!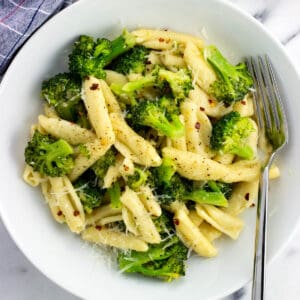 Cavatelli and Broccoli
While it may look plain, this cavatelli and broccoli recipe tastes anything but! Thanks to a few selected ingredients and intentional steps, both the cavatelli and broccoli florets become flavorful and perfectly tender (never mushy).
Print
Pin
Rate
Ingredients
1 ½

Tablespoons (28g)

table salt

for salting water

12

ounces (339g)

broccoli florets

(just over 6 cups)

4

Tablespoons (60 ml)

olive oil

Half

of a medium

onion,

diced (approximately 115g)

8

cloves

garlic

minced/pressed

1

lb (454g)

frozen cavatelli

(see note about dried)

⅓

cup (79 ml)

dry white wine

¾

cup (180 ml)

reduced-sodium chicken broth

⅔

cup (1.3 oz, 37g)

finely grated Pecorino Romano or Parmesan

more for serving

Freshly ground pepper

to taste

Crushed red pepper flakes

for serving (optional)
Instructions
Add 4 quarts of water (3.79 liters) to a large pot set on the stove over high heat. Once boiling, add 1 ½ Tablespoons of table salt to the water.

Add the broccoli florets to the salted boiling water and blanche for 2 minutes (keep time from when the water returns to a boil). Remove with a skimmer/strainer to a colander/bowl and set aside for now. Place a lid on the pot of water to prevent evaporation, turn off the heat, but keep it on the burner for use in a little bit.

Add olive oil to a large pan set over medium heat. Once heated, add the diced onion and cook for 5-6 minutes (get a jump start on the cavatelli in the next step while the onion cooks), then add the minced garlic and cook for 1 minute more.

Bring the pot of salted water back to a boil and add the cavatelli. Cook until al dente according to package instructions, which is 5 minutes for frozen cavatelli. Once cooked, do not drain the water from the pot.

Back to the pan: pour in the white wine to deglaze the pan, scraping up any burnt bits from the bottom of the pan as the wine bubbles.

Cook until the wine has nearly all reduced, then pour in the chicken broth and stir everything up. Adjust the heat so the broth is at a constant simmer and reduces by about half, 4-5 minutes.

Add the blanched broccoli florets to the pan and give everything a big stir. Cook for 3 minutes, or until the florets are just tender but not mushy.

Use a skimmer or strainer to transfer the cooked al dente cavatelli to the pan with the broccoli, then add one ladle of the pasta water to the pan with the cavatelli and broccoli. Add the grated Pecorino Romano or Parmesan and stir as the liquid reduces into a light sauce.

Once the liquid has reduced to your liking, adjust the seasonings before serving: add ground black pepper, salt if you like, crushed red pepper, additional grated cheese, a squeeze of fresh lemon, etc.
Notes
Ingredient Notes
Salt: Please note the 1 ½ Tablespoons of table salt is used to salt the pasta water and is NOT added to the pan where the dish comes together.
Cavatelli: If using dried cavatelli, be sure to cook it only until the listed "al dente" time, even a minute or so before, to prevent it from becoming mushy when it finishes in the pan with the rest of the ingredients.
Broccoli: This amount of florets comes from about one pound of broccoli with stems, though using a bag of fresh, pre-cut florets would save on prep time.
Wine: Good varieties of white wine on the drier side are Sauvignon Blanc, Chardonnay, and Pinot Grigio.
Recipe Tips
If for some reason you're using a smaller quantity of water, do reduce the salt by a relative amount as less water will cause it to have a higher salt concentration.
In a recipe with multiple moving parts like this one, I recommend sticking close to the recommended timing on certain steps (blanching broccoli, boiling pasta, finishing in pan) as you want to prevent things from becoming mushy.
I use table salt when salting pasta water as it dissolves the quickest and is the cheapest, though other salt varieties can be used as it just dissolves, anyway. If substituting in a different type of salt, look up the conversion to table salt for the particular variety and brand you're using as it's not the same across the board.
Nutrition: This is a very rough estimate taking into consideration that only a fraction of the salt used in salting the pasta water will end up in the final served pasta dish. Be sure to take this into account if calculating your own nutritional values.
Nutrition
Calories:
388
kcal
|
Carbohydrates:
42.5
g
|
Protein:
12.2
g
|
Fat:
17.3
g
|
Saturated Fat:
4.3
g
|
Cholesterol:
19
mg
|
Sodium:
476
mg
|
Potassium:
355
mg
|
Fiber:
4.8
g
|
Sugar:
3.4
g
|
Calcium:
154
mg
|
Iron:
3
mg
Nutritional information is provided as an estimate. As it can vary due to many factors (brands used, quantities, etc.), we cannot guarantee its accuracy.
Food Safety and Nutrition Disclaimer