Tortellini alla panna, or "tortellini with cream", is an incredibly simple pasta recipe that is the epitome of comfort food! This easy dinner, featuring prosciutto and peas, will be on the table in less than 30 minutes.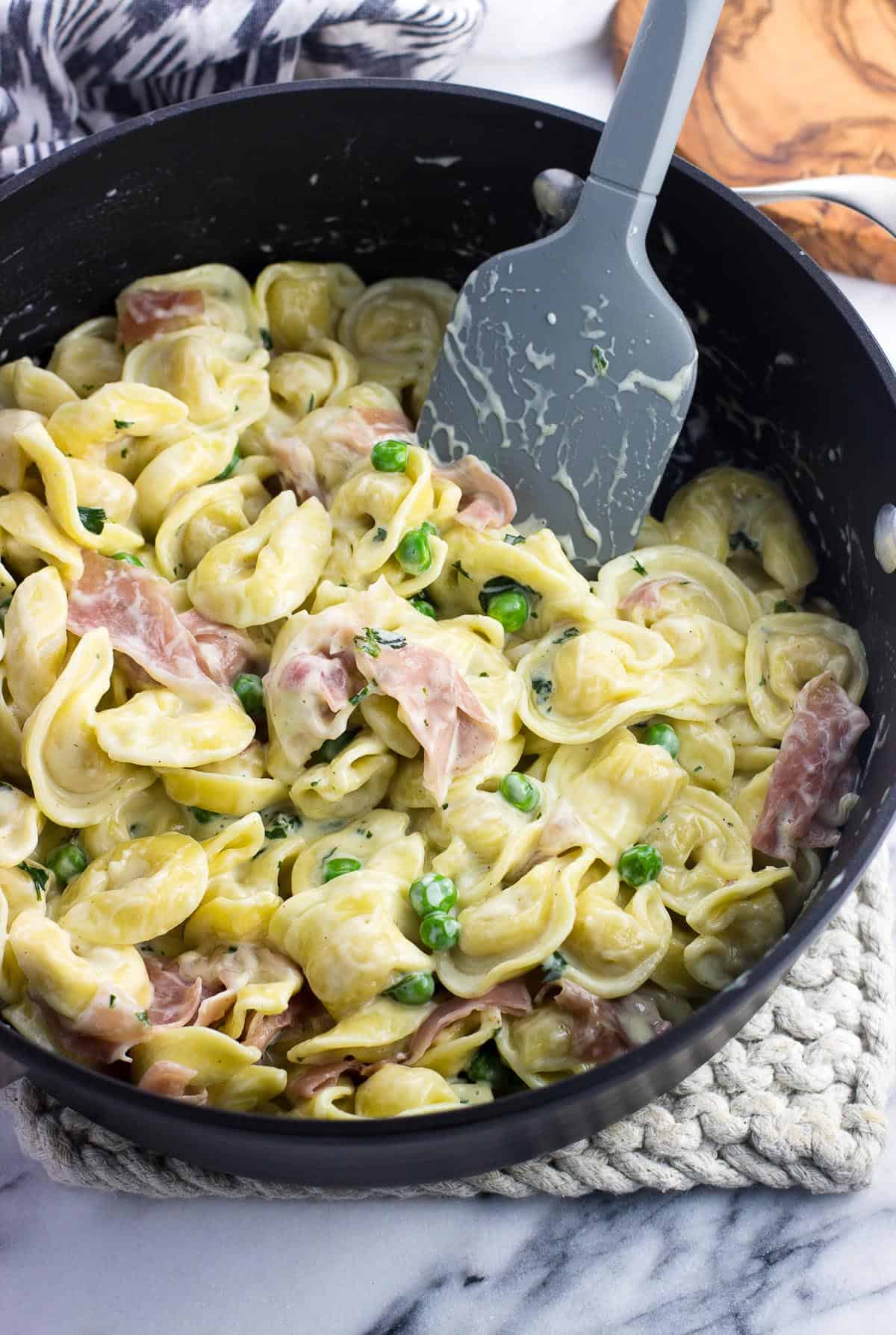 It's a rare day that heavy cream makes an appearance when it comes to savory blog dishes. Yes it's all but required in dishes like roasted garlic creamed corn, but more often than not I prefer to lighten things up using a variety of combinations including milk, Greek yogurt, cottage cheese, cornstarch/flour, etc. in creamy-without-cream recipes.
Sometimes, though? You just need the real deal.
Tortellini alla panna, or "tortellini with cream", is an incredibly simple pasta dish that takes less than thirty minutes to make. At its most basic you don't need much more than just tortellini and cream, but this version includes additional Italian flavors and ingredients for a little something extra.
Here, frozen tortellini are cooked and then coated in a cream sauce flavored with garlic, Parmesan, and herbs. There are many ways you can take this recipe, but I love to add peas and prosciutto for a seriously delicious meal.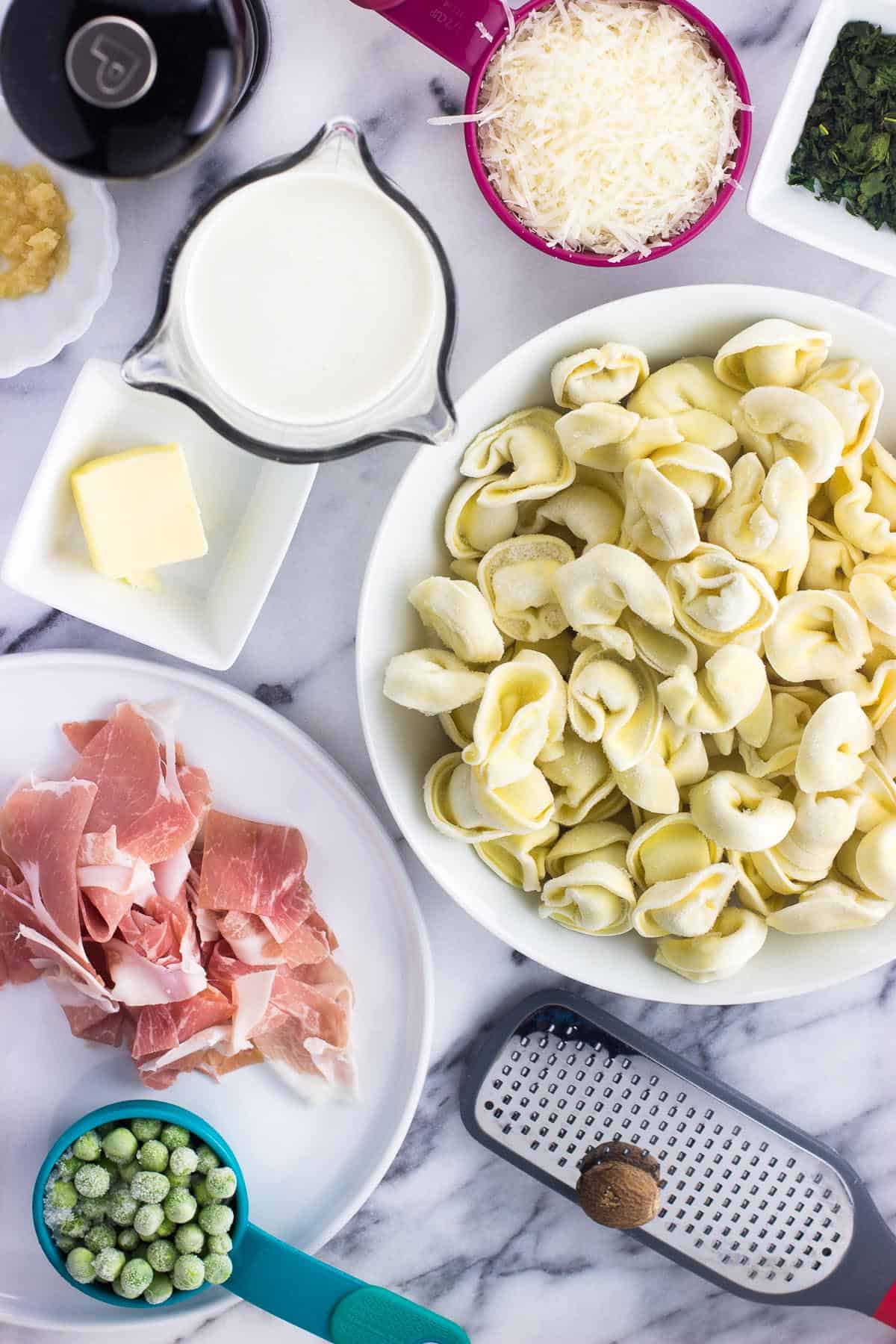 Recipe ingredients
The base of this recipe is frozen tortellini. I most frequently find frozen tortellini in 19-ounce packages, but there's wiggle room on the size in case you have a slightly smaller or larger variety. Cheese is my go-to flavor for this one, but any flavor would usually work well with these Italian flavors.
You can also use refrigerated tortellini, which often comes in 20-ounce containers, no problem. The only difference between frozen and refrigerated is the cook time.
Now for the sauce. One cup of heavy cream combines with garlic, Parmesan, basil, parsley, pepper, and grated nutmeg for a thick and creamy sauce that coats the tortellini perfectly.
If possible, I highly recommend buying a wedge of Parmesan and grating/shredding it yourself. Pre-grated Parmesan has anti-clumping additives that can hinder melting, which is what we want in this cream sauce. And let's not get into the whole wood pulp thing - yikes.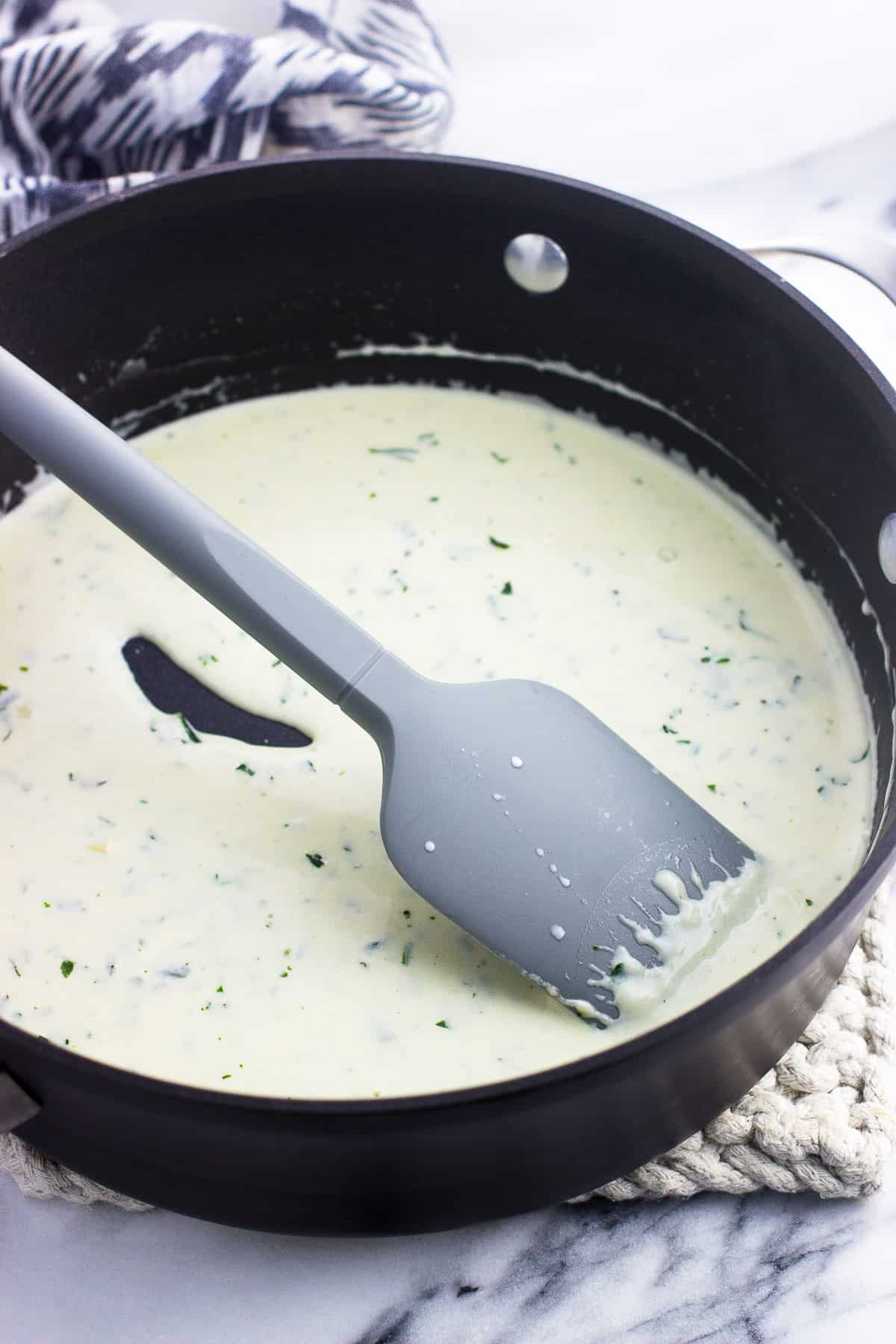 Nutmeg might look a little out of place, but it makes a wonderfully warm little addition to savory dishes like this tortellini alla panna, as well as mashed potatoes, béchamel sauce, and more. It's not just for grating over the best ever cooked eggnog. 🙂 That said, it's not essential if you don't have whole nutmeg or don't want to use it.
A small pinch of ground nutmeg can be substituted, though freshly grated whole nutmeg provides a more pungent flavor that I prefer in non-baking recipes.
While the sliced prosciutto and peas are technically optional, they round out these flavors and (IMO) complete this tortellini recipe. We can't get enough!
Step-by-step instructions
This recipe comes together pretty quickly, so I recommend prepping everything before turning on the stove. I gather all of the ingredients, dice the herbs, grate Parmesan, and slice the prosciutto. This helps to keep stress levels down when it comes to time-sensitive steps.
Then set a big pot of water on the stove to boil. Once boiling, add tortellini and cook according to the package directions. The timing depends on if they're frozen or refrigerated, but my frozen tortellini only need about 3-4 minutes.
When there's a minute or so left on the tortellini cook time, go ahead and throw in the peas if you're using frozen peas. They'll cook in that time, and can be drained and added to the sauce right along with the tortellini when it's time.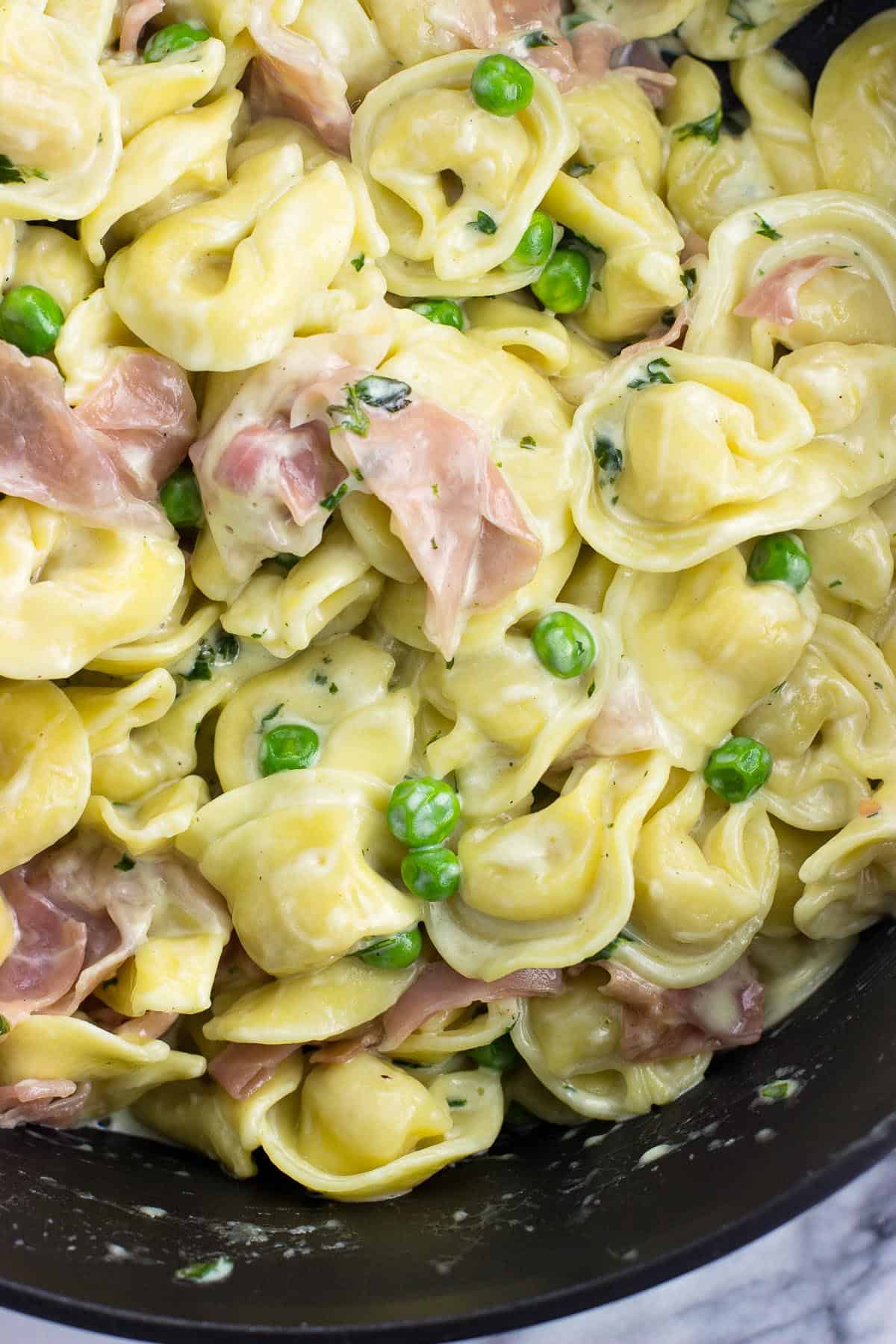 For the sauce, begin by cooking the garlic in one tablespoon of butter in a separate pan. You'll want to use a pan with taller sides that's big enough to hold everything, tortellini and all, as the whole dish comes together in it later on. The pan you see in these photos has a 10-inch diameter and 3-inch tall sides.
Next pour in the cream and add the herbs and seasonings: basil, parsley, pepper, and nutmeg. Stir often as the cream thickens over the next 5-7 minutes. I'll keep the burner on low-ish heat so the sauce reaches just a gentle simmer. We don't want anything too aggressive, so do keep an eye on it and adjust the heat accordingly.
Add the shredded or grated Parmesan in two batches, stirring well after each addition so it melts fully into the sauce. Once the tortellini and peas have cooked and are drained, add them to the pan with the sauce along with the prosciutto. Give everything a big stir to coat evenly and serve immediately.
If you'd prefer a thinner sauce, add a tablespoon or two of the starchy pasta water to the pan with the cream sauce and stir/whisk well.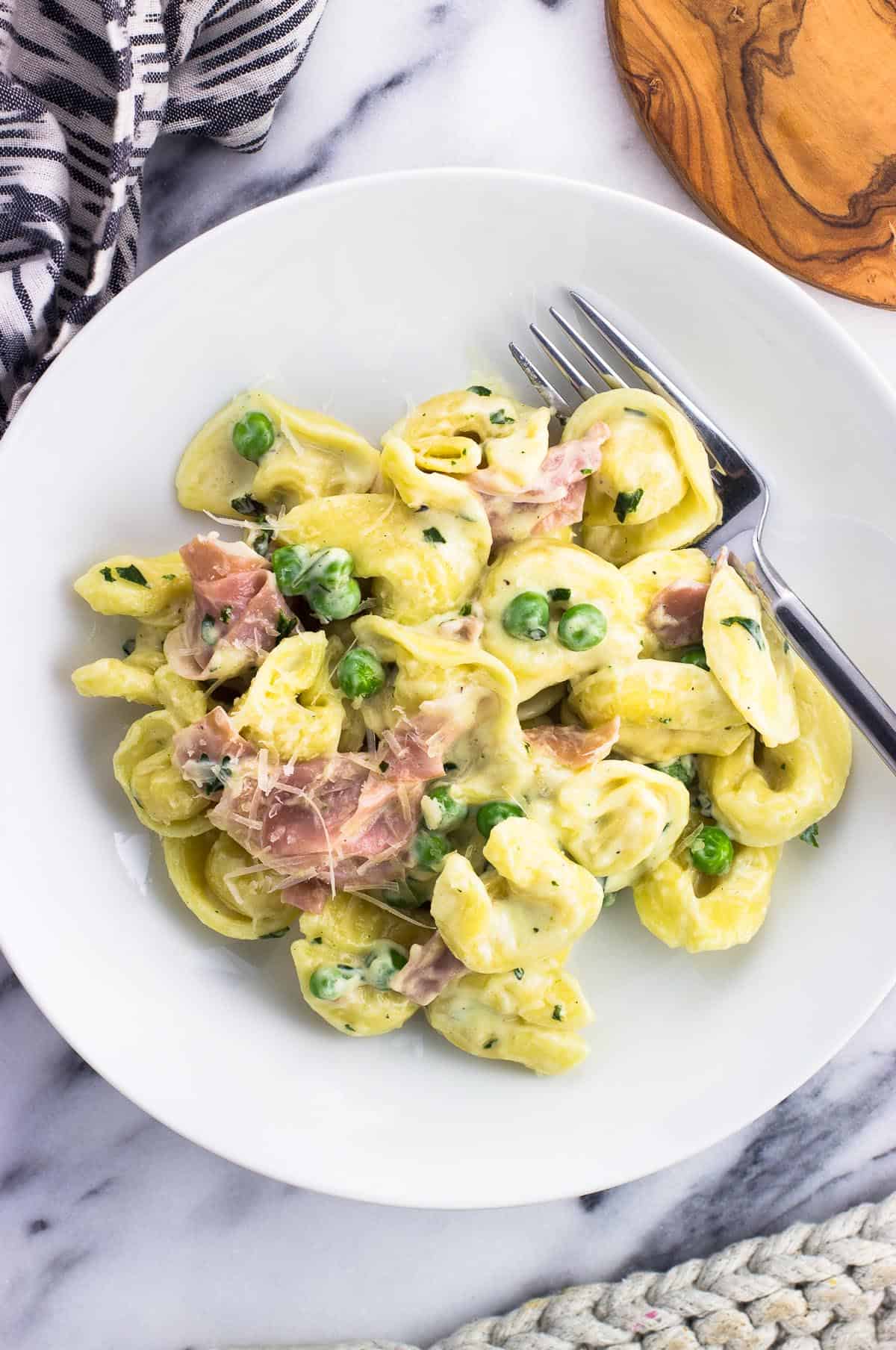 Related recipes
If you're in the market for more creamy Italian pasta dishes (with or without cream), you may like this recipe for healthy alfredo sauce. Milk (2%), cottage cheese, and cornstarch shine alongside simple garlic, Parmesan, salt, and pepper for a thick and creamy sauce that tastes more indulgent than it really is. And psst - the cottage cheese is whizzed in the food processor in case you're not a fan of its texture (hello, me!).
And here's one more classic made healthier: lightened up vodka sauce. A sneaky lower-fat dairy product works beside heavy cream to reduce the fat a good deal, all without any weird texture or sauce separation issues.
Recipe notes
If not adding prosciutto, you may wish to add a little salt to the sauce along with the pepper and nutmeg. Along with flavor, the prosciutto adds to the saltiness here, along with the Parmesan.
Other hard Italian cheese varieties would work here, such as Pecorino Romano and Grana Padano.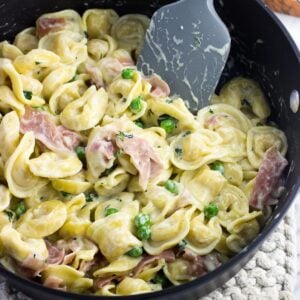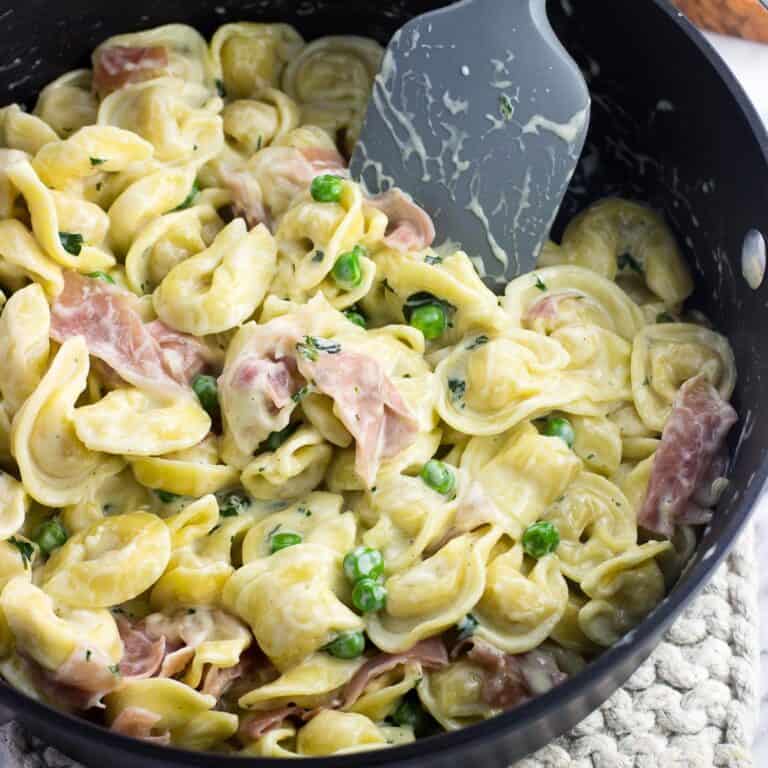 Tortellini alla Panna
Tortellini alla panna, or "tortellini with cream", is an incredibly simple pasta recipe that is the epitome of comfort food! This easy dinner, featuring prosciutto and peas, will be on the table in less than 30 minutes.
Print
Pin
Rate
Ingredients
19

oz

frozen tortellini

or refrigerated

1

tablespoon

unsalted butter

3

cloves

garlic,

minced or pressed

1

cup

heavy cream

Light grating of nutmeg,

to taste

Ground black pepper,

to taste

2

teaspoon

fresh basil,

diced (more if you like)

2

teaspoon

fresh parsley,

diced (more if you like)

½

cup

freshly grated Parmesan

or Pecorino Romano

⅓

cup

frozen peas

1

oz

sliced prosciutto,

cut into bite-sized pieces
Instructions
Bring a large pot of water on the stovetop to a boil. While it heats, add butter to a large skillet set over low-medium heat. Once the butter is melted, add minced garlic and saute for 1 minute.

Once the garlic is sauted, pour in the cream and add the nutmeg, pepper, basil, and parsley. Stir frequently as the cream heats and begins to thicken. Adjust the temperature as needed so the mixture doesn't reach a boil or bubble too much.

Once the pot of water is boiling, add the frozen tortellini and cook for 3 minutes, or according to package directions. Add the frozen peas to the pot with the pasta after 2 minutes, so when there's 1 minute remaining of cook time. Once cooked, drain the water and return the tortellini and peas to the pot.

Add the grated Parmesan to the skillet with sauce in two increments, stirring well after each addition so it melts. Once the cheese has melted and the sauce has thickened to your liking, add the cooked tortellini and peas, as well as the sliced prosciutto, and stir to coat. Serve immediately.
Notes
Tortellini: Any flavor will do, cheese is my preferred and easiest to find. Butter: Both Parmesan and prosciutto are fairly salty so I like to use unsalted butter here. That said do use salted butter if you're partial to that instead. Peas: If using canned peas, add them right into the pan with the sauce when you're combining everything.
Nutrition
Calories:
429
kcal
|
Carbohydrates:
36.7
g
|
Protein:
16.8
g
|
Fat:
22.4
g
|
Saturated Fat:
13.4
g
|
Cholesterol:
92
mg
|
Sodium:
468
mg
|
Potassium:
73
mg
|
Fiber:
2.6
g
|
Sugar:
0.7
g
|
Calcium:
294
mg
|
Iron:
2
mg
Nutritional information is provided as an estimate. As it can vary due to many factors (brands used, quantities, etc.), we cannot guarantee its accuracy.
Food Safety and Nutrition Disclaimer