Perfectly tart and sweet, this strawberry rhubarb crumble is a breeze to make! Use fresh or frozen fruit in this easy prep, low-fuss springtime dessert.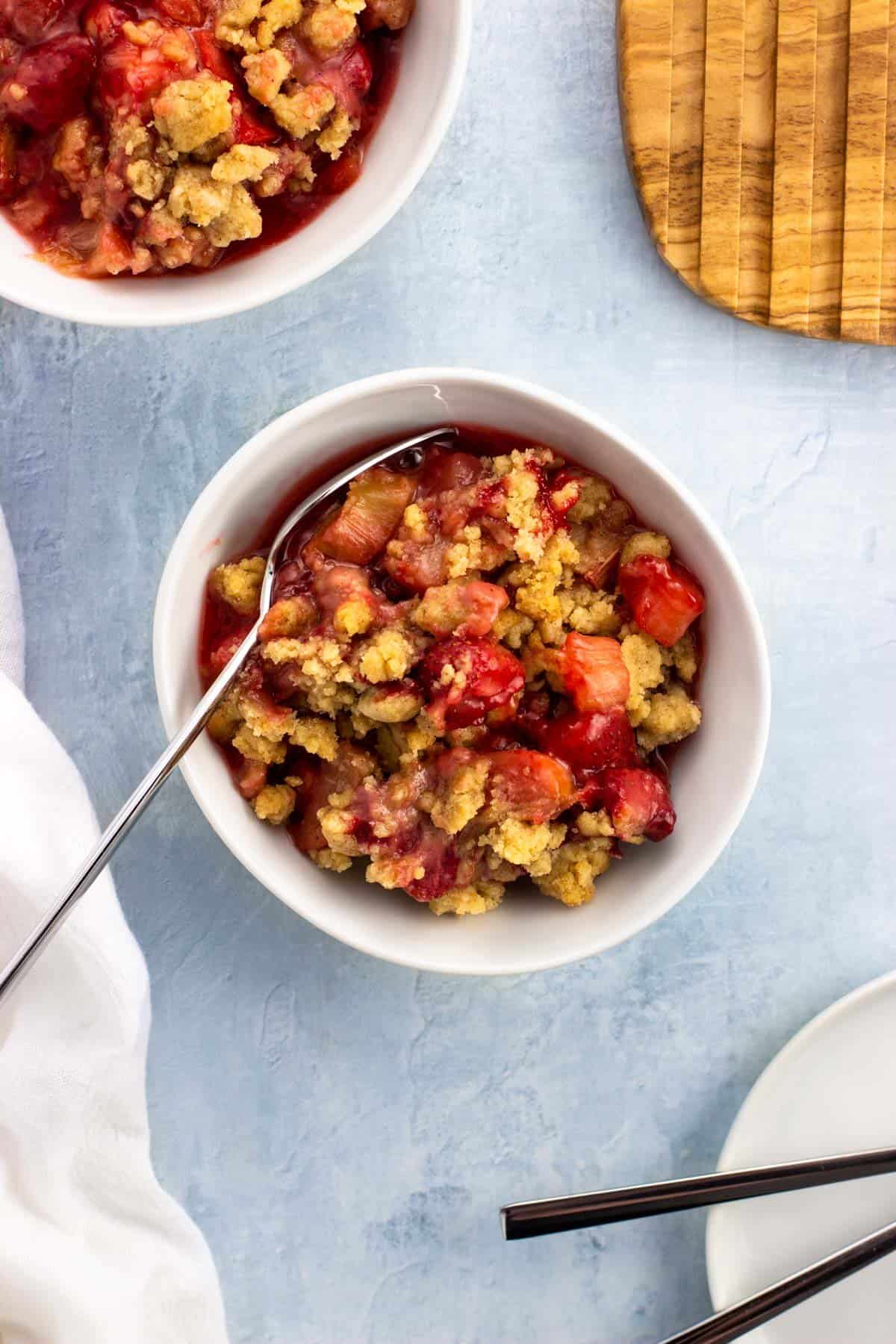 'Tis the season for rhubarb, and it's one more year I'm punting on baking a real deal strawberry rhubarb pie.
Pastry and I are not the best of friends (can anyone relate?), so stirring together fruit and pantry staples and scattering classic crumb topping over top is more my speed. Maybe a cherry rhubarb crisp with the oats if I'm feeling fancy, with apple crumble being a slam dunk for fall.
This strawberry rhubarb crumble, however, got such the seal of approval from my resident pie-lover that my lofty pie ambitions just may be a thing of the past.
Reasons to Love This Recipe
You get all of that classic strawberry rhubarb pie flavor in an impossibly easy method - no finicky pastry crust necessary.
It strikes an optimal balance between tart and sweet. The slightly sour flavor of rhubarb is allowed to shine through, with just the right amount of sugar to take the edge off in a delicious way.
This recipe has lots of tips on how best to make this crumble with fresh or frozen fruit for convenience (there's more to it than just subbing in one for the other).
Recipe Ingredients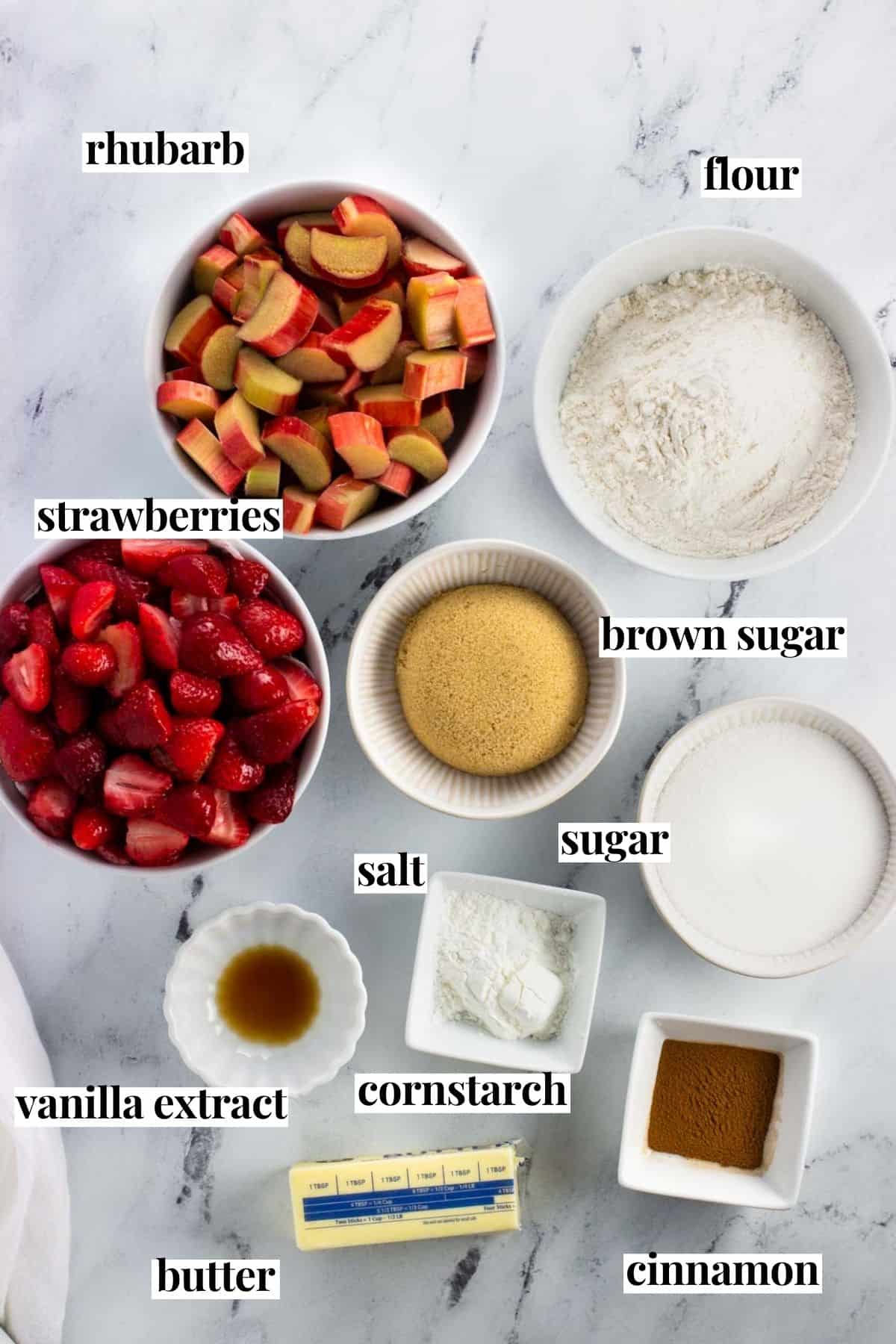 Strawberries: Fresh or frozen strawberries can be used here (more detail on this later). You want to end up with bite-sized pieces all around a similar size so they bake evenly.
Rhubarb: Look for firm stalks in good condition, with not too many gouges or discolored spots. If your rhubarb comes with the leaves attached, please take care to discard the leaves safely as they're considered toxic to people and animals. You will need about 3-4 rhubarb stalks for this recipe.
Sugar: Sugar is a must in rhubarb recipes. The half-cup that coats the fruit combines with the natural sweetness from the strawberries and the brown sugar in the topping for a sufficient, not overly sweetened dessert.
Cornstarch: Another must, this thickens the fruit juices so your strawberry rhubarb crumble doesn't develop into a soupy mess once it's baked.
Crumbs: Brown sugar, cinnamon, melted butter, and flour come together to form a classic

crumb topping

recipe that holds together in crumbs big and small. The amount used here is 1.5x my regular recipe to really make its presence felt.
Step-by-Step Instructions
Slice rhubarb into half-inch pieces, then slice the strawberries. Smaller strawberries can be cut in half, while larger ones will need to be quartered or even sliced further so they're all around the same size. Aim for the strawberry slices to be bite-sized. Stir together the rhubarb, strawberries, sugar, cornstarch, vanilla extract, and pinch of salt in a mixing bowl until coated evenly.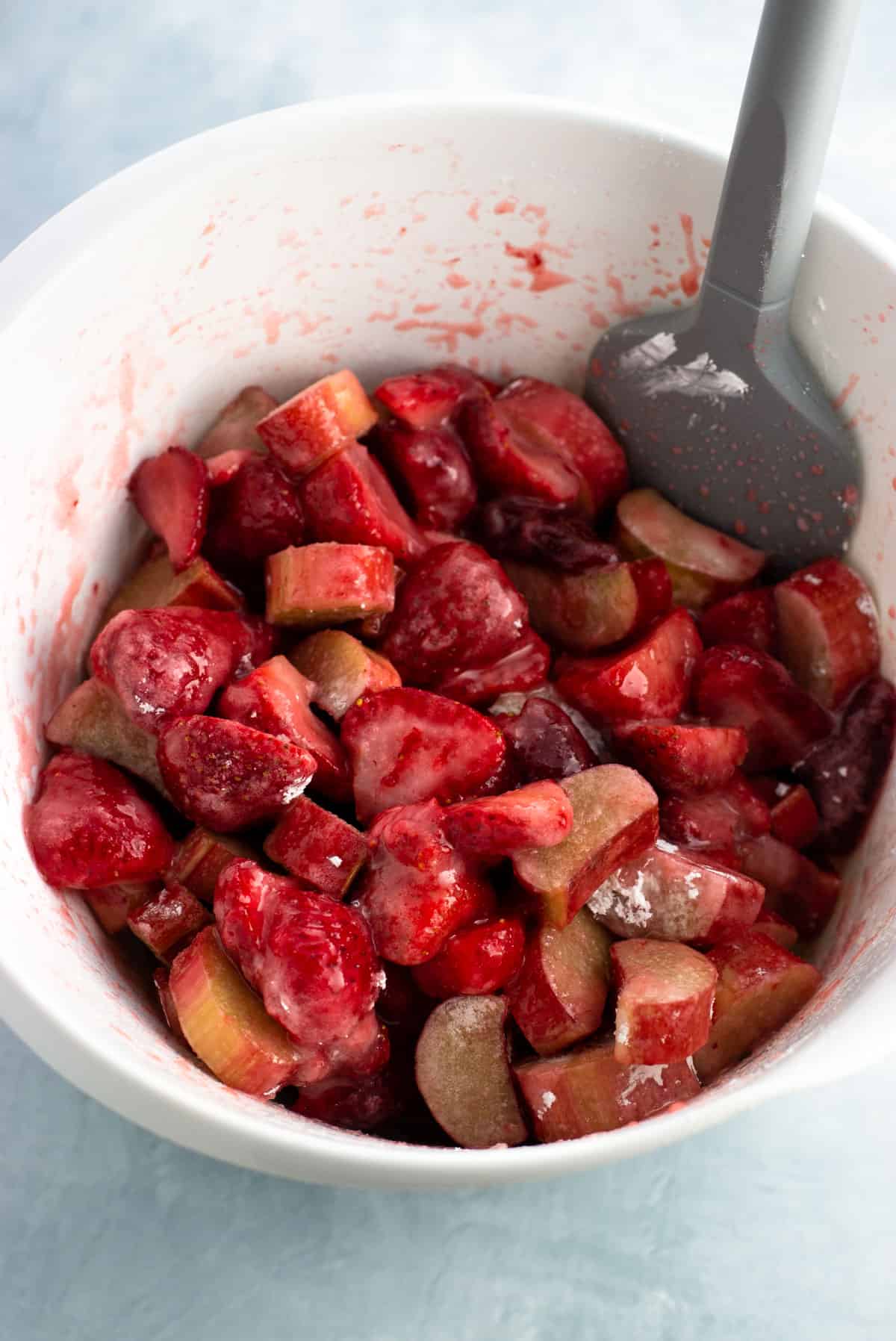 Combine the brown sugar and cinnamon in a bowl, then stir in the melted butter.
Stir/work in the flour until a scatterable crumb consistency forms.
Pour out the strawberry rhubarb mixture into a greased baking dish, then scatter over the crumble topping.
Bake at 350°F for 45 minutes, or until the rhubarb is tender and the edges of the dish are bubbling. Let it cool off for 20-30 minutes before scooping and serving.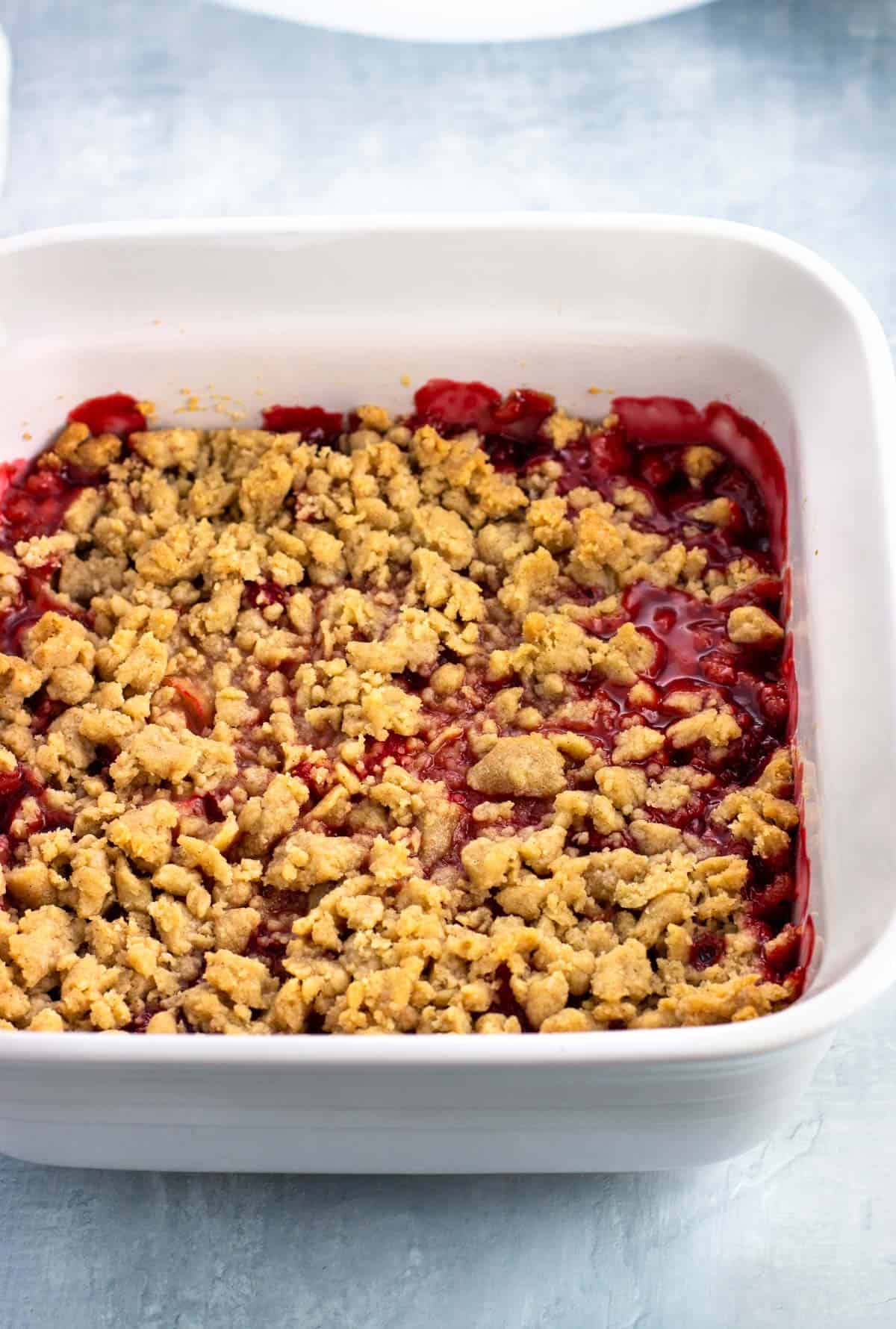 Recipe Tips and Tricks
The juices will bubble up around the edges as this strawberry rhubarb crumble bakes. Consider placing your baking dish on sheet pan in the oven if it has shallower sides to prevent the spillover from hitting the bottom of your oven.
Fruit crumbles are delicious served warm, but it's inevitable that even with sufficient cornstarch, they'll release more juices when scooped warm then if they've had a chance to cool further. I recommend a tradeoff: let this crumble cool off some for at least 20-30 minutes before serving.
The quantities called for below are for fresh strawberries and rhubarb. If using frozen fruit and then thawing, add an additional quarter-cup (or so) to account for the amount the fruit will "shrink" while thawing.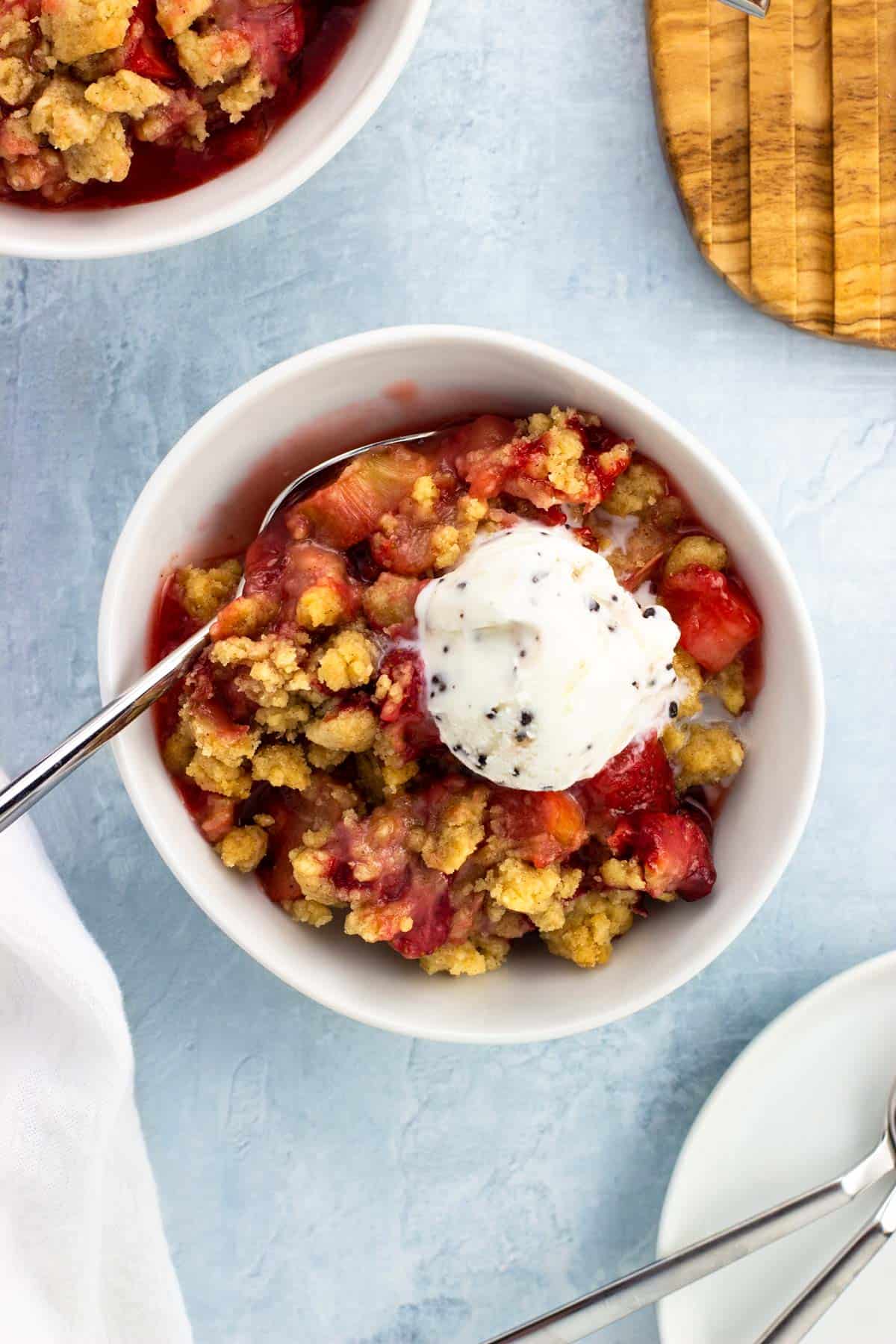 Recipe FAQs
Do you peel rhubarb for crumble?
There's no need to peel rhubarb when making a crumble.
Do I need to thaw frozen rhubarb before baking?
I do thaw frozen rhubarb (and strawberries) before baking so excess moisture can be drained and blotted away prior to baking. One of the pitfalls of a dish like a crumble is that it can be overly juicy, so thawing the fruit can head some of the extra moisture off at the pass.
How do I prevent a fruit crumble from becoming too runny?
Be sure you're using enough cornstarch, as this thickens the fruit juices while the crumble bakes. If using frozen strawberries or rhubarb, thaw before baking in order to blot away as much excess moisture as possible. If your fruit is still looking extra juicy, consider increasing the amount of cornstarch used by a teaspoon or two. Lastly, let the strawberry rhubarb crumble sit for at least 20 minutes before scooping as the juices will solidify more as it cools.
Related Recipes
If you've enjoyed this recipe, I'd love for you to leave a star rating in the recipe card and/or a comment review below!
Strawberry Rhubarb Crumble
Perfectly tart and sweet, this strawberry rhubarb crumble is a breeze to make! Use fresh or frozen fruit in this easy prep, low-fuss springtime dessert.
Ingredients
For the Fruit:
16

ounces (455g)

strawberries

halved or quartered (about 3 ½ cups)

12

ounces (340g)

rhubarb

cut into ½-inch slices (about 2 ¾ cups)

½

cup (100g)

granulated sugar

2

Tablespoons (16g)

cornstarch

¼

teaspoon

vanilla extract

Pinch of

salt
For the Topping:
½

cup (100g)

packed brown sugar

¾

teaspoon

ground cinnamon

6

Tablespoons (84g)

unsalted butter

melted

1

cup plus 2 Tablespoons (140g)

all-purpose flour
Instructions
Grease a 9" x 9" baking dish (or 8" x 8" with tall sides) with unsalted butter and set aside. Preheat the oven to 350°F (177°C).

Slice small strawberries in half and larger ones in quarters or even more (you want all of the pieces to be bite-sized). Slice the rhubarb into ½-inch pieces. Add the strawberries to a mixing bowl along with the rhubarb, granulated sugar, cornstarch, vanilla extract, and salt. Stir to coat the fruit evenly.

In a separate bowl, whisk together the brown sugar and cinnamon. Pour in the melted butter and stir until evenly combined.

Add the flour to the bowl with the topping and stir as it thickens and clumps up. The mixture should hold its shape when you squeeze it, but then separate into scatterable crumbs.

Pour out the strawberry rhubarb mixture into the greased dish and lightly press it into an even layer. Scatter the crumble topping evenly over top.

Bake for 40-45 minutes, or until the fruit is tender, the topping has firmed, and the edges are bubbling. Let the strawberry rhubarb crumble cool for 20-30 minutes at room temperature before scooping and serving (recommended: with vanilla ice cream).
Notes
Ingredient Notes
Rhubarb: This will be the amount from about 3-4 stalks.
Cornstarch: Consider adding an additional 1-2 teaspoons if your fruit is extra juicy or if your strawberries and/or rhubarb aren't fully thawed to help counter the extra moisture.
Recipe Tips
Baking dish: A 9" square baking dish or an 8" square dish with taller sizes (for instance, one with a three-quart capacity) will work here, as will an equivalent size, such as an 8" x 12" oval dish. The juices will bubble up as it bakes, so don't use too small of a dish. If you're not sure your dish is large enough, place it on a sheet pan for baking so if the juices spill over, they're contained on the pan and not on the bottom of your oven.
If using frozen strawberries/rhubarb: Keep in mind frozen fruit/vegetables shrink as they thaw due to moisture loss. If starting with frozen, use an extra quarter-cup or so to keep the ratio of the ingredients in check.
Thawing frozen fruit: Do this safely by transferring it to the refrigerator ahead of time, placing the fruit in a sealable plastic bag and submerging it in cold water (replacing the water as needed to keep it cold), or using the defrost or low-power setting on a microwave just prior to baking. With any method, take care to drain/blot away as much excess moisture as you can.
Reheat instructions: Place leftover portion(s) in a small baking dish and cover with aluminum foil. Bake for 15-20 minutes at 350°F, or until warmed throughout.