These are the best blueberry crumb muffins! They're tender, bursting with fresh blueberries, and feature an easy crumb topping that takes this baked good favorite over the top.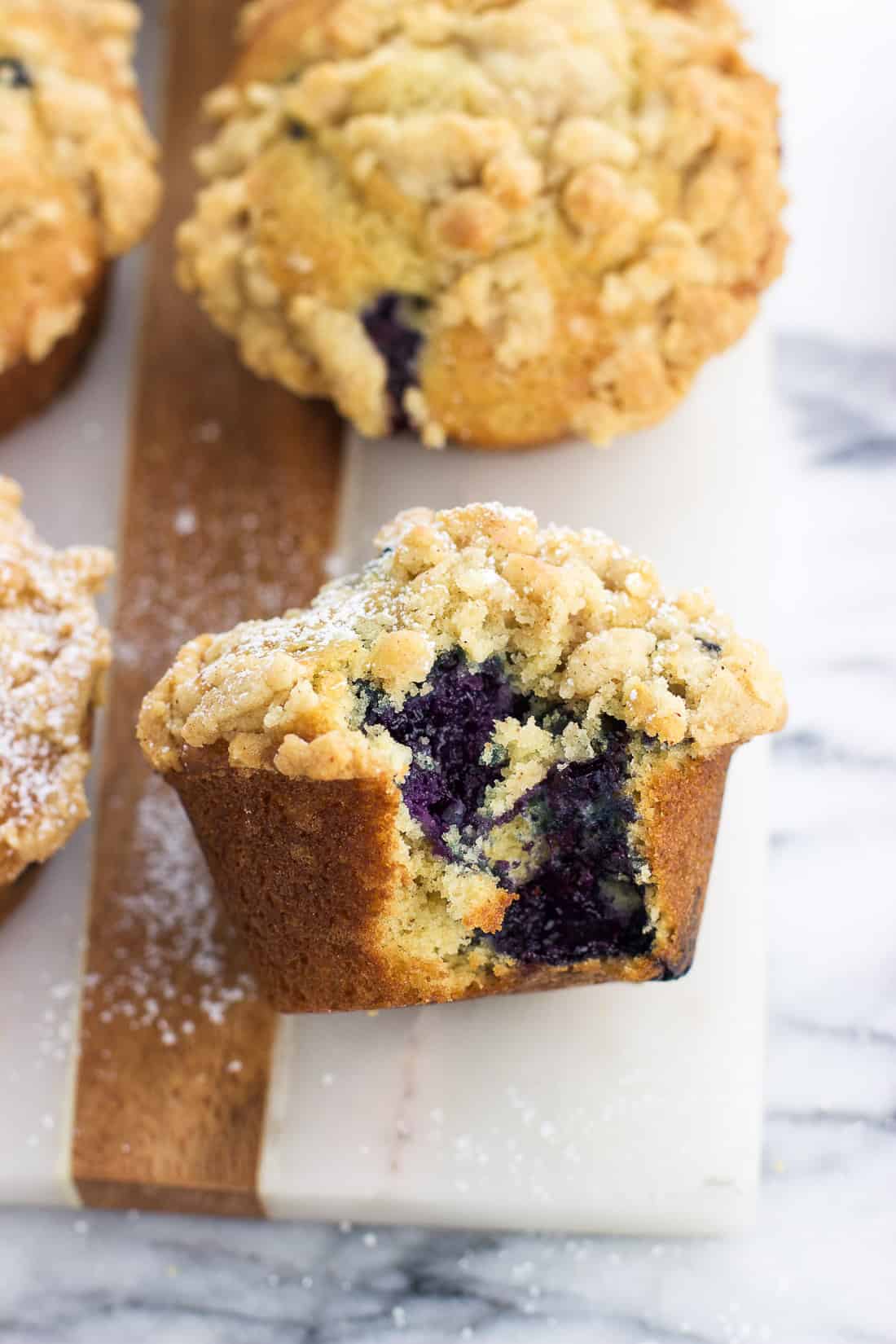 Recently my husband went on a week-long canoe trip, during which time my parents came to visit for a few days. I asked my mom to bring her overflowing binder of family recipes, so we went spent much of the time cooking.
And eating. And eating some more.
Fast forward to a few hours before I went to pick him up at the airport, when I realized that while I had a freezer overflowing with savory dinner leftovers, there wasn't anything I could easily pack up and bring with me in the car for him to snack on.
Thankfully there was just enough time to bake a batch of these blueberry crumb muffins! They're hard to resist with their tender crumb, generous pockets of blueberries, and semi-indulgent crumb topping. So good in fact I even packed myself a muffin for the road.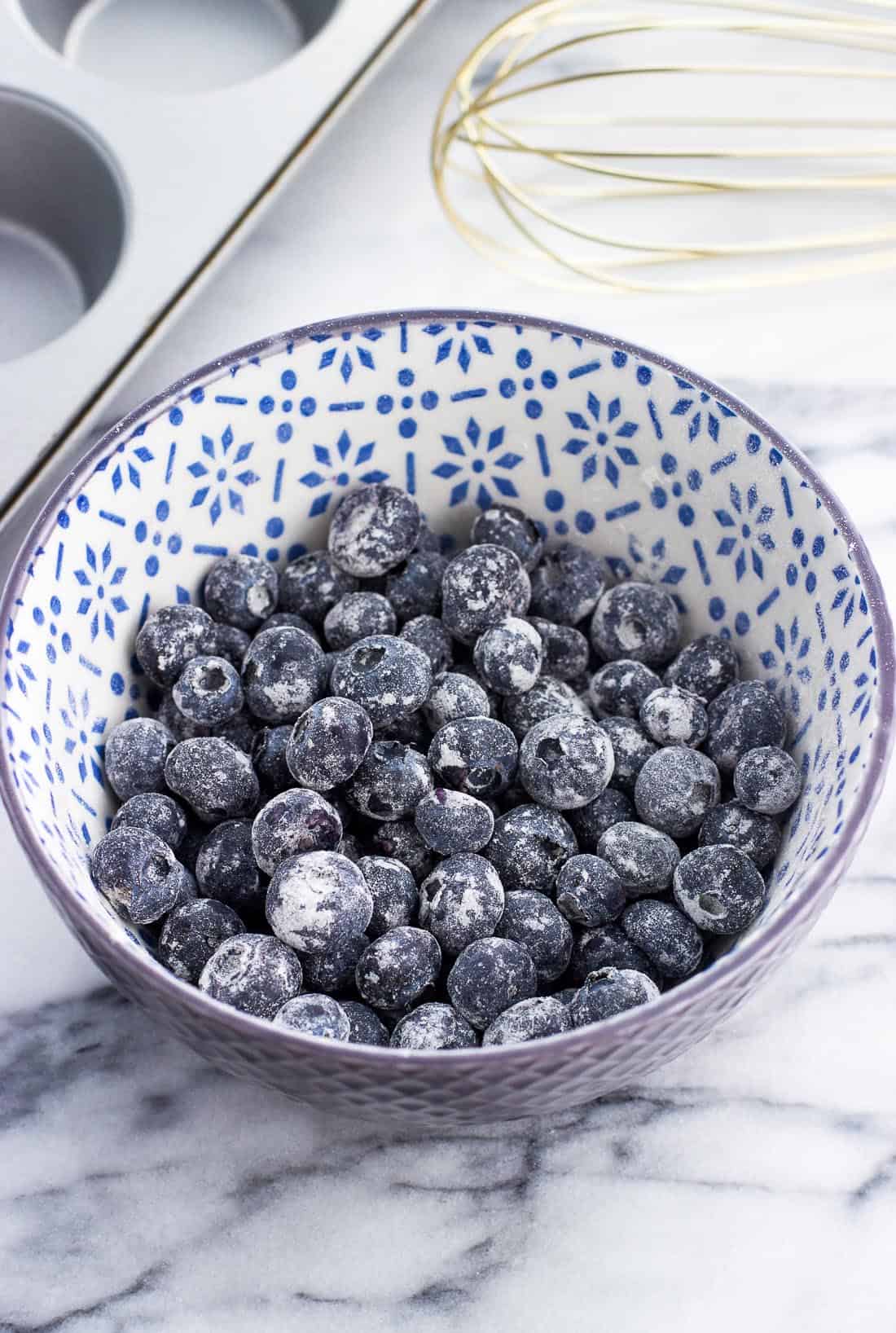 There are a few differences when you compare these blueberry crumb muffins to my typical go-to, these cherry almond streusel muffins. Besides trading streusel for crumbs, of course.
Those muffins have a little extra going on flavor-wise with the almond extract in the muffin itself and double the ground cinnamon in the topping, so they could handle a bit less sugar in the batter. I bumped up the sugar slightly here to counter the tart blueberries and found these to be perfect. Not too sweet.
The slight bit of ground cinnamon and nutmeg in the batter help this blueberry crumb muffin recipe fill your kitchen with that quintessential blueberry muffin smell as they come out of the oven. Y-U-M.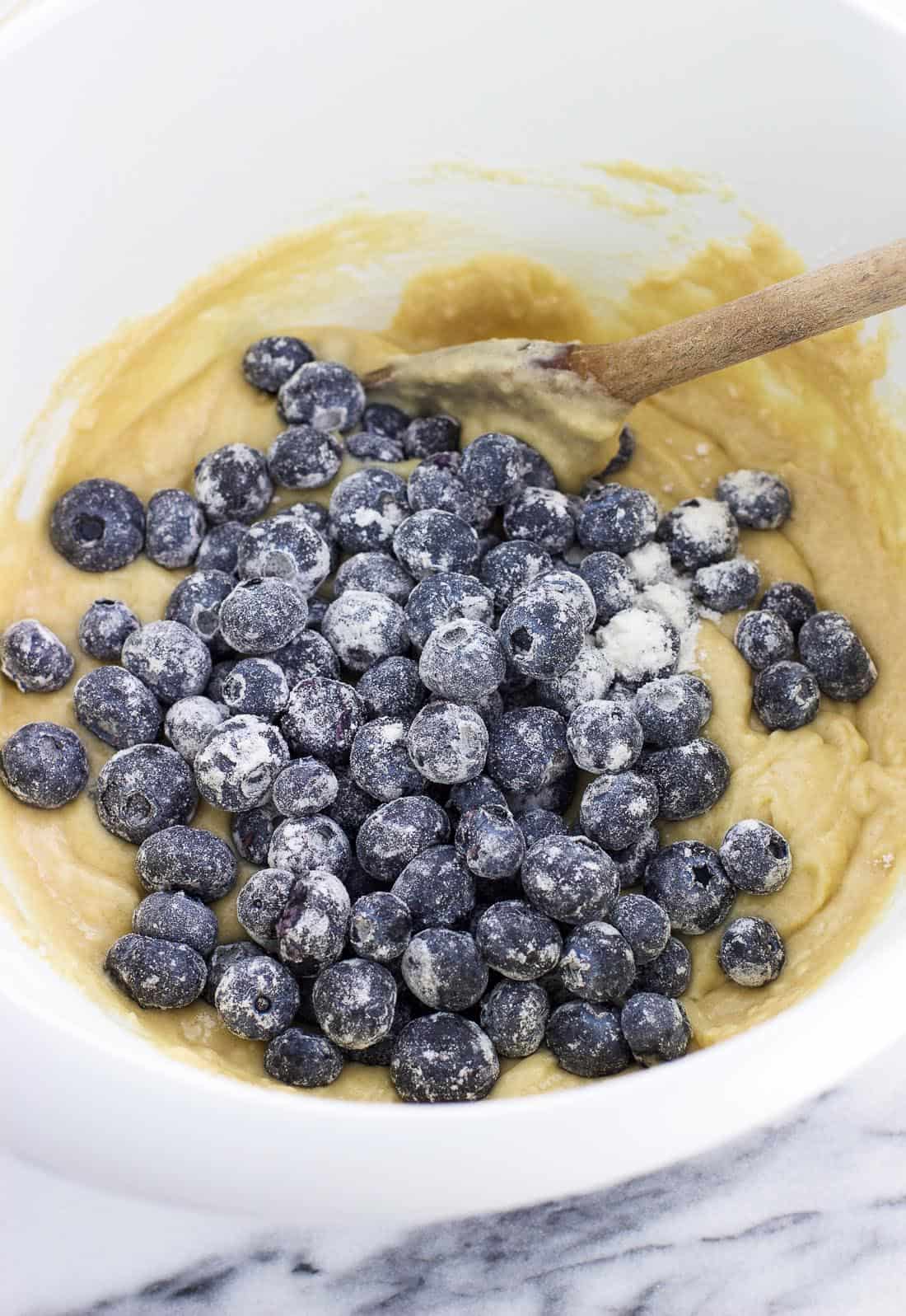 While I've seen opposing viewpoints on this next matter, I always toss blueberries that will be in muffins or quick breads (like this blueberry muffin bread) in flour before folding them into the batter.
In my experience it helps the berries stay buoyant throughout the batter instead of sinking toward the bottom. Just a little bit of flour will do the trick – think about half a tablespoon for the cup-and-a-quarter of blueberries here.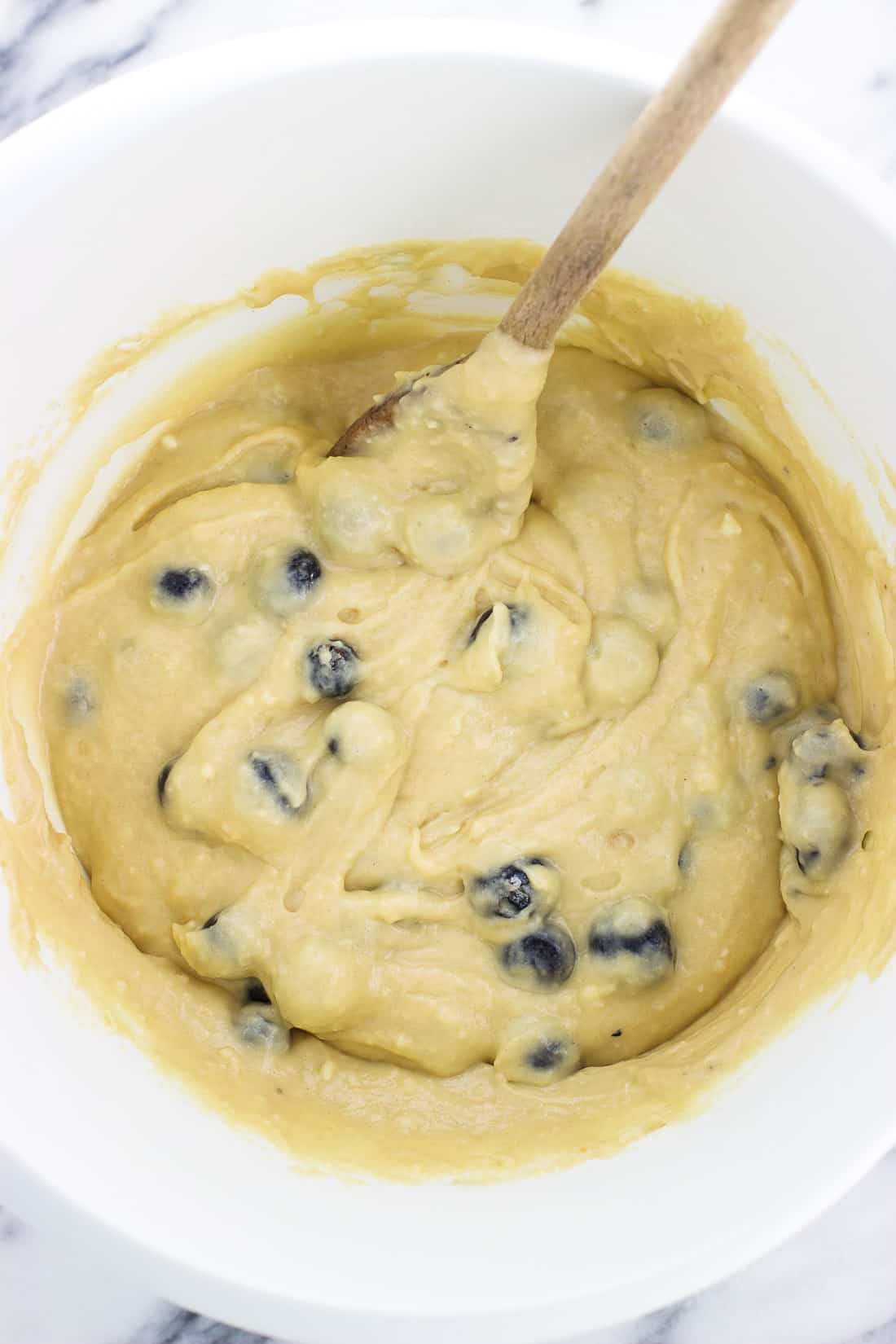 "The Muffin Method"
Up above is what the batter should look like once the wet ingredients are combined with the dry and the blueberries have been folded in. Some lumps are okay!
This recipe makes use of the muffin method (I mean…duh), which is actually a real technique. Simply put, the muffin method is when you pour the wet ingredients into the dry ingredients. This produces a batter that yields baked goods with a tender crumb like muffins and quick breads.
I recommend against using a stand or hand mixer here and instead combining all of the parts with a whisk by hand. Reason being is that muffins don't require a ton of mixing. In fact, the wet and dry ingredients should be separately whisked until combined, and then stirred together until just combined.
Too much mixing, as is easy to do with an electric method, can result in the gluten becoming overdeveloped and leading to not-so-tender muffins. Totally not our end goal.
Once the muffins are portioned out into the muffin tin, it's crumb topping time! My favorite crumb topping recipe has made an appearance in several recipes on my site (see this spiced peach crisp and this chocolate chip banana crumb cake), and was a welcome extra treat on these blueberry crumb muffins.
Once the cinnamon and brown sugar are combined, melted butter is stirred in, with flour thickening everything up and forming those perfect crumb cake-style crumbs. The half-teaspoon of cinnamon in the crumb topping adds a subtle flavor, so it doesn't overwhelm the topping to make it an overtly cinnamon dessert.
I've linked to the crumb topping in the recipe card below. One batch is just the right amount to top twelve muffins (or one 9″x5″ loaf of a quick bread).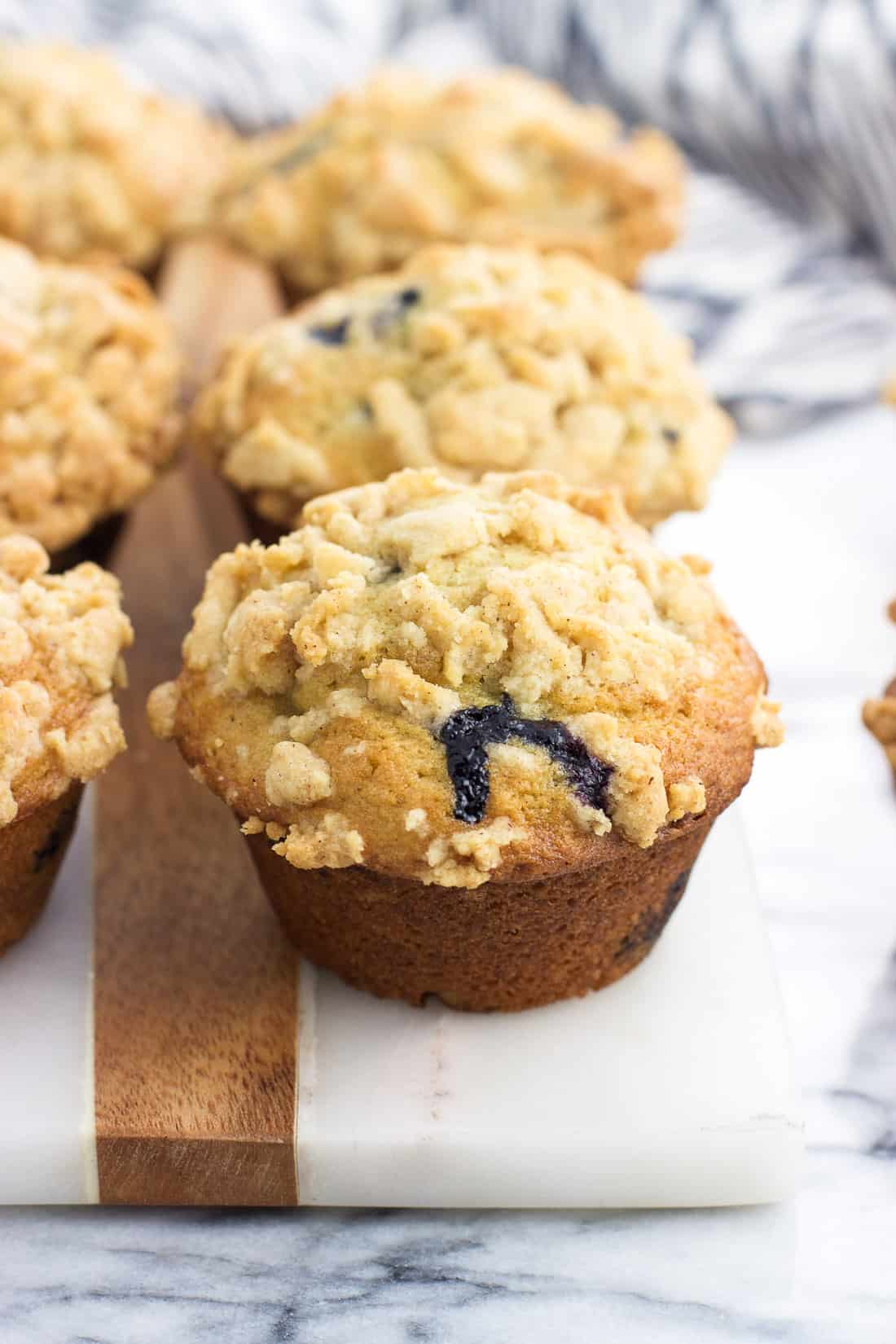 How to store muffins so they don't get soggy
At room temperature, I store muffins in a plastic tupperware or large sealable plastic bag. Since baked goods like muffins can become a little sticky/soggy as they sit out, I line the bottom of the container or bag with a paper towel, place in the muffins, and then place a paper towel on top.
This helps absorb any excess moisture in the days after, and is especially helpful as I tend not to use muffin liners (just personal preference).
How to store muffins in the freezer
Once cooled to room temperature, you can place these blueberry crumb muffins in freezer bags and stick them in the freezer for several months. Just take them out and allow them to thaw at room temperature, or wrap in foil and place in a 350°F oven for ten or so minutes until warmed. Quickly heating them up in the microwave (sans foil, obviously) works too!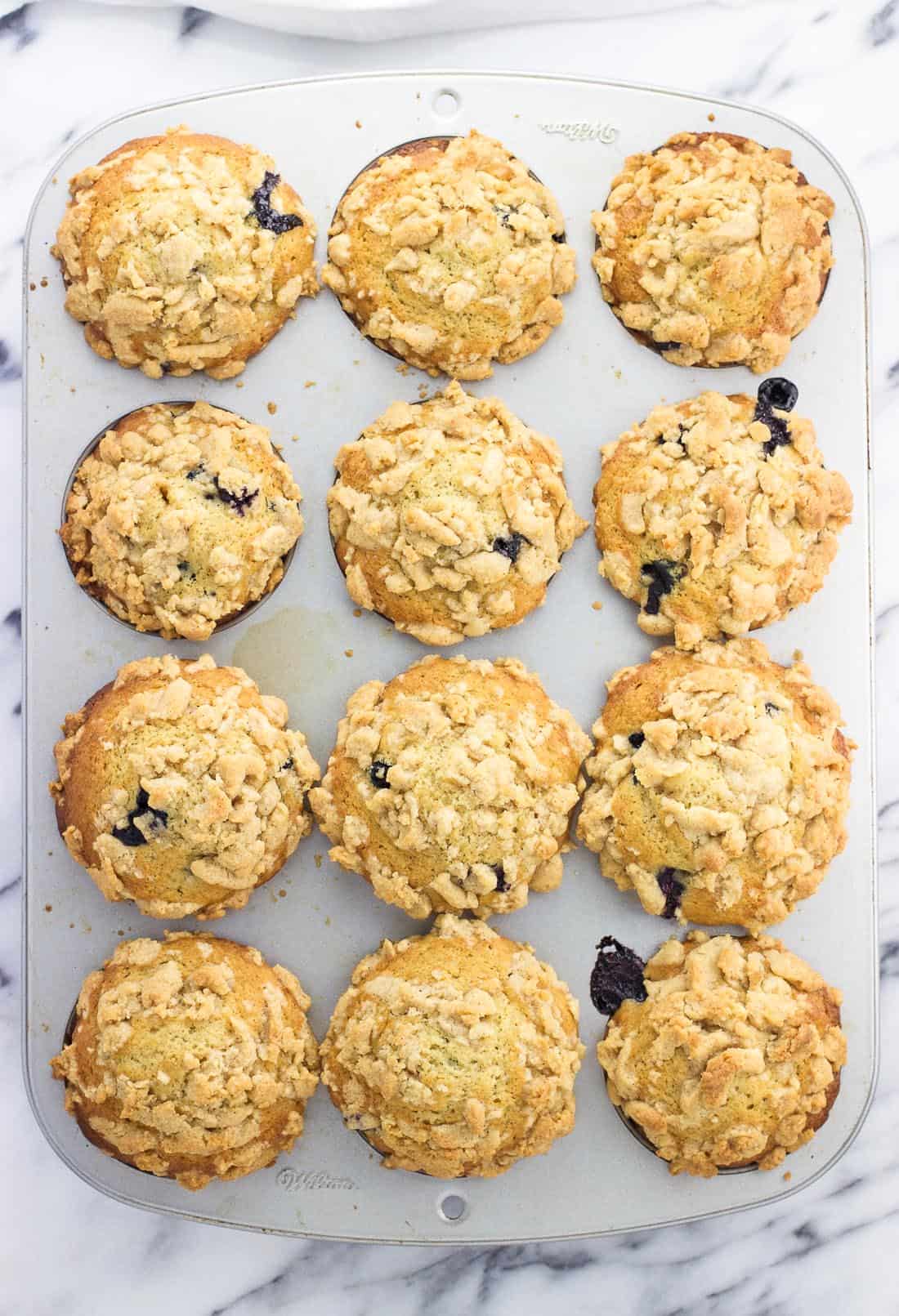 Blueberry crumb muffins recipe notes:
Tossing the fresh blueberries in flour before folding into the batter helps prevent them from sinking to the bottom of the muffins as they bake.
See note below the recipe card on how to make buttermilk from regular milk and white vinegar.
I prefer using fresh blueberries in these muffins, but the

King Arthur Flour blog

has some tips on using frozen blueberries in baked goods!
Blueberry Crumb Muffins
These are the best blueberry crumb muffins! They're tender, bursting with fresh blueberries, and feature an easy crumb topping that takes this baked good favorite over the top.

Ingredients
1 1/4

cup

blueberries

plus 1 1/2 tsp flour

2

cups

all-purpose flour

1

cup

brown sugar,

packed

2

tsp

baking powder

1/2

tsp

baking soda

1/4

tsp

salt

1/4

tsp

ground cinnamon

1/8

tsp

ground nutmeg

6

tbsp

unsalted butter,

melted

2/3

cup

buttermilk

(see note)

2

eggs

1 1/2

tsp

vanilla extract

1

batch

crumb topping
Instructions
Preheat oven to 400°F. Generously spray a 12-cup muffin pan with cooking spray and set aside.

Rinse blueberries and take care to pat them as dry as you can. Add them to a bowl and sprinkle flour over top, tossing them several times to evenly coat. (I used about 1 1/2 teaspoons). Set aside.

Add 2 cups of flour, brown sugar, baking powder, baking soda, salt, ground cinnamon, and ground nutmeg to a large mixing bowl and whisk to combine, breaking up any lumps.

Add melted butter, milk, eggs, and vanilla extract to a medium mixing bowl and whisk until smooth.

Pour wet ingredients into dry and stir until just combined. It's okay if a few lumps remain.

Gently fold in flour-dusted blueberries. Evenly disperse muffin batter amongst the twelve muffin cups.

Bake for 18-20 minutes, or until the tops are golden brown and a tester inserted into the tallest part of the muffin comes out clean. Let muffins cool in the muffin pan for a 10-15 minutes, then carefully remove to a wire rack to cool completely. Dust with confectioners' sugar for serving if desired, and store in an air-tight container.
Notes
I rarely have buttermilk on hand, so I make a quick and dirty version with regular milk and vinegar. For this recipe, add 2 tsp of white vinegar to a measuring cup and pour in milk (I used 2%) up to the 2/3 cup marking. Give it a stir and let it sit for at least five minutes before adding to the recipe.
Nutrition
Serving:
1
muffin
|
Calories:
273
kcal
|
Carbohydrates:
40.1
g
|
Protein:
4.4
g
|
Fat:
10.5
g
|
Saturated Fat:
6.3
g
|
Cholesterol:
53
mg
|
Sodium:
72
mg
|
Potassium:
81
mg
|
Fiber:
1.1
g
|
Sugar:
17.8
g
|
Calcium:
30
mg
|
Iron:
1.8
mg
Nutritional information is provided as an estimate. As it can vary due to many factors (brands used, quantities, etc.), we cannot guarantee its accuracy.