Spicy chipotle hummus is an easy homemade hummus recipe with a powerhouse ingredient: chipotle peppers in adobo. You can adjust the spice level on this healthy dip to right where you want it!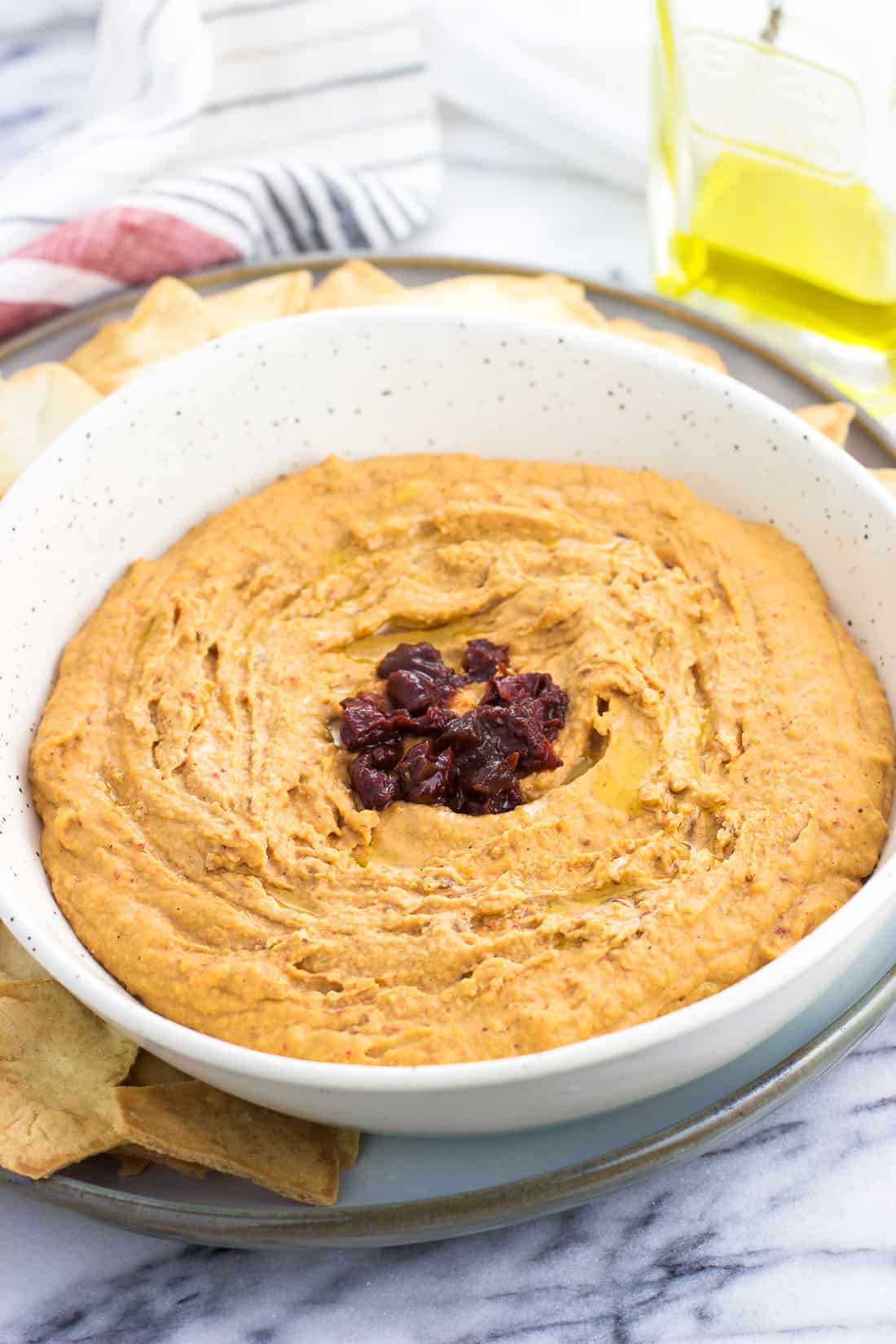 Hummus remains one of those foods that I obsess over on a cyclical basis. I always welcome it as a snack, however I'll go from making several homemade batches in a row to kind of forgetting about it for a bit, only to get a hummus craving some time later and repeat the process.
The number of garlic cloves I've gone through making rounds of roasted garlic hummus? More than I can count.
And that's not to say that I don't buy store-bought hummus on occasion. Even though it's quick and easy to make hummus at home, sometimes you just need a shortcut, you know?
This homemade chipotle hummus has been on repeat and certainly won't leave you hanging as far as flavor is concerned.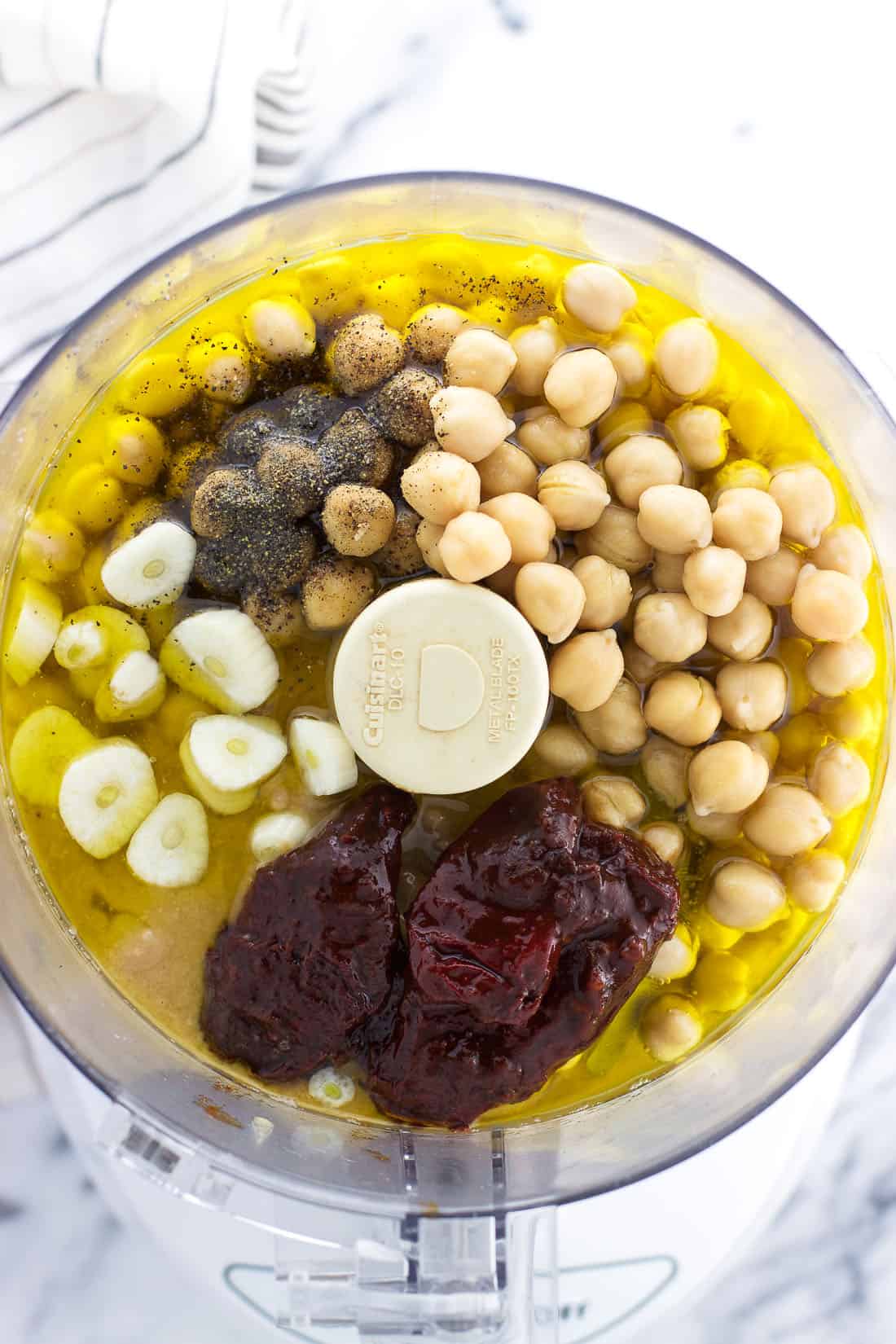 Recipe ingredients
This slightly reddish tint? That comes from chipotle peppers in adobo, an ingredient that has made its way into my cooking and is now making an appearance in several blog recipes. Chipotle aioli in particular has been an amazing additions to sandwiches, quesadillas, and more.
Besides bringing a bit of color, most notably these peppers bring the SPICE. Depending on your level of spice preference, likely just one or two peppers and some of the accompanying sauce will be all you need in whatever you're making. Please don't add the whole jar!
I most frequently can find chipotle peppers in adobo in a seven ounce jar in the "international" foods aisle of my regular grocery store. A jar is just a few dollars, and using just a few peppers at a time means you'll have a fair amount of peppers and adobo sauce leftover after making a batch of chipotle hummus.
Thankfully they stay well in the refrigerator so you have some time to use them up in different recipes. Slow cooker chipotle beef queso anyone? Or make many batches of chipotle hummus...it's your call. 😉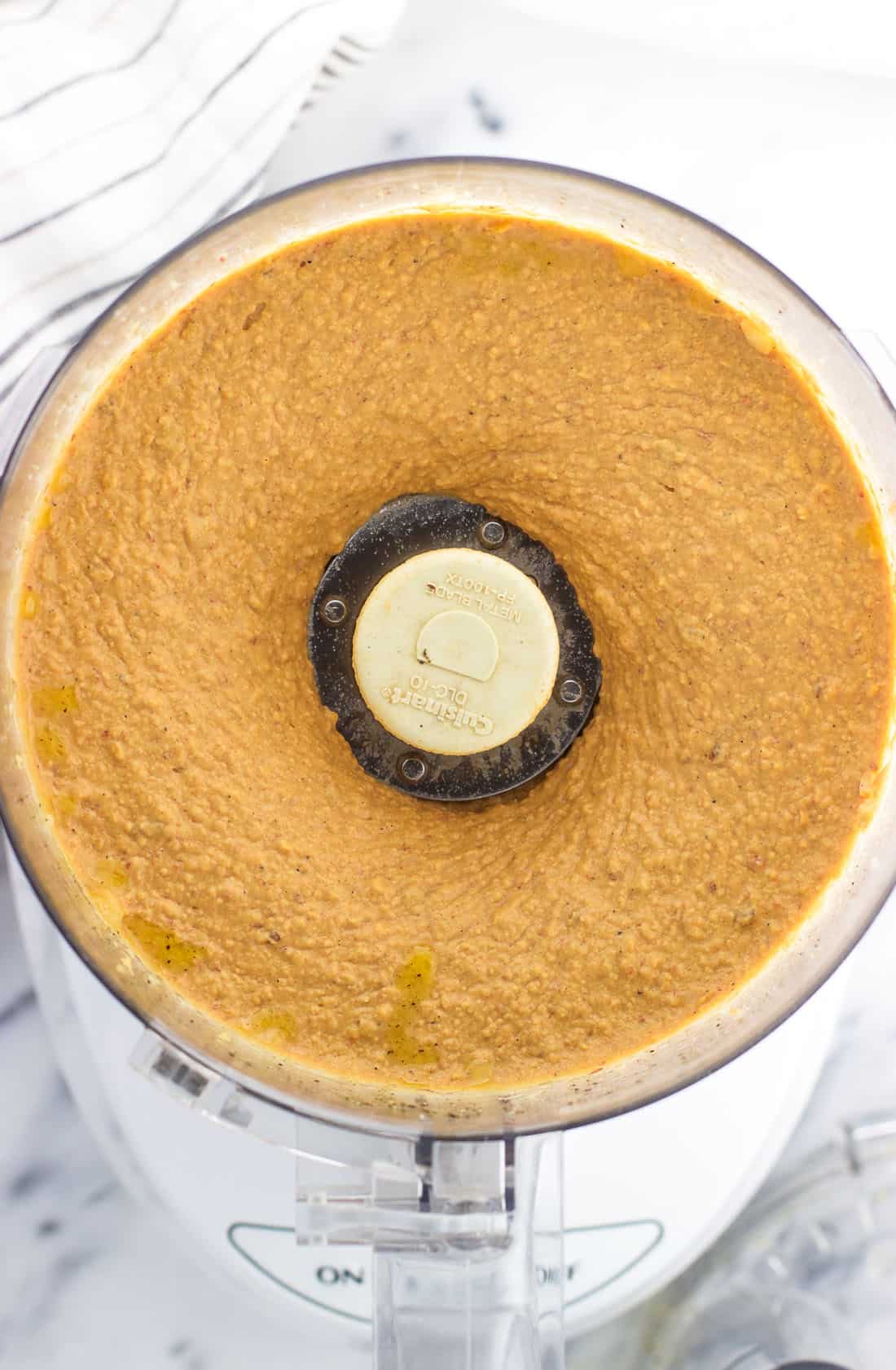 You'll notice in the pre-processing shot of this hummus that there are three chipotle peppers included. I've varied the number of peppers I've used in this recipe, and I've found that three yields a bold and spicy hummus with a nice smoky flavor we can't get enough of.
It's not quite on the level of melt-your-face-Nashville-hot-chicken, but the zing does build as you go in for more scoopfuls.
Because the flavors of this chipotle hummus would certainly be enjoyable without as much spice, I've listed a range of two to three chipotle peppers in the recipe card below. If you like some spice but aren't a full-blown spicy food lover, I'd say start with one or two peppers, blend everything up, and take a taste test.
It's always easier to add more than to take away.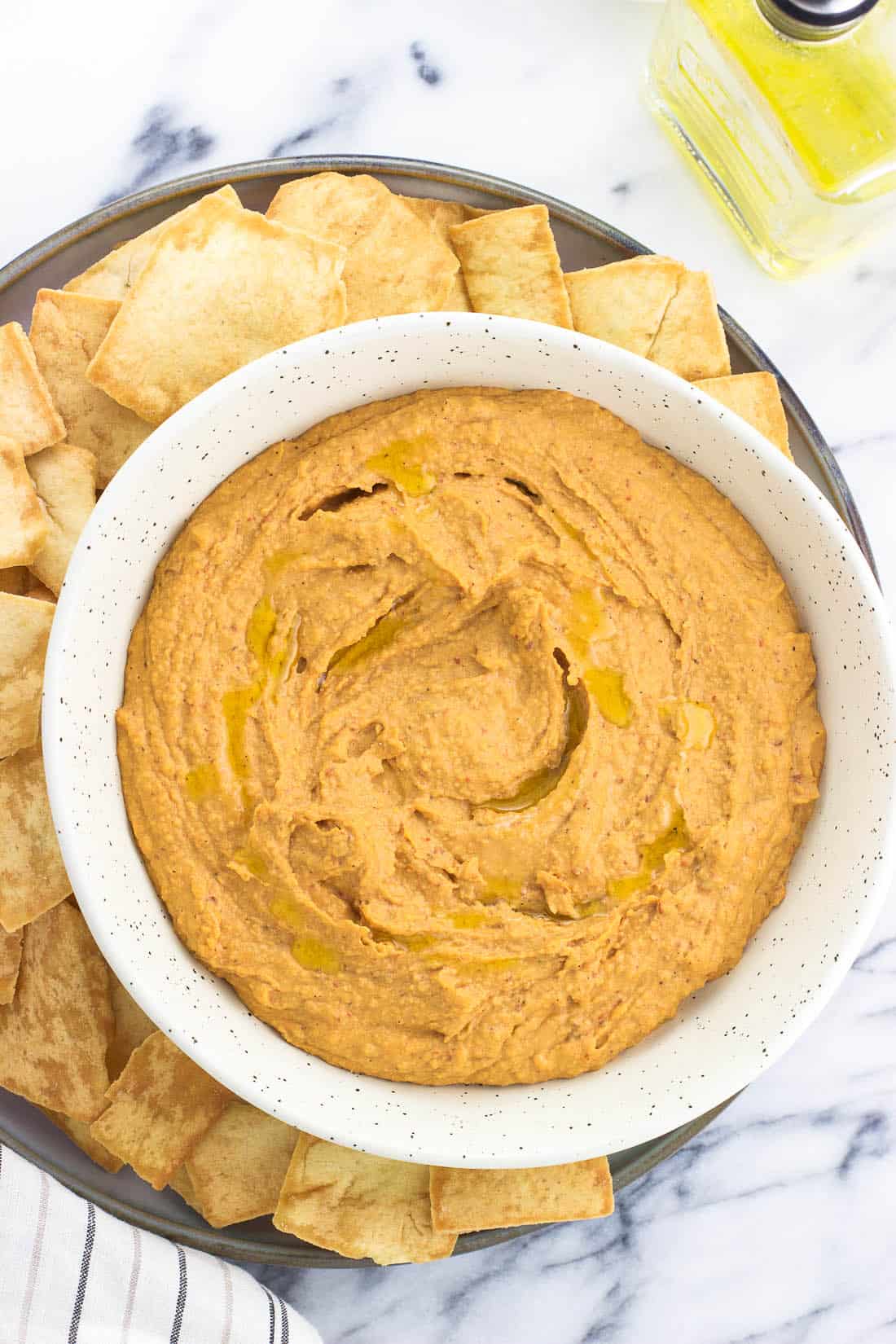 Serving suggestions
While I kept it simple with pita chips in the pictures you see here, I like to offer a variety of foods to dip when I'm serving hummus to a crowd. Or really, anyone other than my husband and I. We're decidedly unfancy and have no problem digging into the pita chip bag straight.
For vegetables, baby carrots and celery sticks are classics. You can also do cucumber rounds, bell pepper slices, cherry tomatoes...or jicama, even. It's a hardy, crunchy vegetable in the root vegetable family that's so good in southwestern salads.
As for carbs, pretzel sticks or (my favorite) pretzel chips are great. Really lots of chips would work, but I'd suggest nothing too delicate because a scoop of hummus is fairly substantial. Broken chip pieces being left behind in dips is never good.
Different ways to eat hummus
One of my favorite ways to eat hummus other than as a dip is to use it as a sandwich spread. I'm not a huge fan of mayo on sandwiches unless we're talking aioli, so hummus pretty easily fills in as a creamy layer to be slathered on the bread. Bonus points for how easy it is to bring different flavors to a standard sandwich. Check out what it does to this hummus avocado turkey club sandwich!
This spicy one spread on a grilled cheese pre-grill? Yes.
Otherwise try stirring it into your next chicken salad as a flavorful binder, or thinning it with oil/vinegar/citrus juice to use as a salad dressing.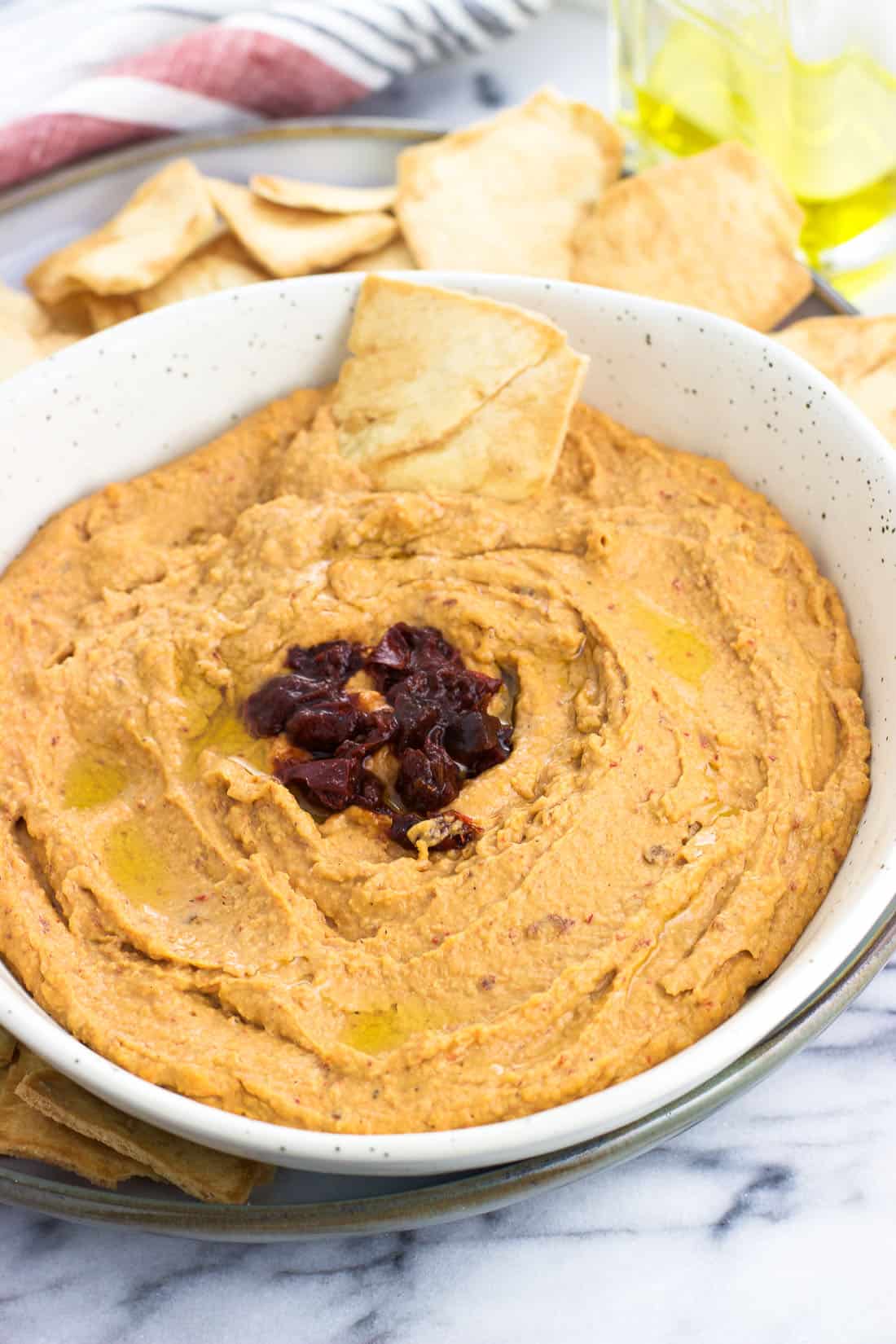 Recipe notes
In my experience, chipotle peppers in adobo will most likely be found in the "international" foods aisle of your grocery store. They come in a small can (seven ounces or so), of which you'll use way less than the whole can for a batch of this chipotle hummus.
Chipotle peppers in adobo pack a punch. While they smell wonderfully smoky, each pepper is pretty spicy. Start slow and add just a pepper or two and taste to see how you like it. It's better to add more than overdo it on the spice right away.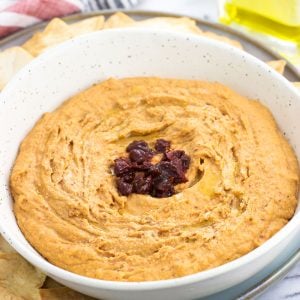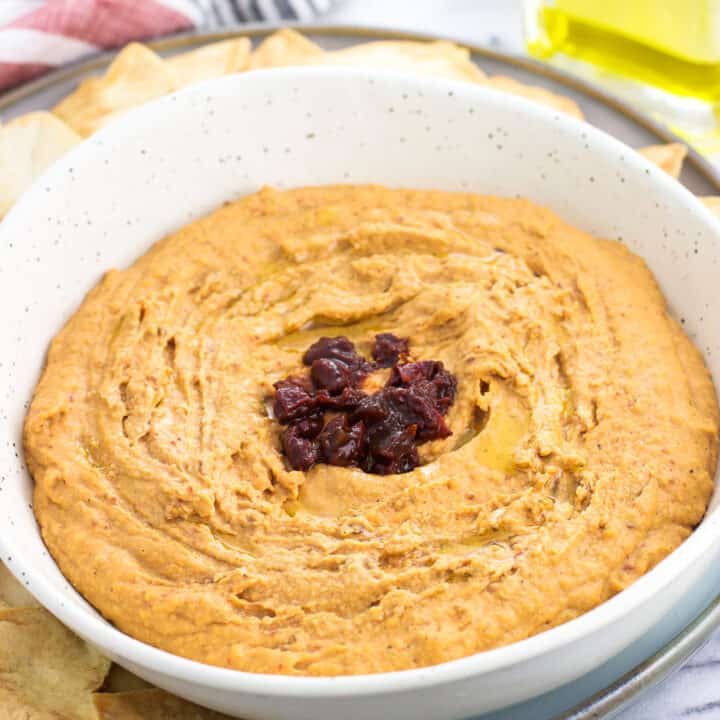 Spicy Chipotle Hummus
Spicy chipotle hummus is an easy homemade hummus recipe with a powerhouse ingredient: chipotle peppers in adobo. You can adjust the spice level on this healthy dip to right where you want it!

Print
Pin
Rate
Ingredients
1

15.5-oz can

chickpeas,

drained with liquid reserved

½

cup

tahini,

well-stirred

¼

cup plus 2 tbsp

olive oil

¼

cup plus 2 tbsp

reserved chickpea liquid

2

cloves of garlic,

chopped

½

teaspoon

salt

½

teaspoon

ground black pepper

2-3

chipotle peppers in adobo

(see note)
Instructions
Add all ingredients to the bowl of a food processor and process until smooth and creamy. Serve with pita chips, and refrigerate leftover portions.
Notes
Adjust spiciness: A suggestion is to start with two peppers and see how the taste is. Then add another if you'd like this hummus even spicier.
This recipe yields approximately 21 ounces of hummus in total.
Nutrition
Serving:
3
tablespoon
|
Calories:
131
kcal
|
Carbohydrates:
6.3
g
|
Protein:
3.1
g
|
Fat:
11
g
|
Saturated Fat:
1.5
g
|
Cholesterol:
1
mg
|
Sodium:
167
mg
|
Potassium:
80
mg
|
Fiber:
2.2
g
|
Calcium:
40
mg
|
Iron:
1.4
mg
Nutritional information is provided as an estimate. As it can vary due to many factors (brands used, quantities, etc.), we cannot guarantee its accuracy.
Food Safety and Nutrition Disclaimer