Freezer breakfast burritos make a hearty breakfast loaded with eggs, fluffy potatoes, cheese, bacon, ham, and more. This easy, make-ahead breakfast recipe is great to have on hand for busy days!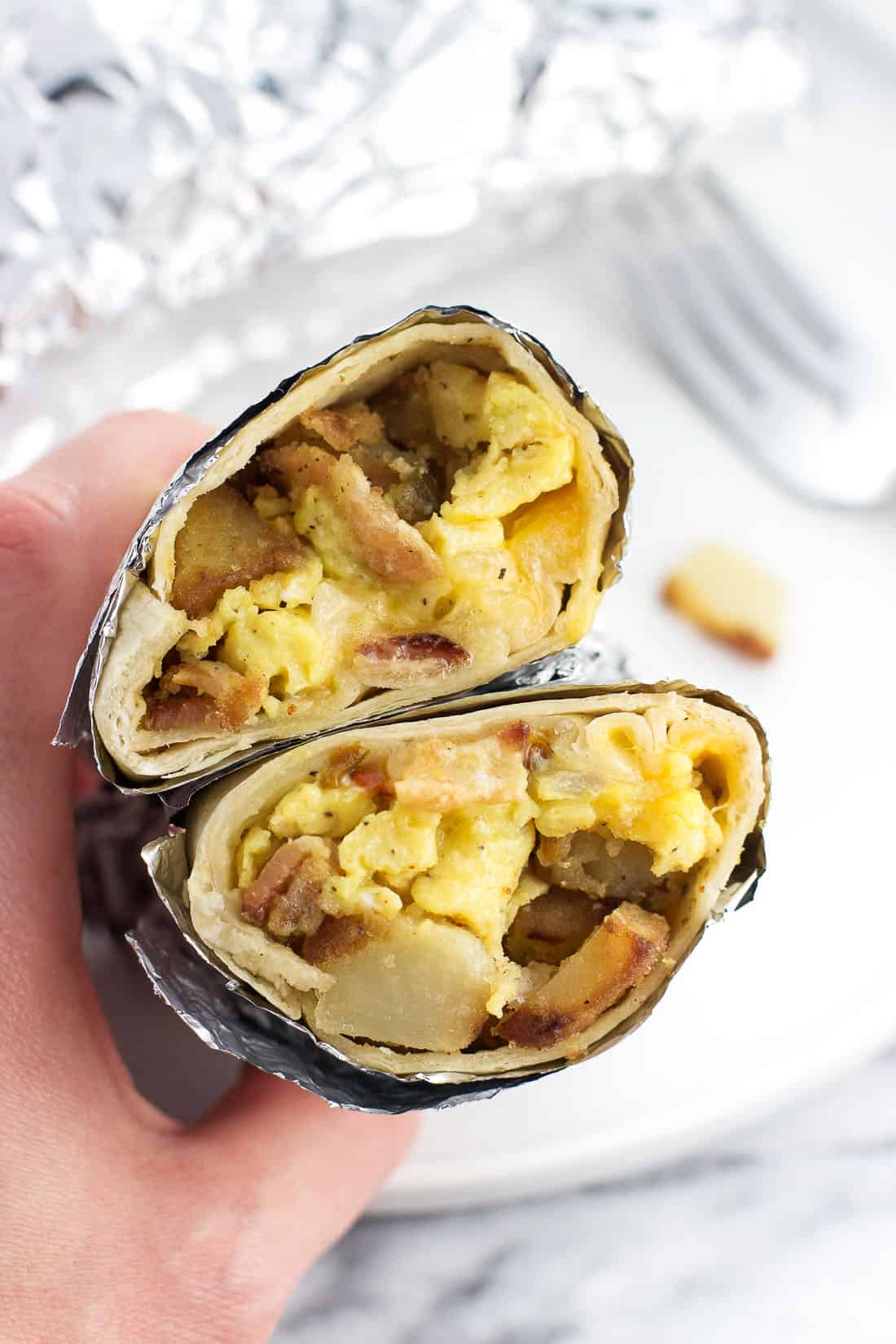 If there ever was a type of food that works for any meal of the day, I'd say it's the breakfast burrito. Even though breakfast is in its name, its perfectly savory and customizable nature combined with its mix of carbs and protein makes it (in my opinion, of course) an awesome lunch or dinner, too.
I used to work near a taco shop that made some of the best breakfast burritos I've eaten. Sometimes the promise of walking down the street to get a breakfast burrito for lunch would be the only bright spot in my otherwise blah work day.
I no longer work there and have seriously considered driving back just to get a burrito. Thankfully good sense took over and I've since started recreating my old favorite.
Since it wouldn't be time effective to make one burrito at a time, I prepped ten of these freezer breakfast burritos in an afternoon to have on hand for breakfasts, lunches, and dinners. Be sure to scroll down to learn how I reheat my breakfast burritos from frozen in just a few minutes time.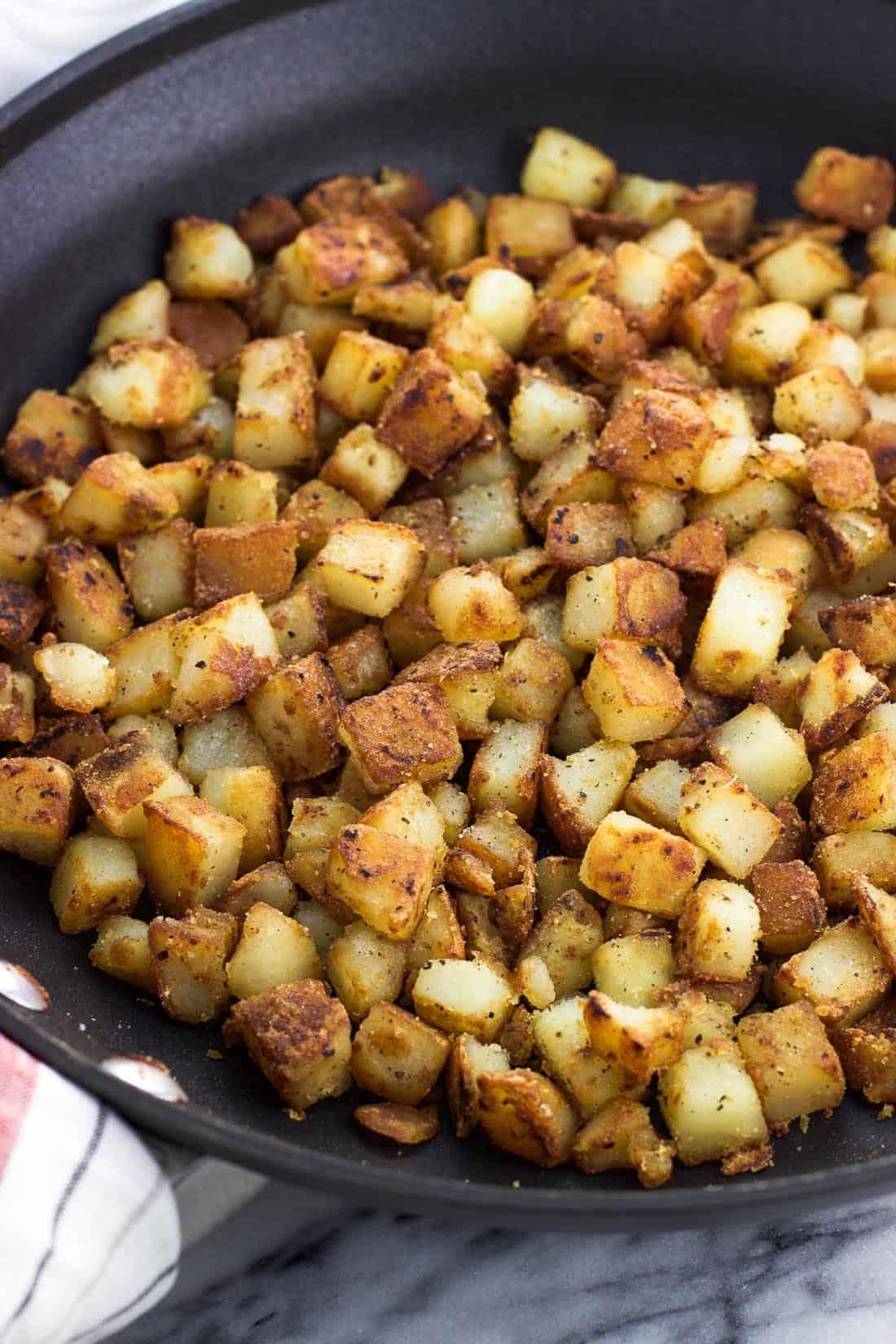 Filling ingredients
There are lots of different ways to customize the breakfast burrito of your dreams, but my go-to version (this recipe here) sticks pretty close to its taco shop inspiration. This version includes:
scrambled eggs
crisp yet fluffy breakfast potatoes
sauteed onion
jalapeno pepper
ham
bacon
shredded cheese
First things first, let's talk about those potatoes.
Why and how do I parboil potatoes?
I totally get it. Parboiling the potatoes before chopping and sautéing is just another step to do and pot to wash. I'm all for simplifying things in the kitchen.
But! Parboiling, or boiling the potatoes in salted water until they're part-way tender, helps them achieve a crisp exterior and fluffy soft interior once sauteed over a relatively high heat. All good qualities for potatoes that will be in a burrito filling.
It wouldn't be the end of the world if you don't parboil them, but the time and work is worth it to have a cohesive and satisfying burrito.
To cut down on assembly time, I've even parboiled the potatoes a day ahead of making the burritos, simply chopping and sautéing prior to cooking the eggs and continuing with the recipe.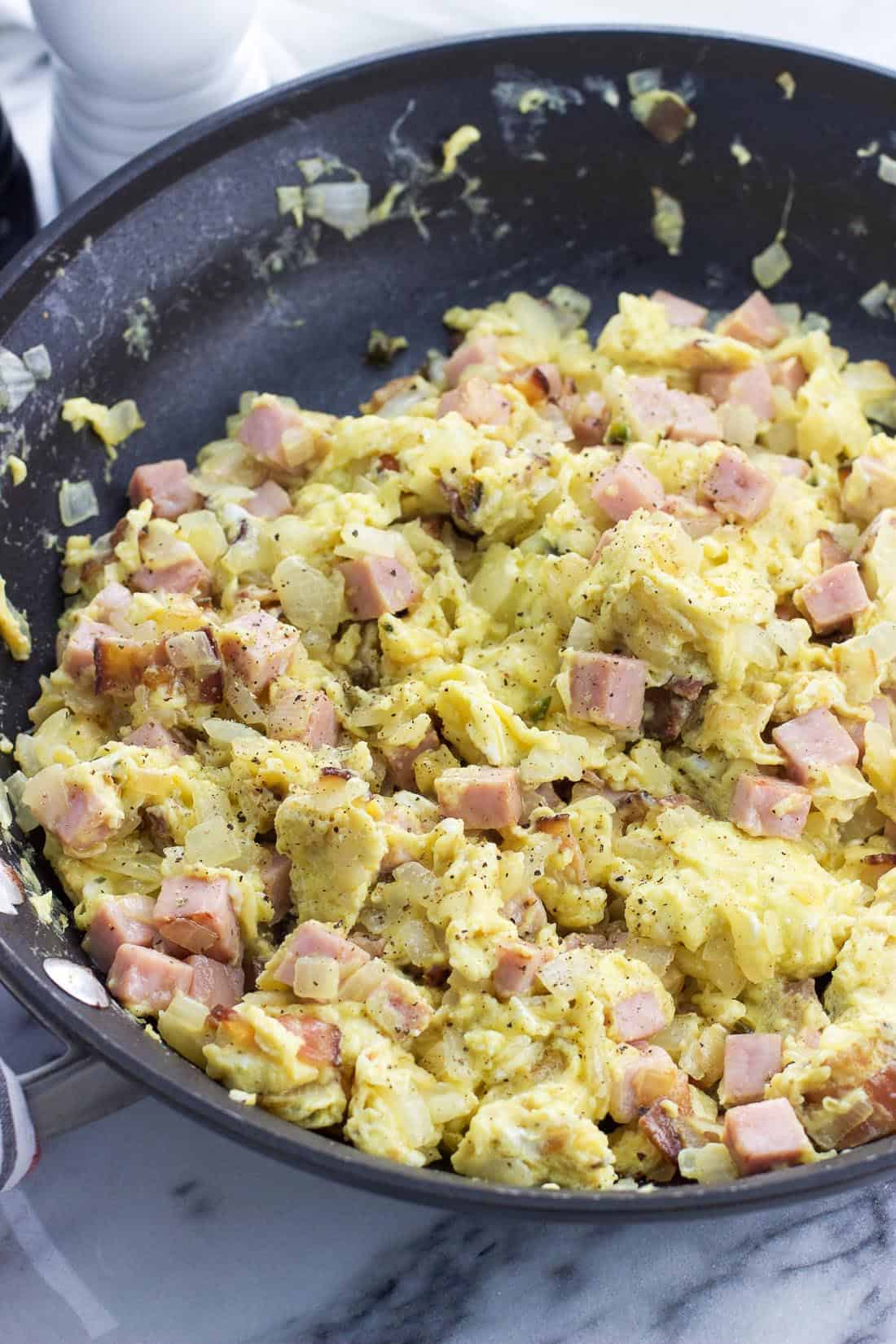 Recipe steps
The potatoes parboil in a large pot of water, but once that's done, the rest of the filling cooks up in just one large skillet.
First saute the parboiled potatoes until they're golden-brown and crisp on the outside. Remove them to a separate plate, then saute the onion, diced jalapeno, and ham and add in the already cooked and crumbled bacon. <–That's another make ahead step.
Once all that is ready, in go the beaten eggs. I add a tablespoon of milk to my eggs when I'm whisking them as that helps them become fluffy when they're scrambled.
The pan will be nice and hot so it doesn't take long for the eggs to cook at all. Just a minute or two. Go around the outside of the pan with a spatula and scrape them into the center to scramble them perfectly.
All that's left is to add the shredded cheese to the filling when you fold the tortilla up.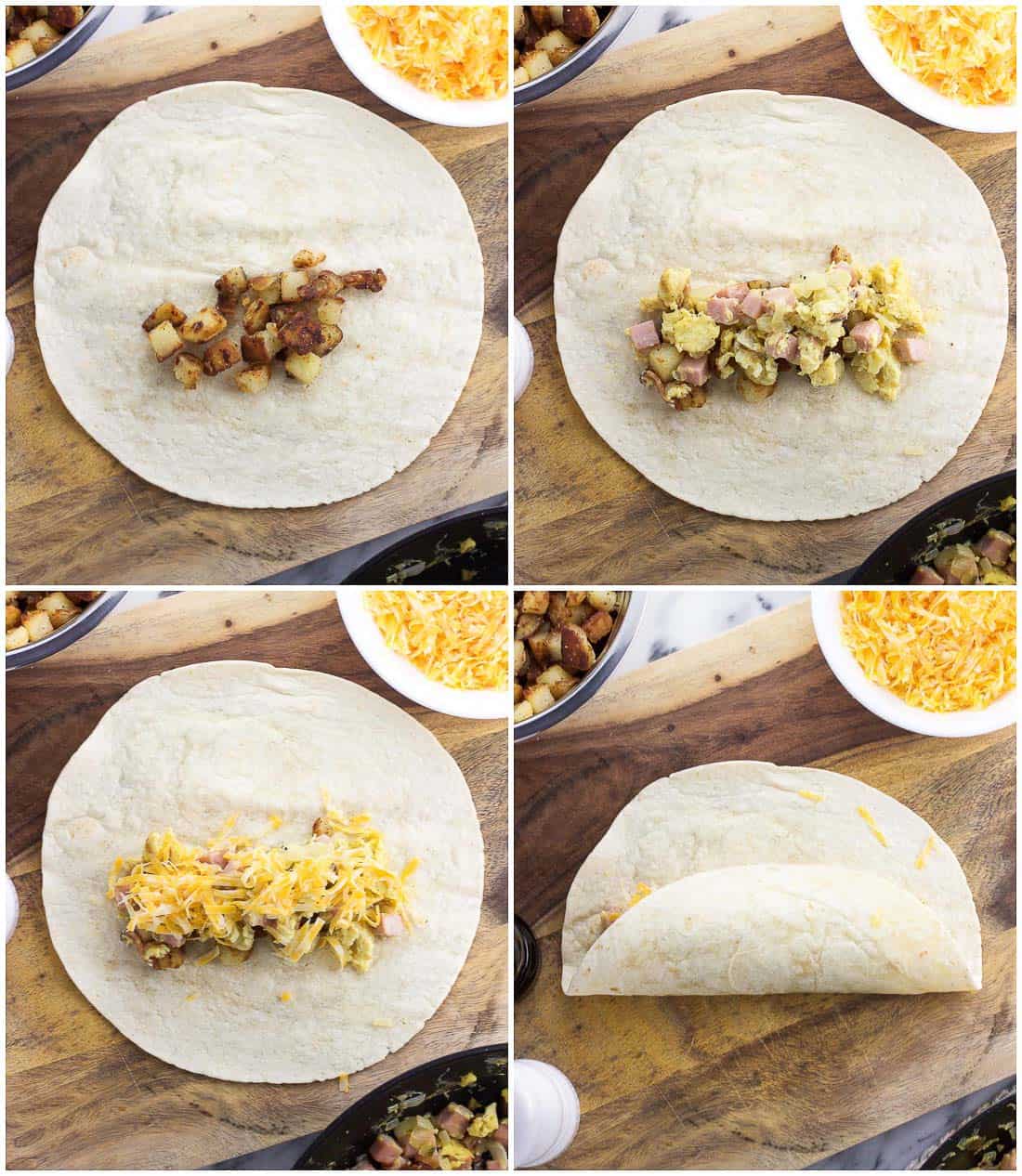 How to fold a burrito
Now comes the fun part: assembly. Well, not really fun I guess because I struggle with wanting to add too much filling and having the whole thing become a mess. But you know what I mean.
I tried to capture the folding steps in the last picture above, though it's a little bit hard to fold and photograph at the same time. 🙂 Once your fillings are laid horizontally on the tortilla with a margin around the ends, you'll fold up the bottom half horizontally. Use the bottom edge to tuck under the filling a bit and push it back towards you, making it snug in there.
Then fold each side up and hold the edges down snugly as you roll the burrito up. Stack these freezer breakfast burritos with the seam side down to hold them in place as you prep the rest of the batch.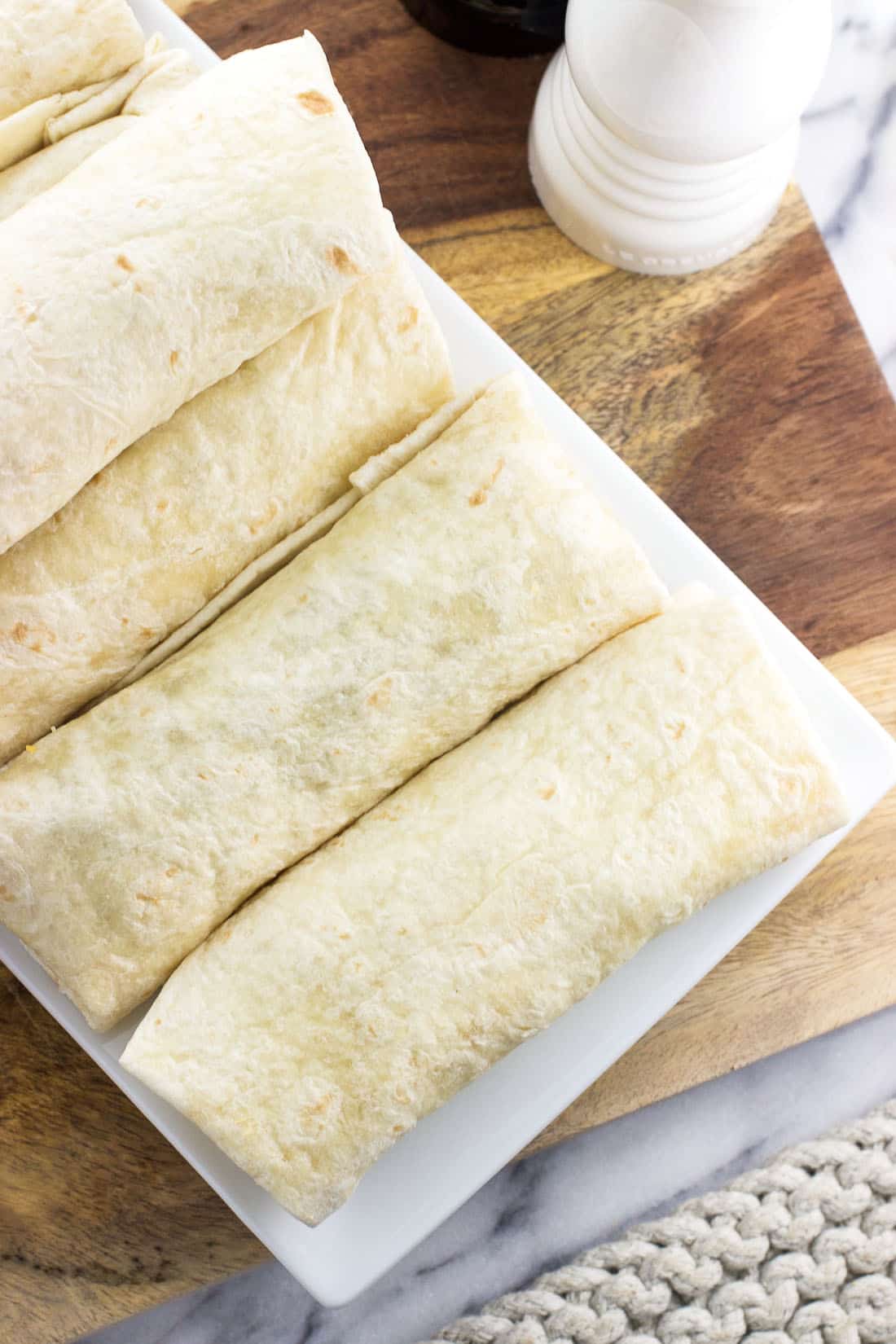 I like to wrap each burrito in aluminum foil, and place them in a jumbo plastic bag in the freezer. I've been toying around with the idea of ditching the foil and simply storing them in the bag without any covering, but I'm afraid they might stick together and be a pain to separate once frozen. Choose your preferred method though.
Reheating frozen breakfast burritos in the microwave
My favorite method to reheat freezer breakfast burritos is in the microwave. The best part about it is that you don't even need to thaw them beforehand. They can go right from freezer to microwave.
Remove the frozen breakfast burrito from the foil and wrap it in a paper towel. Place it on a plate and microwave for five minutes on half-power. Let stand for a minute or so to cool before eating.
That's it! No need to plan ahead for defrosting. All microwaves vary a bit so adjust as needed. In my microwave this results in the filling being thoroughly warmed throughout without bursting out and becoming messy.
Reheating frozen breakfast burritos in the oven
Though it'll take longer than with the microwave, you can easily reheat these freezer breakfast burritos in the oven. Just keep them wrapped in foil and stick them in the oven until the filling is heated throughout.
This method takes a bit longer than you might like for breakfast to be done, so if you don't have a microwave, I'd stick a burrito in the fridge the night before you'd like to eat it. This way it's thawed a bit and will cook faster.
Recipe notes
The filling ingredients can certainly be tweaked depending on what you like and have on hand. Crumbled breakfast sausage, chorizo, salsa, your favorite cheese, etc. can be subbed in as you see fit.
You can also use ghee for cooking the potatoes. I use it in my homemade sweet potato hash browns and love its flavor here.
Freezer Breakfast Burritos
Freezer breakfast burritos make a hearty breakfast loaded with eggs, breakfast potatoes, bacon, ham, and more. This easy make-ahead breakfast recipe is great to have on hand for busy days!

Print
Pin
Rate
Ingredients
For the potatoes:
1.75

lbs

russet potatoes

(about 4 potatoes)

4

tbsp

olive oil

Salt,

to taste

Ground black pepper,

to taste
For the rest:
2

tbsp

olive oil

2

large

onions,

diced

8

oz

boneless ham steak,

diced

1

jalapeno pepper,

seeds removed and diced

6

slices

bacon,

cooked and crumbled

6

eggs

1

tbsp

milk

(any)

1/2

tsp

salt

1/4

tsp

ground black pepper

10

large

flour tortillas,

either 10" or 12"

3.5

oz

shredded colby jack cheese

(about 1 1/2 cups) or your favorite cheese
Instructions
Parboil the potatoes:
Bring a large pot of water to a boil. Add 1 tbsp of salt to the water once boiling, then add potatoes.

Boil until the potatoes are becoming tender but aren't all the way there, about 14-15 minutes. Carefully remove the potatoes from the hot water and place on a dish towel or paper towels to dry.
Cook the potatoes:
Once the potatoes have dried, dice them into cubes approximately 1/2" wide. Add oil a large skillet set over medium-high heat. Once the oil is heated add potatoes and arrange in an even layer.

Let potatoes cook for 15-20 minutes, or until browned on most of the sides. Stir up the potatoes frequently so that all sides get a chance to be flat against the pan. Drizzle additional oil over top as needed, and season to taste with salt and pepper.
Cook the rest of the filling:
Once browned nicely, remove potatoes to a plate and wipe out the pan. Set the pan back on the stove over medium-high heat and add 2 tbsp of oil. Once heated add diced onion and cook for 5-6 minutes, or until becoming golden.

Add cubed ham and diced jalapeno to the pan with the onion and and stir. Cook for a 3-4 minutes, or until the ham is becoming browned.

Meanwhile crack eggs into a mixing bowl and add milk. Whisk until smooth and combined. Add chopped, cooked bacon to the pan with everything and pour the eggs over top.

Using a spatula, push the egg mixture from the edges of the pan to the center. Repeat all around the pan, allowing the uncooked egg to navigate into the empty parts of the pan to cook. Remove the pan from the heat once the eggs are scrambled and cooked.
Assemble the breakfast burritos:
Place a large tortilla on a flat surface. Scoop a few tablespoons of potatoes onto the center of the tortilla, in a roughly horizontal arrangement. Over top scoop about the same amount of the scrambled egg mixture. Top with shredded cheese. Make sure you leave a good inch and a half of buffer room on the left and right sides.

Fold the bottom portion of the tortilla up and even with the top, as if you were going to fold it in half. Using the bottom half of the tortilla, scrape it back to "scrunch" the filling down to become snugly tucked into the center of the tortilla. Hold the tortilla in place.

Fold the left and right sides of the tortilla in, and then begin rolling the burrito up, ensuring the sides stay tucked in and all of the filling is snug in there. Repeat for the remaining ingredients.

Wrap each burrito in foil and refrigerate or freeze.
Cook the burritos:
Oven: Heat oven to 350°F and place foil-wrapped burrito(s) right on the oven rack. Cook for 20-25 minutes, or until filling is heated throughout.

Microwave: Unwrap frozen burrito and discard the foil. Wrap the burrito in a paper towel and place on a microwave-safe plate. Microwave on 50% power for 5 minutes, or until heated throughout.
Notes
Heating instructions are for frozen burritos. Decrease time accordingly if thawed.
Nutrition
Serving:
1
burrito
|
Calories:
487
kcal
|
Carbohydrates:
50.2
g
|
Protein:
18.1
g
|
Fat:
23.3
g
|
Saturated Fat:
7.2
g
|
Cholesterol:
124
mg
|
Sodium:
1157
mg
|
Potassium:
486
mg
|
Fiber:
3.4
g
|
Sugar:
2.9
g
|
Calcium:
270
mg
|
Iron:
3.1
mg
Nutritional information is provided as an estimate. As it can vary due to many factors (brands used, quantities, etc.), we cannot guarantee its accuracy.