Easy, four ingredient blueberry chia seed jam that comes together in 15 minutes. No added sugar!
Not to be a downer on your Monday morning, but let's talk about something semi-distressing in the kitchen – forgetting about something perishable in your fridge. Grocery shopping over the past few weeks here in Nashville has been an adventure thanks to Mother Nature. It took a few trips of musing to Brian that the bread/milk/produce situation looked a little grim and WHY oh why were the check-out lines so crazy to figure out it was all due to the forecast for a few days of icy weather. Well, duh!
I guess a few years of living in San Diego has made my memory foggy.
Anyway, the produce on my grocery list promptly went out the window and I improvised and bought blueberries, which were off-list, but on sale and actually looking fresh. Then I brought them home and forgot about them in the fridge for…awhile.
So when they surfaced looking a little wilty later on, I knew exactly what was in store for them. Jam!
My homemade strawberry chia seed jam immediately popped in my mind – and for good reason! It's easy (seriously easy), quick, and healthy, with no added sugar. So I made a blueberry version that saved my wilted blueberries from hitting the garbage and brought new light to my breakfast. I may or may not have done a little happy dance in the kitchen because I haaaate wasting food. This jam was Alyssa 1, garbage can 0. Yeah yeahhhh!
Really the only ingredient you may not have in your kitchen RIGHT this very second might be blueberries (or chia seeds, though if you buy those once you'll have them for a long time to come!). I'm a relative newbie when it comes to chia seeds, but those little guys have been a welcome addition to our kitchen. For starters they're rich in omega-3s and fiber, along with a host of other nutrients. They work perfectly in jams like this or in quick breads (recipe coming soon!) – you can't even taste 'em!
So to recap, 4 ingredients + 15 minutes = no-sugar-added blueberry jam with a hint of lemon flavor, packed with chia seeds. Aka your English muffin's new BFF. ♥

Blueberry Chia Seed Jam
Easy, four ingredient blueberry chia seed jam that comes together in 15 minutes. No added sugar!
Yield:
Approx. 1 cup of jam
Ingredients
1 cup blueberries
2 1/2 tbsp lemon juice
1/4 tsp vanilla extract
1 1/2 tbsp chia seeds
Instructions
Place blueberries and lemon juice in a small saucepan set over medium heat. Once fruit is heated, mash fruit using the back of a wooden spoon (or a meat tenderizer - whatever works!) and stir until mixture is just barely bubbly. This took about 5-6 minutes for me.
Add vanilla extract and chia seeds. Stir a few times, then cover saucepan and remove from heat. Let jam thicken for 5-10 minutes. Store jam in an airtight container in the refrigerator.
If you're feeling ch-ch-ch-chia seeds (sorry), check out these recipes, too!
Homemade Strawberry Chia Seed Jam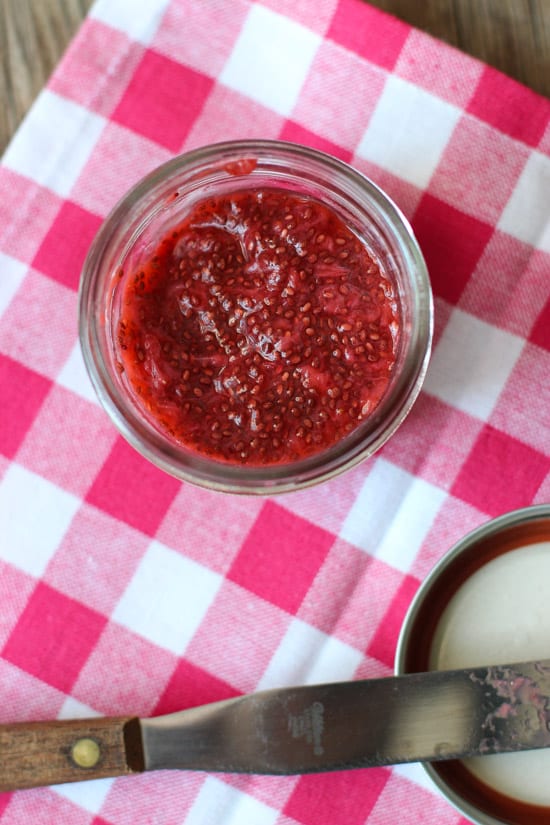 Maple Almond Butter with Chia, Flax, and Hemp Seeds by Bakerita
Strawberry Orange Ricotta Chia Seed Muffins by Flavor the Moments
Blueberry Banana Smoothie with Chia Seeds by Sweet and Delish