This blueberry chia jam is an easy, four-ingredient recipe that comes together in about fifteen minutes. There's no added sugar in this healthy blueberry jam!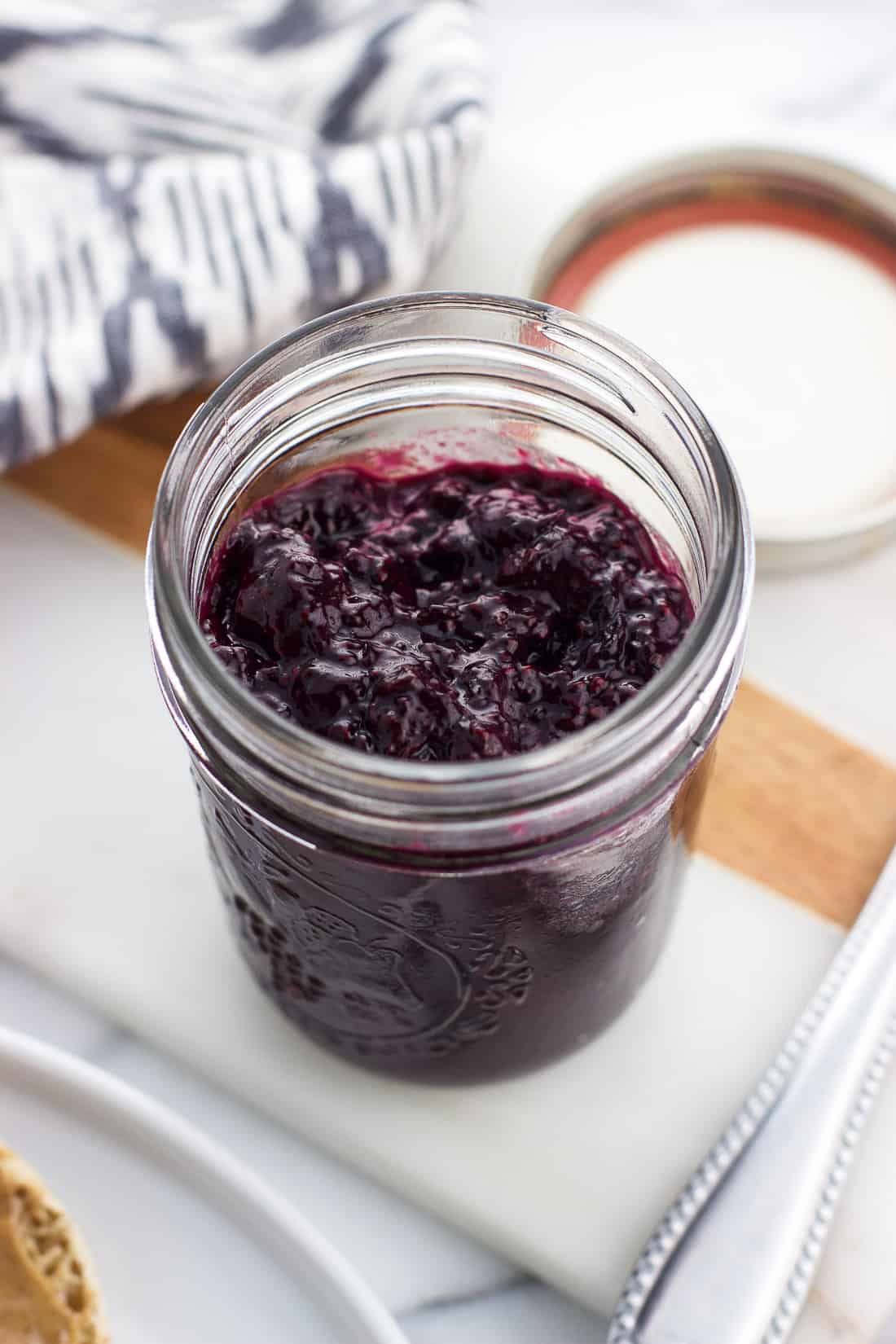 Despite making countless batches of chocolate peanut butter chia bars over the years, I somehow still have the majority of a two-pound bag of chia seeds hanging around the pantry.
Of course using them up one or two tablespoons at a time isn't going to put a big dent in them at once or anything, but I'm very thankful they have a long shelf life when kept in a cool, dry place.
That is, if I don't spill it first. It got frighteningly close to tipping over (while open, of course) the other day and I was petrified of seeing all those little seeds go bouncing around the kitchen. It was a close call.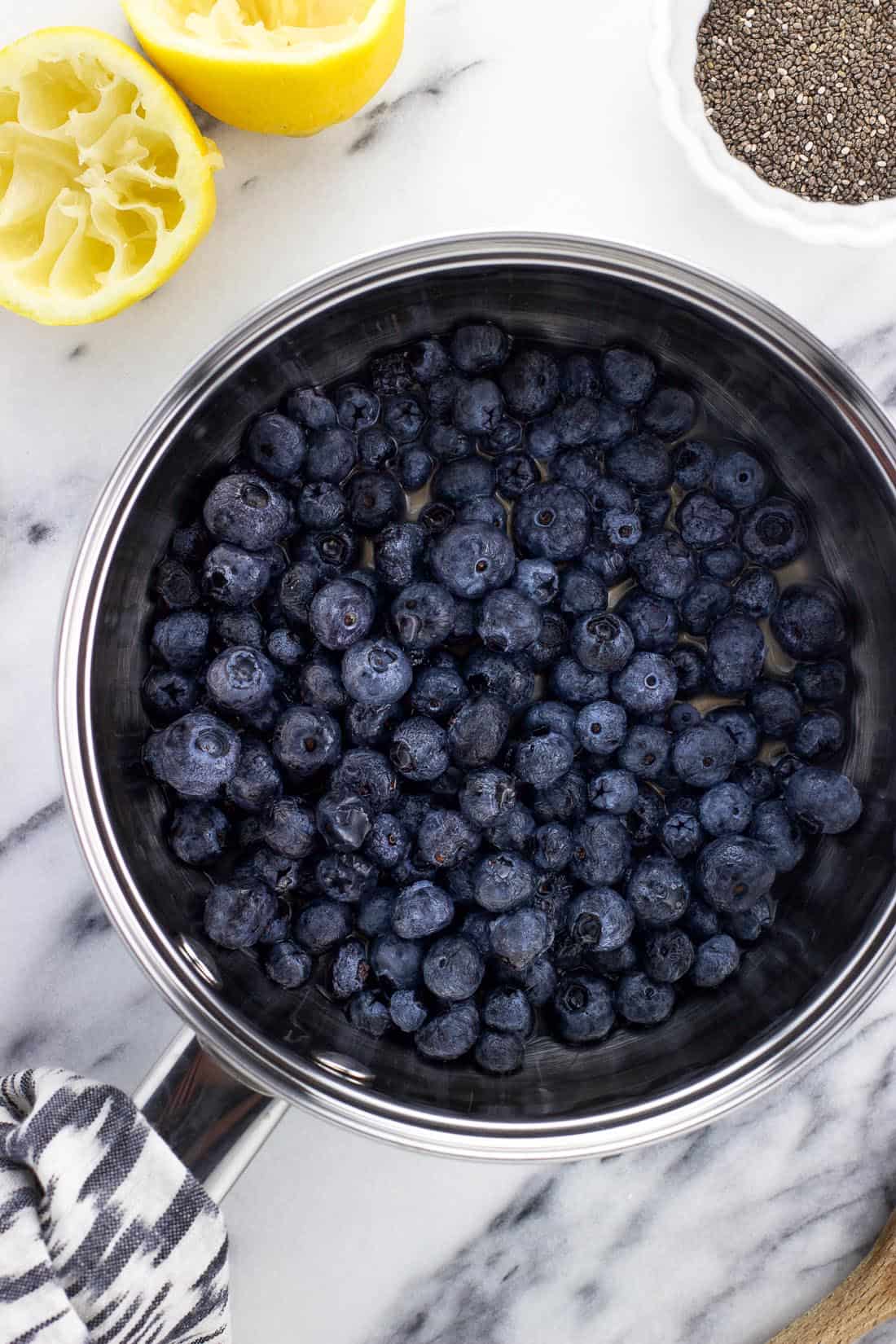 Besides chia bars and whole wheat banana chia muffins, one type of food I love to use chia seeds in is jams. EASY jams. Combine-ingredients-in-sauce-pan-and-refrigerate kind of jams.
Growing up I devoured the Little House on the Prairie book series, and, inspired by their robust and quite-necessary preserved food stockpile, thought I'd grow up to become a prolific canner like the Ingalls.
So...that never happened. I'd love to learn the ins and outs of canning from a canning pro some day, but in the meantime I'm all about refrigerator jams like this one.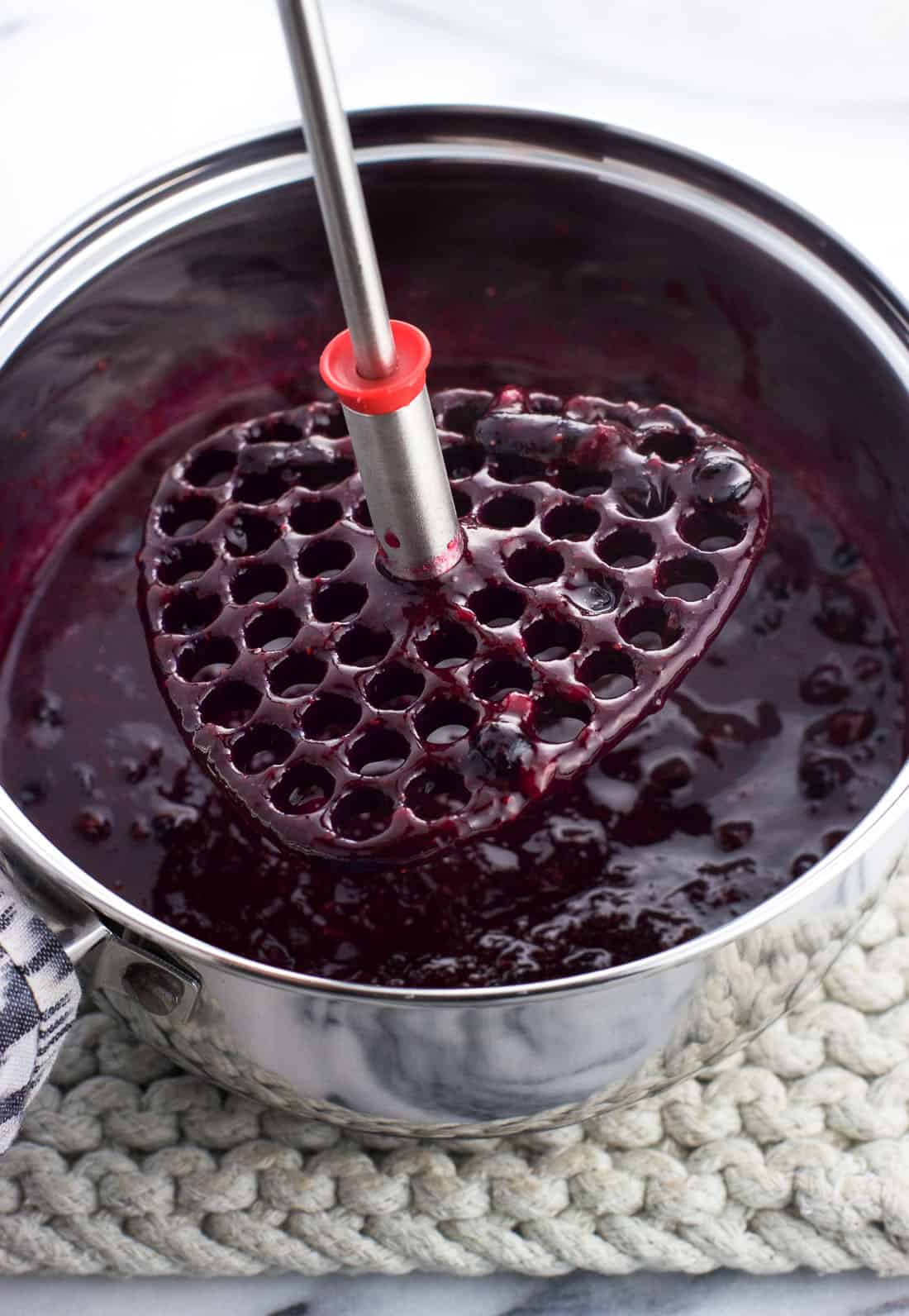 Since we don't have the longevity of canned jam on our side here, we're at the mercy of how long this blueberry chia jam will stay in the refrigerator.
I've found that this jam will stay for at least two weeks in the fridge, perhaps more if it lasts that long before being eaten. Making fairly small batches of refrigerator jam like this one, which yields approximately one cup of jam in total, helps prevent waste as you're more likely to use it all up before it would spoil.
Of course, if you're feeding a crowd or have plans to use a lot of jam (crumb topping jam bars, perhaps?), you can certainly double, triple, etc. the ingredients here pretty easily.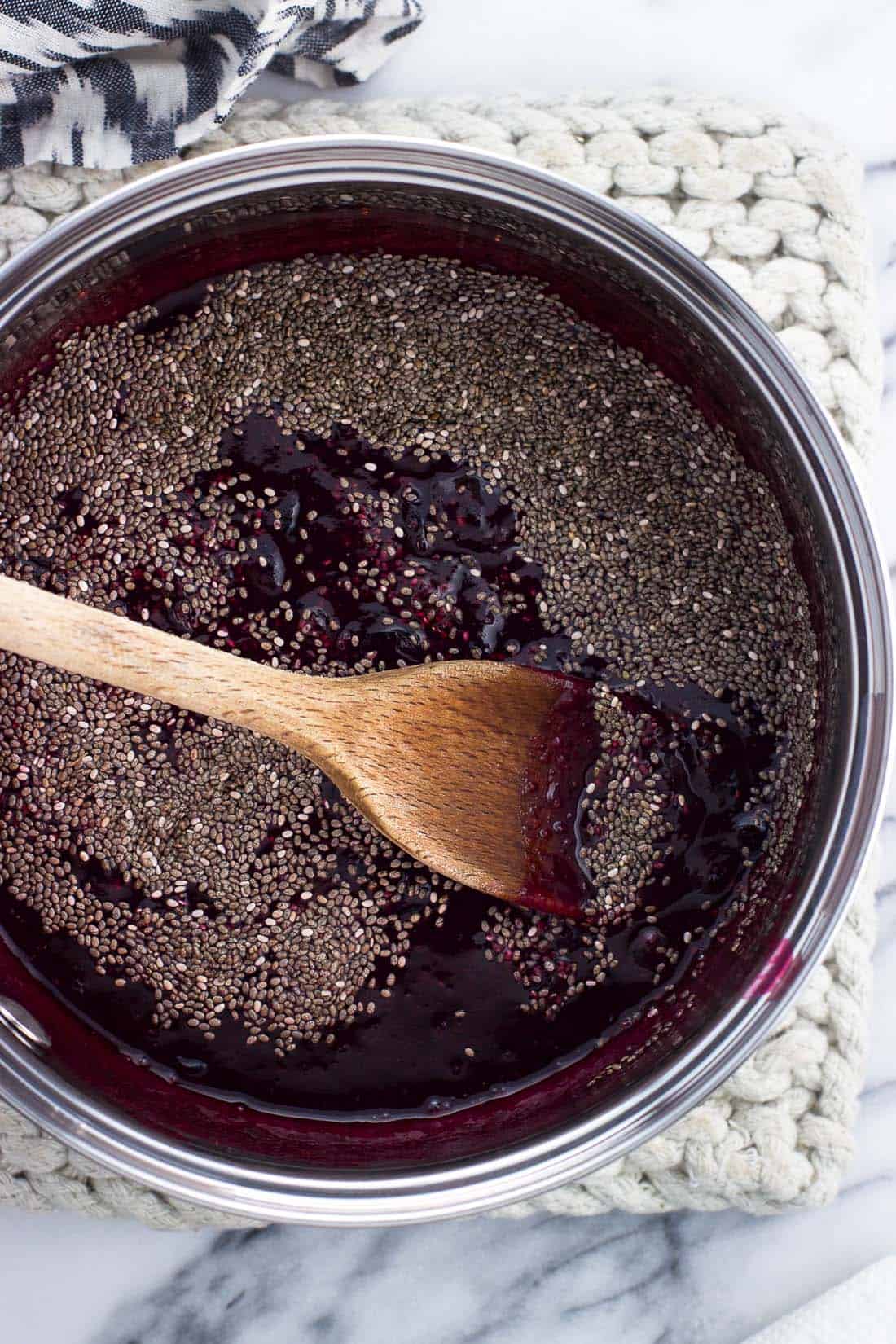 This blueberry chia jam recipe is great for using up blueberries that have become slightly past their prime. Still good to use in recipes, of course, but just a little bit beyond grabbing handfuls and eating them straight up.
Easy recipe steps
The blueberries are added to the saucepan with lemon juice - about the amount from one large lemon. The lemon juice adds a wonderful burst of citrus that pairs so nicely with the sweet/tart blueberries. There's a reason why lemon blueberry is such a popular dessert flavor, right?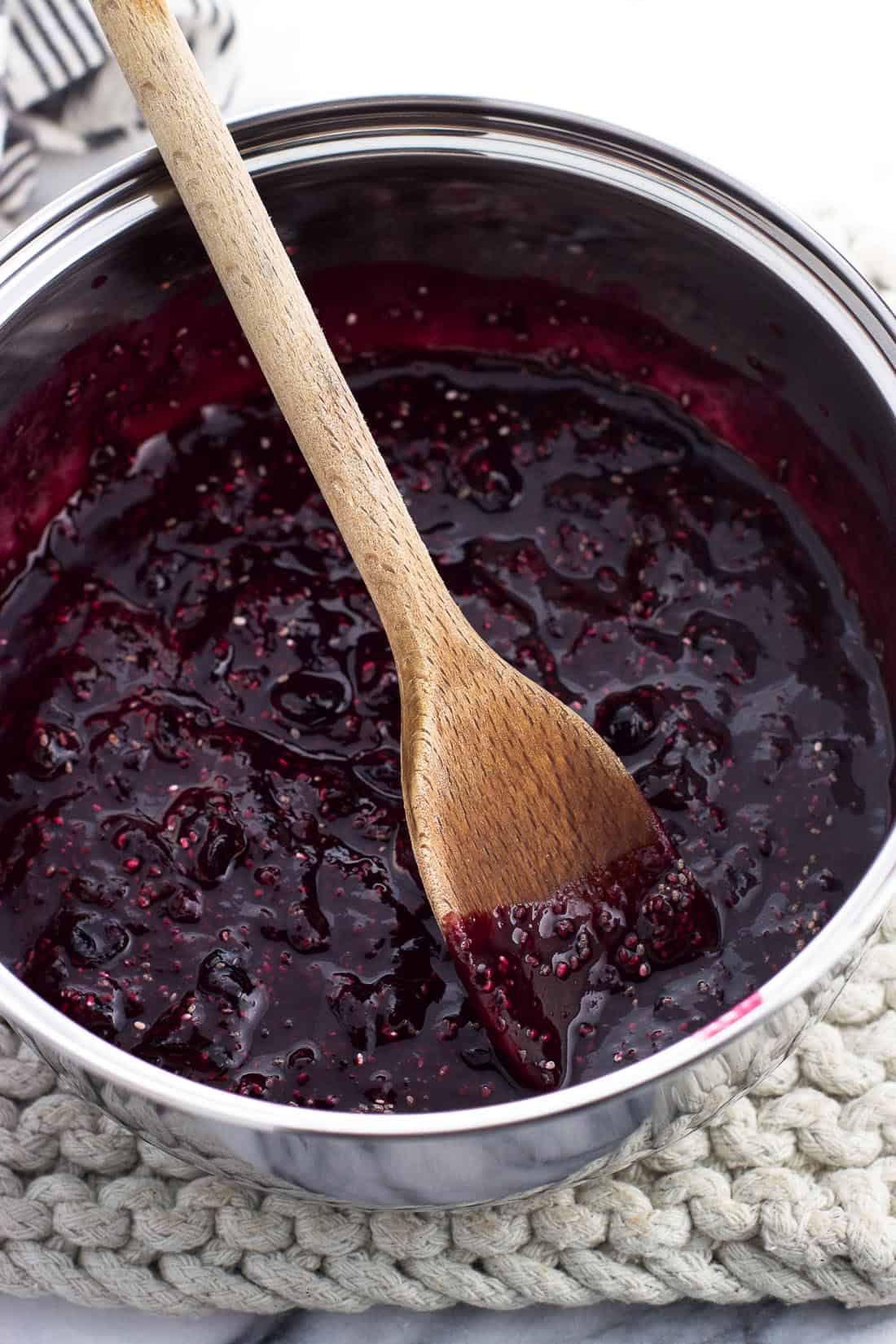 Once the blueberries begin to heat, it's time to mash. I used my potato masher to break down the blueberries as best as I could. The mixture won't get 100% smooth, and that's okay. In fact I really enjoy the chunkiness of the blueberry bits in the final product as they added to the heartiness of this jam.
After it's mashed to your liking, remove the saucepan from the heat and stir in the vanilla extract and chia seeds. The blueberry chia jam will thicken as the pan sits at room temperature for five to ten minutes, and then it's ready to be transferred to a jar or container and refrigerated.
It's that simple.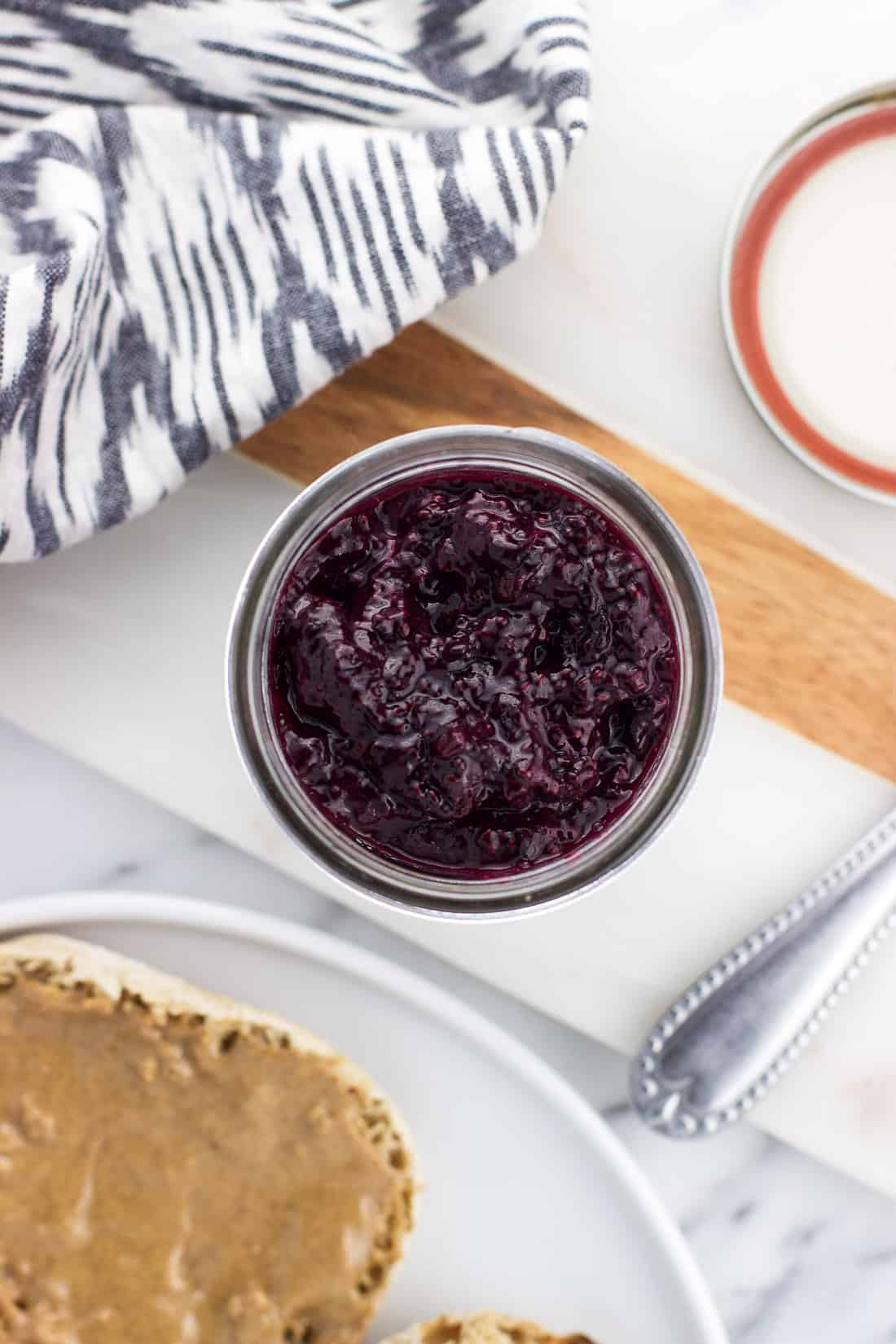 Chia seeds, if you're unfamiliar, are tiny seeds rich in omega-3 fatty acids, fiber, and other vitamins and nutrients. They're a popular choice in jam and pudding recipes because they become gelatinous when mixed into liquids.
One-and-a-half tablespoons of chia seeds are used in this recipe, which is enough to help thicken the jam without overwhelming it or interfering with the jam texture. If you've ever seen a picture of chia pudding, you'll know what I'm talking about. Those tend to be chia heavy.
This blueberry chia jam is primarily blueberry jam, with the addition of chia seeds. Not the other way around. 🙂
Recipe notes
This isn't the sweetest jam you'll ever taste, rather it is fruit-centered and allows the fresh blueberry flavor to shine through. I love to pair it with peanut or almond butter on a toasted English muffin (pictured here).
For an extra bit of spice, add a shake or two of ground cinnamon along with the vanilla extract and chia seeds. It adds a great flavor to this

strawberry chia jam

, which also has a nice touch of honey.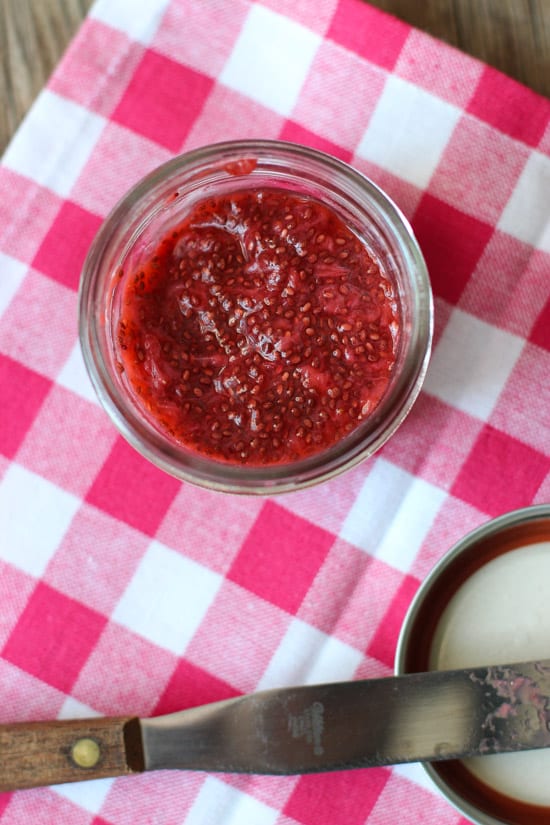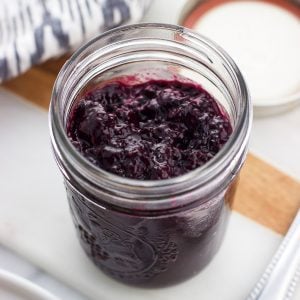 Blueberry Chia Jam
This blueberry chia jam is an easy, four-ingredient recipe that comes together in about fifteen minutes. There's no added sugar in this healthy blueberry jam!
Print
Pin
Rate
Ingredients
1

cup

blueberries

2 ½

tablespoon

lemon juice

(from approx. 1 large lemon)

¼

teaspoon

vanilla extract

1 ½

tablespoon

chia seeds
Instructions
Place blueberries and lemon juice in a small saucepan set over medium heat. Once fruit is heated, mash fruit using the back of a wooden spoon or a potato masher and stir until mixture is just barely bubbly, about 5-6 minutes.

Add vanilla extract and chia seeds. Stir a few times, then cover saucepan and remove from heat. Let jam thicken for 5-10 minutes. Store jam in an airtight container in the refrigerator.
Notes
This recipe yields approximately one cup of blueberry chia jam.
Keep jam refrigerated. It should say for at least two weeks, but probably longer. Mine hasn't lasted that long to find out!
Nutrition
Serving:
2
tablespoon
|
Calories:
23
kcal
|
Carbohydrates:
3.7
g
|
Protein:
0.7
g
|
Fat:
0.7
g
|
Sodium:
1
mg
|
Potassium:
31
mg
|
Fiber:
1.4
g
|
Sugar:
1.9
g
|
Calcium:
10
mg
|
Iron:
0.5
mg
Nutritional information is provided as an estimate. As it can vary due to many factors (brands used, quantities, etc.), we cannot guarantee its accuracy.
Food Safety and Nutrition Disclaimer
The photos in this post were updated in September 2018. Same great recipe!