Refrigerator pickled jalapeno peppers are spicy, tangy, and EASY, with no canning required. These crunchy pickled jalapenos make a great topping for nachos, hot dogs, enchiladas, tacos, and more!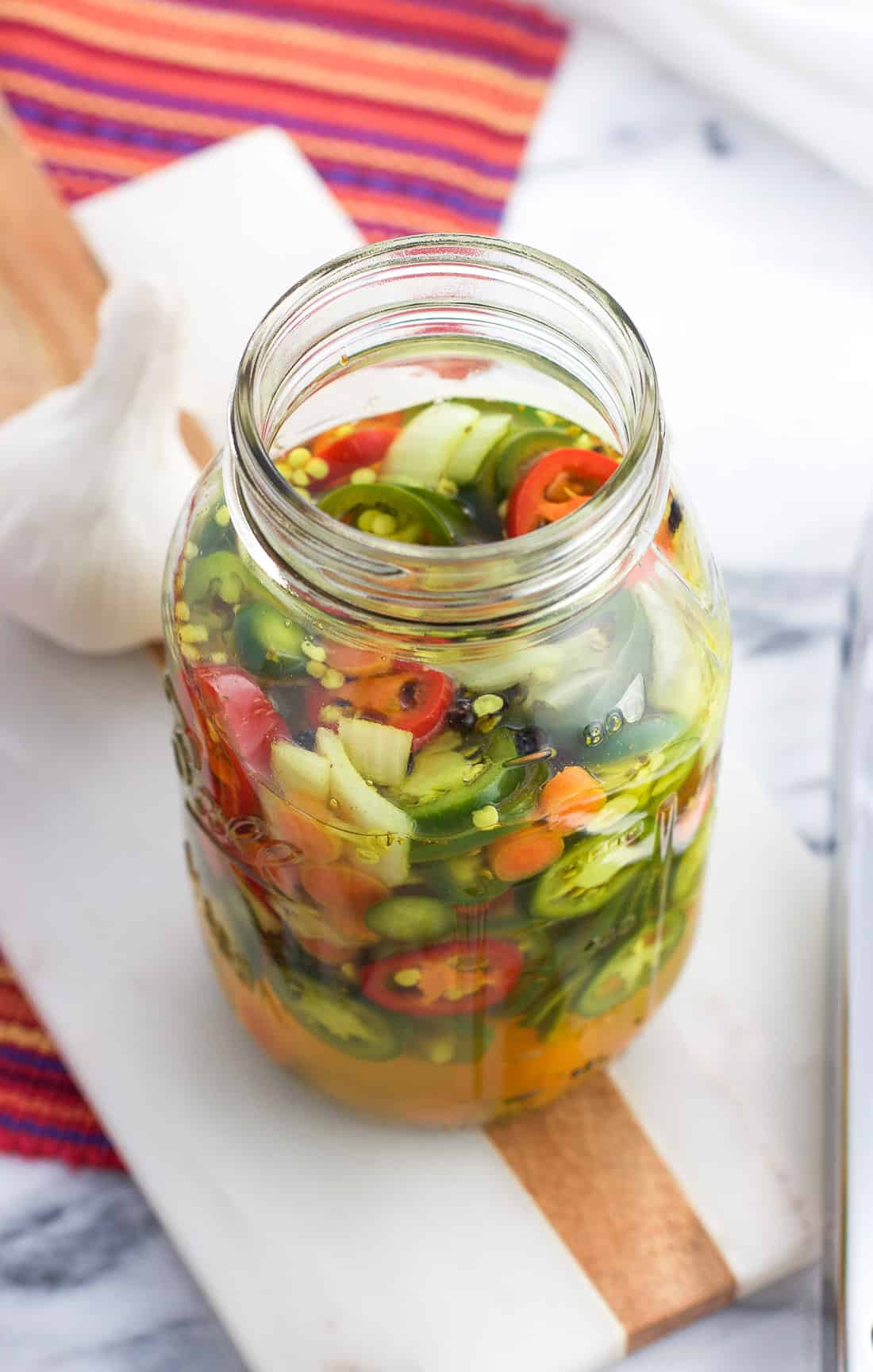 This year we planted two new vegetables in our backyard garden - Boston pickling cucumbers and jalapeno peppers.
I read that the cucumbers were a high yield plant, so I had grand plans of filling my refrigerator with all sorts of homemade pickles. On the contrary, my expectations weren't so high with the jalapenos. It would be fine by me if we produced just enough to spice up our semi-regular batches of pico de gallo.
Because Mother Nature does what she wants, after a promising start our cucumber plant withered in spectacular fashion, growing...things that more closely resembled kiwanos than cucumbers. And our jalapeno plant? Well it was super fruitful, of course!
Which is why instead of the homemade traditional pickles of my dreams, I'm sharing crunchy refrigerator pickled jalapeno peppers instead.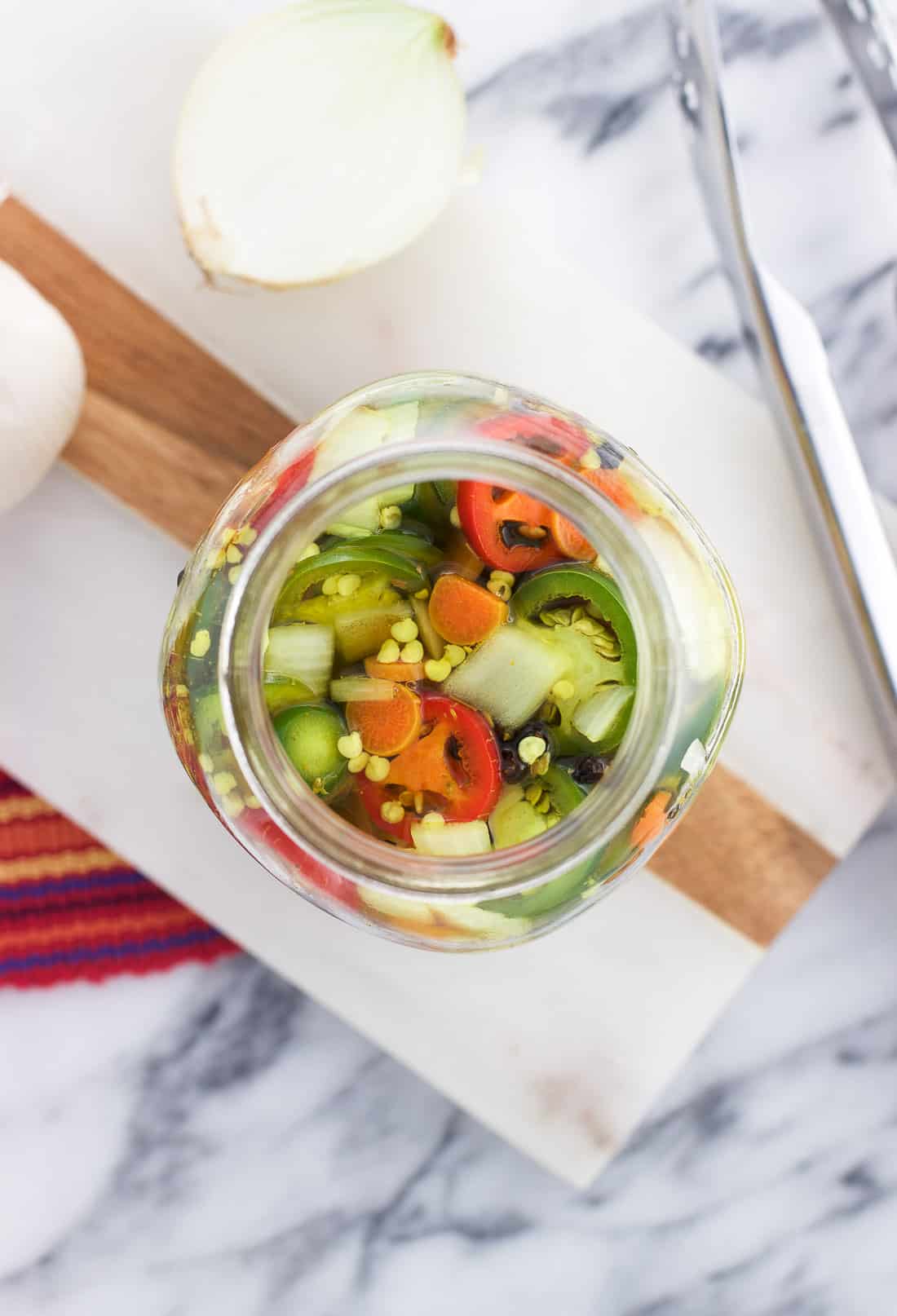 One of the best parts of this recipe (in my opinion) is that it's a quick refrigerator version of pickled jalapeno peppers. In just my last post for blueberry chia jam I talked about my inexperience with canning. Add pickled peppers onto that list of things I'll eventually learn how to can...maybe.
But for now, I couldn't be more pleased with this cheater's "refrigerator" pickled jalapeno peppers recipe. Peppers and an assortment of other vegetables go into the jar, the rest of the ingredients come to a boil on the stove top, and are then poured into the jar over everything. And that's it.
As time goes on, the jalapeno pepper slices will become tangy (thanks, vinegar and sugar!) and the spice will mellow slightly. Of course they'll still be spicy, but it won't be as sharp as biting into a raw jalapeno.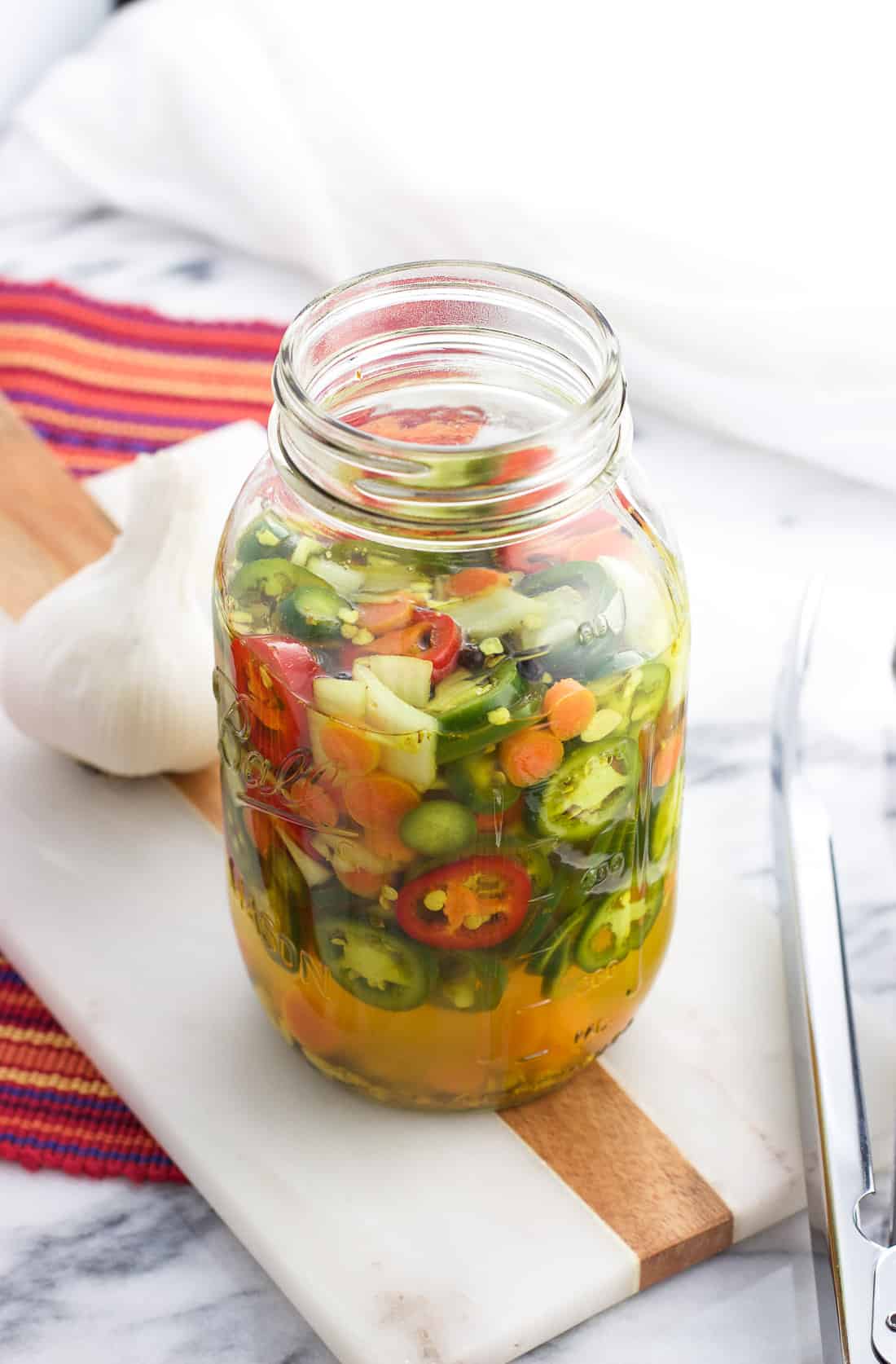 Pickled vegetable ingredients
I was at the mercy of how many jalapeno peppers my plant had ready for me, so I left the quantity of jalapenos variable in the recipe card below. Basically all you want is for the liquid to completely cover the jalapenos and anything else you've got in the jar.
You'll notice a few red pepper rings in the mix. Those are also jalapeno peppers, just ones I left on the plant too long and have turned red as they've fully ripened. Whoops! They're basically the same as the green jalapenos you'll find, if not a little hotter, so no need to try and replicate how this batch looks exactly. They do add a colorful twist, though.
Besides jalapenos, I like the contrast a few non-spicy vegetables add to this crunchy pickled jalapenos recipe. Diced onion and carrots did the trick in rounding out the flavor, and stood up to prolonged refrigerator pickling without becoming mushy.
The pickling liquid is comprised of water and vinegar, with sugar, kosher salt, black peppercorns, dried oregano, and turmeric added to round out the flavor. Ground turmeric is what's responsible for the golden hue of the pickling liquid, and it adds an earthy tone that meshes well with the rest of the flavors going on here.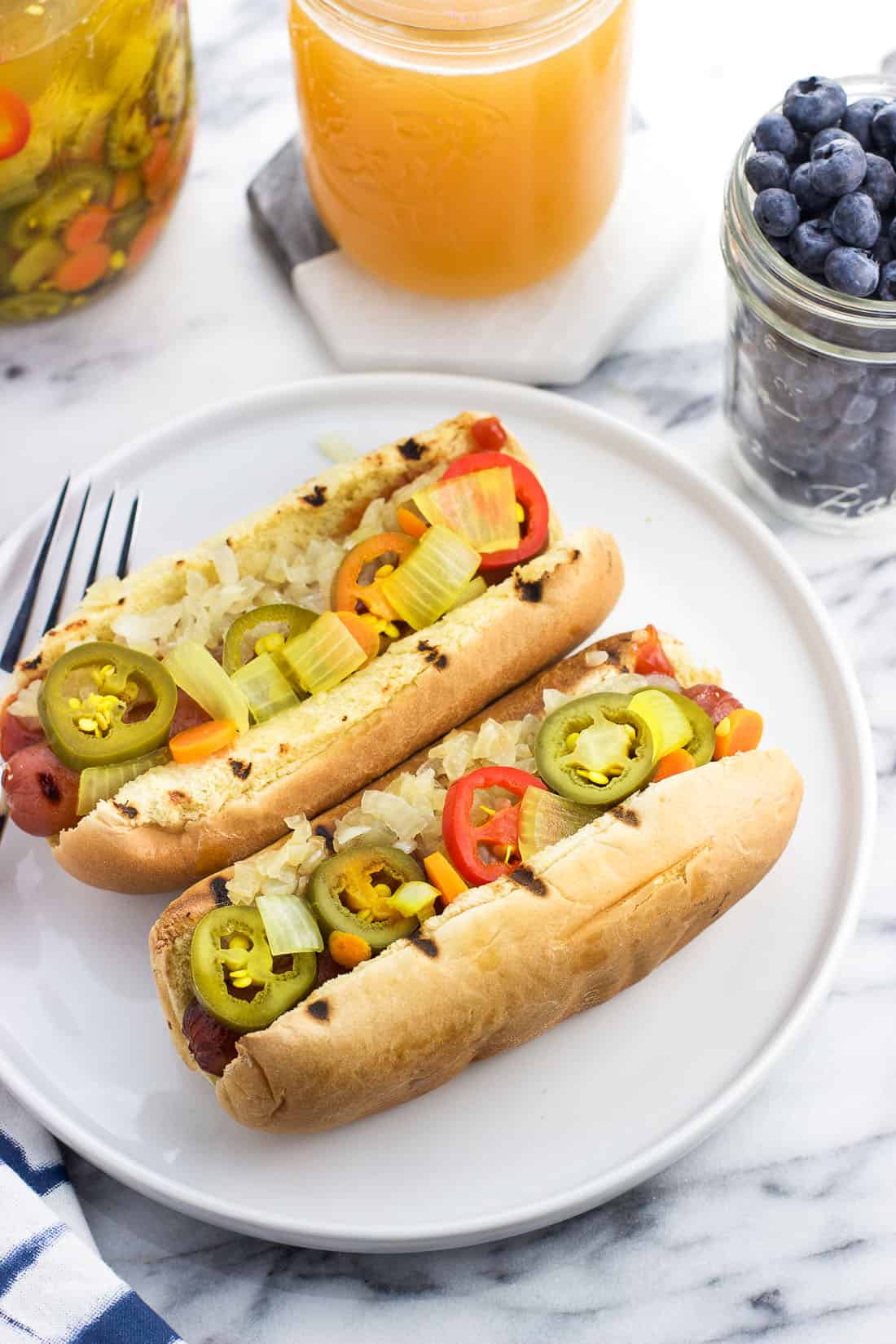 As you can see above, the pickled peppers/onions/carrots combination makes a great hot dog/grilled sausage condiment, and are a zingy, fun topping to nachos, baked enchiladas, tacos, etc.
Those are the ways we've been enjoying them so far. Let me know if you've found other ways we should try out!
Recipe notes
At the risk of sounding like a helicopter food blogger, this recipe notes section is full of warnings!
Please use gloves when slicing the peppers. My motto with this is "better safe than sorry" as the seeds and oil can not only leave your skin with a burning sensation, but can accidentally transfer to your eyes if you absent-mindedly touch them afterwards. This is all especially true when handling a lot of jalapenos at a time like you will be in this recipe.
Please remember this recipe is the quick cheater's version of pickled peppers made in the refrigerator. These pickled peppers are meant to be stored in the fridge at all times. They're not shelf-stable as traditionally canned versions would be. That said, these peppers should be just fine in the fridge for several weeks.
More summer side dishes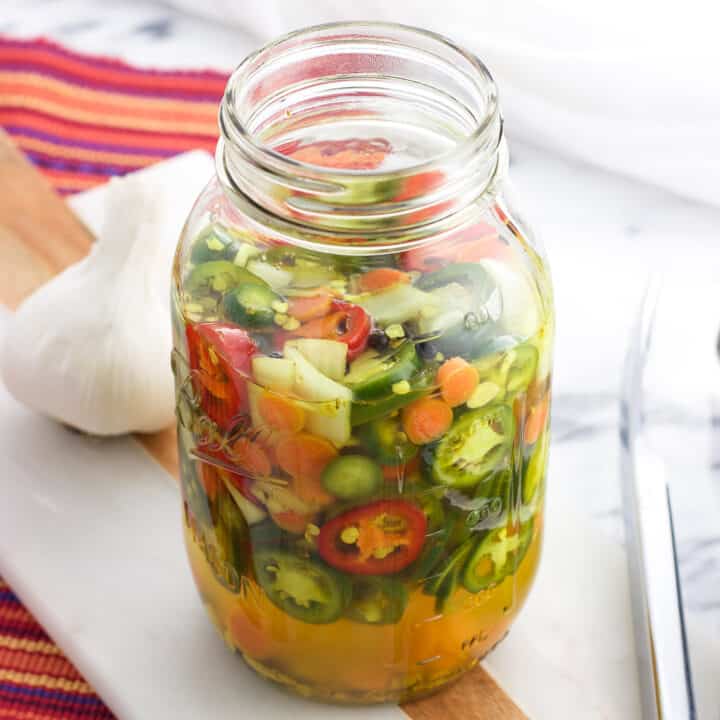 Refrigerator Pickled Jalapeno Peppers
Refrigerator pickled jalapeno peppers are spicy, tangy, and are EASY - no canning required. These crunchy pickled peppers make a great topping for nachos, hot dogs, enchiladas, tacos, and more!

Print
Pin
Rate
Ingredients
8-10

oz

jalapeno peppers,

sliced

½

small onion,

chopped

5

baby carrots,

sliced

2

cloves

garlic,

crushed and chopped

¾

cup

water

¾

cup

white vinegar

2 ½

tablespoon

granulated sugar

1

tablespoon

kosher salt

1

teaspoon

black peppercorns

½

teaspoon

dried oregano

⅛

teaspoon

ground turmeric
Instructions
Using disposable gloves, slice jalapenos, onion, and carrots and place in a large glass jar. Crush garlic and add to jar as well.

Add water, vinegar, sugar, salt, peppercorns, oregano, and turmeric to a small saucepan set over high heat. Bring to a boil and stir so that sugar and salt are dissolved.

Once boiling, carefully pour into the jar over the jalapenos/onion/carrots. Let jar sit out to cool down some for about 15-20 minutes, then place the lid on and refrigerate. Keep stored in the refrigerator.
Notes
This is not a traditionally canned version so these peppers must be stored in the refrigerator at all times.
Nutrition
Nutritional information is provided as an estimate. As it can vary due to many factors (brands used, quantities, etc.), we cannot guarantee its accuracy.
Food Safety and Nutrition Disclaimer
Base recipe adapted from allrecipes.