This cucumber, tomato, and onion salad is marinated for hours (ideally overnight!) to develop the BEST bold flavor that only gets better with time. A few simple tricks along the way ensure you get a balance of seasoned tang and a touch of sweetness. It's a perfect make-ahead salad for warm weather get-togethers.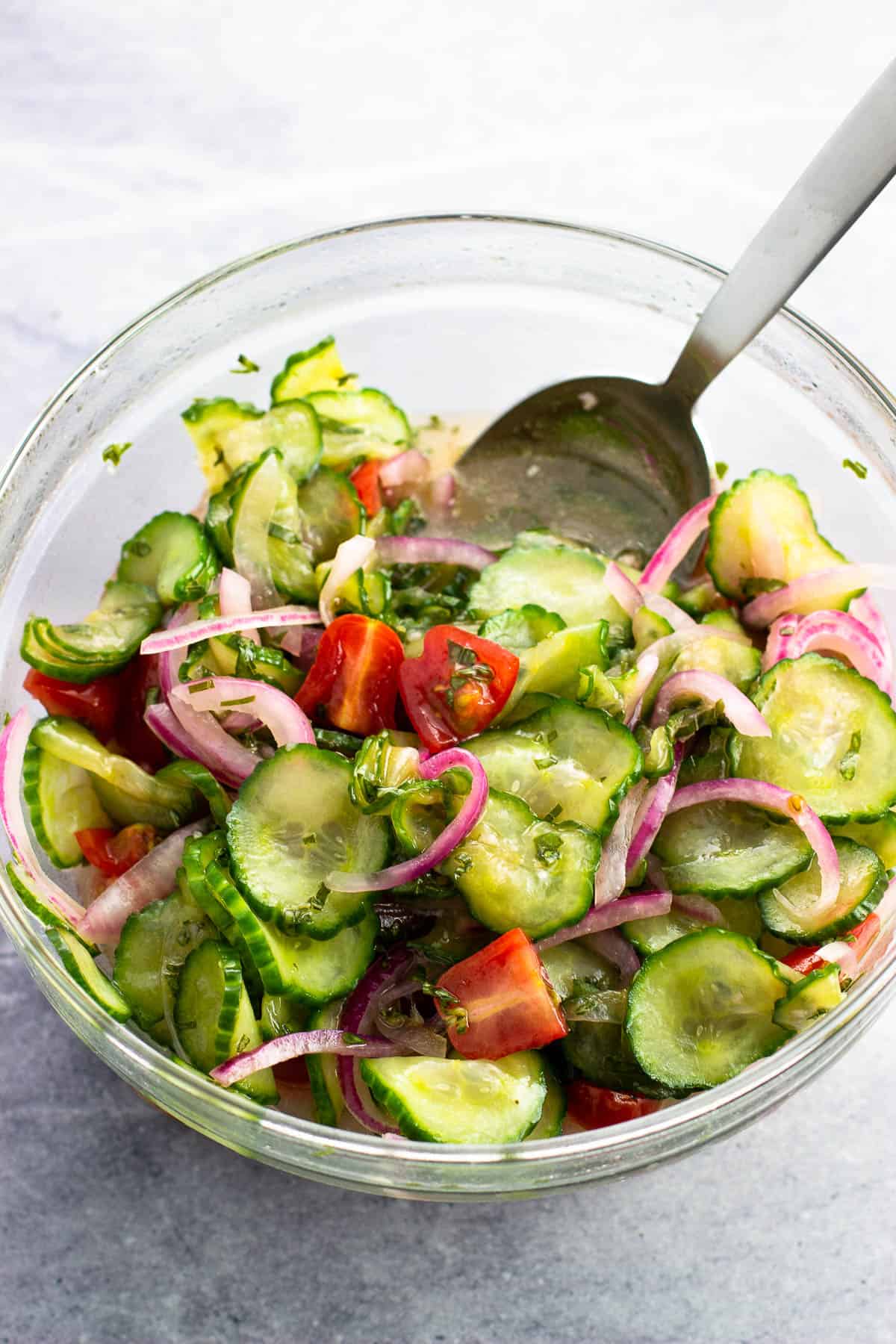 If you've been on the hunt for a cold and ultra refreshing side dish for your upcoming summer BBQs, then look no further than this marinated cucumber, tomato, and onion salad.
It has a great balance of flavors, can be made (and, really, should be made) the day before serving, and really hits the spot when you're getting little bored with your usual green side salad.
Why This Recipe Works
Salting the cucumber for a marinated cucumber salad adds seasoning and releases a fair amount of water, ensuring a bolder flavor.
Lightly heating the vinegar ensures the sugar completely dissolves and isn't gritty.
This marinated cucumber salad is best left to chill overnight. In fact, the flavors only become more pronounced and better with time!
Briefly soaking the sliced red onion tempers its bite so it doesn't overwhelm.
Thinly slicing the cucumber and onion ensures they develop the best snappy texture that never gets mushy.
Recipe Ingredients
English Cucumbers: These are often shrink-wrapped and can be known by other names: hothouse, seedless, European cucumbers, etc. They have a slightly dappled, much thinner skin than standard cucumbers and have less seeds. The big bonus of using this kind is that they don't need to be peeled.
Red Onion: Slice them thinly so the flavor doesn't overwhelm. White onion works, too.
Vinegars: I like a blend of red and white balsamic (or white wine) vinegars to add a little oomph, but all of one kind or the other is fine. A portion can be subbed in for apple cider or rice, but I find plain white distilled vinegar to be a bit harsh in this recipe.
Olive Oil: Mellows out the vinegar and adds complementary flavor.
Sugar: Counter vinegar's punchiness.
Salt: Necessary to "sweat" the cucumbers, which allows you to drain away excess flavor-diluting water.
Tomatoes: Small tomatoes, like cherry tomatoes, hold their shape the best with all the marinating and stirring, but wedges of larger tomato varieties (like beefsteak) also work.
Herbs: Lots work, so use your favorite! I'm partial to basil, but dill is popular for this type of marinated cucumber and onion salad. Adding some mint is also tasty.
Step-by-Step Instructions
Slice both cucumbers thinly and sprinkle salt all over the slices, tossing to combine. Refrigerate for 45 minutes to 1 hour. This is called "sweating the cucumbers".
When the time is up, turn out cucumbers into a strainer to drain all excess liquid. Add them back to the bowl.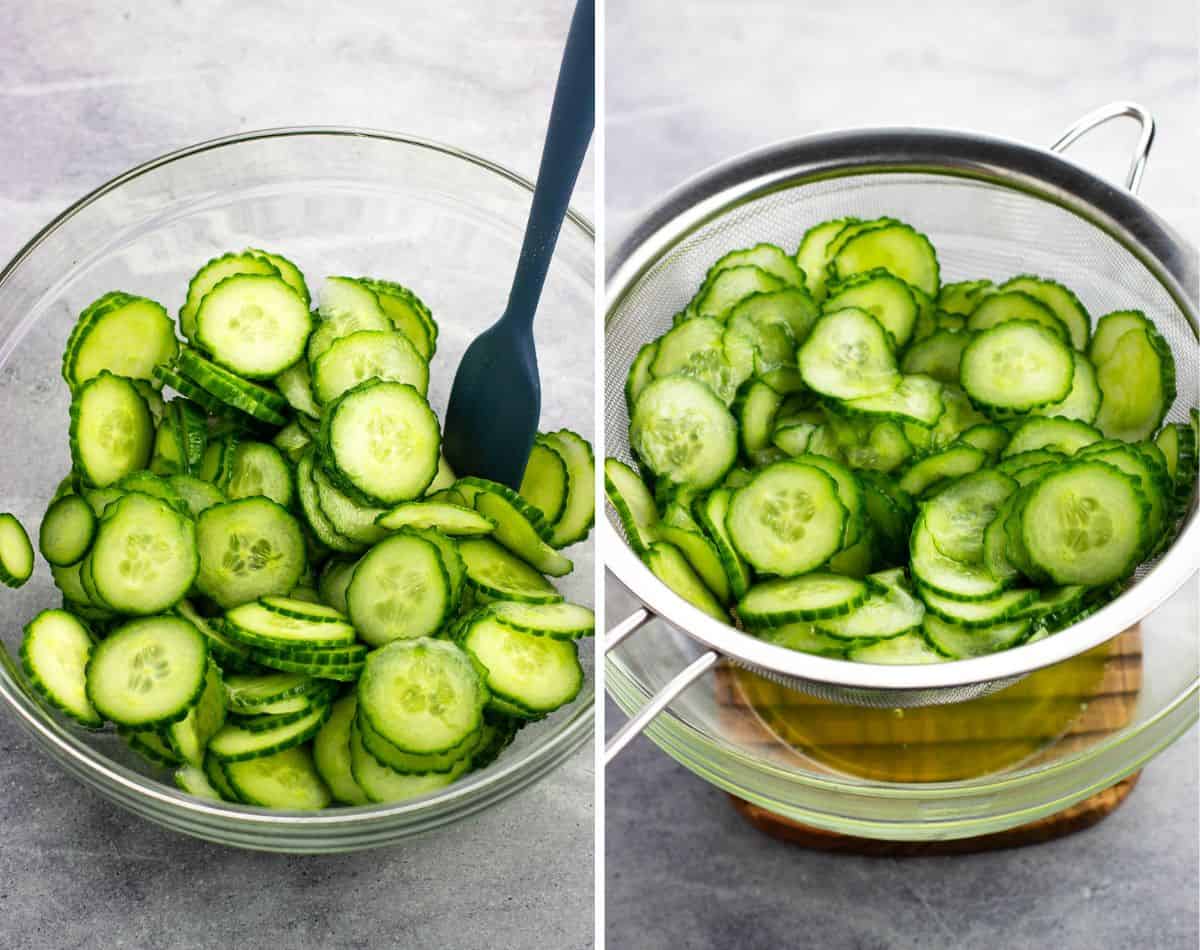 Heat vinegars and sugar on the stovetop just until the sugar dissolves. Let cool.
Optional: Soak onion slices in cool water for several minutes. Drain.
Add onion and fresh herbs to the bowl of cucumber.
Whisk olive oil, garlic, and pepper into the vinegar mixture, then toss with the cucumber. Stir in tomatoes.
Cover and refrigerate for at least 2 hours, but ideally longer before serving.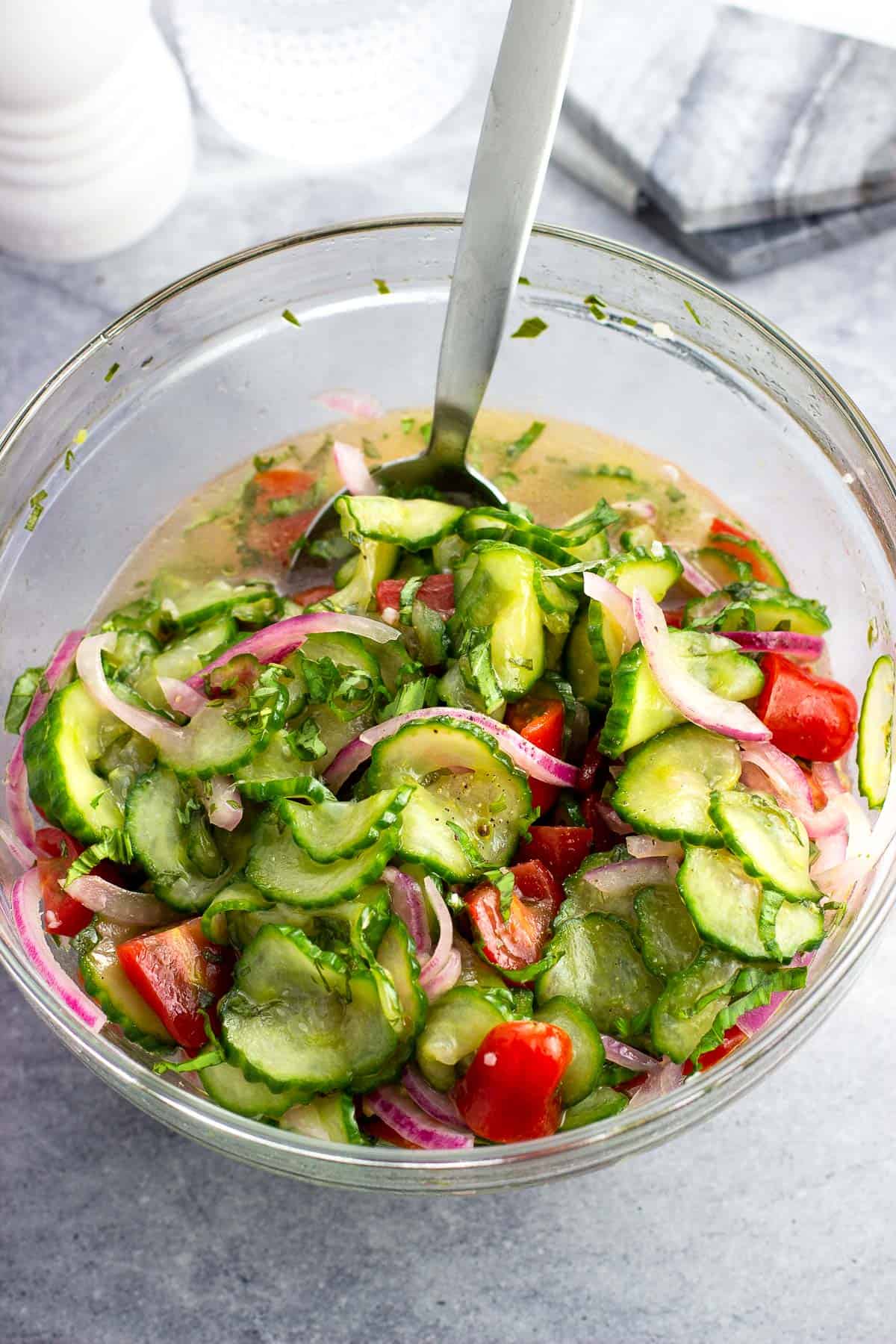 Recipe Tips and Tricks
Cucumbers are very water-logged so it's normal for them to continue to release excess water as this cucumber and onion salad sits, even after sweating. Serve with a slotted spoon.
The cucumber and onion maintain their snappy texture for days, but tomatoes can start to soften as time goes by. If you're not a fan of softer tomato texture, consider adding them to this marinated cucumber salad 30 minutes or so before serving and not soaking them overnight.
If you like a bold onion flavor, consider soaking the red onion slices in the cooling vinegar/sugar mixture and not a separate bowl of cool water. This "infuses" the onion flavor into the vinegar in the manner of a quick pickled onion situation.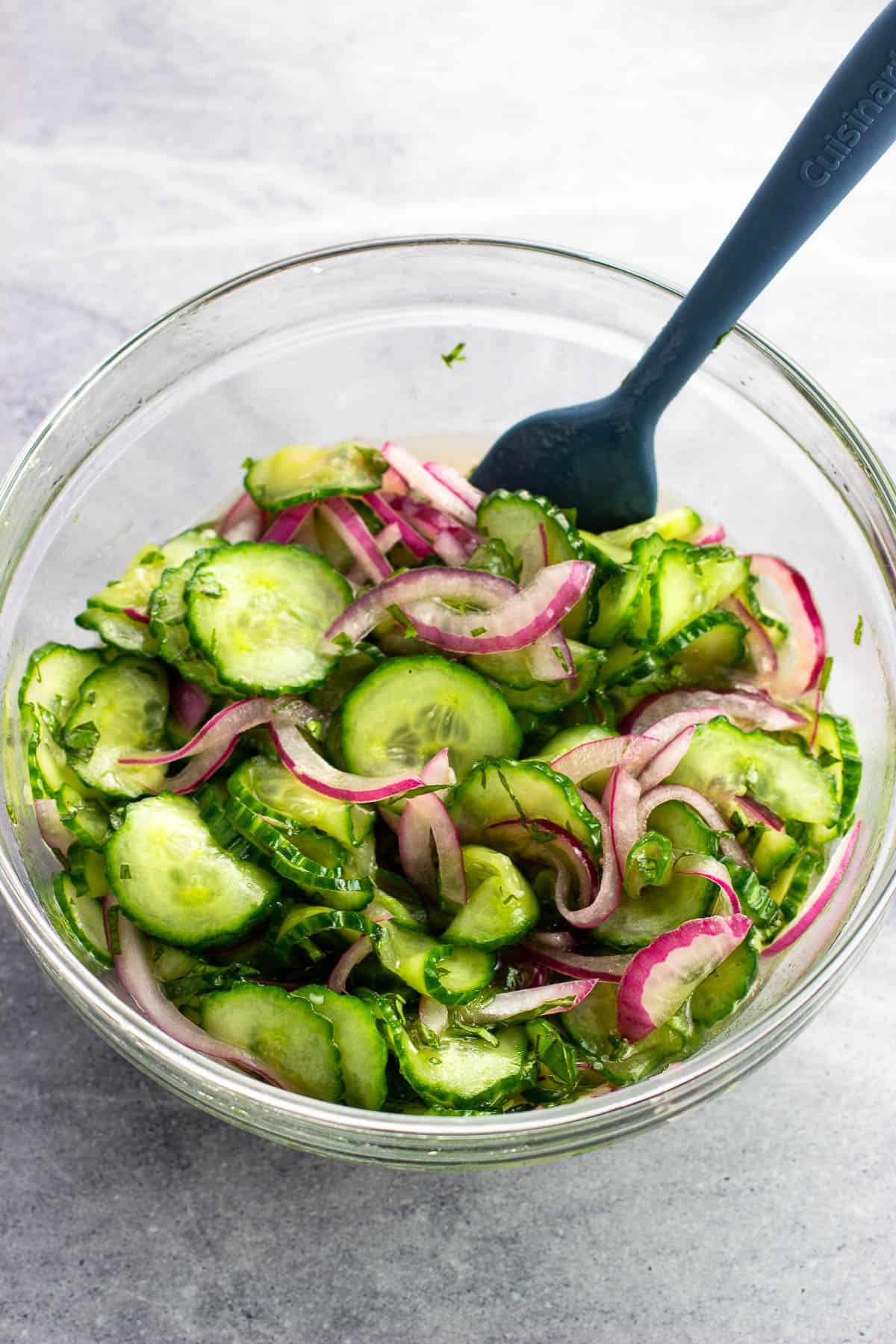 Marinated Cucumber Salad Variations
Even this fairly basic cucumber, onion, and tomato salad didn't escape my micromanage-y blog recipe ways. I tinkered with this recipe a lot to land on what I believe to be its best version. Here are some things I tested if you're considering making tweaks:
Regular Cucumbers - This are fine if you don't mind more seeds and the extra step of peeling them beforehand, but I definitely preferred English cucumbers.
Beefsteak Tomatoes - Handle these slices more carefully as their soft centers easy fall out with all the stirring. If using this variety again I'd skip marinating them in the salad overnight, only lightly stirring them in about 30 minutes before serving.
Less Sugar - I like vinegar-y things and have an inclination to try and reduce excess sugar in places where I think I can, but using less sugar here allowed the vinegar flavor to take over in a not-great way.
Honey - The quantity needed to offset the vinegar's tang provided too strong of a flavor that didn't mesh so well here.
Unheated Vinegar - The sugar remained in gritty blobs - unappealing.
Omitting Olive Oil - I thought the marinade was missing something (and a little too vinegar strong).
Dill - Fresh dill is a great option to use if you like that flavor. I prefer basil, but that's just my opinion.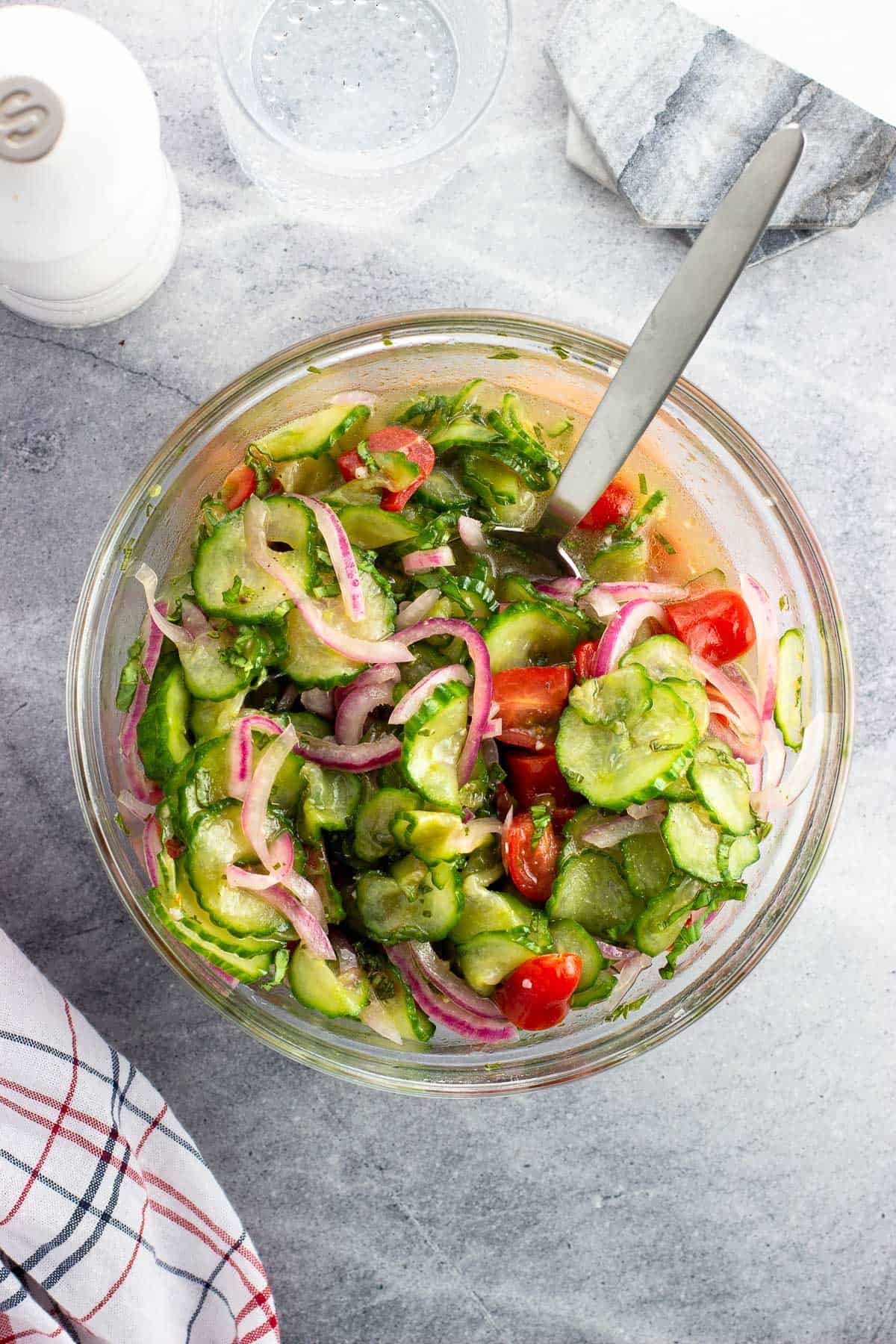 Recipe FAQs
How long does this salad last in the fridge?
This salad stays for a good 3-4 days in the refrigerator. I believe the flavor only gets better with time. Even after sweating it's inevitable that the cucumbers release moisture as time goes by, so do serve with a slotted spoon to leave excess water behind.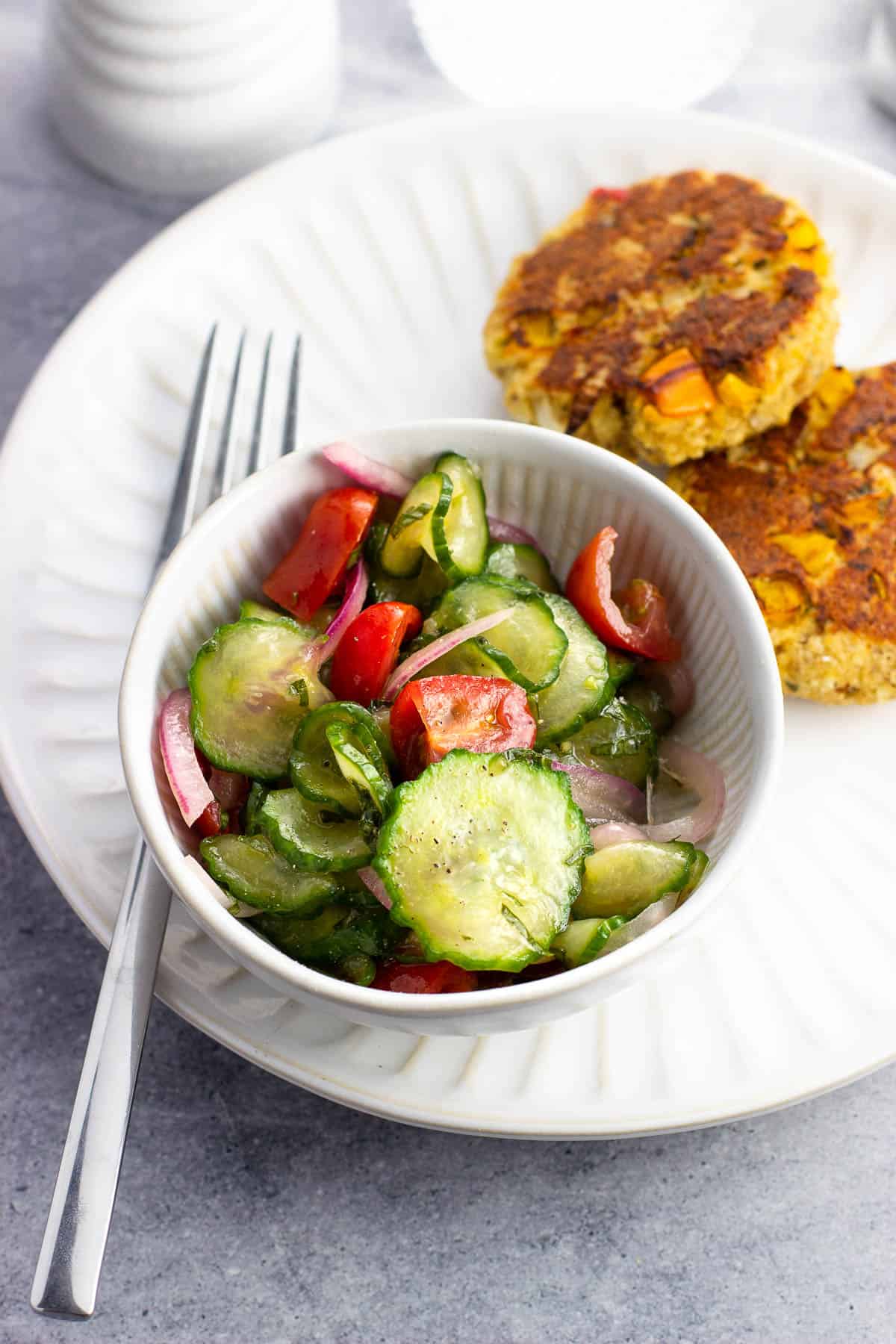 Related Recipes
If you've enjoyed this recipe, I'd love for you to leave a star rating in the recipe card and/or a comment review below!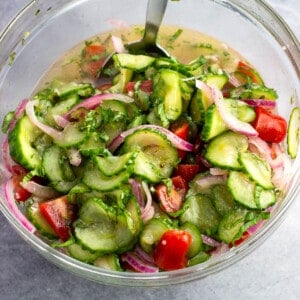 Marinated Cucumber, Tomato, and Onion Salad
This cucumber, tomato, and onion salad is marinated for hours (ideally overnight!) to develop the BEST bold flavor that only gets better with time. A few simple tricks along the way ensure you get a balance of tang and sweetness and seasoned cucumbers. It's a perfect make-ahead salad for warm weather get-togethers.
Print
Pin
Rate
Ingredients
2

large

English cucumbers

(also called hothouse)

1

teaspoon

salt

for sweating the cucumbers

4

Tablespoons

white wine vinegar

or white balsamic

2

Tablespoons

red wine vinegar

3

Tablespoons

granulated sugar

Half of a

small

red onion

thinly-sliced

1

cup

cherry tomatoes

halved

2-3

Tablespoons

chopped fresh herbs

basil, dill, etc., more to taste

2

tablespoons

extra-virgin olive oil

2

cloves

garlic

finely minced

Ground black pepper

to taste
Instructions
Slice cucumbers thinly and lay the slices evenly in a large bowl. Sprinkle salt all over the slices, tossing to combine. Place the bowl in the refrigerator and let the cucumbers "sweat" for 45 minutes to 1 hour.

Meanwhile add both vinegars and granulated sugar to a small saucepan set over low/medium heat. Stir a few times over the next 4-5 minutes as the sugar dissolves. Once dissolved, remove the pan from the heat and let it cool down.

Once the cucumbers have chilled, drain off all excess liquid and blot the cucumber slices with a paper towel to absorb as much moisture as you can. Place the drained cucumber slices back in the bowl.

Thinly slice the red onion and, if desired, very briefly soak the slices in a bowl of cool water for a few minutes (maximum 5), then drain well and add the slices to the bowl with the cucumber. This soaking step is optional and serves to reduce the amount of raw onion "bite".

Add tomatoes and chopped fresh herbs to the bowl with the cucumber and onion.

Add the olive oil, minced garlic, and black pepper to the pan of vinegar and whisk well. Pour it into the bowl over the cucumber and tomato and toss to combine.

Cover the bowl with a lid or plastic wrap and refrigerate at the very least for 2 hours, but ideally longer, such as overnight. Before serving, leave the bowl out of the refrigerator for 20-30 minutes and stir well so any solidified olive oil thins out again. Serve with a slotted spoon to leave excess liquid behind.
Notes
Vinegars: All of one or the other can be used, or you can sub in a portion of apple cider vinegar or rice vinegar. Tomatoes: A larger type, like beefsteak tomatoes, can be sliced and used. If doing so, be gentle when stirring them in as they're softer. Herbs: I like fresh basil, but fresh dill is another great option. Even a little bit of fresh mint. Storage: Store in the refrigerator for 3-4 days. Nutrition: This is difficult to estimate as all of the marinade is included in the calculation, but won't be eaten. These numbers take into account all ingredients, though some values will likely be lower (sodium, sugar, fat).
Nutrition
Calories:
68
kcal
|
Carbohydrates:
8.9
g
|
Protein:
0.8
g
|
Fat:
3.6
g
|
Saturated Fat:
0.5
g
|
Sodium:
294
mg
|
Potassium:
185
mg
|
Fiber:
0.8
g
|
Sugar:
6.6
g
|
Calcium:
19
mg
Nutritional information is provided as an estimate. As it can vary due to many factors (brands used, quantities, etc.), we cannot guarantee its accuracy.
Food Safety and Nutrition Disclaimer