This chicken thigh marinade features simple ingredients but imparts juicy, bold flavor, making it a go-to recipe to have around when preparing to grill chicken thighs. Made with mostly pantry staples, it easily fits in with a variety of cuisines.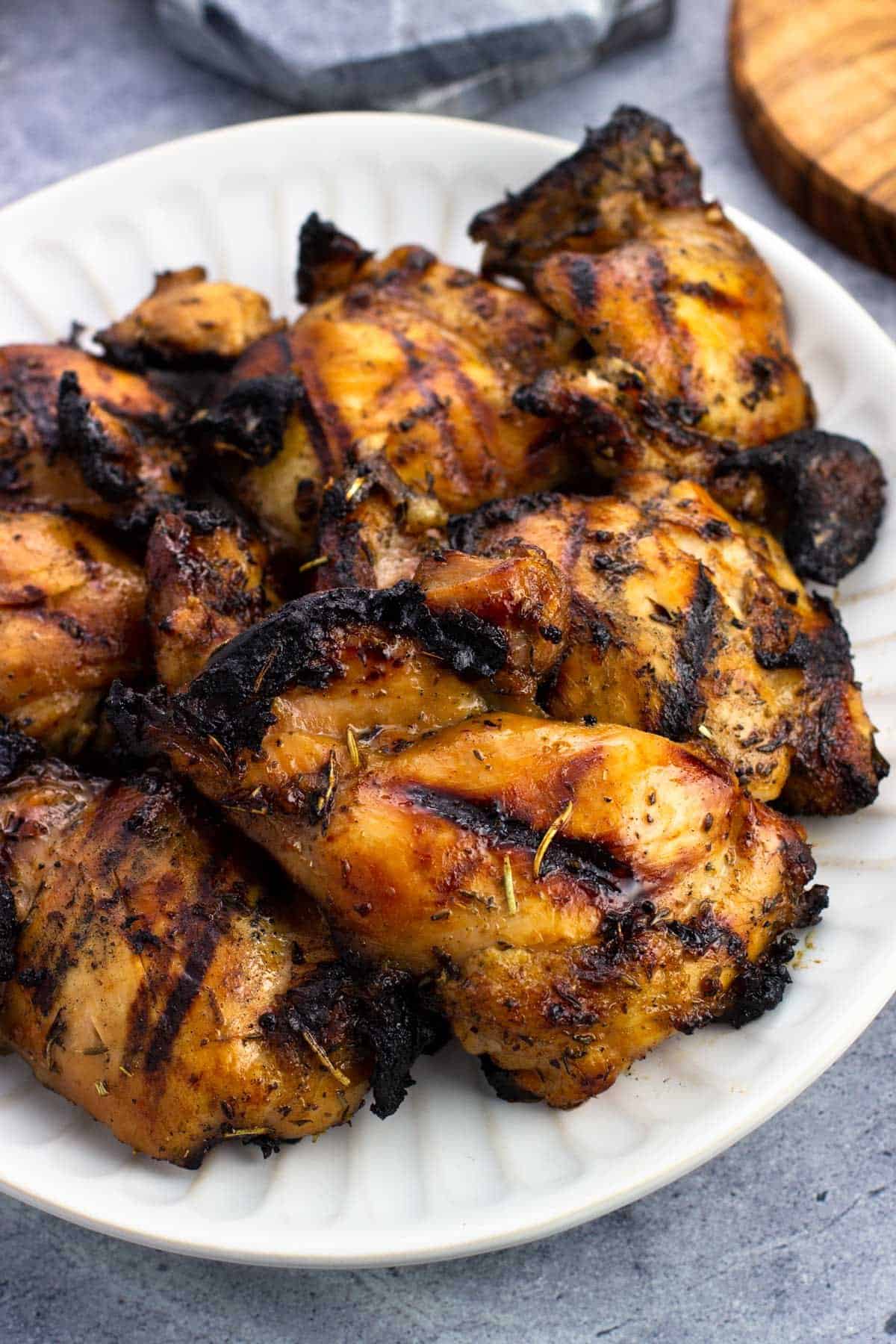 Perfectly grilled chicken is quintessential summer food. Juicy, flavorful, and with the BEST extra-crispy end bits, it fits into many menus and lends itself to being served in so many different ways.
I've been all about the marinating + grilling combination this summer. It's become a running joke in my house that I can't deviate from making this particular grilled flat iron steak marinade when we have those on hand, and the same is shaping up to be true with this chicken thigh marinade.
If boneless skinless chicken thighs are in the house, I'm marinating them in this delicious mixture. No further discussion required.
Reasons to Love This Recipe
Chicken thighs have a higher fat content than chicken breasts, making them a great choice for grilling as they're more forgiving in retaining moisture and juiciness.
Nearly all of these chicken thigh marinade ingredients are pantry/fridge staples you likely already have on hand.
This recipe has a noticeable flavor that's bold and balanced at the same time, making it a great choice no matter how you're planning to serve chicken thighs. It works with American flavors, Italian, Mexican, Mediterranean, etc.
Recipe Ingredients
While this marinade can be used for a variety of chicken cuts, I most often use boneless skinless chicken thighs. Because chicken thighs are dark meat, they have a slightly higher amount of fat (versus white meat) which helps them stay nice and juicy.
This chicken thigh marinade recipe can also be used for bone-in chicken thighs, but you may wish to then bake those and not grill them as they will take longer to cook.
Olive oil: This adds moisture and helps temper and combine the flavors of the other, more bold ingredients.
Lemon juice: Freshly-squeezed lemon juice will provide the brightest punch here. The amount you need will come from about one medium-large-ish lemon.
Balsamic vinegar: This adds a rich zing to the other marinade flavors.
Honey: Some sweetness to offset the lemon juice and balsamic vinegar acidity.
Worcestershire sauce: I love how this bumps up the 'meatiness' of this marinade in a subtle way.
Garlic: Either press or finely mince the cloves to lend the most flavor.
Herbs: There's wiggle room with which dried herbs you use. A mix of dried oregano, thyme leaves, rosemary, and basil provides a great all-purpose flavor, but you can mix and match as you like. Fresh rosemary sprigs are, of course, fine to use, but a jar of dried rosemary is personally more convenient for me so that's usually what I reach for here.
Step-by-Step Instructions
Whisk all of the marinade ingredients together. A bowl works, but I also like to use a large measuring cup if that's already dirty from measuring the oil to cut down on dishes.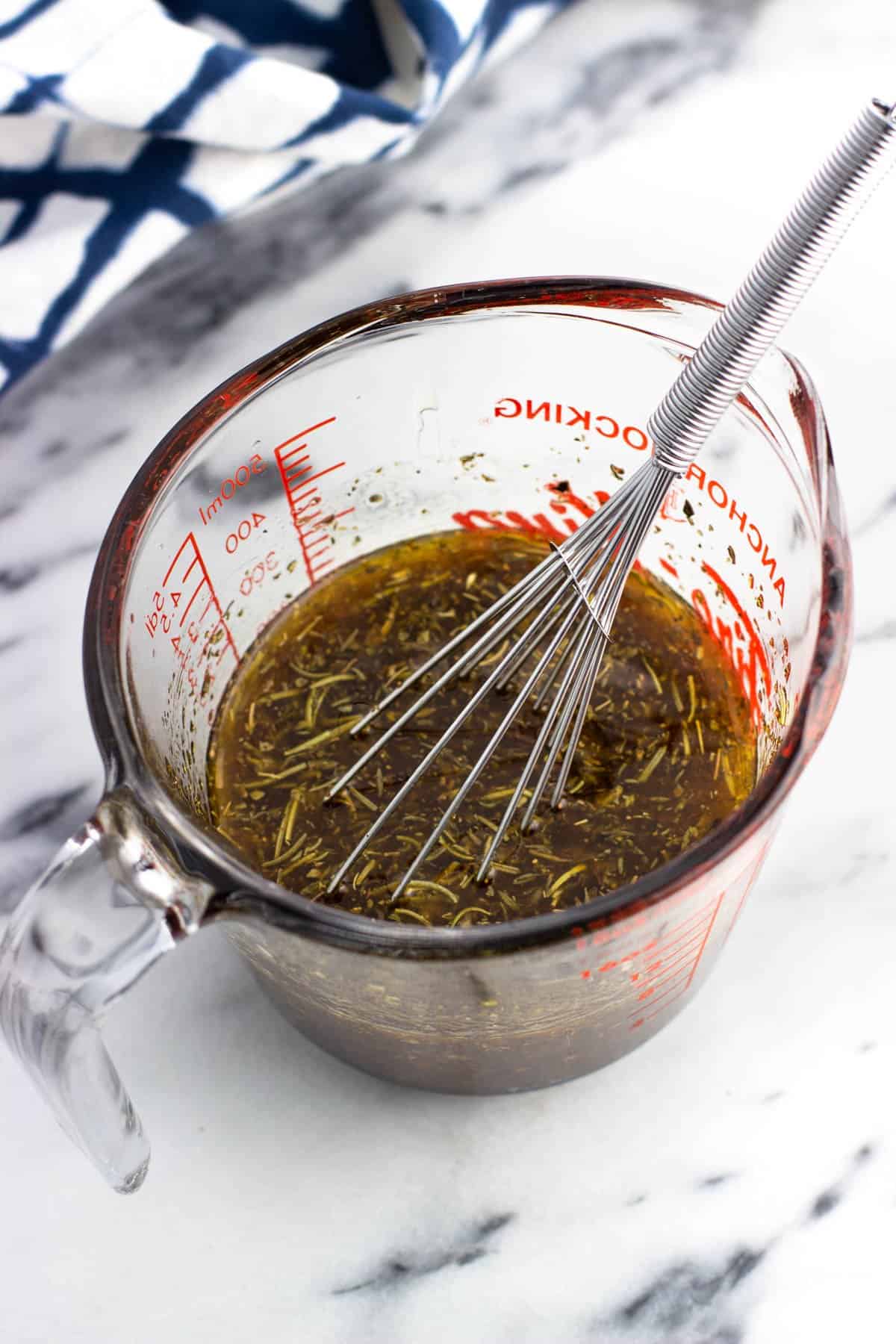 Add the chicken thighs to a gallon-sized zip-top plastic bag, then pour the marinade in over top. Seal the bag, pressing out as much excess air as you can. Squish the bag around so that the marinade covers all sides of each chicken thigh. Place the sealed bag on its side in a baking dish or on a rimmed plate of some kind. Refrigerate for at least one hour, ideally 4-6 hours.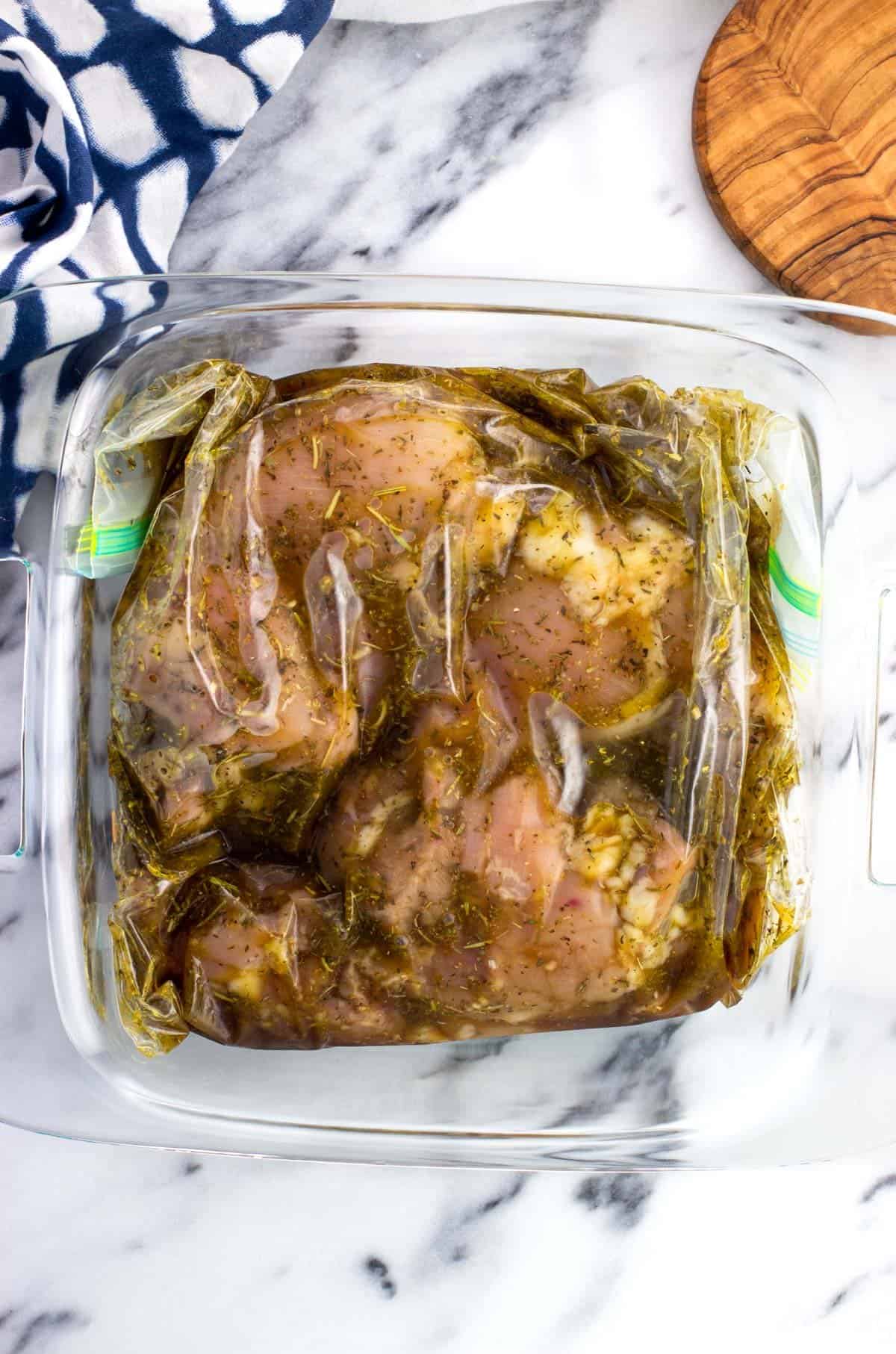 At this point you can cook your marinated chicken thighs however you please, but my favorite method of cooking is grilling. You'll want to cook them for 7-10 minutes per side over direct heat on a grill heated to upper-medium range. Full instructions are included in the recipe card below.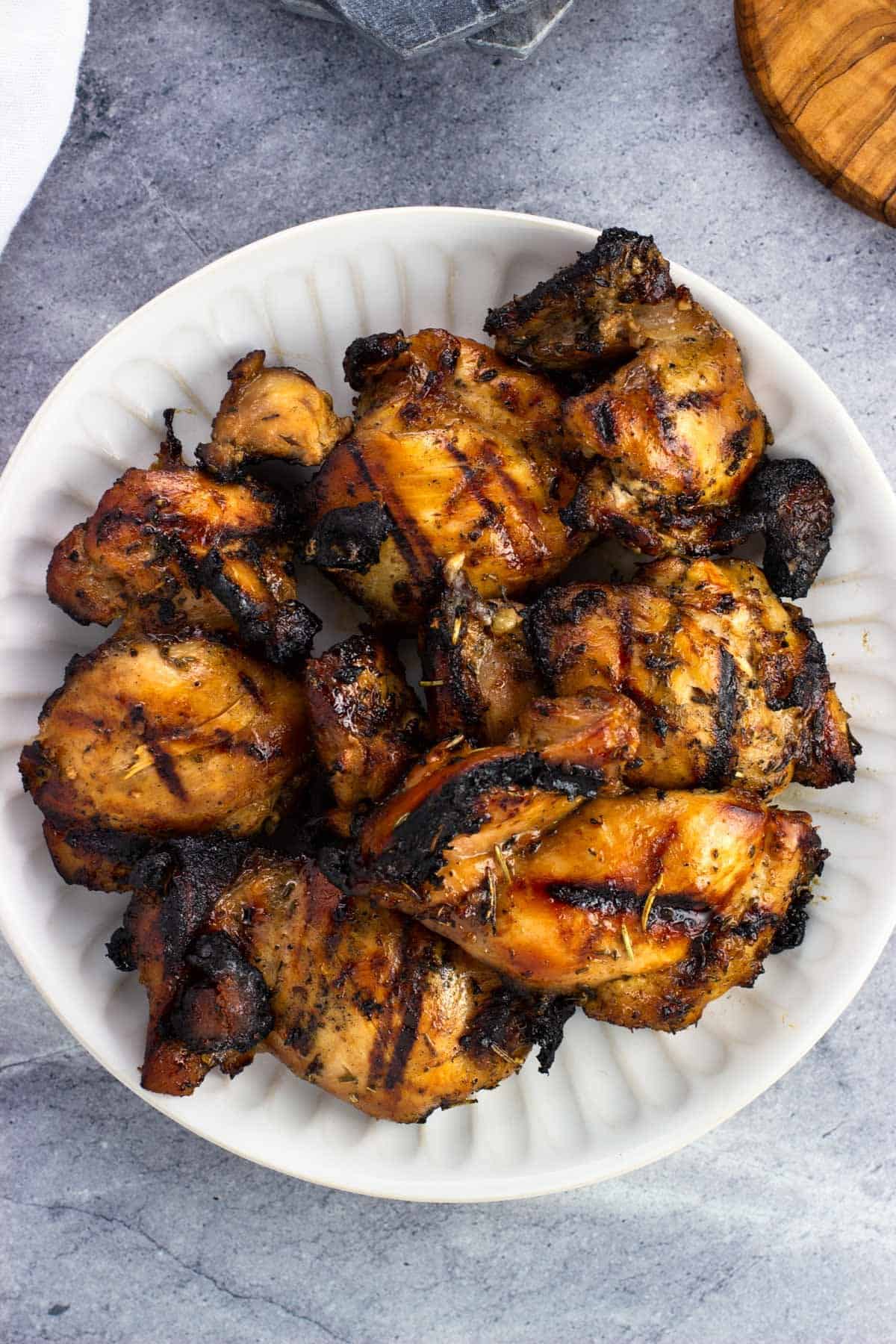 Recipe Tips and Tricks
Always refrigerate the chicken while it's marinating. Also, place the bag of marinating chicken in a dish or on rimmed plate. This way in case it leaks, raw chicken juice isn't dripping loose in your refrigerator.
If you don't have a gallon-sized bag or if you prefer not to use one, you can also prep this chicken thigh marinade in a sealable silicone bag or covered glass or plastic baking dish. Do not use a metal container for marinating as it will react to the acidity and can impart a metallic taste.
Per FoodSafety.gov, chicken is fully cooked when the center of the thickest part of meat reaches 165°F. Your cook time may vary, so using an instant-read thermometer to check the temperature provides the most assurance as for when it's ready to eat.
Recipe FAQs
How long should you marinate chicken thighs for?
You can marinate chicken thighs for at least one hour, but I've found the 4-6 hour range to be optimal for imparting flavor. I would not keep the chicken thighs marinating for much longer than 8-10 hours as the acidic ingredients (lemon juice, balsamic vinegar) can begin to overly break down the meat and lead to mushiness.
What ingredient substitutions can I make?
You can use a different oil with a neutral flavor, such as canola oil and avocado oil. A different vinegar can slightly tweak the flavor, as can a mix-and-match of dried herbs and spices.
What should I serve with grilled chicken thighs?
This chicken thigh marinade produces chicken that can blend into lots of different cuisines. I like to serve these grilled thighs over a salad, from a basic garden salad to a kale caprese salad (pictured below). They're great in grain and vegetable bowls, burrito bowls, in sandwiches, and more.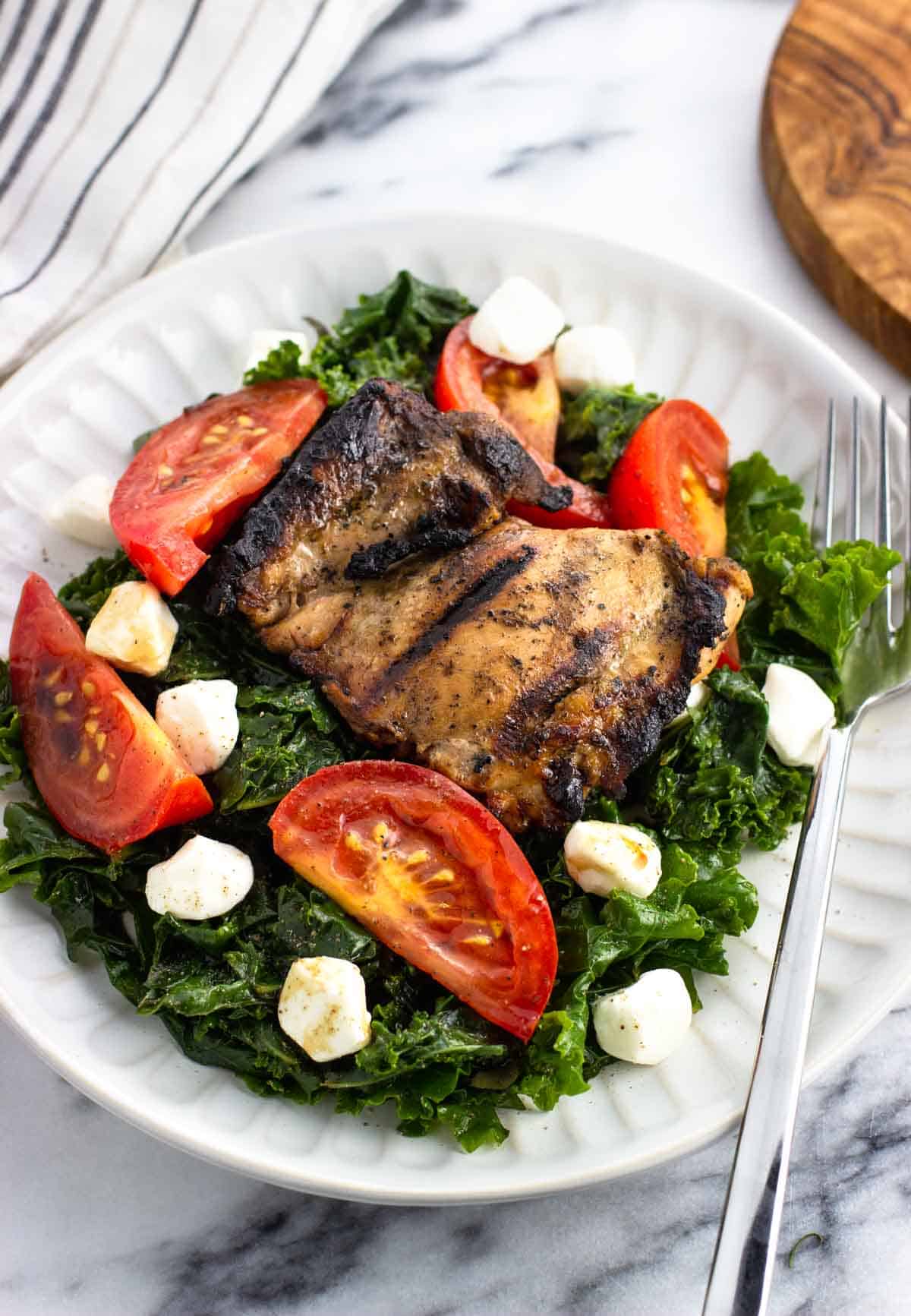 Related Recipes
If you've enjoyed this recipe, I'd love for you to leave a star rating in the recipe card and/or a comment review below!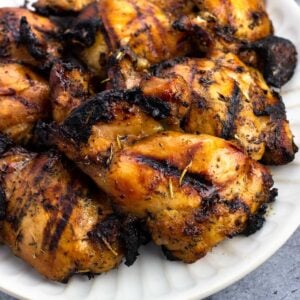 All-Purpose Chicken Thigh Marinade
This chicken thigh marinade features simple ingredients but imparts bold flavor, making it a go-to recipe to have around when preparing to grill chicken thighs. Made with mostly pantry staples, it easily fits in with a variety of cuisines.
Print
Pin
Rate
Ingredients
⅓

cup

olive oil

3

Tablespoons

lemon juice

freshly squeezed

3

Tablespoons

balsamic vinegar

3

Tablespoons

honey

2 ¼

teaspoons

Worcestershire sauce

6

cloves

garlic

minced/pressed

1 ½

teaspoons

dried oregano

1 ¼

teaspoons

dried thyme leaves

¾

teaspoon

dried rosemary sprigs

½

teaspoon

dried basil

¼

teaspoon

kosher salt

⅛

teaspoon

ground black pepper

2

lbs

boneless skinless chicken thighs
Instructions
To Marinate:
Whisk together all marinade ingredients in a bowl or large measuring cup: olive oil, lemon juice, balsamic vinegar, honey, Worcestershire sauce, minced garlic, oregano, thyme, rosemary, basil, kosher salt, and pepper.

Add chicken thighs to a gallon-sized sealable plastic bag. Pour the marinade into the bag over the chicken, then press as much excess air out of the bag as you can and before sealing it securely.

Move and squish the bag around to allow the marinade to cover the chicken thighs entirely. Put the bag of marinating chicken flat in a baking dish or on a rimmed plate, then place in the refrigerator to marinate for at least one hour, but somewhere in the 4-6 hour range is ideal.
To Grill:
Clean your grill grates, then oil them in your preferred manner. I dip a paper towel into a small bowl of neutral-flavored high-heat cooking oil (canola, vegetable, sunflower) and use tongs to rub the moistened paper towel along the grates. It's easier to do this before heating the grill, but if not use caution if the grill is already hot.

Preheat the grill to high heat, then reduce it to an upper-medium heat range (400-425°F) before adding the chicken. Place the chicken on the grill over direct heat, then discard excess marinade. Cook the chicken for 7-8 minutes if the thighs are thinner and 9-10 minutes if the thighs are thicker. Flip and cook for the same amount of time on the other side, keeping the grill lid closed as much as is reasonable during the cook time. The chicken is done when the internal temperature registers 165°F in the center of the thickest piece of meat.
Notes
Boneless vs. bone-in: My preference when grilling chicken thighs is to use the boneless skinless cut as it's quicker and easier for them to cook evenly. While this marinade will work for bone-in thighs (and, really, lots of other cuts of chicken), I would switch to a different cooking method, such as baking for those. They'll need longer to cook.
Prep ahead: You can combine all chicken thigh marinade ingredients ahead of time, then refrigerate. If the olive oil solidifies from the cold, bring it out to room temperature to warm up some and whisk to liquefy and recombine.
Marinating time: This is listed as 4 hours for ideal absorption, but you can marinate the chicken thighs for as little as one hour. Don't marinate the chicken for much longer than 8-10 hours as the acids in the marinade can start breaking down the surface of the chicken and lead to a mushy texture.
Yield: This recipe yields approximately one cup of marinade.
Nutrition: The nutritional values displayed are a very rough estimate using the assumption that one-third of the marinade was absorbed by the chicken.
Nutrition
Calories:
330
kcal
|
Carbohydrates:
5.4
g
|
Protein:
44.2
g
|
Fat:
14.6
g
|
Saturated Fat:
2.8
g
|
Cholesterol:
190
mg
|
Sodium:
252
mg
|
Potassium:
21
mg
|
Fiber:
0.2
g
|
Sugar:
4.6
g
|
Calcium:
50
mg
|
Iron:
2
mg
Nutritional information is provided as an estimate. As it can vary due to many factors (brands used, quantities, etc.), we cannot guarantee its accuracy.
Food Safety and Nutrition Disclaimer