Protein overnight oats are a make-ahead breakfast dream! Whether you're preparing one serving or enough for a whole week, these simple ingredients pack in the protein and taste great while doing it. This post includes instructions with and without protein powder.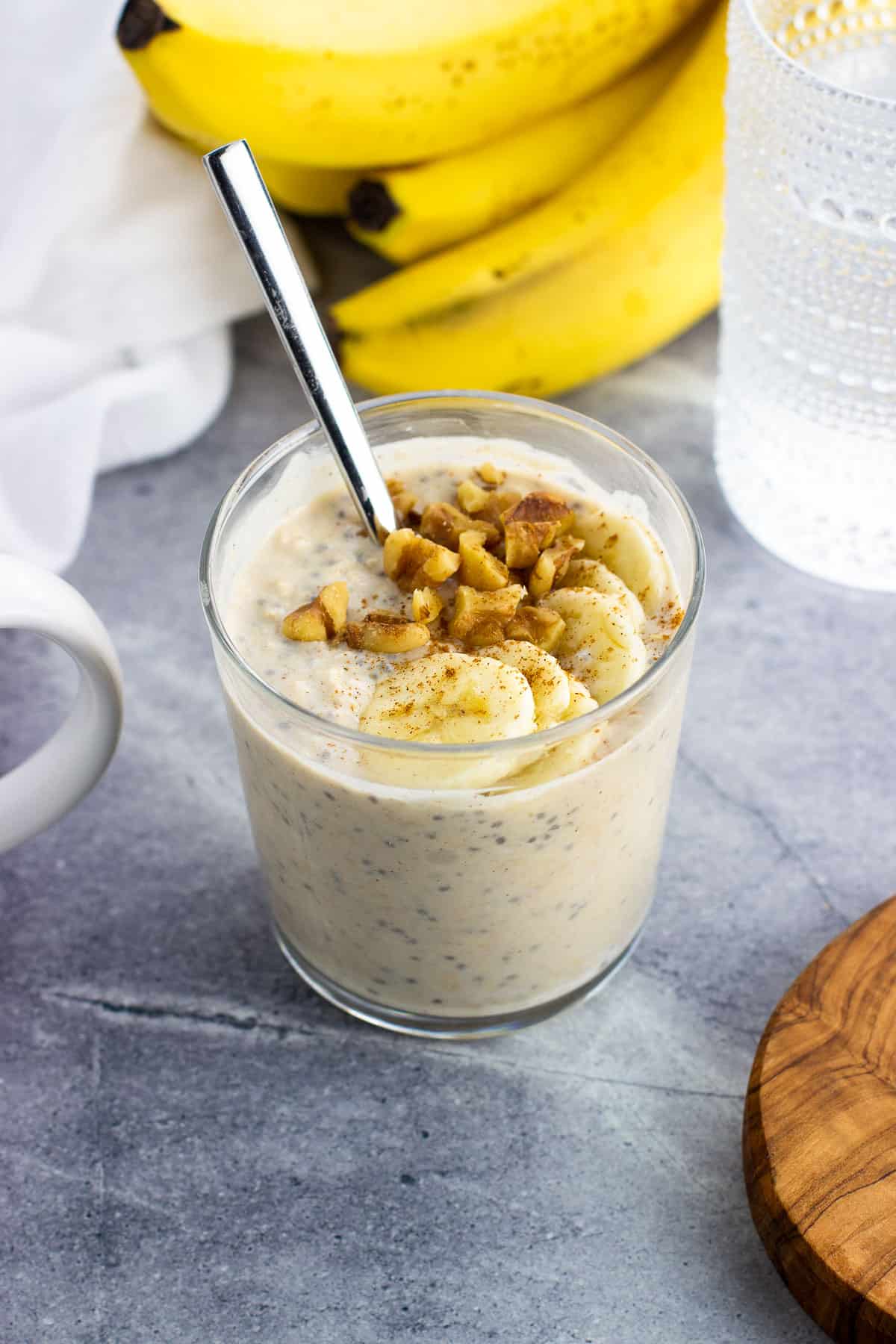 I didn't think healthy baked oatmeal would ever get unseated as my #1 favorite oatmeal breakfast, but these protein overnight oats are really giving it a run for its money.
With the right combination of milk, Greek yogurt, oats, chia seeds, and protein powder, the oats soften just right overnight. The end result is perfectly thickened, never-soupy, no-cook oatmeal that's ready to eat the next morning or days later.
Reasons to Love This Recipe
High protein overnight oats pack in the nutrients. As written this recipe features upwards of 20 grams of protein, 8 grams of fiber, and only 3 grams of sugar.
It's super convenient! You can prep-ahead one serving at a time or make a batch big enough to carry you from Monday to Friday.
While you can heat up these protein oats, this recipe is really tasty cold from the fridge, making it a great grab-and-go breakfast.
There are loads of flavor variations and ingredient wiggle room for you to make it just how you like.
Recipe Ingredients
Oats: Old-fashioned oats are my usual preference as they're heartier and remain a bit chewier after an overnight soak, however I have used quick oats (not instant) for this recipe and found them to be just as enjoyable, if only a bit softer.
Yogurt: Use Greek yogurt as it's thicker than regular yogurt. Plain or vanilla work great in whichever fat percentage you prefer.
Milk: Dairy, almond, oat, etc. are all fine to use.
Protein Powder: This adds a bit of flavor as well as protein. I use half of a serving of protein powder which provides around 10-11 grams of protein. See below for making protein-rich overnight oats without protein powder.
Chia Seeds: My favorite trick for a meal-size filling green smoothie, a couple of teaspoons soak and expand in the milk to help thicken the protein overnight oats mixture beautifully. An equal amount of ground flaxseed works for this purpose too.
Cinnamon: Optional, but adds nice flavor.
Step-by-Step Instructions
Add all of the ingredients to a glass, jar, or bowl. The chia seeds go in dry - no need to pre-soak.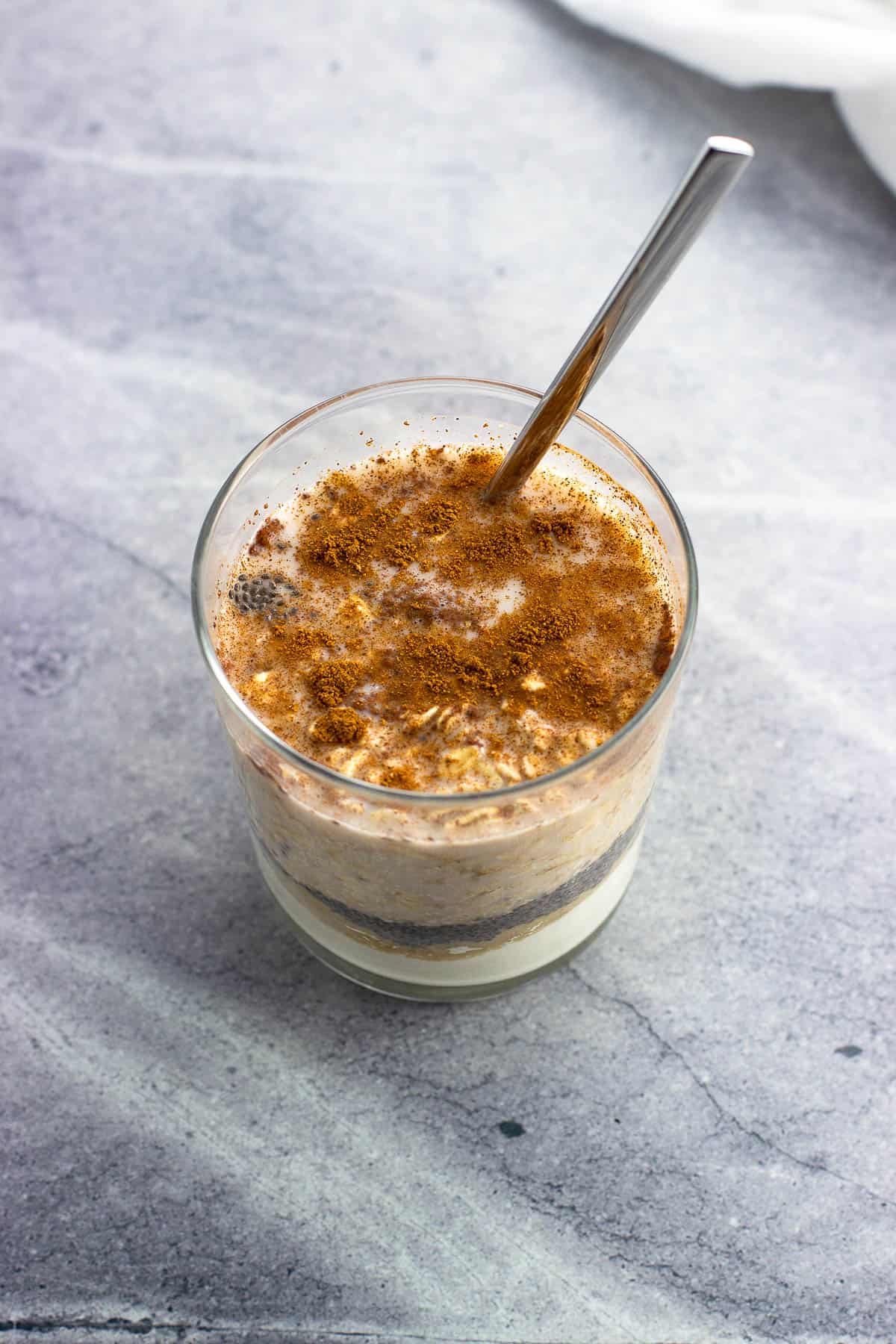 Stir everything really well to combine. Try and get rid of all dry streaks of protein powder and moisten all of the oats. Focus on breaking up the chia seeds as they will inevitably have started to clump up and gel together.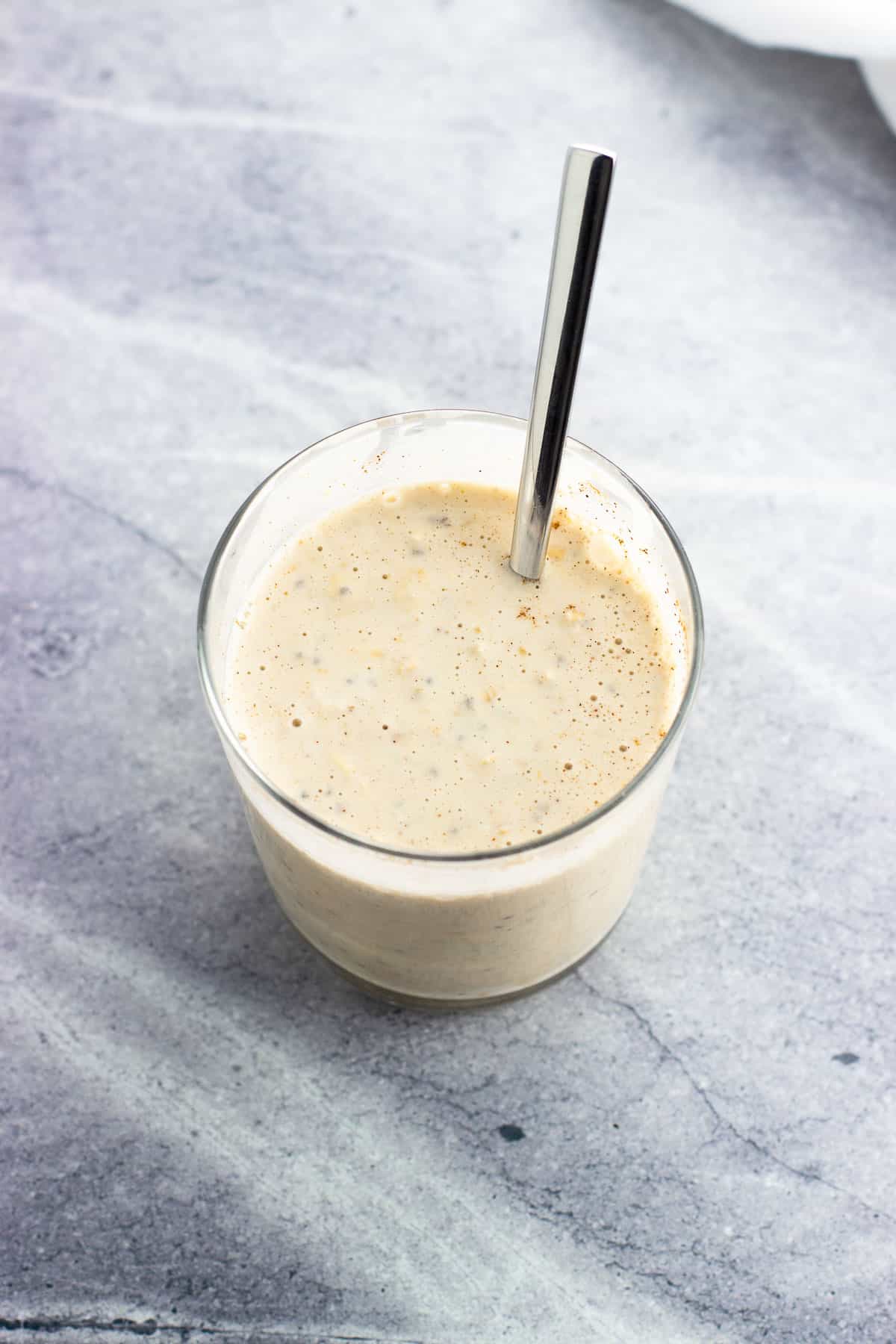 Cover with plastic wrap or a jar lid and refrigerate overnight, or at least 5 hours. Give the oats a nice stir before topping with fruit, nuts, or nut butter (optional) and digging in.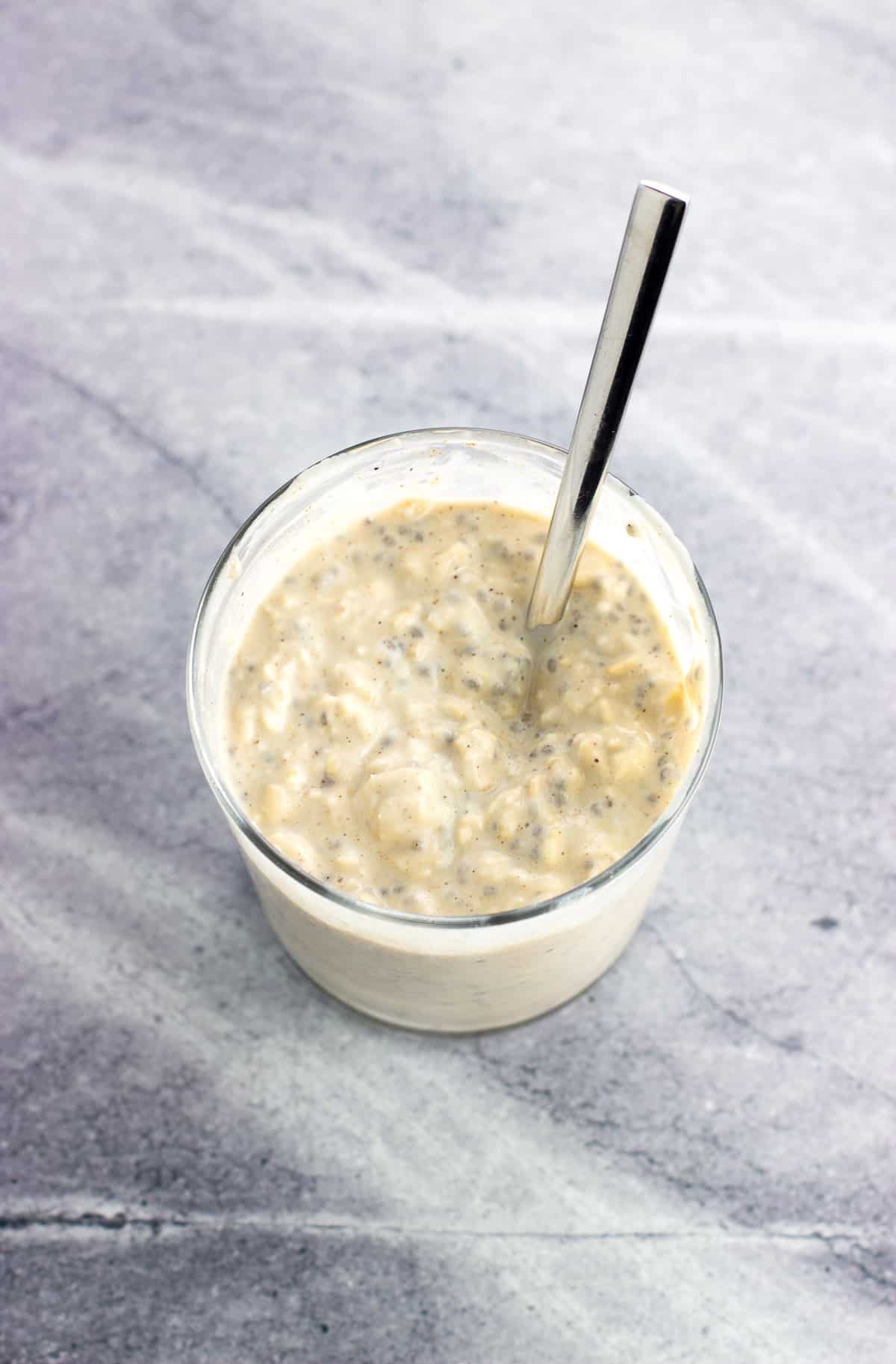 Alternatives to Protein Powder
You can still make protein-rich overnight oats if you'd prefer not to add powdered protein. Consider mix-and-matching some of the following ingredients to boost the protein.
Cottage Cheese - My favorite sneaky ingredient in high protein mac and cheese, this can also replace the yogurt. It can be blended (with the milk) if you're not a fan of the texture of curds.
Nuts/Nut Butter - Peanut/almond butter or powdered peanut butter can be stirred into the oats, milk, etc. when assembling everything, or drizzled on top when ready to eat.
Silken Tofu - Blend with milk.
More Greek Yogurt - Adding more Greek yogurt is just about the easiest way to up the protein without using protein powder. Each quarter-cup provides between 4-5 grams.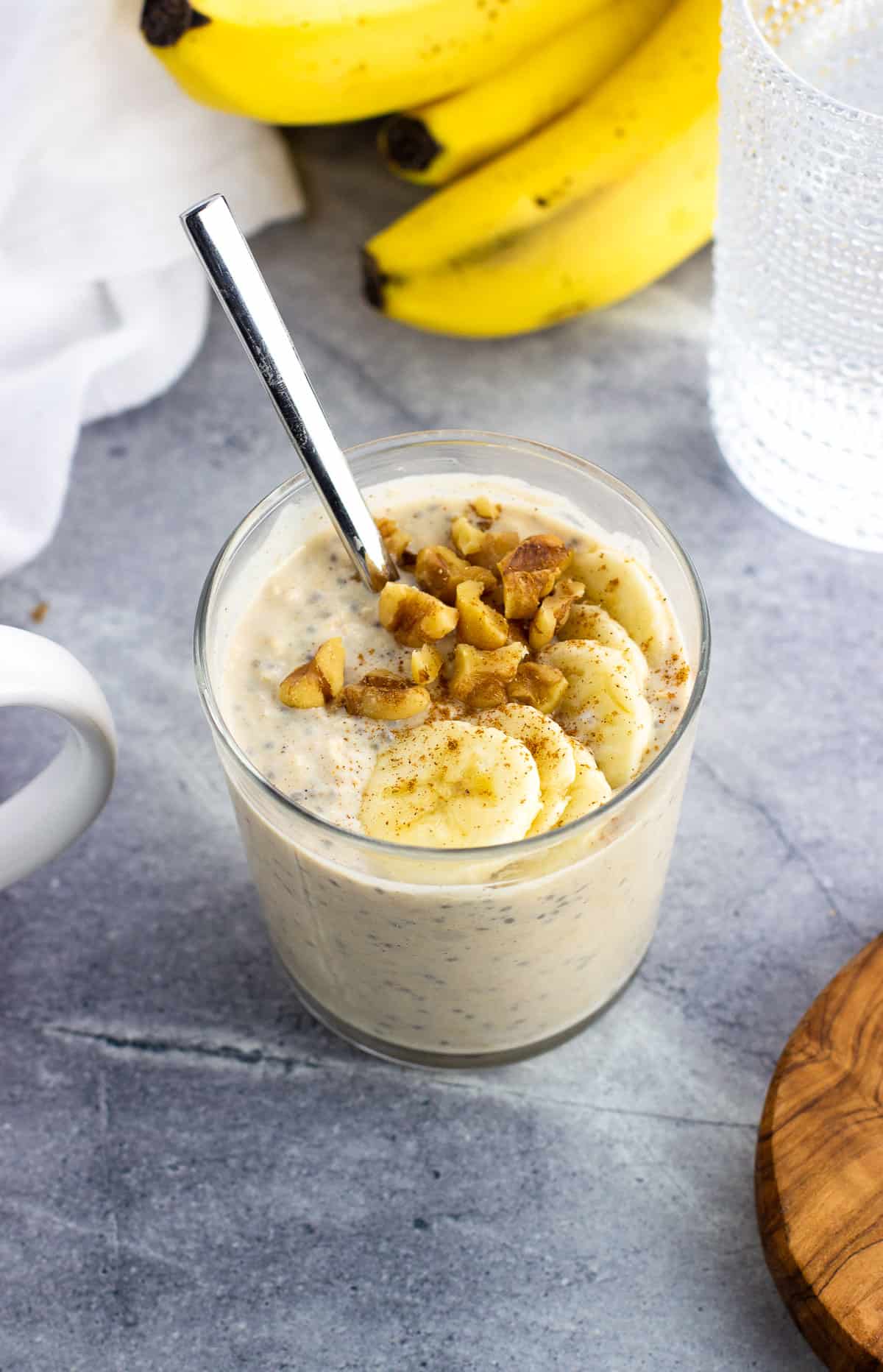 Recipe Tips and Tricks
When in doubt use a larger container than you think you'll need. These protein overnight oats require a fair amount of room for stirring to ensure you break up all of the ingredients. Do not use a container smaller than 12 ounces - bigger is even better.
This recipe can easily be scaled up and made all in one container to last for 4-5 days. I have not found the texture to be compromised at all by doing so.
If you'd like to top these overnight oats with fresh fruit, I recommend adding it just prior to serving and not mixing it in overnight as it can get overly mushy.
For easy on-the-go breakfasts, consider packing a serving of oats in a Mason jar fitted with a solid plastic lid. These lids are often billed as leak-proof so you won't risk a lunchbox spill.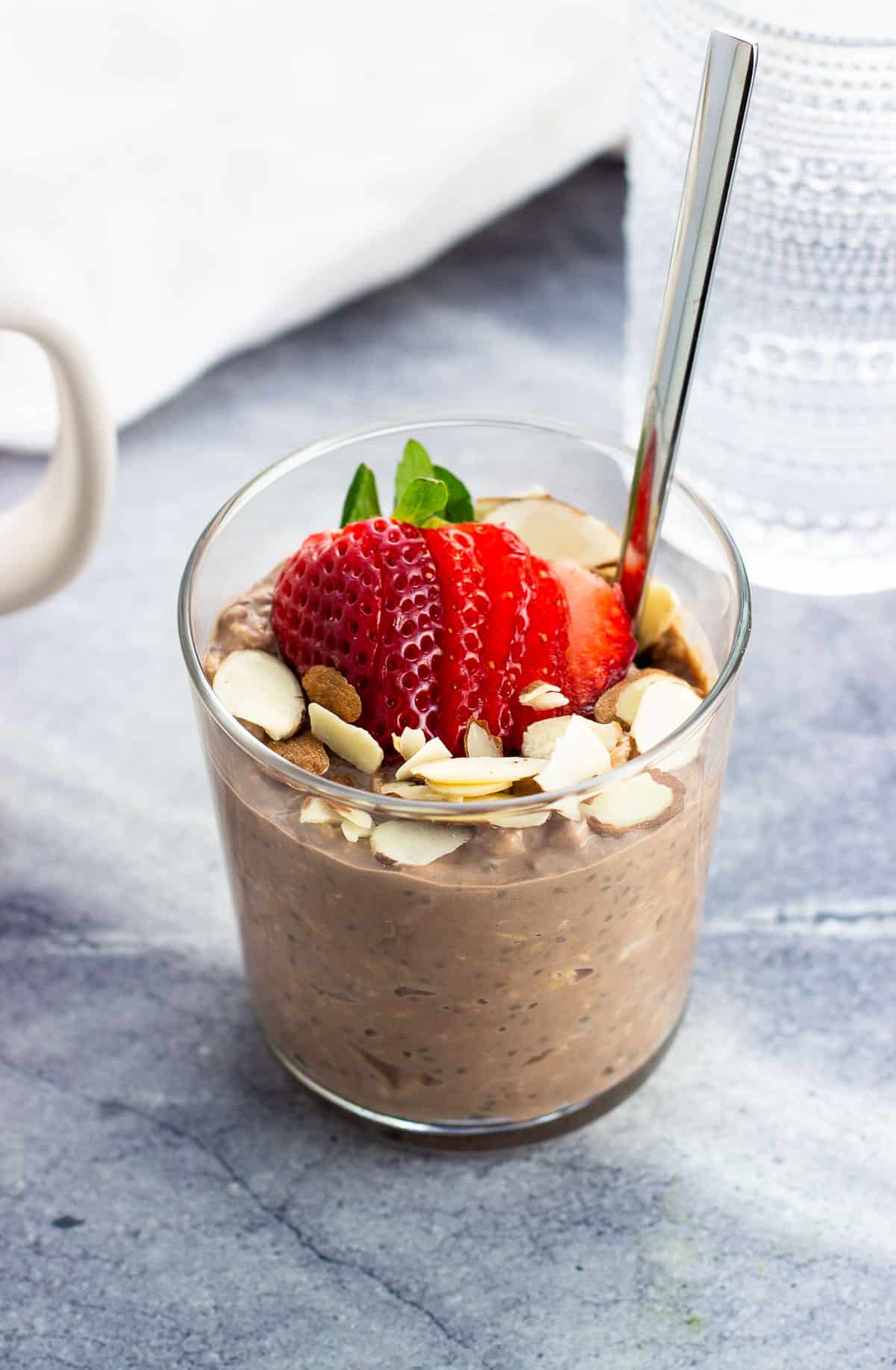 Variations
Dairy-Free - Use dairy-free milk (almond, oat, etc.) and dairy-free yogurt. Choose a protein powder not made with whey protein.
Gluten-Free - While oats themselves are naturally gluten-free, make sure the kind you use are from a certified gluten-free facility, as some brands carry the risk of cross-contamination from the manufacturing process. Check all other ingredients, as well.
Chocolate - Use chocolate almond milk and chocolate protein powder (pictured above - one of my favorites!). This way is also good to top with peanut butter if you like that flavor combo.
PB & J - Add peanut butter to the oats mixture when you're mixing everything together, then stir in your favorite grape or strawberry jelly or jam when serving.
More Oatmeal Recipes
If you've enjoyed this recipe, I'd love for you to leave a star rating in the recipe card and/or a comment review below!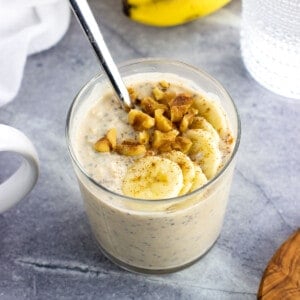 Protein Overnight Oats
Protein overnight oats are a make-ahead breakfast dream! Whether you're preparing one serving or enough for a whole week, these simple ingredients pack in the protein and taste great while doing it. Includes instructions with and without protein powder.
Print
Pin
Rate
Ingredients
Base Recipe
½

cup (120 ml)

milk

any variety

⅓

cup (75g)

plain Greek yogurt

or vanilla

⅓

cup (27g)

old-fashioned oats

(quick oats fine too)

1

scoop (23g)

protein powder

(half serving) - optional

2

teaspoons (7g)

chia seeds

or ground flaxseed

Ground cinnamon

to taste
Instructions
Add all ingredients to a jar or bowl with a minimum 12-ounce capacity (larger is better). Stir very well until everything is combined and the chia seeds are evenly distributed and not in clumps.

Cover and refrigerate ideally overnight, or at least 5 hours. Stir well before eating. Top with fresh fruit and/or nuts or nut butter for serving.
Notes
Flavor Variations
Chocolate - Use chocolate unsweetened almond milk and chocolate protein powder.
Peanut Butter & Jelly - Add 2 Tablespoons of peanut butter to the oats mixture when mixing, then top with 1-2 Tablespoons of your favorite jam or jelly to serve.
More Sweetness - Stir in 1 Tablespoon of maple syrup or honey before or after soaking. Top with fresh fruit.
Overnight Oats Without Protein Powder - omit it and consider the following adjustments:
Cottage Cheese - Replace yogurt and protein powder with ½ cup cottage cheese + 2 Tablespoons nut butter.
Nuts and/or Nut Butter - Two Tablespoons of peanut, almond, or sunflower butter will provide flavor and 7 grams of protein.
Silken Tofu - Replace yogurt with silken tofu blended with the milk. 4 ounces will provide 5 grams of protein.
Greek Yogurt - Adding more Greek yogurt can make up for the lost protein without much impact to the texture. One-quarter cup will add 4-5 grams of protein.
Nutrition: This is an estimate assuming the use of unsweetened almond milk and non-fat Greek yogurt, chia seeds, and a half-serving of the protein powder I use (10.5 grams protein). It will vary depending upon which ingredients and brands you use.
Nutrition
Calories:
269
kcal
|
Carbohydrates:
31.8
g
|
Protein:
23
g
|
Fat:
7.2
g
|
Saturated Fat:
0.5
g
|
Cholesterol:
3
mg
|
Sodium:
175
mg
|
Potassium:
237
mg
|
Fiber:
8.1
g
|
Sugar:
2.8
g
|
Calcium:
386
mg
|
Iron:
3
mg
Nutritional information is provided as an estimate. As it can vary due to many factors (brands used, quantities, etc.), we cannot guarantee its accuracy.
Food Safety and Nutrition Disclaimer